Meet Africa's Blockchain Startups: Kobocoin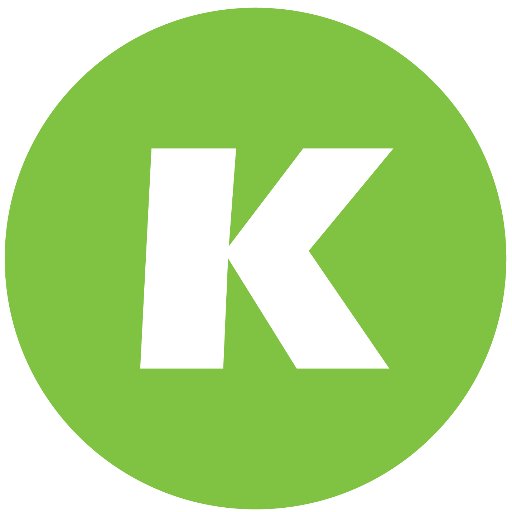 Kobocoin is a decentralised peer-to-peer digital currency and micro payment system. It was created by Felix Onyemechi Ugoji, a Nigerian entrepreneur and developer based in the UK.
The digital currency is designed to run a proof of stake (POS) consensus mechanism. That means that users who stake their coins to verify transactions on the Kobocoin blockchain using a funded kobocoin wallet are eligible to receive a new kobocoins anytime they are minted.
As you may already know, the use of mobile financial services in Africa is higher than that of traditional banking services. There are several existing "banking-on-the-go" providers that offer mobile payment and transfer options. Kobocoin, however, takes a fundamentally different approach by utilising blockchain technology to its advantage. It aims to be the solution for the unbanked as well as establish itself as a viable alternative in the African mobile money market where everyone can pay for goods and services directly from their mobile phone while simultaneously be able to cash out to their respective local currency easily.
Another major focus for the digital currency is the large African remittance market. With Africans sending home over $80 billion yearly, Kobocoin intends to provide a quick and more cost-effective alternative for Africans in the diaspora to use for sending money home.
BitcoinAfrica.io was able to interview the founder and lead developer of Kobocoin Felix Ugoji. Here's the full interview with the brain behind Kobocoin.
What kind of problem, market deficiency or opportunity inspired you to launch Kobocoin?
That's a question with a number of answers. In some ways, it was a political decision. We Africans always seem to be late to the game when it comes to disruptive technologies. We seem to rely heavily on others making advancements that we eventually have to purchase from them at a premium. I want us to have our own blockchain, built to our specifications, that we could build applications on that apply to us (but with a global outlook to allow them to be exported). When it comes to Mobile Fintech adoption, Africa leads the way globally and by a very large margin! I believe that blockchain technology has the potential to revolutionize Africa and bring financial inclusion to people previously forgotten or ignored by mainstream financial offerings. Look at M-Pesa which is being exported around the globe. It's a purely African innovation based on the way we Africans barter and trade. Who says we can't do the same to revolutionize blockchain adoption?
Bitcoin, the big daddy of them all, is massively hoarded. Some estimates state figures of up to 70%. If we Africans adopt bitcoin in the way that some propose, how many bitcoins will there be to go round the whole of Africa? It's also about ownership. Let's own our own blockchain and build our own apps that innovate the way we live for once.
Also, the computing power necessary to run the bitcoin blockchain is at odds with the 'green' direction of most new technologies. Bitcoin is not 'green' in any way. It's the elephant in the room. Bitcoin mining uses the same amount of power as almost 270,000 average American homes. And that's a conservative estimate!
How will Kobocoin address this problem or opportunity in a unique way?
Kobocoin is unique because it is a cryptocurrency and blockchain with an African heritage aimed at the African market with global ambitions. Kobocoin (the currency) is made up of four unique human-friendly denominations. These are KOBO, MANILLA, COWRIE, and MANSA. These four currency denominations were carefully chosen because of their significance to us Africans. They allow for four different levels of trade using the same crypto currency.
It is optimised for mobile phone use. It is Proof of Stake (PoS) as opposed to Proof of Work (PoW). Mining is achieved through ownership and not the raw computing power that's required for PoW blockchains (e.g. bitcoin). The Kobocoin ecosystem uses a fraction of a fraction of the amount of energy needed to keep the bitcoin ecosystem running. Now that's green!
Raspberry Pi is also supported by Kobocoin (this is part of the IoT initiative using ROKOS technology). At one time I had a dream of every school in Africa having access to the Kobocoin blockchain using Raspberry Pi's. Unfortunately, I don't have the resources to fulfill such a dream, but the fact remains that any institution with a Rasperry Pi at their disposal can get the kobocoin wallet and blockchain loaded, and then start creating apps on the blockchain.
At this moment in time, the kobocoin currency is not massively hoarded. This means that it's ready to be adopted by savvy early adopters and developers with the foresight to see the massive opportunities that lie ahead. Yes, early Bitcoin adopters made a lot of money with bitcoin. Early Ethereum adopters made a lot of money with Ethereum. I hope that one-day early Kobocoin adopters and developers will also see their faith rewarded financially, and have their own stories to tell! I hope the vast majority of winners will be Africans living in Africa!
With already existing mobile financial services how do you intend to overcome the competition?
Existing mobile financial services are centralized and require registration or subscription to participate. Kobocoin's blockchain technology allows access to everyone regardless of credit status or banking history.
There is no subscription or registration required. Nobody is checking up on you or monitoring progress. I believe that people will see the true benefit of this decentralized operating model as the industry progresses. I've not had the privilege of using any of the existing mobile financial services but from what I understand, applications built on the kobocoin blockchain will be able to offer the same services at significantly lower cost, without registration, and with far greater privacy features.
Also, those existing financial services seem static at this moment. The Kobocoin blockchain is a platform that will allow and encourage developers to create apps as the market demands them. Anybody with programming skills can create an app for users of the Kobocoin platform. Permission is not required. If you can think of it and build it, then go ahead. If it's useful then Kobocoin users will adopt it and you will be rewarded for your innovation without any questions being asked. Can any other mobile financial service offer such freedom to developers and users? I think not. They are all closed systems owned and operated by multinationals.
And bear in mind that kobocoins cannot be faked or counterfeited like traditional money. It is a clean and robust technology.
What do you hope to achieve with this project in the long run?
Global adoption is the quick answer. In practical terms, I'd like Kobocoin to be seen as a global blockchain in the same way that Bitcoin and Ethereum are. Though it's heritage is African I want the outreach of the kobocoin currency, the underlying blockchain, and the apps built on the blockchain to have a global reach.
I believe that we Africans will bring innovation to the blockchain and fin-tech arena, and I would like to see apps built on the Kobocoin blockchain adopted worldwide (just as we already have in the mobile fin-tech arena with M-Pesa). I really believe that we have the innovative ideas that can move the blockchain industry forward. I believe our ideas and innovations will be exported worldwide. And I'd love to see all those ideas realized on the Kobocoin blockchain!
Like any other altcoin, kobocoin (KOBO) can also be traded against bitcoin and other notable cryptocurrencies. It currently has a market capitalization of around $350,000 and can be traded exchanges such as Cryptopia and Yobit.
Meet Africa's Blockchain Startups: ChamaPesa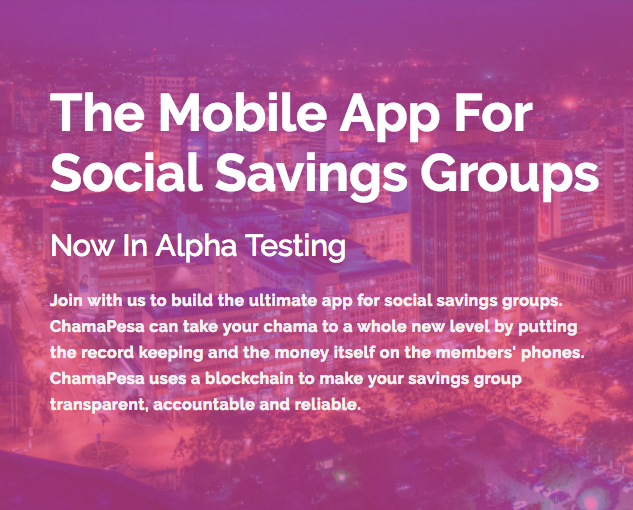 ChamaPesa is a Kenyan blockchain startup that aims to help chamas improve their bookkeeping systems. Initially, ChamaPesa was registered as a self-help group after its conceptualisation in November 2012. The self-help group, which ran for three years, was made up of members from Kibera and Karen, Nairobi. Ian Grigg and Ken Griffith, working with Kenyan developers Lee Mungai and Julius Sekah, created this original version of ChamaPesa.
Later, Grigg and Griffith were joined by Marc and Simone Bean. Grigg, Marc, and Simone are the founders of Solidus, a Bermuda-based mobile payments and clearing platform, which is behind the development of ChamaPesa. Griffith is the business development lead of Solidus. Michael Kimani, the chairman of Blockchain Association of Kenya, joined ChamaPesa as the Kenyan team leader in 2017.
Marc and Simone, who are natives of Bermuda and Bahamas, were pleased to become a part of ChamaPesa because chamas are common on these islands. The Bermudan version of a chama is called a "club hand."
A chama is an informal cooperative group that pools together savings and investments. It is organised by local community members – usually women- and acts as an informal bank in the local community.
The ChamaPesa App
Today, the ChamaPesa app allows you to create a profile and join or create a chama. Chama members have the option to open accounts in different contracts or other instruments. Therefore, the first two accounts of a member are for shares and Kenya shilling. Consequently, you can move money between accounts and use it for various purposes.
The ChamaPesa app also ensures transparency within a chama. That means that members can view the treasurer's account including information regarding spent money.
In the future, a type of contract will be added to the app to enable an automatic "merry-go-round" chama. As a result, this feature will allow all chama members to directly send money via their mobile phones to the member who is supposed to receive it that month.
What Does The Alpha Testing Stage Entail?
Presently, the ChamaPesa app is in the Alpha testing stage of development where hand-picked chamas are using the app and providing feedback to the development team. In turn, the development team uses the feedback given to polish up the app's features in order to make it usable by regular chamas.
The chamas involved in this stage use the app for a cryptocurrency fund where members make monthly savings. The money is then used to create a portfolio of bitcoin, ether, and other tokens. These cryptocurrencies are then secured on a hardware wallet by the treasurer. Eventually, the ChamaPesa team wants all of these processes to take place inside the app.
The ChamaPesa DApp
The ChamaPesa distributed app (DApp) enables the distribution of chama information on a blockchain. So if a chama member loses their phone, they can easily recover their information through a secret passphrase. Additionally, the advantage of using a Distributed app means that no centralized server or company is keeping the chama money. Instead, the chamas create a decentralized distributed Kenya Shilling.
ChamaPesa will undertake a token sale in the second quarter of 2018 while the public release of the app is scheduled for the last quarter of 2018.
The Future Plans of ChamaPesa
ChamaPesa plans to create localised versions of the chama around the world. Michael Kimani told Bitcoin Africa:
"It is important to understand that Solidus and the ChamaPesa team believe that the Kenyan formula for chamas is so significant and important that it should be shared with the rest of the world. So, yes ChamaPesa is a Kenyan app, made by Kenyans and for Kenyans. But we also want to make it usable for people in the rest of the world. We believe that Kenyans can help teach people in other countries how to use chamas and make them work successfully."
In 2018/2019, ChamaPesa will focus its plans on Kenya and the rest of Africa. From 2020-2025, the team will release compatible versions of ChamaPesa to other regions.
The public should expect frequent releasing of content on the ChamaPesa website from January 2018.
Meet Africa's Blockchain Startups: NairaEx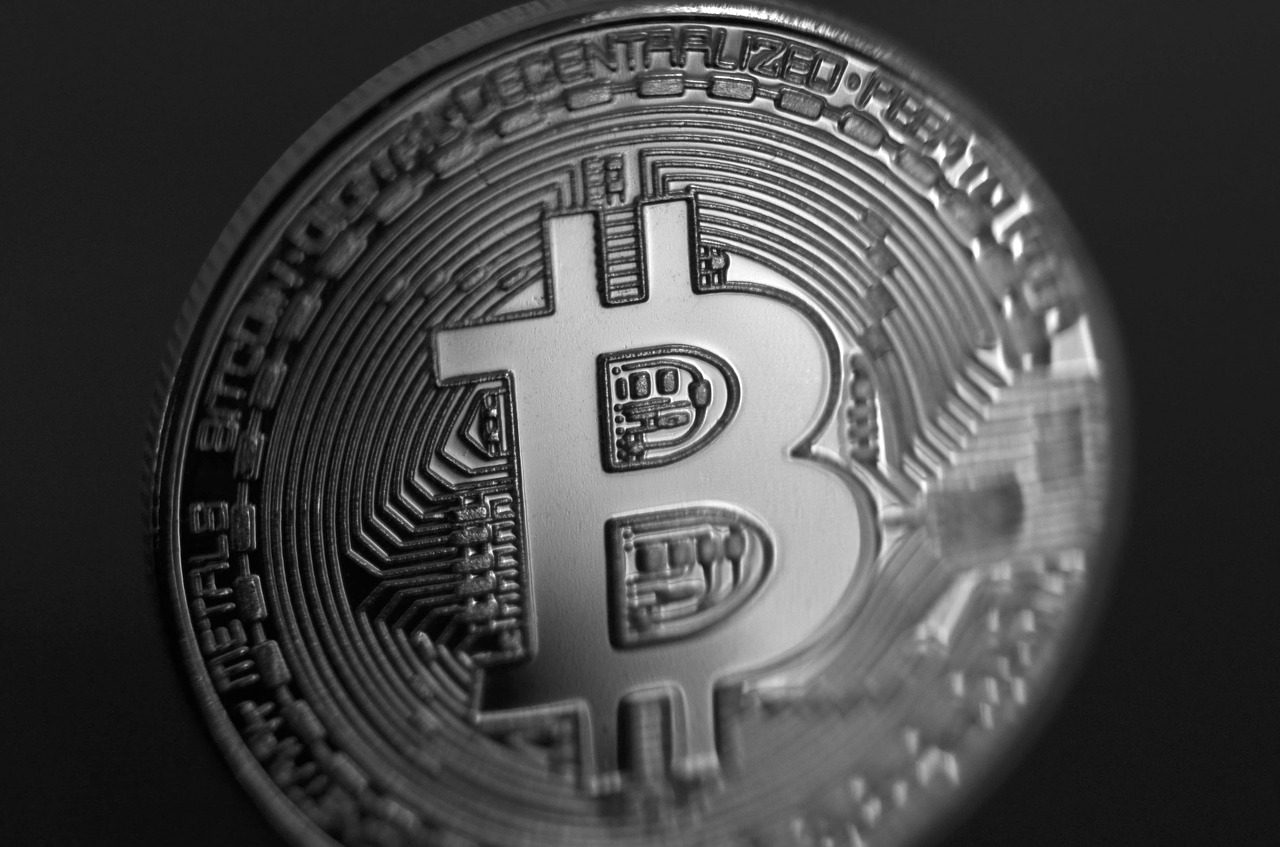 NairaEx is a popular Nigeria-based exchange that was launched in 2015 by Double JJ Enterprises based in Abeokuta Ogun State in Nigeria.
NairaEx is a bitcoin trading platform that allows customers to buy and sell bitcoin and other e-currencies such as Perfect Money, bank transfers, and bank deposits, among other payment options.
The exchange boasts user-friendly navigation and employs a unique pricing system; with both trading fees and other charges incorporated in the bitcoin price listed on the exchange.
NairaEx is one of the fastest growing startups in Nigeria's bitcoin ecosystem. Through its seamless transactions and transparent exchange rates, its trading platform has now become a popular choice among bitcoin enthusiasts who deal in the cryptocurrency.
NairaEx CEO David Ajala told Bitcoin Africa that he launched the exchange to enables Nigerians to buy and sell bitcoin using the naira to facilitate bitcoin remittances. Given the restrictions Nigerians are facing when it comes to sending and receiving international money transfers, he viewed bitcoin as a welcome alternative to the existing options.
"Considering the cost of remittances in Africa in general, bitcoin will prosper well into the future as transactions remain cheaper and faster, although a scaling solution will need to be found," Ajala told Bitcoin Africa.
NairaEx currently processes over 1 billion Naira worth of bitcoin transactions each month and the platform has accumulated over 100,000 users. It has become one of the most trusted exchanges to buy and sell bitcoin in the West African nation.
NairaEx's Future Plans
"The future for NairaEx is likely to involve an expansion in services to accommodate a range of consumers. Currently, our service is exchange and remittance centered, but as bitcoin use and adoption increases, we hope to provide merchant and corporate services to complement our current offering. As our blockchain service matures, we may also launch Bitcoin investment funds to allow consumers to profit from the extremely volatile crypto markets," Ajala told Bitcoin Africa.
Meet Africa's Blockchain Startups: Bankymoon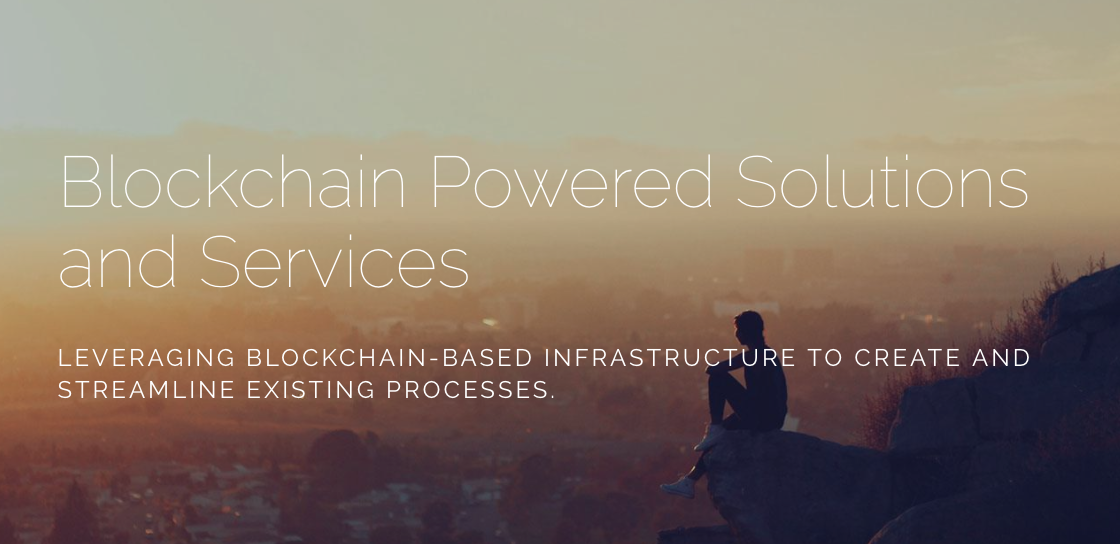 Bankymoon is a South African blockchain consultancy and software company that was founded in 2014 to offer bespoke solutions to clients who want to integrate bitcoin and other cryptocurrencies into their systems.
According to Bankymoon's CEO, Lorien Gamaroff, the Johannesburg-based startup aims to help institutions to embrace the blockchain. He believes the technology offers a more straightforward platform for people to develop business systems as well as an opportunity for the unbanked population.
Bankymoon's smart power grid meters
In 2015, Bankymoon announced "bitcoin's first killer app" dubbed 'Smart Grids and the Blockchain'. The startup is providing people with the opportunity to top up so-called smart meters using the digital currency bitcoin in real-time. This allows individuals to pay for their utilities without having to use traditional banking solutions that can be subject to high transaction fees.
The Bankymoon smart meters come with their own unique bitcoin addresses. At the point where a smart meter receives a payment in bitcoin, Bankymoon computes the tariff and then tops up the meter for the user. The integration of digital currency payments into smart meters enables individuals to "send" electricity, gas, and water to anyone, anywhere in the world by topping their utility meters using bitcoin.
"An international student who needs to top up their meter needs to phone their parents and ask them to send money. Then the parent now doesn't have to remit anything. Instead, they can just go and top up the meter using bitcoin," said Gamaroff.
Gamaroff believes that the blockchain can be revolutionary for the energy sector. He says that users in the far south country could pay less if municipalities and utility suppliers agreed to embrace the new smart meters.
The blockchain provides a system of distributed ledgers, which replaces the human labour offered by municipalities and power company. Thus, the meters can reduce power bills and boost industrialisation as well as rural electrification.
Integrating the bitcoin blockchain into the electricity grid allows users to make automatic payments directly from their wallets. This is likely to get rid of late fees and thus reduce power debt. It also enables well-wishers to make generous contributions by paying electricity bills for schools, hospitals, and the needy.
Gamaroff adds that the smart meters are ideal for reaching the unbanked population. The programmable money nature of bitcoin, he says, will help the developing world to enjoy the integration of the blockchain to the smart grids.
To see Bankymoon's bitcoin smart meter application in action, you can contribute to the company's social project that enables donors to directly provide electricity to needy South African schools by sending bitcoin to the schools' smart meters.
Consultancy services offered by Bankymoon
Alongside its bitcoin-powered smart meter project, the startup also offers blockchain consultancy services, seminars, and workshops. For example, Bankymoon helps organisations to understand the benefits and drawbacks of integrating private versus public blockchains and analyses existing systems to make valid recommendations on how to make them more efficient through the implementation of blockchain technology.
Bankymoon also develops blockchain-based systems, such as APIs that make the creation and management of digital assets easier and more user-friendly.