The Nigeria Blockchain Alliance Conference Will Be Held On November 23-24 in Lagos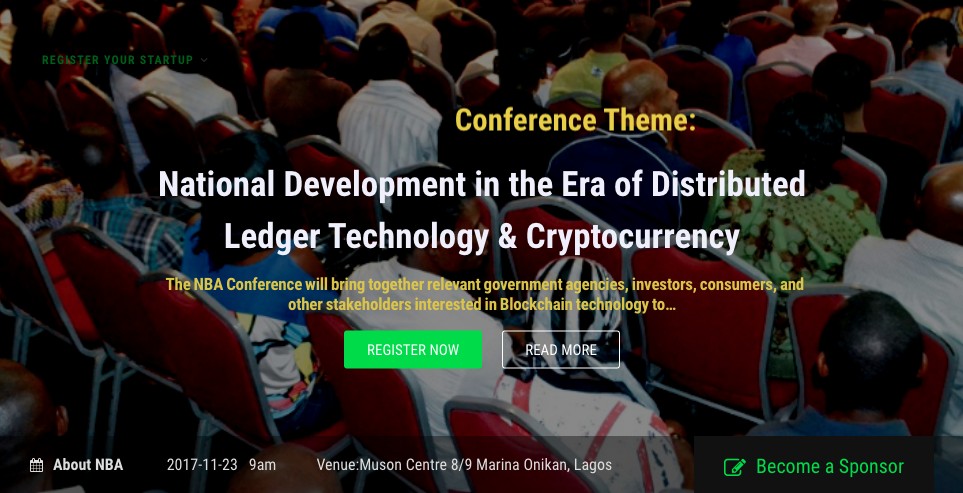 The Nigeria Blockchain Alliance (NBA), a platform under the umbrella of the cryptography development initiative of Nigeria (CDIN), will be hosting the first edition of its long-awaited blockchain conference. The Nigeria Blockchain Alliance Conference will be held at the Muson Center in Lagos on the 23rd and 24th of November 2017.
Nigeria's blockchain community has experienced tremendous growth in the past 12 to 24 months. Several new startups have launched and the CDIN initiative has been making substantial strides towards building a better, more informed cryptocurrency community in Nigeria.
The CDIN initiative has done a lot in educating the masses about blockchain technology and its benefits. Furthermore, to support the government's fight against electronic fraud, the CDIN launched the Nigeria Blockchain Alliance, a platform which brings together relevant bodies, and government agencies to collaborate in the fight against crypto-related crimes.
In an interview with BitcoinAfrica.io, CDIN founder Adeolu Fadele highlighted some of the key themes of the upcoming blockchain conference in Nigeria.
"The truth is that the entire programme of cryptography development initiative in Nigeria (CDIN), including the NBA conference, is targeted towards making sure that Nigeria(ns) do not miss the opportunities presented by the crypto-enabled innovations. That is why even the theme, brand and the agenda are also designed to reflect that focus – National Development in the Era of Distributed Ledger Technology & Digital Currency.

While we have our focus on national development, we have equally incorporated global partners into the agenda of the conference to give the participants a balanced event. The conference will feature speakers from Technology giants like Microsoft and IBM, startups and government agencies in Nigeria."
According to Fadele, the conference will have six main focus points.
1. Update on regulatory direction for blockchain/digital currency in Nigeria
2. Expert/stakeholders' opinion on having a "Nigerian blockchain and national digital currency"
3. Meeting the blockchain startups in Nigeria during an innovation session
4. Exhibition and distribution of free digital currencies
5. Learning the art of crypto-investments
6. Getting down the rabbit hole (Technical Session)
"As reflected in the six points agenda of the conference, a whole session has been dedicated to investment discussion and enthusiasts will have opportunities to learn from the experts.

[…] the conference is about bringing Nigerians together to work out how best to help our country leverage opportunities presented by digital innovations to produce overall growth and development while minimizing the risks," he added.
For more information about the conference, registration, and purchasing of tickets please visit The Nigeria Blockchain Alliance Conference
IBM and Twiga Foods Partner to Offer a Blockchain-Enabled Microcredit Solution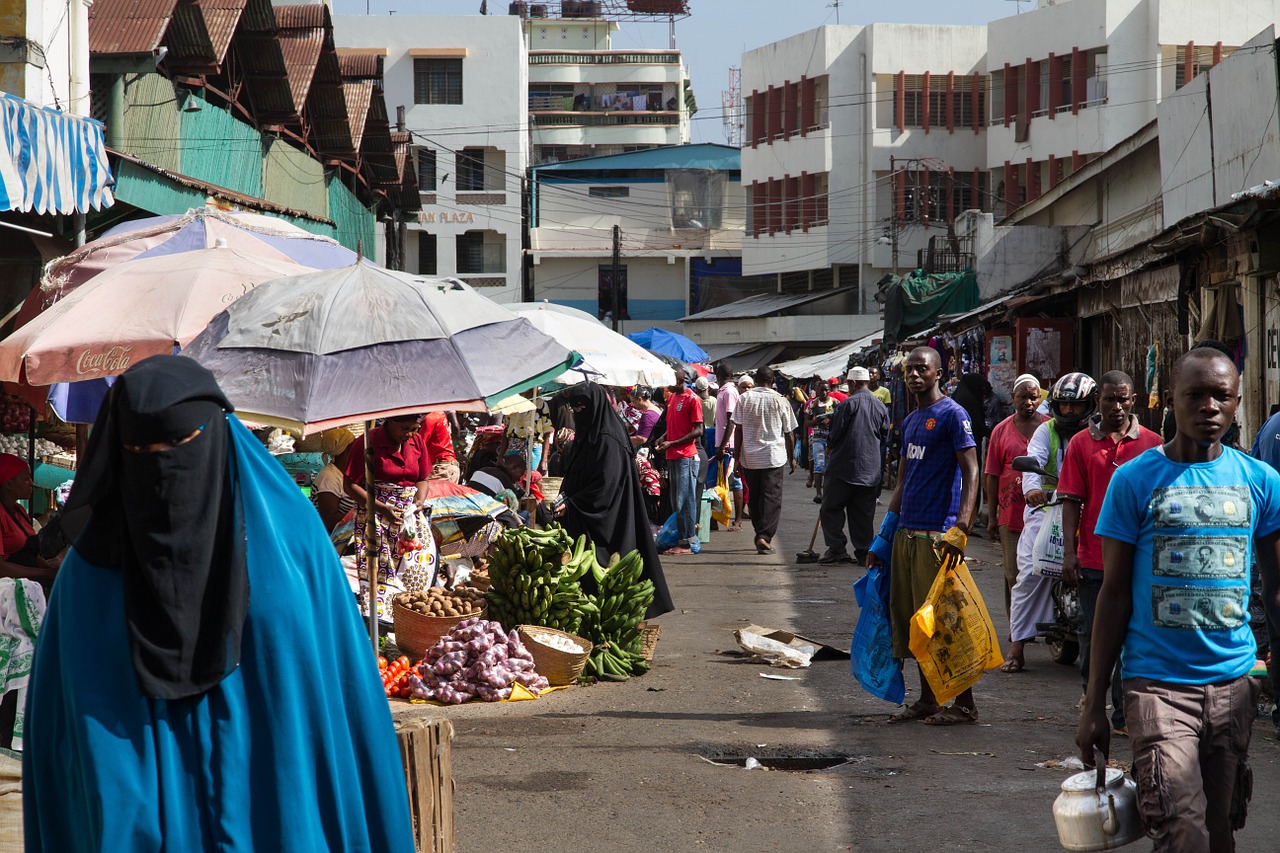 IBM Research in partnership with Twiga Foods announced a new microcredit solution that is now ready for rollout following an eight-week pilot. The pilot saw the two companies utilise the blockchain-based financing system to process 220 loans to recipients with the average lending amount of approximately $30 per recipient. The loans were for four to eight days with a one and two percent interest rate respectively.
The solution came about when Twiga Foods – a mobile-based supply platform for Africa's retail outlets, kiosks, and market stalls – was looking to expand its logistics services into a total market ecosystem by adding financial services for its customers.
Grant Brooke, Twiga Foods Co-Founder said, "Previously, we were focused on helping farmers distribute bananas, tomatoes, onions and potatoes to 2,600 kiosks across Kenya, but we soon realized that we could help them sell even more produce with access to working capital. It's simple, if the food vendors can sell more, we can distribute more, growing both of our businesses."
Twiga Foods begun working with IBM Research in Nairobi late last year to establish a blockchain-enabled finance lending platform that could foretell a vendor's credit score. Isaac Markus, a researcher on the inclusive financial services group at IBM Research in Kenya, said: "We analysed purchase records from a mobile device and then apply machine learning algorithms to predict creditworthiness, in turn giving lenders the confidence they need to provide microloans to small businesses. Once the credit score is determined, we used a blockchain, based on the Hyperledger Fabric, to manage the entire lending process from application to receiving offers to accepting the terms to repayment."
Benefits of the Blockchain-based Microlending Platform
With the blockchain, the lending process is transparent to all parties involved. Blockchains are immutable which helps in reducing fraud since no one person can add to the blockchain without agreement from the entire network. Also, blockchains can make use of smart contracts that are executable in real-time, therefore, reducing the time it takes for loans to be manually processed and issued. The technology will also help address the financial woes that informal and small businesses encounter when looking for cash to re-invest in their businesses.
The eight-week pilot saw the loan order size increase by 30 percent with each retailer having an average of a six percent increase in their profit. All 220 loans were executed through mobile phones and deposited directly towards the businesses' working capital. If a retailer had an order delivered, they would then get an SMS with loan options that they could use to finance the order. The retailer would then respond to the SMS confirming the loan option they wanted.
"We had several iterations of the platform based on feedback from the retailers. The SMS-based solution provided an effective channel for a diverse set of users, some with limited IT literacy, to access financing for their orders," stated Andrew Kinai, the lead software engineer on the project at IBM Research.
Following the successful pilot phase, the platform will first be rolled out to traders in Nairobi and then target SMEs across Africa by the end of 2018 with expansion into new sectors.
IBITx Launches New African Brand to Focus on Blockchain Incubation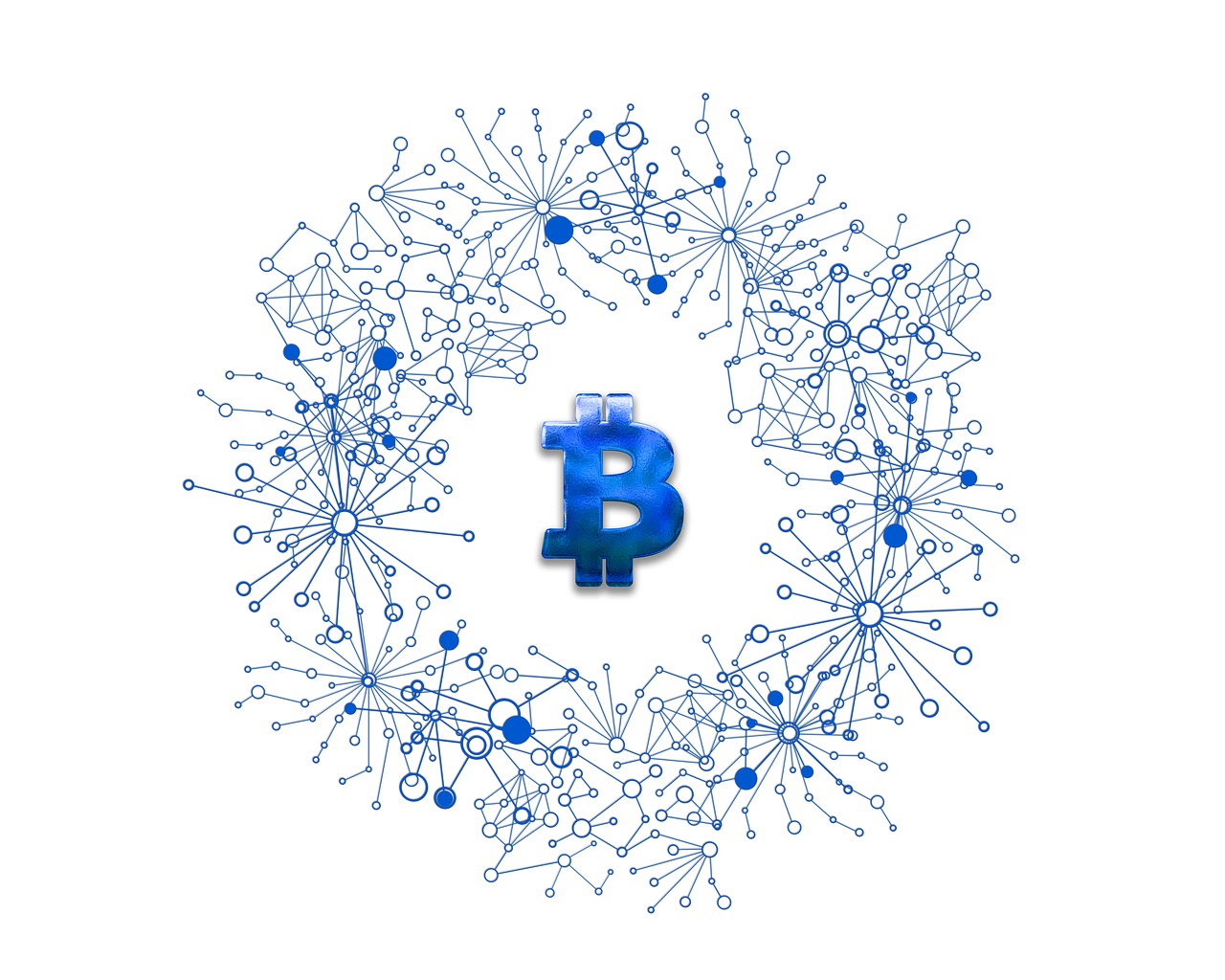 IBITX Software Inc., a cryptocurrency exchange service and crowdsale software provider, has launched its new African brand called AFRIBITx.com. The company aims to position itself as an incubator for the development of blockchain concepts and companies in Africa.
A New Blockchain Incubator for Africa
IBITx is a digital currency exchange that matches investors with token sales on a single platform for 'offerings' as well as a free market trading system for all aftermarket cryptocurrency purchases and sales.
In a company press release, IBITx CEO Rose Marie D. Araos said:
"Our intention is to launch in partnership with a financial service provider a regulated environment in at least 2-8 African countries to start ideally by June 2018. The system's skeletal structure is available for testing, however, we are still endeavouring to negotiate with regulated brokers and regulatory organisations as to which country will house the first African blockchain incubator, exchange, and crowdsale system."
The new brand, AFRIBITx aims to become the exchange, crowdsale, and blockchain incubator brand for Africa. IBITx Software will harness its talent pool of blockchain developers in Philippines, India and South Africa with the objective of developing cryptocurrencies and decentralised technologies across the African continent.
The company also plans to put in place revenue sharing partnerships with local brokers, which will see them handle management and custody of the various local markets.
South African Startup Vio Digital Launches Blockchain-Powered Money Transfer App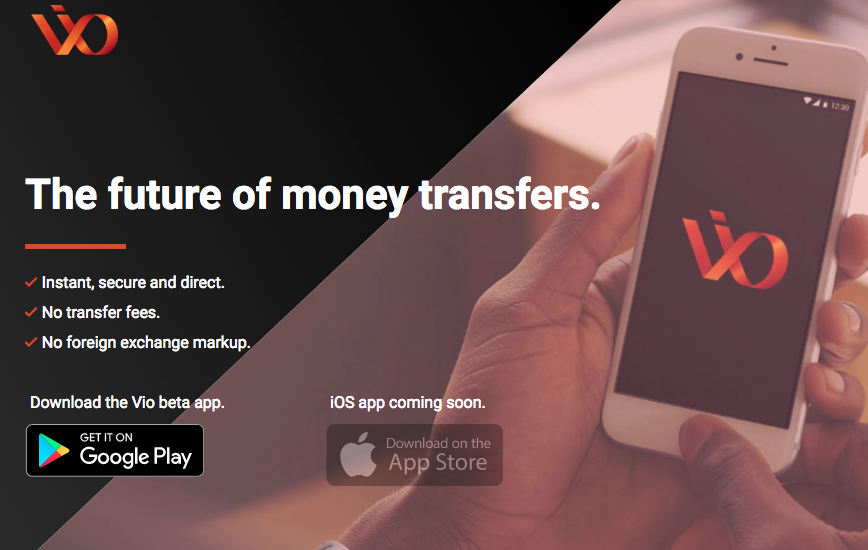 Vio Digital, a South African fintech startup, is launching an Ethereum blockchain-powered money transfer app that will go live in May 2018.
Vio Digital is offering a new form of international money transfer that enables people to transfer money from anywhere in the world with zero transfer and exchange fees. Moreover, Vio Digital has not set a foreign exchange markup, which translates to affordable money transfers for users. Vio Digital, therefore, eliminates the price barrier that Africans in the diaspora face when sending money back home.
"For people sending money home to their families, additional processing and admin costs can be crippling. Our app uses technology to give people safer and more convenient ways to move their money. Technology like the blockchain means we can take cost out of the system to give people cheaper ways to move their money," Praga Govender, CEO and founder of Vio Digital, stated.
Vio Digital held its initial coin offering from February 19 to 2 March 2, 2018, where the startup managed to raise approximately $1.2 million in ETH.
How Does the App Work?
The startup's app is currently available in the Google Play Store and will initially be available in Kenya, Ghana, Nigeria, and Cameroon. To use the app all you need to do is download it and register your account by completing the KYC process. You will then receive a Vio wallet address, which you will use to make money transfers.
The next step is topping up your wallet by buying Vio tokens using Visa or Mastercard. Once you have done that, you can send or receive money. To cash out, convert the Vio tokens into your local currency and then transfer the amount to your linked Visa Debit card through Visa Direct. The Vio app also features a transaction history to keep track of your transfers, exchanges, and top-ups.