Can this Crypto Solve the Mass Adoption Problem?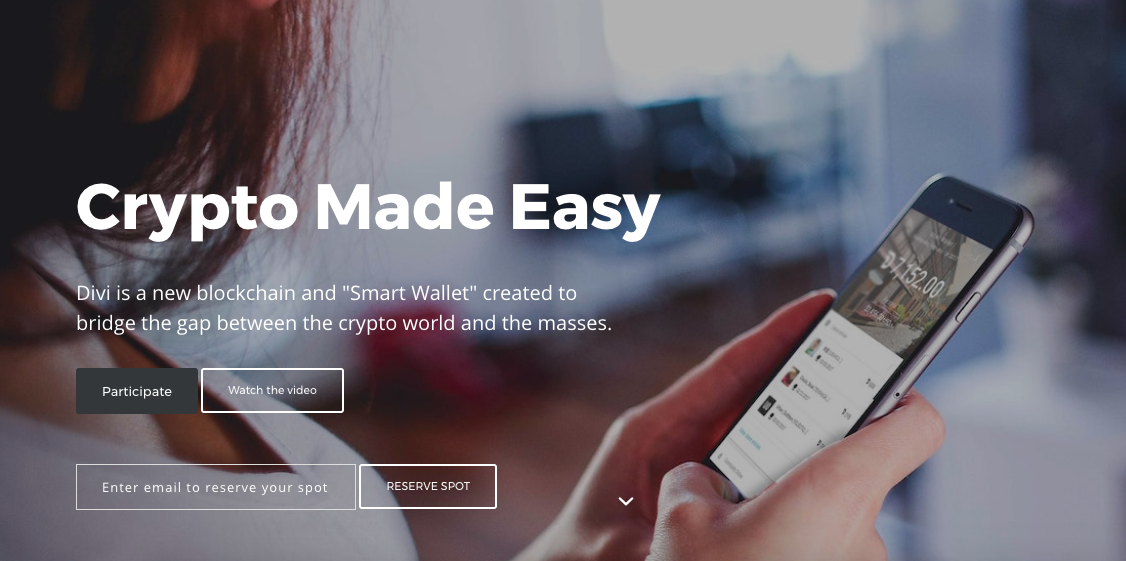 Yes, there's a lot of hype in the Crypto world these days, and yes maybe there's a bubble. Many projects that are very well funded today will fail but make no mistake, a revolution is coming.
If you think the explosion of growth that has happened in places like China over the last 20 years was impressive, just wait until the billions of people who are still effectively locked out of the world economy come online.
Thirty-nine percent of the world's population doesn't have a bank account. At least two billion people don't even have a record of their birth. But this dearth of identity is about to change in a big way. That's because the infrastructure for it to happen is finally nearly in place.
Internet access in the form of global wifi and very affordable computing power (smartphones) combined with the final piece of the puzzle, blockchain technology, is about to bring billions of people into the world economy like never before.
Blockchain still has a reputation for being the anonymity enabler but it's actually its ability to give people an identity that will allow these new entrants into the global economy.
Here's where the Divi Project is onto something.
Divi is building a marketplace platform that will finally allow people to bootstrap their own financial inclusion and capitalize on their desire to create and contribute.
It's a space where users can create an identity and through attestations from the community, attach a reputation to that identity so that there's the trust needed to facilitate the buying and selling of products and services globally.
On one level, it's a marketplace like Amazon. But unlike Amazon, this marketplace will be open to everyone because it's decentralized.
A carefully designed blockchain project – by its nature – will beat a typical centralized marketplace like Amazon in terms of security, transparency, speed of settlement, and ability to scale globally. The Divi project checks all of these boxes. But so do a lot of other blockchain projects.
So what sets Divi apart? It starts with usability.
There are already hundreds of millions of dollars worth of lost crypto out there. Even veteran crypto users are forced to double, triple, and quadruple check every transaction: Is the string of characters perfectly copied? Is it going into a wallet that can actually receive it?
For newcomers, the most common word used to describe a first crypto transaction is "terrifying." And don't forget: today's crypto "newbies" are still early adopters in the grand scheme of what is coming. If these relatively tech-capable early adopters are describing their experience as terrifying, what about the billions who haven't even heard of blockchain?
To attract them, if we're being honest, the word "blockchain" is irrelevant. These people will be attracted to the service only if it works better than that what they are already using.
The marketplace that succeeds in drawing mass adoption, therefore, needs to have a far better user experience than today's typical blockchain projects. In fact, it should have at least as good a user experience as Amazon.
Divi is the first project to really focus on things like (finally) usable wallets.
According to Tim Sanders, former Chief Solutions Officer of Yahoo, who recently joined the Divi Team, "Apple brought design acumen and appliance-level ease of use to the personal computing world. Similarly, Divi's team is taking a design approach to take the complexity and fear out of cryptocurrency. They've demonstrated the ability to not only dream big but to execute the plan. Those are the two ingredients I look for when getting involved in a company."
Users of the Divi network will be able to customize their wallets in new ways. This means instead of their wallet name being an impossible to remember (and easily mistaken) string of numbers and characters, it can be something recognizable like a username or an email address. Users can also attach their photo or logo to their wallet so customers sending them funds will have the extra reassurance that they are actually sending funds to the right wallet. Anonymity can, of course, be retained for those who wish, but most businesses will not want to be anonymous. Businesses are, after all, built upon reputation.
Divi has clearly thought through the game theoretic incentives that are required for a tokenized platform to succeed. This includes things like affordable tiered master nodes (allows speedy decentralization), the ability to stake tokens (encourages growth) and lottery style reward blocks (builds excitement and loyalty).
The platform design is also fertile ground for the network effects that will allow rapid marketplace growth through a bounty system for early adopters and a social component.
Crucially, the Divi Project is one of the few in the crypto world to have a strong focus on bringing women into the space. Their team includes top New York publicist Heidi Krupp, on their advisory board Co-Founder of CoinTelegraph Toni Lane Casserly, as well as other female entrepreneurs and social media experts.
Divi will probably not topple Amazon, but it doesn't need to. All it needs is a slice of the billions of people, and trillions of dollars, who are about to enter the global digital economy, and it looks like it's on the right track to do so.
By Graham Stone
"This is a paid press release. Readers should do their own due diligence before taking any actions related to the promoted company, product or service. Bitcoin Africa Ltd. is not responsible, directly or indirectly, for any loss or damage caused by or in connection with the use of or reliance on any content, product or service mentioned in the press release."

Blompayas Foundation to Launch Blockchain Incubator to Accelerate African Startups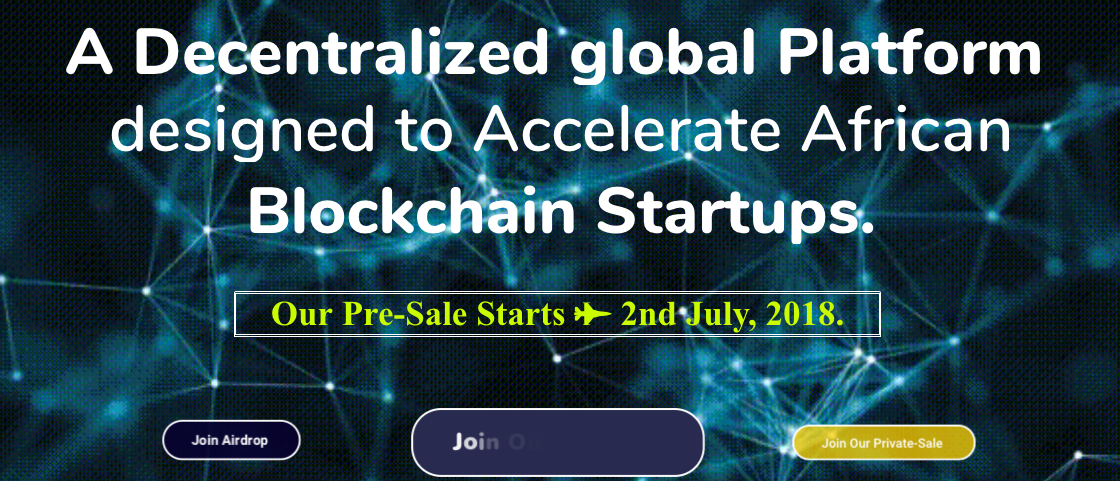 Blompayas, a startup incubator building a blockchain startup incubation/accelerator system "Merit-Chain" on Ethereum blockchain targeting African blockchain startups, today announced their token pre-sale which is starting on 2nd-15th July 2018, which will enable them to start "Merit-Chain" development.
Blompayas is a blockchain startup incubation program, designed to educate, seed, promote and accelerate early-stage technological innovative entrepreneurs building next-generation products in machine learning, artificial intelligence, big data, asset tokenisation and other innovative technologies using blockchain technology.
"The absence of blockchain incubators/accelerators is what is keeping Africans behind the scene in blockchain ecosystem, and for this problem Blompayas is born to bring Africans to the fore front of the blockchain ecosystem,"
said Rita Chukwuma, Co-founder/Executive director, Blompayas Incubator.
Blompayas assists blockchain startups in Africa to achieve their project goals. During incubation; startups will be subjected to free blockchain education, leadership and business management training, which will be centered on how to leverage blockchain technology to create solutions that will be useful mainstream. This incubator will also seed startups with a funding budget ranging from $1000 – $10,000 in PAYA token to a maximum of 500 (this is subject to change, based on our resources) portfolio projects annually. This will enable them to produce at least a beta version of their product, test-run it, while Blompayas finally promotes the startup ICO (Token sales).
The PAYA Tokens, apart from its usage to seed blockchain startups, will also be used as a method of payment for Blompayas services, along with fiat currency and other accepted cryptocurrencies.
Blompayas will offer 16,000,000 PAYA tokens to the public as follows: 1,000,000 PAYA for Airdrop/bounty and 15 000,000 PAYA for sale in two tiers to raise $5 000,000 hard caps: Pre-ICO and ICO. On Pre-ICO tokens will be sold with 40% discount. The total number of announced tokens will be 80,000 000.
Learn more about our project: https://blompayas.co
*This is a paid press release. Readers should do their own due diligence before taking any actions related to the promoted company, product or service. BitcoinAfrica.io is not responsible, directly or indirectly, for any loss or damage caused by or in connection with the use of or reliance on any content, product or service mentioned in the press release.*
#AroundTheBlock to be Held at Standard Bank, Johannesburg on June 12, 2018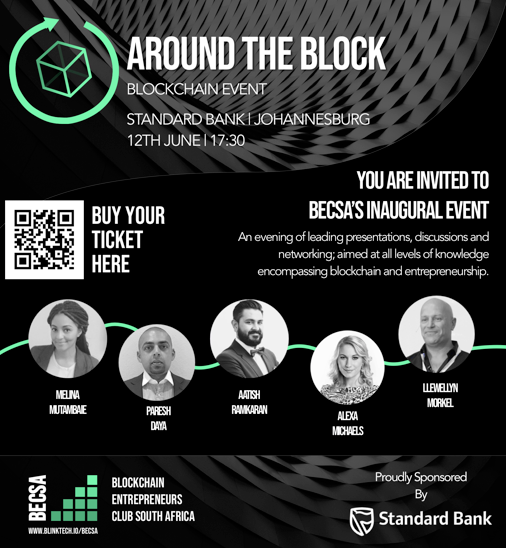 Johannesburg — The Blockchain Entrepreneurs Club South Africa (BECSA) is proud to announce their inaugural event on 12 June 2018! We cordially invite you to attend #AroundTheBlock – an evening of leading presentations, discussions and networking; aimed at all levels of knowledge encompassing blockchain and entrepreneurship.
Blockchains have been in use for just under ten years, but have had massive, global impact in that short time. Although cryptocurrencies like Bitcoin are currently regarded as their "killer apps", a tsunami of new use cases and innovative applications is arriving. Blockchains are now poised to significantly transform or completely disrupt industries as diverse as healthcare, identity, music, and real estate, and almost everything in between.
However, like most emerging technologies, blockchains can be intimidating and confusing, and separating hype from reality is not easy. #AroundTheBlock will take you on a tour of the technology and focus on the real world applications and opportunities it is providing.
Sponsored by Blink, Standard Bank and in partnership with The Festive Collective, a significant portion of the proceeds will be donated to our chosen impact hero, Molo Mhlaba.
For more information about the event or to buy tickets, visit: https://www.quicket.co.za/events/47090-around-the-block-hosted-by-becsa#/
About BECSA: BECSA serves as a destination for those interested in learning about all things related to blockchain and cryptocurrency. It creates a space for the public and entrepreneurs, from diverse backgrounds, to learn, network and grow the blockchain ecosystem in South Africa.
For more information, contact:
Aatish Ramkaran, Director (BECSA), aatish@blinktech.io
Solarex Utility Token (SRX) – Disrupting the Renewable Energy Market in Africa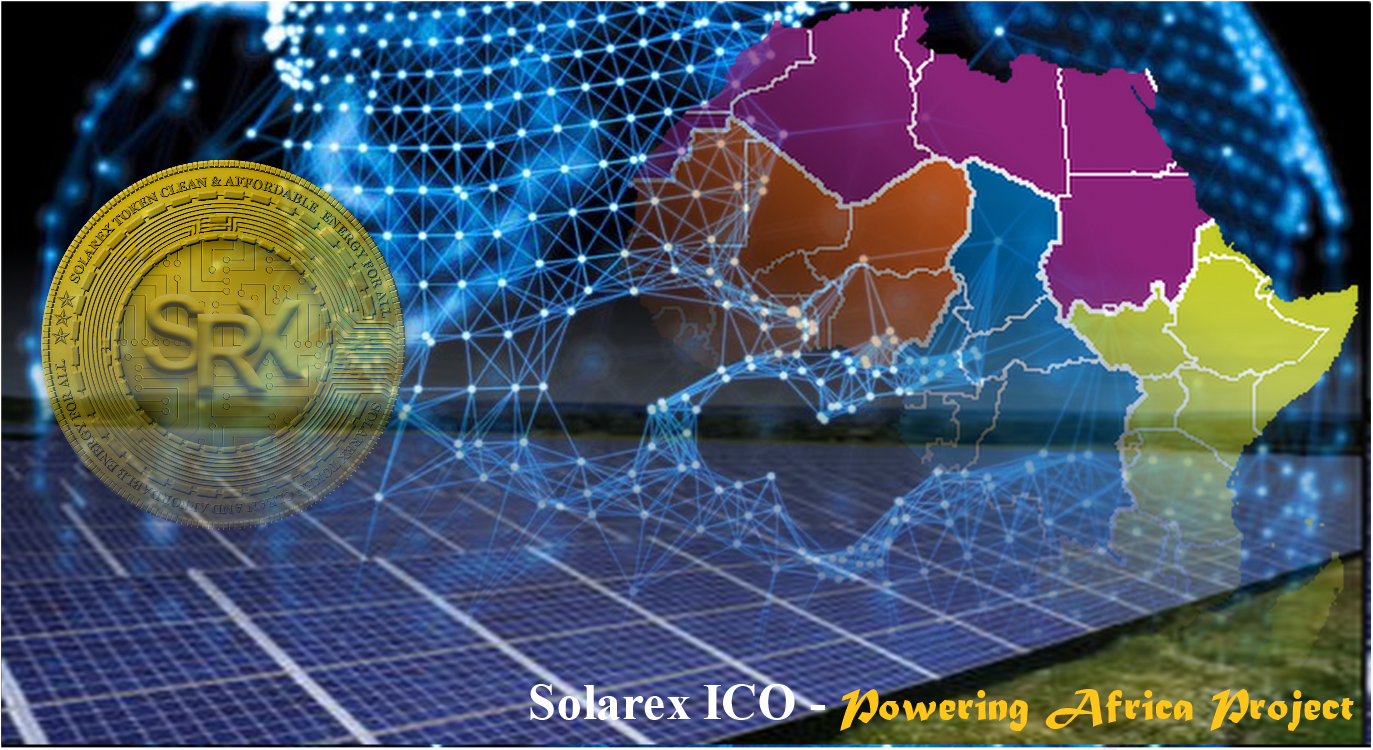 Africa is a continent that has amazing potential but is also plagued with a myriad of problems in virtually all sectors ranging from finance, energy, agriculture, and land registry. Unfortunately, more than 50 years of poor governance has not helped alleviate these crunching challenges besetting most African countries.
Fast forward to 2008 and the world got wind of a new lexicon called Bitcoin. It was a new technology that few privileged, young tech-savvy entrepreneurs took advantage of. It wasn't until 2009 before Satoshi Nakamoto mined the first ever block on the chain, called Genesis Block. Today, the Blockchain has evolved into a decentralized digital ledger via which transactions made in Bitcoin or other cryptocurrency are recorded chronologically and publicly.
The emergence of Blockchain technology which took Africa by storm with its multiple functionalities, in the area of finance, healthcare, governance, and telecommunication, has continued to find immense relevance in the continent. Blockchain can reduce endemic corruption in a continent where there is lack of trust and transparency. Blockchain technology with its vast potential can also help overcome electoral fraud, land theft and educational deficits that have persisted in most African countries.
The key area where most African countries have suffered the most is in the area of energy. As at April 2017, only 15.3% of the entire Tanzanian population had access to electricity. South Sudan is even worse off, with just 5.1% of its total population having access to clean and cheap electricity. The problem is more evident in Nigeria, which prides herself as the Giant of Africa but can only generate an average of 3200MW of electricity daily for over 180 million populations. This has indeed slowed down economic growth in Africa and also impacted negatively on other sectors that depend heavily on electricity for its survival.
Fortunately, Africa has come to embrace renewable energy as a means of bridging the widening gap that has been created by the energy deficit. One of such renewable energy options which were initiated by Africa Blockchain Research Council (ABRC), a holding company of Auto Republic Ltd, UK, is codenamed "Powering Africa Project". The Powering Africa Project is set to create a clean, cheap and sustainable energy solution to bridge the huge energy gap in Africa. The Project will deploy both the renewable energy and Blockchain technology.
The Solarex ecosystem which will build a decentralized network of energy resources via solar farms which will be connected through Blockchain technology, will aim to become the largest, most efficient and sustainable solar energy provider in Africa, offering energy at a cheap and affordable price for all, and setting a new standard for energy consumption in Africa.
The Solarex utility token (SRX), is an innovative off-grid solar energy technology token that is built around the Ethereum platform and gives access to the services provided on the Solarex ecosystem. Each Solarex token is expected to increase in value based on its multiple functionality and fact that the token will be listed on major exchanges 14 days after the end of its ICO.
The Solarex official ICO website is now opened for private investors and partnership. For those interested in partnership and private sale, simply contact the CEO at ceo@solarex.io
You can also reach Solarex Team in various ways:
Chat on Telegram: https://t.me/SolarexICO
Visit ICO Website: https://solarex.io
Read the Whitepaper: https://solarex.io/content/site/whitepaper.pdf
Subscribe on Facebook: https://www.facebook.com/solarexico
Follow on LinkedIn: https://www.linkedin.com/groups/8657063
Subscribe on YouTube: https://www.youtube.com/watch?v=_SxEFSpTkoM
Follow on Twitter: https://twitter.com/SolarexICO
Follow on Instagram: https://www.instagram.com/solarexico/
*This is a paid press release. Readers should do their own due diligence before taking any actions related to the promoted company, product or service. Bitcoin Africa Ltd. is not responsible, directly or indirectly, for any loss or damage caused by or in connection with the use of or reliance on any content, product or service mentioned in the press release.*