Synereo Launches Content Creator Platform with Direct Monetisation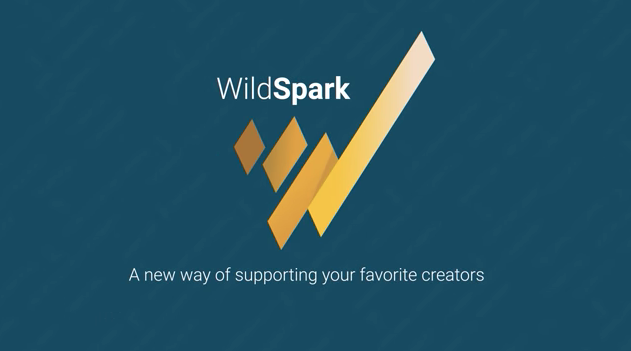 The Internet has enabled people around the world to make money online through the creation and publication of digital content. However, most established content platforms such as YouTube, for example, keep the lion's share of the revenue generated from that content for themselves. End users, on the other hand, can only "support" the creative writers with shares, comments, and likes on the vast majority of platforms. This is what blockchain venture Synereo is aiming to change.
Synereo – a company that is using the blockchain to provide content creators with a solution to monetise directly from their content – has already launched the beta version of their first product called WildSpark. WildSpark will enable content creators make money directly from their content, with zero restrictions, for which they will be rewarded for using Synereo's cryptocurrency AMP. In addition, content curators will also be rewarded for sharing popular high-quality content.
Since WildSpark is currently in open beta, users have been facing some restrictions. Additionally, the platform has so far been working with YouTube only but more platforms are expected to be integrated into the project following their official launch release that is set to happen in two weeks. For now, Synereo has launched a Creator Program and are expecting more than 100 content creators to sign up on the platform.
Creator Program Reward
Synereo offers a noteworthy reward program that is classified into four different tiers: Silver, Gold, Platinum, and Diamond. A content creator in the Silver Tier of Creator Program needs to have more than 300 subscribers; the Gold Tier will need one to have more than 1,000 subscribers; over 7,500 subscribers for the Platinum Tier and the highest being 10,000 subscribers for the Diamond Tier. Content creators will start earning bonuses at 750 AMP for the lowest tier, which will go upwards from there. Synereo has allocated $500,000 for the AMP Creator Program.
YouTube creators interested in joining the program can fill this form.
While creating good content that is engaging is only half of the journey, finding the audience to spread the content is another battle on its own. WildSpark has factored this in and as such, offers a reward for both the creator and curator. Creators using WildSpark as an additional revenue stream can also give their followers an opportunity to earn monetary rewards. When a curator sends AMP to the owner of the content they love, they get a portion of all future AMP rewards that others send to the same content piece. This creates an ecosystem whereby creators are compensated for their content and curators earn by spreading the content.
Why is WildSpark Unique?
While there are other incentivised content creation platforms, WildSpark stands out for users as the platforms they post their content on do not receive any form of reward – and neither does WildSpark itself. If a subscriber gives AMP, it goes directly to the person who created the content and to the person who helped to spread it. The exact calculations for the AMP compensation distribution are outlined in Synereo's whitepaper. However, this is expected to change with developments to the project.
The WildSpark team plans to continue developing the platform to enable content creators to reward their active fans while finding alternative ways for users to promote and monetise their content.
With such a well thought out platform and ambitious plans, WildSpark could become a big success among content creators in Africa as it creates a new avenue for them to generate an income online.
Humaniq Launches Version 2.0 of its App Based on the First Working Hybrid Blockchain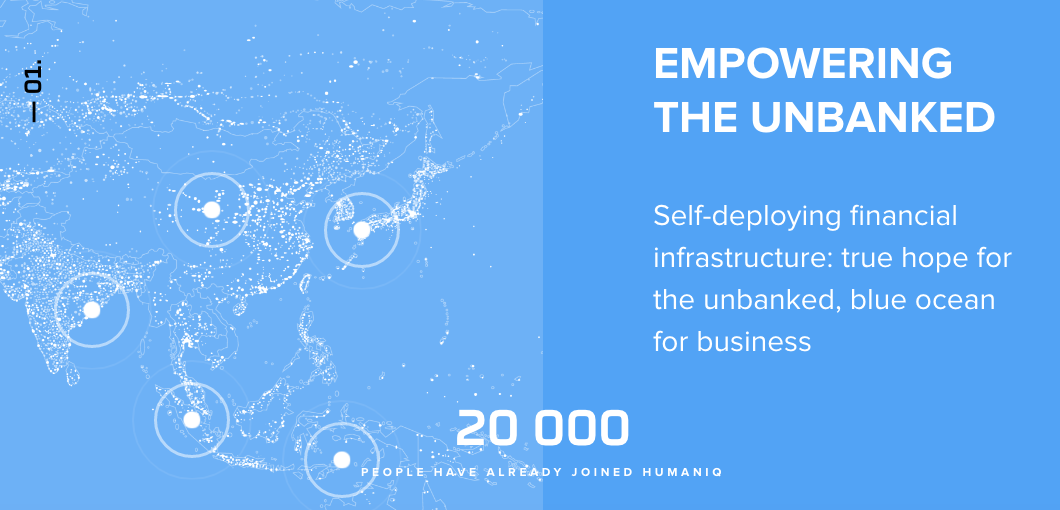 Humaniq, a blockchain startup based in London, has launched version 2.0 of its app, which operates on the first working hybrid blockchain.
Unlike other hybrid blockchains that are still in the beta-testing and prototype stages, Humaniq has developed a working hybrid blockchain. The Humaniq next-generation app, which has its own cryptocurrency called HMQ, has been downloaded over 100,000 times.
The Humaniq app features an inbuilt chat system, a wallet, a secure authentication process, zero commission fees, instant transfers, and a referral and bonus system.
Humaniq conducted an initial coin offering (ICO) in April last year that raised $5.1 million. The company also held a competition for blockchain projects with the aim of helping the unbanked population. Three winners from the competition travelled to Kenya to "gain an understanding of unbanked people and test their hypothesis."
Low-Cost Transaction and Security Fees
Humaniq has solved the scaling challenges of ERC20 projects by preserving the benefits of the Ethereum main-net and creating a "unique combination of sidechain solutions in individual African countries such as Uganda, Senegal, Zimbabwe, Tanzania, and Rwanda."
"Our development team is proud of this technological first, which brings together the benefits of the Ethereum blockchain and of individual blockchains. Our unique solution allows us to serve even more of the global unbanked population, building on the 100,000 downloads already made – without the costs of providing services of either the miners or the traditional banks," Anton Mozgovoy CTO Humaniq said.
Humaniq has developed a new architecture that offers inexpensive security – compared to approximately $84.85 charged for the security of a transaction on Ethereum's main-net – while enabling users to make small transactions with almost zero fees. Furthermore, the new architecture will enable HMQ tokens to be open and accessible on the Ethereum main-net.
The solution, therefore, consists of one main HMQ blockchain and several other internal blockchains "where user wallets from different countries are stored and operated together while remaining identifiable and personalised based on the user's country location."
When the existing blockchain capacity becomes fulfilled as a result of transaction volume, the system launches the next blockchain to scale the system horizontally. Additionally, transactions on the hybrid blockchain will remain transparent and decentralised.
How ICOs Could Boost the Kenyan Startup Scene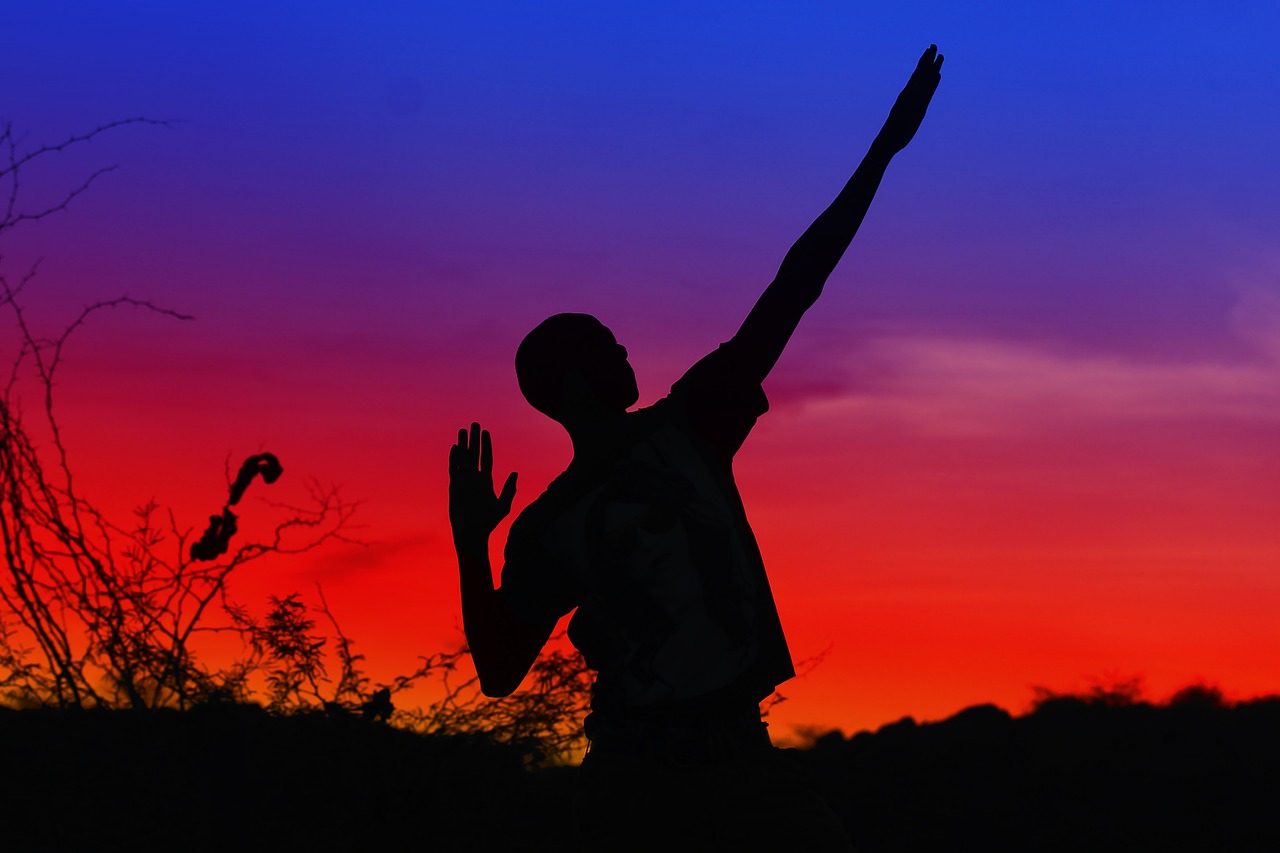 On March 17, 2017, BitSoko held the first ICO Summit in Kenya. The three-hour event attracted over 50 attendees and was well-received by the Kenyan startup scene as the main theme of the event was focused on how ICOs can help Kenyan startups to meet their funding needs.
In Africa, Nairobi – the capital of Kenya – has turned into a hotspot for startups, especially in the technology sector. The fact that blockchain technology is applicable in various sectors has made it possible for upcoming startups to find ways of utilising the technology for the solutions they seek to provide. This was evident on Saturday when six local startups pitched their solutions to attract investors and raise funds for their businesses through tokenisation.
Key speakers during the event included Michael Kimani from ChamaPesa, George Maina from Oseko & Ouma Advocates LLP, and Mr. Apollo who spoke at length on the advantages and risks that ICOs have in the cryptocurrency crowdfunding space in the country.
What is an ICO?
An initial coin offering, also known as an ICO, a token sale, a crowdsale or a token generation event, is a new form of funding that (predominantly) blockchain startups are using to raise capital for their venture. In an initial coin offering, a startup runs a crowdfunding campaign where it selling a newly-issued digital token in exchange for bitcoin (BTC) or ether (ETH). The future value of the digital token is then linked to the performance of the project. In that sense, an ICO or very similar to a stock IPO, except for the fact that the new digital token does normally not constitute a share in the company and its value is only indirectly linked to the success of the company.
While speaking on ICOs in Kenya, Chris from Coinweez compared an initial coin offering to table banking in Kenya that has been used over the years to fundraise for various projects including settling of school fees, weddings, and medical bills. While acknowledging that ICOs are a new concept that is quickly becoming mainstream he said,
"The ICO model can be modified to suit our needs in Kenya and Kenyan companies can have a smart way of raising money for their businesses."
His sentiments were backed by Mic Kimani who felt that chamas in Kenya are "missing a technology to power what they are doing". Kimani, who is part of the blockchain based app, ChamaPesa, said that the app is meant to give chamas a superior way for not only storing and earning but investing their money through the use of the blockchain.
He added, "ChamaPesa will connect different chamas to allow for borrowing of money as well as raising of money using ChamaCoin. The app will go beyond the Kenyan market and can be accessible by any agent network, which allows for borrowing of money hence having the ICO aspect. All chamas will be on the blockchain and anyone can be able to check the amount of money their chama has."
Regulatory Framework and Risks in ICOs
For some people, the summit was a way for them to learn about what the regulatory framework for cryptocurrencies and ICOs looks like in Kenya. To answer this, George Maina from Oseko & Ouma Advocates LLP helped define what the regulatory landscape in Kenya is when it comes to digital currencies and ICOs.
Maina said: "As much as ICOs are not regulated in Kenya, it is not illegal to invest in bitcoin or any other digital currency and one can't get arrested for it." In the same breath, he added that bitcoin is not legal tender in Kenya. He also advised those seeking to invest in ICOs to do so at their own risk as there are currently "no laws on how disputes on the blockchain are solved."
Apollo spoke about the risks that those investing in ICOs should be aware of. As there is no legal framework for ICOs currently in Kenya, one can raise money from anyone for their blockchain startup, terrorists included. At the same time, some startups do not divulge the amount of money they raise form the ICOs while others are just ideas that have no clear roadmap on the length of the project.
According to Apollo, more than 50 percent of companies that raised capital using the ICOs in the past one year were scams. Apollo also touched on the security issue relating to ICOs saying, "around 10 percent of startups seeking to raise funds through ICOs have been hacked and keys to where people can send them money changed simply because the companies seeking to crowdfund focused on getting money and forget about security."
He advised those considering investing in ICOs to have "a high risk of tolerance as there is a chance that one could lose all their investment." He went on to say that there is no insurance when it comes to investing in ICOs and it is important for people to do due diligence and ensure the startups they are investing in are legitimate.
"I hope that we get to a place where everyone can be able to raise money using ICOs," he concluded.
Upcoming Startups Using ICOs to Crowdfund
The event also several Kenyan startups pitch their solutions in order to raise money for their startups through tokenisation, which refers to the digitising of business assets. Some of the startups that pitched include HAIL-A-HUSTLE, an e-commerce platform that seeks to develop business potential through its diverse products, and Usafi Sanitation, a startup that wants to improve sanitation and improve human dignity by providing schools and communities with proper sanitation by installing eco-friendly toilets and eliminating pit latrines. Other startups included Nairobi Cloakroom, Farm Books, and Mazingira Safi.
ICOs present an interesting and exciting way for startups and other established companies in Kenya and Africa at large to raise money to either start or expand their businesses. As the ICO market continues to grow, it is only a matter of time until more African startups will jump on this new opportunity to receive funding, which is often hard to come for local startups on the continent.
Kenya's First ICO Summit to be Held in Nairobi on March 17, 2018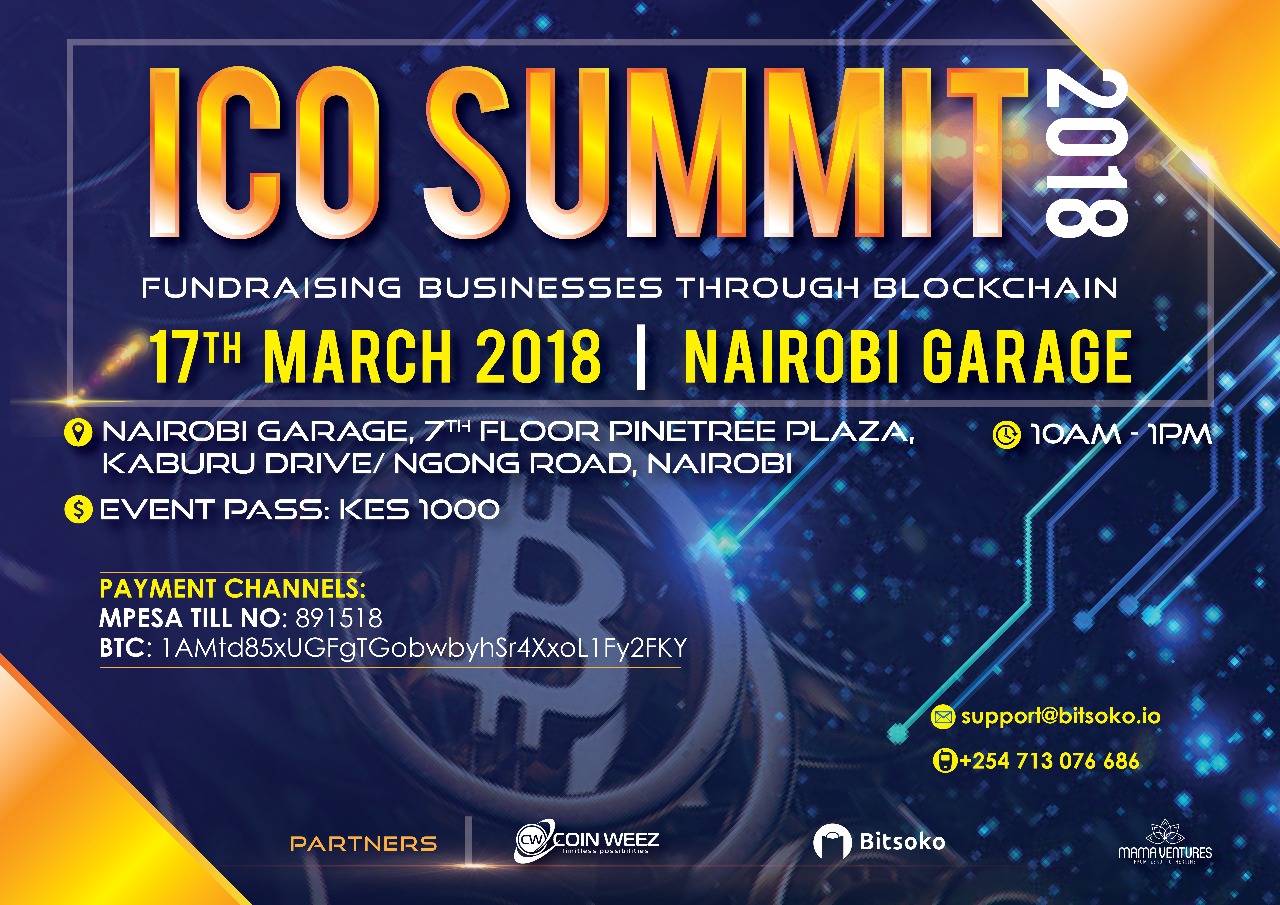 This coming Saturday, Kenya's first ICO Summit will be held in the country's capital Nairobi.
The ICO Summit 2018, which will be held at Nairobi Garage, PineTree Plaza on Ngong Road, will include the following discussion points:
1. How blockchain technology has revolutionised startup fundraising through ICOs. 
2. How ICOs can make it easier for projects to attract investors by issuing digital tokens.
3. Why tokenisation (digitising of business assets) is touted as a future model that will be adopted en mass. 
4. How Bitsoko, with its key partners, is taking the initiative of enabling local businesses to tokenise their assets by pitching their businesses to investors. 
Initial coin offerings provide an amazing new funding opportunity for Kenyan startups that should not be missed. Kenyan businesses that are interested in submitting applications for funding can fill out the following form. 
To register for the event, you can purchase your tickets using MPESA or bitcoin on Eventbrite. Attendance will cost 1,000 KES and the event will run from 10 am to 1 pm.