Zimbabwe Has One ATM With Cash, And You'll Need Bitcoin To Get It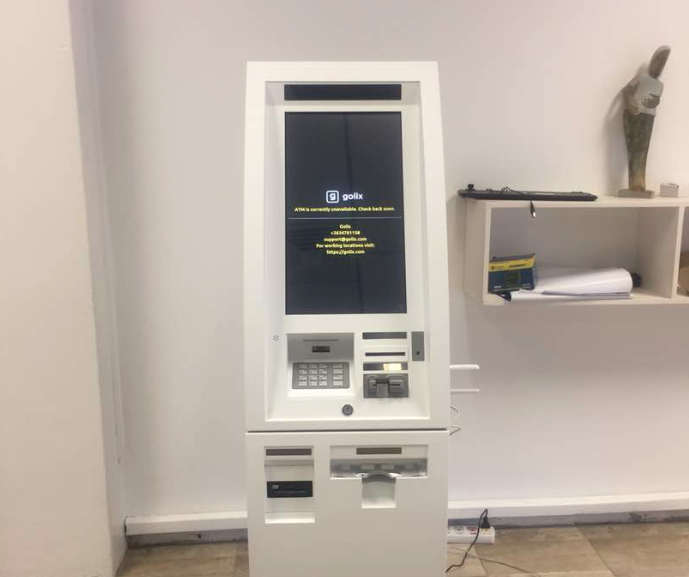 Golix, Zimbabwe's first and largest cryptocurrencies exchange, has broken new ground once again by acquiring the country's first ever Bitcoin ATM, which comes loaded with hard US dollars.
The machine – which was activated earlier this week – allows anyone to buy and sell bitcoin at favourable rates using the greenback. It is the only ATM in Zimbabwe dispensing US dollars to customers selling bitcoin. Through an easy-to-use interface, it provides tech and cryptocurrency newbies a simple way to buy bitcoin. It has been placed in Golix's Customer Support offices which are located along First Street Harare – one of the busiest streets in the capital city's business centre.
Thanks to Golix's ATM, Zimbabwe joins an elite score of fewer than 70 countries around the world that have introduced the machines which provide convenience to customers, especially first time users of cryptocurrencies and the unbanked without access to digital funds. The development is not only significant for Golix but also for Zimbabwe.
Just a decade ago the Southern African country recorded the highest rates of hyperinflation in modern history, turning virtually every citizen into a trillionaire and rendering normal banking services like ATM withdrawals pointless. The adoption of a foreign currency system in 2009 halted the effects of inflation, but in the past two years, the country has suffered from a new problem altogether. A cash crisis has gripped the formal financial system, resulting in unending bank queues and leaving the country's 472 ATMs network useless.
As such the Bitcoin ATM serves to be a financial game changer in a country that has no fiat currency of its own. In the same way that customers insert a card into a traditional ATM, the Bitcoin ATM allows customers to insert US dollars which are converted to the volume of bitcoins that they want to buy. The ATM then sends the bitcoins straight to the customer's wallet. Customers who purchase bitcoins without a bitcoin wallet have the option to generate a bitcoin address.
Golix product manager, Yeukai Kusangaya, said that the bitcoin ATM was one of the many products lined up to ensure that the public has easy access to bitcoins. "After realising that the public is still struggling to understand or in some cases access bitcoin, we felt that the bitcoin ATM would be a huge and necessary step towards engaging people on how they can use cryptocurrencies for their daily business.
"For anyone who has used a traditional ATM, they won't struggle to find their steps when they are using the Bitcoin ATM," said Kusangaya. Also weighing in, Golix CEO, Tawanda Kembo said that this is the only ATM in the country with cash.
"Gone are the days when the only means of making an international payment was first buying cash on the parallel market and then driving all the way to Zambia to pay a supplier. This bitcoin ATM moves us one step closer to achieving our mission of giving every person in Africa financial autonomy," said Kembo.
Blompayas Foundation to Launch Blockchain Incubator to Accelerate African Startups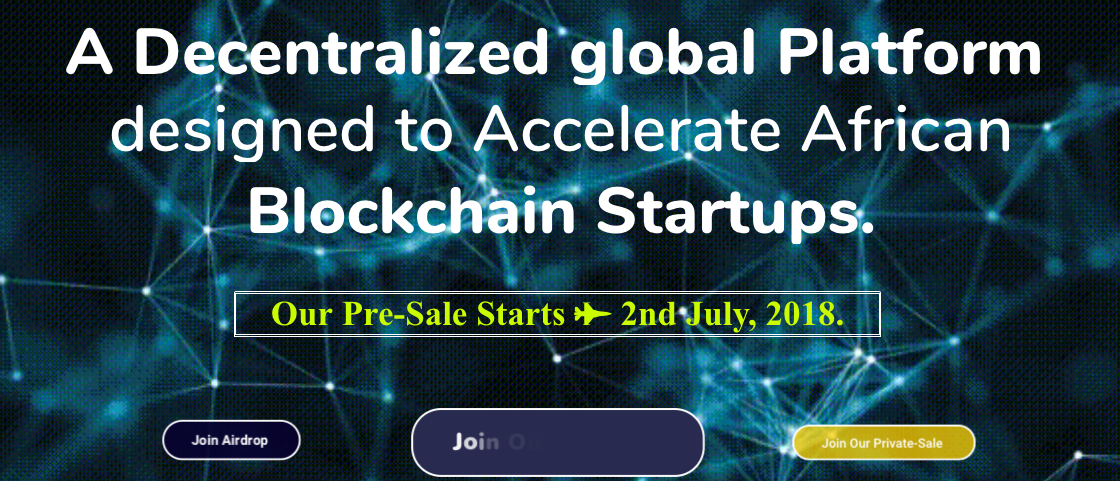 Blompayas, a startup incubator building a blockchain startup incubation/accelerator system "Merit-Chain" on Ethereum blockchain targeting African blockchain startups, today announced their token pre-sale which is starting on 2nd-15th July 2018, which will enable them to start "Merit-Chain" development.
Blompayas is a blockchain startup incubation program, designed to educate, seed, promote and accelerate early-stage technological innovative entrepreneurs building next-generation products in machine learning, artificial intelligence, big data, asset tokenisation and other innovative technologies using blockchain technology.
"The absence of blockchain incubators/accelerators is what is keeping Africans behind the scene in blockchain ecosystem, and for this problem Blompayas is born to bring Africans to the fore front of the blockchain ecosystem,"
said Rita Chukwuma, Co-founder/Executive director, Blompayas Incubator.
Blompayas assists blockchain startups in Africa to achieve their project goals. During incubation; startups will be subjected to free blockchain education, leadership and business management training, which will be centered on how to leverage blockchain technology to create solutions that will be useful mainstream. This incubator will also seed startups with a funding budget ranging from $1000 – $10,000 in PAYA token to a maximum of 500 (this is subject to change, based on our resources) portfolio projects annually. This will enable them to produce at least a beta version of their product, test-run it, while Blompayas finally promotes the startup ICO (Token sales).
The PAYA Tokens, apart from its usage to seed blockchain startups, will also be used as a method of payment for Blompayas services, along with fiat currency and other accepted cryptocurrencies.
Blompayas will offer 16,000,000 PAYA tokens to the public as follows: 1,000,000 PAYA for Airdrop/bounty and 15 000,000 PAYA for sale in two tiers to raise $5 000,000 hard caps: Pre-ICO and ICO. On Pre-ICO tokens will be sold with 40% discount. The total number of announced tokens will be 80,000 000.
Learn more about our project: https://blompayas.co
*This is a paid press release. Readers should do their own due diligence before taking any actions related to the promoted company, product or service. BitcoinAfrica.io is not responsible, directly or indirectly, for any loss or damage caused by or in connection with the use of or reliance on any content, product or service mentioned in the press release.*
#AroundTheBlock to be Held at Standard Bank, Johannesburg on June 12, 2018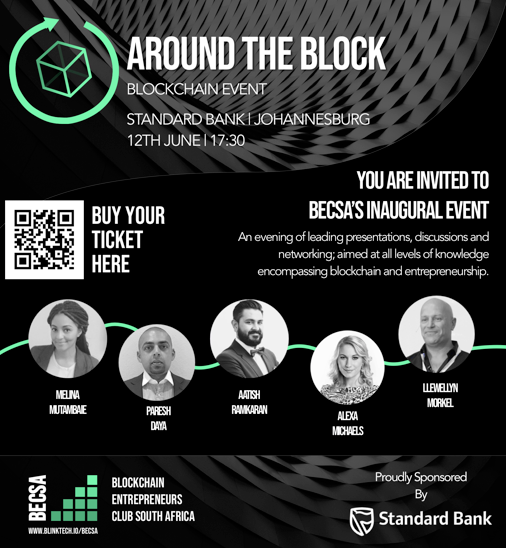 Johannesburg — The Blockchain Entrepreneurs Club South Africa (BECSA) is proud to announce their inaugural event on 12 June 2018! We cordially invite you to attend #AroundTheBlock – an evening of leading presentations, discussions and networking; aimed at all levels of knowledge encompassing blockchain and entrepreneurship.
Blockchains have been in use for just under ten years, but have had massive, global impact in that short time. Although cryptocurrencies like Bitcoin are currently regarded as their "killer apps", a tsunami of new use cases and innovative applications is arriving. Blockchains are now poised to significantly transform or completely disrupt industries as diverse as healthcare, identity, music, and real estate, and almost everything in between.
However, like most emerging technologies, blockchains can be intimidating and confusing, and separating hype from reality is not easy. #AroundTheBlock will take you on a tour of the technology and focus on the real world applications and opportunities it is providing.
Sponsored by Blink, Standard Bank and in partnership with The Festive Collective, a significant portion of the proceeds will be donated to our chosen impact hero, Molo Mhlaba.
For more information about the event or to buy tickets, visit: https://www.quicket.co.za/events/47090-around-the-block-hosted-by-becsa#/
About BECSA: BECSA serves as a destination for those interested in learning about all things related to blockchain and cryptocurrency. It creates a space for the public and entrepreneurs, from diverse backgrounds, to learn, network and grow the blockchain ecosystem in South Africa.
For more information, contact:
Aatish Ramkaran, Director (BECSA), aatish@blinktech.io
Solarex Utility Token (SRX) – Disrupting the Renewable Energy Market in Africa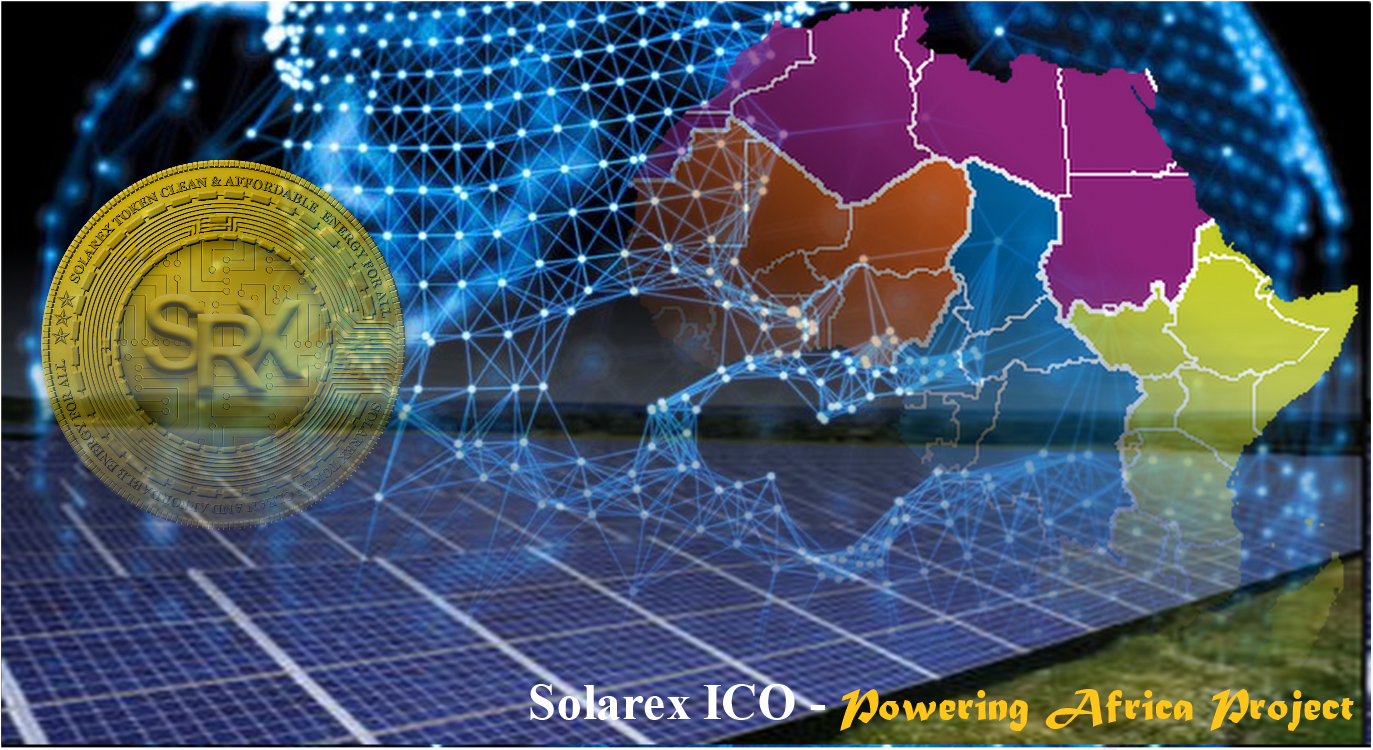 Africa is a continent that has amazing potential but is also plagued with a myriad of problems in virtually all sectors ranging from finance, energy, agriculture, and land registry. Unfortunately, more than 50 years of poor governance has not helped alleviate these crunching challenges besetting most African countries.
Fast forward to 2008 and the world got wind of a new lexicon called Bitcoin. It was a new technology that few privileged, young tech-savvy entrepreneurs took advantage of. It wasn't until 2009 before Satoshi Nakamoto mined the first ever block on the chain, called Genesis Block. Today, the Blockchain has evolved into a decentralized digital ledger via which transactions made in Bitcoin or other cryptocurrency are recorded chronologically and publicly.
The emergence of Blockchain technology which took Africa by storm with its multiple functionalities, in the area of finance, healthcare, governance, and telecommunication, has continued to find immense relevance in the continent. Blockchain can reduce endemic corruption in a continent where there is lack of trust and transparency. Blockchain technology with its vast potential can also help overcome electoral fraud, land theft and educational deficits that have persisted in most African countries.
The key area where most African countries have suffered the most is in the area of energy. As at April 2017, only 15.3% of the entire Tanzanian population had access to electricity. South Sudan is even worse off, with just 5.1% of its total population having access to clean and cheap electricity. The problem is more evident in Nigeria, which prides herself as the Giant of Africa but can only generate an average of 3200MW of electricity daily for over 180 million populations. This has indeed slowed down economic growth in Africa and also impacted negatively on other sectors that depend heavily on electricity for its survival.
Fortunately, Africa has come to embrace renewable energy as a means of bridging the widening gap that has been created by the energy deficit. One of such renewable energy options which were initiated by Africa Blockchain Research Council (ABRC), a holding company of Auto Republic Ltd, UK, is codenamed "Powering Africa Project". The Powering Africa Project is set to create a clean, cheap and sustainable energy solution to bridge the huge energy gap in Africa. The Project will deploy both the renewable energy and Blockchain technology.
The Solarex ecosystem which will build a decentralized network of energy resources via solar farms which will be connected through Blockchain technology, will aim to become the largest, most efficient and sustainable solar energy provider in Africa, offering energy at a cheap and affordable price for all, and setting a new standard for energy consumption in Africa.
The Solarex utility token (SRX), is an innovative off-grid solar energy technology token that is built around the Ethereum platform and gives access to the services provided on the Solarex ecosystem. Each Solarex token is expected to increase in value based on its multiple functionality and fact that the token will be listed on major exchanges 14 days after the end of its ICO.
The Solarex official ICO website is now opened for private investors and partnership. For those interested in partnership and private sale, simply contact the CEO at ceo@solarex.io
You can also reach Solarex Team in various ways:
Chat on Telegram: https://t.me/SolarexICO
Visit ICO Website: https://solarex.io
Read the Whitepaper: https://solarex.io/content/site/whitepaper.pdf
Subscribe on Facebook: https://www.facebook.com/solarexico
Follow on LinkedIn: https://www.linkedin.com/groups/8657063
Subscribe on YouTube: https://www.youtube.com/watch?v=_SxEFSpTkoM
Follow on Twitter: https://twitter.com/SolarexICO
Follow on Instagram: https://www.instagram.com/solarexico/
*This is a paid press release. Readers should do their own due diligence before taking any actions related to the promoted company, product or service. Bitcoin Africa Ltd. is not responsible, directly or indirectly, for any loss or damage caused by or in connection with the use of or reliance on any content, product or service mentioned in the press release.*