Uganda Set to Host the Africa Blockchain Conference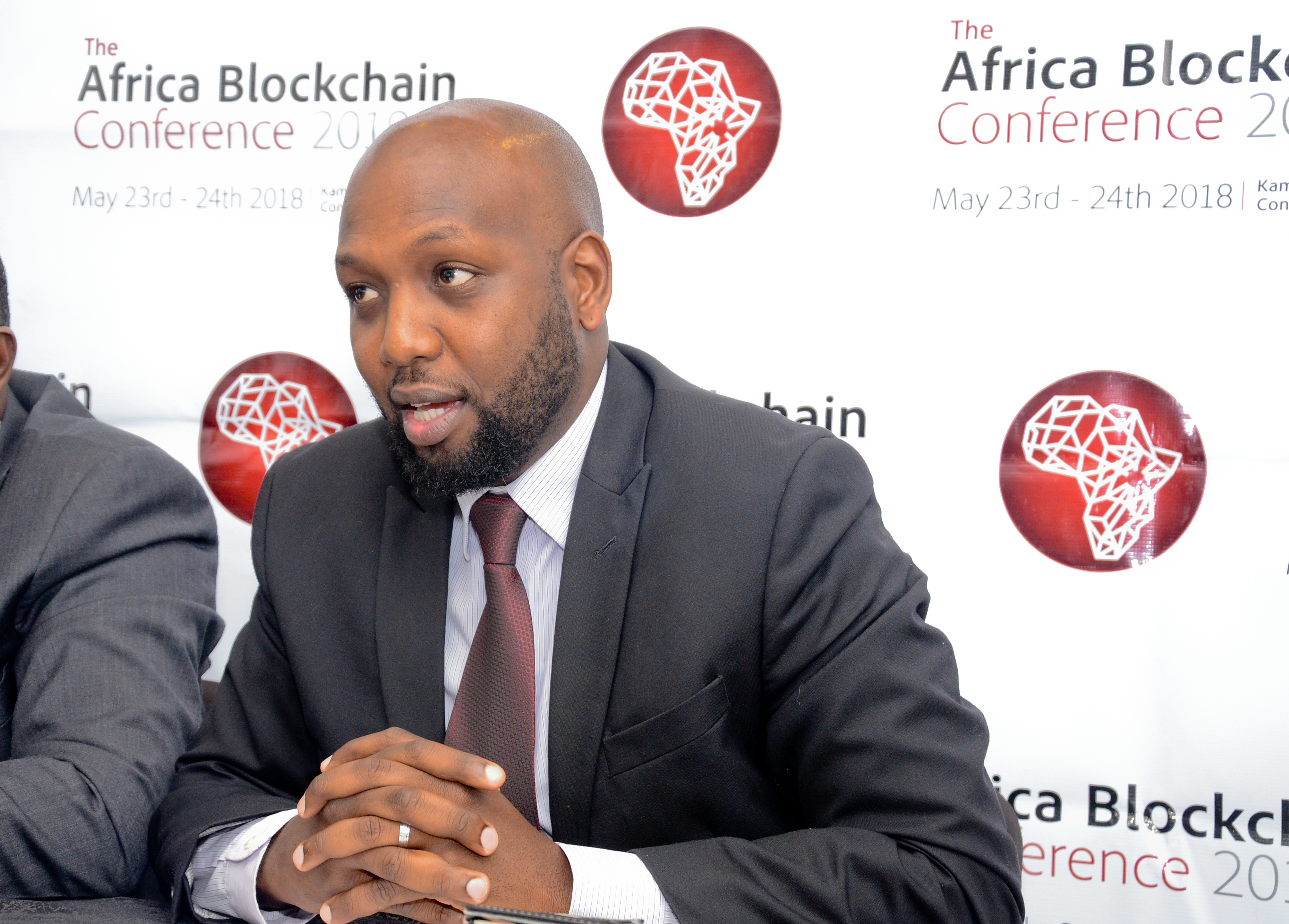 May 2, 2018, Kampala, Uganda – On May 23 and 24, the Blockchain Association of Uganda with support from the Government of Uganda, will host the Africa Blockchain Conference at the Kampala Serena Hotel. The conference, which will be held under the theme "The role of Blockchain Technology in Africa's transformation," is scheduled to host policymakers, leaders in Industry, academia, youth, entrepreneurs and blockchain enthusiasts.
Blockchain technology is a distributed ledger platform that allows creation and management of decentralized systems and processes, which enhance efficiency and transparency of transactions across institutional or business operations. Blockchain Technology, also described as the 'technology of trust' is disrupting and redefining traditional governance and business models across the world from the way information is created, managed and shared to the way products and services are delivered.
While addressing the journalists at the Association offices at the Nakawa Business Park, the Chairman of the Blockchain Association of Uganda, Kwame Rugunda, said he concurs with the recent remarks made by President Yoweri Museveni regarding the need to change Africa's lag in innovation. While addressing delegates at the World Customs Organization Conference in March 2018, President Museveni told delegates that Africa had largely missed out on the industrial revolution, with the exception of the Iron Age and stressed that Africa was now entering the digital revolution and that "Africa will not miss out again!"
While reiterating these same remarks, Kwame Rugunda, explained that Africa is at the right time to adopt this technology. "We have already seen glimpses into how it is disrupting traditional models in areas such as finance, procurement, insurance, health, identity management, contracts, governance, to mention but a few. Now is the right time to engage with this novel technology, because each wave of technology presents profound opportunity, particularly for the early adopters," he said.
The Africa Blockchain Conference is aimed at spurring engagement from both the public and private sectors, by sharing understanding as to how it can be adopted and the impact.
"The conference will focus on how we can build a blockchain eco-system and position ourselves to be part of global discussions. "Some of the immediate benefits of using blockchain include enhanced efficiencies with greater transparency and accountability in our business and governance systems which are key factors in enabling Uganda to become an investment destination, and catapulting our economic growth" Rugunda noted.
According to Stanbic Bank Head of Information Technology, Herbert Olowo, "Blockchain technology offers lots of benefits to the overall development and transformation of Africa and more importantly of Uganda. At a very high level, it will play a large role in improving operational efficiency both in the private and the public sector."
The Permanent Secretary at the Ministry of ICT and National Guidance, Vincent Bagiire affirmed that the government is keen on embracing technology innovations. "We are actively engaged in the discussions on blockchain and have collaborated with different stakeholders to ensure we have the right information to advance our agenda as government," he noted. He added that the government recognizes the growing trends in the technology sector and is positioning itself to be at the forefront so as to take advantage of these opportunities.
The Africa Blockchain Conference will showcase different but relevant use cases in different sectors to demonstrate the value and importance of blockchain technology. The conference will feature key global blockchain stakeholders who will be building a case for the adoption of blockchain technology in Uganda and in Africa. The conference speakers and panelists will come from the host country Uganda, as well as Kenya, Senegal, South Africa, Europe, the United States and Asia. The topics of discussion will include governance, regulation and policy, cryptocurrencies and digital assets, cybersecurity, innovation and technology, risk and investment opportunities among others.
The Africa Blockchain Conference has been enabled by the Ministry of ICT and National Guidance, Stanbic Bank, and Binance Foundation.
Belfrics Group Launches a Blockchain Skill-Drive Initiative in Association With DIT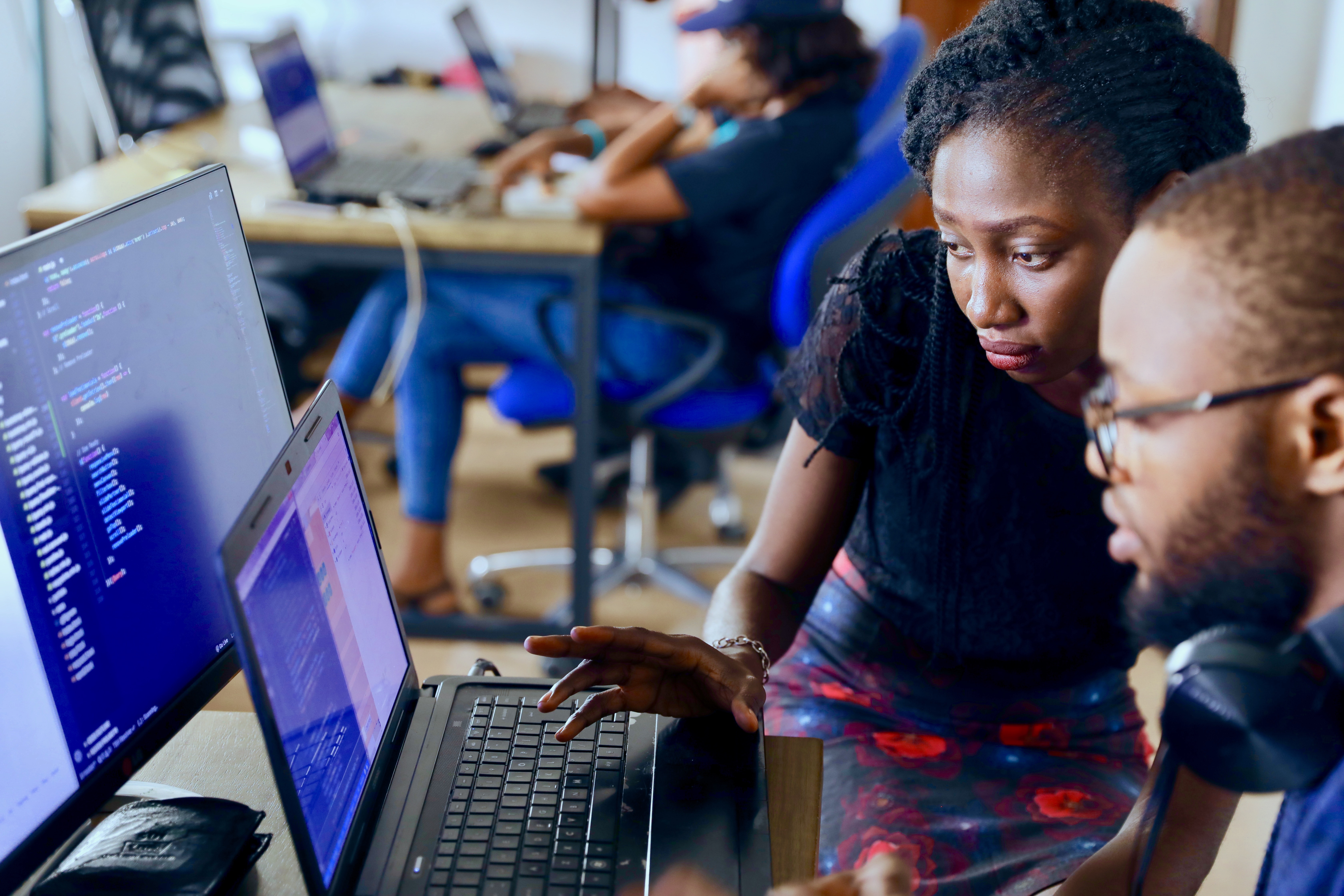 DAR ES SALAAM, Tanzania, April 15, 2019 /PRNewswire/ — Belfrics Group, one of the largest international blockchain conglomerates of the world, in association with Dar Es Salaam Institute of Technology (DIT), one of the leading technology and engineering institutes in Tanzania and the East African region, today announced a joint initiative to develop a pool of talented and skilled technology professionals for blockchain as a domain. Belfrics Academy SDN BHD, the research, international training and skill development vertical of Belfrics Group of Companies, would lead the efforts to address the knowledge gap and the rapidly growing requirements Blockchain Talents in the industry.
On this momentous association, Mr. Praveenkumar Vijayakumar, Founder and CEO — Belfrics Group of Companies said, "We all know that the Internet is filled with the so many online courses on Blockchain technology. But the sad reality is that the quality of talent and knowledge that is out there, is not even close to what the industry needs. There is still a humungous knowledge gap, and a huge void in terms of the quality and quantity of blockchain talent in the market. This is not only an Africa problem; this is a world problem! And we are happy to have associated with an esteemed institute like DIT which is synonymous with technology as an industry."
DIT, being one of the leaders in the space of capacity building for the latest technologies in the industry, keenly believes blockchain to be the next big wave in the digital transformation of the world, and especially, Africa. Similarly, Belfrics Group of companies has been one of the leading conglomerates spearheading the blockchain movement across the globe. With its presence in Asia Africa Middle East and South America regions, Belfrics is one of the few global companies to have worked with government bodies, financial regulators, and conglomerates for a blockchain-ready infrastructure.
"We are pleased to see educational leaders like DIT come forward and being open to the need of the industry. I would say, that this is the right time, between being proactive or before being reactive to the industry demands. Employment and development is Key, and for that we must understand where the future is. DIT is doing just that. In fact, we're pleasantly surprised to see the level of awareness and requests from other prestigious institutes from the East African Region for blockchain skill development. Since we are one of the major blockchain talent hirers ourselves, we are very much aware of the quality and quantity of the talent available currently. Such collaborations are required to address the current gap," says E C Uday Senan, Global Strategist — Belfrics Academy.
"Blockchain technology is among the emerging technologies that will soon revolutionize the internet and the ICT industry. Due to its inherent features, such as distributed system with no single point of failure, usage of cryptography for data protection, and fast data transfer and sharing of digital assets, Blockchain has huge potential and a number of applications, particularly in developing countries. To leverage the potentials of this technology, it is critically important we create awareness of the technology as well as build the capacity of our students, staff and the general public. This is exact what DIT will do in collaboration with Belfrics. This will enable DIT to become the hub of blockchain technology, the hub where capacity building of our people as well as experimentation and eventually development of the blockchain systems for improving government service delivery will take place," says Dr Joseph W. Matiko, the Director of ICT Centre at Dar es Salaam Institute of Technology.
"DIT is positioned to support the industrial economy by creating skilled workforce for the nation. Therefore, collaboration between DIT and Belfrics is important for capacity building of our students and staff and creating the digital skilled workforce in the country. We are really pleased to establish this collaboration because it is in line with our strategies of teaching factory concept and engagement of the industry in teaching and learning activities," says Prof Preksedis M. Ndomba, Principal of the Dar es Salaam Institute of Technology.
"We are excited to partner with Dar es Salaam Institute of Technology (DIT) on the launch of Blockchain Trainings for Corporates, DIT Students and Staff Members and the Tanzania Community at large. Blockchain Technology ensures digital skills are accessible to Tanzanians particularly youth and supports with securing meaningful opportunities where they can apply their talents, ideas and expertise to advance the Country's economic, Industrialization and social development," said Aziz Chonya, Director, Belfrics Tanzania.
The collaboration between DIT and Belfrics comes in at a very crucial stage, with Africa being closely eyed as the next talent-hub by the world. With blockchain strongly anticipated to be the driver for the next stream of technological innovations, African countries "stand to benefit from this shift more than other nations because most of Africa has a Greenfield in banking, finance, health and other legacy infrastructure. Africa has a unique opportunity to leapfrog in many areas and develop new infrastructure and use cases to power the future" according to an article on medium.
Belfrics Academy, the international research and skill-development vertical of Belfrics, is dedicated to customized blockchain training for Universities, Colleges and training institutes, and capacity building for Government bodies, Regulators and Private Organizations. Belfrics Academy also mentors and nurtures Blockchain talents by setting up Innovation-hubs within the University campuses to drive and mentor more blockchain talent and ideas.
Belfrics is one among the very few companies who have developed and built their own blockchain, 'Belrium', which is now live and deployed, and which is being seriously considered as the technology carrier by many government bodies and conglomerates for solutions from identity data harmonization, to supply chain infrastructure, to smart governance infrastructure to healthcare infrastructure, around the globe.
DIT and Belfrics Academy, through this collaboration, aim at nurturing as much talent as possible in the academic year of 2019, as the demand is rapidly increasing, thus resulting in employment of young Africans in this technology space.
For more information about Dar Es Salaam Institute of Technology, please visit https://www.dit.ac.tz and http://belfricsacademy.com for more information about Belfrics Academy.
Disclaimer: This is a press release. Readers should do their own due diligence before taking any actions related to the company, product or service. BitcoinAfrica.io is not responsible, directly or indirectly, for any loss or damage caused by or in connection with the use of or reliance on any content, product or service mentioned in this press release.
Things You Need to Know About WolfpackBOT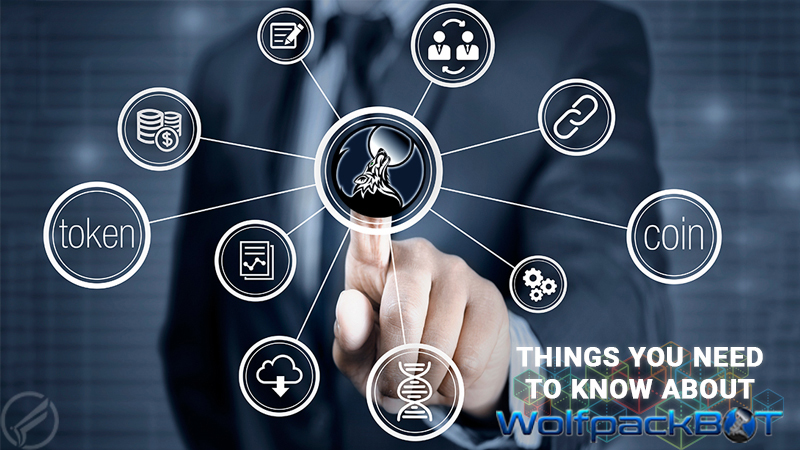 As the popularity of cryptocurrencies has increased more and more, people are looking for ways to make huge returns on their investments. Most of these traders are using cryptocurrency trading bots to increase the value of their portfolios. Crypto trading bots are software programs that directly interact with cryptocurrency exchanges, monitor price movements, and place orders for users based on the market data they collect.
Crypto trading is a challenging task that requires hard work, determination, and a strategic mindset; however, crypto trading bots have simplified this task. As we all know crypto trading bots execute the orders of the users without any intervention. The process is enhanced by well-created algorithms, which ensure a higher rate of success. When the traders do crypto trading without the help of bots, they have to spend lots of time to study the market. Crypto trading bots work independently, 24 hours a day, 7 days a week.
WolfpackBOT: The revolutionary Crypto Trading Bot
WolfpackBOT is an automated trading software that executes orders at lightning speed using proprietary trading algorithms and proprietary "Werewolf" Trading Analysis configurations. Users can also customize the settings of the bot according to their personal trading style and preferences. WolfpackBOT is an advanced trading bot that allows simultaneous trading access to all compatible cryptocurrency exchanges that are available to the bot. The bot has the widest array of technical analysis tools that allow the bot to make successful trades, with highly precise, mathematically based strategies that have been tested and coded into the bot from the ground up.
There are various preset settings available on the bot that can be selected by the users according to their needs and the trends of the market. For example, the bot's proprietary Werewolf Bull Market setting is specially designed for when the base trading pair is in a Bull Run, while the Werewolf Bear Market setting is designed for when the base trading pair is in a bear run. When the market is sideways, there are Werewolf Sideways Market settings. These settings are optimized for their respective conditions and should only be used in those conditions.
Wolfcoin Blockchain
Wolfcoin is a utility coin that will be redeemable for WolfpackBOT subscriptions, the WolfBOX hardware console, and WolfpackBOT and Wolfcoin apparel and merchandise. The Wolfcoin is also coupled with Proof of Work mining and a Masternode reward system, furthering the appeal of the coin.  Wolfcoin holders who hold at least 10,000 WOLF in their dedicated masternode wallets will earn additional Wolfcoin rewards, which can be used to offset the cost of WolfpackBOT subscriptions.  It's an all-in-one system that combines automated trading, masternodes, and mining to deliver some of the most advanced technology in the cryptocurrency field today with the goal of helping all WolfpackBOT users and Wolfcoin holders achieve financial freedom and long-term trading success.
What is Masternode?
A masternode is a crypto full node or computer wallet that keeps the entire copy of the blockchain up to date and running around the clock. Masternodes are used to power Private Send, Instant Send, and the blockchain governance system. For mining Wolfcoin the users will not only get the traditional Proof of Work (PoW) rewards but will also be rewarded for running and maintaining masternodes. Users who run the Masternodes will be incentivized.  80% of the block reward is allocated to pay the masternode network and 20% of the block reward is allocated to pay the X11 PoW miners.
Subscription Package Plans
WolfpackBOT automated trading software offers three subscription packages payable in WOLF.
| | | | | |
| --- | --- | --- | --- | --- |
| Subscription | Exchanges | Base-pairs | Coins | Price in WOLF |
| | | | | |
| PupBOT | 1 | 1 | All | USD 40 |
| WolfBOT | 1 | All | All | USD 65 |
| WerewolfBOT | All | All | All | USD 100 |
The Wolfpack PaperBOT can be downloaded from https://www.wolfpackbot.com. This FREE version of WolfpackBOT's software allows users to test strategies and take the world's most advanced cryptocurrency trading bot for a test-drive by simulating live trading on exchanges without risking their hard earned capital.
WolfpackBOT Twitter: https://twitter.com/TheWolfpackBOT
WolfpackBOT Telegram Discussion: t.me/wolfpackbot_discussion
WolfpackBOT Telegram Channel: https://t.me/thewolfpackBOT
Disclaimer: This is a paid press release. Readers should do their own due diligence before taking any actions related to the company, product or service. BitcoinAfrica.io is not responsible, directly or indirectly, for any loss or damage caused by or in connection with the use of or reliance on any content, product or service mentioned in this press release.
Introducing Africa's Foremost Women's Blockchain Conference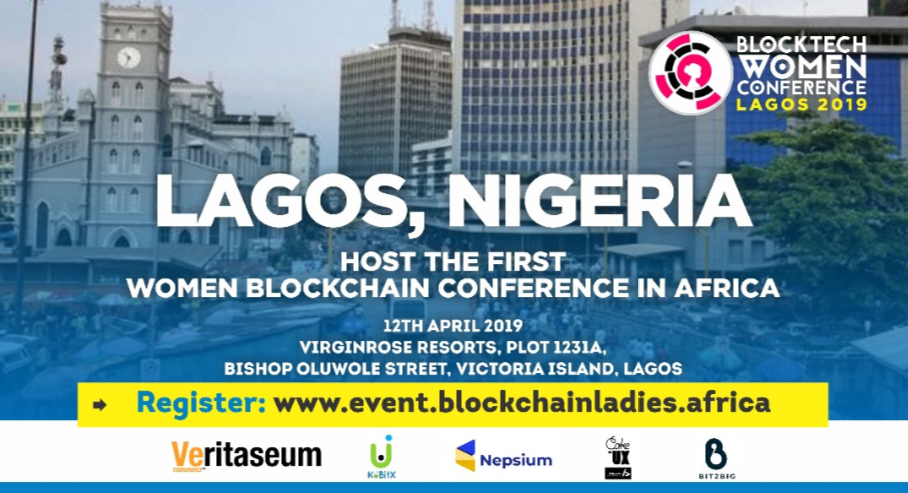 On Friday, April 12, 2019, the city of Lagos, Nigeria will receive a handful of delegates from around the world. This time around they are converging for Africa's foremost Blockchain Conference centered on women, 2019 Blocktech Women Conference. The event is billed to hold at Virginrose Resorts, Victoria Island, 8am prompt.
New to the term "Blockchain"? The Blockchain technology is a shared, distributed ledger that facilitates the process of recording transactions and tracking assets in a business network.
The Blocktech Women Conference 2019
The Conference is billed to educate and train attendees on various aspects of blockchain technology; Women And Blockchain, Digital Assets Trading, Blockchain In Public & Private Sector, Blockchain In Supply Chain, Blockchain Application Programming & Coding, Personal & Business Branding, among others. Attendance is free for all and open to both males and females.
The above-listed wealth of information will be delivered by are our renowned speakers; Reggie Middleton, Founder, Disruptor-in-chief and CEO of Veritaseum (USA), Lorna M.Johnson, CFO at Advanced Family Care Medical Group Inc (USA), Alakanani Itireleng, Founder at Satoshi Centre (Botswana), Genevieve Leveille, Founder at AgriLedger (Jersey), Maureen L. Murat, Principal at Crowdie Advisors (USA), Linus Kingdom, Managing Editor at eBlockbuzz (Nigeria), Heaven Bereket, Founder at Bambino Foundation (Sweden), Lindsay Nuon, CEO at Women of Color In Blockchain (USA),Lucky Uwakwe, CEO at SABI Exchange (Nigeria), Doris Ojuederie, Founder at Blockchain African Ladies (Nigeria), Nathaniel Luz, Executive Director at Cheetah Africa (Nigeria), Faith Obafemi, Blockchain Lawyer (Nigeria), among others.
That's not all. The Veritaseum (USA) representatives will be on the ground at the Conference to train attendees on trading digital GOLD via the Blockchain. To get the training started, Veritaseum will be distributing about $17,000 worth of its VeGold asset to attendees who had already completed their KYC verification on the VeGold trading platform; https://dapp.veritaseum.com.
This freebie serves as support to the African woman. However, it is important for prospective attendees to get their KYC done and approved prior to the event to avoid unforeseen inconveniences. Queries about KYC Verification should be sent to https://t.me/joinchat/EytLU00P2FaVJTJ2sgApuQ
We are also pleased to inform you that representatives of SisiBox Period Subscription Package will be distributing 50 packs of their Combo Sanitary packs to 50 attendees at the Conference. SisiBox Lady Sanitary is designed to provide quality anion sanitary napkins for women at the lowest cost possible via the Blockchain technology while raising financially empowered and entrepreneurial driven ladies in the continent and beyond.
To qualify for the free Sanitary packs, prospective attendees are required to register via the link below and thereafter give out their personal link to friends for registration: https://sisibox.com/blockwoman. The top 50 attendees with the highest referrals will each receive the SisiBox Combo Female Sanitary.
The 2019 Blocktech Women Conference team will be waiting to welcome you at Virginrose Resorts, Victoria Island, Lagos on April 12, 2019.
Contact: Doris Ojuederis, Senior Convener, Blocktech Women Conference +2348095973066 – doris@blockchainladies.africa
Disclaimer: This is a paid press release. Readers should do their own due diligence before taking any actions related to the company, product or service. BitcoinAfrica.io is not responsible, directly or indirectly, for any loss or damage caused by or in connection with the use of or reliance on any content, product or service mentioned in this press release.