Zabercoin – An Asset Backed Cryptocurrency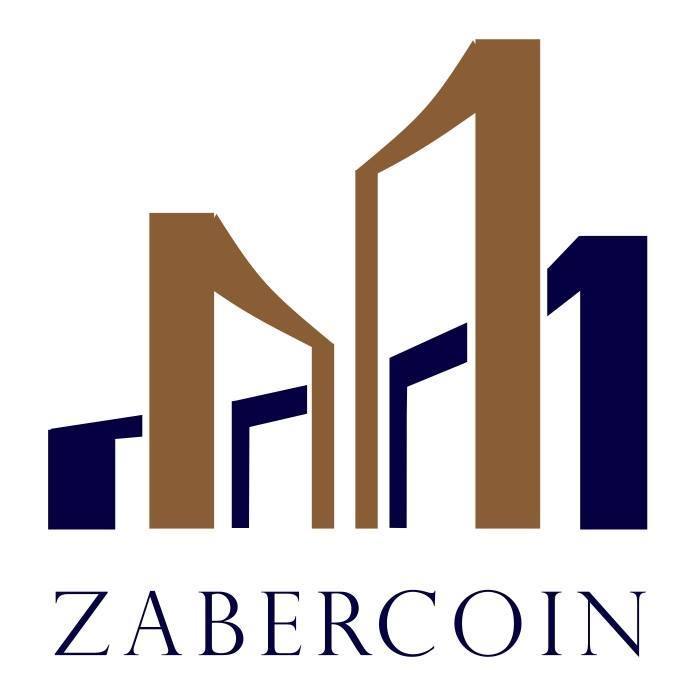 Tim Berners-Lee, the inventor of the world wide web, stated: "We need diversity of thought in the world to face the new challenges".
Zabercoin is an asset backed cryptocurrency. Therefore, with Zabercoin we combine the blockchain technology with physical asset investments like real estate and lucrative companies more specifically located in emerging markets (EM) with recurring income re-invested to ensure growth, research and development.
Zabercoin limits your exposure to the downside risk of many existing cryptocurrencies. Zabercoin has a floor price right from the time of its inception. Each Zabercoin is backed by lucrative property and therefore we can safely state that it will always have a real or intrinsic value that will give peace of mind to the investor and user.
Zabercoin is the future of real estate. The mission of Zabercoin is to become the preferred real estate digital token in the global blockchain real estate market environment.
Zabercoin prides itself with a very strong and dynamic management team with many years of experience combined in the asset management, property development, investment, IT, finance, business, law and cryptocurrency space.
THE DEVELOPMENT AND GROWTH PATH OF ZABERCOIN:
1. Purchasing lucrative property in especially emerging markets (EM) with great valuations. Although the focus of Zabercoin management will be to buy property within emerging markets, other profitable and lucrative projects outside EM will also be considered in its investment plan. Zabercoin makes use of all legal tax incentives like Article 13 Sex of the Income Tax Act of RSA to ensure sustainable and profitable rental income and maximum growth for the investor right from the start.
Our investment philosophy in brief:
At Zabercoin we strive to add value at each stage in the investment process which targets under-priced markets expected to maximise performance for a given level of risk. The management team adopts a top-down asset management approach. This means that a variety of economy-wide phenomena (macroeconomics) such as inflation, price levels, growth rates and unemployment of a country will be thoroughly evaluated before considering any prospective project. We strongly believe in a value investing style where the interests of the company and the investor always take preference in decision-making. Good asset selection, and active management are fundamental drivers of investment performance.
2. Developing a decentralised blockchain based property ledger which will record all real estate contracts, registrations and linked bills. With this ledger, Zabercoin will be able to provide property owners and potential buyers an accurate and seamless record of valuations and property ownerships. In comparison with Windeed, a centralised South African service provider, Zabercoin will be unique in providing a decentralised global service by effectively making use of the blockchain.
3. Developing a decentralised open source bookings eco-system for renting hotel rooms, private properties and accommodation using blockchain technology making it more cost effective for the host and guest and incentivising the users. AirBNB currently has a market cap of approximately 30Bn USD. They charge a guest between 6-12% and a host 3% after a successful stay. They expect to generate a revenue of over 10Bn USD by 2020.
In comparison, Zabercoin will charge only 4% for a guest and 2% for a host.
Half (50%) of above revenue will go to the users by managing the properties on their decentralised Zabercoin account portal as an incentive. By incentivising users there will be no need to market and by using blockchain technology administration costs will be very low. If Zabercoin, at a third of the price and incentive model to users/agents as well, can obtain only 10% of the market share of AirBNB it will value Zabercoin at 3Bn USD on this basis alone. If Zabercoin can raise 30m USD it will result in a 100x return on investment!
4. Using Zabercoins as payment method for transfer costs on properties. Barnard Inc Lawyers already approved this as a payment method. South Africa alone has over 80,000 transfers per annum and we intend to incentivise users as well. Bitcoin is seldom referred to as "digital gold" – an industry of 8.2 trillion USD. Zabercoin aims to become a digital real estate token – an industry of more than a 200 trillion USD.
Sally Krawcheck, a digital financial advisor, said: "Greater diversity drives better business results".
To learn more about Zabercoin, visit www.zabercoin.io.
"This is a paid press release. Readers should do their own due diligence before taking any actions related to the promoted company, product or service. Bitcoin Africa Ltd. is not responsible, directly or indirectly, for any loss or damage caused by or in connection with the use of or reliance on any content, product or service mentioned in the press release."
Peer-to-Peer Exchange Remitano Introduces Bitcoin Cash (BCH) Support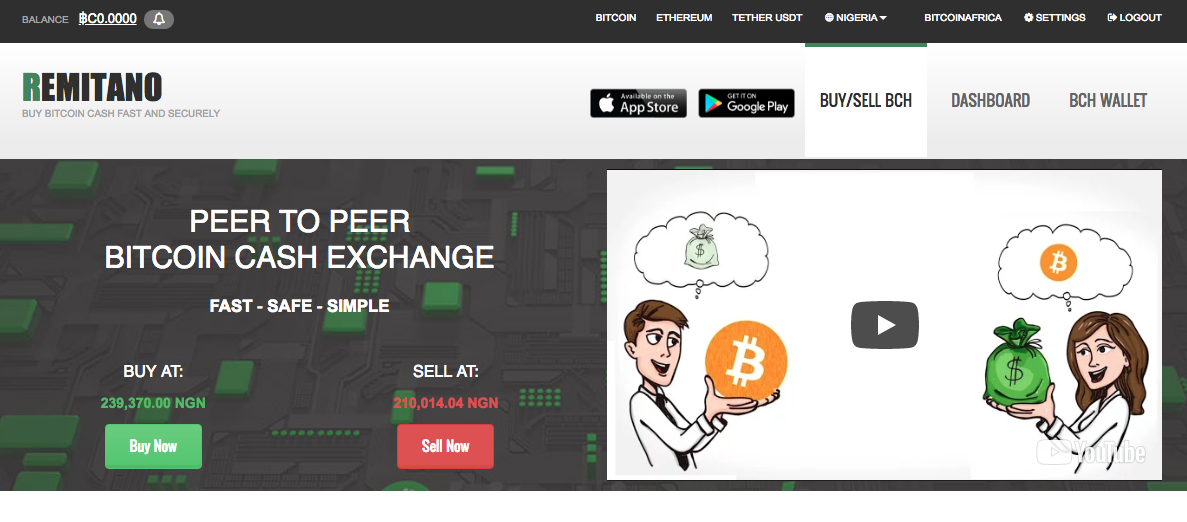 The peer-to-peer trading and remittance platform, Remitano, has introduced bitcoin cash (BCH) support on the grounds that it has cheaper transaction fees than bitcoin.
Remitano is based in Seychelles and operates in Nigeria, Kenya, the US, Cambodia, Namibia, Uganda, Tanzania, Mexico, Zimbabwe, and Zambia. The exchange charges a trading fee of 0.5 percent and has managed to substantially grow its user base since it has entered the African market. Remitano also supports tether (USDT), ether (ETH), and bitcoin (BTC).
"While Bitcoin has been suffering from high transaction fees, Bitcoin Cash offers a far cheaper transaction fee. It can, therefore, be more easily used as daily, P2P electronic cash," Dung Huynh, Remitano's co-founder said.
"We believe that Bitcoin Cash can foster crypto payment to the next level and are, therefore, proud to be the first major P2P exchange that offers this to our users."
Remitano has joined other companies that have been embracing bitcoin cash (BCH) such as Cointext, which allows users to send BCH through text message without an Internet connection and the bitcoin cash Tipprbot, whose use has been increasing in popularity among the bitcoin cash community in recent weeks.
Bitcoin Cash (BCH) to Fork Again
Bitcoin cash (BCH) is expected to fork again on May 15, 2018, where its block size will be increased to 32MB compared to bitcoin's limit of 1MB. By increasing the block size, transaction speeds will increase and transaction fees will be kept low.
Golix Plans to Launch ICO but Zimbabwean Regulator Rings Alarm Bells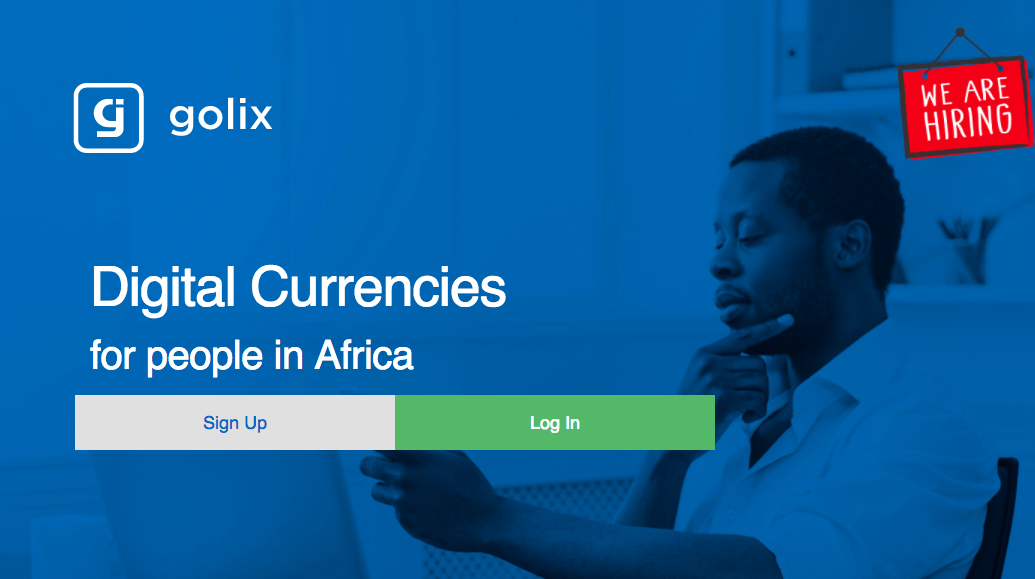 The Securities Exchange Commission of Zimbabwe (SecZim) has warned investors against investing money in unregulated exchanges and securities following plans by Golix to issue a multi-million dollar initial coin offering (ICO). According to sources, the Harare-based cryptocurrency exchange is seeking to raise a minimum of $10 million. The company would be the first bitcoin startup in Zimbabwe to use this innovative way to raise funds.
The ICO Boom
An initial coin offering (ICO) is a revolutionary way to raise the capital needed for new cryptocurrency projects by issuing a percentage of the initial coins supply among early-stage investors. Similar to investing in a company's stock, the value of the new coin linked to the digital currency project has the potential to gain in value as the project performs well. Once successfully launched, the new coins or tokens can be traded on cryptocurrency exchanges.
Globally, ICOs have appealed to blockchain companies as the next big thing in corporate fundraising and speculative investing. In 2017 alone, over $4 billion dollars were raised through this new form of fundraising.
However, ICOs have faced hurdles in the form of financial regulators, central banks, and governments which are concerned about the disruptive nature of cryptocurrency technologies and their potential for illegal uses. Last year, both China and South Korea banned ICOs.
ICO to Fund Regional Expansion Amidst Regulatory Pressure
Golix, which traded over $1 million worth of bitcoin last month, is looking to launch its ICO by the end of March, or latest in the second quarter, according to sources. The company which recently enabled Ether and Bitcoin Gold trading on its digital currency exchange intends to raise money to fund its entry into other African markets.
However, Securities Exchange Commission of Zimbabwe (SecZim) CEO, Tafadzwa Chinamo cautioned the public against dealing with unregulated exchanges and securities as there is no legal recourse in case of mishaps.
"Investing in cryptocurrencies in Zimbabwe is a personal decision. The SecZim advises against investing in securities that are not regulated for a few obvious reasons. Investment in cryptos in Zimbabwe is not protected by any law in any way," Chinamo stated.
According to Chinamo, unlike IPOs which are governed by strict rules that foster transparency and disclosure and ensure investors are not misled by fraudulent persons who float worthless securities, ICOs usually operate in a legal grey area, though this is largely in part due to the lack of cryptocurrency regulation in Zimbabwe.
Locally, companies launched IPOs are required to submit registration statements, financial statements dating back five years, and are also required to undergo valuation by independent financial advisors to determine the fairness of the quoted IPO share price. These disclosures are subject to review for compliance by the market regulator.
ICOs, on the other hand, operate on the fringes with little or no regulatory oversight. Usually, startups launching ICOs will release a technical whitepaper explaining their project and will market their token sale in the hope that prospective investors will buy into the project.
Having said that, many Zimbabweans may choose to ignore the warnings as the cryptocurrency mania takes root in the country. A few months ago the high demand for bitcoin on the local exchange drove the price to almost double of where it was trading at on international exchanges. The demand was buoyed by a debilitating liquidity crunch and acute cash shortage in the country that has affected individuals and businesses who want to engage in commerce and international trade. Hence, cryptocurrencies like bitcoin remain popular among Zimbabweans as an alternative currency and as an investment, which could, in turn, help Golix's ICO funding ambitions.
How to Buy Bitcoin in Nigeria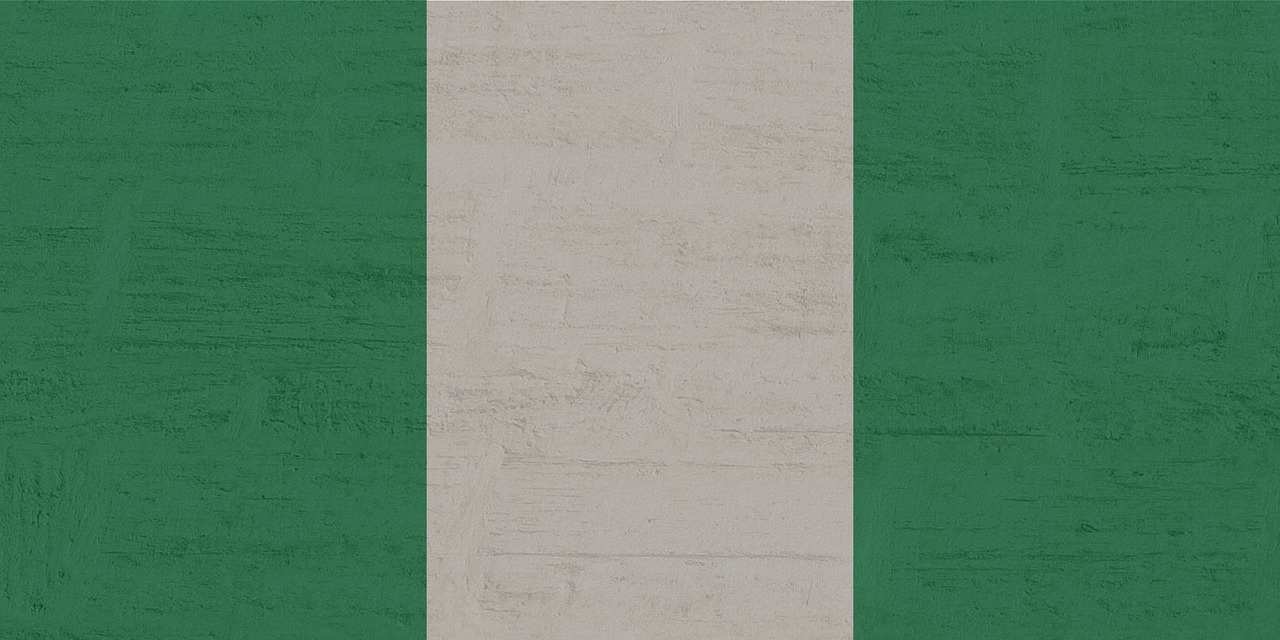 Nigeria is home to one of Africa's leading bitcoin economies and has emerged as one of the most active digital currency trading hubs on the continent. In Nigeria, you can find bitcoin startups, digital currency exchanges, meetups, conferences, and a continuously rising demand for bitcoin.
Unlike in many African countries, where bitcoin trading is often limited to Whatsapp groups and social media networks, Nigeria has a multitude of exchanges where locals can buy bitcoin with nairas.
In this article, you will discover the most active and most secure digital currency exchanges you can use to buy bitcoin in Nigeria.
NairaEx
NairaEx is one of the most reliable and longest standing bitcoin exchanges in Nigeria. The exchange was founded in 2015 and is simple and easy to navigate with an inbuilt real-time exchange rate of bitcoin to naira.
Buying bitcoin on NairaEx is very simple. All you have to do is sign up to NairaEx, get verified by uploading a valid identity card, deposit money using a bank transfer or PerfectMoney, and proceed to place a buy order. Upon confirmation of your order, the transaction will be initiated and once it has been completed your account will be funded with the bitcoin you just bought.  
ICE3X
The South African digital currency exchange ICE3X recently opened its doors in Nigeria giving Nigerians an opportunity to buy bitcoin, litecoin, and ether using nairas through the use of the VoguePay payment processor.
To buy bitcoin from ICE3X, you will need to first create an account on ICE3X and fill out the form with your personal details. Once signed up, you will receive an email to verify your account. To fund your ICE3X account with your nairas, you will need to login to your newly created ice3X account, proceed to the DEPOSIT/WITHDRAW tab in the menu bar to make a deposit using your newly created VoguePay wallet (you can get more info here on how to set up a VoguePay wallet).
After successfully funding your account, you can proceed to place a buy order following these simple steps:
To buy bitcoin, click on the naira balance in the deposit/withdraw section of your ICE3X account.

Click on the trading tab in the blue menu at the top and click on the bitcoin tab.

Enter how many bitcoins or fraction of bitcoin you wish to buy.

Enter your buying price (the current bitcoin rate sale price is on the exchange by default, but you can enter any price you want).

Your total order slip including your commission will then be shown.

Review your transaction and click on the buy tab underneath to execute your order.
Remitano
Remitano is a peer-to-peer exchange that has recently entered the African market. The platform is experiencing rapid growth in Nigeria due to its fast, safe and reliable nature.
On Remitano, users can easily buy or sell bitcoin using a range of different payment methods. As a way of protecting both the buyer and seller, Remitano offers an escrow service. This is where the seller transfers the amount of bitcoin the buyer wants to a locked Remitano account. The buyer then sends the payment to the seller with no fear of not receiving the paid for bitcoin. Similar to LocalBitcoins.com, Remitano also displays its list of sellers based on their transaction history.
In order for you to buy bitcoin, you have to create an account on Remitano.com and then proceed to the homepage and click on the buy button. After keying in your desired volume and bitcoin address, a list of top sellers will be listed below depending on the rating. You will then click on any seller you wish and proceed to make payment. After successfully making your payment, Remitano will then release the funds to the seller and you receive your bitcoin. 
LocalBitcoins
LocalBitcoins.com is a global peer-to-peer bitcoin trading platform. It is a marketplace that helps connect buyers or sellers from different places around the world.
The platform allows users to create buy or sell advertisement with the prices they want to trade at. The exchange platform rates sellers based on their past transactions. As a way of protecting both parties, LocalBitcoins acts as an escrow and has a customer support team ready to help in case of any issues that may arise during a transaction. 
To buy bitcoin on LocalBitcoins exchange, you need to create an account on the platform, verify your identity, click on any seller on the homepage that is willing to sell you bitcoin at a price you feel comfortable with and a payment method that works for you. 
After clicking on the 'buy' button, you will be given details of the transaction including the seller's terms and conditions. You can choose whether or not to proceed with the particular buyer depending on how comfortable you are with these terms.
To execute a trade, type in the blue box how much bitcoin you want in naira and also add a message to the seller after which you click on the 'send trade request' button. Once the payment has been made, click on the 'I have paid' button and you will receive your bitcoin on your LocalBitcoins wallet within minutes.
Paxful
Paxful is a peer-to-peer bitcoin marketplace that has gained substantial popularity in Nigeria.
To buy bitcoin on paxful.com, first, you need to click on the 'buy bitcoin' option in the top menu bar. Then you enter the naira amount of bitcoin you intend to purchase and select the payment method you would like to use.
After selecting a way to pay, you click on the 'search' button to get a list of sellers who are willing to sell you the amount of bitcoin you requested and are also inclined to your payment method.
Just like on LocalBitcoins, the reputations of sellers are scored and it is highly advisable that you select buyers with high reputation to deal with. You then select a seller and begin your purchase order. The trade details will then pop-up on the left-side of the screen and a chat box on the right side of the screen where you can chat with the seller so you can both track the stages of transaction execution.
Once the trade is completed you will receive your bitcoin on your Paxful wallet.
Luno
Luno, an online bitcoin exchange and wallet provider, is one of the most widely used bitcoin exchange platforms in Nigeria. Luno offers a free bitcoin wallet that comes with an inbuilt buy and sell feature that enables customers to buy or sell bitcoin directly from within their Luno wallet. It is designed in such a way that newcomers to bitcoin can easily use the wallet.
To buy bitcoin from Luno, you need to first and foremost;
Create an account by signing up at

Luno.com

Verify your identity by uploading a valid identity card

Proceed to deposit money to your account using any of the various payment options available.
Buying bitcoin from Luno comes in two ways;
Instant buy or sell (recommended for beginners), which allows users to buy or sell bitcoin either from the Luno wallet or from the website.

Exchange orders (for advanced or experienced users), which is a little bit more technical as it involves placing an order on the exchange at a specific price and waiting for it to get matched.
Bitkoin.Africa
Bitkoin.Africa is a new Nigeria-based peer-to-peer exchange that allows Nigerian bitcoin users to buy and sell bitcoin from and to one another in a similar manner as on LocalBitcoins or Paxful.
The new exchange was launched in October 2017 and has since seen substantial user uptake in Nigeria.
Naira4Dollar
The exchange platform is one of the oldest e-currency platforms in the country with several shop outlets across the country. If you are looking for a place to buy bitcoin offline, then Naira4Dollar is that place. To know any of their offline shops closer to you visit Naira4Dollar.com.
However, you can also make use of their service online where you can purchase bitcoin using various payment methods.
NGExchanger
Port Harcout-based NGExchanger is another e-currency exchange that is well known in Nigeria and specialises in the buying and selling of bitcoin.
To buy bitcoin from the platform, you will need to create an account and get the account verified by uploading a valid ID card. However, you can still buy bitcoin without having a verified account. In such instances, you will need to have a funding limit of $1000 per day with the minimum buying amount being $10. Follow these simple steps to buy bitcoin on NGExchanger:
After registration, login to your account and click on buy

Select the e-currency account type you want to buy (in this case click on bitcoin)

Input the desired volume of bitcoin you want to buy in US Dollars

Enter your bitcoin wallet address

After clicking on the proceed button, a payment invoice will be generated with a transaction number. Make payment to the bank details of NGExchanger that will be displayed and include the transaction number in your payment invoice.

After successful payment, click on confirm to record and save the transaction. Once the payment is received, your bitcoin address will be funded and a message sent to your email confirming that.
There are also other local e-money exchange platforms that allow you to buy bitcoin such as Instant Gold Nigeria, Nigeria Gold Exchange and CryptoMart.
However, when it comes to buying bitcoin, it is advisable to use well-known established exchanges such as Paxful, LocalBitcoins, NairaEx, ICE3X, and Luno as they offer the most secure buying options.