7 Tips for a Startup Broker: "Starting a Brokerage is easy, running one is not!"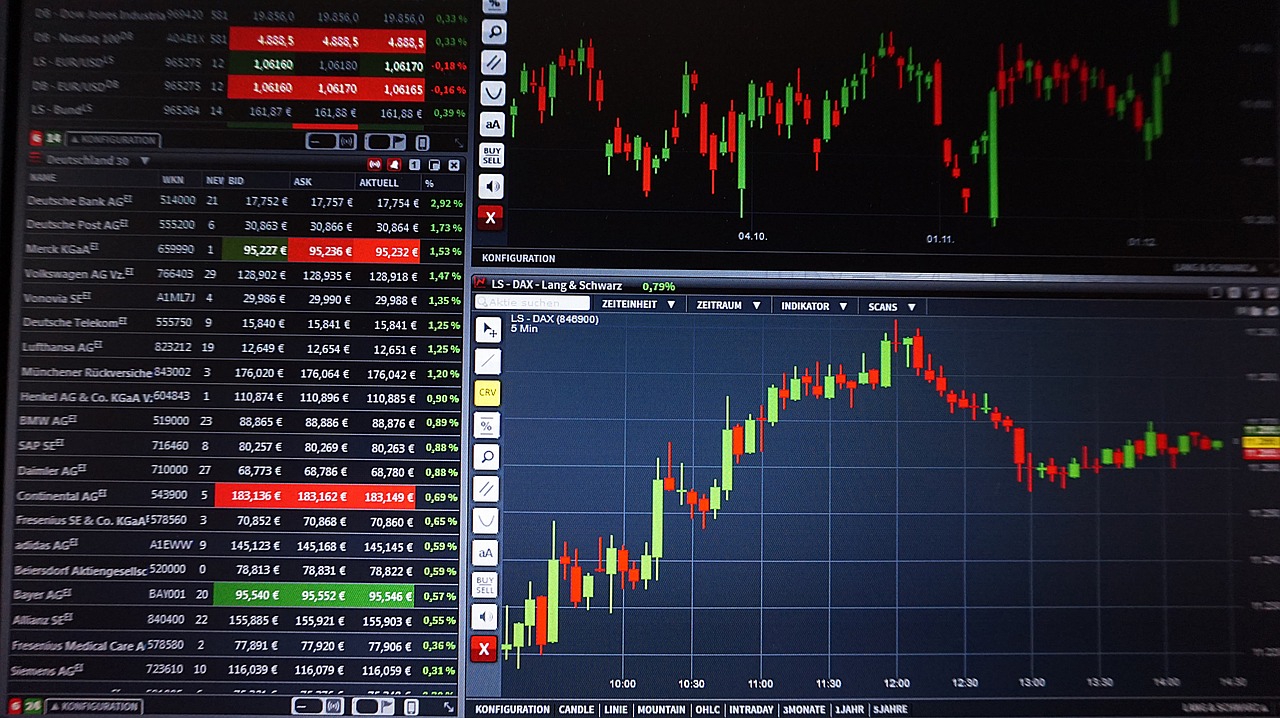 Like any other business, Online Brokerage has particularities which are not obvious at the beginning of the journey. In this article, I will draw your attention to some common pitfalls and save those intending to start a brokerage some money, time and nerves by shedding light on the challenges ahead of you.
0. Test Your Assumptions.
I marked this point as 'Zero' on purpose to highlight it's importance as a foundation.
When we decide to start a business we are driven by our intuition and past experiences. What we are reluctant to acknowledge is just how much we are driven by emotions instead of calculations. I'm not here to discredit Intuition or 'Gut Feeling' as we call it. As a matter of fact, most of the successful entrepreneurs are known for being visionaries i.e. people with extraordinary intuition.
As Albert Einstein once said 'The intuitive mind is a sacred gift and the rational mind is a faithful servant. We have created a society that honours the servant and has forgotten the gift.' My interpretation of this genius thought is simple – trust your gut, yet verify assumptions with data. In practice, this means if you truly believe in your business idea, don't let critics crash it because they are just as subjective as you are, instead find a way to test and validate it.
Test your MVP (Minimal Viable Product). You can test your idea without incurring large expenses e.g. build a prototype of your business and test it on the group of people you know and also strangers. Many providers will be willing to give you a functional demo platform for you to run tests.
1. Legal setup
When approaching legal setup of your brokerage firm the main question is whether or not your country has relevant regulations for Online CFD Brokerage firms. If so, you must obtain the right type of license to run the business. Be prepared for a lengthy process and long hours billed by the lawyers. My recommendation here would be to go along with advisors with good track record.
On the other hand, not many jurisdictions have legislation in place to govern CFD Brokerage industry. In those jurisdictions, you might be treated as any other online business/merchant. This saves you expenses on lawyers and consultants, and also removes statutory obligation to maintain minimal level of capital requirements. This obviously frees up a lot of cash to be utilised for the growth of your business. Nonetheless, even if you are not obliged to maintain minimal capital levels, I strongly recommend implementing similar rule as an internal policy.
Lastly on legal setup, if you are considering onshore vs offshore setups (run a business from a local company or use an offshore one e.g. Vanuatu, St. Vincent and Grenadines, BVI etc.) you need to thoroughly investigate if you would be able to find a reliable banking partner to service your offshore company. Nine times out of ten I would advise doing business onshore, as it inspires trust and eases transactional friction.
2. Human Resources
We regularly fall into a pitfall of doing business with people we already know well, friends and even relatives. Even though we might have an advantage of an established trust, this doesn't mean these people are right for the business and will be able to drive it to success.
PARTNERS. At the primary stage when you are thinking about starting up with a partner make sure your skillsets complement each other. Also, understand whether or not your goals match e.g. if you are building your dream project and your partner is only after a 'quick buck', such partnership might collapse bringing more damage than good.
EMPLOYEES. My conviction is that the first person hired in the company should be a professional HR manager (even if part-time). By doing so you will eventually save yourself a lot of time and money by getting the right people from the very beginning. The right people will identify issues and find solutions before they even become a problem.
MENTORS. Finding a few aspirational mentors can be very powerful to stimulate your vision. While experts within an industry can give an in-depth insight on specific matters, I'd also recommend 'getting outside the box' and reaching out to people from other domains. My personal example is Buroka's Freemium pricing model inspired by Spotify. The idea is that the basic service should be available to clients without high thresholds like a Setup Fee.
INVESTORS. Lastly, I am counting investors in HR section because at a startup stage you will most likely deal with an individual 'angel' investor who will support you. It's crucially important that your 'angel' fully understands your plans and shares the vision. The 3 most important aspects here are:
(1.) Share the same long-term vision for the project and ensure understanding that patience is part of the process;
(2.) Create effective control and reporting mechanisms for your 'angel';
(3.) Be very clear and upfront about the total budget for the project and have funds locked down and available to you at all times.
Lack of either one of the above will hurt your business at some point, be it 'angel' wanting to see ROI (return on investment) prematurely or failing to deliver investment on time.
3. Banks and Payment Processors
Banks are notoriously bureaucratic institutions and the best guide to navigating you throughout layers and layers of red tape is your bank account manager. Make sure your business has a human face – meet and introduce yourself to your bank. Do not try to conceal or 'sugarcoat' your true business activity, the bank will find out eventually (after the very first transaction most likely) and then if you were not honest there's no way to restore the relationship.
Apply certain amount of rigour to your accounts' structure. I do recommend to operate a system of Segregated Accounts for clients' funds even if you are not required to do so by your supervision authority.
On this, just a couple of basic rules which apply by definition to STP brokers and I strongly recommend all Market Makers (B-Book Brokers) should apply too:
(1.) Have a designated Client Funds Account.
(2.) Reconcile Weekly. This means to calculate the P&L and transfer profits into your Company Account.
(3.) Just like with personal savings – Save Up for tough times. In a B-Book model specifically, a broker has to maintain certain minimal capital to satisfy potential P&L drawdowns.
In case with a PSP (Payment Solution Provider) just like with banks I'd recommend using local licensed payment processors. They would normally have lesser fees than large international processors and you'd find them more responsive to your needs especially at the start of the business when you cannot boast large turnover on your accounts.
4. Technology
Using IT world jargon 'Define your MVP', where MVP stands for Minimal Viable Product. This presupposes construction of a logical framework of your technology at the most basic level that would allow you to start doing business ASAP. Of course our natural instinct is to 'roll out' the best version of our product/service to the market, however, the reality is counter-intuitive. You wouldn't know exactly what your customers truly want unless you start testing and getting feedback from them. The core idea here is to start with a basic offering and once you have few clients on-board to start iterating and improving your business avoiding huge upfront costs and time wastes.
Once your MVP is defined you need to carefully scan the market and find the best Technolgy partners for your business model. There are countless great solutions but the reality is that you wouldn't be able to afford them and most importantly you might not even need them upfront. Compare offers from providers with in-depth expertise and good customer support.
Own your domain and hosting. These are important assets which must be strictly in your possession. Do backups for everything. In internet business loss of data equals loss of business.
5. Managerial accounting
Know your budget. Whether you finance your project with your own means or attract investor capital, it is critically important to understand your present and future budgets to set up and sustain the project. I would strongly recommend avoiding the situation where you will be relying on a promise of financial commitment instead of funds being available upfront. Absolutely the last thing you'd want to happen is your investor to pull out of the project halfway leaving you with prospects of failure and potential liabilities.
Be pessimistic in your revenues calculation. It never goes smoothly in the beginning, you'll be making mistakes and winning the first clients will be a mission. Pace yourself for a marathon, not the sprint and try to be as lean as possible financially. Build a cash flow which would be tailored to reinvest most of the profits back in the business development, marketing, and customer support.
6. Marketing
A cliche saying 'Think outside the box' fits perfectly here. A startup project has no chance of competing for online clicks with the giants of the industry with deep pockets. My strongest advice here would be – think locally, be the best for a specific audience of clients in your target region to start with. Don't worry about the rest of the world – become the best where it matters.
Part of thinking differently will push you to consider unorthodox marketing channels. Whilst building my first online business in Africa I discovered that the traditional Google and Facebook campaigns were not nearly as effective as communicating with the target audience via radio.
Get personally involved and build your business around your personal brand. Clients always want to know who is behind the business. A founder practicing transparency and integrity in his or her business will boost the customer confidence. Strong business oriented Social Media profiles are an absolute must for a founder.
Start off by carefully crafting your LinkedIn and Facebook profiles and move forward to building a solid online reputation in general. Hypothetically, if Elon Musk were to set up a brokerage firm, it would not struggle with customer acquisition simply because of the solid reputation of the founder. As the old saying goes 'people buy from people'.
7. Customer Care
Focus on speed of deposits and withdrawals. This tip is worth an 'ounce of gold'. Customers will judge you primarily by the way you handle their money. Make sure these two operations are pitch-perfect beyond all else.
Without an understanding of financial markets, online trading may be akin to gambling. This is bad because it doesn't create a bond of continuous interest and engagement. To be successful a broker must educate their customers and navigate their journey – teach them about risk management and market patterns, show opportunities and warn about the pitfalls. Most of our successful startup clients are educators and trainers who have customers' best interest in mind.
The End
I have covered a few essentials in this article. Obviously, there's plenty more you will discover along the way. I am happy to become a mentor to a serious and passionate entrepreneur and share my knowledge and experiences.
This article was contributed by Artem Trofymenko, Founder of Buroka Group. 

4 Tips for Managing Your Emotions When Trading Crypto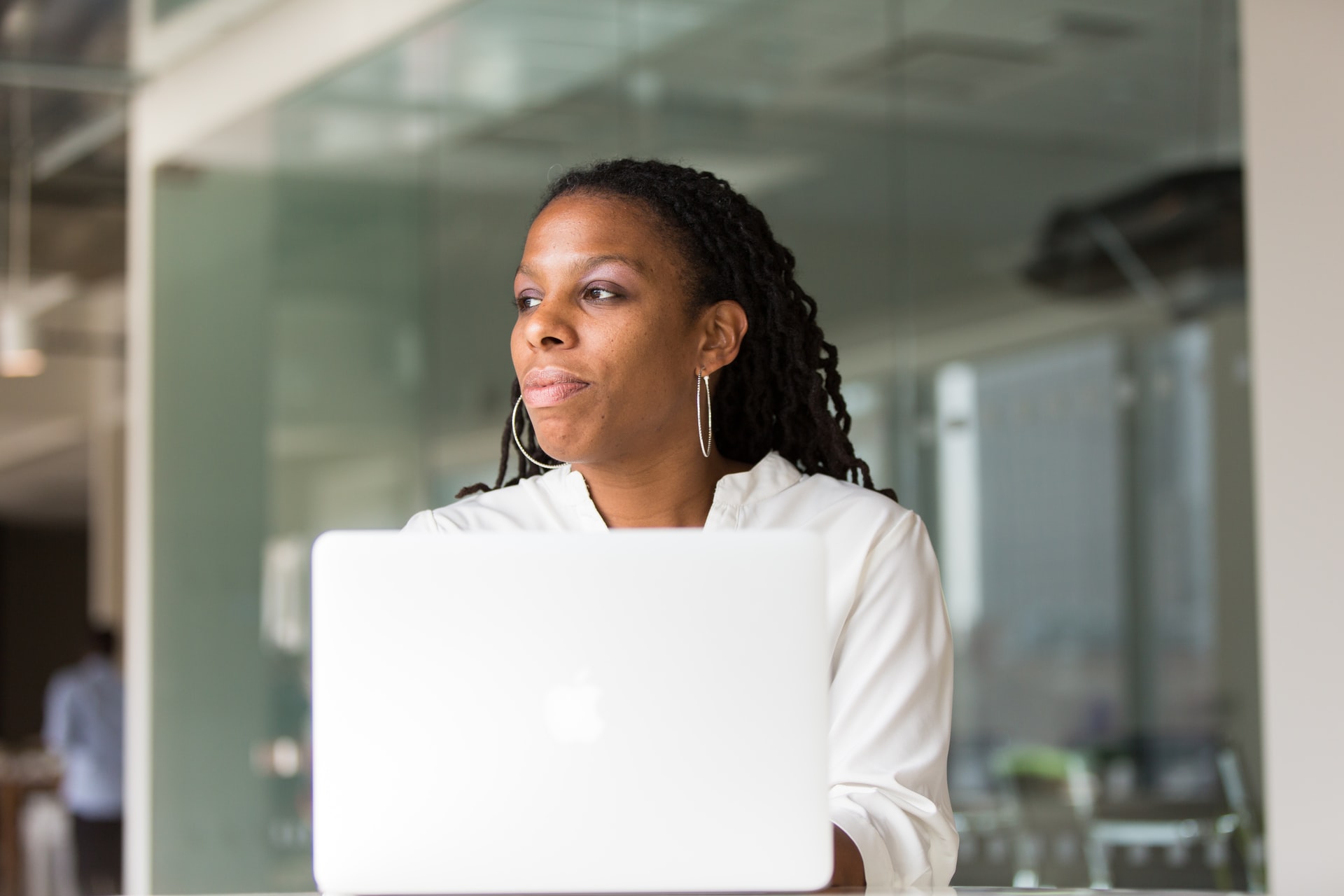 Dealing with emotions is a natural part of being human. How you feel can significantly impact the world around you, and that is an indisputable fact in life. However, the world of cryptocurrency trading can be an unforgiving place for the overly emotional. If you let your feelings cloud your decision-making, you risk selling too early, running losses, and missing out on significantly profitable opportunities had you stopped for a moment and thought the matter through with a clearer headspace.
For example, after hearing some concerning rumors, you rashly decided to empty out your XMR wallet and other crypto exchanges for fear of losing money. After some time, however, the prices bounce back higher than before, which is a cause for dismay because you lost all of your investment due to a rash decision on your part.
Hence, it is crucial to keep your emotions in check when trading. This is especially the case when you are trading in an extremely volatile industry such as cryptocurrency. The crypto market is notorious for its constantly fluctuating values and massive price swings. It can strike fear, panic, and greed in the least suspecting and cost you more than what you bargained for.
Whether you are new or experienced in dealing with crypto, managing one's emotions is a must-have tool in your trader's toolbox. To help you master this skill, here are some tips to keep in mind as you traverse the wild, harsh landscape of crypto trading.
Develop a Risk Management Plan
Risk management is an integral part of any kind of investment venture. You want to ensure that you have backups in place in case a situation arises that may threaten your initial investment. However, many new traders overlook the importance of considering their emotional responses and their risk tolerance when formulating their risk management plans. As a result, their plans crumble in the face of high-pressure situations.
As such, always consider your risk tolerance when developing a plan to mitigate trading risks. In fact, many trading consultants use it as a basis for forming your trading plan. By doing so, you can ensure that you are only taking on what you can handle emotionally as you work your way to reaching your financial goals. Over time, as you become more experienced and more in control of your emotional responses, you can decide to take on more risks.
Conduct In-Depth Research
One of the most effective ways to handle frantic feelings is to counter them with cold, harsh facts. Aside from your risk management plan, it is wise to conduct some research on your own that can substantiate or debunk any concerning news or rumors that might cause you to buy or sell on an impulse. For example, after hearing from another trader that one of the digital coins you invested in has died due to a lack of community support, you might be tempted to liquidate the entirety of your investment. However, after some digging, you determined that the community is still active and invested in improving said cryptocurrency.
It is also important to do your homework when picking which coins to support. Make sure to check the cryptocurrency's whitepaper and the developers' activities for a clearer idea of the coin's potential. In this manner, you can feel assured that your investments have a high potential of bearing fruit in the future.
Do Not Obsess Over Market Charts
Many traders new to the crypto industry fall into the trap of obsessing over market charts. The constant flickering of colors and lights can be hypnotising to the unaware. They watch price fluctuations all day to ensure that they can take note of sudden price hikes and dips, which may lead down a path to profitable opportunities.
However, this method is not helpful to your mental and emotional health. Indeed, it can feel like an emotional rollercoaster watching prices go up and down continuously. Processing significant amounts of information for too long can wear you down over time and may instead cause you to decide poorly when an opportunity arrives. Thus, a word of advice: do not let the market chart take over you.
Take Advantage of Limit Orders
Signing into your crypto exchange after some time and learning that the value of your investment has plummeted is a reasonable fear for many traders. After all, it is not healthy to watch market charts like a hawk, and in the crypto space, so many things can happen after a short span of time. Fortunately, many crypto exchanges have stop-loss features. This is a feature that automatically sells your coins once their prices decline to a certain value. In this manner, you can feel assured that your investment remains intact, assuaging any fear or worry you may have while not on the crypto exchange.
Removing emotions from any decision-making process that you make is almost impossible. In a highly complex and volatile market like cryptocurrency, conquering your initial emotional responses and maintaining a clear head is a skill that you have to master through experience. By doing so, you can keep your eyes on the prize and trade in a manner that is most helpful to your needs.

How to Bet with Bitcoin on Football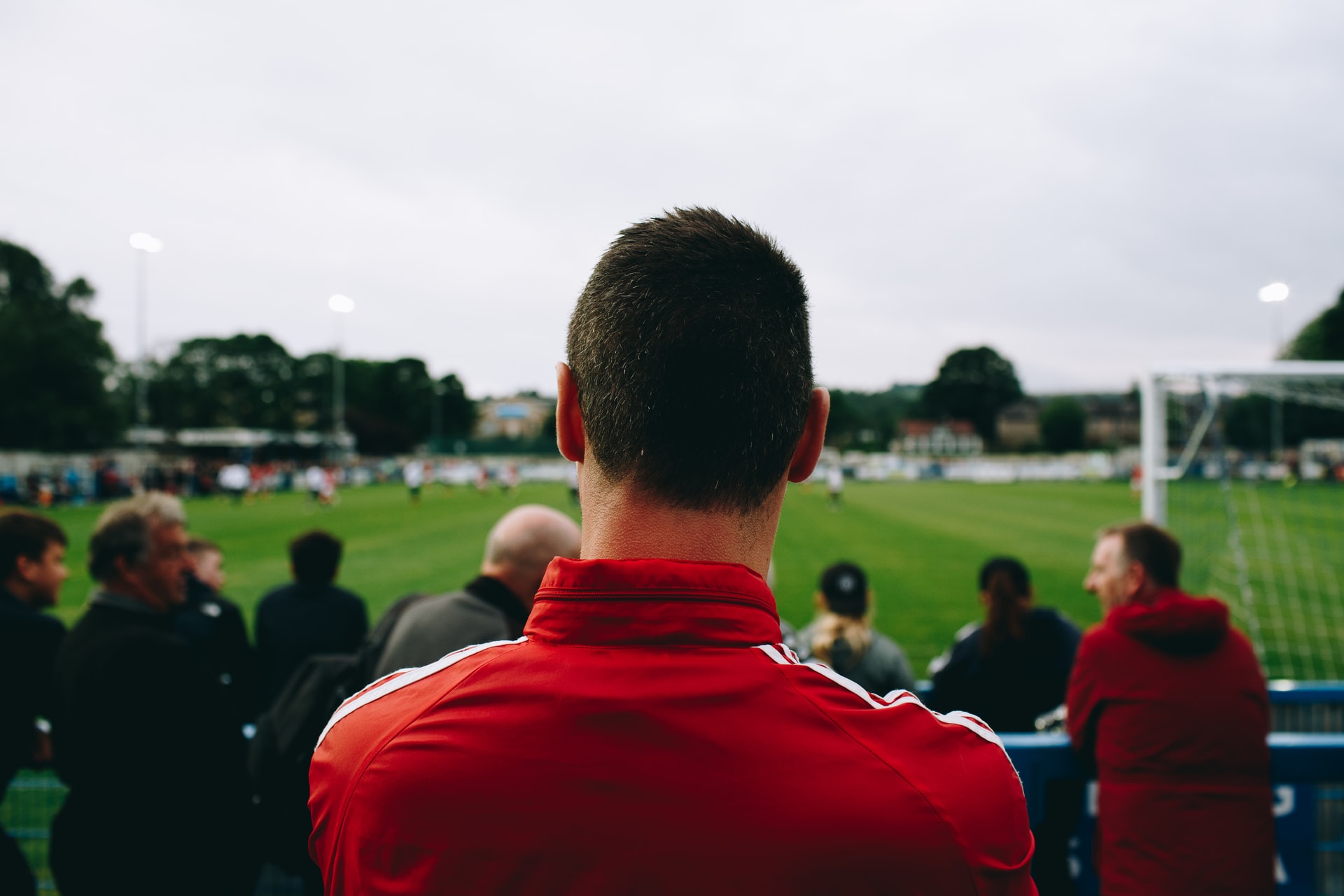 With the new football season having started, it's time to learn how you can bet with bitcoin on your favorite football club. The good news is that many online betting companies now accept bitcoin.
Read on to learn why betting companies love bitcoin and how to bet with BTC on your football team.
Why Betting Companies Support Bitcoin
Since its establishment in 2009, Bitcoin (BTC) has been and continues to be the most popular cryptocurrency, and with good reason. Some of Bitcoin's most impactful features include:
1. Fast and inexpensive
With bitcoin, it takes a few minutes to send and receive any amount of money. And if you are using the Bitcoin Lightning Network to make payments, transaction costs are a few cents.
2. No third-party interference
Because of its decentralized nature, which makes it impossible for anyone (including governments) to control, you can feel safe to make any payments you want (including to online betting platforms). This also comes with the added advantage of not having to disclose your personal information when making a payment.
3. Supports borderless payments
With Bitcoin's decentralized nature comes its borderless characteristics. This makes it possible for anyone in the world to be able to send and receive bitcoin payments wherever they are.
Betting companies were among the first adopters of bitcoin because it enables them to reach a broader audience and provide an innovative digital payment option to bettors. From playing a bitcoin slot to betting on any sport imaginable, bitcoin casinos and online betting companies have truly embraced bitcoin.
The credibility of bitcoin as a financial and payment solution is also being felt in the world of football. For example, in April 2021, Southhampton F.C began paying its players bonuses in bitcoin, opening up a whole world of possibility for other clubs to start doing the same.
How to Bet With Bitcoin on Football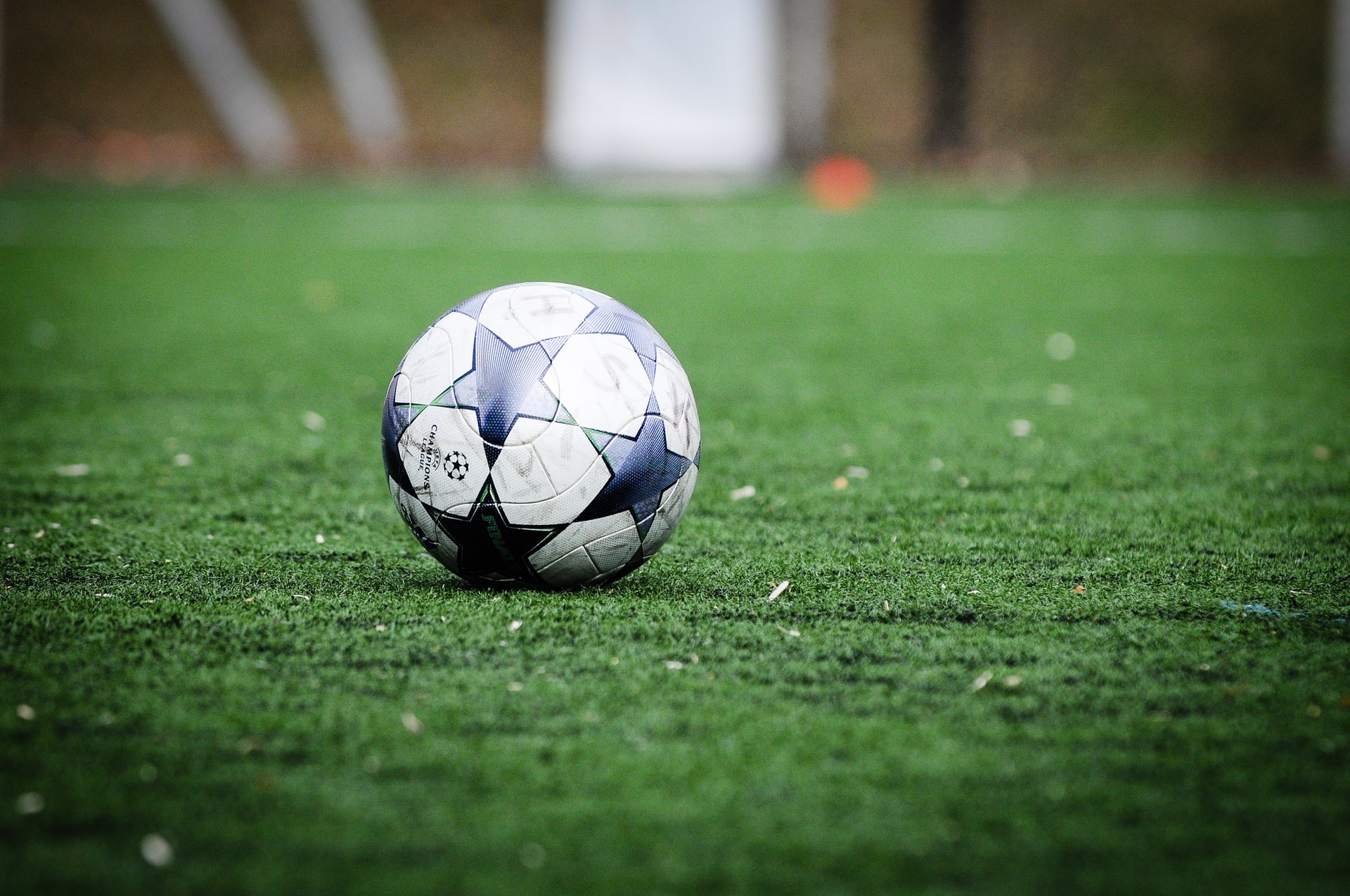 Betting with bitcoin has proved to be an efficient process for bettors, and betting companies who have embraced cryptocurrency as an efficient payment system.
One of the leading sports betting companies that enables you to bet with bitcoin is Sportsbet.io. So let's dive in and show you how you can bet with bitcoin on this popular platform.
Betting with Bitcoin on Sportsbet.io
Sportsbet.io is a user-friendly and highly modern betting platform. It has a functional live betting service and is one of the few betting companies that will allow you to bet in bitcoin through a few easy steps.
Register for Sportsbet.io by clicking on the 'Create an Account' tab on the top right of the homepage.
Access your wallet by logging into Sportsbet.io. On the top right of the page, next to your balance, click your balance or the 'Deposit' button.
Next, you click on 'Use Currency' and on 'Deposit.'
A QR code will appear.
Open your bitcoin wallet, scan the QR code, and choose how much BTC you want to send to your betting account.
You will have to wait for three confirmations on the Bitcoin blockchain for your funds to settle in your SportsBet.io account.
Start betting on your team(s).
Now that we have started you off on your journey, happy betting, and may the odds be ever in your favour!

How to Cash Out Bitcoin to Naira Using Cryptofully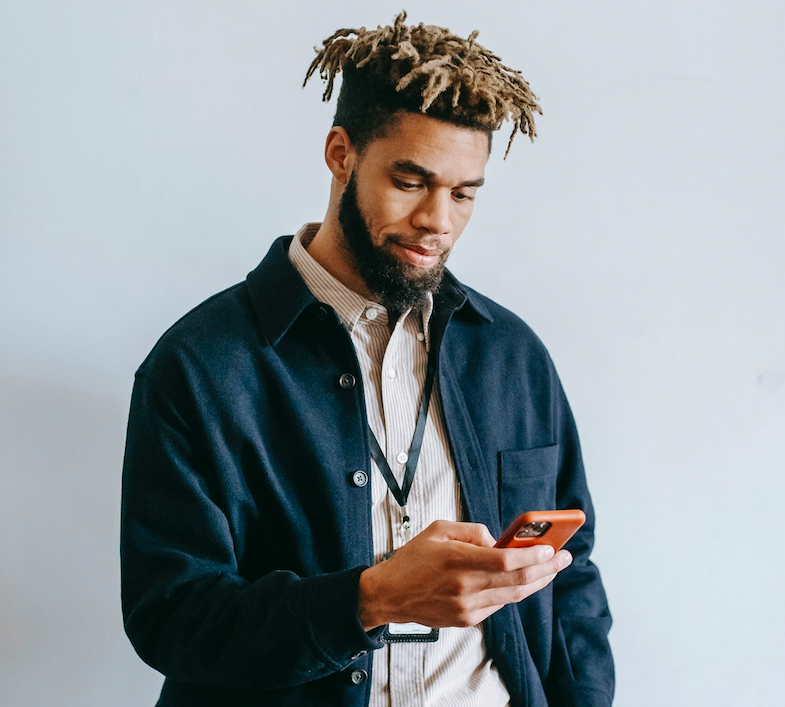 Over the past few months, Nigeria's central bank has made it difficult for traders to cash out bitcoin to naira, restricting crypto companies from having a Nigerian bank account. But there is now a cheap and efficient way to cash out your bitcoin to naira.
In this guide, you will learn how to convert your BTC to NGN and receive the money in your bank account within minutes using Cryptofully.
Getting Started on Cryptofully 
Cryptofully is a peer-to-peer payments app that allows you to easily convert bitcoin to naira and automatically settles into your Naira bank account.
Using Cryptofully, you can cash out your bitcoin from anywhere in the world into any Nigerian bank account. The platform also supports US dollars and payment options, including Visa, Mastercard, Google Pay, and Apple Pay.
Cryptofully leverages a local network of peer-to-peer (P2P) traders, enabling it to convert BTC to NGN within minutes. With this P2P system, you are not looking for a peer to buy your bitcoin. Cryptofully automatically matches your trade to the best peer and makes it seamless for the user.  
All that's needed to cash out bitcoin to naira using Cryptofully is to sign up, complete the KYC, add a bank account and convert your bitcoin to cash.
How to Cash Out Bitcoin to Nigerian Naira
You can cash out your bitcoin to your Nigerian bank account using either the Cryptofully website or mobile app. 
Download the Cryptofully App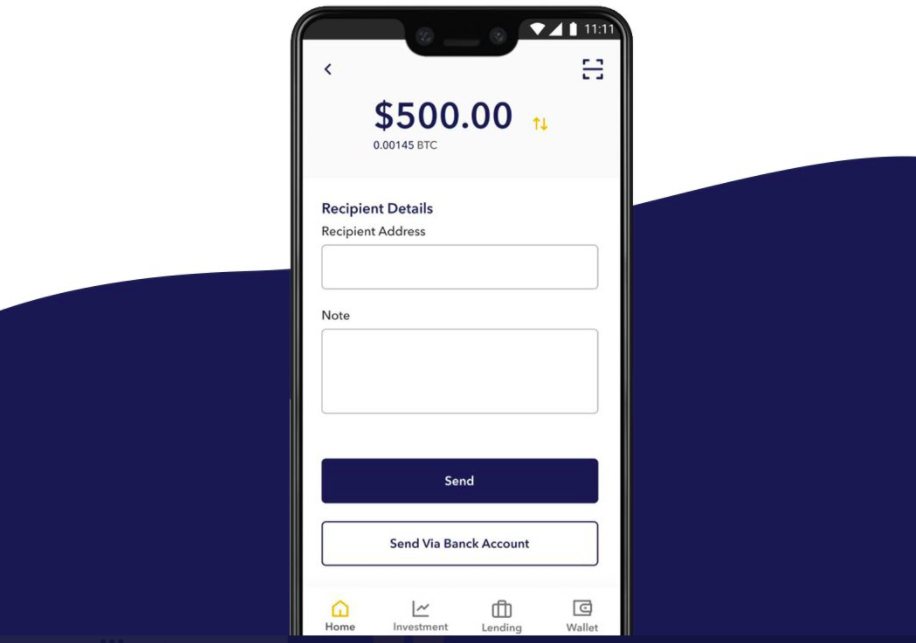 Step 1: Create an account
Open the app and register with your email address and verify the email address.

Start the KYC process. Visit Profile, click to Add bank, and add your BVN. You can also add your bank account in this section.
Step 2: Cash Out Your Bitcoin to Naira
Type in the amount you want to cash out.

Then choose to send via bitcoin.

On the following page, you can add your bank account details in the recipient field.

On the last page, you can see a Bitcoin wallet address. Send your bitcoin to that wallet address and within a few minutes, the equivalent amount in naira will settle in your bank account. 

Cryptofully matches you to a peer instantly who sends the money to your naira bank account.
Visit the Cryptofully Website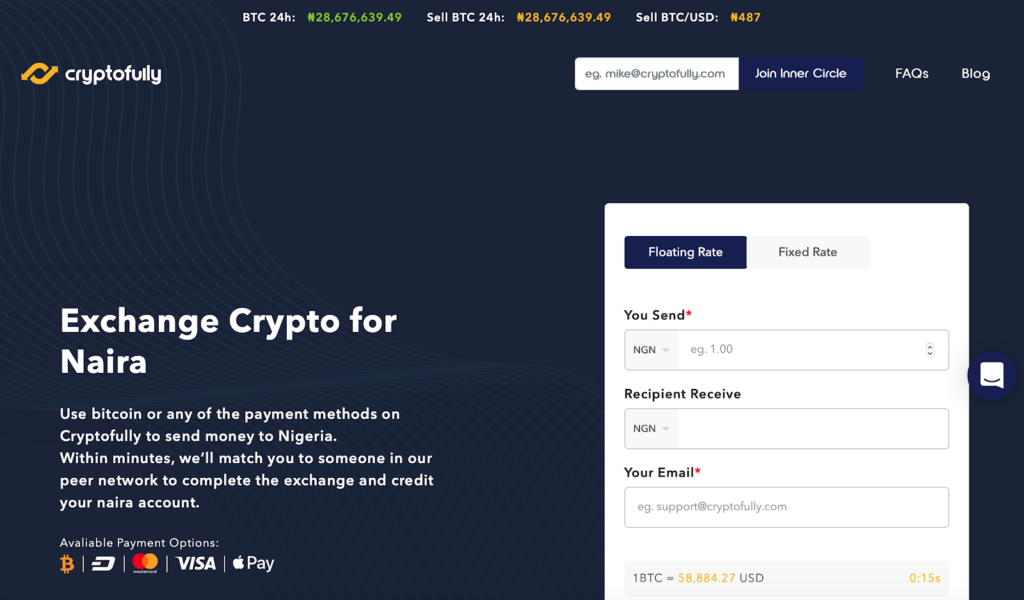 You don't need to sign up or log in with any details on the website to start using it
Go to the Cryptofully website at

www.cryptofully.com.

Specify the amount of bitcoin you want to cash out to naira. You can use either the Floating Rate or Fixed Rate. The Floating Rate means the exchange rate can change based on changes in bitcoin prices, and the Fixed Rate means you can lock in an exchange rate for your transaction.

The naira amount equivalent you will get in your bank account will appear below.

On the following page, you will see a space to fill in the preferred bank account you want to receive your money.




Then, you will be shown a Bitcoin wallet address. 

Copy the wallet address and do a transfer to the address. The Cryptofully system matches you immediately to a peer.

The peer sends the money and the money settles in your naira bank account.
Since the Central Bank of Nigeria enacted draconian measures against crypto companies, preventing them from having banking relationships, the peer-to-peer bitcoin trade has flourished in the West African country.
Peer-to-peer payment apps, like Cryptofully, are enabling Nigerians to continue using bitcoin for remittances, payments, and as an investment.