Weekly Roundup: Jack Dorsey's NFT Tweet to Help the Poor in East Africa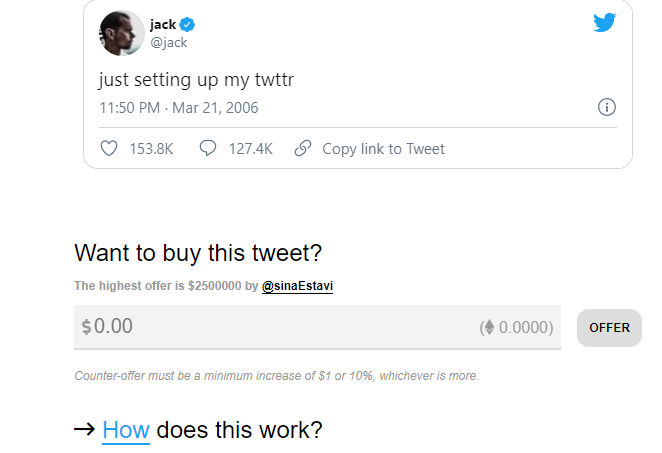 Jack Dorsey's NFT tweet will help the poor in East Africa through an upcoming bitcoin donation. To learn more about this developing story and other news, keep reading.
Jack Dorsey's NFT Tweet to Help the Poor in East Africa
As the non-fungible token (NFT) craze continues, Jack Dorsey is auctioning his first tweet on Twitter as an NFT. Dorsey posted this tweet on May 6, 2006. The auction is taking place on Valuables and will end on March 21, 2021.
Dorsey has tweeted he will convert the proceeds of this auction to bitcoin and donate them to GiveDirectly. This is a non-profit organization that seeks to end extreme poverty in East Africa. Donations sent to GiveDirectly benefit people in Kenya, Rwanda, and Uganda.
Currently, the highest bidder of this NFT tweet was a Twitter user with the handle @sinaEstavi. He outbid Tron CEO Justin Sun, who had bid $1 million. Estavi bid $2.5 million.
Valuables wrote: "The tweet itself will continue to live on Twitter. What you are purchasing is a digital certificate of the tweet, unique because it has been signed and verified by the creator. Owning any digital content can be a financial investment, hold sentimental value, and create a relationship between collector and creator. Like an autograph on a baseball card, the NFT itself is the creator's autograph on the content, making it scarce, unique, and valuable."
Uncertain Regulatory Environment Pushes Crypto Firms Out of South Africa
The uncertain regulatory environment is pushing crypto firms out of South Africa. According to an article on Business Tech, the MTI scam gave regulators in South Africa a jolt and some firms will not wait to see how the matter pans out from a regulatory standpoint.
These crypto firms are planning on moving to Singapore and the UK. That is because Singapore is redrawing legislation to attract crypto firms while the UK is getting requests to embrace cryptocurrencies.
Revix, a crypto investment platform that allows customers to invest in a bundle of cryptocurrencies, is moving its headquarters from Cape Town to the UK. The company is also considering setting up in Germany to scale its operations.
Luno is another crypto company with headquarters in the UK despite being owned by South Africans. The exchange also operates in Singapore.
South African regulators "have been incredibly slow in terms of regulation in the industry and that leads to businesses looking internationally. In an unregulated environment, a customer arrives at our platform with skepticism, and rightfully so," said Revix CEO Sean Sanders in an interview.
According to Sanders, the uncertainty regarding potential regulation is also making it difficult for crypto firms to market their services on social media platforms thereby limiting growth.
Binance CEO CZ Among the Top Blockchain Billionaires in 2021
Binance CEO, Changpeng Zhao (CZ), is among the top blockchain billionaires in 2021 according to the latest Hurun global list. CZ and 16 other billionaires have cumulative wealth of US$ 77 billion. These billionaires have generated their wealth from running crypto exchanges, investing in cryptocurrencies, and mining crypto.
After facing a price correction in 2018, crypto billionaires are enjoying a boost in their wealth thanks to the recent bull run.
The top five billionaires are Brian Armstrong of Coinbase, Sam Bankman-Fried of FTX, Changpeng Zhao, Chris Larsen, and Jed McCaleb of Ripple. Their net worth is $11.5 billion, $10 billion, $8 billion, $5.1 billion, and $3.2 billion, in that order.
To learn more about Bitcoin, download the Bitcoin Beginner's Handbook for free.
Weekly Roundup: Sygnia Plans to List Crypto ETF on JSE, Kenyan Artist Launches African Art NFTs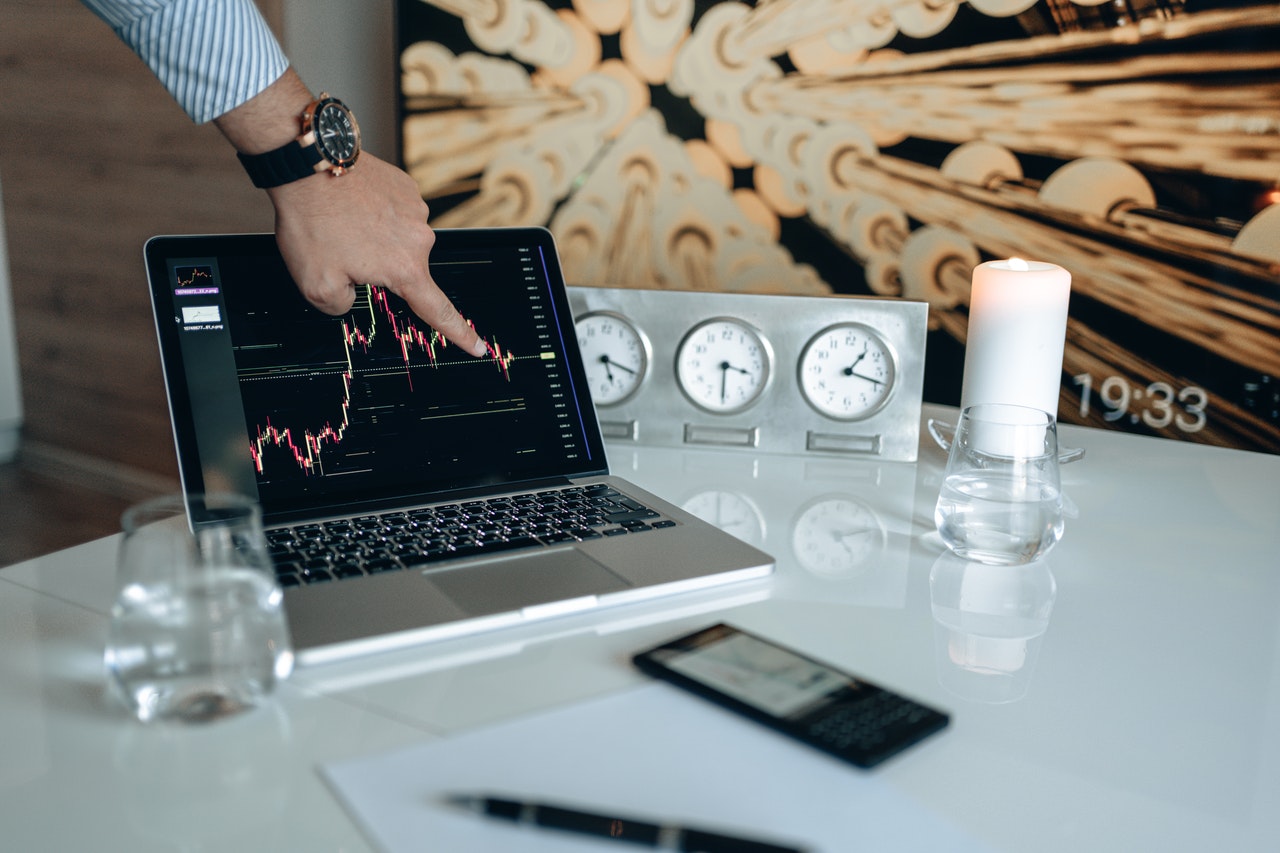 Another interesting week in crypto saw Coinbase go public by listing on Nasdaq while dogecoin rallied with a 400 percent price increase. In this week's news roundup, we cover Sygnia's plans to list a crypto ETF on the Johannesburg Stock Exchange, among other top stories.
Sygnia Plans to List Crypto ETF on Johannesburg Stock Exchange
Sygnia, an asset management company in South Africa, is planning to list a crypto exchange-traded fund (ETF) on the Johannesburg Stock Exchange (JSE). This is the second time the company will be making an application to list a crypto ETF.
The company made the first application in 2017, which JSE rejected because it was "not ready to approve crypto listings." Since the crypto environment has changed, Sygnia hopes that the bourse will approve this time around.
"A lot of work went into designing the actual structure of the ETF in 2017, which we can reuse. With cryptocurrencies becoming more mainstream, we are hopeful that the JSE will be more receptive to our application this time around," said Sygnia's CEO David Hufton.
According to JSE Director Andre Visser, the exchange would have to engage with other relevant regulators to consider a crypto listing of any kind. Also, companies would have to meet certain conditions first. Another South African company, DCX Capital, is also considering listing a crypto ETF on the same exchange.
Kenyan Artist Launches African Art NFT Collection
Picha Images – a digital media company powered by Artificial Intelligence and Big Data – is launching African crypto art non-fungible tokens (NFTs).
The upcoming auction will feature African art from the Kenyan-based award-winning photographer and filmmaker Rich Allela and will be held from April 25 to May 3, 2021, on OpenSea.
Speaking to BitcoinAfrica.io, Rich Allela said;
"By launching the Afro-renaissance collection as NFTs, Picha Images aims to empower artists to maintain the copyright of their work and earn from secondary sales. Through this auction, the public will place their bids where the highest bidder will walk away with a piece of digital art and send a message to the world on the value of art as an investment worth making."
South Africa Among Top Countries with Mature CBDC Projects
According to a recent PwC report, South Africa is among the top countries with mature CBDC projects. The report ranks South Africa seventh in interbank CBDC development ahead of Europe, UAE, and Japan. An interbank or wholesale CBDC is confined for use by financial institutions. Conversely, citizens and corporates can hold a retail CBDC.
South Africa's Central Bank Digital Currency (CBDC) project is called Project Khokha. The South African Reserve Bank successfully ran a trial of this project in 2018.
The second phase, Project Khokha 2, was announced this year. The purpose of the second phase is to explore the policy and regulatory implications of tokenisation in financial markets.
"More than 60 central banks have already entered the central bank digital currency race. CBDCs will be a game-changer, providing access to alternative payment solutions for citizens and corporates as well as reinventing financial market settlement and interbank monetary transactions," stated Benoit Sureau, Partner Financial Services Risk and Blockchain at PwC France & Maghreb.
To learn more about Bitcoin, download the Bitcoin Beginner's Handbook for free.
Weekly Roundup: Luno Users in SA Increased by Almost 1M in 2020, Akon Joins NFT Hype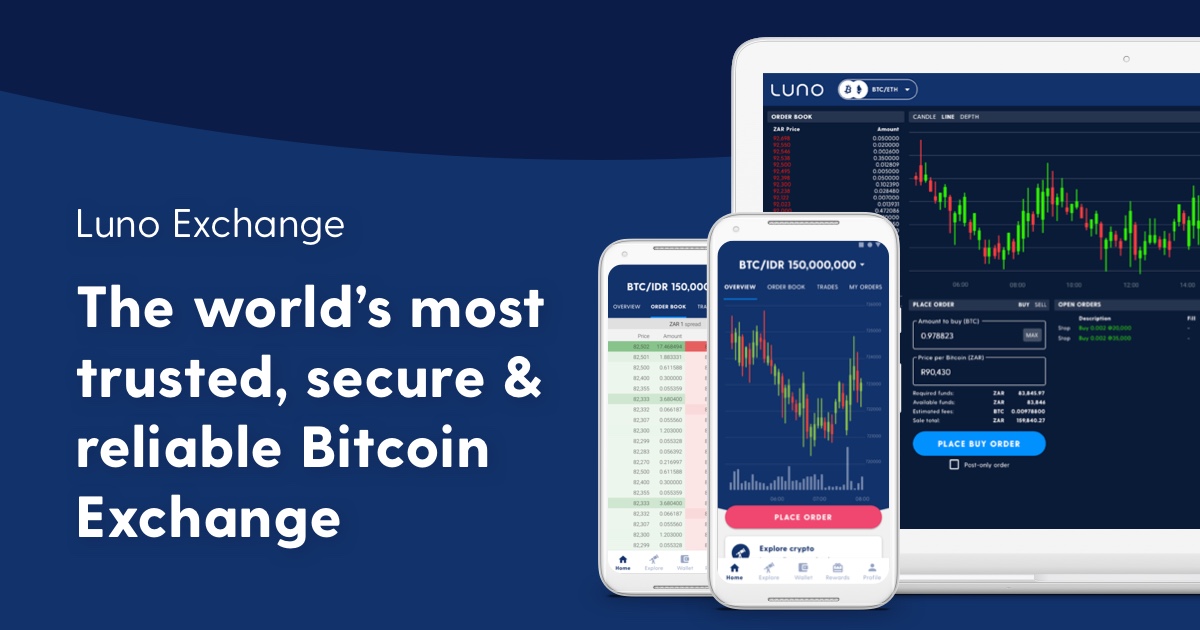 Luno users in South Africa have been increasing exponentially, indicating the exchange's popularity in the country. To learn more about this story and others, keep reading.
Luno Users in SA Increased by Almost 1M in 2020
In 2020, almost one million new South African users registered on Luno. The exchange also processed volumes of over $3 billion in the country that year. In 2021, the exchange has recorded more than 250,000 new users from South Africa.
According to data from Luno, the average Luno user had more than $7,000 in their wallet on January 25, 2021, a 56 percent increase from December 30, 2020. Moreover, South African crypto investors are relatively young. About 40 percent are 29 years old or below. 65 percent of the users are male while 35 percent are female. "A three-month average reveals that more than 145,000 South Africans installed the Luno app each month from November 2020 – January 2021," Luno announced recently.
The exchange notes that it has experienced significant growth since Digital Currency Group (DCG) acquired it in September 2020.
"South Africans are definitely curious about crypto. Google Trends has South Africa as among the highest in the world for interest in #Bitcoin – fourth behind Nigeria, Austria, and Switzerland. Searches for #Bitcoin peaked in the first week of January this year," said Marius Reitz, the General Manager of Luno Africa. "While regulation generally tends to lag behind innovation, regulators in South Africa have shown a great willingness to engage with the community and work towards pragmatic regulation."
Luno has more than seven million users in over 40 countries.
Bitcoin Trade Namibia Onboards Over 80 Percent of Orders on LN
In a recent tweet, Bitcoin Trade Namibia has announced that it is delivering more than 80 percent of its orders to and from users via the Lightning Network.
The exchange allows its users to buy and sell bitcoin with Namibian Dollar (NAD) and the South African Rand (ZAR). Also, the crypto exchange does not store bitcoin wallets, addresses, or bitcoin on its servers.
The Lightning Network (LN) is a second layer on top of the Bitcoin blockchain that aims to make transactions instant and cheaper. LN also wants to scale the number of transactions the network can handle to millions and billions per second.
Akon Launches NFT Marketplace
American-Senegalese singer Akon launched a non-fungible token (NFT) marketplace, AkoinNFT. The marketplace, which aims to empower artists and brands, will be involved in "the creation, design, minting, and distribution of NFTs."
"We believe in artists of all talents. We support artists for we are artists and there is never been a better time to put the power back in our collective hands to create a greater connection with fans," said Akon.
AkoinNFT has just released the first crypto art collection in collaboration with WrappedLA and Traveler Music. The pieces were available until 12 PM Pacific Time, April 15, 2021.
Akon has launched the NFT platform at a time when NFTs are booming. Other musicians like Kings of Leon and the Weeknd have also gotten in on the NFT action.
To learn more about Bitcoin, download the Bitcoin Beginner's Handbook for free.
Weekly Roundup: Crypto Market Cap Hits $2T, ICE3X Ceases Operations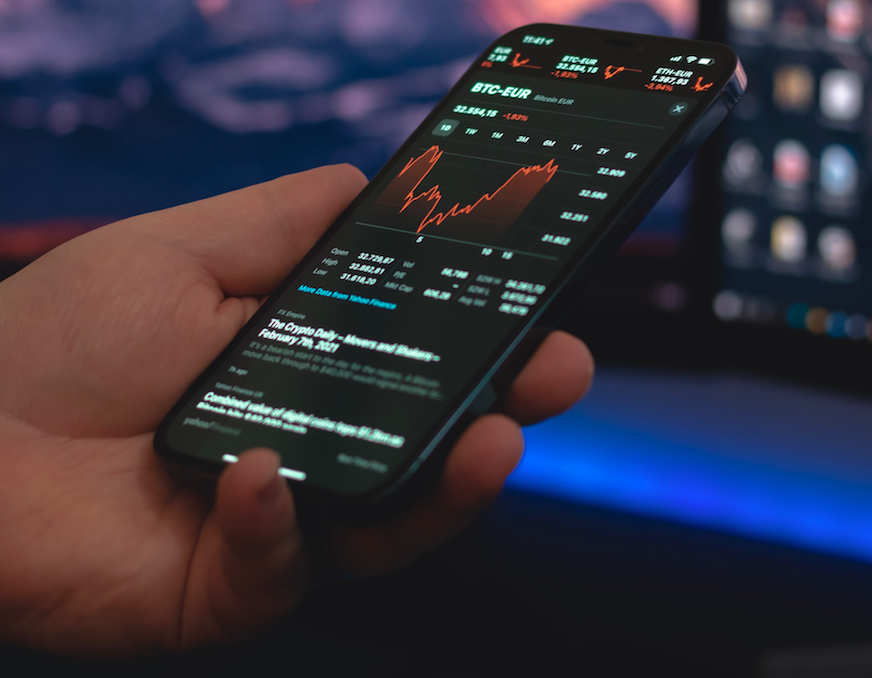 Major news headlines hit the crypto scene this week. The crypto market cap hit a new all-time high of $2 trillion and long-standing South African digital asset exchange, ICE3X, ceases its operations. To learn about this and other stories, keep reading.
Crypto Market Cap Hits $2T
On April 6, 2021, the total crypto market capitalisation hit $2 trillion for the first time, thanks to an ETH, XRP, TRX, XLM, and BTT rally. These digital assets have been fuelling the altcoin season and have pushed the market capitalisation to $2 trillion. Moreover, the rising interest in these altcoins could eventually benefit bitcoin, according to market analysts.
Bitcoin's dominance has, however, decreased from about 73 percent at the beginning of 2021 to the current 55 percent.
"These early adopters shifting to altcoins will both work to decrease volatility in bitcoin and also eventually help decide the winners from the losers in the alt space, which is kind of a necessary condition for any altcoin to emerge as a viable longer-term asset," Chad Steinglass, head of trading at digital assets capital markets firm CrossTower, told Coindesk.
Earlier this year, the value of the crypto market surged above $1 trillion for the first time on the back of bitcoin's rising price. The current bitcoin market cap, according to Coinmarketcap, is around $1.07 trillion.
South Africa's Crypto Exchange ICE3X Ceases Operations
South Africa's crypto exchange ICE3X has ceased operations according to an April 6, 2021, statement. The exchange has disabled withdrawals from the platform and is currently processing submitted withdrawal requests.
"We regret to inform you that the platform will not return to operation and [we are undertaking] liquidation proceedings. All withdrawals logged via the form (except BTC & LTC) up to and including 06/04/2021 have been completed. All remaining assets (Tokens & FIAT) are now held in trust by Manong Badenhorst Attorneys and liquidation proceedings [are underway]," the crypto exchange wrote.
ICE3X was founded in 2013. Users can download the requisition form here.
PayPal Rolls Out Checkout with Crypto
PayPal has rolled out checkout with crypto, a service that will enable US customers to pay merchants in crypto. In October 2020, the online payment company announced that it would allow US customers to buy, sell, and hold cryptocurrencies.
"As the use of digital payments and digital currencies accelerates, the introduction of checkout with crypto continues our focus on driving mainstream adoption of cryptocurrencies while continuing to offer PayPal customers choice and flexibility in the ways they can pay using the PayPal wallet. Enabling cryptocurrencies to make purchases at businesses around the world is the next chapter in driving the ubiquity and mass acceptance of digital currencies," said Dan Schulman, the CEO of PayPal.
PayPal will automatically display this payment method when a customer has a sufficient crypto balance. The platform will then convert crypto to fiat once the user confirms the purchase. Checkout with crypto will be available to the rest of the world at a later date.
To learn more about Bitcoin, download the Bitcoin Beginner's Handbook for free.