How to Mine Bytecoin: A Beginner's Guide


In this easy-to-understand beginner's guide, you will learn how to mine Bytecoin (BCN) in 2020.
What is Bytecoin?
Bytecoin is an anonymous-focused cryptocurrency that was introduced in 2012. It was one of the first privacy coins in the crypto markets.
The digital currency is based on CryptoNote technology and uses Ring Signatures to make transactions untraceable. Additionally, Bytecoin has forked several times to upgrade its technology.
What Does it Take to Mine Bytecoin?
You can use a GPU to mine Bytecoin but it will not be as profitable as using an Application-Specific Integrated Circuit (ASIC). An example of a suitable ASIC miner is Antminer X3.
To increase your earnings, you need to join a mining pool with a high hash rate and low fees. When choosing a mining pool, you should also consider the reward system. Some of the mining pools that you can research on include MinerGate and Bytecoin-pool.
Other requirements include:
Stable internet connection: to mine Bytecoin, you will require an unlimited and stable internet connection 24/7. If your connection is limited, ensure that your miner can access about 15GB of data monthly.
Bytecoin wallet: you will need a place to store the coins you mine. You can use the available wallets on the Bytecoin website.


Secluded location: your mining rig will make a lot of noise. So, you should set it up in a secluded location where you will not disturb anyone. If you cannot find such a place, then soundproof the room containing your mining rig.
Cooling equipment: although ASIC miners have fans, they are not enough to cool your rig. You should, therefore, set up in a ventilated room and purchase an air conditioner as well.
Cheap electricity: you need access to cheap electricity to mine Bytecoin profitably. Also, you should find out if your power grid can supply your miner with electricity sufficiently.
Note that you can use more than one ASIC miner to increase your chances of earning a profit.
The Set-Up Process
Now that you have acquired everything you need to mine Bytecoin, you can set up your rig as follows:
Connect your ASIC miner to electricity and the internet. Your miner will come with an instruction manual that will show you which ports to connect your power and internet cables.
Choose a mining pool and register.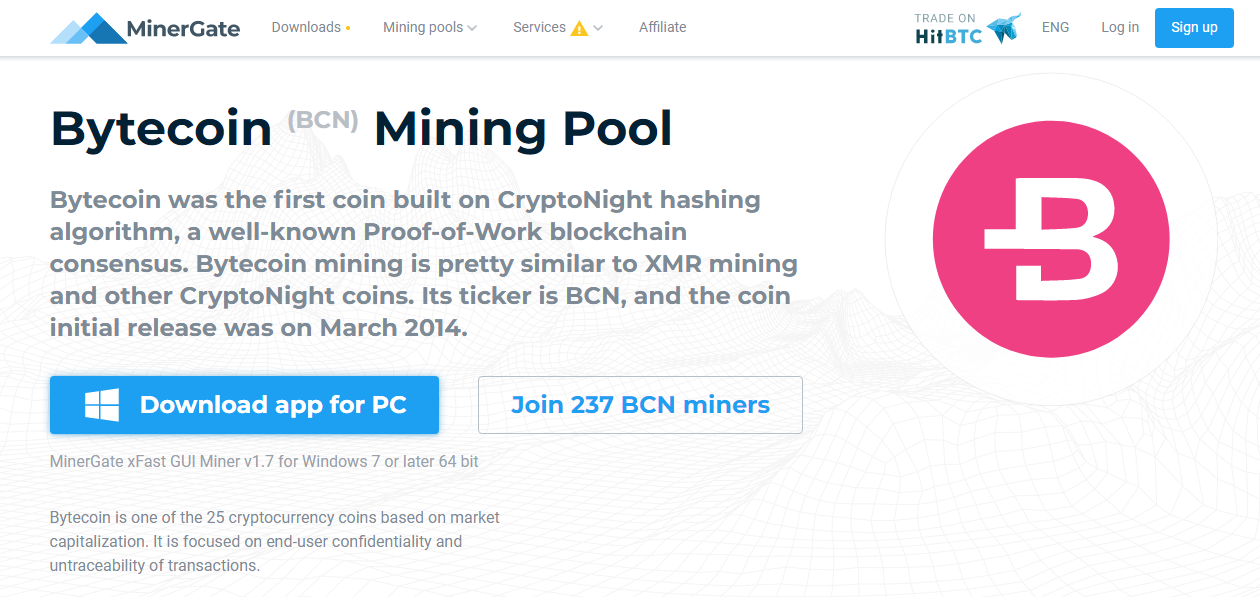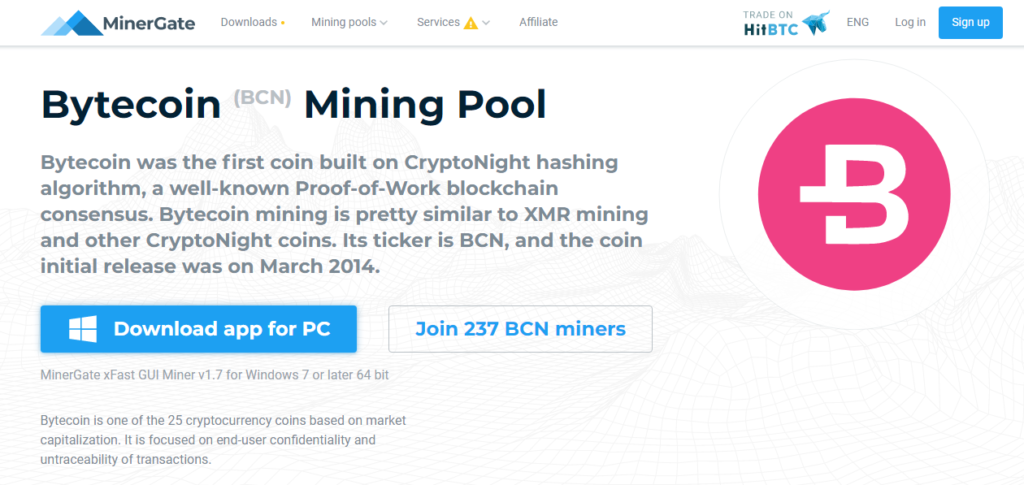 Find the IP address of your miner by logging into your internet router manager. Visit the DHCP server section to retrieve the IP address. Moreover, you can download the IP Reporter software from Bitmain's website if you are using an Antminer to get the IP address.
Enter the IP address you have retrieved in your browser and log into the web interface of your miner with the credentials provided in the manual. In most cases, the default username and password are "root."
After signing in, go to "Miner Configuration" and enter the addresses of three pools. It is important to enter three pool addresses because if one fails, your miner can use the other two. Under the "Worker" section, paste your wallet address. You can leave the password field blank or you can type "123."
Click "Save and Apply" and wait for some minutes for the miner to restart.
Visit the "Miner Status" to view the hash rate, pool connection, and temperature.
If everything is working properly, your miner will start mining Bytecoin for you.
Calculating Profitability
Before you begin to mine BCN, you can use a calculator to find out if your miner and electricity cost will result in a profit. Here are estimated earnings when using Antminer X3.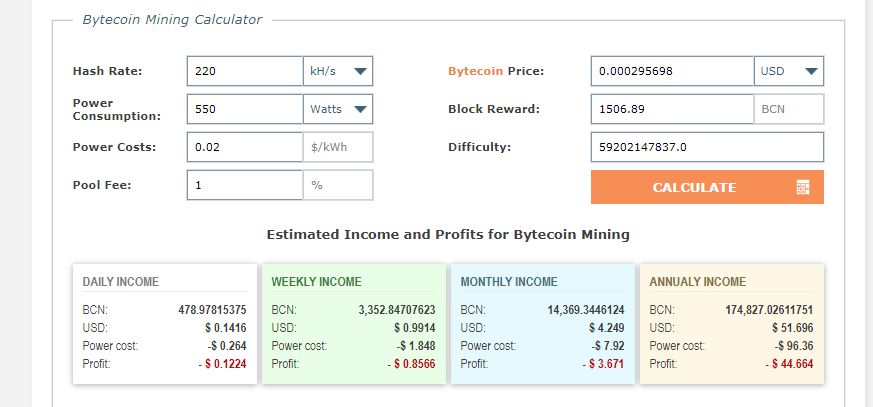 The above calculation assumes that you are paying $0.02 kWh for your electricity and one percent fees to your mining pool. You are not guaranteed profits when mining Bytecoin because several factors are in play. They include:
The mining difficulty. This difficulty is always changing.
The hash rate of your miner will determine how fast you can solve the network's mathematical problem.
The total hash rate of your mining pool will affect how often miners get rewards.
The power consumption efficiency of your miner.
Bytecoin's price. This figure fluctuates constantly.
Bytecoin is just one of the many altcoins you can mine. Find out how you can mine Dogecoin in this guide.