Bitcoin Tax to Come to South Africa in Early 2018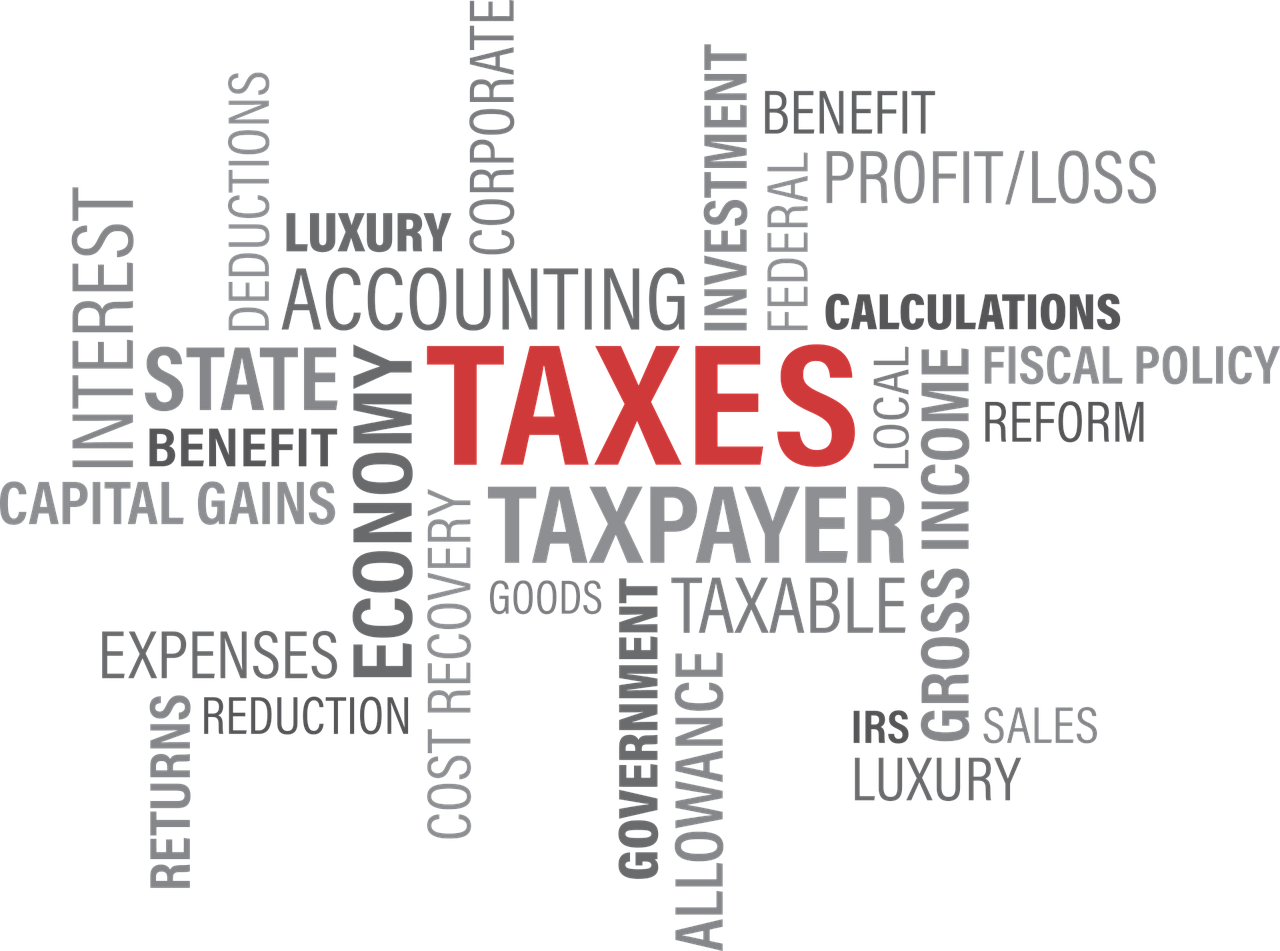 As bitcoin continues to gain momentum in South Africa, taxpayers will need to prepare themselves for an increased probe into their cryptocurrency gains declarations. This is after the South African Revenue Service (SARS) confirmed that it will explain its position on the tax treatment for virtual currencies in early 2018 but SARS' stand on digital currencies will not be published before the February Budget Speech.
Despite a price decrease in mid-December, bitcoin was still trading at more than 750 percent higher on than it was only one year ago. 2017 was essentially the year that bitcoin became mainstream as an investment, which has led to this incredible increase in value. However, as tax authorities have started to eye this development, taxpayers involved with cryptocurrencies could face a higher tax bill in 2018 if they have taken profits on their crypto asset investments in the past year.
SARS Interest in Tracking Digital Currencies
In mid-2017, the South African Reserve Bank (SARB) stated that they would test a regulatory framework for bitcoin and other virtual currencies. In December 2017, SARS would also show interest in working with SARB and top technology firms to research ways of tracking cryptocurrencies to have all investment profits from cryptocurrencies taxed in an effective manner.
To audit the money gained from cryptocurrencies in recent years, SARS will need close to two years to perform a detailed investigation. Any taxpayers that intentionally omits to declare their gains or profits will end up paying penalties of up to 200 percent and interest, said the Managing Director for Tax and Exchange Control at the Geneva Management Group, Ruaan van Eeden.
"The fact that SARS hopes to provide guidance on the tax treatment of cryptocurrencies soon, suggests that it plans to scrutinise this space much more carefully," adds, CA(SA) and Senior Lecturer in the School of Accountancy at the University of the Witwatersrand, Asheer Jaywant Ram.
The South African tax authority finds itself under pressure to increase its tax collection efforts after the Medium-Term Budget Policy Statement (MTBPS) reported that the tax revenue was expected to drop by almost R51 billion short of the budget estimates of 2017. Attempts to establish free tertiary education and stabilise Eskom – the struggling power utility – is expected to increase pressure on the fiscus. Still, it is not clear whether there is an outstanding amount of money hidden in the crypto space and if so, how much.
"I think there is enough interest and there is enough scope for SARS to be looking into this space, but now the question becomes – because SARS is really under pressure to reduce that deficit – are they really going to accept taxpayers declaring their gains as capital gains tax or are they going to just say it is all revenue in nature?" asked Ram.
SARS' Challenge
The main challenge SARS will face is explaining to taxpayers whether gains will be construed as income instead of capital. If they do not go with the latter, taxpayers will be forced to pay higher tax rates. While SARS might define gains are income, people might argue that their gain are capital gains depending on the facts. If gains are capital gains in nature, the capital gains tax would apply. However, if it is seen as income, the cryptocurrency price fluctuation gains will get taxed at the taxpayer's marginal income tax rate.
"Those sorts of debates on the nature of bitcoin – I think those are coming – and I think it would be very interesting to actually see the outcome of those debates. The main challenge in trying to determine a bitcoin trader or investor's tax liability is the question around the nature of the bitcoin," said Ram.
Van Eeden remarked by saying that bitcoin's obscure nature and how it functions creates uncertainty on its tax treatment. Moreover, there is lack of clarity on whether bitcoin is an asset or a currency as this varies from one jurisdiction to the other. As such, the different classifications have an immense implication for its taxation. While most jurisdictions see it as an asset, some – like Japan – see it as a currency and have categorised it as a legal payment method.
Is Bitcoin an Asset or a Currency?
A report by Robert Gad, Nicolette Smit, Megan McCormack, Jo-Paula Roman from the tax department at ENSafrica that considers South Africa's position on bitcoin, states:
"Where bitcoin is used as consideration for the supply of goods or services, and it is determined that bitcoin may be viewed as an asset rather than currency for VAT, the trade would likely be akin to a barter transaction."
"Where bitcoin is traded – i.e. bought and sold for cash – the VAT consequences for both parties would depend on a detailed analysis of the exact facts of each case. This would be of particular relevance to taxpayers that may exceed the VAT registration threshold through their bitcoin trades," the report continues.
Businesses are expected to register for VAT if the total value of the taxable supplies in any twelve-month period is expected to surpass R1 million. Still, in jurisdictions that bitcoin is viewed as an asset – having VAT consequences when bought or sold using an enterprise – there are territories that exempt it from both their VAT as well as the Good and Services Tax (GST) rule.
A good example is in Australia where bitcoin is seen as an asset, but the Australian Tax Office has not levied any GST on the purchase and sale of cryptocurrencies since July 1, 2017, making it lack consistency since it remains a capital gains asset for tax purposes, noted Ram.
This shows the ostensible nature of bitcoin, which is seen as a currency and an asset at the same time. While there are doubts on whether the international jurisdictions will consent to a uniform measure when it comes to regulating bitcoin, the German Central Bank has already called for a global regulation regarding digital currencies.
As SARS is closing in on finalising tax regulations for bitcoin in South Africa, it will not only be the first country in Africa to do so but may also end up providing a tax framework that other African nations with large cryptocurrency communities could adopt.
How Often Is Crypto Really Used In Illegal Activity?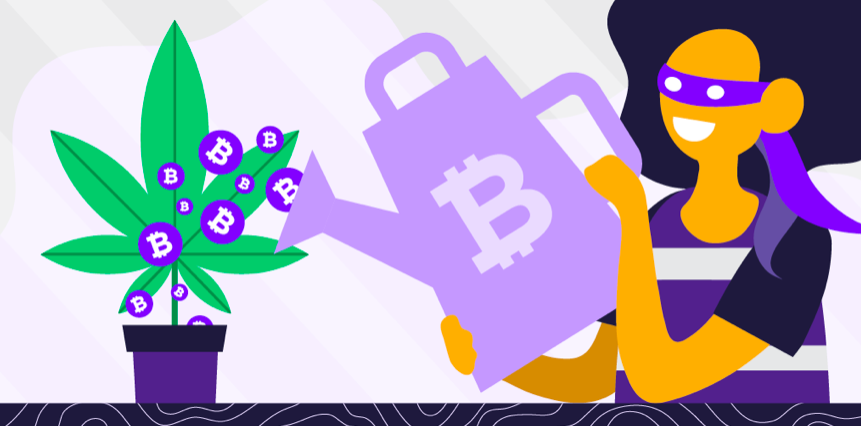 Statistics, examples, and ways to legally use cryptocurrency
October 1, 2013, was a turbulent day for San Francisco Public Library. A dozen FBI agents pretending to be usual visitors surrounded a man sitting at one of the tables, took his laptop and put a pair of handcuffs on his hands. That man was Ross Ulbricht, founder of Silk Road – the largest darknet marketplace for drug dealers, killers, and other criminals. The seizure of Ulbricht was supposed to tackle the illegal online trade, but, as the news site DeepDotWeb wrote, the bust was "the best advertising the darknet markets could have hoped for". The reputation of cryptocurrency also suffers from associations with terrorists, who sometimes use it for their needs. How big is the real scale of the problem? And how many legal ways to use crypto exist? ChangeNOW has dived into the topic – and suggests you an overview of the current state of the problem.
Highlights:
The drugs trade volume using cryptocurrency is relatively large

Crypto was a significant reason why a part of drug sales migrated to the web, though stays yet not viable and anonymous enough for dealers (same as for terrorists)

As efficient use of blockchain technology requires good infrastructure, crypto remains not suitable enough for many terrorist groups

However, some terrorists are trying to adjust to anonymity threats and hold fundraising in crypto

Legal ways to use cryptocurrency include dozens and vary from IT services to car rentals

   
Crypto & Drugs & Rock'n'Roll
The total volume of the online drug market using cryptocurrency is around $1 billion. It is located in the darknet, which provides an attractive, profitable, and mostly secure environment for drug dealers. Cryptocurrency, in turn, allows making payments that are hard to be tracked by authorities. This is how blockchain technology has helped to bring a big part of drug sales online from the streets. And it's not only about drugs themselves – many legal opioid drugs are illegally sold here, too.
However, cryptocurrency is not always as secure and anonymous as it is thought to be. The information about any transaction ever made stays forever in the blockchain, which makes the system way more transparent than cash payments. This is a significant limitation for using crypto in illegal purposes.
According to the University of Technology Sydney, about 46% of criminal activity of each year is connected to Bitcoin. As for the drug sale itself, trade volumes in crypto keep rising, but the percent of Bitcoin drug transactions out of all transactions goes down. This means Bitcoin is more frequently used for legitimate purposes.
What cryptocurrency is used for drug sales most often? Surprisingly, privacy coins such as Monero are used only for 4% of transactions. Due to its pioneer position, Bitcoin is used in 76% of all deals despite all its anonymity risks.
The main problem for drug dealers using crypto is to turn their income into cash. This move remains complicated and insecure. Most cryptocurrency exchanges have instruments to define whether a transaction is coming from a suspicious source like the darknet. The rise of Monero use in the online drug market will hinder such tracking. However, for the reasons listed above, crypto is unlikely to completely replace regular cash in drug sales in the foreseeable future. 
Cryptoterrorism
The views on how much cryptocurrency is used and will be used by terrorists vary widely. While some claim that terrorists have no infrastructure to use it and the methods are not secure enough, others argue that they are learning fast and adjust to crypto rapidly. Let's see what both sides say.
Not actively using, unclear future 
Lack of appropriate infrastructure, inability to use crypto. Most terrorist groups settle in the Middle East region, especially on its remote and war-torn territories. The vast majority of roads and technological infrastructure have been destroyed. In such circumstances, cash remains the most common and convenient way to pay and fundraise. Imagine a gun seller in a Syrian village – does it look like he has a tool to accept Monero?
Anonymity threats. Given the relative transparency of blockchain mentioned above, crypto might remain too unsafe for terrorists. Miners can see any potential terrorist money exchange while checking transactions, and it's not too hard to see who sends them money. It can change with the rising use rate of privacy coins, but the ability to spend such money remains questionable.
Increased attention to crypto by the authorities. As the number of transactions keeps rising, more regulatory bodies' attention gets focused on cryptocurrency, which apparently makes terrorists nervous and cautious.
Problems of specific currencies. While top cryptocurrencies like Bitcoin receive much regulatory attention, others remain marginal and unreliable because of a lack of support. Conflicts and uncertainty lower the trust to such cryptocurrencies – yes, even terrorists' trust.
Using actively now, increasingly in the future
Terrorists seem to be rapidly learning to escape from tracking in blockchain. Several years ago it was easy to find any address or transaction made for a terrorists' fundraiser.  Today they use well organized and finely designed websites, where detailed video tutorials show how to donate money anonymously. Unique Bitcoin addresses and other crypto tricks are used to preserve security. Analysts from intelligence services claim there's only going to be more such cases. And, of course, privacy coins are a "great opportunity" for terrorists too.
Shift to cryptocurrency is a reaction to economic sanctions. ISIS has lost most of its territory and resources, Hamas has been sanctioned by the West. Having been cut off from all main financial institutes, terrorist groups had to find other pathways for their financial activities – and cryptocurrency appeared to be the best substitute.
There might be difficulties and inconveniences, and the number of terrorists using crypto is yet unknown – but as we can see, digital money in terrorism is reality. Same as in drugs. And this is what cryptocurrency is notorious for, lacking trust among millions of people. The reputation of some of the exchange services only adds to this mistrust – ChangeNOW has carried out a special investigation on how such platforms may cheat their clients. But can you buy anything besides heroin and firearms with your crypto? What about pizza or a concert ticket?
Only Antarctica left
Cryptwerk, a platform monitoring actual use cases of different cryptocurrencies, says there are about 3500 ways to spend Bitcoin and more than 800 for Monero today. They range from music services to car rentals, from buying clothes to hotel booking services, and from sports bets to virtual tours.
Organizations accepting cryptocurrency are located on all continents besides Antarctica (what could be a better place for crypto than a continent without governments and countries though?). Mostly, in the USA and Central Europe. Bitcoin as the largest cryptocurrency is relatively widespread in India and Southeast Asia.
As this is a whole another topic, ChangeNOW will issue a post dedicated to use cases of cryptocurrencies. As it will be more detailed, who knows – maybe you'll find a pizza right by that you could pay for from your crypto wallet!
This article was contributed by Jeremy from ChangeNow.
Buroka Review: How to Buy Bitcoin on Nigeria's Newest Bitcoin Exchange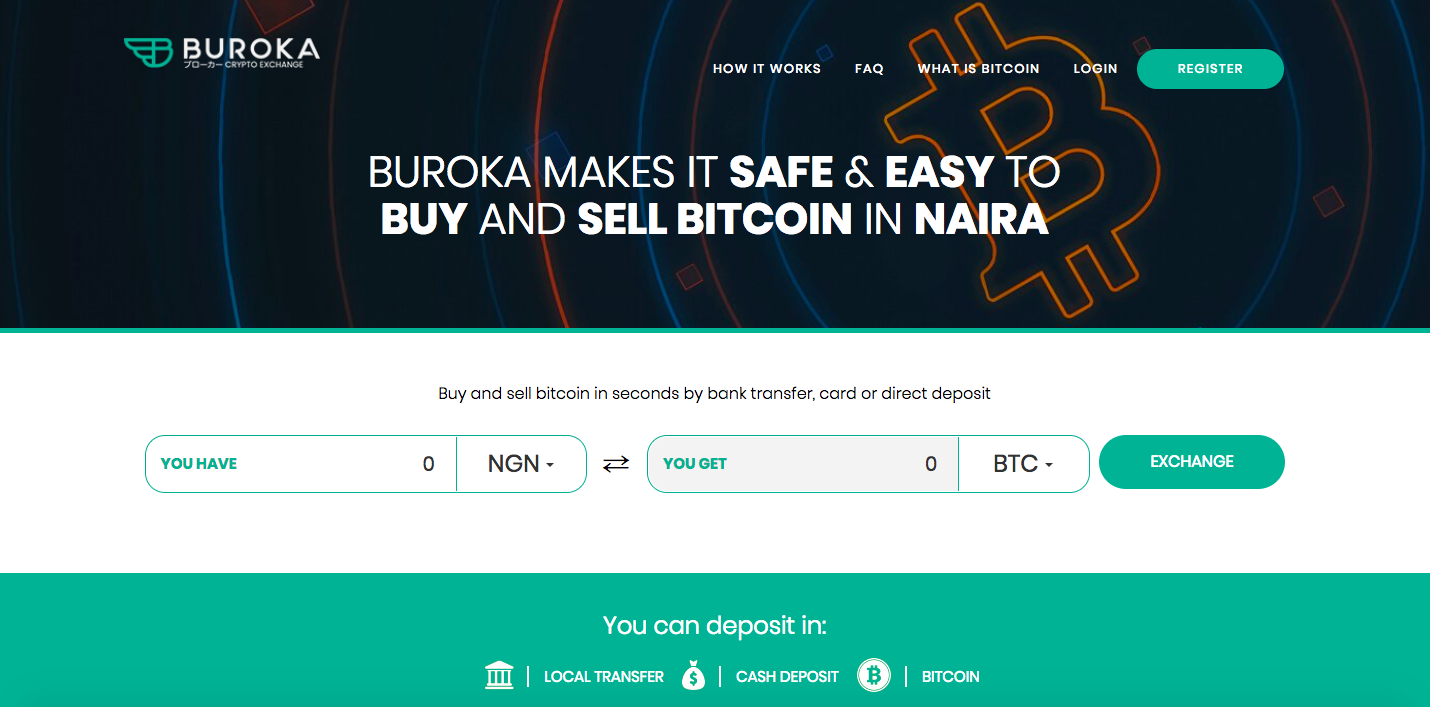 Buroka is a new breed of cryptocurrency exchange for Africa! Currently operating in Nigeria, Buroka was designed to fulfill the needs of modern Africans. Buroka allows customers to buy and sell Bitcoin with Naira via Local Transfers and cash deposits at the bank. In this Buroka review, you will learn more about the exchange and how you can use it to buy bitcoin in Nigeria.
How to Buy Bitcoin on Buroka
Step 1: Account Creation
To create an account, visit Buroka.com and hit the "Register" button. This will lead you to a page where you will be asked to fill in your personal information, including your name, email address, and password. Like any other serious exchange, Boruka will ask you for your ID, Proof of Address, and to take a selfie with your ID to eliminate fraud.
Step 2: Fund Your Account
Funding your account on the platform is straightforward. You can deposit either via bank transfer or at any bank branch. Make sure to use a unique reference code given to you by Buroka deposit system.
Step 3: Buying and Selling BTC
Once your deposit has been credited to your account you can immediately buy your Bitcoin. The buying and selling tab is located on the top right corner of the dashboard. There you can input the amount of bitcoin you want to buy. Once you do that, you then click on the "BUY BTC" button.
Step 4: Storing Your BTC
After buying BTC, Buroka provides users with the option of either storing bitcoin on the platform in a BitGo wallet or any other wallet of their choice.
Currently, Buroka only supports bitcoin (BTC). However, the exchange plans to include other cryptocurrencies going forward.
Security
Buroka exchange makes use of Two-Factor Authentication (2FA). 2FA provides an extra layer of protection for users. With the 2FA in place, an extra piece of information is needed before login into the platform or making any withdrawals.
In addition, Buroka's platform is also protected using the latest security technology, including web-socket and API protocols that allow for a fast and secure order processing. Buroka also makes use of a well-updated SSL certificate, which makes it easy to detect a phishing attempt.
To further ensure that clients' funds are secure, Buroka operates segregated accounts. These accounts are held with trusted banks so that clients can enjoy an extra layer of security provided by the banking system.
Conclusion
Buroka is a relatively new Bitcoin exchange with a well-designed, user-friendly interface. The Bitcoin trading platform provides several deposit options, which is attractive for Nigerian Bitcoin traders, as well as competitive market rates for both buyers and sellers.
If you are looking to buy or sell bitcoin in Nigeria, you can give Buroka a try.
3 Reasons to Use a Bitcoin Mixer in 2020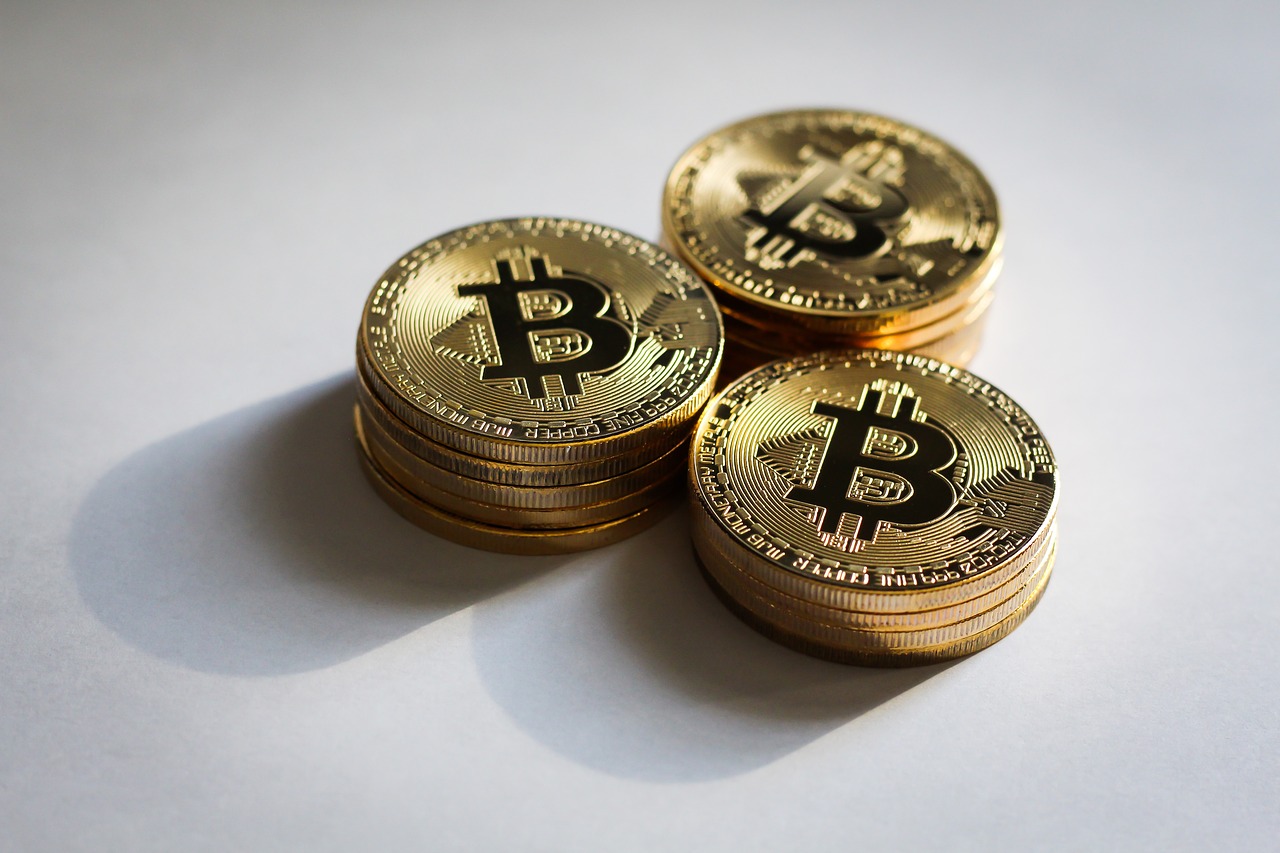 Bitcoin is not as anonymous as people think. Bitcoin transactions are viewable on the network's public blockchain, which also means that transactions can be linked to real-world identities. As a result, bitcoin is not (yet) fungible and does not protect individuals' financial sovereignty as much as it should. Fortunately, there is something called a bitcoin mixer that enables bitcoin users to increase their financial privacy.
In this guide, you will learn what bitcoin mixers are and why you should consider using them.
How Anonymous Are Regular Bitcoin Transactions?
Regular bitcoin transactions are not anonymous. Bitcoin addresses are pseudonymous. They do not reveal your identity as a user but can be linked to your identity.
For instance, most exchanges require you to verify your identity with legal identification (ID) documents. In a situation where you withdraw funds from an exchange into your wallet, your identity can be linked to that wallet, and all your linked transactions could be tracked.
Blockchain analysis companies can use information from your linkable transactions to track how many bitcoins you own, what you spend your coins on, and who you transact with. If you are conscious about your privacy, you might need a bitcoin mixer.
What is a Bitcoin Mixer?
A bitcoin mixer allows you to mix your coins with other users. This obscures the ties between your personal identity and bitcoin transactions.
The end goal of a bitcoin mixing service is to create a misleading trail of transactions that makes it difficult to track your transactions. This is achieved by breaking down your bitcoin into smaller parts and then mixing them with coins from other transactions.
Most bitcoin mixers are non-custodial, run on the Tor network, and do not keep records of users after a couple of hours.
Why Do People Use Bitcoin Mixers?
The primary reason for using a bitcoin mixer is to increase transactional privacy. You may not want "the whole world" to be able to see what you are doing with your bitcoin. Through the use of a mixing service, you can achieve that despite Bitcoin's public blockchain.
Moreover, there are a number of other reasons why you should consider using a bitcoin mixer. They include:
Your Transactions Reveal Personal Finance Information
Every time you send bitcoin to or receive bitcoin from an individual, the other party gains some information about your bitcoin holdings.
For example, if you have ten bitcoin in your wallet and you send two to another person. The individual who received the bitcoin now has access to your bitcoin address, which allows them to check your balance on the blockchain.
In some cases, by analyzing your inputs and outputs, they can predict other addresses you own, giving them more information about your finances and transactions you have done in the past. Mixers can prevent this. The mixer breaks the connection between addresses in your wallet by creating transactions that make it difficult for blockchain analysts to track.
Based on the example above, if you use a coin mixing service to send out the coins, the receiver can still check the blockchain to verify the transaction but will be unable to track your old transactions and find your bitcoin address.
Blockchain Analysis Companies Are Watching
Over the years, blockchain analysis companies have been established to track transactions and monitor the Bitcoin blockchain. These groups have resources to probe deeper into transactions, with some going as far as connecting IP addresses to bitcoin transactions.
Further, cryptocurrency exchange verification is required by regulators to keep an eye on how individuals use their bitcoin. This means that exchanges can still trace your transactions after you have purchased bitcoin.
Bitcoin mixers allow you to detach connections between your initial receiving address and other transactions you make. This can prevent companies from gathering data about you, which it would otherwise share with (or sell to) third parties.
To Prevent Censorship
Money has become a tool used to fund political groups and operations. In authoritarian regimes, where the financial system is highly monitored by the ruling government, critics or opposition groups may opt for bitcoin.
To ensure complete privacy while using bitcoin, such groups will require bitcoin mixing platforms. Without increased transaction privacy, these groups risk losing support in situations where the state begins to target individuals funding them by tracking their transactions on the blockchain.
This allows bitcoin to be used as a tool for freedom of speech and expression.
If you want to mix your coins to protect your financial sovereignty as a bitcoin user, check out Bitcoin Mixer.