CoinBundle Launches Bundled Crypto Investment Platform and Takes the Lead Towards Bringing the Next Billion People to Cryptocurrencies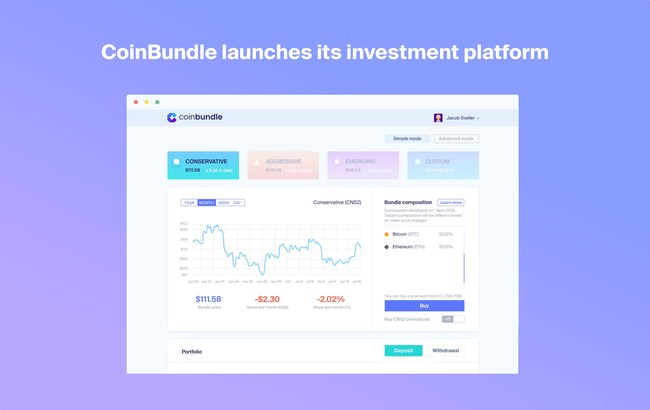 SAN FRANCISCO, Sept. 20, 2018 /PRNewswire/ — CoinBundle launched its investment platform today that enables users to buy bundles of cryptocurrencies easily instead of single coins. Users can invest in curated bundles based on their risk profiles and investment strategies with one click for the first time. Investments will be stored securely with a qualified custodian and insured against theft by Lloyds of London, making CoinBundle the only bundled crypto investment platform to get this distinction.
The company is backed by several of the earliest investors of crypto-unicorn CoinBase, including Y Combinator, Initialized Capital and Funders Club. Switch VC and Joe Montana's Liquid 2 are also backing the company.
Going forward, CoinBundle will focus on enabling the next billion users from emerging markets to take full advantage of investing in cryptocurrencies, participating in the New Internet (Web 3.0), and build an open eco-system for crypto ETFs. Users can invest in 3 bundles initially, developed by the in-house finance team after extensive qualitative and quantitative research: Conservative (CNS2), Aggressive (AGR10) and Emerging (EME10). Each bundle represents a unique investment strategy and philosophy for investors. The company has also developed additional thematic bundles that are in final stages of testing and will be added on the platform shortly, such as the Eco-Friendly, Halal and Asian Tigers Bundles.
More features, such as iOS and Android apps, advanced trading for experienced investors, auto-investing and limit orders will be released shortly. In addition, investors and influencers will be able to create custom bundles and publish, promote and sell them in an open marketplace to earn commissions.
CoinBundle also added a global finance leader Katherine Hensel to its Board of Advisors. Katherine previously founded and was the Managing Partner at Sage Asset Management, a hedge fund with over $1 Billion in assets. She has also served as Chief Investment Officer at several multi-billion dollar financial institutions and family offices. She joins Sir Michael Barber (former head of McKinsey and Company's Education Practice, Chief Education Advisor at Pearson) and Michael Sinclair (Executive Director of the Harvard Ministerial Leadership Program) on the board.
CoinBundle has also partnered with several leading tokenized and decentralized projects to give users from 165 countries their first taste of Web 3.0 products through its BundleRewards platform. The team believes this is a true leapfrogging opportunity for emerging markets to adopt the decentralized internet and its associated tokens rapidly at scale.
The CoinBundle team is in conversation with national level governments and is on track to have the world's first cryptocurrency ETF listed on a national exchange. It has already received approval for a cryptocurrency exchange license in the Philippines alongside only a handful other leading blockchain projects globally.
Saad Rizvi, CEO of CoinBundle said "CoinBundle is enabling the next billion users from emerging markets to participate in the cryptocurrency revolution and in Web 3.0. We are achieving that mission by creating the easiest on-ramp for new investors to participate in these technologies, educating them about crypto through our award-winning resources, and enabling them to earn and utilize their first tokens in return for their time through our BundleRewards platform."
Garry Tan, Managing Partner of Initialized Capital, said "CoinBundle is building an on-ramp for people in emerging markets to invest in baskets of tokens that match their own risk profiles. They are paving a way forward for cryptocurrency infrastructure that's accessible to the next billion users."
*Readers should do their own due diligence before taking any actions related to the company, product or service. BitcoinAfrica.io is not responsible, directly or indirectly, for any loss or damage caused by or in connection with the use of or reliance on any content, product or service mentioned in this press release.*
Next-Generation P2P Trading Platform, CryptoLocally, Now Supports ETH, USDT (ERC-20), and DAI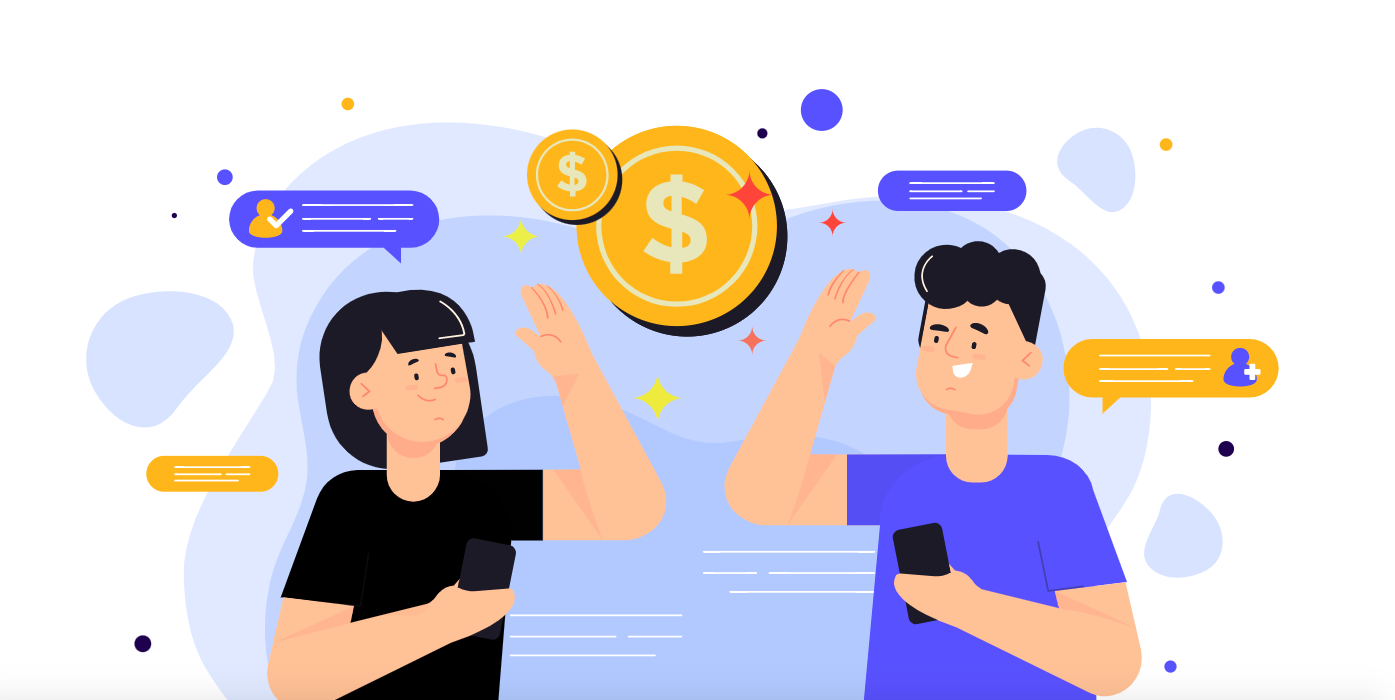 CryptoLocally, a next-generation peer-to-peer (P2P) trading platform, has recently announced the support for Ethereum-based tokens. With this announcement, the first Ethereum-based digital assets to be added are Ether (ETH), Tether USDT (ERC-20), and DAI. This is part of CryptoLocally's ongoing effort to give its customers the very best trading experience, offering its customers the most exciting and relevant crypto assets in the industry. In a very short period of time CryptoLocally has established itself as one of the leading P2P trading venues.
The Ethereum Blockchain
The Ethereum Blockchain hosts many if not all of the biggest and most relevant decentralised finance applications, emerging as the leading platform for DeFi applications. This is not a surprise as Ethereum has always been a market leader in token issuance and smart contracts, both important elements in the realisation of DeFi.  With the imminent release of ETH 2.0 which upgrades the blockchain to scale to mass adoption, the CryptoLocally team has added Ethereum to its next-generation P2P trading platform. Ethereum joins the growing list of high-performance blockchains already traded on the platform.
Why ETH, USDT (ERC-20), and DAI?
ETH is the native coin on the Ethereum blockchain. Currently, it is the second-largest crypto based on market capitalisation, only behind Bitcoin (BTC). Once ETH 2.0 is released, holders will be able to participate in consensus activities by staking their  ETH to help secure the network and get rewarded accordingly.
Tether (USDT ERC-20) is the leading Stablecoin in the industry. The ERC-20 variant of USDT accounts for more than 60% of all issued USDT with over $6 billion USD worth of Tether issued. This is twice as much as the next biggest variant of TRC-20 USDT which stands at around $2.88 billion USD worth of Tether. Currently, Tether is the 3rd largest cryptocurrency by market capitalisation just behind ETH.
While it is only the third-largest cryptocurrency, it ranks first in terms of daily trading volume. Launched in 2014, Tether was the first stablecoin created in the industry.
DAI is a collateral-backed decentralised stablecoin. Like Tether, the DAI is pegged to the U.S. dollar (USD). However, unlike Tether and other stablecoins relying on a 1:1 US dollar backing to maintain its value, DAI maintains its peg through over-collateralisation with cryptocurrencies such as ETH and more recently BAT. In simple terms, DAI maintains its peg to the U.S. dollar through a mechanism interacting with supply and demand.
Trading In CryptoLocally
CryptoLocally is a trusted provider of peer-to-peer (P2P) digital asset marketplace with no intermediary. It houses one of the industry's most comprehensive payment methods not even seen in more established and well-know trading venues. People can meet in person, send a bank transfer, or use the various payment processors— all of which the buyer and seller decide to use. These are all done securely under the protection of CryptoLocally's revolutionary smart contract escrow system.
CryptoLocally offers one of the fastest and easiest onboarding processes in the industry. A valid E-mail address is all you need to register an account. New users can find themselves trading minutes after registration as KYC (know-your-customer) is not required. Once registered users can immediately start trading in CryptoLocally, no prior experience required. Online assistance is available through the website's integrated live webchat or through CryptoLocally's community Telegram channels.
Trading Ethereum-based digital assets will follow the same simple and easy trading process that the CryptoLocally is known for. Existing users will just have to select the desired ERC-20 cryptocurrency they wanted to trade. Like all the digital assets traded in the platform, ETH, USDT, and DAI are all protected by a blockchain-based escrow service that protects transactions all throughout the entire trading process.
Disclaimer: This is a paid press release. Readers should do their own due diligence before taking any actions related to any company, product or service mentioned in this article. BitcoinAfrica.io is not responsible, directly or indirectly, for any loss or damage caused by or in connection with the use of or reliance on any content, product or service mentioned in this press release. 
DeepTradeBot: the Innovation of Large Companies At Your Service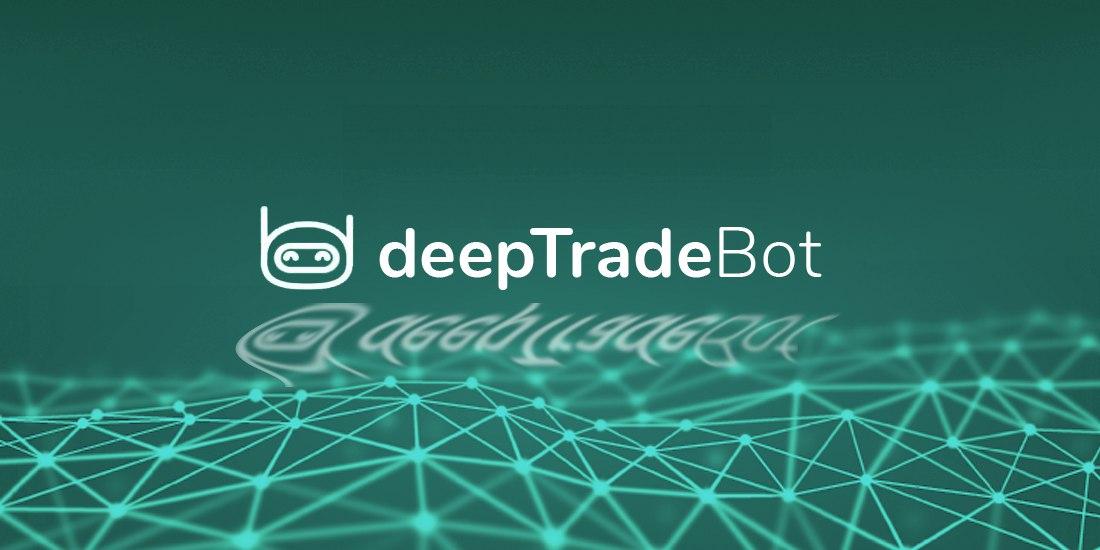 The world has evolved enormously in recent years, and the world of investment and speculation has been no stranger to this evolution. Currently more than 40% of the operations carried out in the main world stock exchanges are operated by automatic robots (according to the digital newspaper lainformacion.com).
The cryptocurrency ecosystem was until recently an unexplored terrain for this type of operations, where the most that could be done was to automate some orders on the exchanges. That's why DeepTradeBot has developed a series of complex AI and big data tools that will allow us to explore a whole new world of possibilities with little risk.
What is DeepTradeBot?
DeepTradeBot is a collection of automated trading tools developed by Deep Neuro Networks LTD, a London, England-based company dedicated to artificial intelligence and cloud computing.
Here we find the first advantage, we are dealing with a legal company, registered in a safe country within Europe. They have a contact telephone number (attended in English).
Why Are Trading Robots Useful?
The investment is based on analysing a large amount of data, designing a strategy, and then carrying out the actions that follow that strategy. This is something very easy to say, but very difficult to do.
First of all, we humans find ourselves with our limited capacity to process data (as an example, the main artificial intelligences have defeated the human being in disciplines of pure analysis such as chess). Secondly, human beings make mistakes derived from our emotions, which often lead us away from the method or make us perceive the data analysed in the wrong way. To these factors we must add fatigue, mistakes, and a long etcetera.
Therefore, trading robots are a perfect tool to help us achieve higher returns for our investment.
DeepTradeBot Key Features
DeepTradeBot will operate on major cryptocurrency exchanges in 24/7 format. To take full advantage of all the opportunities of AI, 4 types of robot actions are managed according to the market situation:
High-frequency trading.

The robot scans the operations of the order book and anticipates their arrival on the market by being faster than the human being in executing the operations.

Trading arbitration.

All quotations are analysed on all platforms to find opportunities to make successful trades without risk.

Algorithmic trading.

The robot uses technical analysis and indicators to determine the next move in the price.

Trading supported by fundamentals.

Another robot scans the news and social media sources like Twitter to detect investor sentiment and anticipate the rises that will be caused as a result of these movements in the information.
How Can I Earn With DeepTradeBot?
Earning by investing in DeepTradeBot is very simple. Its platform is designed to facilitate the entire process so that all we have to do is register, select the type of investment and the number of bots we want to put to work for us. And artificial intelligence will do the rest. In the following table we can see the options available right now on the platform.
Neurons are the unit that has been created to simplify the measurement of computing power to which we have access. It is obtained from relevant parameters such as the dedicated computing time, the number of layers of the dedicated neural network and the amount of connection resources dedicated to reading and sending the information.
It is very interesting to note that we have a free version that will allow us to test the platform, although of course it will be much less powerful than the other options.
More information and full contract conditions are available on its website.
But not only can we earn with the investment in bots, but it also has an affiliation system by which we can charge a commission for each of the users that we have recommended.
The latest from DeepTradeBot: the VIP Investor Club
DeepTradingBot never stops when it comes to innovating for the best return. So right now they are launching their VIP investor club.
To enter the club you have to pay a fee, which is not very high, but which will guarantee that everyone inside is committed to the project and is a person with vision and innovation.
What does VIP club membership entitle us to? As members of the VIP club we will enjoy:
    • Access to more and more powerful bots when we are acting as investors.
    • Improved membership fee, with higher percentages of earnings.
    • Extensive network of levels for MLM marketing experts.
    • Possibility of moving up in the organisation structure, unlocking new benefits and higher income.
So our earnings will be double, on the one hand the improved returns on investment with bots, and on the other hand the earnings derived from new affiliates that are incorporated by our recommendations.
Conclusion
If you are looking for an innovative investment service that allows you to obtain profitability passively and without complications, it is interesting to try this platform… It also has a free bot test!
Official Links
Disclaimer: This is a paid press release. Readers should do their own due diligence before taking any actions related to any company, product or service mentioned in this article. BitcoinAfrica.io is not responsible, directly or indirectly, for any loss or damage caused by or in connection with the use of or reliance on any content, product or service mentioned in this press release. 
Trade Cryptocurrency in Africa with Overbit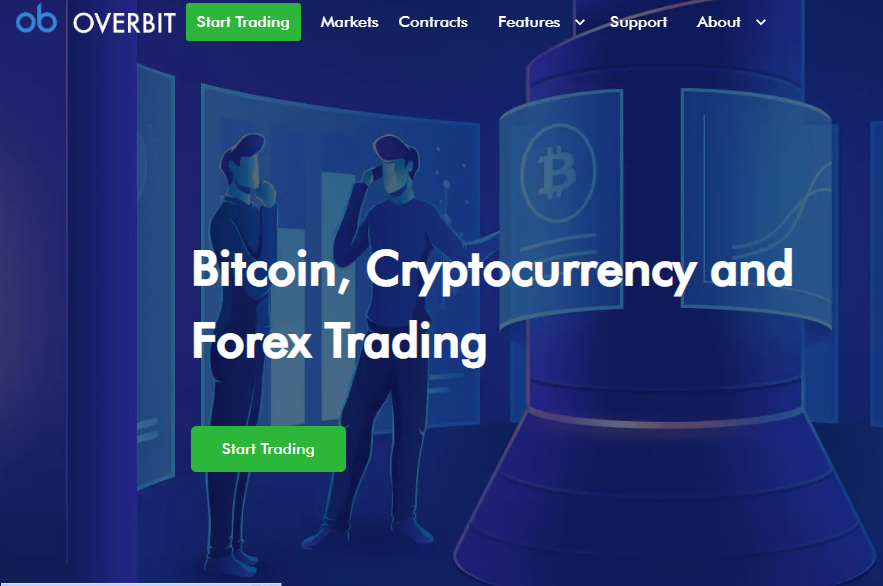 Africa is the next frontier in the world of cryptocurrency. Though not overly popular, cryptocurrency is beginning to gain traction among Africans. Being an internet-based form of currency means that crypto is not geographically bound, and its transactions can take place anywhere in the world— with the focus being in Africa.
Bitcoin and its many other contemporary forms, known as altcoins, are gaining acceptability as ways of making payments across the continent. Suddenly, cryptocurrency trading doesn't seem absurd, nor out of reach.
There are quite a number of derivatives trading platforms in the market, but none is quite like Overbit. A recently established trading platform that works based on derivatives, Overbit is an innovative take on leveraged trading. It also uses Bitcoin as the main underlying asset.
Cryptocurrency Trading in Africa with Overbit
Trading in the forex market in Africa is not unheard of, and plenty of people around the continent do it. Overbit, on the other hand, is a bold take on an existing forex trading system.
Overbit allows you to trade in indices and metals by using your Bitcoin. This cross trading is the perfect opportunity for clients who like to get out of the proverbial box and engage in cross-trading.
Overbit is the opportunity you have been waiting to get into cryptocurrency, especially if you already engage in the standard forex trading. 
Benefits of Trading with Overbit in Africa
With Bitcoin being the underlying asset to trade with, Overbit as a trading platform is spreading the "gospel" of the cryptocurrency age in Africa. Overbit is a learning experience and a doorway into cryptocurrency.

Because cryptocurrency is still in its infancy in Africa, starting with Overbit gives you the chance to have a practice run with their demo package. Here you get to experience, full throttle, a mix of cryptocurrency and market trading.

With Overbit as your trading platform, your exposure to loss position is limited by advanced risk management procedures. Overbit gives you the option of opening each position with your personal margin preference.

By referring your friends and introducing them into the cryptocurrency trading arena, Overbit will pay you in Bitcoin and USDT. They have one of the best affiliate programs worldwide.

In case you are having trouble with making a trade on the Overbit platform, the customer support is always on standby with live chats and guides to get your through.

With Overbit, your transactions are protected by military-grade security. Financial security is a priority to Overbit as a whole, and you don't have to worry about your funds.
Conclusion
In the next couple of years, cryptocurrency will evolve and join other mainstream forms of payment. Overbit's presence in Africa is the perfect opportunity to utilise this decentralised form of currency to your advantage fully.
As a trading platform that is Bitcoin-based, their timing couldn't be any better. Trading is easy and interactive with Overbit, and this is the bandwagon most African traders will want to jump on. To open an account visit overbit.com.
Disclaimer: This is a paid press release. Readers should do their own due diligence before taking any actions related to any company, product or service mentioned in this article. BitcoinAfrica.io is not responsible, directly or indirectly, for any loss or damage caused by or in connection with the use of or reliance on any content, product or service mentioned in this press release.