DaoCoin Announces Infrastructure to Issue Transparent Auditable Stablecoins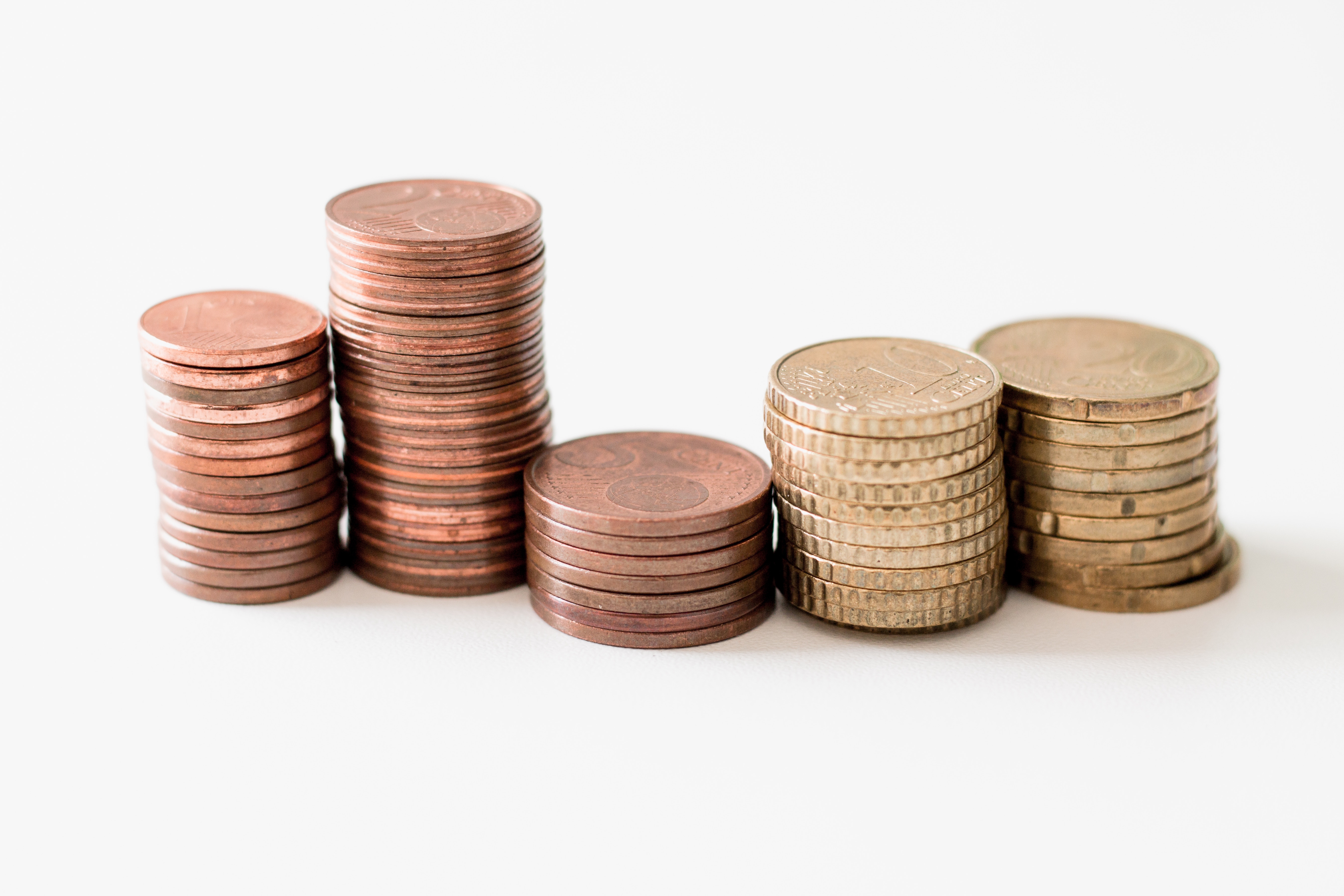 NEW YORK, Sept. 20, 2018 /PRNewswire/ — DaoCoin announced its plan to open its stablecoin issuance infrastructure to qualified partners.
DaoCoin is an issuance infrastructure for fiat-backed cryptocurrency. The issuance infrastructure includes; a global network of fund management nodes consisting of multiple third-party trust companies; a blockchain-driven AML/KYC framework supported by global regulators; live APIs for real-time token-fund-matching disclosure and auditing mechanism to ensure full reserve; a set of streamlined, customizable e-commerce-style widgets to issue and redeem fiat-backed cryptocurrencies.
With this open infrastructure, any qualified third-party can issue its own brand of stablecoin, a special type of crypto-asset that maintains a stable value against the target price of fiats (e.g. USD) or assets (e.g. gold).
DaoCoin is not a stablecoin, however, it offers the infrastructure to produce stablecoins. More importantly, it produces a stablecoin that addresses the transparency and efficiency issues of existing stabecoins (such as USDT and Dai).
How DaoCoin Addresses Transparency and Efficiency at the Same Time
Funds are held by trusted third-party companies worldwide and audited by accounting firms on a monthly basis. Community operation and reserve management are completely independent, where a mature trust mechanism is applied. Prestigious international third-party companies are employed to manage and ensure the security of the reserves. Real time information disclosure on Fund-Token matching is available through the API and website. Records of issuance and redemption can be tracked in the blockchain and are open to all community members. Trustworthy third-party auditing bodies are employed to conduct strict audits. They publish monthly audit reports to ensure transparency and openness in asset management. Token generation contracts are audited by third-party professional firms. The smart contract audits combine compliance, security, and a comprehensive checklist of known pitfalls and attack vectors.
To improve the efficiency of the legal clearance and flow of funds, DaoCoin has established a worldwide network of AML checkpoints and fund-processing pipelines. Per customer region, DaoCoin can auto-switch between nodes for the most efficient choice, allowing it to be constantly up-to-date and not reliant on a centralized system. DaoCoin has adopted a Delegated Proof-of-Stake strategy, allowing KYC/AML cleared key partners to cash in or redeem in real time.
As well as leading in transparency and efficiency, DaoCoin is the first community-governed issuance infrastructure. DaoCoin issued its own ERC-20 governance token, DaoCoin Power (DCP). Holders of DCP exercise voting rights, obtain gainsharing and are entitled discounts on fees. DaoCoin will also reimburse fees paid for minting and redeeming tokens in the form of DCP.
DaoCoin is currently in collaboration with multinational retail chains and international commodity traders to help them issue their own brands of stablecoin.
*Readers should do their own due diligence before taking any actions related to the company, product or service. BitcoinAfrica.io is not responsible, directly or indirectly, for any loss or damage caused by or in connection with the use of or reliance on any content, product or service mentioned in this press release.*
MEETUP: September 21, 2019 OKEX Brings the CryptoTour Africa 2019 to Kenya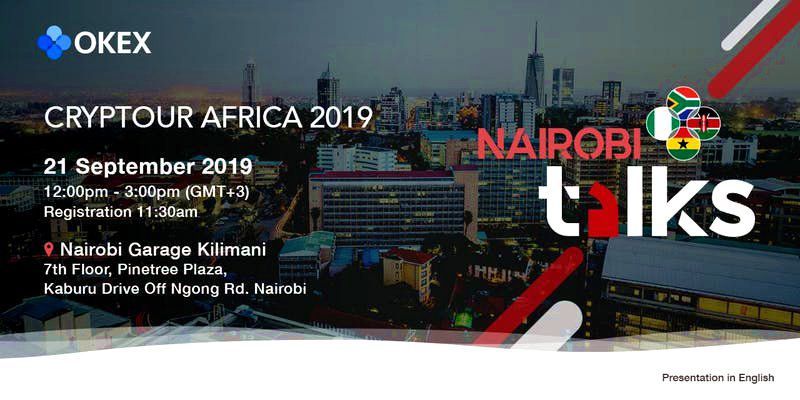 OKEx, the Malta-based mega crypto exchange, will be holding a meetup in Kenya, on September 21, 2019, featuring key speakers in the blockchain and crypto space in Kenya.
OKEx is looking to introduce its mega crypto exchange in the region to enables traders to margin trade for a profit.
The OKEx Cryptotour Africa 2019 will cover four African countries namely:
Ghana
Kenya
Nigeria
South Africa
The upcoming CryptoTour Africa 2019, Nairobi Edition, meetup will feature:
Cryptocurrency Elite Gathering at Crypto Fest 2019 in South Africa

Bitcoin Events is hosting the first-ever Crypto Festival in Cape Town on 7 September 2019 at Shimmy Beach Club, V&A Waterfront. This is the first event of its kind in South Africa and with the tremendous interest in cryptocurrencies that exist in South Africa, this event is certainly going to provide several insights into why South Africans are investing in, and trading with cryptocurrencies!
What You Can Expect at the Crypto Fest
Bitcoin is now 10 years old and with it has come a plethora of exciting new ways to transact, invest, trade and conduct business. The Crypto Fest 2019 strives to bring cryptocurrencies to life through immersive activities showcasing examples of real-world applications and increased engagement opportunities to make the connections needed to expedite cryptocurrency adoption through controversial crypto debates in the Crypto Battle Arena, live crypto gaming and fun competitions with crypto giveaways. The festival will culminate with a crypto party!
On the Crypto Fest Stage
We are delighted to welcome our confirmed speakers who are recognised as thought leaders in the cryptocurrency industry. 
KHAYA MALONEY is a blockchain design solutions architect and strategic fintech business developer in South Africa. He's currently the OKEx Country Manager for South Africa Market where he's in charge of growth development.
MARTIN HARRIS: Trader And Market Analyst At IG
SHANTNU SAXENA, EVP At Huobi MENA. He is considered an innovative and results-driven leader focused on achieving results in highly competitive environments that demand continuous improvement.
MARIUS REITZ, the General Manager for Africa at Luno, a leading global cryptocurrency company with its head office in London. He joined Luno in 2016 and helped the company grow to a diverse team of 300 people across three continents. Marius wholeheartedly shares his company's philosophy of upgrading the world to a better financial system. 
CLAIRE HALL, MC For Women In Crypto Meetup, Sydney. Once coined a 'corporate hippy', Claire Hall is a passionate 'woman in crypto' working at a grassroots level to entice other 'everyday' women into the world of crypto. Claire is a Corporate Learning Consultant for a large financial institution in Australia where she is working to put blockchain on the agenda.
ABRAHAM CAMBRIDGE, founder and CEO of the Sun Exchange, is a serial energy entrepreneur who establishes businesses and projects that use solar energy to effect socio-economic change. In 2014 he launched Sun Exchange, a global solar micro-leasing marketplace that closes the funding gap for commercial- and community-scale solar projects in emerging markets while streaming monetised sunshine all over the world.
Hotly contested debates and discussions will take place in the Crypto Battle Arena:
Crypto Battle I: Battle of the Coins
The Bitcoin Civil War between BTC, BCH, and BSV is hotter than ever, with existential stakes for different communities of stakeholders. Many different opinions exist in the crypto community on which bitcoin is the true bitcoin: which is the most efficient payment system.
Catch Rocelo Lopes, Warren Gray and Lorien Gamaroff, in this crypto battle ring, with James Preston as the moderator.
Crypto Battle II: Bitcoin vs. Gold
Gold has historically played a central role in economies driven by physical exchange and remains a recognised store of value to this day. What are the investment cases for gold vs the investment cases for bitcoin?
Catch Richard de Souza, Graeme Tennant and Piotr Tylczynsk, in this crypto battle ring, with Grey Jabesi as the moderator.
Crypto Battle III: Libra Coin: What Does it Mean for Crypto?
It is no more news that Facebook is taking a chunk of its resources and technical know-how to establishing a coin, Libra, offering a "faster, cheaper and more secure" alternative to traditional ways of making payments on the internet. Is Facebook's entrance into the crypto market the best thing to happen in crypto?
Catch Graeme Tennant, Grey Jabesi, Claire Hall, Marius Reitz, Tshepo Magoma and Prof. Angela Itzikowitz, in this crypto battle ring, with Farzam Ehsani as the moderator.
Read more about our speakers here. The focus of the Crypto Fest is on cryptocurrency investments, trading, and payments. Have a look at the exciting festival programme here.
Sponsors on the Crypto Fest Throne
The Crypto Fest is a global arena for industry leaders to share their breaking news and technologies with a legion of investors, experts, developers, businesses and participants who are using cryptocurrency to redefine the prevailing practice of everyday life.
Premier Sponsors
One of South Africa's first cryptocurrency exchanges, AltCoinTrader SA, providing cryptocurrency trading in South Africa since 2015.
IG is a world-leading online trading provider, giving you access to opportunities across thousands of financial markets through our intuitive platforms and apps. 
Diamond Sponsor
OKEx is a world-leading digital asset exchange, providing advanced financial services to traders globally by using blockchain technology. OKEx provides hundreds of token and futures trading pairs to help traders to optimise their strategy.
Platinum Sponsors
Huobi provides secure and reliable digital asset trading and asset management services to millions of users in over 130 countries around the world.
Stratum is a technology company that develops blockchain solutions focused on digital currencies. Stratum has developed their Stratum Blue token, a digital token that represents a diversified portfolio of cryptocurrencies.
MineBest is a cryptocurrency mining company, who prides itself as a technologically advanced infrastructure company specialising in cryptographic computing activities.
Gold Sponsors
Luno is South Africa's oldest cryptocurrency exchange, with over 2 million customers in 40 countries. Luno makes it safe and easy to buy, store and learn about cryptocurrencies.
YOUNIQX brings products and services for secure digital identity to the spotlight internationally.
Sun Exchange is the world's first buy-to-lease solar cell marketplace. Through Sun Exchange, anyone, anywhere in the world, can own solar energy-producing cells and build wealth by leasing those cells to businesses and organisations in emerging markets.
Blockchain Africa Conference 2020
We are planning our next event! The Blockchain Africa Conference is in its 6th year and we are expecting 600+ attendees for the conference. The general theme is the use and application of emerging financial technologies, i.e.: Blockchain Technology and cryptocurrencies, beyond the Fourth Industrial Revolution, and how these emerging technologies enable and enhance artificial intelligence and machine learning in enterprise development in the efforts and championing toward financial inclusion.
Subscribe to our newsletter to stay informed of our next events and news of the global blockchain and cryptocurrency industry. For more information on this and future events, please email the team at info@blockchainafrica.co. 
About Bitcoin Events

Since inception, Bitcoin Events have cut through the hype and challenged the critics to educate, upskill and drive long-term thinking on the strategic benefits of cryptocurrencies and blockchain technology for businesses, governments, citizens, and society.
For more information on the Crypto Fest visit our website at www.cryptofest.co.za or email us at info@blockchainafrica.co 
See You at the Crypto Fest 2019 in Cape Town!
Disclaimer: This is a press release. Readers should do their own due diligence before taking any actions related to the company, product or service. BitcoinAfrica.io is not responsible, directly or indirectly, for any loss or damage caused by or in connection with the use of or reliance on any content, product or service mentioned in this press release.
Privacy coin, Zcoin ($XZC), now listed on Vinny Lingham-backed Exchange, OVEX, with ZAR pairing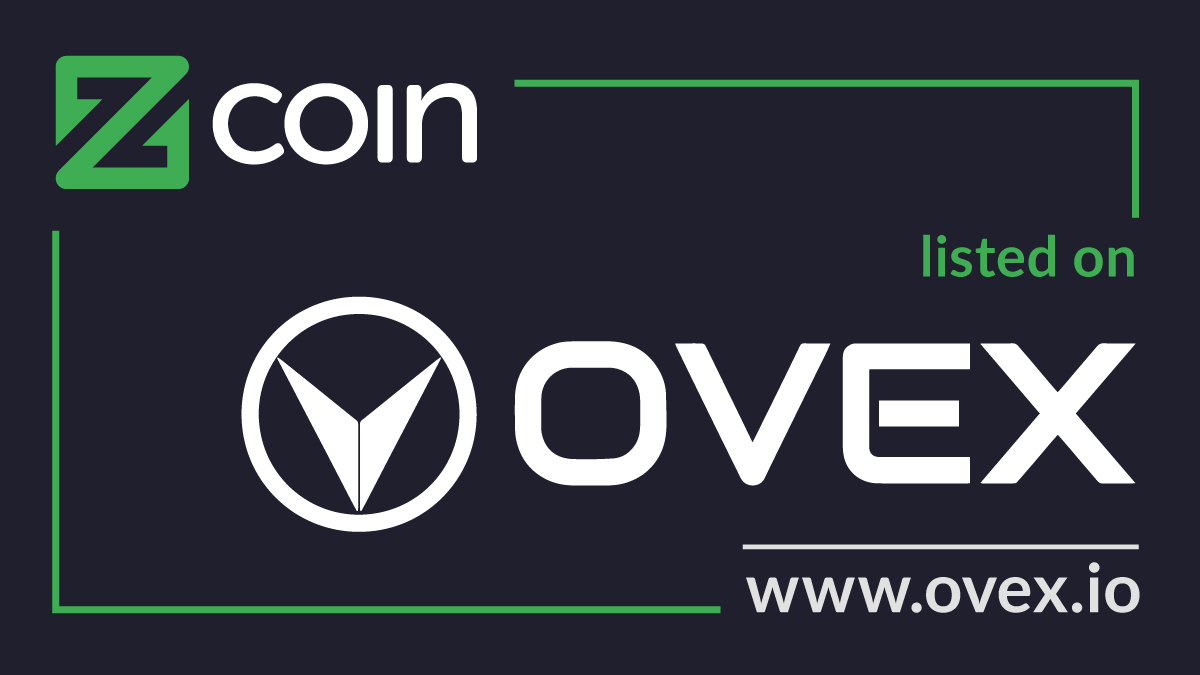 CAPE TOWN, South Africa, Aug. 29, 2019 /PRNewswire/ — Zcoin ($XZC) — an open-source, decentralised privacy cryptocurrency — has now listed on Vinny Lingham-backed cryptocurrency exchange, OVEX, with a South African Rand (ZAR) pairing.
"Zcoin's listing on OVEX will create the opportunity for traders to fill the vacuum in offering privacy with the introduction of $XZC to the South African market especially with the ZAR pairing that opens door to it being readily adopted in the country. This is an exciting development and opportunity to expand in a rapidly developing country where cryptocurrency trading volumes are on the increase," says Poramin Insom, Founder & Core Developer of Zcoin.
OVEX's is the most advanced cryptocurrency exchange in South Africa and offers traders both simple and advanced modes to suit the needs of different traders on a secure and trusted platform.
"We're excited about the potential for growth on this coin, privacy coins are an essential part of the crypto ecosystem and we're very excited to give South Africans access to this opportunity," says Jonathan Ovadia, CEO of OVEX.
As part of the official listing, Zcoin and OVEX will be hosting a community-focused event in Woodstock, Cape Town, to introduce $XZC to users on the platform. Interested attendees can find out more here.
Most recently, Zcoin became the first cryptocurrency to be usable at any of the five million merchants registered via Thailand's nationwide QR code system through the Satang App.
In July 2019 it also rolled out Sigma, the first live zero-knowledge proof (ZKP) protocol to offer strong financial privacy without trusted setup.
Zcoin has been actively working on the Sigma privacy protocol since early 2018 and the mainnet launch of Sigma marks the first in a series of upgrades in Zcoin's privacy protocol.
Sigma's eventual replacement, the highly anticipated Lelantus which has garnered academic interest, is Zcoin's own independent innovation that further improves on Sigma's capabilities by removing the need of fixed denominations and hiding transaction values. Lelantus is currently in development and scheduled to go on testnet in early 2020.
Disclaimer: This is a press release. Readers should do their own due diligence before taking any actions related to the company, product or service. BitcoinAfrica.io is not responsible, directly or indirectly, for any loss or damage caused by or in connection with the use of or reliance on any content, product or service mentioned in this press release.