Bitcoin Loophole – Another Crypto Scam to Avoid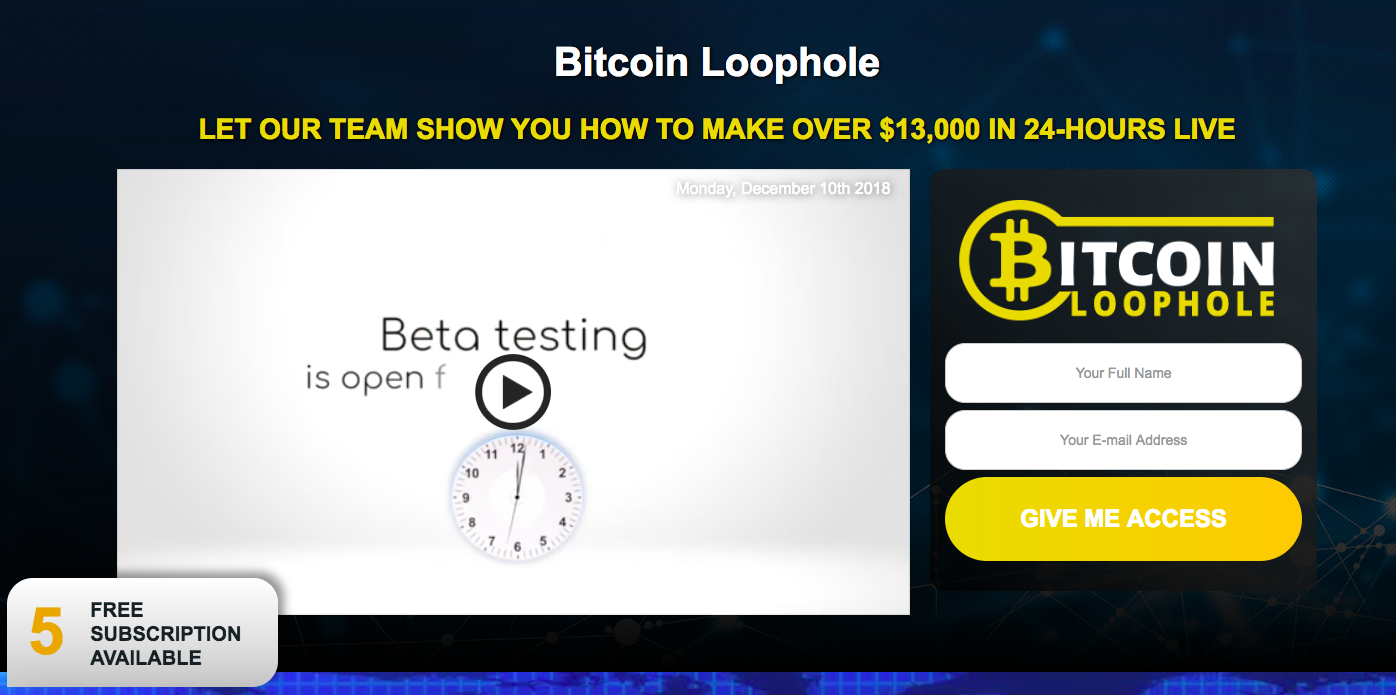 The popularity of digital currencies has led to an explosion of cryptocurrency investment schemes and services. These investment services offer a variety of crypto-related financial products to investors who are looking to generate profits by trading cryptocurrencies. One such online investment vehicle is Bitcoin Loophole.
While Bitcoin Loophole markets itself as a cryptocurrency trading software, it has become apparent that this venture is very likely a scam, preying on unwitting cryptocurrency investors.
How Does Bitcoin Loophole Work?
Bitcoin Loophole claims to be a new cryptocurrency trading software that has been designed by alleged "prominent investor" Steve McKay. According to the company's website (of which there are several), the software operates on a fully automated mode.
The Bitcoin Loophole trading software allegedly works by utilising a "highly efficient programming algorithm" that is based on a so-called 'Flock Principle'. The platform's alleged creator, Steve McKay, apparently found a loophole, which enables him to apply the economic theory to a basic computer code. The platform development team who manage the computer code assert the trading software scans the ongoing market situation and then predicts whether the price of any digital asset, traditional asset or cryptocurrency pair will rise or fall.
Signing up for Bitcoin Loophole is free using the site's log-in form. The next step is opening a "trading account" on the partnering broker service. The site claims to work with legitimate brokers and thus claims that investors funds and information are secure.
To begin trading a user has to fund his account with an initial deposit. The minimum deposit is $250. The deposits can be made through a variety of payment channels including credit cards, wire transfer, and bitcoin (BTC) and its operators claim that funds can be withdrawn any time. The site also claims once users have signed up and made a deposit they are guaranteed to get daily returns.
How is Bitcoin Loophole a Scam?
The obvious red flag concerning Bitcoin Loophole is the site promises a minimum of $13,000 daily returns. Now, imagine making over $500 an hour without any effort? Sounds goods to be true! Well, that is because it is good to be true.
Going by their guarantee, it would mean that anyone using the service will be a millionaire in a few months. However, when you study the disclaimer on the website you will notice it states that the site does not guarantee any profits. This is a direct contradiction to what is stated on the sales page.
Furthermore, the alleged CEO of Bitcoin Loophole, Steve McKay, does not seem to exist. If you take a closer look at any of his photos on the website you will notice they are stock images and a reverse Google image search proves that. It is, thus, very obvious that the site's operators want to stay anonymous and are using a fake frontman to lure investors into their scheme.
Also, research has failed to confirm the claim that he has been featured on Forbes or Business Insider in the past even though the site makes this claim and the reviews found on the website are all fake.
It is also important to note Bitcoin Loophole is not regulated nor does it have any license for its operations. In fact, the FCA issued a warning against Bitcoin Loophole as it has no authorisation to target investors in the UK.
Unsurprinsgly, there is also no information on how the "trading software" actually works nor is there evidence of any actual trading in the crypto markets by the operation.
Moreover, most of the reviews online praising the trading software are actually fake and cannot be trusted. The reality is Bitcoin Loophole operates like any other Bitcoin MLM scheme and uses referral payments to get its users to attract new users for a commission and there is no evidence that the company actually trades cryptocurrencies on behalf of its "investors."
Red Flags Summarised
No valid information on the company or individuals behind the platform.
The alleged owner Steve McKay does not seem to be a real person.
The Steve McKay online persona has been linked to other alleged bitcoin scams.
Bitcoin Loophole uses fake reviews and gives no insight into ownership structure.
No insight into how the "trading software" is generating its alleged profits.
The platform uses several different websites and its main website is no longer online.
The UK financial regulator has issued a warning against Bitcoin Loophole.
Finally, the platform guarantees a profit, which is arguably the biggest red flags of all!
Stay Away From Bitcoin Loophole
If such an extraordinarily profitable trading software really existed, it would be all over the news and not mentioned on some obscure websites. So, chances are the software is just a trading bot that executes whatever the site administrators have programmed it to perform if they even trade anything at all.
Based on all these factors it is safe to assume that Bitcoin Loophole is a scam. Any online reviews that state otherwise have likely either been paid for or have solely been written to benefit financially from the platform's referral system.
Bitcoin users are always advised to research, consult experts and use some common sense before investing in any investment vehicle in the cryptocurrency space.
A Complete Beginner's Guide to TerraCredit (CREDIT)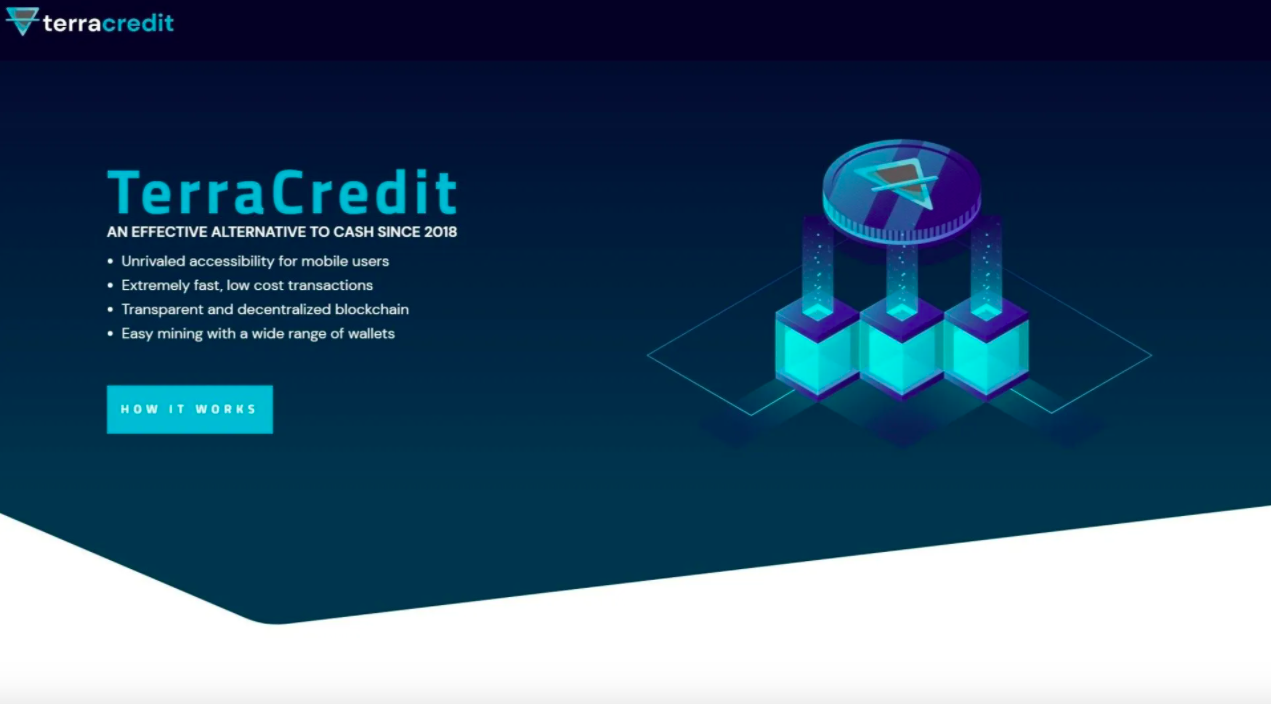 Ever come across TerraCredit or TerraBit and wondered what they are? In this guide, we explore the TerraCredit ecosystem and provide an in-depth beginner's guide to one of the fastest-growing crypto projects in Africa.
What is TerraCredit (CREDIT)?
TerraCredit (CREDIT) is a decentralised cryptocurrency at the heart of a digital payment ecosystem. The developers behind the cryptocurrency built CREDIT as a "viable replacement to cash and a rewarding option" – especially for users in developing markets.
CREDIT is the native currency of the TerraBit platform, a payment platform tailored towards the unbanked.
At the time of writing, the cryptocurrency is in the top 1,000 coins by market cap on CoinGecko. At the time of writing, CREDIT was trading at $0.00614 per coin.
Highlights About CREDIT
Name: TerraCredit

Ticker/Symbol: CREDIT

Max supply: 86,000,000

Blockchain: Native

Consensus mechanism: Proof of Stake (POS)

Established: 2017**
The cryptocurrency is built on a native Proof-of-Stake blockchain, requiring less from network validators, allowing more people to participate in the network. Currently, the Terracredit blockchain has over 12,000 individual network validators. The decentralised nature of validators makes it difficult to perform a 51 % attack on the blockchain.
What's more, transaction fees on the Terra blockchain are very low. In contrast, most of the top cryptocurrencies have become very expensive to use due to fees. TerraCredit allows you to transact with fees as low as $0.00000003.
Moreover, CREDIT transactions are fast. They confirm in seconds Quicker transactions are made possible because of the low fees and the availability of several validators.
TerraCredit can be stored on native or third-party wallets. The native CREDIT wallet is available on desktops running Windows, Linux, and Mac OS. You can also download the mobile application for Android. Conversely, if you prefer third-party applications, there are many options like MyCointainer to choose from. 
What is TerraBit?
TerraBit is a global payments platform that allows you to store cryptocurrencies and exchange them for fiat on a single app. It is also the native wallet of TerraCredit.
TerraBit supports CREDIT and bitcoin (BTC). It also supports fiat currencies like the naira (NGN), rand (ZAR), and peso (COP). You can deposit these currencies directly on the app to purchase cryptocurrencies.
Besides buying crypto, you can also sell crypto in the app and withdraw it to your bank account. This feature has made it very popular in developing markets like Nigeria, Colombia, and Kenya.
TerraBit also has a merchants interface that makes it possible for you to accept crypto payments. If you are a business owner, you can accept crypto payments in person via the app. It is extra easy doing the same online by just sending your crypto address.
Finally, the app comes with extra features, such as web staking.
Highlights of TerraBit
Trade cryptocurrencies on-the-go

Support for fiat currencies: NGN, ZAR, COP

Merchant interface to accept crypto payments

QR payments
Future features coming to TerraBit includes more fiat options for markets like Ghana. Virtual credit cards are also on the roadmap. These cards will make it possible for you to spend your crypto wherever bank cards are accepted.
TeraCredit Features
TerraCredit has several features that have seen an upgrade after the latest hard fork. As mentioned earlier, TerraCredit deploys the most modern blockchain technology. This makes it decentralised, fast, private, and easy to use. Here is a deeper look at the leading features of TerraCredit:
Proof of Stake: TerraCredit runs on a Proof of Stake (POS) consensus algorithm. Compared to other consensus algorithms like Proof of Work, POS is more lightweight and easier to participate in. Easy participation allows more individuals to play a role in confirming transactions. Without a broader pool of validators on a network, it becomes centralised.
The few validators get to control the affairs of the project. Also, bad actors can take advantage of this to attack the blockchain. You can participate in securing the TerraCredit network via staking or masternodes. Securing the network also rewards you through the creation of new coins. 
Decentralised Autonomous Organisation (DAO): The latest TerraCredit hard fork brought a new governance model. Masternodes operate the TerraCredit DAO. Aside from helping secure the network, masternodes contribute to the governance of the project. The DAO gets funds directly from the blockchain, which are allocated to approved proposals. Anyone can submit a proposal that masternodes vote on. Each masternode has one vote. Having a DAO with funds directly from the blockchain ensures the development and marketing of the project.
Swiftx: TerraCredit (CREDIT) enables swift transactions using the masternode infrastructure. Swiftx ensures "near-instantaneous" transactions. This feature aims to put TerraCredit in the same league as major payment processors like Visa and MasterCard. 
Coin mixing: Mixing makes transactions private. Instead of sending transactions directly from your wallet to another, coin mixing takes the coins through several transactions (mixing) before the final destination. This feature gives CREDIT privacy utility.
Ways to Earn CREDIT in 2020
There are two main ways to earn CREDIT in 2020. Both methods allow you to earn passive income since they require only a simple set up at the initial stages.
Web Staking
You can stake CREDIT via the native wallet. All you have to do is load your wallet with CREDIT and turn on staking to get started. It is simpler than mining and lowers the barrier of entry. You can stake 0.000000001 CREDIT and above. Rewards are paid daily into your wallet after you begin web staking.
Masternodes
Masternodes, on the other hand, come with more requirements. You need to hold at least 50,000 CREDIT as collateral for your masternode. After, you have to set up a node with the wallet. You can do this using a hosting service or do it yourself using basic hardware like Raspberry Pi.
Masternode owners receive rewards every block for securing the network and participating in the governance process. 
The Bottom Line
TerraCredit continues to grow beyond the TerraBit platform. CREDIT has been added to several exchanges, payment processors, and wallets recently, while its web staking functionality offers users a way to generate investment income on their CREDIT holdings. 
To learn more about TerraCredit, check out the project's website.
Chipper Cash: How to Seamlessly Send and Receive Money Across Africa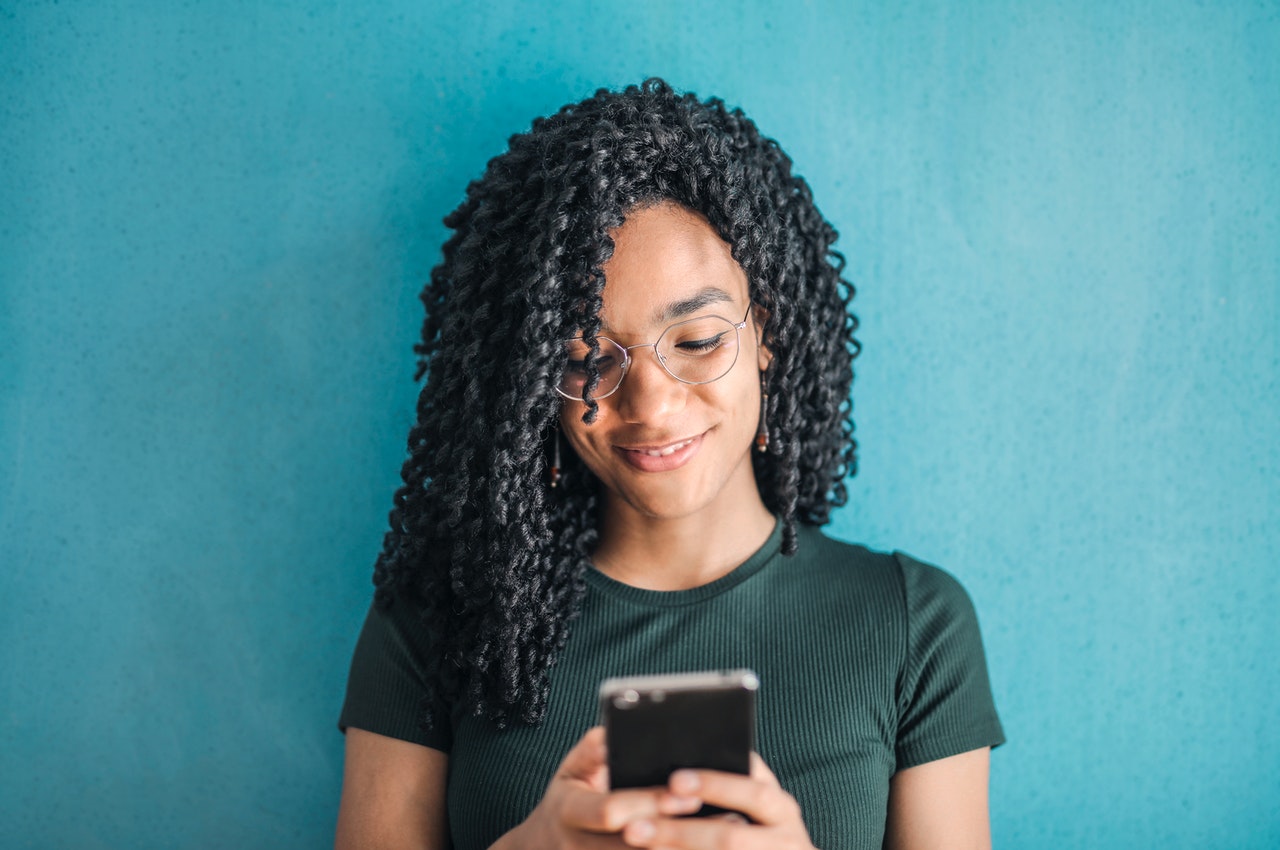 Are you looking for a quick and easy way of sending and receiving money in Africa? In this guide, we will explore how Chipper Cash can enable you to transact comfortably right on your mobile phone.
What is Chipper Cash?
Chipper Cash is a money transfer platform that enables seamless cross-border transactions. The payment service aims to democratise financial services for Africa's unbanked by allowing them to transact through their smartphones.
According to Chipper Cash, the app is the first of its kind to provide instant cross-border mobile money transfers on the continent.
The app allows you to connect one or more mobile wallets, and transfer money to a number of locations. Moreover, all in-country transfers are free, which makes it an inexpensive option for P2P payments. The app is available for Android and iOS devices.
How Does Chipper Cash Work?
To access Chipper Cash, you have to download the app onto your smartphone. You can download the app on the Google Playstore for Android users or from the Apple store if you are on iOS. You will have to register an account before you start transacting on the platform. The platform allows you to register using your email address or phone number.
The verification process is fairly easy. You input personal details including your bio, address, and select the default currency for your account. Interestingly, the app can sync with your device and automatically select your current location as your address, saving you precious seconds inputting the same manually. Finally, registration is complete once you set a four-digit PIN and log into the platform.
Chipper Cash has a simple UI that consists of three main windows; the activity section, the referral section, and the user profile page.
To send money you have to ensure the recipient is a verified user on Chipper. If possible, request their Chipper Cash tag to confirm before sending money. Alternatively, you can scan the QR code of the recipient, if nearby, and send him or her the funds instantly.
How to Send and Receive Money
You can load money from your mobile money account onto your Chipper wallet using the 'Add Cash' functionality at the top of the page. When transferring money from your phone you will receive a request for approval on your phone. Once you approve the prompt the money will be credited in your Chipper wallet. The reverse will happen when you need to transfer money from your Chipper wallet to your mobile money account. To do this, simply tap, the 'Cash out' option in your profile, and a similar process will be initiated.
You can request money from anyone on Chipper by utilising the 'Request' tab on the bottom of the landing page. This is no doubt a good feature when following up on payments or seeking refunds for erroneous transactions. The platform does not charge any fees, even for cross-border transfers. Moreover, Chipper Cash has no minimum balance for sending money and is thus suitable for micro-payments.
According to the platform, there are plans to roll out a Chipper Cash 'escrow' service. Currently, to cancel out a transaction sent to the wrong address you have to request the recipient to reverse the same. However, the recipient has to approve such a request. To avoid such a scenario you are advised to check that you have the correct address before you send money.
While there are no limits to how much you can send per transaction, there are limits to how much you can 'Cash In' and 'Cash Out' on the platform. Furthermore, you can send money to a recipient who is not on the platform. They will receive a text message notifying them of the payment. However, they will still have to download the app to access their funds.
Other Chipper Cash features include:
You can link multiple mobile money accounts
Generous referral program
Pros and Cons of Using Chipper Cash
Pros
Simple UI
Free cross-border transactions
No minimum balance
Discounted airtime purchase
Interoperable – you can connect multiple mobile money accounts
Dedicated customer support team
Cons
Lengthy verification process
Lack of an 'escrow' functionality
The Chipper Cash app is currently available in seven African countries including Ghana, Uganda, Kenya, Tanzania, Rwanda, Nigeria, and South Africa. Moreover, the platform is backed by several prominent VC's and organisations with future plans to expand into new markets.
How to Trade Bitcoin Safely and Securely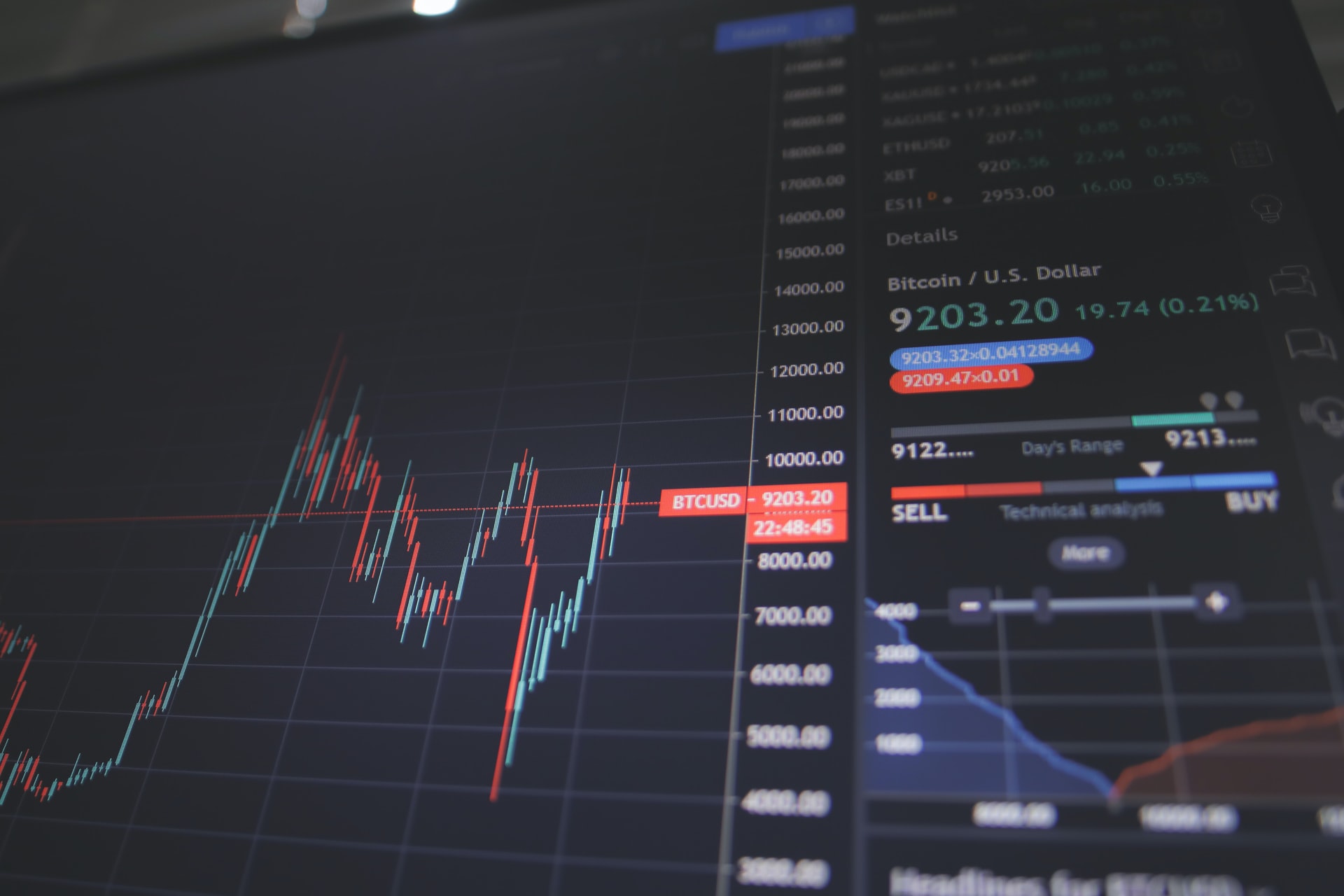 The unfortunate reality is that scammers continue to plague the digital asset markets. Therefore, it is important to learn how you can protect yourself when trading or investing in crypto. To help you achieve this goal, this guide you will explain how to trade bitcoin safely and securely.
How to Trade Bitcoin
You can trade bitcoin on exchanges and peer-to-peer (P2P) marketplaces by buying and selling directly from and to other traders. On the other hand, you can place a buy or sell offer, which will appear in a public listing on the exchange. By doing this, you become a market maker.
Market making is the process of providing liquidity to buyers and sellers on an exchange by placing offers and limit orders. Market makers earn money from the difference at which they sell or buy cryptocurrencies.
For example, you can place sell and buy bitcoin offers on Paxful after creating an account and completing the verification process. When you create an offer, you will set the trade limits and the trade margin. The trade limit means that other traders can only buy from you a minimum of ten US dollars and a maximum of 50 US dollars worth of BTC for example.
Use a Trusted Platform to Trade Bitcoin Safely and Securely
The first step towards trading bitcoin safely and securely is choosing the right platform. A suitable crypto exchange or marketplace should have customer support, it should be transparent, and compliant. Therefore, find out what people are saying about a particular platform, and if it is mostly positive feedback, you can trade on it.
Furthermore, a good platform should comply with any relevant regulations and it should clearly outline terms of service and its privacy, dispute, KYC, and AML policies. Moreover, a good platform is transparent enough to reveal its fees, whether it stores your crypto or not, and what it is responsible for.
For instance, Paxful clearly states in its terms of service that it "does not act as a payment processor." That means that the liability for the entire payment process lies between the buyer and the seller. Additionally, Paxful explains that it does not custody the digital currencies of its users.
Learn the Rules
Before you begin to trade bitcoin, understand the rules of that platform. Learn how the platform works and what you should do in case a problem arises while trading. Moreover, find out what you can and cannot do. The last thing you want is to get blocked from a good platform for breaking the rules.
Besides the policies and terms of service, you can learn a lot from the FAQ section and the blog. Therefore, make sure that you read through them before you begin trading.
Trade Bitcoin with Verified Traders
Another precaution that you should take is trading with verified users only. Most crypto exchanges and marketplaces require their users to verify their identity through a KYC process. This could entail ID, phone, home address, and email verification. Once users submit these details, the platform will determine their authenticity, then either approve or disapprove their applications.
Therefore, ensure that you trade with traders that have fully completed the verification process because it means the platform has approved their authenticity.
Paxful has several verification levels that give users certain trading rights. For example, if you only verify your email address and phone number, you can only carry out trades of up to $1,000 per trade. If you verify your ID, however, the limit per trade increases to $10,000.
Choose Traders with a High Positive Feedback Score
You are most likely to have a smooth trade when transacting with a user that has a high positive feedback score. Also, read the feedback that other traders have written before starting a trade.
A platform like Paxful allows both buyers and sellers to leave feedback after carrying out a trade. As a result, always trade on a platform where you can view the feedback left by other traders.
Use Escrow
Another safety precaution you can take is to trade bitcoin on a platform that offers escrow. The escrow feature protects the buyer by locking the bitcoin as they make the payment.
The Paxful escrow, for instance, locks bitcoin once a user initiates a trade. Paxful keeps the bitcoin locked until the conditions of the transaction are met. If you complete the payment process and the seller fails to release the bitcoin from escrow, you should report the issue immediately to the Paxful customer support.
Do Not Trade Outside the Platform
Never agree to trade outside a platform because the risk of getting scammed will increase. Therefore, if someone asks you to trade outside an exchange or P2P platform, politely decline.
They could offer seemingly logical reasons for their proposal or offer a better deal. However, if the deal is too good to be true, think twice. Users that make such proposals probably do not have the best intentions anyway.
Cancel a Trade if Something Does Not Seem Right
If the above scenario takes place, you should cancel the trade immediately. Also, if the trader is making other proposals instead of carrying out the transaction as expected, cancel the trade instantly. If possible, report the user to save other traders from getting duped or leave negative feedback.
Note, however, that it is not always easy to tell that something is wrong. For that reason, be alert when trading bitcoin and never be desperate.
Ensure That the Trader's Names Match
When making a trade, ask for the user's ID and confirm that the ID name is similar to the bank account name or the online wallet account name.
The process of naming matching will let you know whether you are sending payment to the seller or to someone else. So, if the ID name does not match the PayPal account name, you should cancel the trade .
Trading bitcoin should not scare you. As long as you observe the tips above and refrain from desiring quick and huge returns, you will remain safe.
Aside from trading bitcoin, you can earn digital currency in these other four ways.