AMOS – Holding Hands in the Hour of Need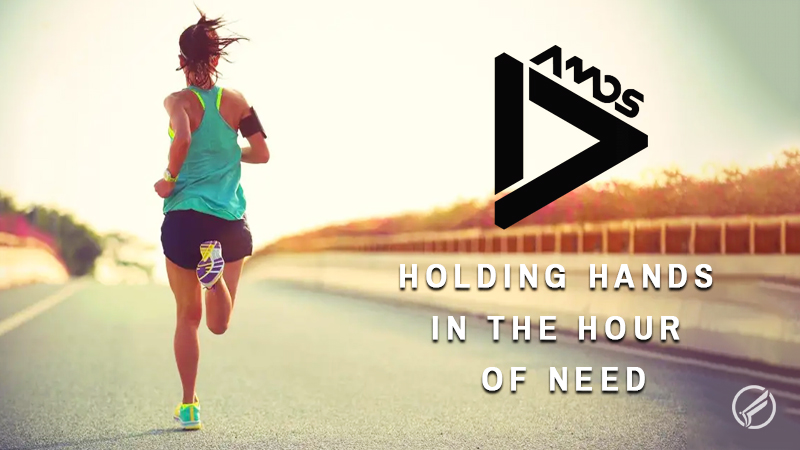 Distracting from daily worries, lifting mood, improving sleep and providing an opportunity for increased social contact, health is a much deeper concept, which goes beyond merely physical fitness. AMOS is an unconventional platform that is built on the same ideology and offered users a smarter and better way to stay healthy and fit.
Seamlessly connecting the virtual and real world with its Smart Wearable and Smart Gym, AMOS is revolutionising the concept of fitness, thereby improving and keeping one aware of their health and strength. Furthermore, the platform has integrated state of the art technologies to bring this concept to life and revolutionise the fitness industry.
An Unfailing Companion – Smart Wearable
Smart Sport Watch is the round the clock fitness companion for users. By tracking the calories burned, this technology keeps a track of the health condition of users and encourage them to inculcate the habit of regular exercise. With the data recorded using Smart Sport Watch, AMOS designs personalised training programs targeting to improve the overall health of the user. AMOS not only provide you with a digital platform to track fitness, but it also rewards users with AMOS token for their efforts.
Making Fitness Happen – Smart Gym
Designed to meet the unique fitness needs of the users through Artificial Intelligence, AMOS has tied up with Strength Master Group to develop smart technology across the globe. Assisting users to achieve their goals, Artificial Intelligence Coaches help users to perform each exercise in the right posture and explain them correct ways of using the fitness equipment. With the integration of AI and machine learning, the platform ensures that users are offered accurate data that help them obtain the best results.
Smarter The Better – Artificial Intelligence Analysis
Merely being aware of health status is not enough, analysing the information procured through virtual and digital platforms is also important, and AMOS facilitate the same to its users. With users having access to important health data and statistics Artificial Intelligence helps them to use this data to enhance their fitness levels, thus reducing the risk of injuries and improving their health status. Constant feedback and intervening by the Artificial Intelligence coach further offers users effective and new training methods that eliminate the need of physical trainers.
AMOS Token Sale
AMOS has issued a total of 50 Million tokens, out of which 20 Million was offered to the crowdsale. The presale started from October 10th, 2018 and ended on November 30th, 2018, and the public sale was launched on December 1st, 2018 and will last till February 28th, 2018. The token distribution is planned in the following manner:-
●       Presale – 7%
●       Public sale – 30%
●       Incentive tokens – 30%
●       Founding team – 11%
●       Market Development Application – 11%
●       Technology Platform – 11%
AMOS – Stay Healthy and Get Rewarded
Living in the millennial age where unhealthy food habits are an everyday phenomenon, where nobody has time to spare from the busy schedules, and health hazards are taking a toll on overall fitness, AMOS is bringing a healthy and fit lifestyle to the users by offering them monetary benefits for their time and effort spent on exercising and physical activities.
Learn More about AMOS: https://amos.global/
Facebook: https://www.facebook.com/amosglobal/
Twitter: https://twitter.com/AmosFitTech
Instagram: https://www.instagram.com/amosglobal/
Telegram: https://t.me/AMOSglobalFit
Medium: https://medium.com/@amos.fit.tech
BitcointalkANN: https://bitcointalk.org/index.php?topic=5048193.new#new
Disclaimer: This is a paid press release. Readers should do their own due diligence before taking any actions related to the company, product or service. BitcoinAfrica.io is not responsible, directly or indirectly, for any loss or damage caused by or in connection with the use of or reliance on any content, product or service mentioned in this press release.
UTU – the first African Blockchain Startup to announce IDO on Binance DEX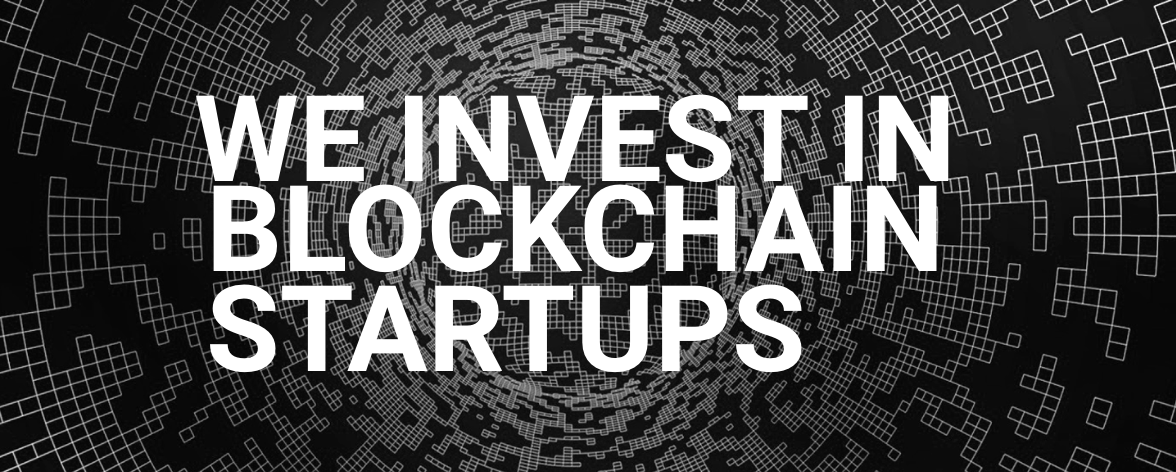 PRAGUE / NAIROBI / VADUZ, LIECHTENSTEIN Sep 20 2019 — Æ Ventures, an investment company that provides initial funding, acceleration, and advisory support to blockchain projects, today announced that Starfleet graduate UTU Technologies, a Nairobi-based company building a trust infrastructure for the sharing economy on æternity blockchain, is launching an IDO (Initial DEX Offering) on Binance DEX.
UTU will launch its IDO on Binance DEX at Æternity Universe One, the first conference dedicated to the Æternity Blockchain's growing ecosystem taking place September 20-21, 2019 in Prague. While IDOs are a fairly new concept, they are growing in popularity due to their independent nature, as they are independent of Binance and are 100 percent self-organized by the token issuer. UTU's decision to employ this new funding measure is rooted in the company's core values of trust and innovation.
UTU delivers proprietary trust recommendations to decentralized applications with the aim to disrupt anonymous star ratings and reviews, which are the current standard for discerning trustworthiness of digitally contracted service providers. The goal is to transform the online services industry by tokenizing the acquisition of users and data and creating a safe space to securely store and govern data access while providing monetary incentives for endorsing trusted service providers. UTU's technology runs on a graph database, powered by machine learning, that is adapted for each user's unique preferences and trust model. Therefore, in operation, UTU's API seamlessly serves up personalized recommendations for trusted service providers on sharing platforms to drive conversion, satisfaction, retention and viral acquisition.
UTU's technology is particularly useful for establishing trust for P2P e-commerce, P2P lending, and online professional services. For example, fintech platforms can use UTU to evaluate credit risks with little or no formal data, helping them to better understand the correlational risk to their portfolio. Online professional services like content and copywriters can use UTU to build trust and relationships, therefore driving conversion up by 20 percent, satisfaction up by 10 percent and they can generate up to 30 invites per new user.
"From the onset, our mission has been to bring real-world trust to the digital world; and we believe conducting an IDO is the next step up toward expanding this vision," said Jason Eisen, CEO of UTU Technologies.
UTU will also showcase its technology at this year's Æternity Universe One conference. This milestone highlights UTU's development since participating in Æ Ventures' Starfleet Accelerator program where they received $200,000 USD in investment and went on to win the Startup World Cup at the Trescon Global AI Show.
"The Æ Ventures team is very proud of UTU's success through our Starfleet accelerator program," said Nikola Stojanow, CEO of Æ Ventures. "We share UTU's vision of providing a safer, more trusted digital world, built around relationships; and we are happy to support their efforts to build a solid blockchain ecosystem in Africa."
Disclaimer: This is a press release. Readers should do their own due diligence before taking any actions related to the company, product or service. BitcoinAfrica.io is not responsible, directly or indirectly, for any loss or damage caused by or in connection with the use of or reliance on any content, product or service mentioned in this press release.
BIAN Announces National Campus Blockchain Hackathon Focused on Sustainable Growth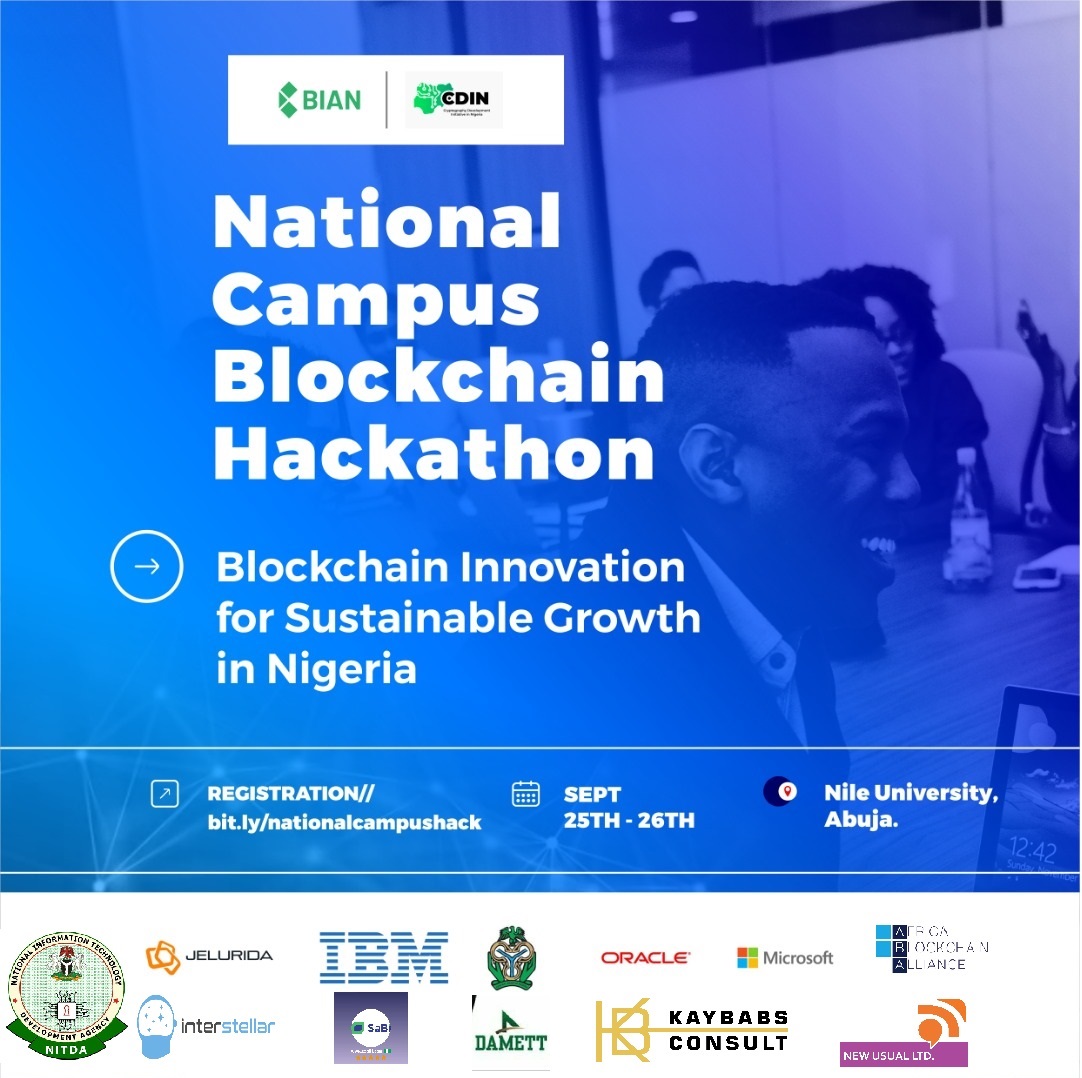 The Blockchain Industry Association of Nigeria (BIAN) – formerly Nigeria Blockchain Alliance (NBA) – in collaboration with the National Information Technology Development Agency (NITDA) announces the National Campus Blockchain Hackathon focused on sustainable growth. With the successful launch of Campus Blockchain Hackathon in five (5) Nigerian universities, the Blockchain Industry Association of Nigeria (BIAN), the brain box behind the Campus Blockchain Development Programme is concluding the pilot stage of Campus Blockchain Hackathon with a national programme.
Campus Blockchain Hackathon is an initiative of Blockchain Industry Association of Nigeria (BIAN), a sub-division of Cryptography Development Initiative in Nigeria (CDIN), in engaging the academic community on the importance of Blockchain Technology, its relevant use cases, and more specific, its adoption for innovative solutions. The Hackathon aimed to give Nigeria University students early exposure to the career and business opportunities being presented by the Blockchain/DLT digital innovations in order to domesticate the knowledge and skills for sustainable national development.
The two-day event will bring together developers, enthusiasts, stakeholders, and students from the various teams that participated in the subsequent hackathon hosted by the initiative. With the theme; "Blockchain Innovations for Sustainable Growth," the event is scheduled to hold in Nigeria's federal capital territory, Abuja, on 24th and 25th of September, 2019. The National Campus Blockchain Program is proudly sponsored by Jelurida, IBM, and Nile University of Nigeria. Virtually everyone will agree, Technology can play a vital role in achieving sustainable growth. The blockchain is one of such that can help accelerate this progress. Just like the arrival of the internet which launched us into an era of technological change, the blockchain is a cutting-edge technology that possesses similar potential to redefine and transform every sector.
Through this project, the Campus Blockchain Hackathon seeks to harness innovation, by providing blockchain literacy, inclusion, skills and proffer long term solutions to critical problems towards the sustainable growth we desire.
Commenting from BIAN's office in Abuja, Mr. Adeolu Fadele, President of BIAN said: "Education is the bedrock of any country's development; the educational system of any country is considered as the cornerstone for meaningful achievements. The element of continuity and change remains hinged on education. Therefore, even though there is evidence of improved public understanding, increasing mainstream interest, and the emergence of startups that are building practical solutions using the blockchain technology in Nigeria today, however, all these cannot be considered to be true development until the learning institutions are carried along in a structured and sustainable manner."
Campus Blockchain Hackathon began in October 2018, at the foremost Covenant University, Ota, Ogun State, with over 1000 participants from the first day, undeniable evidence of Nigerian students' growing interest in emerging technology as Blockchain Technology. After which, the project reached Ahmadu Bello University, Zaria; Kwara State University; Federal University of Technology, Akure, and the University of Nigeria, Nsukka.
Speaking ahead of the event, Mr. Kayode Babarinde, National Coordinator, Campus Blockchain Development Programme said: "The enthusiasm and participation of students across the five (5) universities in which Campus Blockchain Hackathon has been successfully held, has demonstrated that student culture in Nigerian universities goes beyond the norms of obtaining the degree and getting a good job. They are beginning to think outside the box and see real value in emerging technology as Blockchain. With the National Hackathon, we can look forward to mind-blowing innovations."
The National Campus Blockchain Hackathon will also explore and fuel insightful discussions around key areas by featuring keynote sessions, panel discussions, learning, networking amongst others. The Program is Chaired by Mr. Kashifu Abdullahi, Director General, at the National Information Technology Development Agency (NITDA).
The event is open to entrepreneurs, software engineers, blockchain developers, start-up founders, business/tech consultants, government stakeholders and as well as individual with a keen interest in the field of blockchain.
For registration and further details please refer to the event website: www.bit.ly/nationalcampushack
Disclaimer: This is a press release. Readers should do their own due diligence before taking any actions related to the company, product or service. BitcoinAfrica.io is not responsible, directly or indirectly, for any loss or damage caused by or in connection with the use of or reliance on any content, product or service mentioned in this press release.
MEETUP: September 21, 2019 OKEX Brings the CryptoTour Africa 2019 to Kenya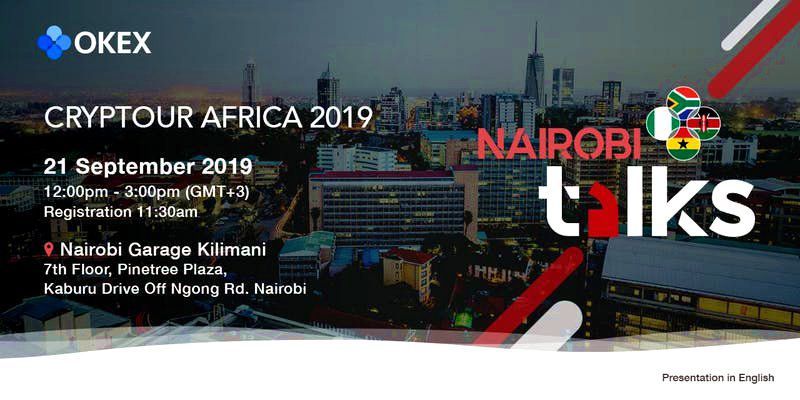 OKEx, the Malta-based mega crypto exchange, will be holding a meetup in Kenya, on September 21, 2019, featuring key speakers in the blockchain and crypto space in Kenya.
OKEx is looking to introduce its mega crypto exchange in the region to enables traders to margin trade for a profit.
The OKEx Cryptotour Africa 2019 will cover four African countries namely:
Ghana
Kenya
Nigeria
South Africa
The upcoming CryptoTour Africa 2019, Nairobi Edition, meetup will feature: