Revisiting the Blockchain Africa Conference 2019 in Johannesburg And Announcing 'Crypto Fest'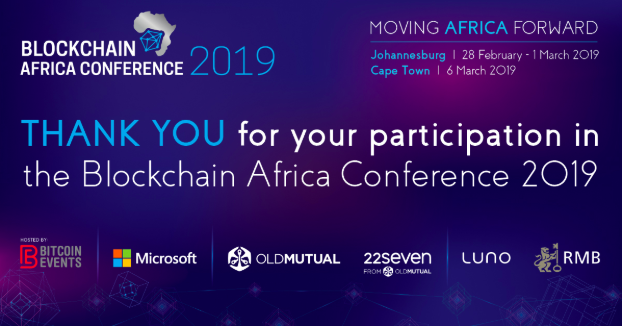 The Blockchain Africa Conference 2019 in Johannesburg saw a gathering of thought leaders and influencers in the blockchain industry exploring blockchain use-cases, such as Self-Sovereign Identity, enterprise blockchain in finance, the future of banking, interoperability and scalability, regulations regarding ICOs, STOs, blockchain technology, and cryptocurrencies.
The conference was a resounding success, as amplified by conference MC, Farzam Ehsani, co-founder and CEO at VALR, "It was inspiring and thought-provoking," and by Michael Glaros, Principal Program Manager, Azure Blockchain at Microsoft, and Diamond Sponsor to the 2019 Conference who said: "I am just so thrilled to be at the Blockchain Africa Conference with Farzam Ehsani, Brian Behlendorf, Phillip Windley and all the other greats here, so that we can come together and hash [pun] things out for a better crypto and Blockchain future, and together we can be moving Africa forward."
Blockchain Africa Conference in Johannesburg Day 1
Watch the Day 1 highlights video of the conference in Johannesburg.
Lorien Gamaroff kicked off proceedings with a presentation about the global state of the blockchain technology, what some of the issues are as well as his views on how this technology allows transactions to be verified. He remarked: "There is no real value in crypto or cash to be anonymous. The value lies in the privacy, not the anonymity, and blockchain could change this in the future."
Lorien's address was followed by the keynote speaker, Brian Behlendorf, Executive Director of Hyperledger Project who engaged the audience with his topic The Post-Lambo Era: Blockchain Technology Gets Real. Blockchain technology is allowing individuals to apply for products and/or services to organisations without the organisations getting access to individuals' private data and information. Brian reinforced that: "Today there are over a hundred deployed distributed ledger networks using blockchain technology to address supply chain traceability, trade finance and global payments, logistics, know-your-customer credit history systems, and many more."
In a podcast interview by Think WTF with Brian, he shares some of the projects that they are working on to give us a practical example of how Hyperledger is solving real problems.
Carel de Jager talked about the idea of stablecoins to help with the price volatility experienced by cryptocurrencies. Stablecoins have their value pegged to something that we regard as stable such as gold or the US dollar. Carel cleverly remarked: "Why do we need stablecoins? Well, because someday central banks will run out of zeroes!"
In a recent interview on Winslyn, Carel speaks about blockchain technology, local applications, and explains how blockchain could potentially help prevent something like the Eskom crisis we are currently facing.
Michael Glaros discussed how Microsoft is working alongside Technobrain to unleash innovation across Southern Africa by employing joint efforts toward scaling blockchain networks with development and operations practices and habits.
While Philip Windley explored the topic of a global public network for self-sovereign identity. The public network will be decentralised, have no single authority and will provide multiple identity sources. Conference proceedings continued with Peter Munnings who informed the audience about Project Khokha, the successful collaboration between the South African Reserve Bank and the major banks in South Africa. The scope of the project was to create a distributed ledger between participating banks, for a wholesale payment system. The project was a huge success and proved that distributed ledger technology could be used for interbank settlements. Project Khokha received the inaugural 'Best Distributed Ledger Initiative' award from the Central Banking Publications at a gala dinner in Singapore.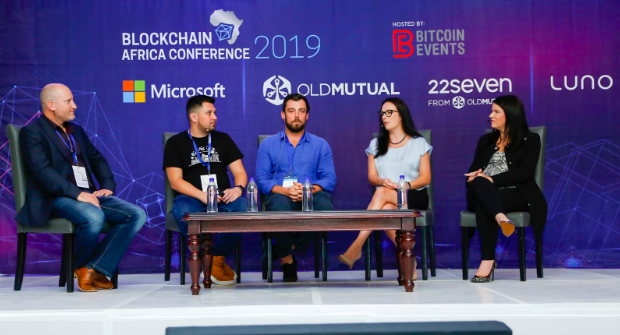 Panels with blockchain and economic expert Farzam Ehsani and Centbee's Lorien Gamaroff sparked quite the debate as the two panels discussed The Issues and Proposed Solutions for Blockchain Scalability and Enterprise Blockchain in Finance, respectively. The rest of the speaker line-up for the first day included Anushka Soma-Patel who unpacked the practical use of identity wallets and verified claims within ecosystems as we know them today. Ashlin Perumal spoke about self-sovereign identity against the legal backdrop of digital identity. While Nick Sapanaro made the bold statement: "The glass bottle looks great but it is impossible to get ketchup out. With crypto apps, we're not even at the glass bottle stage. It's like we're just smashing tomatoes with our bare hands," during his talk on Eliminating the Friction Tax on The Path to Mass Adoption.
Blockchain Africa Conference in Johannesburg Day 2
Watch the Day 2 highlights video of the conference in Johannesburg.
 Day 2 of the conference kicked off with Ray Youssef who discussed the unique situation of how African people have adapted to a new financial landscape that has given them the opportunity to take control of how they send, store and spend money through peer-to-peer technology. Nicole Anderson took to the stage after Ray on crypto is an emerging institutional asset class with family offices, hedge funds and broader multi-asset fund managers are entering the game addressing the institutional challenge and opportunity in crypto assets.
Matthew Arnett explained to us what a real Security Token Offering (STO) will look like and why the Bahamas standard is one to follow, as they have created smart contracts that standardize the creation of an STO.  The Bahamas government has been active in drafting legislation for Security Tokens and is working hard to make it easy to launch Security Token Offerings in the country.
Dr. Nthuthuko Bhengu introduced us to blockchain in healthcare. Dr Bhengu highlighted relevant use cases with a particular focus on electronic medical records and how blockchain can facilitate patient-centred care by enhancing interoperability, confidentiality and generally improved doctor-patient engagements. Dr. Bhengu facetiously remarked: "Blockchain was made solely for healthcare patient record-keeping, medicinal supply chain management and healthcare practitioners' management."
Anrich Daseman from the South African Reserve Bank (SARB) addressed the topic of regulatory advancements on crypto assets.  Anrich reiterated: "The Reserve Bank's perspective is that blockchain is a paradigm shift and regulators need to adapt. SARB does not want to stifle innovation but recognises that regulation is necessary to protect investors and those that are not educated about the technology." In response to the concern of regulation on crypto, SARB formed a crypto asset regulatory working group to tackle the regulatory challenge.
The conference continued with Jean Paul Fabri who marvelled the audience on  Malta's perspective on the regulation of ICOs and cryptocurrencies by the Maltese government, who is paving the way to establish Malta as a 'Blockchain Island'. Jean Paul shared on where Malta succeeded in establishing regulations for emerging technology was in its political will and went on to conclude, "The regulation is there as a filter to make sure that the investment opportunity presented by the issuer is real."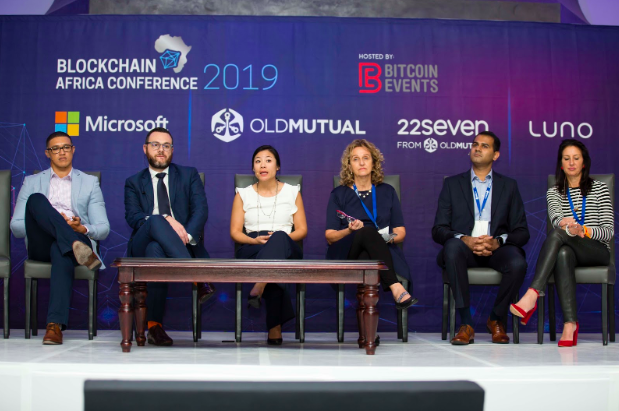 The conference concluded with Loretta Joseph, Charlene Chen and Prof. Angela Itzikowitz who took part in a panel, with other crypto thought leaders the likes of Anrich Daseman, Jean Paul Fabri, Ashlin Perumall, who had tongues wagging on one of crypto's current hot topics, Finding the Balance Between Regulation and Innovation. The panel concluded with: "The big question should not be to regulate or not to regulate. The fact is to regulate but the regulation in itself needs an adaptation and innovation, in order to support, underpin and develop emerging technology both on a country and global level."
Charlene Chen, BitPesa's COO, talks us through the challenge between innovation and regulation, and how you balance the conflicting energies and the management of different stakeholders, in a podcast interview with Think WTF.
The conference proved that people are still passionate about blockchain technology despite the current cryptocurrency bear market. There was a real sense that the hard work was still carrying on and effort was being made to innovate and solve the problems that will propel Africa forward into the future.
Videos of the conference can be viewed on Bitcoin Events' YouTube channel.
Thank you to our sponsors, partners, and exhibitors for helping make the conference a success.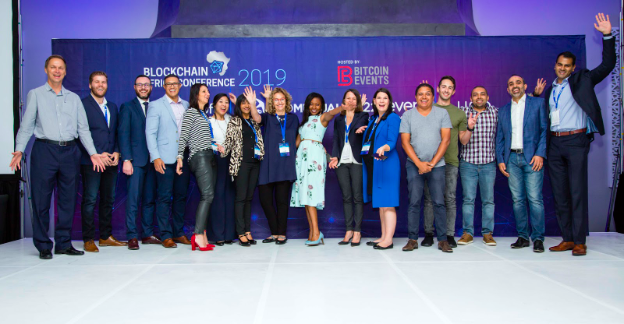 Crypto Conference 2019
We are planning our next event! The Crypto Fest is a one-day gathering on 5 September 2019 in Johannesburg, South Africa, where we will explore the economics, investment, trends, culture, technology, trading, cryptocurrency exchanges and the future of cryptocurrencies.  
For more information on this and future events, please email the team at info@blockchainafrica.co. Subscribe to the Blockchain Africa newsletter to stay informed about next events and news of the global blockchain and cryptocurrency industry.

Amber Group Now Licensed to Operate in Hong Kong With Acquisition of Celera Markets Limited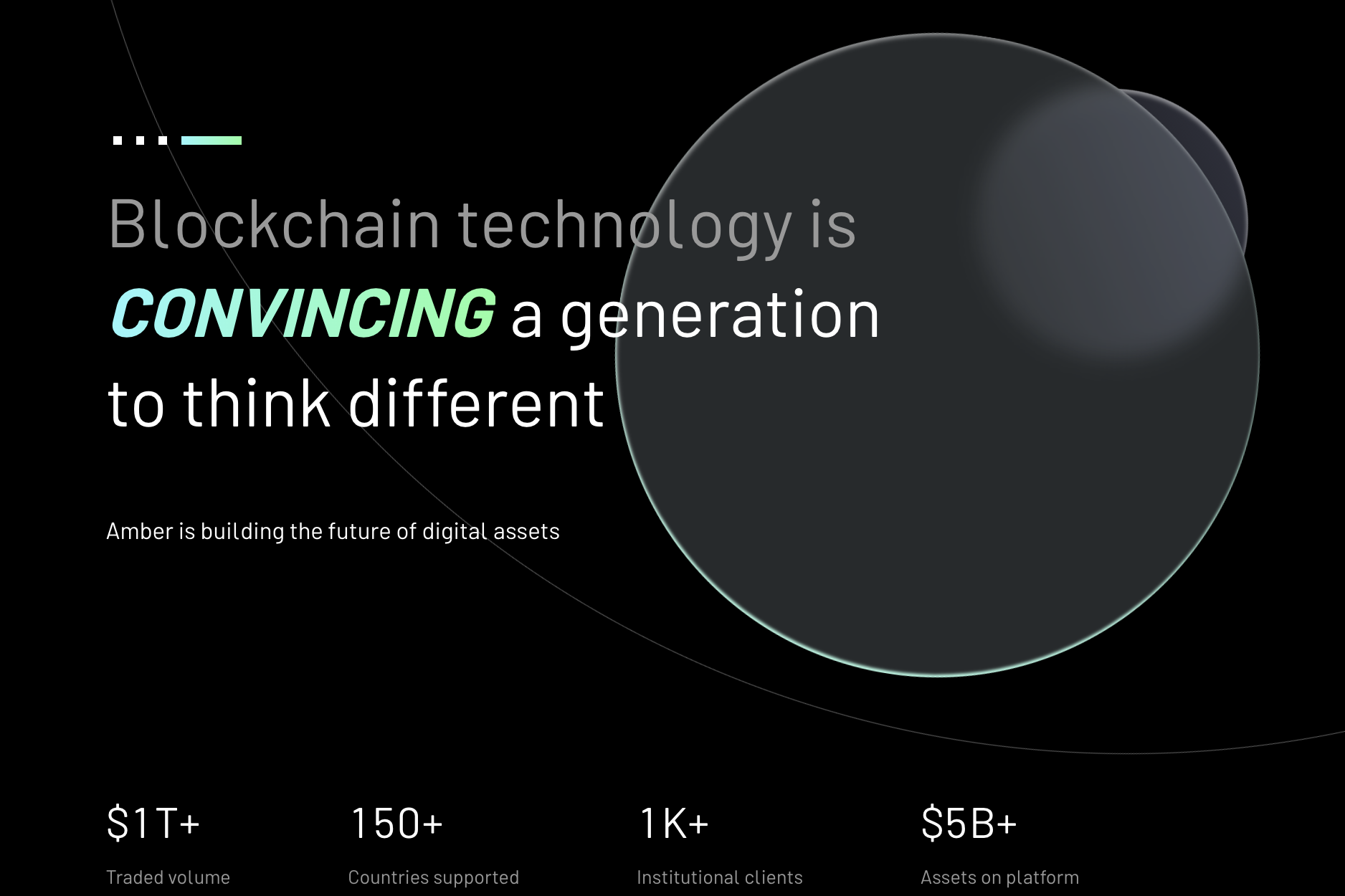 The acquisition enables Amber Group to conduct relevant regulated activities under the auspices of Type 1, 2, 4, 5, and 9 licenses from the Hong Kong Securities and Futures Commission.
SINGAPORE, 14 June 2022 – Amber Group, a leading global digital asset platform, today announced its acquisition of Celera Markets Limited, a fully licensed financial group by the Securities and Futures Commission (SFC) of Hong Kong. The acquisition represents a significant milestone for Amber Group, as it continues to strengthen its product portfolio to bridge the gap between traditional and digital finance globally.
As a licensed corporation under the Hong Kong SFC, Celera Markets is a discretionary asset management firm that engages in traditional securities and derivatives brokerage services, with an emphasis on algorithmic execution spanning global venues and asset management mandates.
The acquisition leverages the synergies between Celera Markets and Amber Group, as the latter sets its sights on broadening its advisory and deals offering for financial instruments while adhering to the regulatory parameters set by the SFC. Through the acquisition, Amber Group has secured five types of SFC licenses – Type 1, 2, 4, 5, and 9 – which allows the company to carry out a broad range of services including advising on and dealing in securities and futures contracts as well as providing asset management services.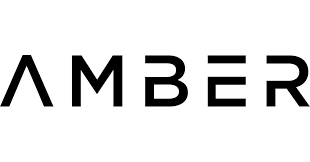 This is a landmark moment for Amber Group amid an increasingly complex regulatory landscape in the finance industry. The acquisition strengthens Amber Group's foothold in Hong Kong, a leading global financial center and one of the world's most active and liquid securities markets, effectively widening the reach of the company's products and services to legacy financial market participants.
"Hong Kong holds tremendous strategic value as a key global finance hub, and we are proud to be integrating the best from traditional and digital finance as we expand our presence in the market. As an asset management player with a decade-long track record, Celera Markets offers valuable market expertise and TradFi experience which is critical to our global mission to facilitate the convergence of TradFi and digital asset finance. This acquisition also marks a significant milestone in Amber Group's commitment to regulatory compliance as we strive to build institutional investors' trust and confidence in crypto assets. As we continue to hold ourselves to the highest compliance standards and win the trust of an SFC-approved institution, we look forward to welcoming a new era of finance in Hong Kong," said Michael Wu, Chief Executive Officer of Amber Group.

Introducing the Next Generation of Trading: EmpireChain Announces Unique New Feature That Makes Profitable Peer-to-Peer Crypto Exchange a Possibility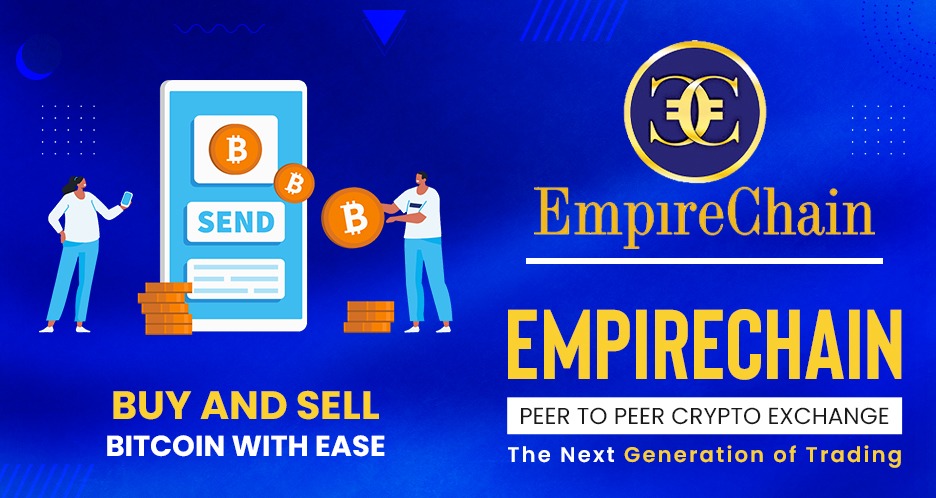 EmpireChain platform is a breakthrough development in the cryptocurrency and blockchain space. The new platform allows users to exchange currency and form a reliable trading community while earning profits by selling cryptocurrency at their own rates.
EmpireChain is now offering people a unique chance to enter the crypto space with confidence and start earning profits with little to no experience. The platform has introduced an innovative peer-to-peer crypto exchange feature that will break many boundaries, and open many doors for people who previously felt like they didn't have enough money to invest in crypto.
In many African countries where people face a lack of online payment sources, EmpireChain will fill a big gap in the market by allowing easy online payment access to all users. By empowering a new generation of traders from all across the world, EmpireChain will diversify the cryptocurrency market with users who bring new dynamics to the table, thus becoming a stepping stone for the evolution of crypto.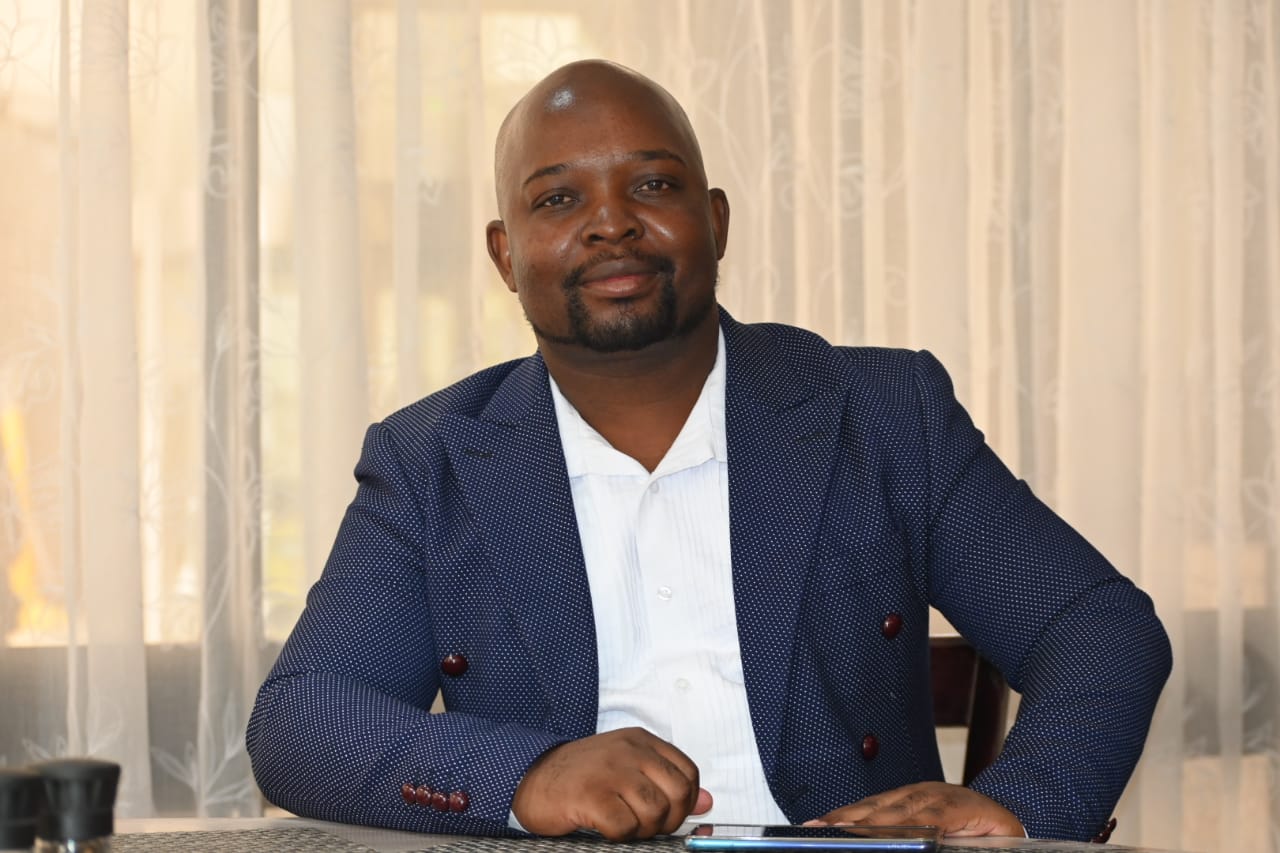 EmpireChain founder Elson Mabhena has been proactively involved in the blockchain and crypto space since 2014.
He is passionate about helping people enter the crypto space and aims to spread his knowledge, skills, and his expertise to a large number of future crypto experts. Over the years, he noticed limitations in the crypto space that stopped some people from investing in cryptocurrency and making a profit. These limitations range from lack of money to be in a geographical location where reliable online payment options are not available, and many more. This gave Mabhena the idea to create a platform that is not only available to users from all across the globe but also allows them to exchange crypto, create a community and forge friendships with crypto enthusiasts.
A spokesperson for EmpireChain made an official statement for the press: "EmpireChain is an easy and innovative solution to the limitations and challenges that come with making a profit from cryptocurrency. For a long time, cryptocurrency has only been available to those who have a large amount of funds to invest, or those who have reliable online payment and crypto platforms available to them. With EmpireChain, a large demographic of people from many parts of the world will finally have access to crypto trading. They will also be able to take advantage of the peer-to-peer exchange feature to easily buy and sell currency."
The spokesperson further explained the peer-to-peer exchange feature "Our peer-to-peer currency exchange feature is a profitable opportunity for traders who want to earn money daily by exchanging crypto or fiat on their own rates. EmpireChain gives users the freedom to use their trading skills to maximize their profits, which means ordinary people with no crypto background can enter the platform. By forming a community with like-minded traders, users can increase their trading knowledge while creating long-term business relationships that will be highly beneficial for them."
With Arbitrage trading and convenient payments in local currencies, EmpireChain is also protected by Escrow to ensure that all users get their payments on time, without any delays or hassle. Furthermore, the company is also offering a unique giveaway for new users.
During its Pre-launch offer, EmpireChain is giving away free Shiba Inu coins to users who register on the company website and verify their details. This gives new users an opportunity to kickstart their crypto journey and start earning profits from the very first day.
Interested people can register now on the official company website at https://empirechain.net.
Twitter: https://twitter.com/EmpireCryptoTv
Instagram: https://www.instagram.com/empire_crypto_tv/
Youtube: https://www.youtube.com/c/EmpireCryptoTv
Disclaimer: This is a press release. Readers should do their own due diligence before taking any actions related to any company, product, or service mentioned in this article. BitcoinAfrica.io is not responsible, directly or indirectly, for any loss or damage caused by or in connection with the use of or reliance on any content, product, or service mentioned in this post. 

Conflux Labs x ChainIDE: Hydra Developer Bootcamp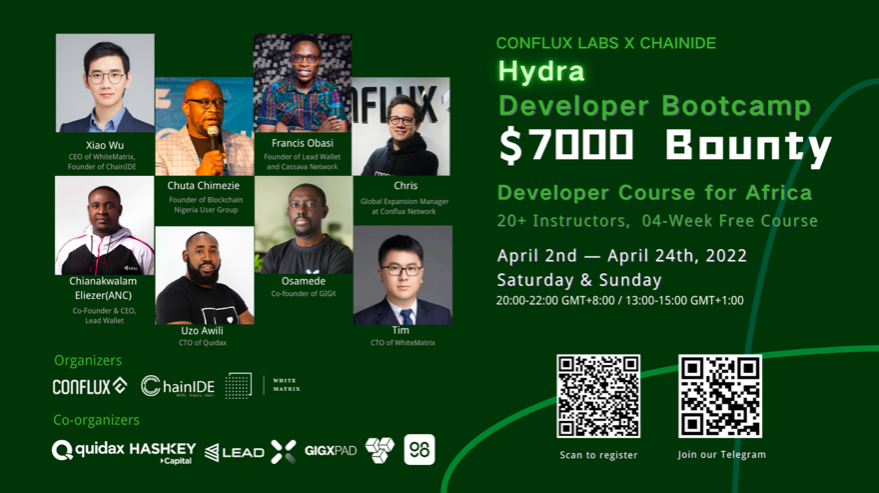 Co-hosted by the Conflux Network and ChainIDE, the Conflux Labs x ChainIDE: Hydra Developer Bootcamp is launching its opening ceremony starts on April 2nd at 1 p.m. UTC+1. In providing cutting-edge knowledge to African developers, the Bootcamp is free to participate with a 7000$+ prize pool to be claimed.
The event is expected to provide African developers with a four-week free course, covering topics from in-depth Africa crypto industry analysis to intensive developer courses for all-level developers. The topics of the courses also cover the most trending fields like Metaverse, Web3.0, and multi-chains, providing both theoretical and practical knowledge to future Web3ers.
Guest speakers of the event include industry pioneers of blockchain technology and the African crypto market, amongst them, will be present the CEO of White Matrix, Global Expansion Manager of Conflux Network, founder of ChainIDE, founder of Lead Wallet, founder of Cassava Network, CTO of Quidax, founder of Blockchain Nigeria User Group, as well as the co-founder of GIGx. More industry pioneers are to be discovered in the short future.
ChainIDE is the world's first cloud-based multi-chain blockchain IDE and has hosted multiple bootcamp events in collaboration with industry leaders including Binance. ChainIDE supports more than 10 well-known blockchain ecosystems including Facebook Diem, AntChain, Ethereum, and Huawei Kunpeng. So far, ChainIDE has helped developers in more than 185 countries, providing over 8.5 million smart contract compilation services and 70 million blockchain middleware traffic.
Conflux is committed to building next-generation blockchain infrastructures, and the Conflux network uses a scalable consensus algorithm based on the tree-graph structure. This solves the problem of wasted computing resources and reduced security caused by forking in highly concurrent networks so that consensus is no longer a bottleneck for blockchain performance. It is worth mentioning that the Conflux network has achieved a high throughput of 3000+ TPS without sacrificing any degree of decentralization, making it an industry pioneer.
Event Registration:
https://docs.google.com/forms/d/e/1FAIpQLScx-OzoePNhf4-w7uo6SAEPT_Ckw9JH7VccyuIq_9askqWF9w/viewform
Latest bootcamp info: