Revisiting the Blockchain Africa Conference 2019 in Johannesburg And Announcing 'Crypto Fest'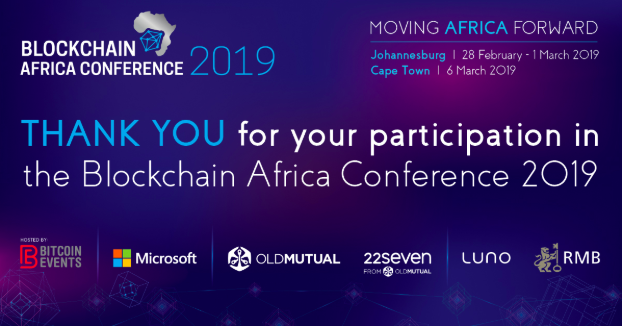 The Blockchain Africa Conference 2019 in Johannesburg saw a gathering of thought leaders and influencers in the blockchain industry exploring blockchain use-cases, such as Self-Sovereign Identity, enterprise blockchain in finance, the future of banking, interoperability and scalability, regulations regarding ICOs, STOs, blockchain technology, and cryptocurrencies.
The conference was a resounding success, as amplified by conference MC, Farzam Ehsani, co-founder and CEO at VALR, "It was inspiring and thought-provoking," and by Michael Glaros, Principal Program Manager, Azure Blockchain at Microsoft, and Diamond Sponsor to the 2019 Conference who said: "I am just so thrilled to be at the Blockchain Africa Conference with Farzam Ehsani, Brian Behlendorf, Phillip Windley and all the other greats here, so that we can come together and hash [pun] things out for a better crypto and Blockchain future, and together we can be moving Africa forward."
Blockchain Africa Conference in Johannesburg Day 1
Watch the Day 1 highlights video of the conference in Johannesburg.
Lorien Gamaroff kicked off proceedings with a presentation about the global state of the blockchain technology, what some of the issues are as well as his views on how this technology allows transactions to be verified. He remarked: "There is no real value in crypto or cash to be anonymous. The value lies in the privacy, not the anonymity, and blockchain could change this in the future."
Lorien's address was followed by the keynote speaker, Brian Behlendorf, Executive Director of Hyperledger Project who engaged the audience with his topic The Post-Lambo Era: Blockchain Technology Gets Real. Blockchain technology is allowing individuals to apply for products and/or services to organisations without the organisations getting access to individuals' private data and information. Brian reinforced that: "Today there are over a hundred deployed distributed ledger networks using blockchain technology to address supply chain traceability, trade finance and global payments, logistics, know-your-customer credit history systems, and many more."
In a podcast interview by Think WTF with Brian, he shares some of the projects that they are working on to give us a practical example of how Hyperledger is solving real problems.
Carel de Jager talked about the idea of stablecoins to help with the price volatility experienced by cryptocurrencies. Stablecoins have their value pegged to something that we regard as stable such as gold or the US dollar. Carel cleverly remarked: "Why do we need stablecoins? Well, because someday central banks will run out of zeroes!"
In a recent interview on Winslyn, Carel speaks about blockchain technology, local applications, and explains how blockchain could potentially help prevent something like the Eskom crisis we are currently facing.
Michael Glaros discussed how Microsoft is working alongside Technobrain to unleash innovation across Southern Africa by employing joint efforts toward scaling blockchain networks with development and operations practices and habits.
While Philip Windley explored the topic of a global public network for self-sovereign identity. The public network will be decentralised, have no single authority and will provide multiple identity sources. Conference proceedings continued with Peter Munnings who informed the audience about Project Khokha, the successful collaboration between the South African Reserve Bank and the major banks in South Africa. The scope of the project was to create a distributed ledger between participating banks, for a wholesale payment system. The project was a huge success and proved that distributed ledger technology could be used for interbank settlements. Project Khokha received the inaugural 'Best Distributed Ledger Initiative' award from the Central Banking Publications at a gala dinner in Singapore.
Panels with blockchain and economic expert Farzam Ehsani and Centbee's Lorien Gamaroff sparked quite the debate as the two panels discussed The Issues and Proposed Solutions for Blockchain Scalability and Enterprise Blockchain in Finance, respectively. The rest of the speaker line-up for the first day included Anushka Soma-Patel who unpacked the practical use of identity wallets and verified claims within ecosystems as we know them today. Ashlin Perumal spoke about self-sovereign identity against the legal backdrop of digital identity. While Nick Sapanaro made the bold statement: "The glass bottle looks great but it is impossible to get ketchup out. With crypto apps, we're not even at the glass bottle stage. It's like we're just smashing tomatoes with our bare hands," during his talk on Eliminating the Friction Tax on The Path to Mass Adoption.
Blockchain Africa Conference in Johannesburg Day 2
Watch the Day 2 highlights video of the conference in Johannesburg.
 Day 2 of the conference kicked off with Ray Youssef who discussed the unique situation of how African people have adapted to a new financial landscape that has given them the opportunity to take control of how they send, store and spend money through peer-to-peer technology. Nicole Anderson took to the stage after Ray on crypto is an emerging institutional asset class with family offices, hedge funds and broader multi-asset fund managers are entering the game addressing the institutional challenge and opportunity in crypto assets.
Matthew Arnett explained to us what a real Security Token Offering (STO) will look like and why the Bahamas standard is one to follow, as they have created smart contracts that standardize the creation of an STO.  The Bahamas government has been active in drafting legislation for Security Tokens and is working hard to make it easy to launch Security Token Offerings in the country.
Dr. Nthuthuko Bhengu introduced us to blockchain in healthcare. Dr Bhengu highlighted relevant use cases with a particular focus on electronic medical records and how blockchain can facilitate patient-centred care by enhancing interoperability, confidentiality and generally improved doctor-patient engagements. Dr. Bhengu facetiously remarked: "Blockchain was made solely for healthcare patient record-keeping, medicinal supply chain management and healthcare practitioners' management."
Anrich Daseman from the South African Reserve Bank (SARB) addressed the topic of regulatory advancements on crypto assets.  Anrich reiterated: "The Reserve Bank's perspective is that blockchain is a paradigm shift and regulators need to adapt. SARB does not want to stifle innovation but recognises that regulation is necessary to protect investors and those that are not educated about the technology." In response to the concern of regulation on crypto, SARB formed a crypto asset regulatory working group to tackle the regulatory challenge.
The conference continued with Jean Paul Fabri who marvelled the audience on  Malta's perspective on the regulation of ICOs and cryptocurrencies by the Maltese government, who is paving the way to establish Malta as a 'Blockchain Island'. Jean Paul shared on where Malta succeeded in establishing regulations for emerging technology was in its political will and went on to conclude, "The regulation is there as a filter to make sure that the investment opportunity presented by the issuer is real."
The conference concluded with Loretta Joseph, Charlene Chen and Prof. Angela Itzikowitz who took part in a panel, with other crypto thought leaders the likes of Anrich Daseman, Jean Paul Fabri, Ashlin Perumall, who had tongues wagging on one of crypto's current hot topics, Finding the Balance Between Regulation and Innovation. The panel concluded with: "The big question should not be to regulate or not to regulate. The fact is to regulate but the regulation in itself needs an adaptation and innovation, in order to support, underpin and develop emerging technology both on a country and global level."
Charlene Chen, BitPesa's COO, talks us through the challenge between innovation and regulation, and how you balance the conflicting energies and the management of different stakeholders, in a podcast interview with Think WTF.
The conference proved that people are still passionate about blockchain technology despite the current cryptocurrency bear market. There was a real sense that the hard work was still carrying on and effort was being made to innovate and solve the problems that will propel Africa forward into the future.
Videos of the conference can be viewed on Bitcoin Events' YouTube channel.
Thank you to our sponsors, partners, and exhibitors for helping make the conference a success.
Crypto Conference 2019
We are planning our next event! The Crypto Fest is a one-day gathering on 5 September 2019 in Johannesburg, South Africa, where we will explore the economics, investment, trends, culture, technology, trading, cryptocurrency exchanges and the future of cryptocurrencies.  
For more information on this and future events, please email the team at info@blockchainafrica.co. Subscribe to the Blockchain Africa newsletter to stay informed about next events and news of the global blockchain and cryptocurrency industry.
Blockchain Africa Conference 2020 Announces Binance as a Premier Sponsor

Bitcoin Events is pleased to announce Binance as Premier Sponsor of the Blockchain Africa Conference 2020
Binance, the world's largest crypto exchange by daily trading volume, is expanding its operations in Africa and is a proud sponsor of the Blockchain Africa Conference 2020. Binance was founded by CEO Changpeng Zhao (CZ) in 2017 and is now the top global trading platform for over 100 cryptocurrencies.
At the Blockchain Africa Conference 2020, Binance will detail its expansion efforts into South Africa as well as its projects and initiatives with the Binance Charity Foundation.
"Binance is proud to be open for business in South Africa, which is one of the most exciting markets for crypto," CZ said.
The company's first expansion on the African continent was in Uganda in 2018 when it opened the first fiat-crypto exchange with trading pairs with the Ugandan Shilling. Binance also partnered with a global payment technology company allowing Nigerians to purchase BTC, BUSD, BNB with Naira (NGN) with debit and credit cards.
"Binance is dedicated to increasing the freedom of money and the advancement of blockchain technology. The African continent is a major part of this mission – where millions are unbanked but remain innovative in their use of technology. The Blockchain Africa conference is leading conversations around cryptocurrency and blockchain technology in Africa and Binance is keen to communicate with key industry stakeholders and thought leaders in Africa to jointly promote technology evolution in this new era across the continent," he added.
See You at the Blockchain Africa Conference 2020 in Johannesburg!
<< REGISTER NOW for the Blockchain Africa Conference 2020 >>
Disclaimer: This is a press release. Readers should do their own due diligence before taking any actions related to the company, product or service. BitcoinAfrica.io is not responsible, directly or indirectly, for any loss or damage caused by or in connection with the use of or reliance on any content, product or service mentioned in this press release.
Terrabit Enables Web Staking for CREDIT Token Holders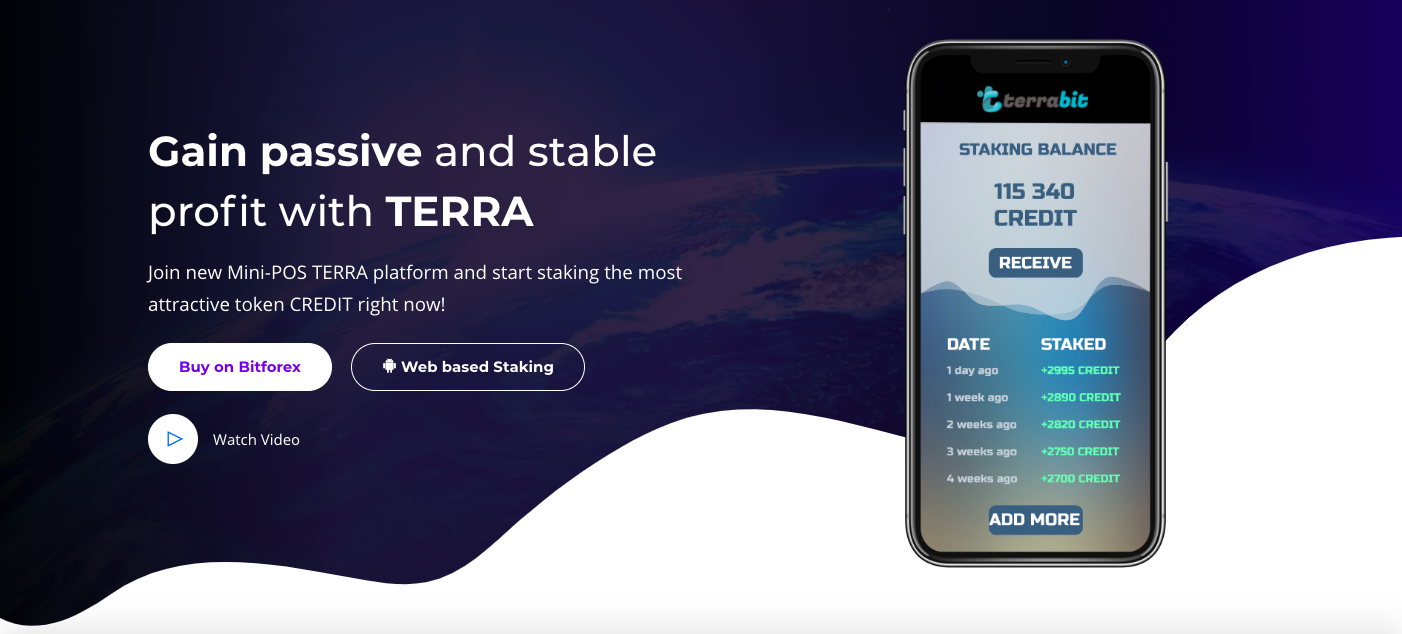 JOHANNESBURG, South Africa, Feb. 15, 2020 — Leading South African blockchain company Terrabit has announced the launch of web staking for its digital currency credit (CREDIT) to enable anyone with an internet connection to earn staking rewards.
Terrabit is a South African cryptocurrency exchange that offers fiat-to-crypto services in five African countries. The trading platform features all major coins and pays 100% of fees to users through referral. At Terrabit's core, it offers users a decentralised digital payment solution and a hybrid PoW/PoS blockchain, CREDIT.
Terrabit provides CREDIT holders with a range of exchange options, zero transaction fees, and fast payments. Additionally, the company provides a staking platform and wallet, MiniPOS, which offers the most straightforward and rewarding CREDIT "mining" solution available on any digital device.
Now, CREDIT holders can also stake their tokens online to earn up to 100% staking reward per annum via Terrabit simple-and-easy-to-use web staking platform. This enables anyone with an internet connection to earn staking rewards when holding CREDIT.
CREDIT web staking features include:
Web-based CREDIT staking up to 100% per year
Profit is paid hourly
No lock-in period
5 level referral
Easy-to-use
Daniele Marco Ronchese, founder of TerraBit and creator of CREDIT, said: "We are delighted to introduce web staking as a service to CREDIT holders as a new and convenient way to earn staking rewards."
"Cryptocurrency staking has traditionally involved a complicated technical setup that has acted as a barrier to entry for the average investor. With our new web staking offering, we can empower all digital currency investors – big and small – to start earning staking rewards simply by holding their tokens on our secure online platform."
To learn more about Terrabit, CREDIT and web staking, visit www.terra-bit.io.
Disclaimer: This is a paid press release. Readers should do their own due diligence before taking any actions related to the company, product or service. BitcoinAfrica.io is not responsible, directly or indirectly, for any loss or damage caused by or in connection with the use of or reliance on any content, product or service mentioned in this press release.
30% Club – A Trading Club for Nigerian Millennials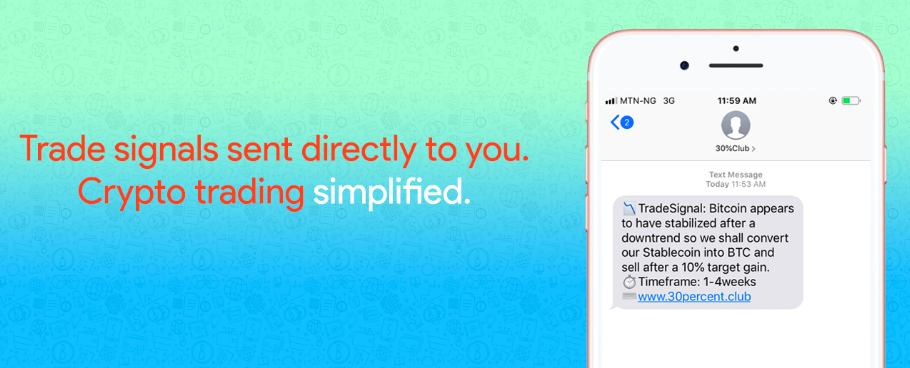 30% Club – a crypto trading club created for millennials – has launched its platform after six months in stealth mode. The investment club aims to be the go-to for educational and advisory resources for digital assets. By breaking the barrier to crypto investing we serve as a bridge for Nigerians looking to profit from crypto. 
The club is non-custodial which means members handle & manage their capital personally. 30%Club does not invest nor trade on behalf of the public. We simply provide educational and advisory services to our members. Users who sign-up have access to a dashboard with educational resources, market insights, instructional videos & trade signals. 
Crypto is a next-generation asset class, the club helps you navigate profitably in this wild, volatile but lucrative market. We simplify crypto trading, breaking down the skill barriers while bridging the knowledge gap. The club provides a seamless educational experience & on-boarding into crypto trading. Our trade signals target 30% accumulated returns within 6-12 months.
Davidson Atere-Roberts, founder of the club, adds we are extremely bullish about the long term prospects of Bitcoin as an asset class. As the digital asset industry matures there are still regulatory & adoption challenges also quite a lot of scams tbh. The problem the club is trying to solve is clear, Crypto is complex so most folks who want to dabble are confused and scared not forgetting the trauma from the last crypto bubble burst. Our value proposition is precise: simplifying crypto investing while employing disciplined trading strategies.
Join us at the trading club that helps African millennials profit from crypto! 
You can access the 30%Club on www.30percent.club and interact on Twitter @30clubng.
Disclaimer: This is a paid press release. Readers should do their own due diligence before taking any actions related to the company, product or service. BitcoinAfrica.io is not responsible, directly or indirectly, for any loss or damage caused by or in connection with the use of or reliance on any content, product or service mentioned in this press release.