VibraVid: A Solution to YouTube Woes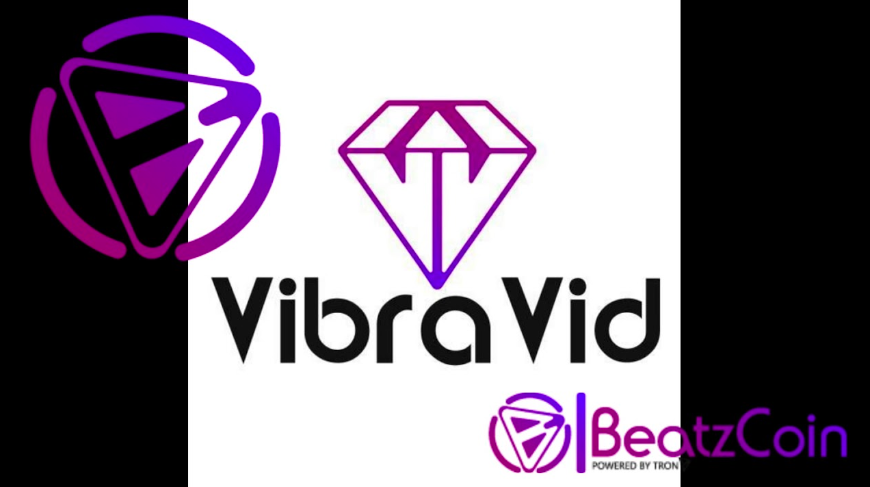 We mostly use the internet nowadays, even children at their very young ages are hooked on to the gadgets and the internet. They even have their own YouTube stars and sensations. Indeed, Ryan of Ryan Toys Review was recorded by Forbes as YouTube's highest-earning star, raking in $22m.  
The young boy was asked by the NBC, why kids liked watching his videos, Ryan – who is now eight – replied: "Because I'm entertaining and I'm funny."
Every toy that he features on his blog was instantly selling out making him get more sponsors, doubling his net worth. 
When you gave your smartphone to your child and they started to play random videos on YouTube, did they get a penny from watching them? Aside from gadgets being harmful to mental health and eyesight if they're spending more time on the internet, maybe they can learn some words and things from it. The video creator will surely earn when your kiddo watches the videos, what about your child? Absolutely not.
On the other hand, old vloggers may be lucky as they already built a strong fan base before this industry hit the market so hard, but things are not in favor of new YouTube vloggers. Huge numbers of them are struggling to promote their contents. Simply because there are too many of them competing now. They're having a hard time gaining real followers that will support them from start to end. It becomes a competition where things are really unfortunate and makes them lose their passion.
As we stand on the threshold of the next wave of the digital content revolution with the emergence of the Internet of Things (IoT), this digital content vulnerability could become more than problematic unless we transform the basic platform that we use.
What if we combine it with Blockchain?
What if we tokenise everything?
What if we use the platform, VIBRAVID? 
VibraVid is a decentralised online sharing platform built on the TRON blockchain that's aiming to become a decentralised answer to the industry giants like YouTube. The platform aims to transform how consumers interact with digital content and in the process increase the revenue potential for content creators.
VibraVid aims to deliver content directly from creators to users, thereby eliminating the presence of intermediaries in the form of record companies, labels, physical media manufacturers, banking organisations, etc. As a result, internal reserves for revenue creators of content will be significantly increased.  
In the VibraVid Platform, both content creators and fans/listeners can earn money with the innovation of Blockchain.
What is BeatzCoin? 

BeatzCoin is a cryptocurrency that has value, just like Bitcoin (BTC), and is used in transactions and functions in the VibraVid platform. It is built on the Tron (TRX) network. With Tron, MainNet will be used for all cryptocurrency transactions made between users. Transactions made within the platform, between wallets have been tested to be confirmed in 3-5 seconds. BeatzCoin can be bought and used to pay for video and audio content, marketing and advertising by users, creators and advertisers. You can also earn BeatzCoin through airdrops, bounties, content creation, publishing, promotion, sales, rentals, events, event tickets, fan merchandise, tips, crowdfunding donations and staking. 
BeatzCoin was endorsed by the famous blockchain influencer John McAfee, who is an outspoken member of the team. They have recently completed the private beta test and will launch the app publicly as early as July 31st.
Making money is now easy, but remember, just because you made a lot of money doesn't mean you know how to spend or invest it well. Do not lose faith because you're struggling with platforms such as YouTube, there is an alternative, VibraVid. Continue making great content, continue positively influencing people's lives, but get what you deserve, be a pioneer with VibraVid.
For more information please direct to our official pages: 
Website | Whitepaper | Artist Accelerator | Bounty Campaign | English Telegram community more than 19,300 members | Korean Telegram Community with  835 members | Twitter | YouTube | Facebook | Discord | Reddit | Ann Thread
Disclaimer: This is a paid press release. Readers should do their own due diligence before taking any actions related to the company, product or service. BitcoinAfrica.io is not responsible, directly or indirectly, for any loss or damage caused by or in connection with the use of or reliance on any content, product or service mentioned in this press release.

Introducing the Next Generation of Trading: EmpireChain Announces Unique New Feature That Makes Profitable Peer-to-Peer Crypto Exchange a Possibility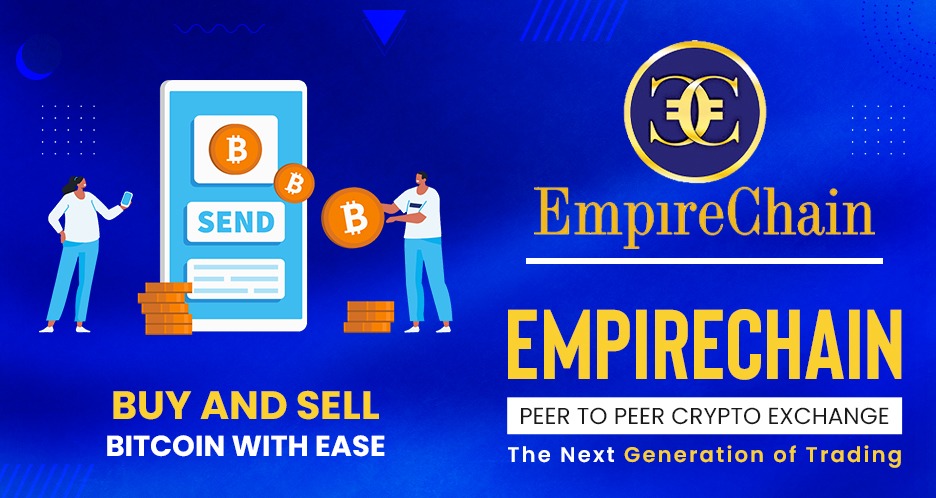 EmpireChain platform is a breakthrough development in the cryptocurrency and blockchain space. The new platform allows users to exchange currency and form a reliable trading community while earning profits by selling cryptocurrency at their own rates.
EmpireChain is now offering people a unique chance to enter the crypto space with confidence and start earning profits with little to no experience. The platform has introduced an innovative peer-to-peer crypto exchange feature that will break many boundaries, and open many doors for people who previously felt like they didn't have enough money to invest in crypto.
In many African countries where people face a lack of online payment sources, EmpireChain will fill a big gap in the market by allowing easy online payment access to all users. By empowering a new generation of traders from all across the world, EmpireChain will diversify the cryptocurrency market with users who bring new dynamics to the table, thus becoming a stepping stone for the evolution of crypto.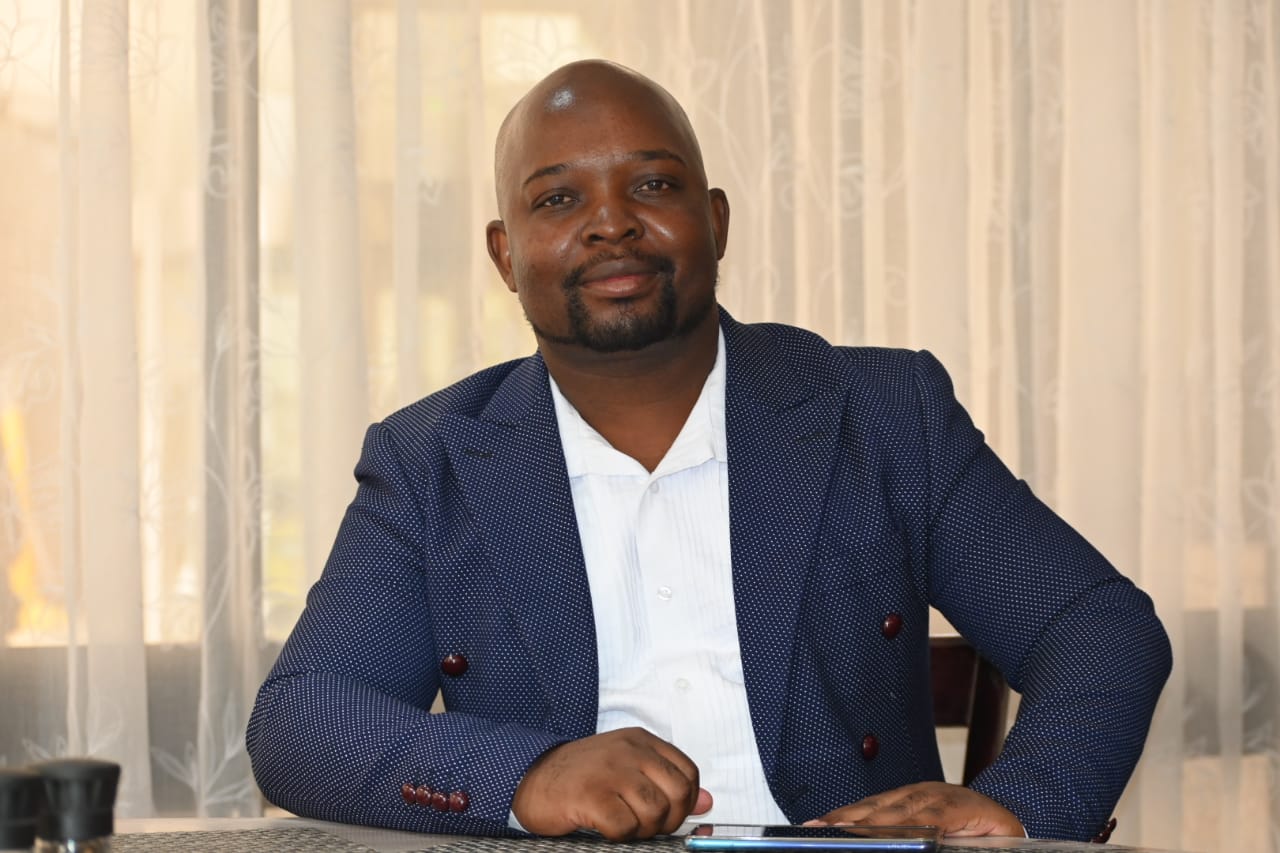 EmpireChain founder Elson Mabhena has been proactively involved in the blockchain and crypto space since 2014.
He is passionate about helping people enter the crypto space and aims to spread his knowledge, skills, and his expertise to a large number of future crypto experts. Over the years, he noticed limitations in the crypto space that stopped some people from investing in cryptocurrency and making a profit. These limitations range from lack of money to be in a geographical location where reliable online payment options are not available, and many more. This gave Mabhena the idea to create a platform that is not only available to users from all across the globe but also allows them to exchange crypto, create a community and forge friendships with crypto enthusiasts.
A spokesperson for EmpireChain made an official statement for the press: "EmpireChain is an easy and innovative solution to the limitations and challenges that come with making a profit from cryptocurrency. For a long time, cryptocurrency has only been available to those who have a large amount of funds to invest, or those who have reliable online payment and crypto platforms available to them. With EmpireChain, a large demographic of people from many parts of the world will finally have access to crypto trading. They will also be able to take advantage of the peer-to-peer exchange feature to easily buy and sell currency."
The spokesperson further explained the peer-to-peer exchange feature "Our peer-to-peer currency exchange feature is a profitable opportunity for traders who want to earn money daily by exchanging crypto or fiat on their own rates. EmpireChain gives users the freedom to use their trading skills to maximize their profits, which means ordinary people with no crypto background can enter the platform. By forming a community with like-minded traders, users can increase their trading knowledge while creating long-term business relationships that will be highly beneficial for them."
With Arbitrage trading and convenient payments in local currencies, EmpireChain is also protected by Escrow to ensure that all users get their payments on time, without any delays or hassle. Furthermore, the company is also offering a unique giveaway for new users.
During its Pre-launch offer, EmpireChain is giving away free Shiba Inu coins to users who register on the company website and verify their details. This gives new users an opportunity to kickstart their crypto journey and start earning profits from the very first day.
Interested people can register now on the official company website at https://empirechain.net.
Twitter: https://twitter.com/EmpireCryptoTv
Instagram: https://www.instagram.com/empire_crypto_tv/
Youtube: https://www.youtube.com/c/EmpireCryptoTv
Disclaimer: This is a press release. Readers should do their own due diligence before taking any actions related to any company, product, or service mentioned in this article. BitcoinAfrica.io is not responsible, directly or indirectly, for any loss or damage caused by or in connection with the use of or reliance on any content, product, or service mentioned in this post. 

Conflux Labs x ChainIDE: Hydra Developer Bootcamp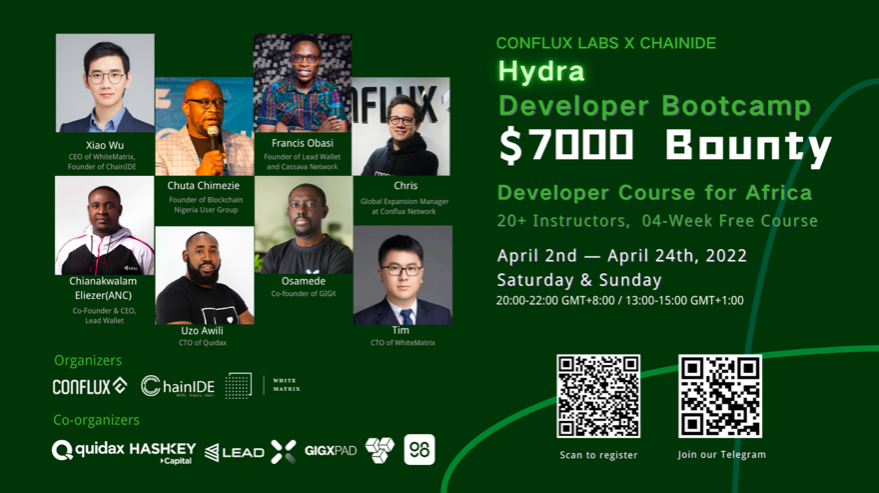 Co-hosted by the Conflux Network and ChainIDE, the Conflux Labs x ChainIDE: Hydra Developer Bootcamp is launching its opening ceremony starts on April 2nd at 1 p.m. UTC+1. In providing cutting-edge knowledge to African developers, the Bootcamp is free to participate with a 7000$+ prize pool to be claimed.
The event is expected to provide African developers with a four-week free course, covering topics from in-depth Africa crypto industry analysis to intensive developer courses for all-level developers. The topics of the courses also cover the most trending fields like Metaverse, Web3.0, and multi-chains, providing both theoretical and practical knowledge to future Web3ers.
Guest speakers of the event include industry pioneers of blockchain technology and the African crypto market, amongst them, will be present the CEO of White Matrix, Global Expansion Manager of Conflux Network, founder of ChainIDE, founder of Lead Wallet, founder of Cassava Network, CTO of Quidax, founder of Blockchain Nigeria User Group, as well as the co-founder of GIGx. More industry pioneers are to be discovered in the short future.
ChainIDE is the world's first cloud-based multi-chain blockchain IDE and has hosted multiple bootcamp events in collaboration with industry leaders including Binance. ChainIDE supports more than 10 well-known blockchain ecosystems including Facebook Diem, AntChain, Ethereum, and Huawei Kunpeng. So far, ChainIDE has helped developers in more than 185 countries, providing over 8.5 million smart contract compilation services and 70 million blockchain middleware traffic.
Conflux is committed to building next-generation blockchain infrastructures, and the Conflux network uses a scalable consensus algorithm based on the tree-graph structure. This solves the problem of wasted computing resources and reduced security caused by forking in highly concurrent networks so that consensus is no longer a bottleneck for blockchain performance. It is worth mentioning that the Conflux network has achieved a high throughput of 3000+ TPS without sacrificing any degree of decentralization, making it an industry pioneer.
Event Registration:
https://docs.google.com/forms/d/e/1FAIpQLScx-OzoePNhf4-w7uo6SAEPT_Ckw9JH7VccyuIq_9askqWF9w/viewform
Latest bootcamp info:

Amber Group Strengthens Management Team with Ehsan Haque as EMEA General Counsel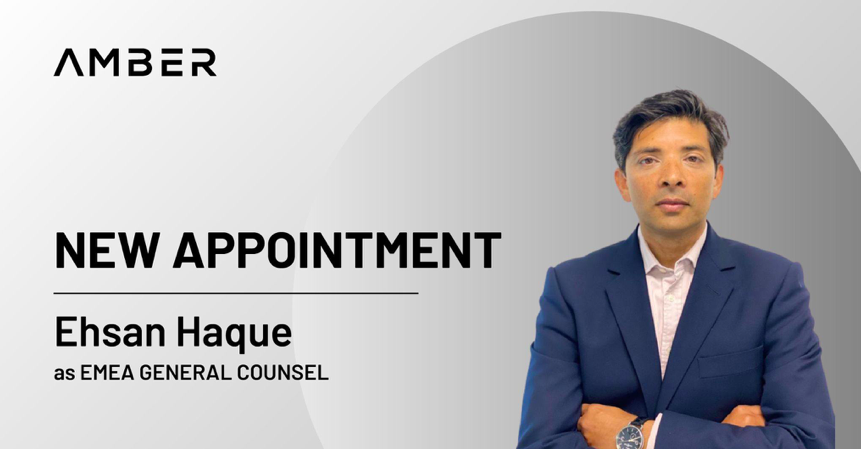 SINGAPORE, 21 March 2022 — Amber Group, a leading global digital asset platform, is proud to announce the appointment of Ehsan Haque as its General Counsel for the Europe, Middle East and Africa region (EMEA). Amber Group's latest appointment comes amid the company's global expansion plans and its ambitious licensing and regulatory roadmap. The company, now valued at US$3 billion following two successful Series B and Series B+ rounds, has since been expanding with new offices worldwide and regulatory licenses secured in Europe, Latin America and Asia.
As Amber Group's General Counsel, Ehsan will work closely with Chief Operating Officer (COO) Wayne Huo to lead Amber Group's legal and regulatory risk management in the EMEA region, and ultimately deepen the company's relationship with regulatory authorities in these markets.
Ehsan joins Amber Group after an illustrious career as an in-house counsel at various established investment banks, broker dealers, private equity firms and fintech start-ups. Ehsan trained at renowned international law firm, Slaughter and May, before joining Deutsche Bank as an in-house counsel, overseeing Equities Sales Trading and Global Markets Derivatives. He later joined Royal Bank of Scotland (RBS) Global Banking and was part of the senior management team at Nomura's EMEA Legal Department where he led the Equities legal product coverage for the region.
Ehsan was most recently a General Counsel at two different fintech start-up businesses, including Lendingblock, a cryptocurrency borrowing and lending platform. He served as Global General Counsel at a private equity firm that has US$13B AUM across the fintech and digital assets space prior to joining Amber Group. Ehsan also acts as an advisor to a leading fintech accelerator and was featured in The Lawyer Hot 100 2022 list.
"I am excited to be joining Amber Group at this stage of its incredible growth journey so far. The regulatory landscape for digital assets is ever-evolving and these coming few years will be defining ones for the industry as we work towards securing eventual regulatory clarity across the EMEA region and the world. I look forward to supporting the company's growth and to guiding the legal and regulatory risk management as part of Amber Group's strategy in the EMEA region," says Ehsan Haque.
"The EMEA region has long been a strategic market for Amber Group as the region has led a variety of neobank and neobroker-related innovations for the global financial ecosystem. We are proud to be welcoming Ehsan who makes a great addition to our team at Amber Group. With his strong track record in both traditional finance and emerging fintech start-ups, we are excited to work with Ehsan and build a strong regulatory framework that supports the viability and utility of new industry innovations in the EMEA region and accelerate the company into the next phase of growth," says Amber Group Global COO, Wayne Huo.
###
Media Contact
Stella Wang
About Amber Group
Amber Group is a leading digital asset platform operating globally with offices in Asia, Europe, and the Americas. The firm provides a full range of digital asset services spanning investing, financing, and trading, servicing over 1,000 institutional clients and a growing number of individual investors worldwide.
For more information, please visit www.ambergroup.io.