Big Names Take to the Stage at Crypto Fest 2019 in South Africa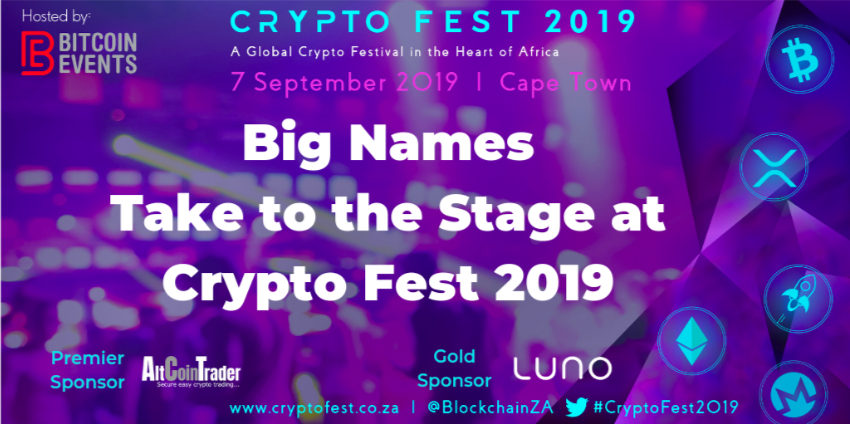 Bitcoin Events is hosting the first-ever Crypto Festival in Cape Town on 7 September 2019 at Shimmy Beach Club, V&A Waterfront. 
This is the first event of its kind in South Africa and with the tremendous interest in cryptocurrencies that exist in South Africa, this event is certainly going to provide several insights into why South Africans are investing in and trading with cryptocurrencies!
According to a global survey by social media management company Hootsuite and global agency Wearesocial, South Africa has been ranked as the top country for ownership of cryptocurrency. The survey found that 10.7 percent of internet users in the country own cryptocurrency. 
Africa is embracing the digital revolution!
Bitcoin is now 10 years old and with it has come a plethora of exciting new ways to transact, invest, trade and conduct business. The Crypto Fest will showcase these exciting innovations with well-known local and international speakers who have created businesses, products, and services using cryptocurrencies. 
One of South Africa's first cryptocurrency exchanges, AltCoinTrader SA is the official Premier Sponsor of the Crypto Fest 2019. AltCoinTrader provides cryptocurrency trading in South Africa since 2015. 
The main vision of the exchange, according to Founder and Senior Partner, Richard de Sousa, is to provide easier accessible cryptocurrencies to communities that struggle with traditional banking systems.
The demand for altcoins in the country is rapidly growing, and often local exchanges with fiat on-ramps are used as a gateway to international exchanges to facilitate top performing cryptocurrency acquisitions. AltCoinTrader has identified a niche space and has listed the top 20 CoinMarketCap coins on its platform to provide traders with easy access to these markets.
Keynote Speaker at Crypto Fest 2019
Founder of AltCoinTrader

Thanks to the invention of Bitcoin by Satoshi Nakamoto, new global financial systems now exist, those of decentralised cryptocurrencies and tech giants' coins such as Facebook's Libra. How will these new financial systems affect how we live and transact, and how will governments control these new systems?

Richard de Sousa, Founder of AltCoinTrader will set the scene in his Keynote address discussing the 'Trends and Overview of the Crypto Landscape'.

AltCoinTrader was developed by Richard in 2014 and as an early adopter of Bitcoin, he wanted to bring cryptocurrency to the local South African community as buying cryptocurrencies from any exchange overseas was difficult and cumbersome.
Put your brand on the throne
We invite you to partner with Bitcoin Events and sponsor this exciting event. Showcase your brand, product, and services to our global audience. The Crypto Fest sponsorship packages provide extensive exposure, leading up to, during, and after the festival. If you would like to receive more information about the sponsorship opportunities, please email us at info@blockchainafrica.co.
What You Can Expect at the Crypto Fest
This one-day event will be moving away from the traditional conference and exhibition model, into a ground-breaking festival of engaging, thought-provoking and quality content on three stages, driving meaningful discussion and debate on how best to accelerate global adoption of cryptocurrencies. Crypto Fest 2019 strives to bring cryptocurrencies to life through immersive activities showcasing examples of real-world application and increased engagement opportunities to make the connections needed to expedite cryptocurrency adoption through controversial crypto debates in the Crypto Battle Arena, live crypto gaming and fun competitions with crypto giveaways. The festival will culminate with a crypto party!
Crypto Battle I: Battle of the Coins

The Bitcoin Civil War between BTC, BCH, and BSV is hotter than ever, with existential stakes for different communities of stakeholders. Many different opinions exist in the crypto community on which bitcoin is the true bitcoin: which is the most efficient payment system, what is the most efficient block size limit and which of these are as per Satoshi Nakamoto's Whitepaper, 'Bitcoin, A Peer-to-Peer Electronic Cash System'. Each participant will make their case for the bitcoin they support after which each will have the opportunity to respond to the other participants. The audience will have the opportunity to pose a question that the moderator will ask via our Twitter event hashtag, #CryptoFest2019. Less fighting and more buidl-ing is the only win-win scenario here. Catch Lorien Gamaroff, Rocelo Lopes and Warren Gray in this crypto battle ring, with James Preston as the mediator.
Crypto Battle II: Crypto Whales vs. the Small Fish
Crypto whales get accused of market manipulation and dirty tactics, and can cause market prices to drop or rise within minutes by dumping a huge amount of coins at once. However, not all crypto whales are sharks. And while that might be true for some whales, it is a broad and unjustified generalization to presume that all of them are solely focused on market manipulation. Price manipulation tactics occur in every market and are illegal in regulated markets which is not the case in the current crypto unregulated market. Join Graeme Tennant at our Whales vs. the Small Fish crypto battle, moderated by Grey Jabesi, which will look at how whales influence the crypto market and what tactics they use to create FOMO in the market.
Crypto Battle III: Libra Coin: What Does it Mean for Crypto?  
It is no more news that Facebook is taking a chunk of its resources and technical know-how to establishing a coin, Libra, offering a "faster, cheaper and more secure" alternative to traditional ways of making payments on the internet, according to reports. Regardless of all the details surrounding the introduction of this ambitious project, one thing is clear: over 2 billion people would have seamless access to Libra. Therefore, regulations, use case, its influence on the crypto market, as well as the financial industry, has come under unprecedented scrutiny.
This battle, moderated by Farzam Ehsani, will consider the various pros and cons of Libra, what it means for the crypto industry, consumers and regulators including the impact on other cryptocurrencies.
We are delighted to welcome our confirmed speakers who are recognised as thought leaders in the cryptocurrency industry! Read more about the speakers here, and view the thought-provoking programme here.
About Bitcoin Events

Since inception, Bitcoin Events have cut through the hype and challenged the critics to educate, upskill and drive long-term thinking on the strategic benefits of cryptocurrencies and blockchain technology for businesses, governments, citizens, and society.
For more information on the Crypto Fest visit our website at www.cryptofest.co.za or email us at info@blockchainafrica.co 
See You at the Crypto Fest 2019 in Cape Town!
Buy your Crypto Fest 2019 Ticket Now

Disclaimer: This is a press release. Readers should do their own due diligence before taking any actions related to the company, product or service. BitcoinAfrica.io is not responsible, directly or indirectly, for any loss or damage caused by or in connection with the use of or reliance on any content, product or service mentioned in this press release.
BMW and $100,000 Worth Prizes to Grab to Celebrate Listing of FESS on DigiFinex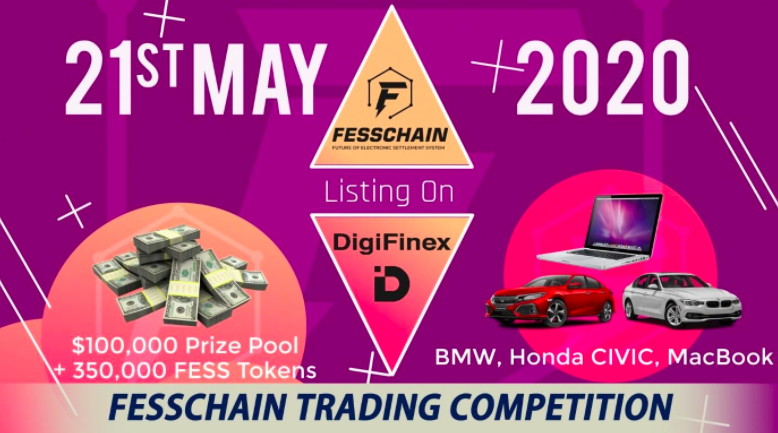 If you are a pro trader then FESS is coming with a Trade competition on 21st May which also marks its first Public listing. FESSChain is so excited to announce the 'Hottest Crypto Trade Fest of the Year 2020' on DigiFinex.
3 Lucky Winners will compete for a prize pool of S100,000 for fess trading contest starting from 21st May 2020. The winners can take home a classy BMW 3 Series Car, Honda Civic, and a 16" MacBook Pro. Additionally, another event starting on DigiFinex from June 2, 2020, has 350,000 tokens to offer via airdrop, trading, and staking activities.
A Grand Prize is always better than a prize and such competitions don't always come. So, it's a golden opportunity for crypto traders across the world.
You must be curious by now what to do in order to get these grand rewards from us! So, you need to be following these steps to be eligible to join the participant pool.
FESSChain IEO on DigiFinex
FESS Initial Exchange Offering (IEO) concluded on DigiFinex exchange on March 1, 2020. The IEO (or super sale) was a smashing success and hit the hard cap of $ 8.76 million in a matter of just 43 seconds. It received an overwhelming response from investors. The IEO didn't only reach the hard cap within a few eye blinks but also got oversubscribed by almost 2x margin.
Prizes
Terms and Conditions:
FESSChain is inviting crypto traders from across the world to participate in FESSChain grand Trading Fest. You need to be following these conditions to join the pool of claimants:
To become eligible for this contest all you need is to trade FESS on DigiFinex in the

FESS/USDT pair

during the contest period.

Users whose

Net purchase is of more than 1 million

will be eligible for this reward.




Here FESS net purchase = Buying volume – Selling volume

The competition will start from May 21, 2020, at 20:00 and will remain live until June 9, 2020 (GMT+8).

Based on participants' trading volume, they will be ranked on DigiFinex and the

three lucky winners will be announced at the end of the competition

.
To Know better about this Contest and Participate kindly Visit: DigiFinex dedicated Section
Now, this listing event calls for Additional rewards of 350,000 FESS tokens. This event will be divided in 2 stages whose details can be found here:
Stage One: Listing Airdrop of FESS
Rank Top 200 in net purchase competition
During the activity, users will be ranked according to
FESS net purchase (net purchase = buying volume-selling volume)
**Consolation prize for net purchase competition
During the activity, users whose net purchase of FESS ≥ 2,000 but who are not in the top 200 will receive 30 FESS tokens, with 15,000 FESS Tokens in total for this reward.
Trade FESS
During the activity, users who trade FESS with transaction volume ≥100 FESS will be rewarded 5 FESS, and a total of 10,000 FESS will be rewarded.
Promote FESS
During the activity, you can follow DigiFinex's official Twitter (t.co/digifinex) or Facebook account (fb.com/digifinex.global) and FESS's official Twitter (t.co/fesschain) and forward any FESS activity posts. Screenshot and register it in the form and you can share 15,000 FESS with other participants.
Stage Two: FESS Q&A Reward
Time: June 2, 2020 10:00 — June 9, 2020 20:00(GMT+8)
1.Airdrop in FESS communities
Gather your friends and join DigiFinex Telegram group during the event period in order to gain exclusive access to the passwords required to unlock the red packets!
2. H5 page for FESS Q&A
Open H5 page for FESS Q&A to answer the questions. Users who correctly answer all questions can share reward of 60,000 FESS.
The Q&A H5 page will be published on June 1, please pay attention to the content of the announcement by DigiFinex.

Happy Trading!!
About FESSChain
FESSChain Is an AI operated and Proof of Proof based blockchain that uses Volume Oriented fragmentation version 1.0 to settle data into the blockchain. It is unique in many terms and one of them is its data processing and storage supported by Neutrino Framework. The framework makes sure that it processes data into the main chain it fragments the data into the smallest units possible in sub-chains. It only saves the relevant data into the main chain thus shrugging off the unnecessary load.
Disclaimer: The Prizes are indicative in price terms and may change depending on the manufacturer and market conditions. In such a case, the prize or the mentioned price (whichever is lower in absolute terms) will be given to the winners.
Disclaimer: This is a paid press release. Readers should do their own due diligence before taking any actions related to any company, product or service mentioned in this article. BitcoinAfrica.io is not responsible, directly or indirectly, for any loss or damage caused by or in connection with the use of or reliance on any content, product or service mentioned in this press release. 
Bitcoin DCA Platform Vimba Hits 10,000 Users Following Expansion into the UK and Europe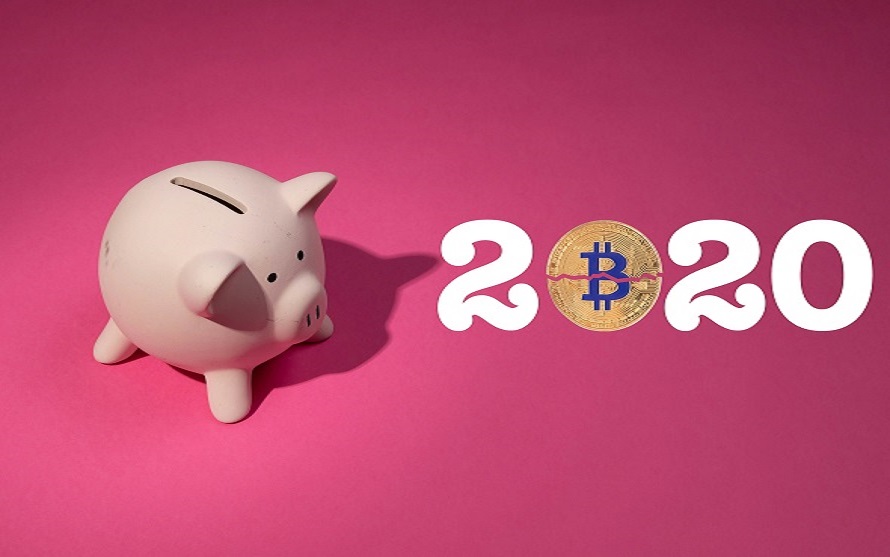 Bristol, United Kingdom, May 20, 2020 — Bitcoin DCA platform Vimba has reached 10,000 customers following the company's expansion into the UK and Europe last year. 3,000 new users joined in 2020 leading up to the Bitcoin halving.
New Zealand-based Vimba was founded in 2014 by early bitcoin adopter, Sam Blackmore, with the mission to bring bitcoin into the hands of as many people as possible. Today, Vimba enables investors in 30 countries to buy, sell, and auto-invest in bitcoin in a simple, hassle-free manner.
Moreover, Vimba is the only bitcoin DCA platform that enables investors to dollar-cost average BTC directly into cold storage, which adds an unprecedented level of security to auto-investors. Alternatively, users can also store their digital currency in the platform's built-in non-custodial crypto wallets, which is the preferred option for most first-time bitcoin investors.
Thanks to its user-friendly service and customer-centric approach, Vimba has been able to turn thousands of New Zealanders into bitcoiners. Now, the company seeks to turn more bitcoin-curious investors into bitcoiners in its new markets.
Founder and CEO Sam Blackmore comments: "We set out to build a platform that enabled Kiwis to save small amounts of bitcoin on a weekly basis. The aim was to give anyone the opportunity to future-proof and diversify their investments by learning about Bitcoin and investing it in a simple and secure way."
"Now, we want to use our six years of experience operating a bitcoin company in New Zealand to continue on our mission to bring bitcoin into the hands of the people by creating new bitcoiners in Europe and the UK. We believe that enabling people to regularly invest in bitcoin in a simple, automated, and hands-off manner with as little as £10 is one of the best ways to spread bitcoin to the masses."
Disclaimer: This is a press release. Readers should do their own due diligence before taking any actions related to any company, product or service mentioned in this article. BitcoinAfrica.io is not responsible, directly or indirectly, for any loss or damage caused by or in connection with the use of or reliance on any content, product or service mentioned in this press release. 
Binance Charity Donates 15,000 Protective Suits to South Africa to Support Fight Against Coronavirus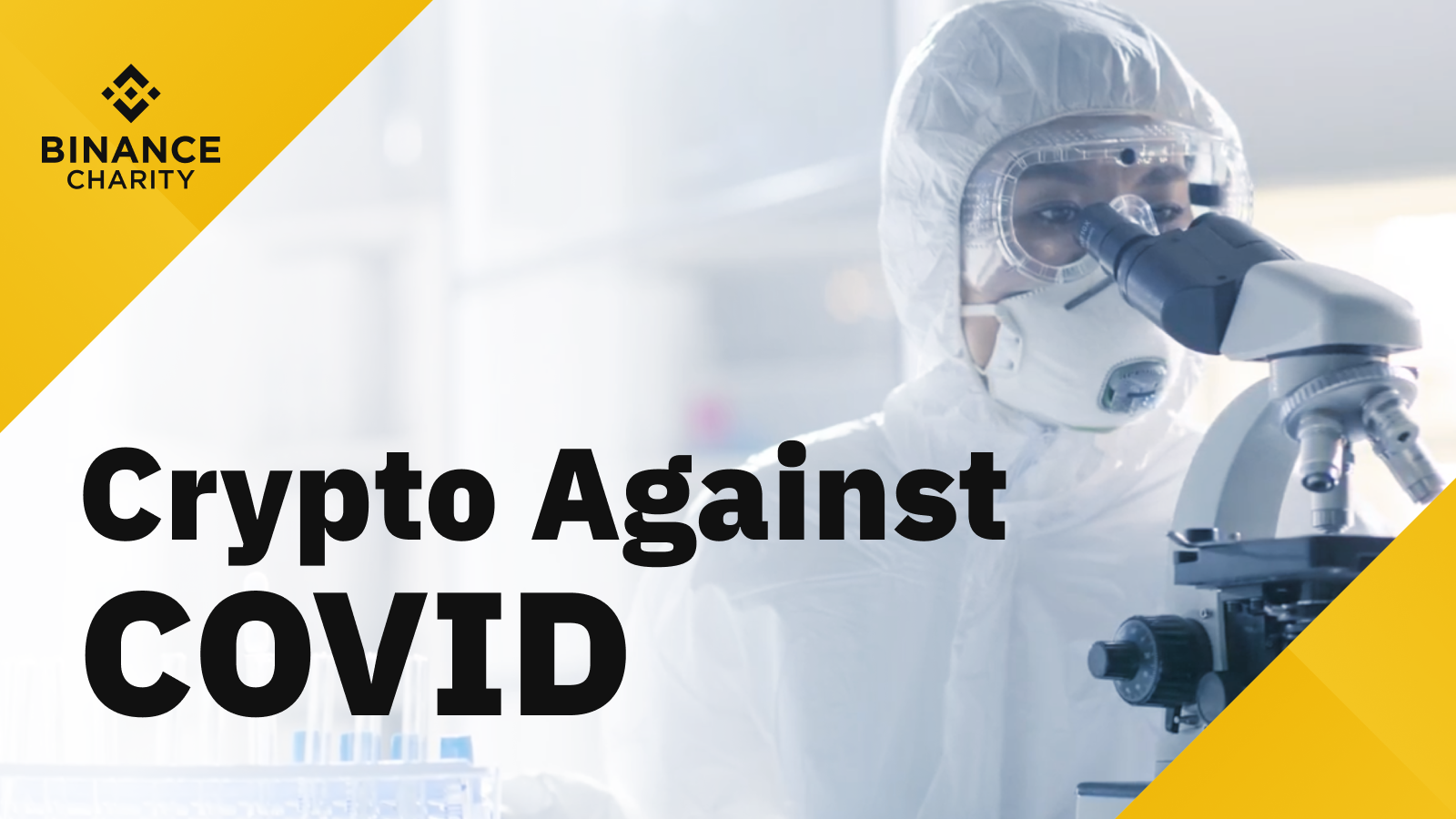 May 13, 2020 —​ ​Binance Charity​ the world's first blockchain-powered donation platform dedicated to advancing transparent philanthropy, has supported South Africa's efforts in tackling the COVID-19 pandemic by donating 15,000 protective suits to hospitals in the country – as part of the organisation's Crypto Against COVID campaign.
Launched on March 24, 2020, Binance Charity's ​Crypto Against COVID​ campaign was created to raise $5 million USD in cryptocurrencies (BNB, BTC, BUSD, and XRP) to be spent primarily on buying medical supplies for affected regions globally. Binance led this effort with an initial donation of $1 million USD, plus an additional donation of $1 million USD through the #CryptoAgainstCOVID social media campaign. In addition, Binance vowed to match $2 million USD of public donations received.
According to the ​WHO,​ as of May 11, 2020, the number of confirmed COVID-19 cases in South Africa has exceeded 10,000 – with 194 deaths. Making the country the most affected on the African continent.
A total of $3.9 million USD has been raised from Binance and public donations, with more than 40 crypto companies joining together to support the campaign. As of May 12, medical supplies have been shipped to various affected countries, including 10,000 protective suits to Turkey, ​400,000 masks to Italy​, and 15,000 suits to South Africa. Binance Charity has also committed to PPE donations to Puerto Rico and the Caribbean​ and launched ​a PPE token​ to support donation efforts for New York.
In addition to the ​15,000 protective suits for South Africa – which will be donated to the Health Department in the Western Cape and other hospitals -​ a further 20,000 masks for South Africa have been ordered for delivery within the next few weeks.
"The most important element of human life is to show compassion and help others as we can, without the limitation or restriction of borders. Blockchain technology enables this in greater capacities than ever before and Binance Charity wishes to bring this to the masses,"​ said Helen Hai, Head of Binance Charity.
This Crypto Against COVID donation to South Africa comes months after Binance Charity announced a $1 million USD commitment​ for charity work and crypto education in the country at the Blockchain Africa Conference in Johannesburg in March 2020 – where Binance, the global blockchain company behind the world's largest cryptocurrency exchange by trading volume and users, announced the launch of a South African (ZAR) fiat-on-ramp with 5 trading pairs: BTC/ZAR, ETH/ZAR, BNB/ZAR, BUSD/ZAR and USDT/ZAR. ​Binance users in South Africa are able to deposit Rands (ZAR) from any South African bank account ​and enjoy features such as savings, spot, margin, lending, futures trading, etc.
On Binance's commitment to South Africa and Binance Charity's donation, Tanya Knowles, SA lead said:​ "Binance's commitment to South Africa extends beyond our role as a cryptocurrency exchange. We are facing a healthcare and economic crisis which our generation has not witnessed before. We hope that this donation supports the many efforts being made in South Africa to fight the virus."
Binance Charity maintains its mandate of 100% transparency. All transactions will be published in full transparency through the blockchain-based donation portal. Any hospital demands or sources of medical supplies and shipping aid willing to help in this cause may reach out to ​bcf@binance.com​.
Join Binance Charity and help the world fight the coronavirus. Even a small donation can save lives. Together, let's help those in need. Click ​here​ to donate.
Disclaimer: This is a paid press release. Readers should do their own due diligence before taking any actions related to any company, product or service mentioned in this article. BitcoinAfrica.io is not responsible, directly or indirectly, for any loss or damage caused by or in connection with the use of or reliance on any content, product or service mentioned in this press release.