Conflux Ecosystem Grants Program: With Over 2.4 Billion CFX In Rewards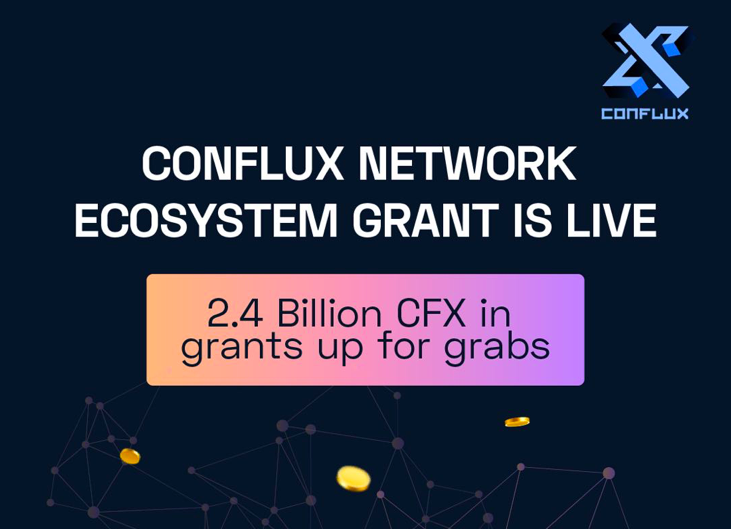 We are pleased to announce the launch of our Conflux Ecosystem Grants Program.
About the Conflux Ecosystem Grants Program

The Conflux Ecosystem Grants Program aims to fund entrepreneurs, engineers, and evangelists who have the vision to catapult innovations in software development, research, education, and community building for the Conflux Network ecosystem.
Our grants program application process will be launched in waves. In the first wave, we are looking to support submissions that are focused on supporting infrastructure tools for developers to build highly scalable products and DApps that drive the innovations and augment the composability of our technology stack to bring more users and developers to the decentralised world.
The categories we are interested in funding through this grants program are mentioned below.
Grant Categories
Tools and Infrastructure
Development tools and infrastructure components that will make the Conflux Network easily accessible and composable.
Development Environments like frameworks, IDEs, and security tools to attract existing developers to build on Conflux and tools that bridge the gap for new programmers to become blockchain developers. 
Blockchain Bridges to other established networks for asset and state transfers and facilitate the interoperability and cross-chain composability of blockchains that are crucial to the growth of Web3.
Oracles for prices, identity, land management, intellectual property, etc. that are a key component in facilitating the transition from Web2 to Web3 and a critical link to real-world information. 
Mobile Development to

ols like SDKs, Key Management, Wallets, and others that can put blockchain applications on devices across the world in a safe, secure, and reliable manner.

Token standards for NFTS, RFTS, fungible token equivalents, presenting novel ways of tokenising assets or information, with the potential to form methodologies and standards that can be applied to various use cases.
Decentralised Applications
DApps to drive user adoption, liquidity, and composability on Conflux Network.
DEXs for

Swap/AMM (Automated Market Making), perpetual swap (futures), leverage trading, exotic derivatives (options and synthetic assets) that will be crucial for next-generation DeFi and grow our DEX ecosystem through new types of exchanges and swappable assets.

Token projects like non-USD Stablecoins,

Cross-chain BTC, ETH, Gold custodian backed tokens, others backed by different assets in order to diversify the economic activity on Conflux Network.

Payment channel on Conflux with USDT (or other Stablecoins) for micropayments and settlement scenarios like gaming, tipping, gifts, etc. by leveraging our super-low transaction fees and fast confirmation time, reducing the barriers of adoption.
Identity Solutions like Decentralised ID, user control data exchanges, automated KYC that are integral to create new applications for broader adoption of the Web3 space. 
Lending & Borrowing platforms as they are powerful components of our growing DeFi ecosystem that will give users the ability to lend and borrow, and grow their assets.
Grant Funding Tiers
The projects applying for grants are eligible for funding of up to $50k based on the grants category, market potential, and alignment with the Conflux Network's vision. The grant amounts mentioned below are in USD and the funds will, subject to eligibility and the terms and conditions of the Program, be disbursed in CFX post full Mainnet launch.
Tiers
Tier 1 – Grant amount up to $15k per project that can be completed in 0-2 months
Tier 2 – Grant amount up to $50k per project that can be completed in 2-6 months
The approval process for Projects applying for Tier 1 grants is faster than projects applying for Tier 2. Preference will be given to projects that are not planning on having 100% of their early-stage funding covered through the Conflux Ecosystem Grants.
Eligibility Requirements
We are looking for tangible outcomes in a fixed timeframe from the projects that apply for the grants. Few important points that would make a successful application are: 
The project work should be in progress and open-source for community use. This will be helpful for transparency and quicker due diligence for decision making.

The teams should have experience in delivering blockchain solutions in the past and strong track records that are quantifiable.

Projects should be working towards tangible outcomes that can be achieved in a set timeframe, preferably 6 months or less. We are looking for sharpshooters with a precise, actionable aim in mind.

Projects should be able to clearly disclose what the grant shall be used for with a detailed breakdown of costs.

The teams need to demonstrate a long term commitment to build and operate the solutions on the Conflux Network, thus mutually beneficial for the growth of the platform and the products that are built.
How to Apply For a Grant
To apply for the Ecosystem Grants Program, please visit grants.confluxnetwork.org
Get in Touch With Us
If you have any questions about the grants process, please email us at grants@conflux-chain.org
Disclaimer: This is a paid sponsored post. Readers should do their own due diligence before taking any actions related to any company, product or service mentioned in this article. BitcoinAfrica.io is not responsible, directly or indirectly, for any loss or damage caused by or in connection with the use of or reliance on any content, product or service mentioned in this post. 
PrimeXBT Research: What Is Behind Ethereum's Recent 333% Rally?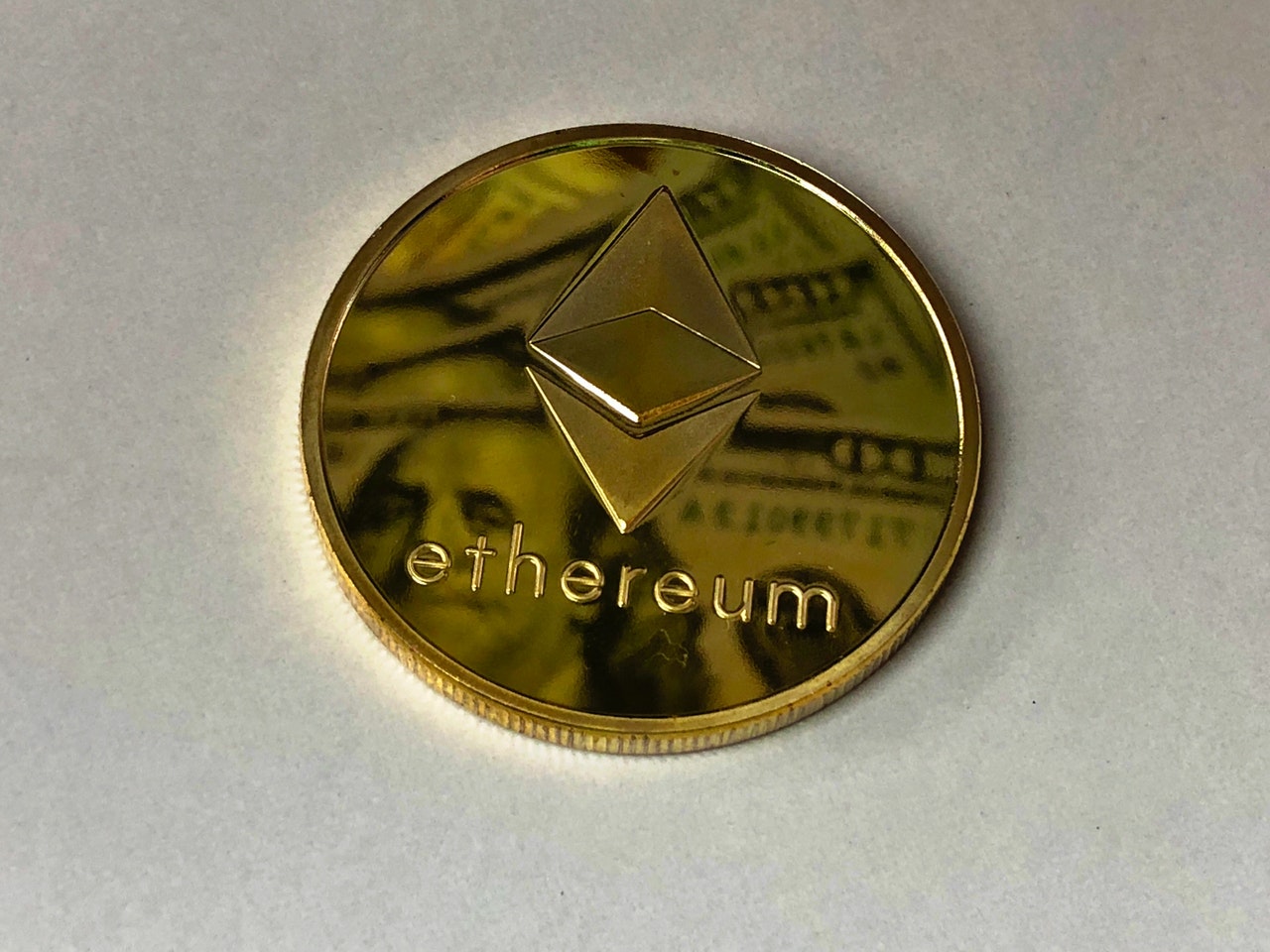 Move over, Bitcoin, Ethereum is coming through. While the top ranked cryptocurrency has rallied nearly 200% since its Black Thursday bottom in March 2020, the number one altcoin, Ethereum is up over 333% in the same timeframe.
Ethereum has been outperforming the rest of the crypto market for most of the year, and considering how far the asset remains down from its all-time high compared to Bitcoin, it likely has a lot more momentum cooking.
But what's behind the sudden resurgence in Ethereum, and can it sustain into a new long term uptrend? PrimeXBT research has revealed data supporting Ethereum's current demand and how to take advantage of the renewed interest and rally.
DeFi Bandwagon and Uniswap Crypto Casino
The recent decentralized finance craze has become boiling hot, with a variety of DeFi tokens going on insane rallies and causing tons of buzz across the industry. Each passing week, a new DeFi project is making headlines.
At the center of the DeFi bandwagon, is Ethereum. Nearly all DeFi tokens are Ethereum based ERC20 tokens. The amount of ETH itself being locked up in DeFi applications is currently at an all-time high and growing by the day.
Over the last few weeks, coinciding with Ethereum's rally from $250 to $400, there has been a boom in the dApp Uniswap. The crypto community often compares Uniswap to a casino, where new projects are launched and investors take high risks in unproven tech. The trend is reminiscent of the ICO boom that propelled Ethereum to over $1,400 a token.
Early Bitcoin Fractal and Silver A Step Ahead
Bitcoin was the first cryptocurrency ever, and Ethereum was created to solve issues like scaling and add in smart contracts and other more advanced tech.
Ethereum is following a price pattern fractal from the early days of Bitcoin. Bitcoin went through a similar bottoming process as Ethereum now is against the dollar. Interestingly, the price levels are also similar.
If the asset can get through resistance at $400, a push to $750 and higher is possible. That's nearly another 100% ROI from current levels and after an already 300% rally. When Bitcoin finally broke above $750, it took off to $20,000 a coin. Could Ethereum do the same?
Silver, a precious metal also has been following a similar path, is one step ahead than Ethereum. Silver's fractal shows that Ethereum may be just days away from a similar breakout and surge to $750. If the altcoin can take out that key level, it may see the same success as Bitcoin did years ago after its bullish breakout.
Bear Market Over: A Rising Tide Lifts All Boats
The aphorism "a rising tide lifts all boats" is true with Ethereum and the current state of the crypto market.
Looking at the top ten cryptocurrencies by market cap and their past 7-day performance is clear as day: the bull market is back. Or at the very least, the dreaded bear market and crypto winter is over. Altcoins are booming once again. Bitcoin is trading above $10,000. Even XRP has recovered from lows. Only Tether, a stablecoin backed by the dollar, is in the red.
Ethereum trading is not only benefiting from its own fundamental and technical reasons, but interest in the crypto market and a return to risk appetite has helped push the altcoin higher.
PrimeXBT: Finding Success In Ethereum's Uptrend
Ethereum is one of the five cryptocurrencies offered by PrimeXBT, an award winning Bitcoin margin trading platform, including Bitcoin, Litecoin, Ripple, and EOS. The advanced trading platform also provides CFDs on forex, stock indices, gold, silver, oil, and much more.
All assets are available for trading with long and short positions, or can be used to develop a diverse trading portfolio. Built-in technical analysis tools from TradingView are provided, and the platform offers key competitive differentiators such as the upcoming Covesting copy-trading platform.
Traders can load up Ethereum price chart and perform their own technical analysis and execute a trading plan to profit from the current crypto market rally and interest in DeFi and other trends. With Ethereum in an uptrend, finding support and setting long orders on PrimeXBT is the ideal strategy for success.
How to Trade Stock Indices with Bitcoin on TradeConnect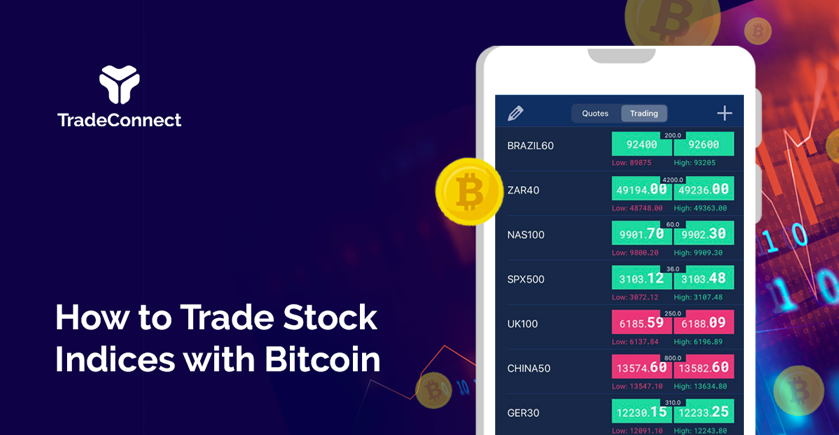 When you hear people talking about "the market", they are often talking about Stock Indices. Even if you haven't ever traded a Stock Index before, there's a good chance that you will have heard the name of some of the more famous US, European, and Asian Stock Indices such as the Dow Jones or the NASDAQ in the US, the ASX200 in Australia, the DAX 30 in Germany or the Nikkei 225 in Japan.
Finding ways to trade Stock Indices with bitcoin isn't easy. This is mostly due to the fact that if you want to trade both traditional and new digital markets, it is expensive and time consuming to move in and out of fiat on multiple trading platforms.
TradeConnect removes these barriers to entry by connecting crypto traders with over 60 different global financial assets including Forex, Stock Indices, Commodities and Cryptocurrency CFDs using bitcoin or ethereum as margin collateral in a single, easy-to-use trading network.
Trading Stock Indices on TradeConnect is quick, easy and secure. TradeConnect uses a central limit order book to ensure all trades on the platform are transparent and fulfilled at the best price, at the best time. It also has a $100 million dollar insurance policy to ensure security is the highest priority.
TradeConnect also has some of the lowest fees in the industry due to its unique 'Connect Fee' model and daily fee rebates of up to 75% for active Makers and Takers.
BONUS PROMOTION: New traders also get $50 USD in BTC, ETH or TCO free when they complete their first 10 trades on TradeConnect.
So let's take a closer look at what a Stock Index is, why you would trade it and how you can trade Stock Indices using bitcoin on TradeConnect.
What is a Stock Index?
A Stock Index, also known as a Share Index or a Stock Market Index, tracks and measures baskets of related stocks from a particular country.
Stock Indices are created by combining the value of several Stocks to highlight one aggregated value that is then used to compare current market price levels with historical price levels in order to calculate the overall market performance within a specific country.
Stock Indices are powerful indicators for global and country-specific economies worldwide and are used by economists, politicians and analysts to help understand how well the financial markets, and companies within those country-specific markets, are performing.
Types of Stock Indices
Stock indices can be made up of many different factors. Some are grouped by geographical location, others industry sector or even company size. Different stock exchanges deal with different types of stocks.
For example, the NASDAQ Index only lists technology stocks. The ASX200 consists of Australia's largest 200 companies by market capitalization. The S&P 500, in contrast, measures the stock performance of the top 500 companies in the US.
There are approximately 5000 US indexes in the US alone and the 3 most followed stock indices, by both the media and investors, are generally thought to be the S&P 500, Dow Jones Industrial Average and the NASDAQ Composite. In 2018 it was reported that there are nearly 3.3 million stock market indices around the world.
Advantages of Trading Stock Index CFDs
The advantage of trading a Stock Index over individual stocks is that firstly, they offer exposure to an entire industry rather than a single Stock; Secondly, you do not need to conduct research on every individual company report as you would if you traded a single Stock; Thirdly, the price movement of Stock Indices is generally known to be much less volatile and a smoother experience than trading individual Stocks as an individual Stock can't cause an extreme price spike within a Stock Indice.
How to Trade Stock Indices with Bitcoin on TradeConnect?
On TradeConnect you can trade over 15 different Stock Index CFDs using bitcoin, including: Australia 200 (AUS200), BOVESPA Future (BRAZIL 60), China A50 (CHINA50), Euro Stoxx 50 (ESTX50), French CAC 40 (FRA40), German DAX 30 (GER30), Hong Kong H250 (HK50), Japan Nikkei 225 (JPN225), Nasdaq (NAS100), SPAIN 35 (SPAIN 35), US S&P 500 (SPX500), UK 100 (UK100), Dow 30 (US 30), US Dollar Index (USDINDEX), and the South Africa 40 Index (ZAR40)
To get started trading Stock Indices with bitcoin on TradeConnect all you need to do is follow these 5 simple steps:
Step 1: Download the TradeConnect app
Step 2: Select the Stock Index that you want to trade
Step 3: Deposit bitcoin into your TradeConnect wallet
Step 4: Open your trading position
Step 5: Monitor and close your trading position
That's it!
Want to trade Stock Indices with bitcoin on TradeConnect? Download the TradeConnect mobile app today!
Disclaimer: This is a paid sponsored post. Readers should do their own due diligence before taking any actions related to any company, product or service mentioned in this article. BitcoinAfrica.io is not responsible, directly or indirectly, for any loss or damage caused by or in connection with the use of or reliance on any content, product or service mentioned in this post. 
African Traders Prefer PrimeXBT's Powerful Trading Technology Over Competition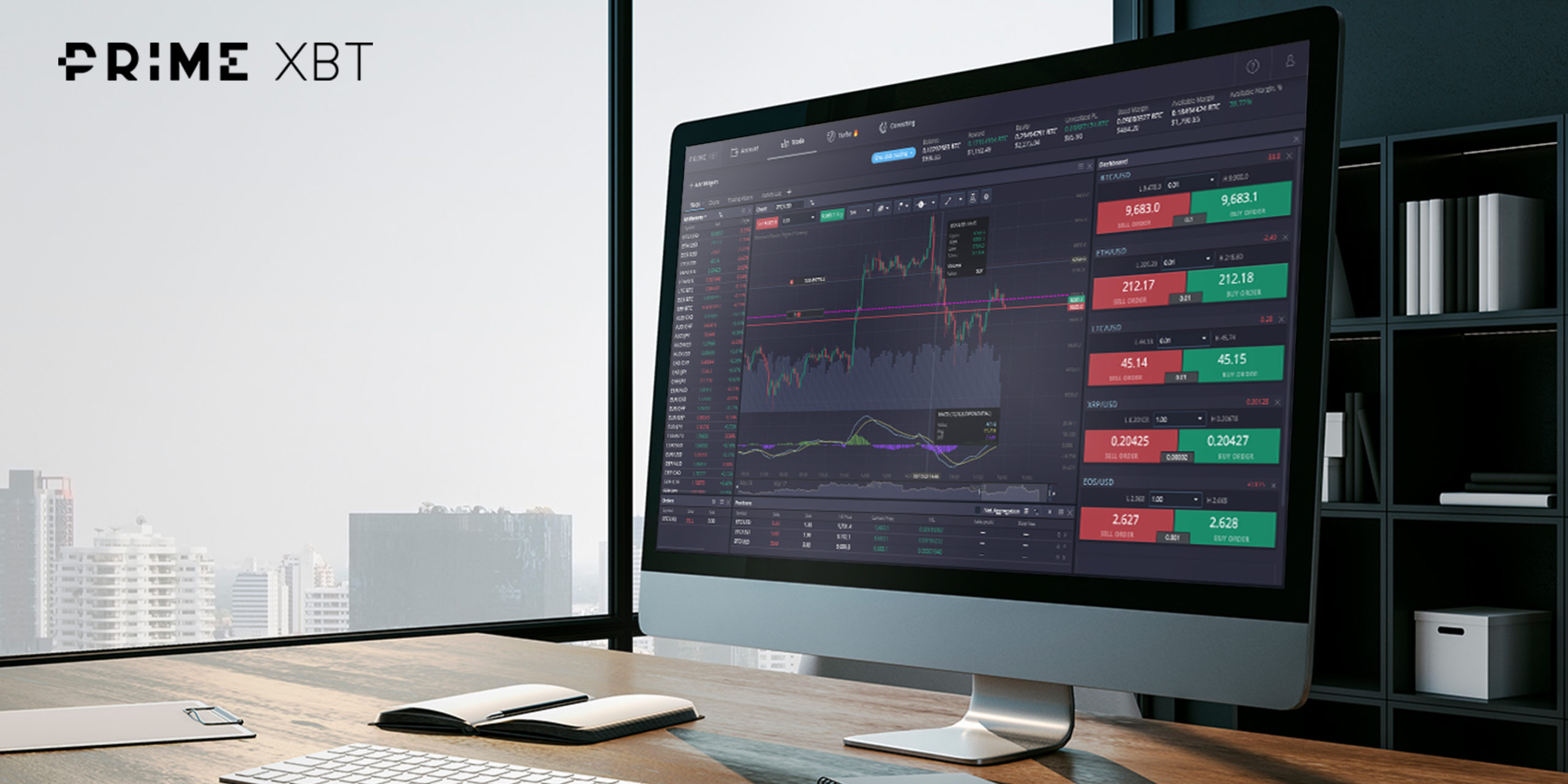 Bitcoin is one of the most disruptive and impactful new technologies of the 21st century. But some of the technology powering the trading platforms where the asset trades on the open market, pack nearly as much innovation and power.

PrimeXBT is an award-winning Bitcoin-based margin trading platform offering traders access to not only emerging digital assets like cryptocurrencies, but CFDs on traditional assets such as gold, oil, forex, and major stock indices like the Nasdaq 100 consisting of top US tech stocks.

Accounts are denominated in Bitcoin, so savvy investors are able to continue to accumulate more BTC trading any instrument on the platform. The variety and diversity alone helps PrimeXBT stand out from the competition, but the technology the platform is built on and innovative features are second-to-none.
Secure, Reliable Trading Platform Protected By Bank Grade Protections

PrimeXBT offers a custom, in-house trading engine that provides up to 99.9% uptime for the ultimate reliability.
Cloudflare DDoS protection, password encryption, address whitelisting, and two-factor authentication protects the website from any attacks, disruption of service, or intrusion attempts. Client funds lie behind multiple layers of bank-grade security.
Crystal by Bitfury is integrated within the platform to prevent money laundering and ensure full AML compliance, further protecting users.
Customisable User Interface, Advanced Trading Tools, And More

The trading terminal is highly customisable, and the easy-to-use interface offers many widgets to build the ideal trading environment for any trader of any experience level. Built-in charting software gives traders full control over their trading strategy, and clicking on the chart to place orders provides incredible accuracy.
Long and short portions let traders profit whichever way the market turns, and stop loss and take profit orders enable added control over risk and reward.

A progressive fee discount system offers the most active traders up to 50% off all trading fees and is tracked internally within the account dashboard so users can keep track of their progress towards each of the many levels of savings.
Innovative Trading Performance The Competition Cannot Match
The advanced trading platform has many innovative tools that simply aren't found elsewhere at competitors. A new short-duration synthetic Bitcoin product called Turbo lets traders uniquely position themselves within the market by accurately predicting which way the market will turn.
A first-of-its-kind Telegram bot keeps users tapped into market and position data at all times, even when mobile carrier signals are deteriorating or when Wifi isn't strong enough to access the full platform.

During normal conditions, a free mobile app offered through the Apple App Store for iOS and Google Play Store for Android devices offers everything mentioned above from anywhere in the world.
All trades are executed on one of many Amazon AWS cloud servers, that are connected to multiple liquidity providers for ultra fast order execution.
Ongoing investment into research and development ensures that the platform will remain ahead of the competition and best serve its clients through future updates.
Digital and Traditional Assets Combined Under One Roof

African traders not only prefer PrimeXBT for its technology but for the vast variety of trading instruments offered on the platform. Nowhere else can traders build such a diverse portfolio of assets across digital and traditional markets.

The cutting edge trading platform offers the trading of cryptocurrencies such as Bitcoin, Ethereum, Ripple, Litecoin, and EOS. In addition, PrimeXBT offers CFDs for forex, commodities, stock indices, and gold and silver.
Major stock indices, oil, gold, and more have all been experiencing some of the strongest volatility in history, and all of these assets on one platform is a value simply not found elsewhere other than PrimeXBT.
The Bottom Line: African Traders Prefer PrimeXBT Tech

With low minimum deposits, 60-second registration, and a platform built from the ground up on powerful technology and unrivaled innovation, PrimeXBT is the preferred platform by African Bitcoin traders seeking an all-in-one solution.
New user registrations in the region show a steady uptick in growth, and recent job listings point to further global expansion by the platform. With plans to continue to aggressively grow so apparent, what technology will PrimeXBT roll out with next?
Disclaimer: This is a sponsored post. Readers should do their own due diligence before taking any actions related to any company, product or service mentioned in this article. BitcoinAfrica.io is not responsible, directly or indirectly, for any loss or damage caused by or in connection with the use of or reliance on any content, product or service mentioned in this post.