Bitpunter.io Lists Licensed Bitcoin Casino and Betting Sites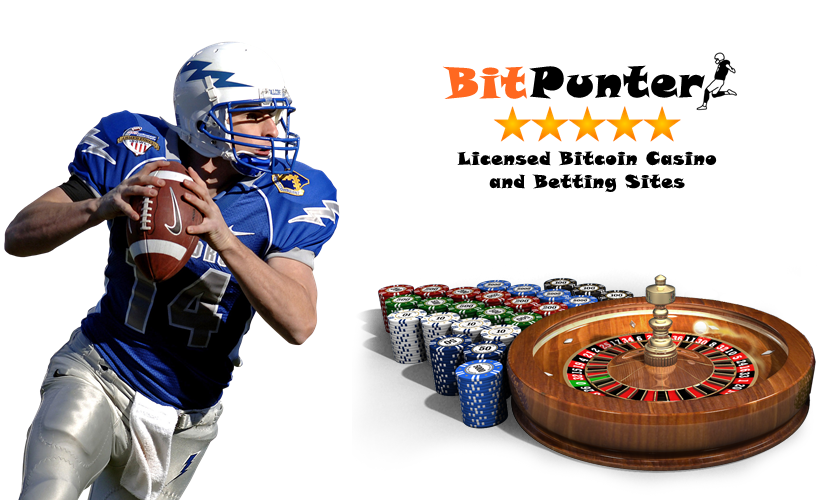 Bitpunter.io is happy to announce the launch of our brand new Bitcoin Betting and Casino guide. Bitpunter.io has more than 40 Bitcoin Casino and Betting site reviews. All the listed sites are licensed and offer provably fair casino games. Crypto and Bitcoin owners like to have a Provably Fair gaming platform. Now they can enjoy their Fair games at licensed operators as well. We aim to list only the Provably Fair casino and Bitcoin betting sites with gaming licenses. 
All the listed Bitcoin Casino and Betting sites are: 
Licensed in Curacao 

Offers Bonuses in BTC 

Has BTC as an account currency 

Offers games from top providers like NetEnt, Evolution, and Ezugi or offers provably fair games

Available to play from all over the World
Bitpunter.io gives you the best and most secure options to bet and gamble with your beloved Bitcoins. Betting and gambling with Bitcoin gives you great advantages such as anonymity and security. Our aim is to provide the best reviews of Bitcoin Casino and Bitcoin Betting sites and make your gambling experience as smooth as possible. We only list licensed Bitcoin Casino Sites with great bonuses and customer service. You can read our Casino Reviews and check out the games and bonuses they offer.
This way you will be able to have a comprehensive look on the Bitcoin gambling sector and decide where to use your Bitcoins for casino games and sports betting.
Bitpunter does Bitcoin Casino Site ratings according to 4 different criteria:
🔒

  Trust & Fairness: The most important thing about a Bitcoin Casino Site is to know if you can trust the house. The first criteria here is the existence of Provably Fair games where you can be sure about the fairness of the game outcomes. We also rank more classical Bitcoin Casino Sites highly if they offer casino games from trusted providers like NetEnt, Microgaming, Evolution Gaming, and Ezugi. The second criterion about Trust is knowing that you will be able to withdraw your winnings. This is mostly about the casino site's license as the licensing authorities is supposed to prevent the player funds and make sure they get paid out. We mostly prefer Curacao-based casinos.

🎰

  Odds & Games: When it comes to the availability of a wide range of games, we take into account the Bitcoin Casinos working with top casino game providers. They are able to provide 100s of live and slots games with their deals. If we are ranking a Provably Fair casino site we know that the games are most probably made in-house. We allow those casinos to have simpler designs and still get good ratings. A Provably Fair casino site is respected if they have more than 5 games but there are still very good casinos like Wolf.bet with only 3 games or Primedice with only 1 game of Dice. When it comes to sports betting sites we make sure that they offer decent odds and bet types.

💰

  Bonuses & Promotions: Our criteria are different for classical Bitcoin Casino Sites and Provably Fair Casino Sites. When it comes to classical Bitcoin Casino Sites, we expect them to give away hefty sign-up bonuses even tough it is supposed to be wagered 40 times. 40 times wagering is considered a fair amount of wagering as these sites are casinos not charities. When it comes to Provably Fair Casino Sites we do not expect them to give away juicy bonuses as they work on very low house margins like 1%. We focus on promotions, hourly-daily-weekly-monthly tournaments and give aways. Loyalty bonuses and cashback offers become more important at Provably Fair casinos.
☎  Customer Support: Offering customer support was almost unthinkable when the first Bitcoin Dice and Bitcoin Casino sites started. They usually came with on-site chat sections where users had to communicate with each other and hope for solutions. Thanks to the increasing demands of crypto gamblers and higher competition in the market, we are now able to get proper Customer Support with proper tools like Live Chat and Email. We take getting good customer support and showing respect to the users very seriously. We also take a look at the BitcoinTalk forum where we check how the operators respond to fellow gamblers and how likely they are to solve their problems.
Mission of Bitpunter.io
Our aim is to provide up-to-date information on all licensed Bitcoin Betting and Bitcoin Casino sites. I know that those Bitcoins are very valuable for every HODLer and we want to be sure about the safety of our funds when we bet or gamble with them. That is why I have gathered all the licensed Bitcoin Gambling sites and reviewed them for you. You can find both the Pros and Cons of every reviewed site and make your own calculated decisions. You can contact us through our website Bitpunter.io if you have any questions:
You can also follow us on Twitter for the latest Bitcoin casino bonuses: https://twitter.com/Bitpunterio
Millennials Make 25,000% Returns on New Crypto and Gaming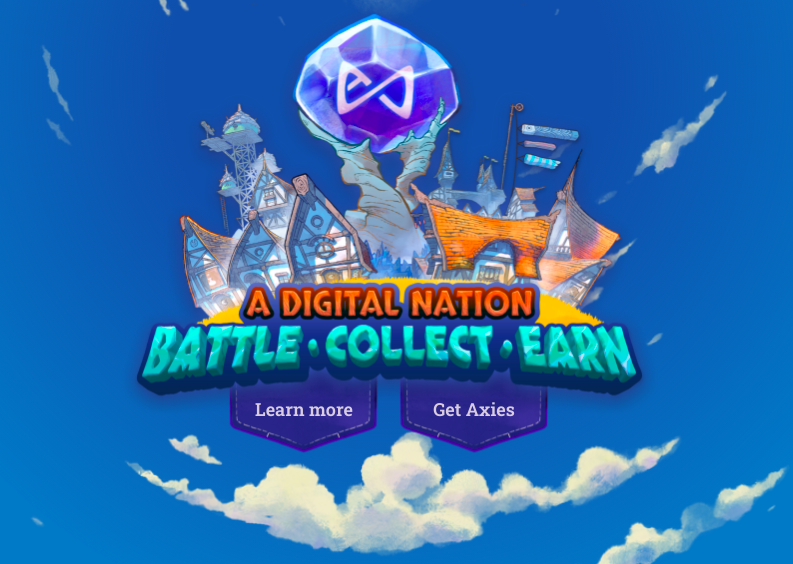 During the pandemic, the blockchain game Axie Infinity attracted a large number of millennials. The firm's token currently boasts a market worth of over $2.5 billion
So far, the gaming token, which was introduced in November 2020, has risen over 25,000 percent, implying that a $1,000 investment would have grown to Rs 2.5 lakh in just 9 months. It is a trend that is widely expected to continue, as more gamers prefer the indoor experience, as you can play online pokies or any other game from wherever you are. Jackpot City Casino, for example, is a leading online brand renowned for its wide array of impressive gaming offerings for people from across the globe.
The cryptocurrency AXS is one among the few exceptions, having weathered the storms of May and climbed to a new all-time high, hovering around $42. After China started a major crackdown on the crypto industry in May, the crypto market saw aggressive selling in the larger and more popular coins.
The ecosystem has half a million daily active consumers, according to Vikram Subburaj, CEO and co-founder of Giotto's Cryptocurrency Exchange, and new customers are coming from developing nations like the Philippines and Indonesia.
"For the gaming group though, AXS represents rather more than only a cryptocurrency, and therefore, it stays worthwhile in that ecosystem. The true problem that AXS will face can be in scaling each day's lively customers to manifold," he mentioned.
Axie, based on the Ethereum community, uses blockchain technology to entice participants. Axie Infinity Shard token (AXS) and the opposite in-game token can be earned in a variety of ways. Its universe may be quite similar to Pokemon, which many millennials can connect to.
Everyone wants to buy Axie to begin the game, and the digital pets in the games may be purchased with this digital currency. The possibility for financial gain is what has made the sport so popular, particularly in developing nations.
Siddharth, WazirX's COO, feels that crypto in the gaming space is one of the most significant markets. He praised cryptocurrency for its contributions in this field.
"Players spend countless cash in shopping for belongings, however are usually not capable of resale or carry that belongings to different video games. Crypto video games are a real worthy addition to video games," he added.
Axis Infinity offers a whitepaper outlining its roadmap and goals. Staking will be introduced soon. This allows token owners to invest their money for a specified length of time and receive interest.
Crypto-related video games, according to experts, will be a big trend in the near future, with players not only exchanging NFTs within the game but also selling them to cult members. Gaming as a career is gaining momentum in the Western world, and children's gaming expenses have increased.
New use cases for blockchain and cryptocurrencies, according to Subburaj of Giottus, will continue to revolutionize the larger world of gaming. He said that AXS had transformed gaming from a money-losing and time-consuming pastime to a money-making venture.
"When a recreation grows larger, gamers are usually not benefited aside from extra gamers to play with," mentioned Menon. "It is superb in this area as the sport community grows and gamers develop with them."
However, not everything is perfect for the Axie Infinity. The highly expensive Ethereum community has significant limits, and it needs reliable technology to help it progress.
Disclaimer: This is a press release. Readers should do their own due diligence before taking any actions related to any company, product, or service mentioned in this article. BitcoinAfrica.io is not responsible, directly or indirectly, for any loss or damage caused by or in connection with the use of or reliance on any content, product, or service mentioned in this post. 
Bitzlato Extends Free Withdrawals Until the End of August!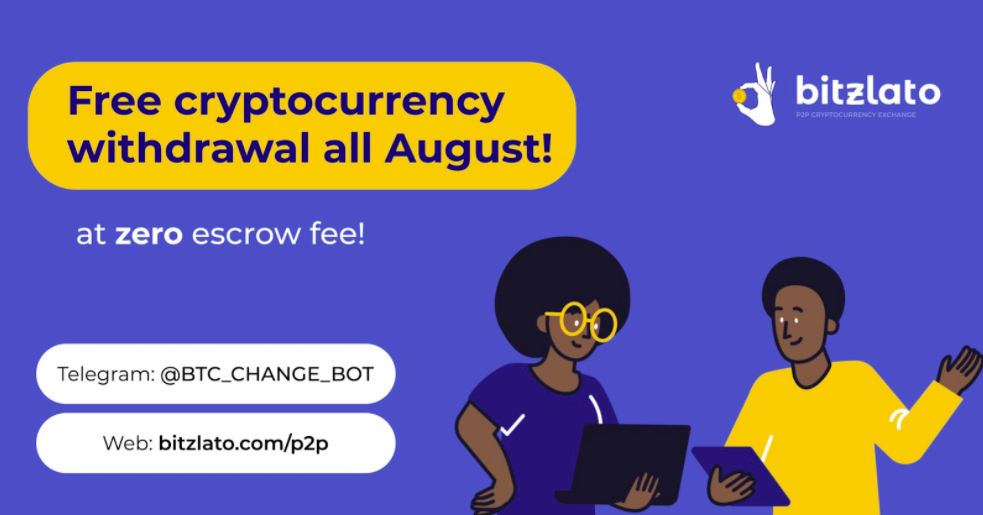 Users from Africa really liked the free withdrawal campaign and Bitzlato decided to continue it! Trade at 0% escrow fee and get vouchers for a free withdrawal all August on Bitzlato.
What do you need to do?

On Bitzlato P2P you can withdraw your crypto for free with our vouchers for a free withdrawal!
How to get them? Very simple! 
Make at least 1 trade using one of the African local currencies (NGN, KES, ZAR, DZD, EGP, ILS, AOA, BWP) and on the next day, you will find a voucher in your cabinet. 
Trade without commission:
Buy and Sell cryptocurrencies at

0% escrow fee

.

Create buying and selling ad offers at

0% escrow fee

.

Transfer cryptocurrencies within Bitzlato users for

free

.
Also, Bitzlato has disabled the commission for transactions with USD, EUR, as well as more than 60 other currencies! Read more here.
How to use vouchers you can read on Bitzlato blog.
Follow Bitzlato on Twitter, Facebook, Telegram, Instagram, and YouTube to get the latest updates and take part in their giveaways.
Disclaimer: This is a press release. Readers should do their own due diligence before taking any actions related to any company, product, or service mentioned in this article. BitcoinAfrica.io is not responsible, directly or indirectly, for any loss or damage caused by or in connection with the use of or reliance on any content, product, or service mentioned in this post. 
Tokentracker Launches BSC Telegram Wallet Bot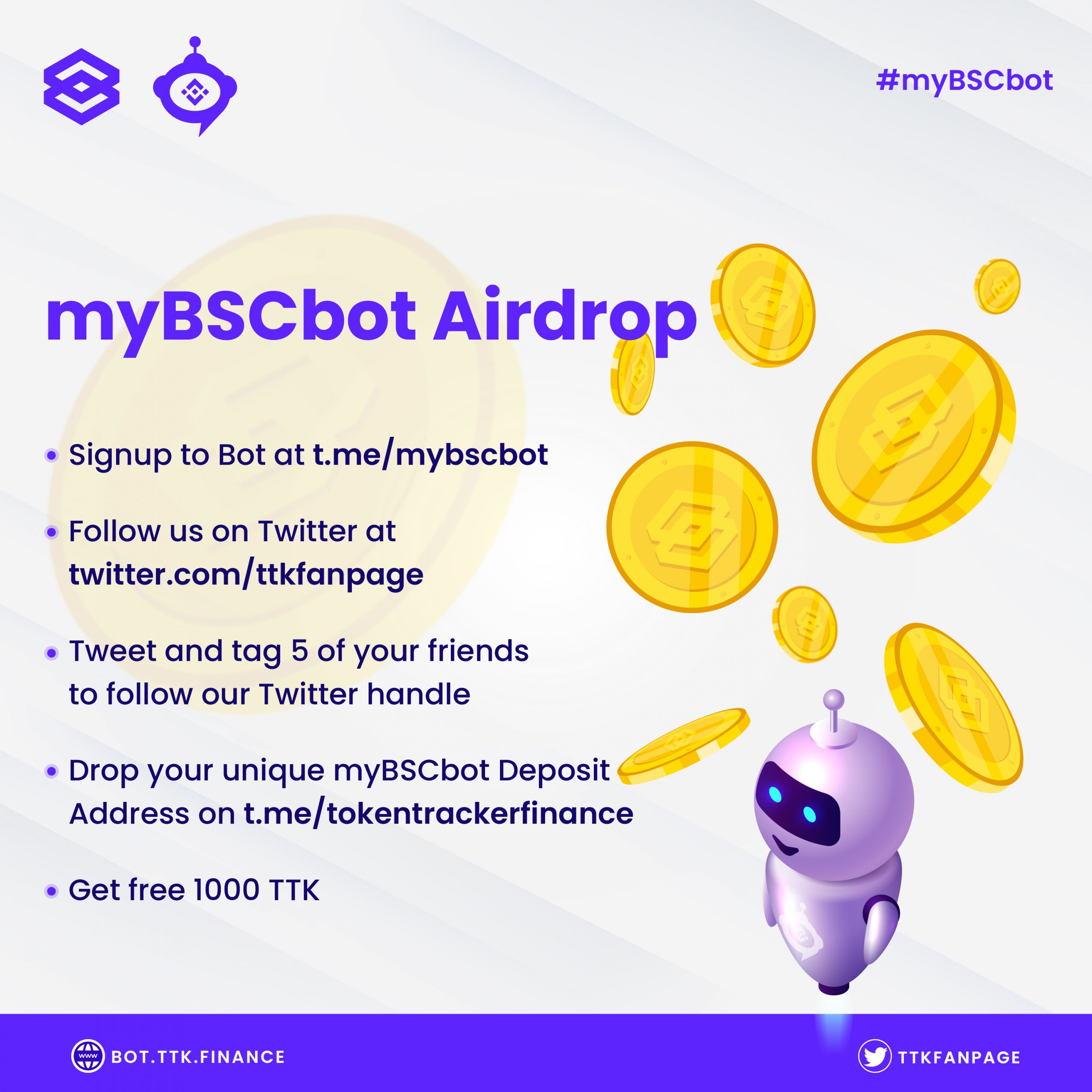 Tokentracker just released myBSCbot, a wallet on Telegram that allows you to send and receive BSC tokens easily. It is their goal to do more than help investors control the tokens they invest in. Tokentracker is also making crypto accessible to everyone! As a part of their innovation, they're bringing you a decentralised wallet on Telegram to encourage mass crypto adoption.
The myBSCbot lives on the Telegram app and allows you to send tokens directly to addresses in or outside Telegram. It eliminates the need to go back to your external wallet apps to make a quick transaction. Anonymity is assured on myBSCbot as your name, tax identification number, or other personal information are not needed to operate your wallet.
Opening your wallet is fast and easy! Just head to https://t.me/mybscbot, and in 30 seconds, your wallet is ready.
We're giving out 1,000 TTK to the first 10,000 people that sign up and fill the airdrop form at http://bot.ttk.finance/ Hurry, so you don't miss out.
Benefits Of Using
myBSCbot

Wallet

1 It is user-friendly: You won't be asked to go through any technical process to get started. You can sign up at the click of a button and start sending and receiving your cryptocurrencies.

2. It is safe to use: myBSCbot is safe and secure. Their goal is to make the wallet secure and easy to use, even for a 5-year-old.

3. It is easily accessible at no cost: Do you have a smartphone? Of course, you do! Then, you can use myBSCbot— anyone with a working smartphone connected to the internet can use our wallet at no cost—the only fee is a small gas fee paid to miners in BNB.

4. Available at any time: With myBSCbot, you can send and receive cryptocurrencies anytime and everywhere where there is internet coverage. What you need to do is just head to the bot and follow the process.

5. myBSCbot lets you send and receive BNB, TTK, BUSD, and USDT on Telegram, with more tokens coming soon.

PS: Currently, our airdrop program is ongoing, and we are using the opportunity to give 1,000 TTK to the first 10,000 people to sign up for our BSC wallet. Sign up now at http://bot.ttk.finance/, so you don't miss out.
How To Use myBSCbot?
We have made it super easy to get your wallet, deposit cryptocurrencies, transfer funds, and check your balance. Just follow the steps outlined below.
Go to

https://t.me/myBSCbot
Click on "Sign up", and immediately your account is auto-created, linking your
Telegram username to a unique BSC Address.
Click on "Main menu" to see options to Topup your wallet with TTK, BNB, BUSD or USDT.
To Deposit
Click on "Main menu"
Select "Finances"
Select "Deposit"
Select "Currency"
Your BSC Address would be generated for you to Deposit to.
To Transfer
Click on "Main menu"
Select "Finances"
Select "Transfer"
Select "Currency"
Enter "Receiver Address"
Enter "Amount to send" and complete the transaction.
To View Balance
Click on "Main menu"
Select "Finances"
Select "Balance"
And the balances of your assets would appear.
Note:
To view the list of available shortcuts, Enter "/help," and you will find all the features you can use on the

myBSCbot

.
You must hold a minimum of 200,000 TTK to transact with

myBSCbot

.
Our wallet only lets you send and receive BNB, BUSD, TTK, and USDT on the Binance Smart Chain. Other BEP20 tokens are currently not supported. To list your token, visit

http://bot.ttk.finance/

.
Follow Tokentracker updates on:
Twitter: https://twitter.com/TTKfanpage
Instagram: https://www.instagram.com/tokentracker
Telegram: https://t.me/tokentrackerfinance
myBSCbot website: https://bot.ttk.finance
Tokentracker website: https://ttk.finance
Disclaimer: This is a press release. Readers should do their own due diligence before taking any actions related to any company, product, or service mentioned in this article. BitcoinAfrica.io is not responsible, directly or indirectly, for any loss or damage caused by or in connection with the use of or reliance on any content, product, or service mentioned in this post.