Meet Africa's Blockchain Startups: Blockchain Academy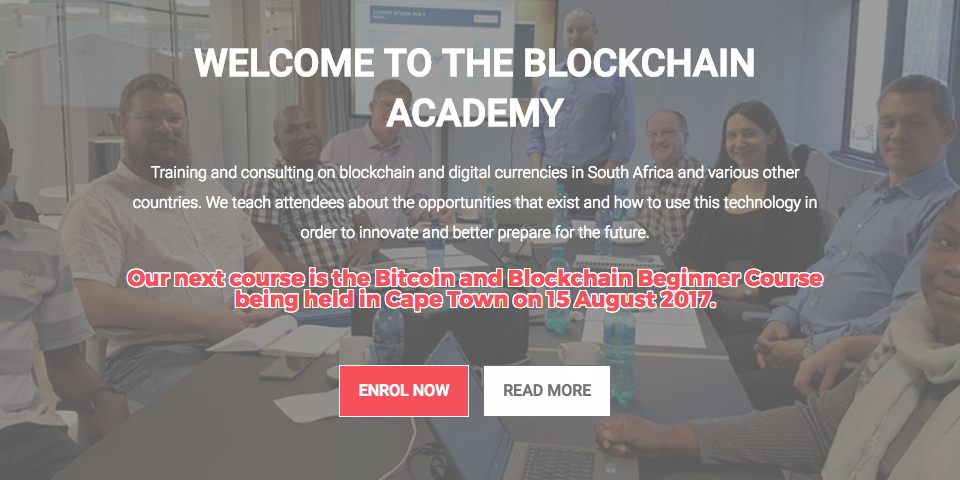 The Blockchain Academy is an educational institution that enables individuals, entrepreneurs, developers, and organisations to learn about the innovative potential of bitcoin and blockchain technology. Founded in 2015 and based in Cape Town, the Blockchain Academy offers training courses on cryptocurrencies, the blockchain, and their future applications to attendees in South Africa and Zimbabwe.
Demystifying Bitcoin and Blockchain Technology
Despite growing global recognition of bitcoin and its underlying technology, the blockchain, there is still a lot of confusion about the nature of bitcoin and how it works. To address this uncertainty, the Blockchain Academy was formed to help people understand how the technology can be used to develop innovative systems and processes for businesses, as well as how to use it to create their own applications to handle various functions.
The training courses are tailored to meet the needs of attendees from different professional backgrounds such as operations and treasury professionals, compliance and accounting, finance, technology, legal and market professionals. The sessions usually run for a full day and clients can choose the mode of training they prefer, either on-site training, classroom training or online training.
Classroom sessions are provided at the Academy offices in Bandwidth Barn, in Woodstock, Cape Town, and AlphaCode Club in Sandton, Johannesburg. Clients can also enroll for online training on the Academy's website, as well as participate in sessions via Google Hangout.
Presently, there are five courses being offered at the Academy, catering to bitcoin newcomers, developers, and financial institutions. They include:
Bitcoin and Blockchain Beginner course: This course targets those new to cryptocurrencies and blockchain technology, and covers the basics of bitcoin technology, its development and adoption worldwide.
Blockchain Advanced course: The course strives to further explain concepts about bitcoin and the blockchain outlined in the initial course.
Blockchain for Developers Course: The course aims to deepen understanding of the blockchain and help enable one to develop applications on it.
Blockchain for Financial institutions Course: The course provides participants with insight on how organisations are leveraging blockchain technology and its possible uses.
Ethereum Beginner Course: This course is intended for people who want to learn more about Ethereum and how it can be used to develop smart contract applications.
Moving into New Markets
The Bitcoin Academy has so far held its educational courses in South Africa, Zimbabwe, and India. In March 2017, the Blockchain Academy announced that it is partnering up with the Satoshi Centre to provide bitcoin education in Botswana through a course that was held in May. But the Blockchain Academy is not stopping there.
Talking to BitcoinAfrica.io about the future of the Blockchain Academy, the company's founder and Managing Director, Sonya Kuhnel, told us:
"The Blockchain Academy […] is thrilled about all the global interest in cryptocurrencies and blockchain technology. 

Our recent partnership with Anglo African in Mauritius, and our training provided to the Central Bank of Swaziland are significant steps towards expanding into other countries. Our new online training programs are also an important part of offering our courses to as many people as possible. 

 

This is a very exciting space to be involved in and provides many opportunities for incumbents and individuals to experiment with this emerging and disruptive technology.
The Blockchain Academy is not only preaching the benefits of bitcoin and blockchain technology but, more importantly, is educating individuals, startups as well as large institutions on how to implement this new technology to improve systems and operational processes. The Blockchain Academy is, therefore, providing a much-needed service that could potentially help African nations become future leaders in blockchain technology.
How FinTech Companies Changed Africa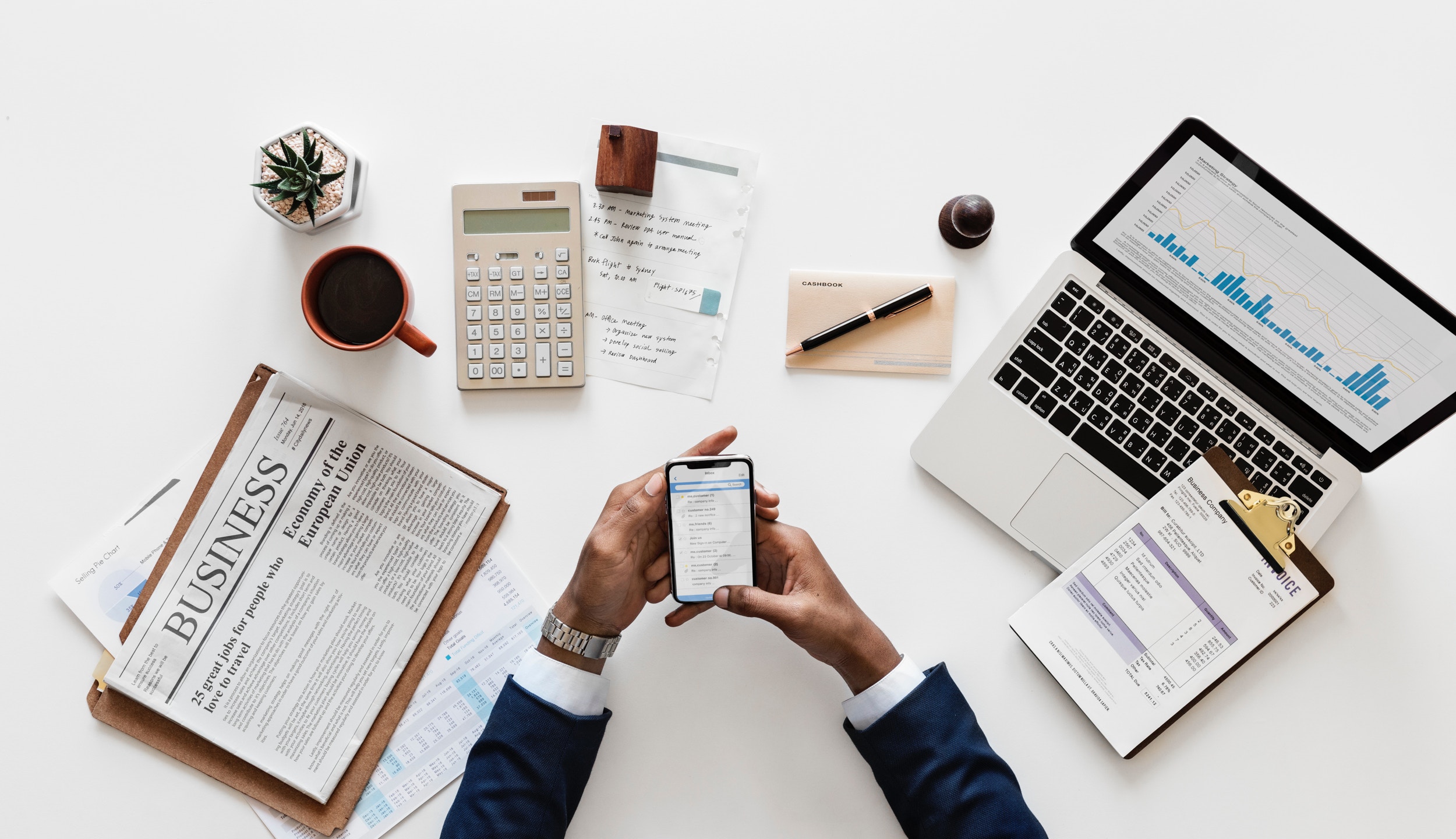 Although Africa's economies may be lagging behind its more developed counterparts, it seems that the continent is not immune to the global fintech revolution. Africa started witnessing a substantial surge in fintech startups in 2015. The total funding from venture capitalists spiked by 51 percent to $195 million between 2016 and 2017, with fintech funding accounting for a third of the amount. That's a significant amount given that total global funding for seed-stage companies, early-stage venture capitalist rounds, and VC rounds was $851 million, $7.137 billion, and $6.9 billion respectively. 
Currently, there are well over 300 startups in operation all over the continent — 94 operate in South Africa, 74 in Nigeria, and 56 in Kenya. It's not a surprise that these three countries are spearheading the fintech revolution in Africa as they are considered the top three investment destinations in Africa.
Regional comparisons in fintech adoption show that South Africa is in the lead with around 35 percent of fintech startups concentrated in the region. West Africa follows close behind with around 34 percent.
Africa'sfintech industry to a large extent owes its existence to the development of M-Pesa, a Kenyan-based mobile money transfer service that has given Kenyans the ability to access financial services away from banks. Currently, the platform supports over 25 million customers in over ten markets in Europe, Africa, and Asia. The number of M-Pesa users has grown by 32 percent from 17.12 million to 22.62 million as of June 2017. The massive success enjoyed by M-Pesa has influenced other FinTech companies to join the finance sector to develop financial solutions such as those offered by M-Pesa.
Fintech Implementation in Africa
Fintech companies in Africa are mostly focusing on two broad categories:
payments and transfers;

lending and finance.
Of the two categories, payments and transfers have recorded an influx of startup companies compared to the others. Reports show that a majority of these startups focus mainly on simplifying the process of sending and receiving money.
Some fintech companies in Africa that are taking major steps in revolutionising the finance sector in Africa include (aside from M-Pesa):
Flutterwave has operations in over 36 countries and is partnered with 10 African banks. It provides payment technologies and infrastructure to Africa's largest financial institutions. Today, Flutterwave has processed over $1.2 billion in payments. The primary goal of Flutterwave is to provide solutions for enterprises, entrepreneurs, and banks alike. It presents its customers with no special, annual, or upfront project fees. Instead, Flutterwave bridges the digital payments gap that exists between users and banks. Their Nigerian customers can execute money transfers directly into several bank accounts without any hassle.

Pezesha, initially launched in Kenya, is a peer-to-business micro-lending marketplace made up of low-income borrowers. In Africa, formal credit services are hard to attain, and on top of that, they have incredibly high interest rates. Therefore, most Africans are unable to secure reliable credit facilities that they can safely payback. Users of Pezesha can acquire instant loans on their mobile phones via SMS provided that minimum criteria are met. Apart from low-income earners, Pezesha also extends its services to SMEs that make up 80 percent of Africa's employment. It not only drives up the economies of the continent but ensures the continued existence of small businesses across the continent.

Cellulant, a digital commerce and payments service provider, is well established and operational in 11 countries. The company works with over 90 banks. The Cellulant ecosystem has support for over 100 million customers. As of January last year, the company served roughly

12 percent of Africa's mobile consumers

who utilise the platform to make payments. This year, Cellulant raised

$47.5 million

from a collection of investors that included Satya Capital, TPG Growth, Endeavour Catalyst, and the Rise Fund.

Tala, a mobile technology company that's providing access to credit by putting mobile credit services into the hands of consumers, is operational in several countries in Africa and outside Africa. The company leverages an android app that collects data from each consumer, determines their credit score, and disburses a loan in <10 minutes. So far, the company has disbursed over a million dollars to individuals in East Africa and outside Africa.

Numida, a digital financial services company situated in Uganda, won the Kampala Seedstar World Competition in 2017. The company boasts of a 99 percent repayment rate and has since disbursed about

190 loans to 135 Ugandan SMEs

. Other than providing small unsecured loans to small businesses, the firm helps these businesses digitise their financial records through the Numida app. Through the Numida app, Numida can assess a client's creditworthiness and then issues an appropriately sized unsecured loan.
Potential of using Fintech in Africa 
Africa is an immense continent with different economies supporting a total population of about 1 billion individuals residing in 54 sovereign countries. Surprisingly, only about 17 percent of the entire African population is banked. With nearly 80 percent of the total population still unbanked (and up to 95 million unbanked adults in Sub-Saharan Africa alone), Africa offers a unique breeding ground for the development of the fintech industry. A significant underbanked population ensures that fintech will most likely be an enabler of financial inclusion.    
Innovation takes time and is often a collection of economies and nations that have the financial capability to invest, research, and develop on a broader scale. African nations, not having the same capabilities as developed nations, are provided with a unique opportunity that they can leverage. They can 'jump' inferior and redundant stages of technology advancement and go straight to adopting innovations. For example, currently, millions of Africans are in possession of mobile phone devices without ever going through the hassle of owning a landline at all. A phase that already-developed nations could not have skipped.
Technology is a crucial driver of businesses and entrepreneurship today. Due to this, financial procedures have been developing extremely fast, and there is an immense transformation in many aspects of financial processes. The Internet penetration rate in Africa recently stood at around 35.2 percent while the mobile penetration rate in the continent stands at 44 percent. Out of these two, Kenya emerges as the strongest African country, as it has an internet penetration rate of 85 percent and a mobile penetration rate of 95.1 percent.
According to GSMA, mobile money accounts in Africa have surpassed traditional bank accounts. Mobile money accounts have been on the rise, with statistics showing a steady growth in numbers from 0.2 million to 277 million between 2007 and 2016. The number of active bank accounts in Africa was 178 million as of December 2015. This huge difference in numbers indicates the potential that Africa offers to fintech startups focused on providing payment solutions. Technology innovation coupled with increasing Internet and mobile penetration rates have made the growth of African fintech companies a possibility. Subsequently, this has substantially increased investor interest in the sector even further.    
Africa Welcoming Innovation
The fintech revolution in Africa is not a PR stunt. Fintech companies are attracting a previously unbanked population while at the same time retaining already existing traditional bank customers. Digitisation is helping financial institutions deliver digital financial products and services to a greater number of customers across the continent.
Increased dependence on these innovative fintech companies is projected to reduce demand for bank services. Subsequently, this could lead to bank branches shut down, with only a few remaining as destinations for problem resolution, advice, etc. For example, Kenya's M-Pesa mobile payment services have made it possible for P2P mobile payments to be made both locally and internationally.
These startups are redefining the industry's perception of what it means to be called a bank. Not only do they offer bank-like services, but they also avail loans, process financial transactions, and innovate much faster than banks.
Africa is hopping onto the fintech bandwagon, learning from the experiences of developed economies such as Asia, America, and Europe, and even leapfrogging past unnecessary steps, straight to modern innovation. 
This guest post was contributed by Paweł Tomczyk, founder of the blockchain-focused content marketing agency Cyberius. 
To the Blockchain And Beyond: Are Security Tokens the Third Wave in Fintech?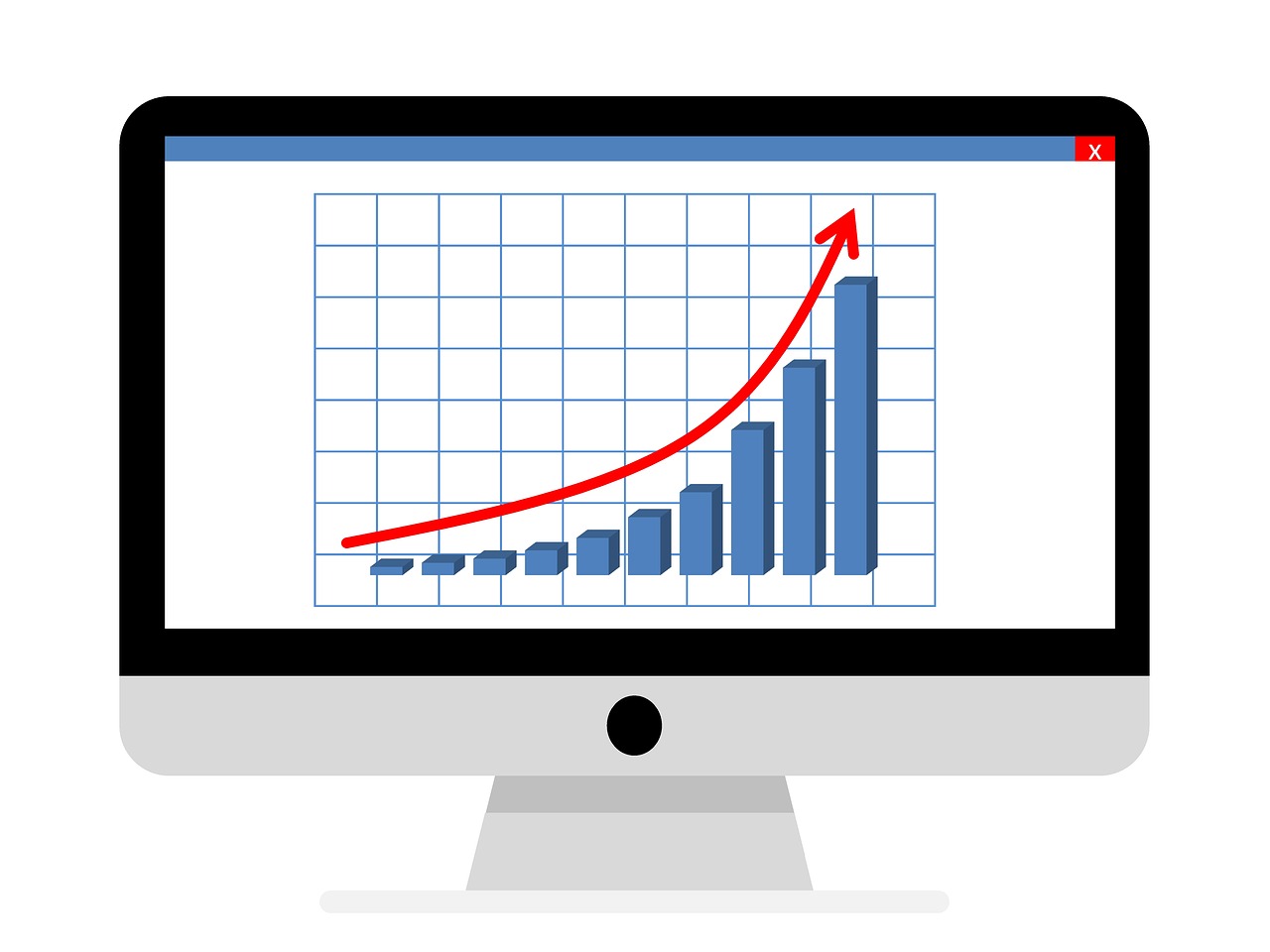 In a competitive landscape, Initial Coin Offering (ICO) funding has become a tough nut to crack. With various ICO scandals leaving a sour taste in investors mouths, more sophisticated offerings such as Security Token Offerings (STOs) find themselves subject to increased scrutiny.
The challenge lies in their unfamiliarity amongst most financial professionals. Despite being a model closer to traditional financial products, adoption and understanding in mainstream finance continues at a slow pace.
While the mainstream has been tentative to adopt security tokens, they have recently gained unparalleled popularity in the cryptocurrency industry. Security tokens, security-type certificates or tokens registered under a legal and regulatory framework, are seen by several key industry players as a more legitimate way to perform ICOs.
However, beyond this, security tokens also have the potential to completely revolutionise global financial practices like securities tokenisation.
For securities trading, the benefits of blockchain boil down to three key areas: circulation and liquidity, versatility and security and the securitisation of new assets.
Circulation and liquidity
The current structure of the securities market means that cross-border transactions are limited to a few exchanges only, and can often be slow and costly – trade reconciliation work has to be done manually, along with other labour intensive database tasks. Token exchanges have the potential to solve this – they now operate 24 hours, 365 days a year, trading is relatively liquid and transactions are settled in the same working day with no clearing period, otherwise known as 'T+0'.
Furthermore, these tokens can be traded in Satoshi units, which have nine decimal places – enabling smaller trades to be done and lowering the investment threshold, meaning more people can invest than ever before.
Should we apply this technology to the securities market, it would have the potential to solve the circulation and liquidity problem, as well as making transactions easier by removing cross-border restrictions.
Versatility and security
Industry adoption of security tokens could also provide some strengths when it comes to versatility, as they can have a high degree of interoperability. By tokenising any form of asset, you open it up to be traded for a much wider range of things, like security tokens, utility tokens or digital currencies, rather than just another security token.
The decentralised ledger system also means that it would be more difficult to hack compared to a centralised server system, making ownership of the tokens more secure.
In addition, security tokens offer more security than other cryptocurrencies, as everything is linked to the individual's ownership. For Bitcoin, if you are a victim of a hacked account or someone gets hold of your private keys, the Bitcoins in question would most likely be gone and the chances of you proving ownership of the Bitcoins are slim.
However, due to a tangible underlying asset, security token hacks take a different form. While hacks could lead ownership to be debatable, the asset in question will still be there. And as long as the company issuing the security tokens has been through sufficient Know Your Customer (KYC) checks, ownership can be resolved. Furthermore, stealing a security token from someone would leave a transaction record on the blockchain, which is the digital equivalent of leaving your fingerprints all over the crime scene.
Securitising new assets
Tokens are unique in that that they can securitise various forms of assets including both tangible and intangible assets. This has already had some success, with the recent auction of Andy Warhol's 14 Small Electric Chairs, an iconic contemporary art piece featuring an electric chair, allowing art lovers to buy a share in the painting.
This would also contribute to liquidity and interoperability of assets, as these small units can subsequently be traded. This goes beyond art – in the future we can expect to see assets like office buildings operating on a fractionalised ownership model, allowing smaller investors who previously would not be able to afford investment in this asset class to participate.
A 'super' future for securities?
As a result, not only do securities tokens provide a safer and more sustainable alternative to the ICO model, but they also have the potential to revolutionise the traditional securities market, possibly opening up the idea of 'super securities' further down the line.
Through blockchain technology, securities can be made more accessible, liquid, and secure by removing third-party risk and lowering transaction costs. Should the trend continue, we could see security tokens becoming standard practice, eventually replacing existing securities to become 'super securities'.
With this in mind, those who herald security tokens as third wave in Fintech may well be right, particularly when it comes to revolutionising securities trading. However, how we approach this next technological step is crucial. If implemented correctly, security tokens could significantly improve existing processes and make investment accessible to all, bringing positive change not only for the future of cryptocurrencies, but also for the wider financial markets.
This guest post was contributed by Jack Chia, MD of Cryptology.
Binance Uganda Will Open BNB and PAX Trading, Amid Wave of New User Signups

Binance Uganda, a new fiat-to-crypto cryptocurrency exchange, announced that it has signed up 40,000 users in the first week since its launch, highlighting the strong demand for cryptocurrency in Uganda. In the midst of this, the exchange is also opening trading for BNB and PAX. 
40,000 Crypto Traders
Despite the majority of Ugandans not having bank accounts, the demand for cryptocurrency is on the rise. In fact, Binance Uganda's mass sign-up wave suggests a strong appetite among Ugandans for purchasing bitcoin or ether, the two coins the new Binance unit currently lists. 40,000 Uganda have reportedly already signed up for the new exchange. 
Besides the local focus, there are two significant differences from Binance's flagship global trading platform. Binance's subsidiary in Uganda will partner with a local mobile payments provider that will convert fiat to crypto or vice versa. According to a spokesperson, Binance Uganda also plans to eventually open local bank accounts.
Before, Ugandans wanting to trade cryptocurrencies would use peer-to-peer exchanges like LocalBitcoins or trade on a peer-to-peer basis on WhatsApp and Telegram groups.
Ugandans Will Be Able to Trade BNB and PAX
Binance Uganda also plans to launch two new trading pairs on its platform on November 15. The platform will list Binance Coin (BNB) and Paxos Standard Token (PAX) against the Ugandan shilling (UGX).
The trading pairs will go live from 10 am EAT. Users can start depositing their BNB and PAX tokens to prepare for trading, subject to the fees and rules of Binance.