Meet Africa's Blockchain Startups: Blockchain Academy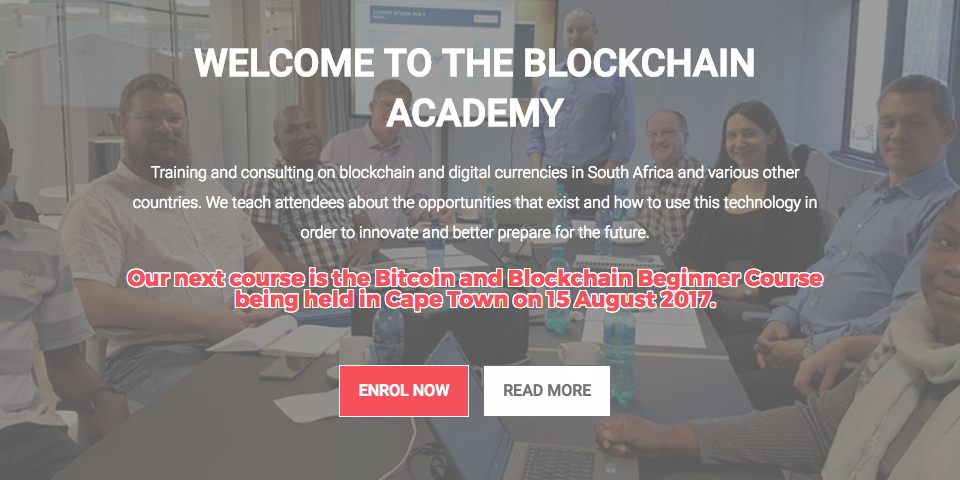 The Blockchain Academy is an educational institution that enables individuals, entrepreneurs, developers, and organisations to learn about the innovative potential of bitcoin and blockchain technology. Founded in 2015 and based in Cape Town, the Blockchain Academy offers training courses on cryptocurrencies, the blockchain, and their future applications to attendees in South Africa and Zimbabwe.
Demystifying Bitcoin and Blockchain Technology
Despite growing global recognition of bitcoin and its underlying technology, the blockchain, there is still a lot of confusion about the nature of bitcoin and how it works. To address this uncertainty, the Blockchain Academy was formed to help people understand how the technology can be used to develop innovative systems and processes for businesses, as well as how to use it to create their own applications to handle various functions.
The training courses are tailored to meet the needs of attendees from different professional backgrounds such as operations and treasury professionals, compliance and accounting, finance, technology, legal and market professionals. The sessions usually run for a full day and clients can choose the mode of training they prefer, either on-site training, classroom training or online training.
Classroom sessions are provided at the Academy offices in Bandwidth Barn, in Woodstock, Cape Town, and AlphaCode Club in Sandton, Johannesburg. Clients can also enroll for online training on the Academy's website, as well as participate in sessions via Google Hangout.
Presently, there are five courses being offered at the Academy, catering to bitcoin newcomers, developers, and financial institutions. They include:
Bitcoin and Blockchain Beginner course: This course targets those new to cryptocurrencies and blockchain technology, and covers the basics of bitcoin technology, its development and adoption worldwide.
Blockchain Advanced course: The course strives to further explain concepts about bitcoin and the blockchain outlined in the initial course.
Blockchain for Developers Course: The course aims to deepen understanding of the blockchain and help enable one to develop applications on it.
Blockchain for Financial institutions Course: The course provides participants with insight on how organisations are leveraging blockchain technology and its possible uses.
Ethereum Beginner Course: This course is intended for people who want to learn more about Ethereum and how it can be used to develop smart contract applications.
Moving into New Markets
The Bitcoin Academy has so far held its educational courses in South Africa, Zimbabwe, and India. In March 2017, the Blockchain Academy announced that it is partnering up with the Satoshi Centre to provide bitcoin education in Botswana through a course that was held in May. But the Blockchain Academy is not stopping there.
Talking to BitcoinAfrica.io about the future of the Blockchain Academy, the company's founder and Managing Director, Sonya Kuhnel, told us:
"The Blockchain Academy […] is thrilled about all the global interest in cryptocurrencies and blockchain technology. 

Our recent partnership with Anglo African in Mauritius, and our training provided to the Central Bank of Swaziland are significant steps towards expanding into other countries. Our new online training programs are also an important part of offering our courses to as many people as possible. 

 

This is a very exciting space to be involved in and provides many opportunities for incumbents and individuals to experiment with this emerging and disruptive technology.
The Blockchain Academy is not only preaching the benefits of bitcoin and blockchain technology but, more importantly, is educating individuals, startups as well as large institutions on how to implement this new technology to improve systems and operational processes. The Blockchain Academy is, therefore, providing a much-needed service that could potentially help African nations become future leaders in blockchain technology.
5 Reasons Why Online Casinos Should Adopt Cryptocurrencies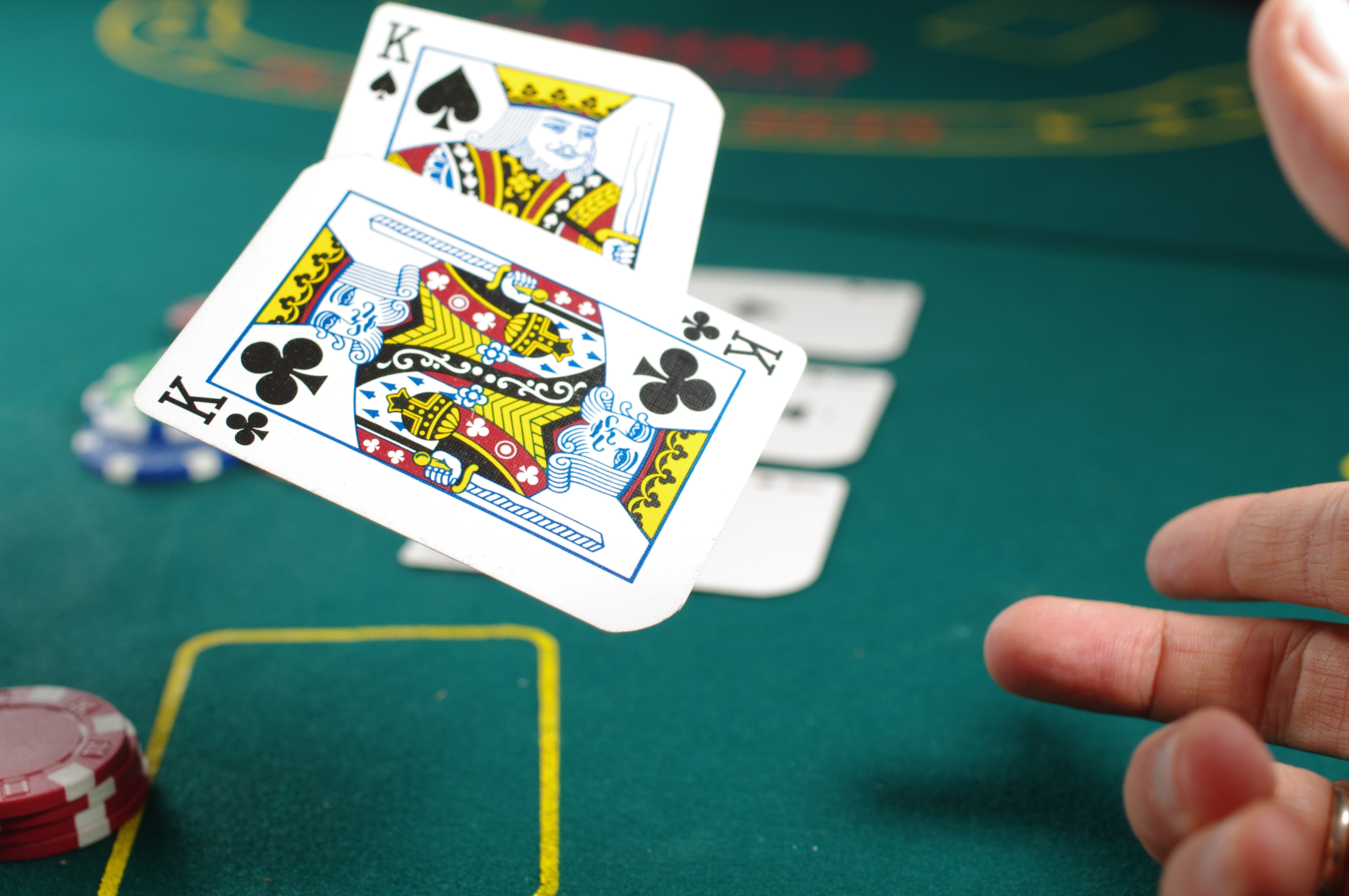 Online casinos are at the forefront of technological innovation in the gambling industry, while cryptocurrencies are arguably the most innovative payment solution on the Internet. 
In this article, we will discuss the top five reasons why online casinos should consider adopting cryptocurrencies as a payment method. 
Access to More Markets
Online casinos heavily rely on online payment platforms such as PayPal and Stripe. Despite the fact that online casinos are available in all areas with Internet connectivity, not all Internet users are able to use these platforms. 
Payment platforms such as PayPal and Stripe are not available in all jurisdictions. Cameroon, Central African Republic, Cote D'Ivoire (Ivory Coast), Equatorial Guinea, Gabon, and Ghana, for example, are not supported by PayPal. What's more, some countries have low debit card and credit card penetration, making it difficult for customers from such markets to use online casinos.
Cryptocurrency payments are available worldwide and present an important use case for internet casinos that want to reach an entirely new market of prospective bettors who are unaccounted for by payment platforms. By supporting cryptocurrencies, such as bitcoin, online casinos stand a chance of reaching new users from markets without popular online payment platform support or penetration.
Access to a New Community of Bettors
The cryptocurrency community has grown exponentially over the last few years with big businesses built around the cryptocurrency ecosystem and its users.
With a total cryptocurrency market capitalisation of $266 billion, online casinos that support cryptocurrencies could reach a new community of bettors who prefer to use digital currencies over other payment methods. 
The cryptocurrency community is riding a huge wave of momentum. Many companies that have strategically placed themselves in the ecosystem have seen exponential growth as a result. Online casinos that add cryptocurrency payments could also benefit from the momentum of a rapidly growing online economy.
Lower Fees  
Online gambling providers are generating healthy profits according to market statistics and predictions. However, these platforms could increase profits further if less of their revenue was lost to payment platform fees. 
Bank cards and online payment platforms charge a percentage for all transactions. Fees for cryptocurrency transactions, however, are usually far less and are generally paid by the user. By adding cryptocurrencies, online casinos could accept payments faster and incur lower on fees.
Currently, small merchants pay between two to four percent per credit card transaction, which often involves additional "hidden fees." Cryptocurrency transaction fees are comparatively low and do not include hidden fees.  
No Chargeback Fraud
Chargeback fraud, also known as friendly fraud, occurs when a consumer makes an online purchase with their credit card and then demands a chargeback from the issuing bank after receiving the purchased goods or services.
Cryptocurrencies offer online merchants protection from chargeback fraud. Unlike credit card payments where transactions can be disputed even after they have been charged, cryptocurrency transactions are final.
For online gambling providers who accept exclusively cryptocurrency payments, chargeback fraud is a thing of the past. 
Increased Publicity
Cryptocurrencies have one of the biggest communities online, full of passionate people who are always happy to propagate positive news, such as the addition of cryptocurrency as a payment method at an online casino store. Additionally, online platforms that accept cryptocurrency as a means of payment also receive extra coverage from cryptocurrency media.
This additional publicity comes in handy for online casinos due to the saturated nature of the industry, which requires platforms to leverage every opportunity that puts them ahead of the competition.
Is Nigeria Likely to Formalise Remittances and Become the Third-Largest Inbound Market Worldwide?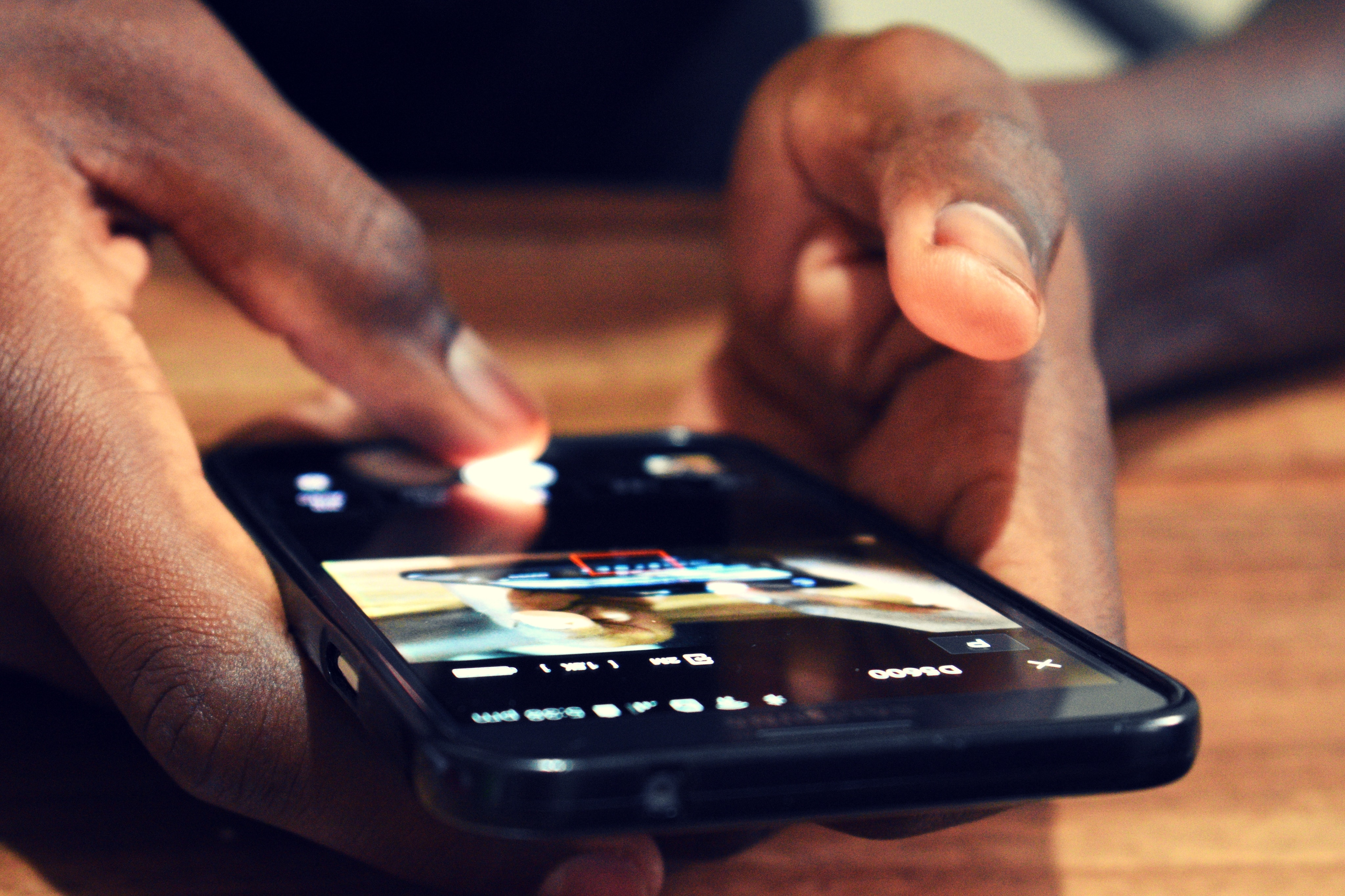 Nigeria is the sixth-largest recipient of remittances in the world with an estimated volume of nearly $25 billion a year. This estimate for remittances flow doesn't account for the informal market, that even if it is shrinking, as most analysts believe, it adds approximately $10 to $15 billion a year to the formal number. That places remittances for Nigeria at around $40 billion. If this were to be true, then it would squarely place the country as having the third-largest volume of remittances in the entire world, ahead of the Philippines and Mexico with highly formal markets.
In a blog post published by remittance expert Hugo Cuevas-Mohr, he discussed the volume of remittances to Nigeria and the importance of achieving more accurate figures and the success in formalising the remittance market in Nigeria. These are also key topics that will be extensively examined at IMTC AFRICA 2019, a conference that will take place in Lagos on September 24-26 at the EKO Hotel. IMTC is the leading gathering for international money transfer, cross-border payment, and Fintech companies around the world and has chosen Nigeria as the site of its biannual African event to help in the innovation, formalisation, and transparency of remittances in the country.
Why Formalisation is Necessary
Parallel markets, or informal markets, are notorious for skewing a country's volume, revenue, and wealth statistics; in an age where data is glorified, it is clear to see why this is such a problem. Countries are valued and respected based on their stats, and if Nigeria's stats are not reflecting the true volume of remittances, then their significance is being missed.
The Nigerian Naira is traded at different rates on the parallel market than on the official market. For instance, as of August 6, the Central Bank of Nigeria valued 1 USD at 306 NGN (Niara), whereas the parallel markets revealed that 1 USD was actually trading at 360 NGN. Such a large discrepancy in the exchange rate reveals just a portion of the issues taking place. If the parallel market exchange rates are correct, then it is extremely unlikely that Nigeria will be successful in curbing the informal market. 
Nigeria's parallel markets have been prevalent for some time now, but the issue became serious in 2016 when the Central Bank of Nigeria, to curb the informal market, limited the number of legal money transfers to only three International MTOs: Western Union, MoneyGram, and Ria. This subsequently forced all other MTOs to call upon CBN to allow more MTOs to be licensed, jumping to more than 60 in three years. Has the strategy from CBN been successful?
Mr. Cuevas-Mohr states in his blog: "The remittance market in terms of companies abroad serving the Nigerian Diaspora is growing now at a fast pace as remittance volumes to the country increase, partly due to organic growth and partly due to more funds being channeled through official channels."
Leon Isaacs, IMTC AFRICA 2019 Co-Chair, and an expert in remittances will discuss extensively at the conference the findings that his surveys and data gathering work is revealing. Other topics to be discussed at this trendsetting event will be the impact of Payment Service Banks and Fintechs on remittances, the role of blockchain and cryptocurrencies, the importance of strong compliance and risk management and the importance of MTO partnerships with local banks and Fintechs to help to formalise remittances.
Nigeria And the Mobile Industry
Another pressing topic at the conference is that of the mobile industry. In a recent development, the Nigerian government is allowing mobile companies to directly offer financial services. Previously, mobile companies were required to form rigid agreements with banks to offer financial services in the country. These new companies will be known as Payment Service Banks (PSBs), similar to how India enables mobile companies to offer such services.
This is massive news for the world of remittances as PSBs can give their unbanked customers, and generally to all low-income residents, the opportunity to manage mobile money as the digital ecosystem grows. It can also impact the government's financial inclusion initiatives. The impact of the PSBs in the remittance market is hard to predict but everybody will be watching. Mr. Cuevas-Mohr said: "It will take time to see the impact to the market of Telcos being allowed finally to offer themselves financial services, and remittances."
As many MTOs participating at the IMTC AFRICA 2019 conference in Lagos have expressed, the event comes at the best time for the industry in Africa. Filled with a compliance course, an innovation forum, panel discussions, keynote speakers, roundtables, and ample time to network with industry leaders, the event will be a gathering of the Who-is-Who in the field of African remittances.
The article was contributed by David Cullinan. 
South Africans Can Now Invest in Crypto-Asset Bundles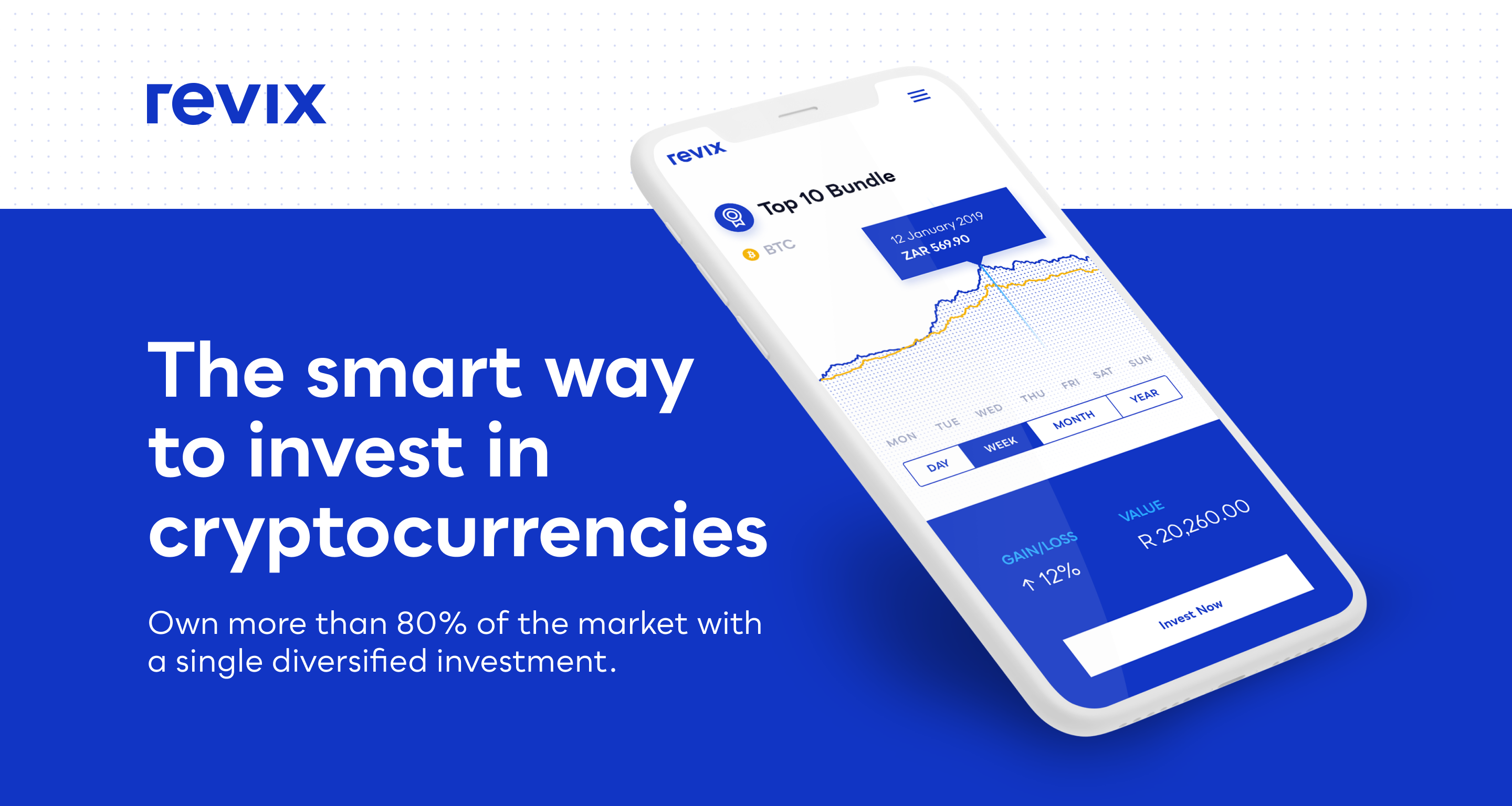 South Africans can now invest in crypto-asset bundles thanks to Revix, a digital asset management platform incorporated in the UK. Revix aims to expose investors to 80 percent of the cryptocurrency market through bundles.
Bitcoin Africa talked to Revix's co-founder Sean Sanders to better understand this new digital asset investment option.
Passive Crypto Investment Through Bundles
Bundles are cryptocurrency portfolios that expose an investor to a diversified number of cryptoassets at a low cost while reducing risk. These bundles are comprised of the top cryptocurrencies that are rebalanced each month to keep investments up-to-date with the changing market.
"The name Revix stands for 'revolutionary index' and we plan to shake up the cryptocurrency space by providing a secure and smarter way to invest in digital currencies. We are looking to broaden the appeal of cryptocurrencies by making the investment experience seamless. We target investors who are interested in crypto, but do not have the time or inclination to research every opportunity, work out the technicalities of investing, or properly understand the challenges of holding their assets," said Sanders.
Revix uses diversification because it is difficult to forecast which cryptocurrencies will gain traction and which will not. By holding a diversified basket of assets, the investors' risk declines while returns can increase.
Revix offers the following bundles:
Top ten bundle: this bundle contains the top ten cryptocurrencies.
Payment bundle: this bundle includes the top five largest cryptocurrencies focused on payments.
Platform bundle: this bundle holds the five biggest platform-focused cryptocurrencies.
Privacy bundle: this bundle comprises of the three largest privacy cryptocurrencies.
Sean Sanders and Louis Buys founded Revix in 2018 and held a launch on April 2019. The co-founders also raised R10 million during the first round of funding from Sabvest, an investment group listed on the Johannesburg Stock Exchange (JSE).
How Bundles Work
To get started on Revix, register and deposit funds in your preferred currency. Investors can begin with as little as R500. Once you have deposited funds, you can now choose a bundle and invest in it.
According to Sanders, Revix leverages proprietary technology to link investors to crypto exchanges with a smart price routing algorithm that looks for the best available price for investors.
"By connecting with global, liquid markets and using technology, we can get better prices than what has otherwise been available to local investors. Major factors for local investors are the currency devaluation and geopolitical risk hedges that cryptocurrencies offer. With a rand depreciating over the long term, moving into an asset class that is peer-to-peer, borderless, and uncorrelated to South African specific risks is attractive," he told Bitcoin Africa.
Revix charges a one percent transaction fee when purchasing or selling a bundle. The platform also ensures that all fees incurred are displayed to the user. Investors' funds are secured in cold storage across multiple-vaulted locations.
Why Invest in Crypto?
Sanders believes that investing in cryptoassets offers South Africans an opportunity to "see the birth and application" of blockchain technology.
"The world of cryptocurrencies is not coming, it is already here, and we have already seen this asset class increase by multiples compared to all other asset classes out there. I mean, cryptocurrencies are the top-performing asset class of the last decade which should not be overlooked," Sanders asserted.
Rather than waiting to see how the technology pans out, Sanders advocates taking advantage of the opportunity at the present. However, he advises against investing your life savings in cryptocurrencies. All you need to experience crypto and the blockchain is a small portion of your wealth, he said.
Why South Africa?
Revix is offering its investment products in South Africa because the country enables businesses to build online platforms at low costs and the regulatory environment supports enterprises in the crypto scene.
Furthermore, South Africa has a pool of professionals with technical skills in the blockchain and computer science fields. This factor is attractive to companies in the blockchain and crypto industry like Revix.
"South Africa is a key market for us as the country has a diversity of people with vastly different demographics allowing us to test specific concepts and strategies and get customer feedback while managing scale," Sanders stated.
The Revix platform is attracting a wide range of users such as fresh graduates, retirees, investors well-versed with traditional finance but who are only now learning about crypto, and investors who are unfamiliar with traditional finance but knowledgeable about crypto.
Advocating for Crypto Regulation
Although the regulatory environment in South Africa is crypto-friendly, Sanders thinks that more should be done to enable businesses like his to run more smoothly.
Since a clear regulatory guideline is missing, crypto businesses like Revix take longer to create relationships with banks because of the perceived risk and they operate unlicensed. Therefore, Sanders is welcoming local regulation because it will offer more protection to consumers, provide guidelines on how to treat this asset class, and encourage institutions to participate in this market.
Sanders is an entrepreneur in the crypto space and has established other startups besides Revix. In the past, he has worked for a VC firm and an investment management company. With regards to recent trends in the crypto space, Sanders believes that Facebook's Libra coin will drive the adoption and acceptance of digital currencies globally.
The South African Reserve Bank announced earlier in 2019 that it is carrying out a central bank digital currency feasibility study while the South African Revenue Service announced cryptocurrency tax laws in 2018. These events could indicate that South Africa is taking positive steps towards recognising, accepting, and adopting digital currencies.