#AroundTheBlock to be Held at Standard Bank, Johannesburg on June 12, 2018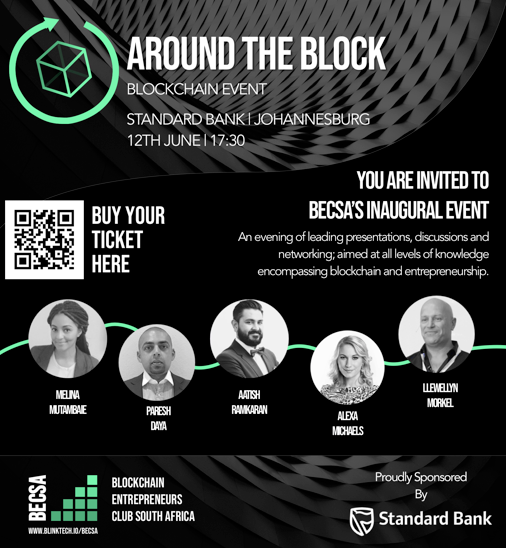 Johannesburg — The Blockchain Entrepreneurs Club South Africa (BECSA) is proud to announce their inaugural event on 12 June 2018! We cordially invite you to attend #AroundTheBlock – an evening of leading presentations, discussions and networking; aimed at all levels of knowledge encompassing blockchain and entrepreneurship.
Blockchains have been in use for just under ten years, but have had massive, global impact in that short time. Although cryptocurrencies like Bitcoin are currently regarded as their "killer apps", a tsunami of new use cases and innovative applications is arriving. Blockchains are now poised to significantly transform or completely disrupt industries as diverse as healthcare, identity, music, and real estate, and almost everything in between.
However, like most emerging technologies, blockchains can be intimidating and confusing, and separating hype from reality is not easy. #AroundTheBlock will take you on a tour of the technology and focus on the real world applications and opportunities it is providing.
Sponsored by Blink, Standard Bank and in partnership with The Festive Collective, a significant portion of the proceeds will be donated to our chosen impact hero, Molo Mhlaba.
For more information about the event or to buy tickets, visit: https://www.quicket.co.za/events/47090-around-the-block-hosted-by-becsa#/
About BECSA: BECSA serves as a destination for those interested in learning about all things related to blockchain and cryptocurrency. It creates a space for the public and entrepreneurs, from diverse backgrounds, to learn, network and grow the blockchain ecosystem in South Africa.
For more information, contact:
Aatish Ramkaran, Director (BECSA), aatish@blinktech.io
YFIII: the Favourable Investment Opportunity for the Last Quarter of 2020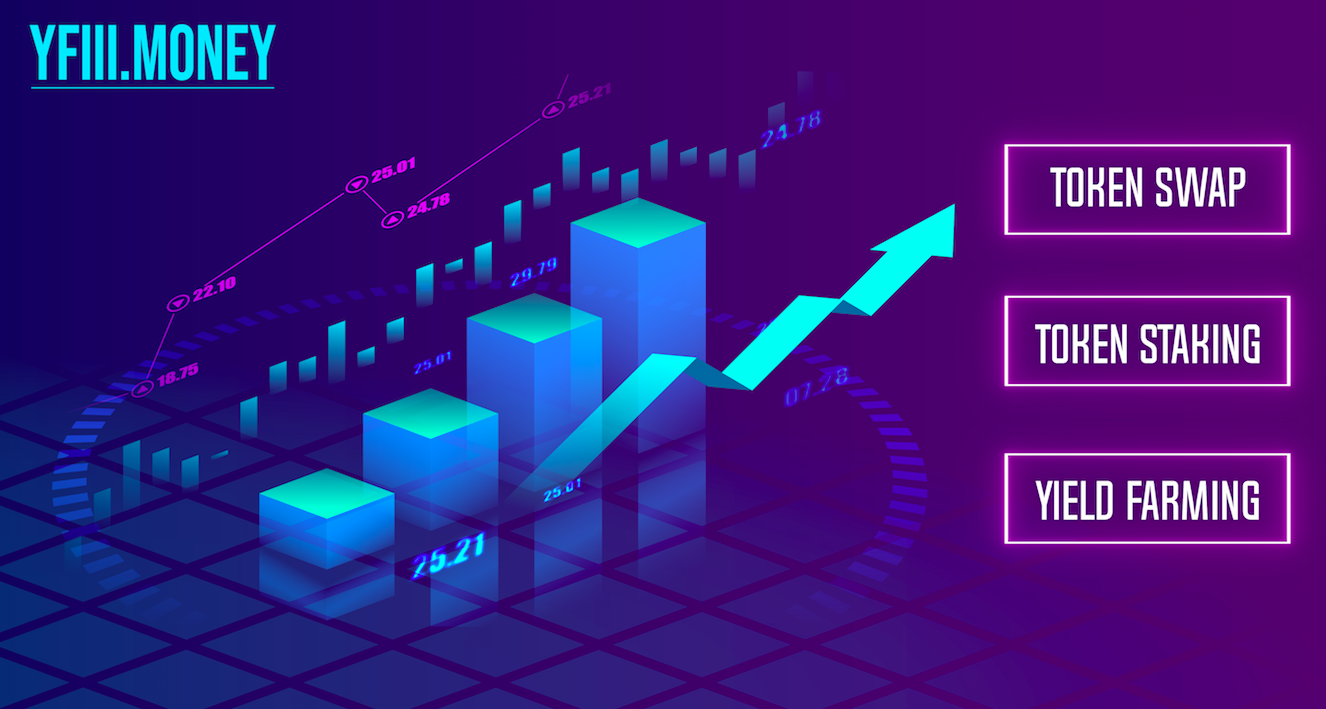 In the wake of the global economy, investors all over the world are seeking for their interest in making a profit in a safe and effective way. In the crypto world, that hope is likely viable with good profit and trustworthy projects created upon hi-tech platforms. YFIII is one of those projects, which is getting more and more attention from investors. 
What is YFIII?
YFIII is a decentralized finance platform that allows users to perform a host of functions such as trading and aggregated liquidity. Moreover, it also is the first platform to integrate Uniswap SDK and staking on-chain.
Since release time on Sep 13, 2020, the YFIII project has gained large support from the global community. The number of group members has increased massively by 2000 members a month. 
Noticeable Attributes
YFIII offers users three fundamental attributes such as Token Swap, Token Staking, and Yield Farming. 
With token swap:

It allows users to easily swap from ETH, DAI, USDC, or USDT to YFIII and vice versa. 

With Token staking: I

nterest rate decreases gradually every 2 weeks. Tokens will be locked within 2 weeks once you finish staking. After 2 weeks, these tokens will be unlocked and users will receive tokens staked as well as the interest respectively. Users can completely cancel staking and take the tokens back any time.

Yield farming will be released at the beginning of 2021. 
How to trade YFIII? 
Currently, investors can simply buy or sell YFIII tokens on Uniswap, Indoex, and will be soon on some other exchanges namely: Probit, OKEx, Huobi,… The project is also preparing the last progress for Coingecko and CMC listing. 
YFIII's price has raised up to 380% per day after being officially listed on Uniswap on September 13th, 2020 – a very impressive figure. Having said that, by the well-thought plan and a clear orientation of the YFIII team, this project completely is an opportunity that should not be missed. 
YFIII: Big chance – Big profit
Join with us at https://t.me/yfiii_money
Our website: https://yfiii.money/
Disclaimer: This is a paid press release. Readers should do their own due diligence before taking any actions related to any company, product, or service mentioned in this article. BitcoinAfrica.io is not responsible, directly or indirectly, for any loss or damage caused by or in connection with the use of or reliance on any content, product, or service mentioned in this press release. 
Sikix Exchange Launches with MoonPay as a Payments Partner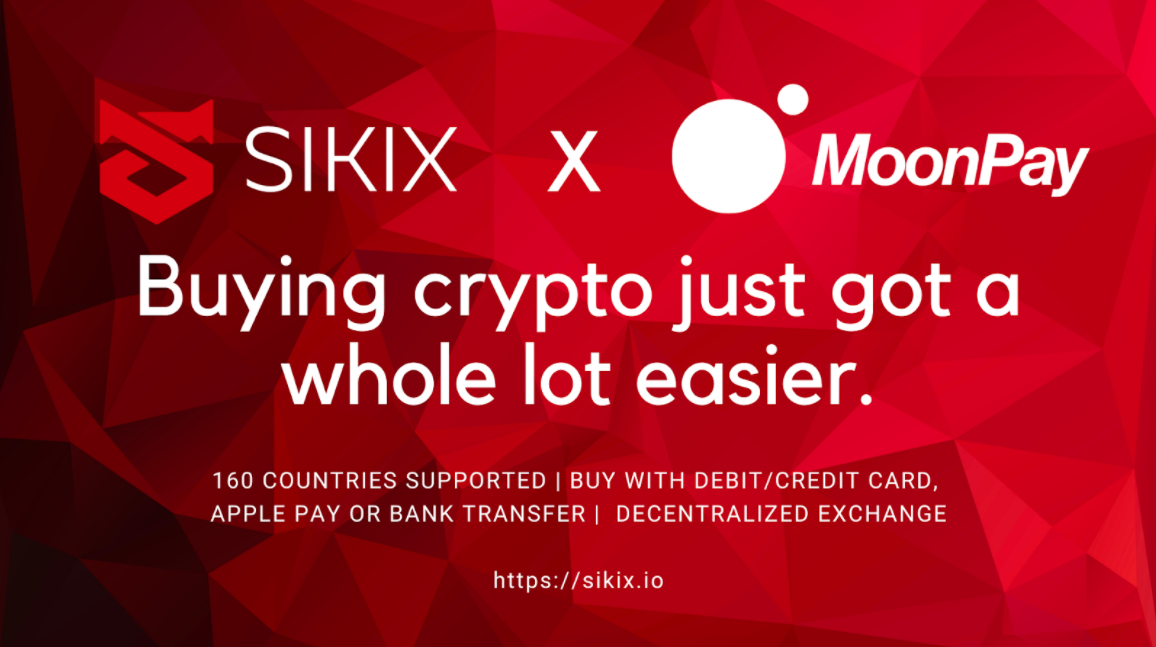 Sikix.io, a world-leading decentralised exchange (DEX) offering an advanced, secure, and transparent crypto trading platform, is going live. 
The platform promises to pioneer decentralised exchange offerings with truly global deployment. There will be stable and efficient services to millions of cryptocurrency investors globally. 
The DEX deploys 11 witness nodes distributed in 8 countries on four continents, ensuring users' ultimate trading experience worldwide. Sikix also provides lightning-fast network speeds, allowing users to complete an order in 3 seconds. 
This new exchange achieves excellent trading speeds without compromising transactions' security due to its advanced consensus mechanism of ByteTrade Blockchain. The "Match-Chain" built on the ByteTrade 2-layer blockchain structure makes Sikix unique from other decentralised exchanges by providing stable and high- speed order matching services. 
In ByteTrade, users can enjoy secure on-chain trading experiences as fast as 1 second. Furthermore, the multi-platform nature guarantees the ability to trade anywhere and anytime.
Getting Started on Sikix
Users can start trading on the unique platform by creating an account and entering their login details (name and password). After that, the system will offer a mnemonic phrase, which is essential to save for future account access restoration.
Next, account owners must verify their email address, phone number, and install Google two-factor authentication for their account. These measures help boost security on Sikix and protect accounts from frauds and scammers. Multi-signature in all supernodes further bolsters security on the platform.
Sikix Exchange strives to return to decentralisation by allowing each owner to keep private keys by themselves and master 100% of fund management rights. It locks all users' assets in smart contracts.
The decentralised trading system currently supports BTC, USDT, ETH, CMT, and other top blockchain assets. In the future, it will add more crypto assets.
Don't miss the opportunity to use the services of the Sikix decentralised exchange and become truly independent.
Sikix Partners With MoonPay
Sikix has now partnered with fiat-to-crypto provider MoonPay to offer users a seamless means to purchase various cryptocurrencies in minutes.. 
The DEX will host MoonPay's payment services on its website to facilitate purchases of over 50 crypto assets with all major debit/credit cards. 
Users can also buy crypto via bank transfers (EU and UK), virtual cards, and new mobile payment methods such as Apple Pay.
MoonPay accepts payments in over 160 countries globally, including the US, Europe, Japan, Vietnam & South Korea. By partnering with the prominent payment provider, Sikix exchange aims to make crypto accessible to everyone. 
The exchange has deployed a referral program dubbed "Refer a Friend" that pays a commission to attract new traders to the platform. 
The program follows a well-designed 5-tier affiliate reward system that allows users to earn a commission from their friends' friends. The DEX also offers a nice bonus for NGN coin users by enabling them to deposit Paystack. 
About MoonPay 
MoonPay is a fintech startup developing the new standard for fiat-to-crypto giving ordinary folks a seamless way to move between fiat and cryptocurrency at the few clicks of a button. 
MoonPay's payment gateway accelerates the mass adoption of digital assets by making it easy for new users to onboard straight into crypto via a simple checkout journey. 
Among the more recent platforms to partner with the payment provider is Binance DEX, which recently launched a fiat-to-crypto service through MoonPay. The service now enables users from more than 40 countries around the world to purchase BNB with fiat.
More recently, on Sep. 23, new DeFi protocol RioDeFi unveiled a partnership with MoonPay to facilitate effortless purchases of its RFUEL token. Other top platforms like Changelly and Bitcoin.com have also partnered with Moonpay. 
Disclaimer: This is a press release. Readers should do their own due diligence before taking any actions related to any company, product, or service mentioned in this press release. BitcoinAfrica.io is not responsible, directly or indirectly, for any loss or damage caused by or in connection with the use of or reliance on any content, product, or service mentioned in this press release. 
USDT Is A Game Changer For Online Poker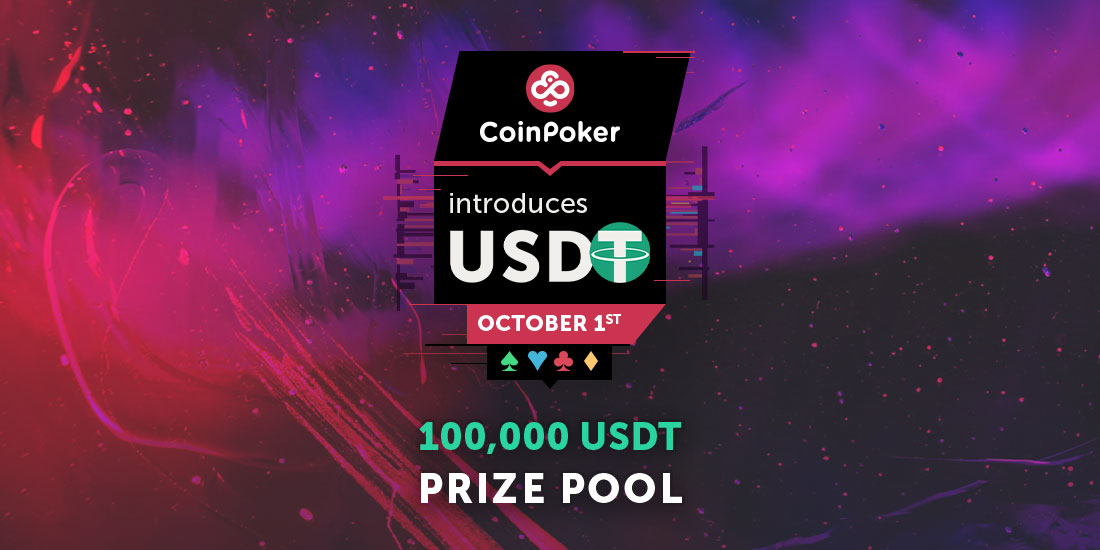 CoinPoker – the flagman of the industry and oldest pure crypto poker room – is the first to introduce USDT as an in-game currency, solving the ever prevailing volatility issues and creating grounds for accelerated growth. Alongside this, it launches two promotions giving away 100,000 GTD in prizes.
The changes will finally allow the poker community to play using chips pegged to dollar value, while at the same time offering the lowest rake in the industry and verifiably fair decentralised card shuffling mechanism – a trio never seen in the history of online poker.
Choosing the coin
With expert advisors, poker elite and community supporting the need for a change, USDT was an obvious choice as it matched the high criteria the room had for the coin: stability, transaction speed, and the overall reliability.
In addition, USDT is simple to use when it comes to crypto newbies: going from fiat on users' bank account to USDT on a poker account and vice versa can be done in a matter of hours. CoinPoker also allows its users to deposit and withdraw in BTC and ETH making the most out of the in-app currency conversion tool.
Better for a player
Looking from a player's side USDT has the obvious superiority when it comes to providing liquidity and a hedge against crypto market volatility. The tokens are pegged to a fiat money making this stablecoin less risky than typical cryptocurrencies therefore safe for both newcomers to the poker app and poker pros who will always know their bankroll in terms of fiat value.
Unique bonus system
USDT will work in perfect balance with CHP token, a predecessor in-game currency of CoinPoker, which won't be a must for playing, however, will guarantee exclusive privileges and perks for its users and holders: rakeback, extra leaderboard points, exclusive access to the sportsbook section and discounts on withdrawal fees. Reportedly more benefits to come in the nearest future. 
A room providing more possibilities to win
It's worth noting that CoinPoker is a crypto poker room with the lowest rake in the industry and huge promotions giving away thousands in fiat value each week. This is also the first poker room that returns 100% of the rake back to players in various shapes and forms.
Seeing what's on the table makes it obvious that the combination of the stablecoin USDT as in-game currency and CHP as a bonusing fuel is set for long-term success which is a must to take advantage of as a player.
Best time to join is now
USDT will become the official CoinPoker in-game currency on the 1st, October. The room is marking this significant date by giving away 100,000 GTD in prizes.
Players will be invited to enjoy 'Crypto Series of Poker' – the biggest series of crypto poker tournaments that have already become a tradition on CoinPoker, while Cash players will be treated to a two-week Leaderboard rewarding a total of 100 places!
Once registered don't forget to invite your friends to do the same since CoinPoker referral program awards 30% of what the referrals rake.
Disclaimer: This is a paid press release. Readers should do their own due diligence before taking any actions related to any company, product, or service mentioned in this article. BitcoinAfrica.io is not responsible, directly or indirectly, for any loss or damage caused by or in connection with the use of or reliance on any content, product, or service mentioned in this press release.