Solarex Utility Token (SRX) – Disrupting the Renewable Energy Market in Africa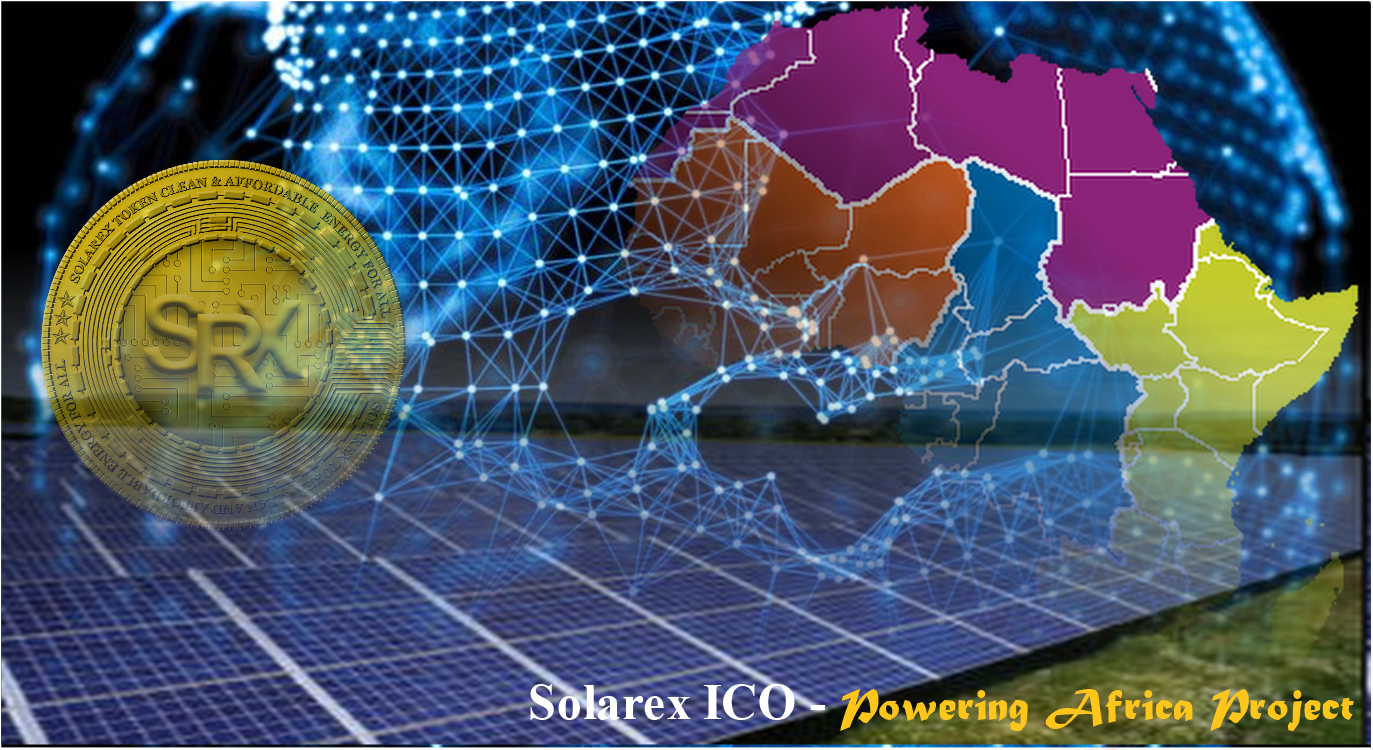 Africa is a continent that has amazing potential but is also plagued with a myriad of problems in virtually all sectors ranging from finance, energy, agriculture, and land registry. Unfortunately, more than 50 years of poor governance has not helped alleviate these crunching challenges besetting most African countries.
Fast forward to 2008 and the world got wind of a new lexicon called Bitcoin. It was a new technology that few privileged, young tech-savvy entrepreneurs took advantage of. It wasn't until 2009 before Satoshi Nakamoto mined the first ever block on the chain, called Genesis Block. Today, the Blockchain has evolved into a decentralized digital ledger via which transactions made in Bitcoin or other cryptocurrency are recorded chronologically and publicly.
The emergence of Blockchain technology which took Africa by storm with its multiple functionalities, in the area of finance, healthcare, governance, and telecommunication, has continued to find immense relevance in the continent. Blockchain can reduce endemic corruption in a continent where there is lack of trust and transparency. Blockchain technology with its vast potential can also help overcome electoral fraud, land theft and educational deficits that have persisted in most African countries.
The key area where most African countries have suffered the most is in the area of energy. As at April 2017, only 15.3% of the entire Tanzanian population had access to electricity. South Sudan is even worse off, with just 5.1% of its total population having access to clean and cheap electricity. The problem is more evident in Nigeria, which prides herself as the Giant of Africa but can only generate an average of 3200MW of electricity daily for over 180 million populations. This has indeed slowed down economic growth in Africa and also impacted negatively on other sectors that depend heavily on electricity for its survival.
Fortunately, Africa has come to embrace renewable energy as a means of bridging the widening gap that has been created by the energy deficit. One of such renewable energy options which were initiated by Africa Blockchain Research Council (ABRC), a holding company of Auto Republic Ltd, UK, is codenamed "Powering Africa Project". The Powering Africa Project is set to create a clean, cheap and sustainable energy solution to bridge the huge energy gap in Africa. The Project will deploy both the renewable energy and Blockchain technology.
The Solarex ecosystem which will build a decentralized network of energy resources via solar farms which will be connected through Blockchain technology, will aim to become the largest, most efficient and sustainable solar energy provider in Africa, offering energy at a cheap and affordable price for all, and setting a new standard for energy consumption in Africa.
The Solarex utility token (SRX), is an innovative off-grid solar energy technology token that is built around the Ethereum platform and gives access to the services provided on the Solarex ecosystem. Each Solarex token is expected to increase in value based on its multiple functionality and fact that the token will be listed on major exchanges 14 days after the end of its ICO.
The Solarex official ICO website is now opened for private investors and partnership. For those interested in partnership and private sale, simply contact the CEO at ceo@solarex.io
You can also reach Solarex Team in various ways:
Chat on Telegram: https://t.me/SolarexICO
Visit ICO Website: https://solarex.io
Read the Whitepaper: https://solarex.io/content/site/whitepaper.pdf
Subscribe on Facebook: https://www.facebook.com/solarexico
Follow on LinkedIn: https://www.linkedin.com/groups/8657063
Subscribe on YouTube: https://www.youtube.com/watch?v=_SxEFSpTkoM
Follow on Twitter: https://twitter.com/SolarexICO
Follow on Instagram: https://www.instagram.com/solarexico/
*This is a paid press release. Readers should do their own due diligence before taking any actions related to the promoted company, product or service. Bitcoin Africa Ltd. is not responsible, directly or indirectly, for any loss or damage caused by or in connection with the use of or reliance on any content, product or service mentioned in the press release.*
Australian Startup Launches Crowdsale to Revolutionise The Sex Tech Industry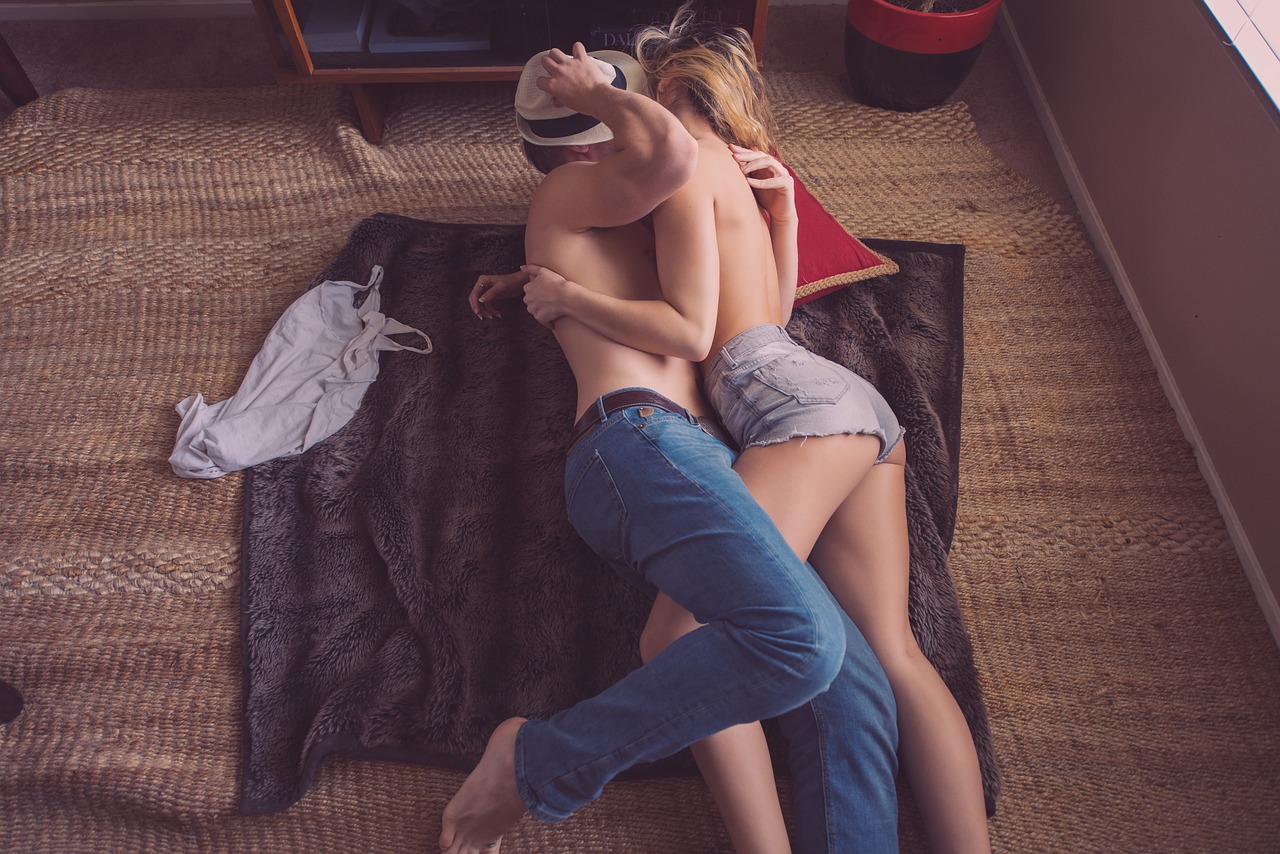 A new crowdsale was launched on June 29, offering token holders the opportunity to buy EXO tokens and to become part of a new sexual revolution. ExoLover is a new blockchain-powered adult entertainment venture aiming to end sexual repression and promote sexual empowerment. Prospective participants in the crowdsale can register now.
ExoLover is aiming to become the world's first sex tech manufacturer to integrate a range of wearable sex toys with a platform built on the blockchain, powered by its own crypto-asset – the EXO token. Having surpassed the soft cap in a few days of launching the pre-initial token generation event, ExoLover Pty Ltd is now ready to hold the main sale to grow the community and potential user base. Inclusivity is at the core of ExoLover's vision and with blockchain and cryptocurrencies set to revolutionise most industries including adult entertainment,  the company is among a handful in this space with such an attractive value proposition.
Along with token ownership, participants in ExoLover's upcoming TGE will stand a chance to be rewarded with bonus tokens from the designated user reward fund. As a fully registered company with patents filed for the development of high-tech sex toys, the company also operates Exo Lovers Club – an exclusive members only adult entertainment club which offers preferential access to project updates including the latest developments about how the manufacturing of the devices is progressing as well as the Exo Lover blockchain platform developments and enhancements. Members of the Exo Lovers Club will have the privilege to access information relating to the general principles of interaction between devices and ExoLover platform. Club members will also be among the first to get the opportunity to potentially become official testers for devices and platform.
The ExoLover platform will be desktop and mobile enabled and will showcase a suite of exciting features, including the ability to remotely engage in sexual experiences which feel like the real thing. Also users of the platform will be able to make instantaneous and low-cost transactions using EXO tokens to access a broad range of exclusive content offered by partner providers and also for making connections with other users of ExoLover devices in order to indulge in fully immersive sexual experiences.
The ExoLover community will enjoy superior blockchain-based security to protect their value and enjoy safe adult entertainment with other users in complete privacy due to the anonymity offered on the platform and which is made possible by blockchain technology. This ability to control personal data is one of the most attractive features of the ExoLover concept. By eliminating data protection or security of transaction vulnerabilities, people will be free to truly engage in fulfilling sexual experiences.
Roadmap for ExoLover Platform and Device Development

By the end of 2018, the ExoLover team are looking to have completed several milestones including finalising the concept of the mobile application and ensuring that development is precise. Their focus will also be on further developing platform functionality and the design of the custom bluetooth controller and other components that will be integral to the successful operation of their different devices such as the ExoWand, ExoThrust, and ExoTouch, just to name a few.
To get involved, simply visit the website and GET EXO TOKENS NOW!
Find out more about the ExoLover project from the links below:
*This is a paid press release. Readers should do their own due diligence before taking any actions related to the promoted company, product or service. BitcoinAfrica.io is not responsible, directly or indirectly, for any loss or damage caused by or in connection with the use of or reliance on any content, product or service mentioned in the press release.*
Golix Offers Africans Free Cryptocurrencies in Token Sale Giveaway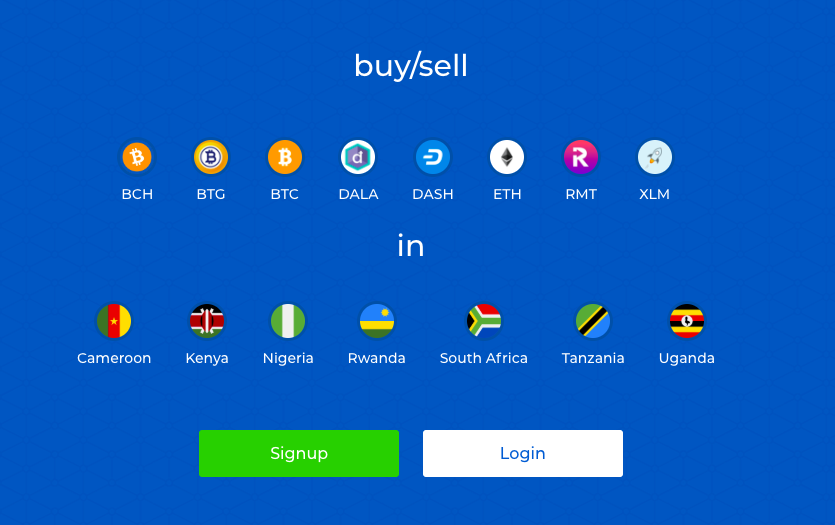 Golix, the Pan African cryptocurrencies startup with exchanges across the continent is distributing cryptocurrency to all Africans as part of its token sale campaign.
The company is conducting a series of giveaway campaigns targeted at everyone in Africa interested in its token sale. This is part of a drive to raise an awareness of how cryptocurrencies can be used to solve some everyday challenges and to showcase the continent's diversity.
Until the 25th of July 2018 when its token sale ends, Golix will be distributing a total of 1 million GLX tokens to people who take part in daily quizzes and competitions.
These will focus on trivia specific to Africa, the African payments space and cryptocurrencies in general. There will also be GLX token giveaways for people who create and share content on Africa such as short videos, blog posts, and pictures.
All this will be under the hashtags #AfricaIsNotACountry and #GLXTokens.
Each of the GLX tokens is valued at 5.6 cents and will be distributed to winners after the sale ends. The tokens will be tradeable on any of Golix's active exchanges.
Speaking on the idea behind the giveaway Tawanda Kembo the CEO of Golix explained that his team had been motivated by a desire to open cryptocurrencies to people in Africa who had never accessed them.
"We are aware that digital currencies can solve some of the problems we face as a continent. Areas like cross-border payments and remittances that most Africans can relate to can and should be improved by the use of cryptocurrencies. We want to demonstrate this using an alternative currency that isn't exclusive to people with credit cards or bank accounts," he said.
Kembo also shed some light on the #AfricaIsNotACountry campaign saying,
"We are often viewed as one single country with the same identity yet Africa has so much diversity that should be celebrated. We want the distribution of our token to people here to bring that out and demonstrate just how rich our culture and creativity are."
The Golix token sale was launched on the 1st of June 2018. It is a campaign to raise US$32 million through a crowdfunding technique used more commonly by cryptocurrency startups.
Golix has already opened exchanges in seven African countries and wants to use the proceeds of its token sale to extend its presence to more countries, providing the continent with financial autonomy.
You can read more about the Golix token sale by following this link.
*Readers should do their own due diligence before taking any actions related to the promoted company, product or service. Bitcoin Africa Ltd. is not responsible, directly or indirectly, for any loss or damage caused by or in connection with the use of or reliance on any content, product or service mentioned in this press release.*
Cryptonomics Africa Launches a New Website to Provide an African Perspective on Cryptocurrencies and Applications of the Blockchain Technology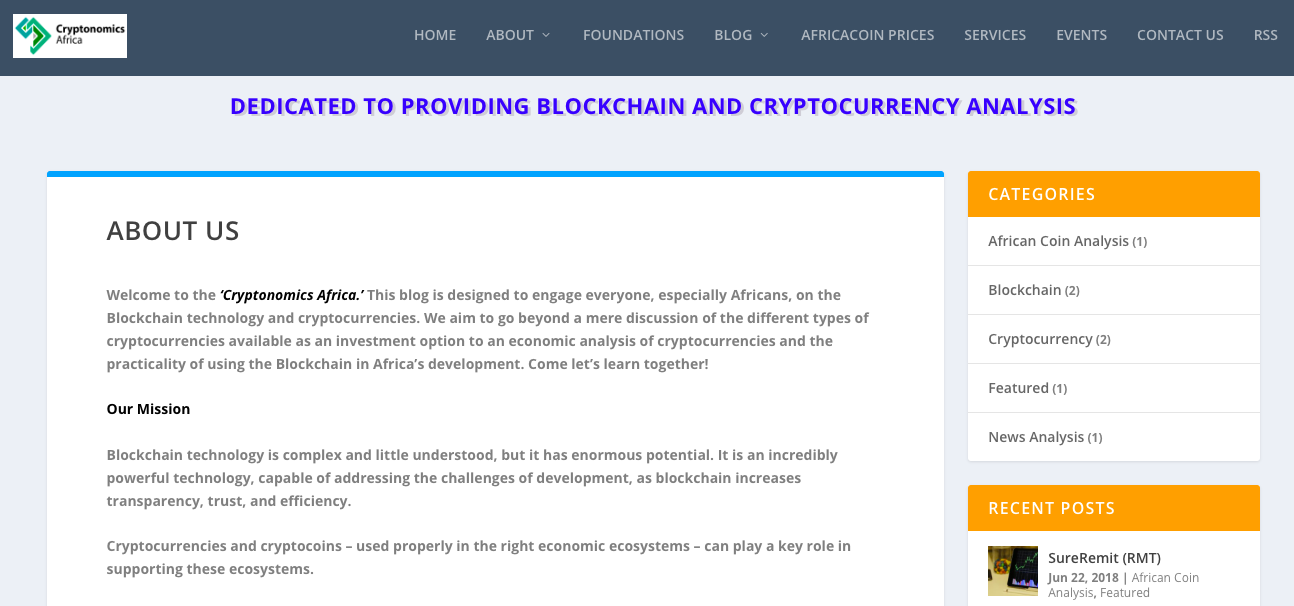 Cryptonomics Africa launched a new website, https://cryptonomicsafrica.com, for both blockchain and cryptocurrency enthusiasts and novices on 28 June 2018. The site offers informed analysis on applications of the blockchain to industries and sectors in Africa as well as cryptocurrencies related to Africa.
The potential of the blockchain technology and cryptocurrencies is enormous. Cryptonomicsafrica.com aims to (a) engage Africans and others, on the blockchain technology and cryptocurrencies, by making available a platform where governments, regulators, financial institutions, blockchain and cryptocurrency practitioners and the public can interact with each other (b) provide an African perspective on developments of the blockchain and how it can be effectively used to tackle issues of underdevelopment of our economies.
Users of the website also have access to real time feeds of African cryptocurrency prices and information on the latest Blockchain and cryptocurrency events around Africa.
Kayode Babarinde, Associate Fellow, Cryptography Development Initiative in Nigeria (CDIN), said: "I recommend Cryptonomics Africa as a one-stop resourceful destination for forward thinking Crypto Traders, and Blockchain enthusiasts in accessing quality facts and analysis of recent developments in the space, with focus on Africa."
For more information go to https://cryptonomicsafrica.com
Contact Information:
Contact: Omobolanle Adeniran
Organization: Cryptonomics Africa
Email: bolanle@cryptonomicsafrica.com
*This is a paid press release. Readers should do their own due diligence before taking any actions related to the promoted company, product or service. BitcoinAfrica.io is not responsible, directly or indirectly, for any loss or damage caused by or in connection with the use of or reliance on any content, product or service mentioned in the press release.*