Top 10 Ways African Tech Startups Can Fund Themselves in 2019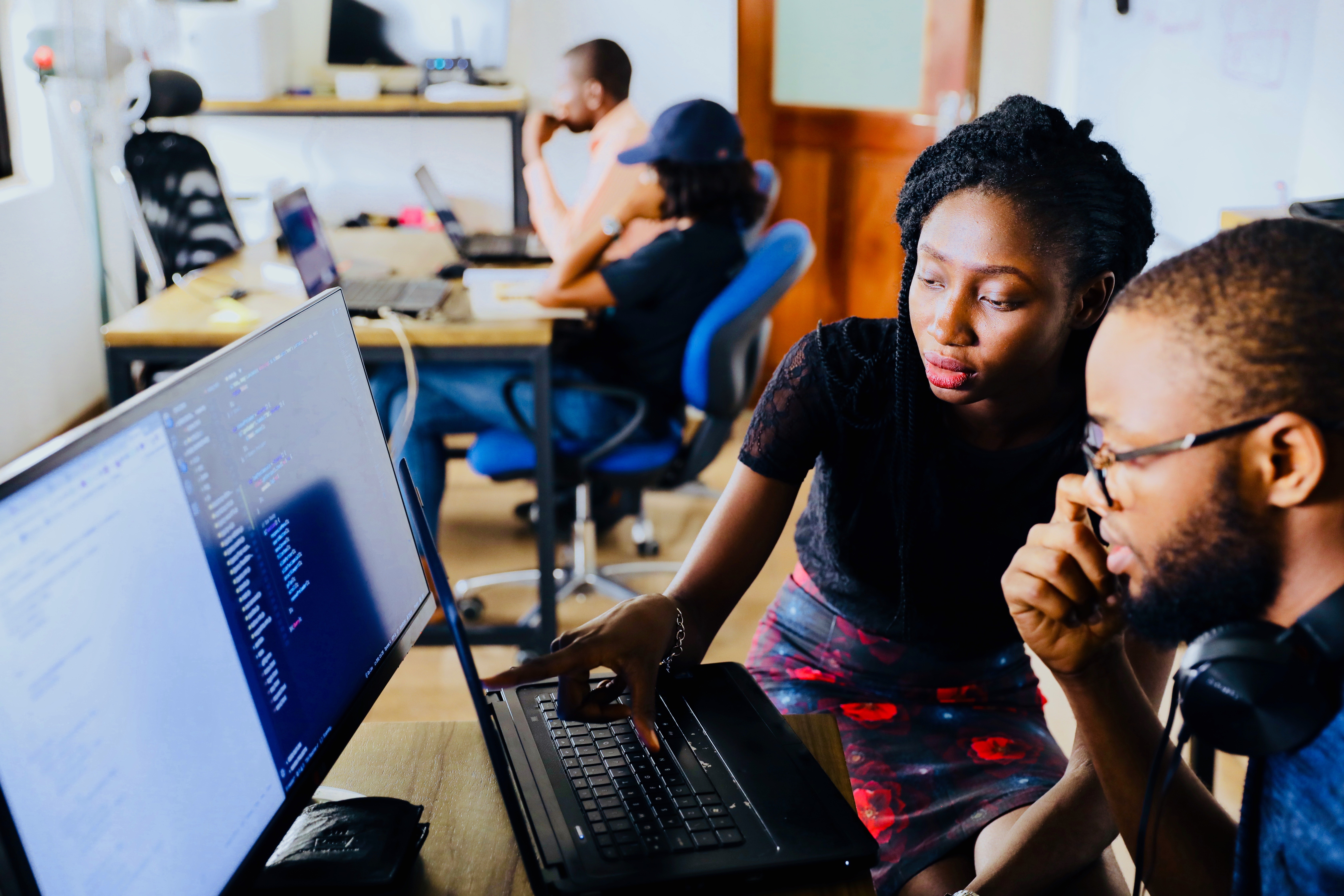 African startups often fail to take off or make it big due to a lack of funding. In this guide, you will discover ten funding options for African tech startups that could help you to kickstart your company and turn it into a raging success in 2019.
Bootstrapping
Bootstrapping is the first funding option every tech startup should consider. This means that as an entrepreneur you will solely rely on your money and company resources to scale and run your business operations.
Bootstrapping is beneficial because it saves your company from debt and makes your business more attractive to potential investors and lenders. Another advantage that comes with bootstrapping is that you will become more business savvy as you get better at creating revenue and boosting your profits without external financial help.
Here are the possible options you can use to fund your tech startup through bootstrapping:
Let the customer pay for your initial job. This simply entails asking the customer to pay for the money you will use in building a tech solution for them.
Reduce expenses through sharing your workspace with other businesses to reduce the cost of office rent. You could run your company remotely to alleviate office costs entirely. You might also consider sharing employees and office equipment or hiring consultants instead of hiring people permanently.
Offer your employees the option to work for equity instead of cash.
Unfortunately, without an efficient marketing technique to bring in customers quickly the business might fail. Moreover, it will take longer to grow your company without investment.
Small Business Loans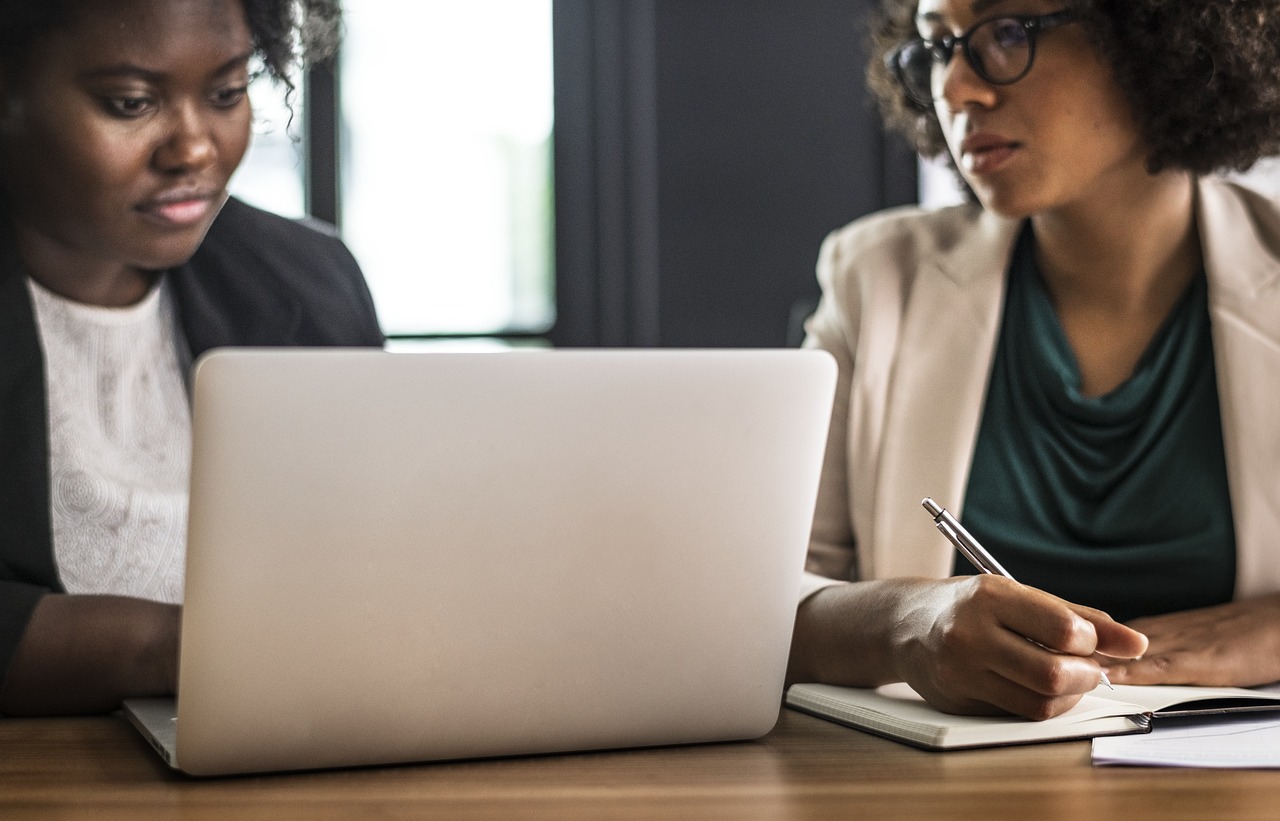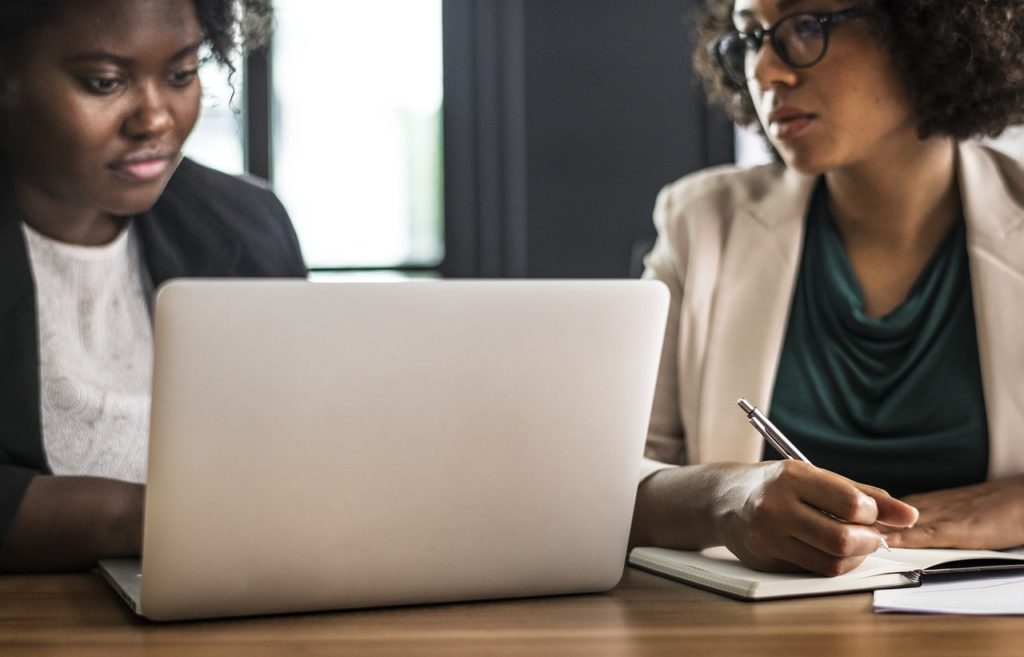 Once you have successfully grown your startup through bootstrapping, then you can move to the second funding option which is applying for a small business loan to expand your business.
Loans for startups and small businesses are not easily accessible in Africa but with a strong business plan, an existing customer base, and adequate cash flow, banks, micro-finance institutions, savings and credit co-operatives, and mobile app lenders may lend you money to grow your business. However, these loans often come with high interest rates. Hence, it is important to ensure beforehand that you will be able to repay the loan plus interest in full and on time.
You will generally need the following to secure a small business loan:
A business plan
A good credit score
A record of your business financials e.g. tax income returns
Business licenses and other legal documents
Collateral
Angel Investors
An angel investor is a wealthy person who is looking to make investments that could potentially result in high returns. If an angel investor believes in what you are doing and they believe that your business will succeed, they may inject capital into your startup in exchange for ownership equity or convertible debt.
Financing your tech startup through an angel investor is beneficial because it is less risky than debt financing. Additionally, angel investors also offer mentorship to founders, thereby, enabling them to run their businesses more effectively.
Angel investors can be wealthy individuals, groups, family members, or friends. Examples of angel investor groups in Africa include Jozi Angels, Angel Investment Network, Team Africa Ventures, and Ghana Angel Investor Network.
To attract an angel investor, your business needs to be:
Innovative
Scalable
On the path to profitability
Additionally, your startup should also have a strong business plan and a strong team of founders because investors generally invest in people and not ideas.
Venture Capital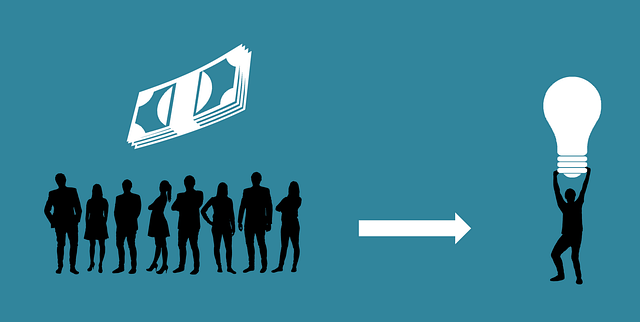 Venture capital firms invest in businesses that have a high potential for growth. VC generate a return on their investments when the company they invested in gets bought up, goes public or they can sell their stake to another investment firm.
Unlike angel investors, venture capital companies generally invest larger amounts of capital into a business. However, VC investment tends to come with conditions that are not always favourable to the startup founders so potential VC investments need to be looked at in detail to see whether they truly benefit the business and its owners or primarily the VC firm.
While some angel investors are motivated to help startups grow through mentorship and capital, venture capitalists are often interested in finding the best business that can make them the most money.
Before approaching a venture capital firm:
Do your research
Evaluate the growth potential the current target market offers your business
Talk to other startups that have raised funds through venture capitalists and learn from their experiences
Build your idea and gain traction
Create a short and catchy pitch deck
Consider bootstrapping, small business loans, and angel investors first
Some of the top venture capital firms in Africa include Matamba Anonaka Technology Holdings (MATHs) and Adlevo Capital.
Startup Incubators/Accelerators
Startup incubators concentrate on innovation while accelerators focus on growth. Tech startups have to apply to be accepted into an accelerator or an incubator program. Once they are picked, startups are given a small amount of seed funding in exchange for a small equity percentage.
Accelerators offer startups a mentorship network which they leverage to grow their businesses. In addition, accelerator programs help startups to build their businesses over a short period of time. Incubators are often characterised by a co-working environment, mentoring, networking, and some connection to the local community. Once a startup joins an incubator program, it gets the opportunity to polish up its idea, create a business plan, and work on a product that fits the target market.
Accelerators and incubators are important because:
You receive mentorship
You get access to future investors
You develop your skills
You are able to manage the risk associated with your concept
You are able to establish the next growth level of your business
You get access to a free or low-cost working space
Accelerators and incubators are ideal for startup founders that want to start their businesses on the right foot. Some examples of accelerators and incubators in Africa include Injini, Google Launchpad Accelerator Africa, FB Start Accelerator, iHub, and MMH Accelerator.
Business Grants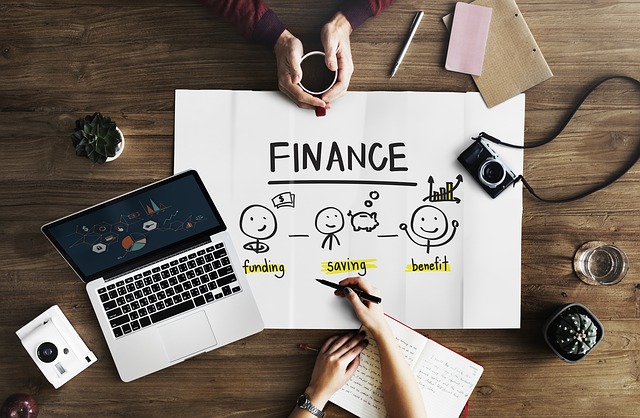 Business grants are non-repayable funds that come with attached conditions. As long as you fulfill these conditions, then you will not have to repay the money.
Governments, foundations, organisations, large corporations, and trusts are often the givers of business grants. African tech startups simply have to look for a grant that fits their needs before making an application.
The upside of receiving a business grant is that you do not have to repay it or give up any shares. Moreover, you can use the fact that a large corporation or a government has given you a grant as a promotional mechanism.
Examples of organisations that offer grants include Shell LiveWire, Africa Women's Development Fund, Jack Ma's Africa Netpreneur Prize Initiative 2019 and Miss.Africa Initiative.
Pitching Competitions
Startup contests and pitching competitions are other ways of funding your tech startup. These opportunities enable a startup to pitch its ideas to potential investors while interacting with a wide network of people that could contribute positively to the growth of its business.
Other perks are competition prizes, support from incubators or accelerators, mentorship, and free access to industry events.
To win a pitching competition, you need to:
Follow the rules
Know your material
Open with a close and catch the attention of the audience
Examples of pitching competitions for African tech startups include MEST Africa Challenge, Seedstars World Competition, and Sanofi in Africa VivaTechnology Challenges.
Online Crowdfunding
Online crowdfunding entails raising small amounts of money on the Internet from a large number of people. There are two types of online crowdfunding: equity and rewards-based. Equity-based crowdfunding entails offering shares in exchange for capital while in reward-based crowdfunding, "investors" are given an incentive or a reward.
Online crowdfunding platforms offer an efficient way to raise money and access thousands of potential investors.
Here is how you participate in online crowdfunding:
Determine the type of online crowdfunding you want
Research crowdfunding platforms
Choose the best platform for your business and post your campaign
Use social media to promote your campaign
African crowdfunding platforms include Uprise.Africa, Thundafund, M-Changa, and Afrikstart.
Initial Coin Offering (ICO)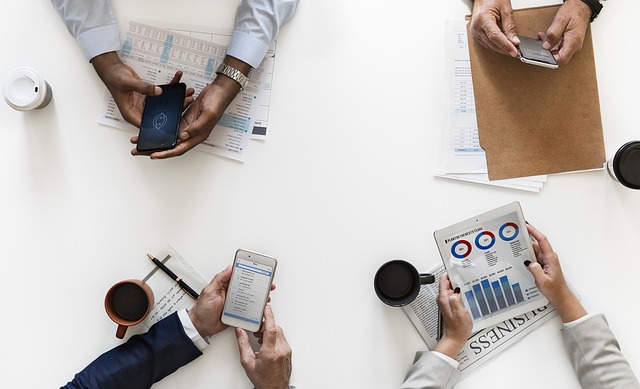 Raising money through an initial coin offering (ICO) is another funding option that has been gaining popularity over the recent years thanks to the emergence of blockchain technology and cryptocurrencies. During an ICO, tokens are sold to the public as a means to raise funds.
ICOs were very popular in 2017 but have since lost their appeal as regulators across the globe have made it clear that companies will no longer be able to raise millions without having to adhere to any regulations. Hence, there is regulatory risk involved in launching an ICO.
To launch an ICO, do the following:
Research ICOs and the regulations guiding this type of funding in your country
Decide on what type of token you want to launch and how it will fit into your product or service
Put together a team of skilled people and advisors
Create a project roadmap, whitepaper, and website
Engage with the crypto community
Market your ICO
List your token on exchanges
Security Token Offering (STO)
The final funding option on our list is the security token offering (STO). An STO refers to the process of offering tokenised securities for sale, i.e. tokens that are representations of securities such as bonds and stocks.
In an STO, the value of the security tokens is dependent on the value of the company or the underlying asset. In addition, there is more regulation in an STO than in an ICO since securities are regulated.
However, the STO market is still young and has not been tested in the long-term. This means that there is a risk for both startups and investors. Furthermore, STOs require a startup to create its own tokens and a platform to manage them which is costly.
What to do before launching an STO:
Understand the compliance regulations in your country
Create an STO business plan
Seek the consultancy services of an STO development company to create and manage your security tokens
Market your STO to reach as many investors as possible
With these ten funding options to choose from, you could be on the path to ensuring that your startup will turn into a success story.

How to Bet with Bitcoin on Football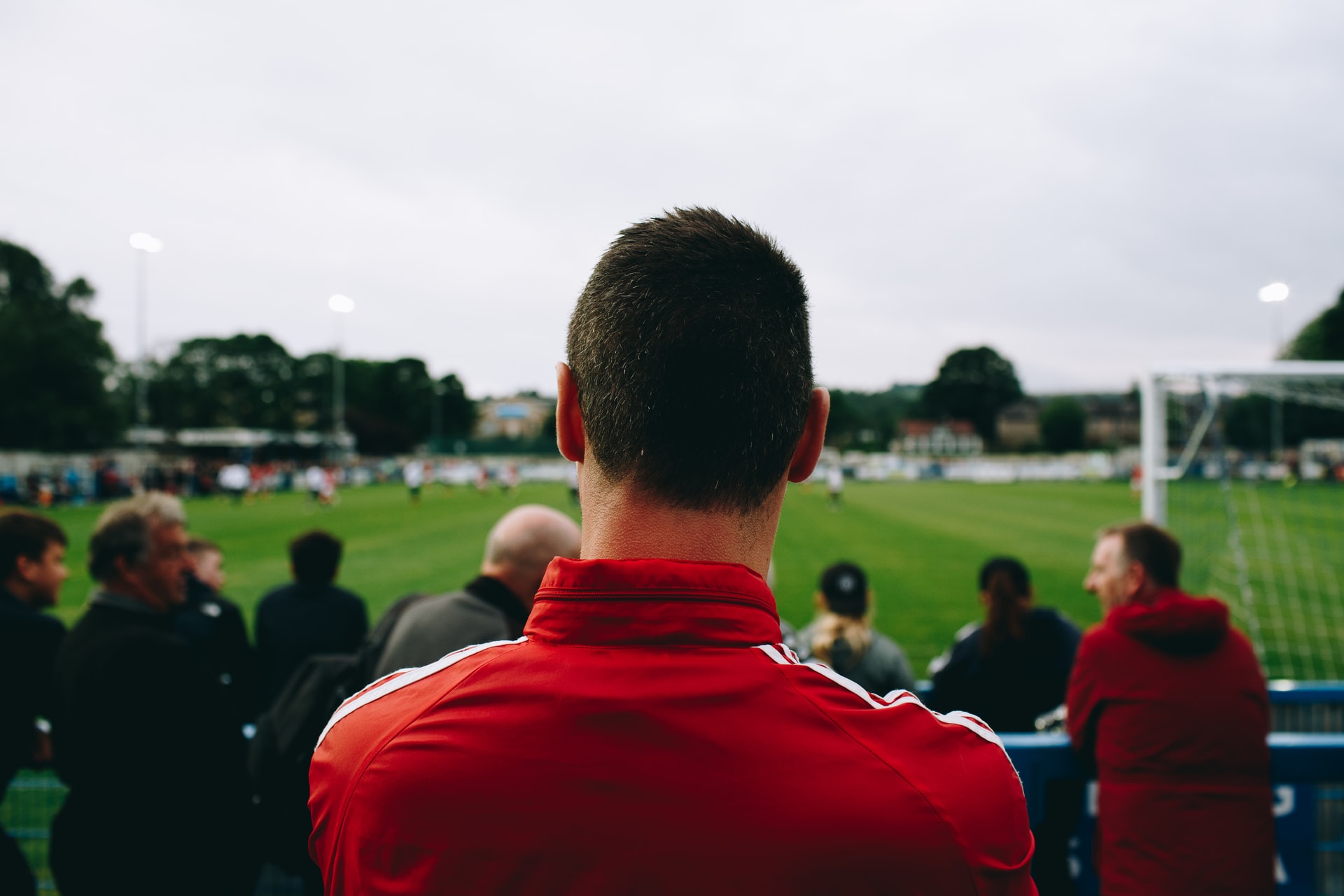 With the new football season having started, it's time to learn how you can bet with bitcoin on your favorite football club. The good news is that many online betting companies now accept bitcoin.
Read on to learn why betting companies love bitcoin and how to bet with BTC on your football team.
Why Betting Companies Support Bitcoin
Since its establishment in 2009, Bitcoin (BTC) has been and continues to be the most popular cryptocurrency, and with good reason. Some of Bitcoin's most impactful features include:
1. Fast and inexpensive
With bitcoin, it takes a few minutes to send and receive any amount of money. And if you are using the Bitcoin Lightning Network to make payments, transaction costs are a few cents.
2. No third-party interference
Because of its decentralized nature, which makes it impossible for anyone (including governments) to control, you can feel safe to make any payments you want (including to online betting platforms). This also comes with the added advantage of not having to disclose your personal information when making a payment.
3. Supports borderless payments
With Bitcoin's decentralized nature comes its borderless characteristics. This makes it possible for anyone in the world to be able to send and receive bitcoin payments wherever they are.
Betting companies were among the first adopters of bitcoin because it enables them to reach a broader audience and provide an innovative digital payment option to bettors. From playing a bitcoin slot to betting on any sport imaginable, bitcoin casinos and online betting companies have truly embraced bitcoin.
The credibility of bitcoin as a financial and payment solution is also being felt in the world of football. For example, in April 2021, Southhampton F.C began paying its players bonuses in bitcoin, opening up a whole world of possibility for other clubs to start doing the same.
How to Bet With Bitcoin on Football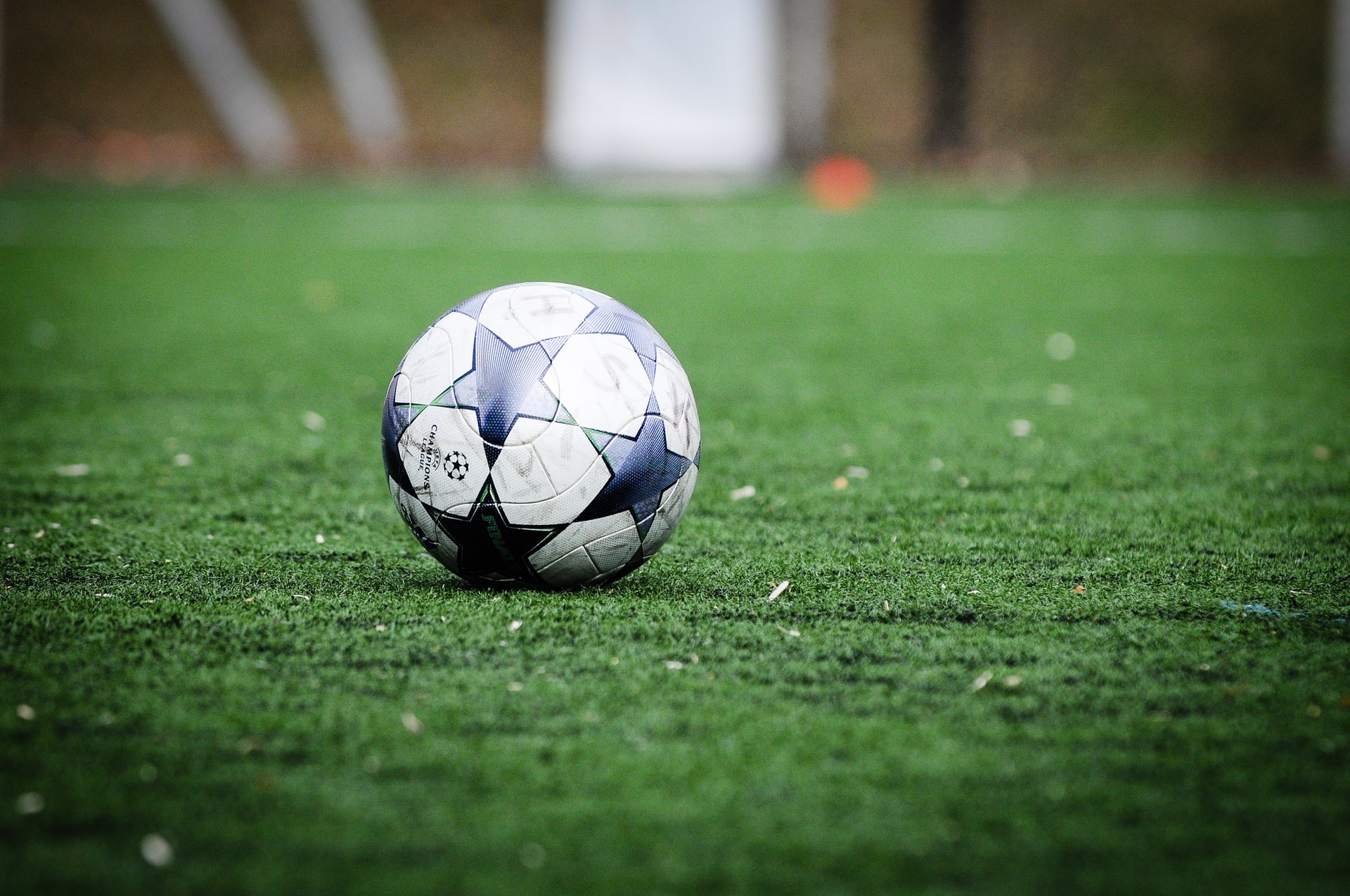 Betting with bitcoin has proved to be an efficient process for bettors, and betting companies who have embraced cryptocurrency as an efficient payment system.
One of the leading sports betting companies that enables you to bet with bitcoin is Sportsbet.io. So let's dive in and show you how you can bet with bitcoin on this popular platform.
Betting with Bitcoin on Sportsbet.io
Sportsbet.io is a user-friendly and highly modern betting platform. It has a functional live betting service and is one of the few betting companies that will allow you to bet in bitcoin through a few easy steps.
Register for Sportsbet.io by clicking on the 'Create an Account' tab on the top right of the homepage.
Access your wallet by logging into Sportsbet.io. On the top right of the page, next to your balance, click your balance or the 'Deposit' button.
Next, you click on 'Use Currency' and on 'Deposit.'
A QR code will appear.
Open your bitcoin wallet, scan the QR code, and choose how much BTC you want to send to your betting account.
You will have to wait for three confirmations on the Bitcoin blockchain for your funds to settle in your SportsBet.io account.
Start betting on your team(s).
Now that we have started you off on your journey, happy betting, and may the odds be ever in your favour!

How to Cash Out Bitcoin to Naira Using Cryptofully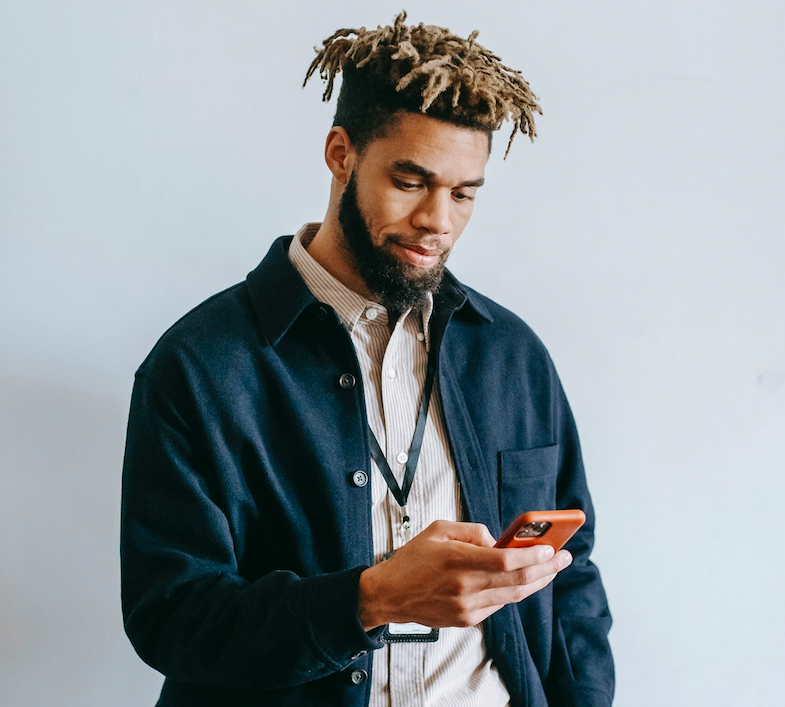 Over the past few months, Nigeria's central bank has made it difficult for traders to cash out bitcoin to naira, restricting crypto companies from having a Nigerian bank account. But there is now a cheap and efficient way to cash out your bitcoin to naira.
In this guide, you will learn how to convert your BTC to NGN and receive the money in your bank account within minutes using Cryptofully.
Getting Started on Cryptofully 
Cryptofully is a peer-to-peer payments app that allows you to easily convert bitcoin to naira and automatically settles into your Naira bank account.
Using Cryptofully, you can cash out your bitcoin from anywhere in the world into any Nigerian bank account. The platform also supports US dollars and payment options, including Visa, Mastercard, Google Pay, and Apple Pay.
Cryptofully leverages a local network of peer-to-peer (P2P) traders, enabling it to convert BTC to NGN within minutes. With this P2P system, you are not looking for a peer to buy your bitcoin. Cryptofully automatically matches your trade to the best peer and makes it seamless for the user.  
All that's needed to cash out bitcoin to naira using Cryptofully is to sign up, complete the KYC, add a bank account and convert your bitcoin to cash.
How to Cash Out Bitcoin to Nigerian Naira
You can cash out your bitcoin to your Nigerian bank account using either the Cryptofully website or mobile app. 
Download the Cryptofully App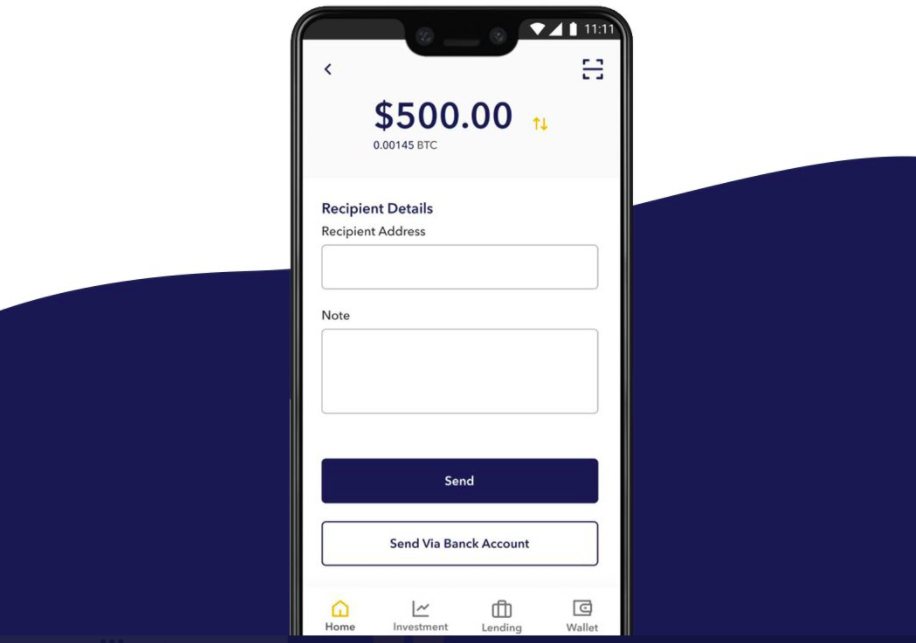 Step 1: Create an account
Open the app and register with your email address and verify the email address.

Start the KYC process. Visit Profile, click to Add bank, and add your BVN. You can also add your bank account in this section.
Step 2: Cash Out Your Bitcoin to Naira
Type in the amount you want to cash out.

Then choose to send via bitcoin.

On the following page, you can add your bank account details in the recipient field.

On the last page, you can see a Bitcoin wallet address. Send your bitcoin to that wallet address and within a few minutes, the equivalent amount in naira will settle in your bank account. 

Cryptofully matches you to a peer instantly who sends the money to your naira bank account.
Visit the Cryptofully Website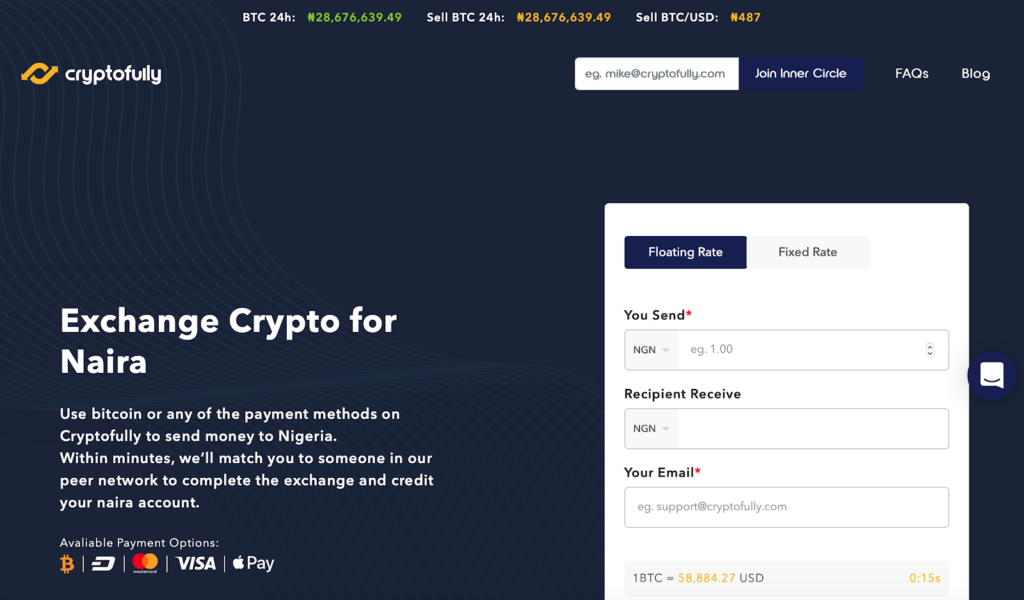 You don't need to sign up or log in with any details on the website to start using it
Go to the Cryptofully website at

www.cryptofully.com.

Specify the amount of bitcoin you want to cash out to naira. You can use either the Floating Rate or Fixed Rate. The Floating Rate means the exchange rate can change based on changes in bitcoin prices, and the Fixed Rate means you can lock in an exchange rate for your transaction.

The naira amount equivalent you will get in your bank account will appear below.

On the following page, you will see a space to fill in the preferred bank account you want to receive your money.




Then, you will be shown a Bitcoin wallet address. 

Copy the wallet address and do a transfer to the address. The Cryptofully system matches you immediately to a peer.

The peer sends the money and the money settles in your naira bank account.
Since the Central Bank of Nigeria enacted draconian measures against crypto companies, preventing them from having banking relationships, the peer-to-peer bitcoin trade has flourished in the West African country.
Peer-to-peer payment apps, like Cryptofully, are enabling Nigerians to continue using bitcoin for remittances, payments, and as an investment.

How to Trade Cryptocurrency on Sikix.io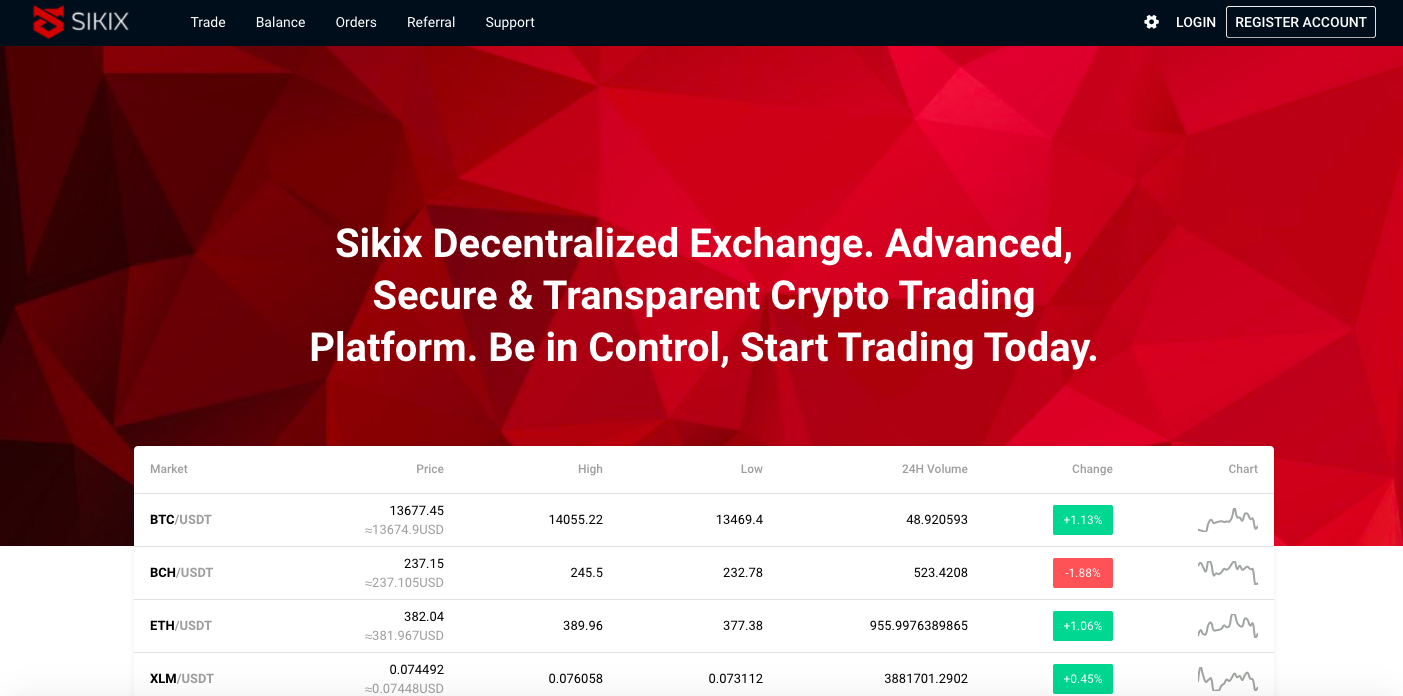 Sikix is a decentralized exchange that allows users to have full control over their funds while trading digital assets. In this guide, you will learn how to trade cryptocurrency on Sikix.
Opening an Account on Sikix
To start trading on Sikix, you have to create an account.
Here are the steps you will take:
Visit the Sikix website
Click "Register Account"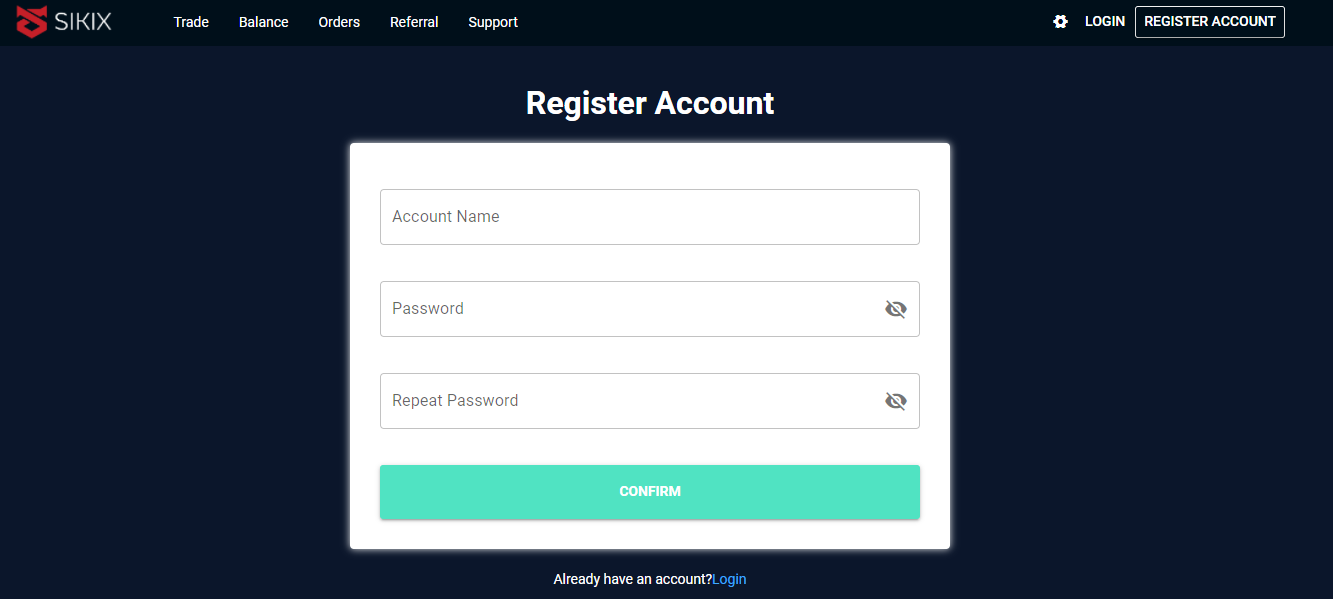 Enter an account name and password
Hit "Confirm"
Save the seed file to your computer and click "I've Backed It Up." You should store your seed phrase safely because the platform cannot restore it for you.
Click the settings icon to verify your email address and phone number

Next, go to "Balance" to deposit crypto or fiat into your account. For instance, if you want to deposit BTC, go to bitcoin on the list, click "Deposit" and copy the address provided. Transfer bitcoin to the address and click "Confirm." Note that the minimum amount of BTC that you can deposit is 0.01.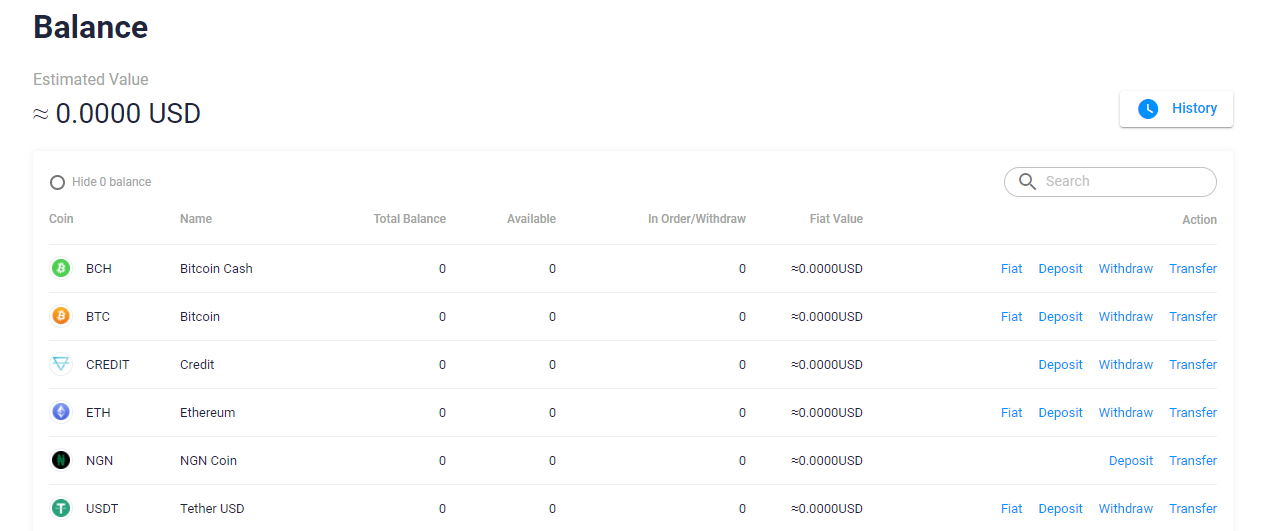 Once the bitcoin hits your account, you should see the total balance and the USD equivalent displayed on the balance page.
On Sikix, the most common base currencies are USDT and the Nigerian naira (NGN). You can deposit both of them before you start trading. But that does not prevent you from depositing any of the other supported cryptocurrencies.
Depositing Local Currency to Your Account
To deposit naira, follow these instructions:
Go to "Balance"
Search for NGN on the list and click "Deposit"
Enter the amount you want to deposit. The platform will display the fees and the amount you will deposit.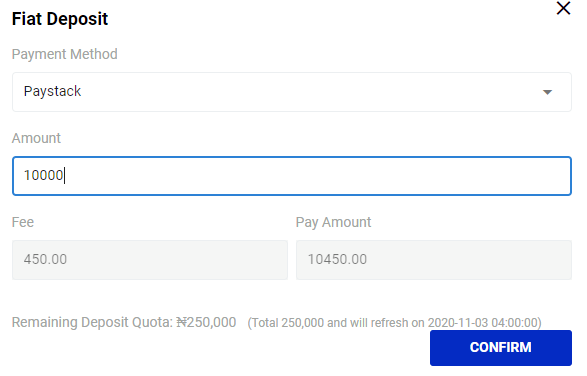 The platform will redirect you to a new page where you will enter your card details. Alternatively, you can use any of the other payment methods listed.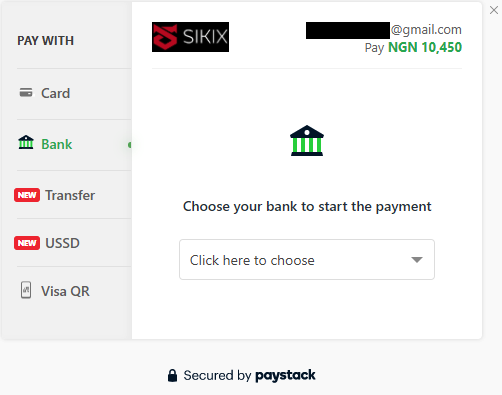 Once the transaction is complete, you should see your newly deposited funds on the balance page.
How to Trade Cryptocurrency on Sikix
Assuming that you deposited USDT in your account, here is how you can trade on Sikix:
Go to "Trade"
On the left-hand side of the screen, select a trading pair from the drop-down menu. For instance, you can choose the ETH/USDT trading pair. That means that you can buy ether with USDT. Note that the graph shows how the price of ETH is changing against USDT. You can view this change over different periods.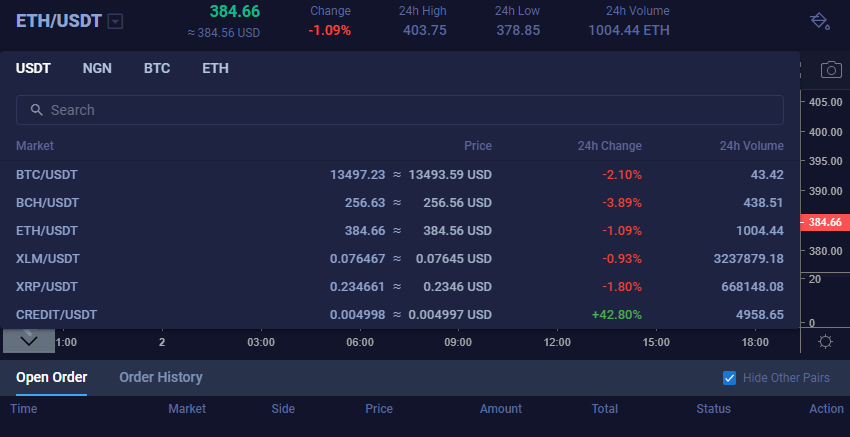 On the right-hand side of the screen, select the green box. This box represents the bidding price, which is the maximum amount that you are willing to pay for ETH. The red box represents the asking price, the minimum price that a seller is willing to accept. You can choose to trade at these levels.

Alternatively, you can make your purchase through a limit or market order. The limit order allows you to buy ETH at a fixed price. Conversely, a market order enables you to buy ETH at the best market price.

Once you have entered the amounts, click "Buy ETH" to open your order. If you placed a market order, your purchase will take place immediately. However, you will have to wait to get a match if you placed a limit order.
When your order goes through, an ETH balance should reflect in your account.
Presently, the exchange supports BTC, USDT, ETH, BCH, XLM, XRP, NGN, and CMT with a plan to add more digital currencies in the future.