Humaniq wants YOU for Hack.Summit (Blockchain)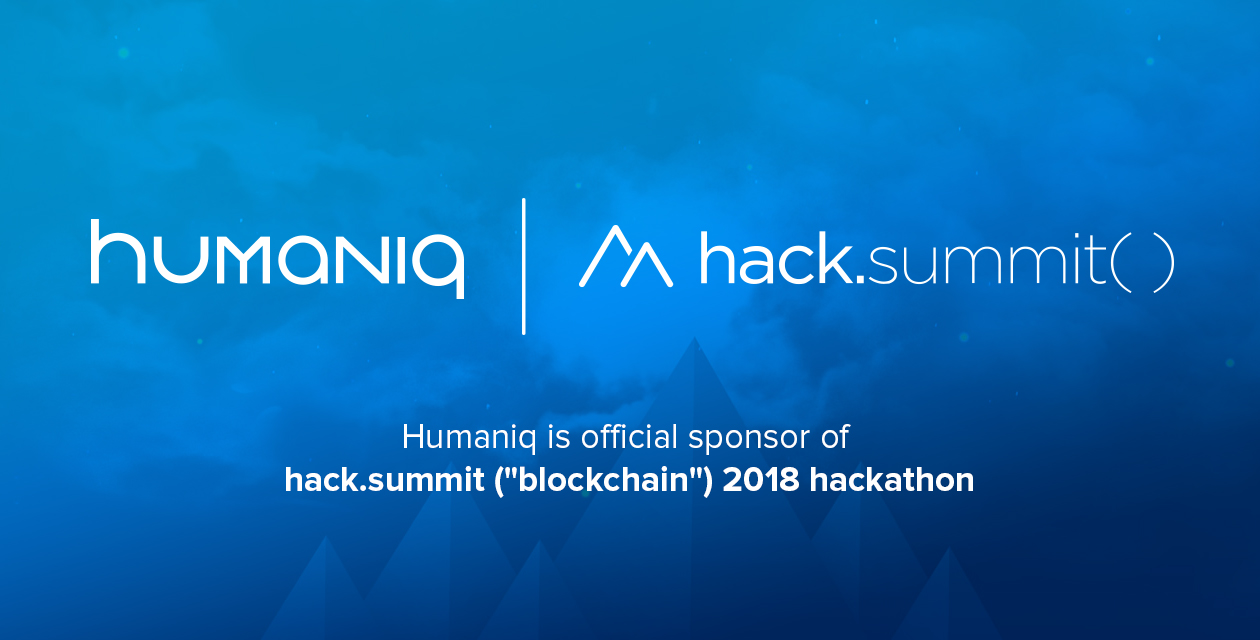 London, June 28, 2018 – Humaniq, a London-based Fintech firm that provides next-generation financial services for the unbanked, is excited to announce its sponsorship of Hack.Summit(Blockchain), the largest hackathon to ever take place – a virtual event hosted by Hack VC and Deconet that will feature tens of thousands of developers from all over the world. The dates are July 6th-8th, 2018.
Hack.summit (Blockchain) is a virtual conference and hackathon where developers can learn about the latest developments of blockchain technology from world-class technical leaders and collaborate with other developers from the comfort of their living room.  According to the event organiser, at the present time, there are more than 10,000 registered from over 157 countries and this only the beginning – for it is planned to break past years' records.
Humaniq is well-known for its support of start-up developers and the Blockchain community: the Humaniq team held a 'Global Challenge' for start-up projects to facilitate the development of new financial inclusion solutions aimed at helping the world's unbanked population. About 450 participants entered projects made especially for the Humaniq platform and three winners were selected for an expedition to Kenya. This provided an opportunity to meet the people who stand to benefit from new services, in order to test and adapt emerging business plans based on hearing what citizens there want and need.
Today Humaniq also contributes the amount of $5,000 for charity and the Hackathon Grand Prize and invites everyone to join the largest programming conference ever created and the largest historical hackathon in the world  – with 30,000+ registered hackers in 2016. Proceeds will support non-profit organisations: Women Who Code, Black Girls Code, freeCodeCamp, CoderDojo, Bridge Foundry, and Electronic Frontier Foundation.
Register here for the hackathon.
Please feel free to use the promo code 'humaniq' for free registration to Hack.
ABOUT HUMANIQ
Humaniq is a London-based Fintech firm that provides next-generation financial services using its Hybrid Blockchain-based mobile application to the unbanked and underprivileged in emerging economies globally. Humaniq is focused on worldwide financial inclusion by providing access to global markets, greater opportunities, and novel financial solutions using repurposed technologies for those gaining exposure to financial services for the first time.
Media contact:
Humaniq PR team
See more at: http://humaniq.com
The Humaniq film: https://youtu.be/cUU88lIx8uQ
Join us:
https://www.facebook.com/humaniq.co/
https://www.linkedin.com/company/humaniq
https://www.reddit.com/r/Humaniq
BITBOX Exchange Adds TRON (TRX) as LINE Expands Cryptocurrency Businesses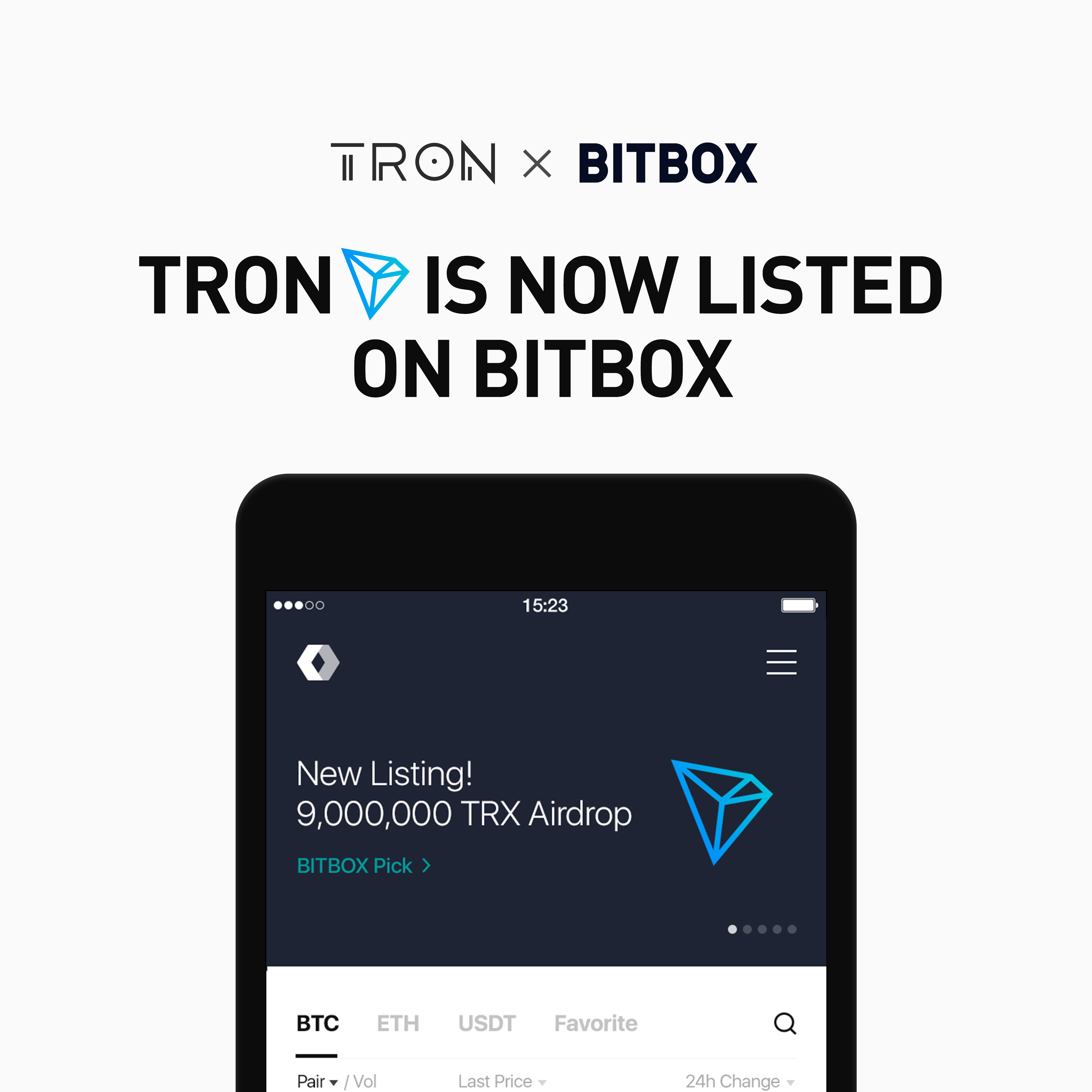 TOKYO – August 15, 2018 – LINE Corporation announced today that it has added TRON (TRX) to BITBOX, LINE's recently launched cryptocurrency exchange. TRON (TRX), a global decentralized blockchain platform, is the first coin project to pass the review process by the BITBOX open-listing committee.
The open-listing committee and review process is part of BITBOX's principle that all projects in the cryptocurrency community deserve an equal opportunity to be listed on the exchange. BITBOX is now accepting applications from other coin projects that want to join the exchange and that are prepared to undergo a thorough evaluation process. 
The listing of TRON (TRX) – available for trading now on BITBOX – also shows LINE's continuing commitment to diversifying its customers' coin options and developing its cryptocurrency exchange business. As a user-centered exchange, BITBOX is focused on expanding the range of options available for its customers, while also providing efficient and secure cryptocurrency services.
In addition, to celebrate TRON's listing on BITBOX, 9 million TRON coins will be airdropped to users on BITBOX, in a promotional event running until August 22. 
TRON is dedicated to building the infrastructure for a truly decentralized internet. Since its successful Testnet launch in March 2018, TRON has followed with a series of achievements, including Mainnet launch in May, network independence in June, and testnet virtual machine launch on Testnet in July. That same month, TRON acquired BitTorrent, a pioneer in the decentralized services.
"Integrating TRON (TRX) with BITBOX will enable us to connect with the world's fastest-growing blockchain project," said Youngsu Ko, CEO of LINE Tech Plus, LINE's Singapore-based subsidiary that operates BITBOX. "TRON has a solid tech platform, especially now it has joined forces with BitTorrent. We look forward to building a strategic partnership with TRON and offering our users the best experience available in the cryptocurrency space."
"We are very excited to partner with LINE on their launch into the cryptocurrency space," said Justin Sun, founder and CEO of TRON. "We will use our expertise in the industry to help LINE provide fast and secure cutting-edge crypto exchange services. By joining this vibrant project, we aim to reach a broader audience, extend our services to mobile, and connect the dots with our other products, which have more than 100 million users (BitTorrent, Peiwo, etc.). We are looking forward to working further with LINE on more product integration."
Token venture fund launched by unblock corporation
In another measure to develop a blockchain startup ecosystem, LINE's subsidiary unblock corporation recently established "unblock ventures ltd.," a corporate token venture fund. Unblock ventures focuses on token investments and has a capital commitment of USD10 million, made by LVC Corporation (another LINE group company). Additionally, unblock ventures' token fund is expected to expand in the future, according to the growth of the blockchain market.
By launching this new corporate token fund, LINE is aiming to boost the development and adoption of cryptocurrencies and blockchain technology. As such, LINE is one of the first publicly traded corporations to formalize token investments through a corporate fund.
■unblock ventures ltd. Overview
·       Name: unblock ventures ltd.
·       Representative: Heewoo Lee, CEO
·       Location of incorporation: Hong Kong
·       Established: July 2018
·       Sole investor: LVC Corporation
·       Fund management: unblock ventures ltd.
·       Investment type: Token Venture Fund
·       Investment areas: Blockchain startups
·       Capital commitment: USD10,000,000 
About LINE Corporation
Based in Japan, LINE Corporation (NYSE:LN/TSE:3938) is dedicated to the mission of "Closing the Distance," bringing together information, services and people. The LINE messaging app launched in June 2011 and since then has grown into a diverse, global ecosystem that includes AI technology, fintech and more.
About unblock corporation
Based in Korea, unblock corporation is a subsidiary of LINE Plus Corporation, specializing in blockchain technology. Since its launch in April 2018, the company has been tasked with designing a token economy, performing market research on cryptocurrencies, and developing an accelerator program.
Media Inquiries
LINE Global PR: dl_gpr@linecorp.com
*Readers should do their own due diligence before taking any actions related to the promoted company, product or service. BitcoinAfrica.io is not responsible, directly or indirectly, for any loss or damage caused by or in connection with the use of or reliance on any content, product or service mentioned in this press release.*
Crypto Exchange Coinmate.io Pays Traders to Trade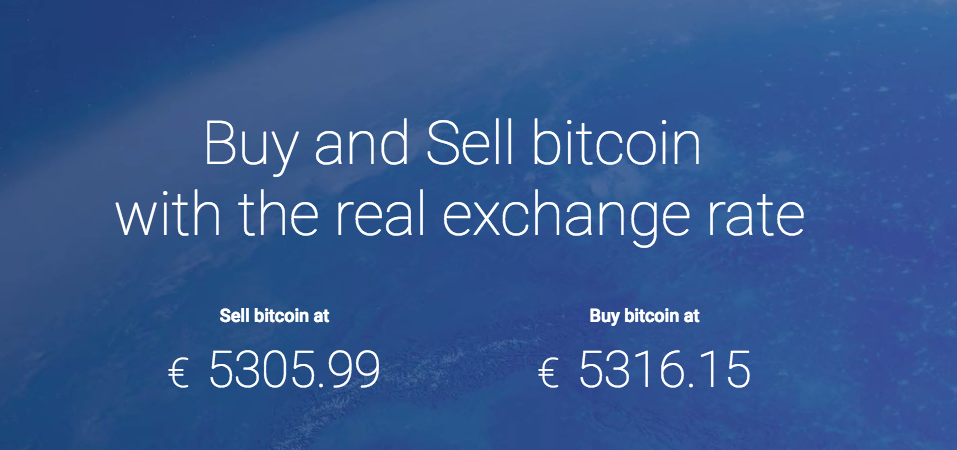 European crypto exchange, Coinmate.io, has introduced negative fees for high-volume traders.
Customers who have a monthly trading volume of €3,000,000 (three million euros), will automatically be paid 0.05 percent on further trades if they are on the 'market maker' side of the transaction.
Roman Valihrach, CEO of Coinmate, says: "I believe that negative fees are a world first among cryptocurrency exchanges. The trend has always been to lower costs as the market matures and Coinmate.io continues to lead the way with lower fees. Crypto trading markets are growing massively and big players have realised they need to step in or miss out. With negative fees we hope to attract more high-volume institutional traders to our platform."
Olga Bersheva, communications director, Coinmate, explains: "At first glance, the economics of negative fees would seem contradictory for a crypto exchange. But 'market maker' transactions have lower fees because they breathe life into the market by improving liquidity. We justify paying customers to trade because we want to reward those who trade more and drive the market forward."
"Coinmate, of course, still gets paid by the 'market taker' side of the transaction, although those fees are on the very low end of the scale and also decrease with volume," she added.
Paying traders to trade as part of the normal fee structure is a groundbreaking culmination of fierce competition among exchanges.
*Readers should do their own due diligence before taking any actions related to the promoted company, product or service. BitcoinAfrica.io is not responsible, directly or indirectly, for any loss or damage caused by or in connection with the use of or reliance on any content, product or service mentioned in this press release.*
#SurfingTheBlock Event to be Held in Durban, South Africa on 30 August 2018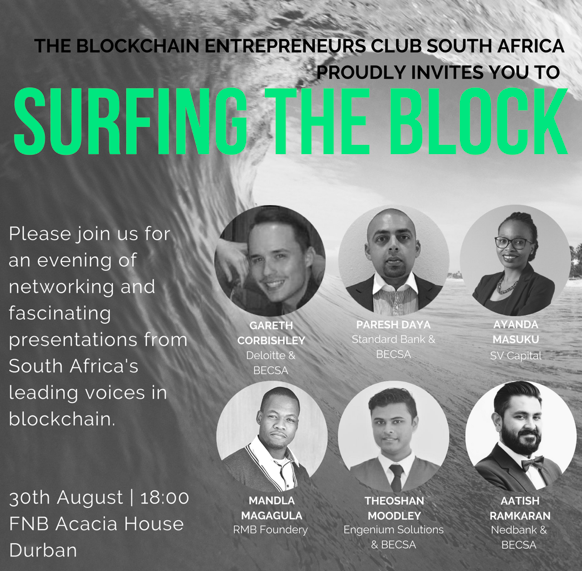 Durban — After capacity events in Johannesburg and Cape Town, the Blockchain Entrepreneurs Club South Africa (BECSA) continues its nationwide tour by bringing you another great event in Durban! We're thrilled to invite you to #SurfingTheBlock, an evening of presentations and networking aimed at all levels of knowledge encompassing blockchain and entrepreneurship. Hear from practitioners, visionaries, and entrepreneurs from the local blockchain ecosystem to understand how this technology works, how it's being applied to local businesses and what the future will bring.
Sponsored by RMB Foundery and Blink, and in partnership with Festive Collective, any profits from this event will be donated to our chosen impact hero, Molo Mhlaba.
Not in Durban on the 30th? Don't worry, we've got you covered.
BECSA is hosting a series of in-person and online events in celebration of Women's month:
#LetsTalkBlockchain meetup, 16 Aug, Durban,

http://meetu.ps/e/FGcQV/tDT14/d

A Champagne Consensus, 20 Aug, Cape Town,

https://www.quicket.co.za/events/55312-a-champagne-consensus

Blockchain and Bubbles, 30 Aug, Johannesburg

#DecentralisedDiscussions on Facebook Live (

https://www.facebook.com/blinktechza

) where we interview:

Sonya Kuhnel (Blockchain Academy), 13 Aug

Devon Krantz (Linum Labs), 22 Aug

Tricia Martinez (Wala), 27 Aug
We look forward to seeing you at #SurfingTheBlock on Aug 30th at FNB Acacia House, Durban. For more information about the event, visit http://qkt.io/surfing-the-block (Early bird tickets on sale now!)
###
About BECSA: BECSA serves as a destination for those interested in learning about all things related to blockchain and cryptocurrency. It creates a space for the public and entrepreneurs, from diverse backgrounds, to learn, network and grow the blockchain ecosystem in South Africa.
For more information, contact info@blinktech.io