Whaleclub Review: Pros and Cons of Trading Bitcoin on Whaleclub.co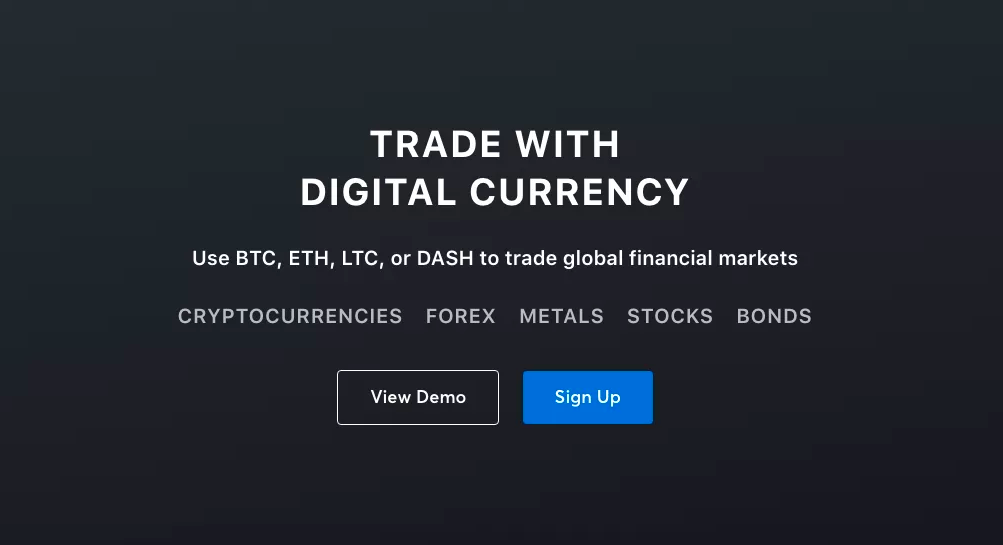 Whaleclub was(!) an online trading platform that enables users to trade the financial markets using cryptocurrencies.
Whaleclub was founded in 2014 by former banker Perry Steegen. Originally, it acted as a forum for bitcoin trade ideas generated primarily from other communities like Teamspeak and TradingView. However, that changed in 2015 when a new management team took over running of the platform and turned it into a trading platform. The exchange is present in 190 countries, enabling traders from around the globe to trade in cryptocurrencies such as bitcoin with ease.
Registration and Deposit Bonuses
While the trading platform's name may suggest that "whales" (investors with very deep pockets) are the exclusive users of the platform, the reality is that anyone can trade on Whaleclub with any amount of capital they see fit.
Users can take advantage of the fact that there is no minimum deposit required for signing up and more importantly, the process is anonymous. Traders are not required to upload any documents or provide any personal information but instead only require an email address to register. Apart from the email address, users only need to input a username and set a password. A confirmation email will be sent upon registration and once a user has affirmed the details he can sign on to the site and begin trading.
Currently, Whaleclub offers generous bonuses for users who make deposits after signing up. Customers can be eligible for up to 30 percent bonus depending on the amount deposited. Deposits can be made in Bitcoin (BTC), Ether (ETH), Litecoin (LTH) and Dash (DASH). For beginners, the bonus is gradually added to their trading volumes until the bonus amount is fully paid out.
Also, bonus payments can be made on trades that generate losses and thus can be considered as a refund of up to 30 percent on negative trades. Bonus payments are made in real-time to customer balances, who receive a cashback notification on the user interface. Since the platform does not accept fiat money all operations are processed in bitcoin. Withdrawals are processed manually at set times of the day in line with strict protocols that are put in place to protect user funds.
Demo Account and User Interface
In addition, to get a feel for the platform, beginners can access the free practice account by clicking the 'View Demo' tab on the site's landing page. With a demo account, beginners can test all options and understand the functionalities without the chance of losing money. Trading in demo mode means using a fictional balance to make orders and execute transactions on live trading activity. Users can switch between demo mode and real trading from the dashboard.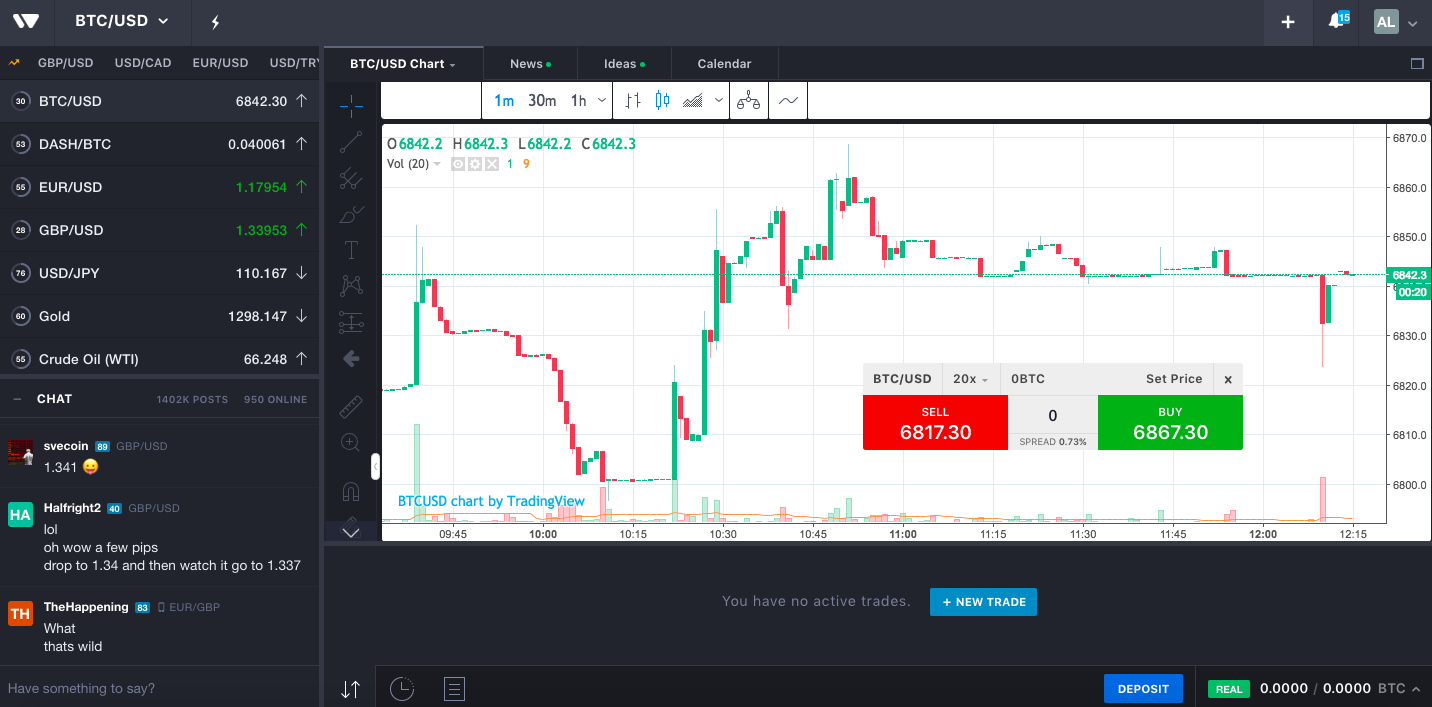 The Whaleclub user interface has been simplified with every step explained in detail to enable traders to execute trades immediately. The user-friendly interface is fast and intuitive. To deposit money into their Whaleclub accounts, users need to sign in and then proceed to the 'blue deposit button' at the bottom right of the main page. Once you select the BTC option a pop-up page will appear displaying your personal bitcoin deposit address. The address may change so it is imperative for users to countercheck before making any deposits.
Withdrawing funds from a Whaleclub account is a simple and straightforward process. On the right side of the same page, there is drop down menu with a number of options. Among them is a 'withdraw' tab, which when clicked on leads to a pop-up dialogue box that requires you to input your bitcoin wallet address and the amount you want to withdraw. Once that is completed, click on the 'Withdraw' tab and the order will be executed.
Trading Pairs and Order Management Options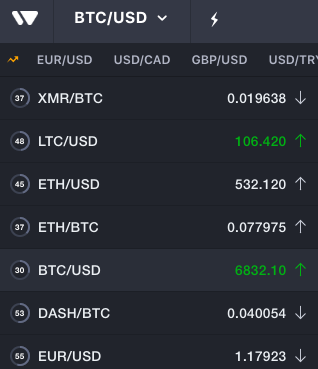 To start a new trade, a user has to select the market on the left top down menu. The cryptocurrency pairs available on the platform are:
BTC/USD
DASH/BTC
ETH/BTC
ETH/USD
LTC/USD
XMR/BTC
Once a trading pair has been selected a user can click on the blue 'new trade' tab to open the pop-up window. Therein, they can choose to buy and sell, the amount, the price level and whether or not to leverage the trade. Once the order has been placed, a user can click on the corresponding signs within the order management section. The section allows them to add additional settings to an order such as 'take profit' levels or 'trailing stop loss.'
Here are some of the order types available on the platform:
Market order: Buy and sell at the current market price
Limit order: This is an order placed to execute a trade at a certain price. The order appears instantly within the exchange's orderbook.
Take-profit order: place a sell order once a certain level of profit is achieved.
Buy/sell stop order: Trade at a certain price, but the order to buy or sell will only be placed in the orderbook when a certain price level has been achieved, which is an additional setting.
Stop-loss order: The order protects a users position from higher losses. He or she can place an emergency sell order should the price drop below a set limit.
Users can view and amend their positions in the positions section unless they are already being filled.
Fees
There are no fees charged for deposits, trades, balances or inactivity. The only fees charged are margin trading fees and a withdrawal fee of 0.001 BTC. The platform offers up to 200x leverage on FX currencies such as EUR/USD and 50x leverage on other markets like stocks, commodities, and cryptocurrencies. The trading platform allows users to choose the amount of leverage they need before opening a position. Leverage enables users to multiply their buying power since they are able to control large amounts of money with very little money down.
Security
Whaleclub boasts of an excellent security system that is yet to report of any breaches at the trading platform. Apart from manually processing client's withdrawals, their funds are being kept in cold storage to prevent loss of any coins if the system was hacked. Having said that, it is still advisable for traders to withdraw their bitcoins to external wallets when they are not actively trading on the platform.
Mobile Version, Tools and Customer Support
The trading platform has a mobile version, which is automatically loaded when you access the site on your smartphone. The app operates best on versions of Android 7 Nougat, iOS 10 and Windows 10 Mobile. Also, they are a number of useful tools for technical analysis for bitcoin trading on the site. Traders can use charts that are embedded from tradingview.com. The most commonly used tools are Fibonacci levels and trendlines.
Moreover, the support team on Whaleclub is very responsive and usually thorough with its answers. However, they do not support phone or email messages. Instead, clients have to obtain tickets and wait for the customer care response. In addition, the company provides an extensive knowledge base for general inquiries and guides to help beginners.
Pros
Anonymous registration
Free practice account for beginners
No trade execution fees
Simple User Interface
Margin trading enabled
Secure system and offline cryptocurrency storage
No minimum deposit
Good customer support
Mobile version available
Cons
Cryptocurrency only deposits, no fiat currency is accepted
Relatively high margin trading fees
Editors note: Whaleclub has shut its doors and is no longer operational. 


Buroka Review: How to Buy Bitcoin on Nigeria's Newest Bitcoin Exchange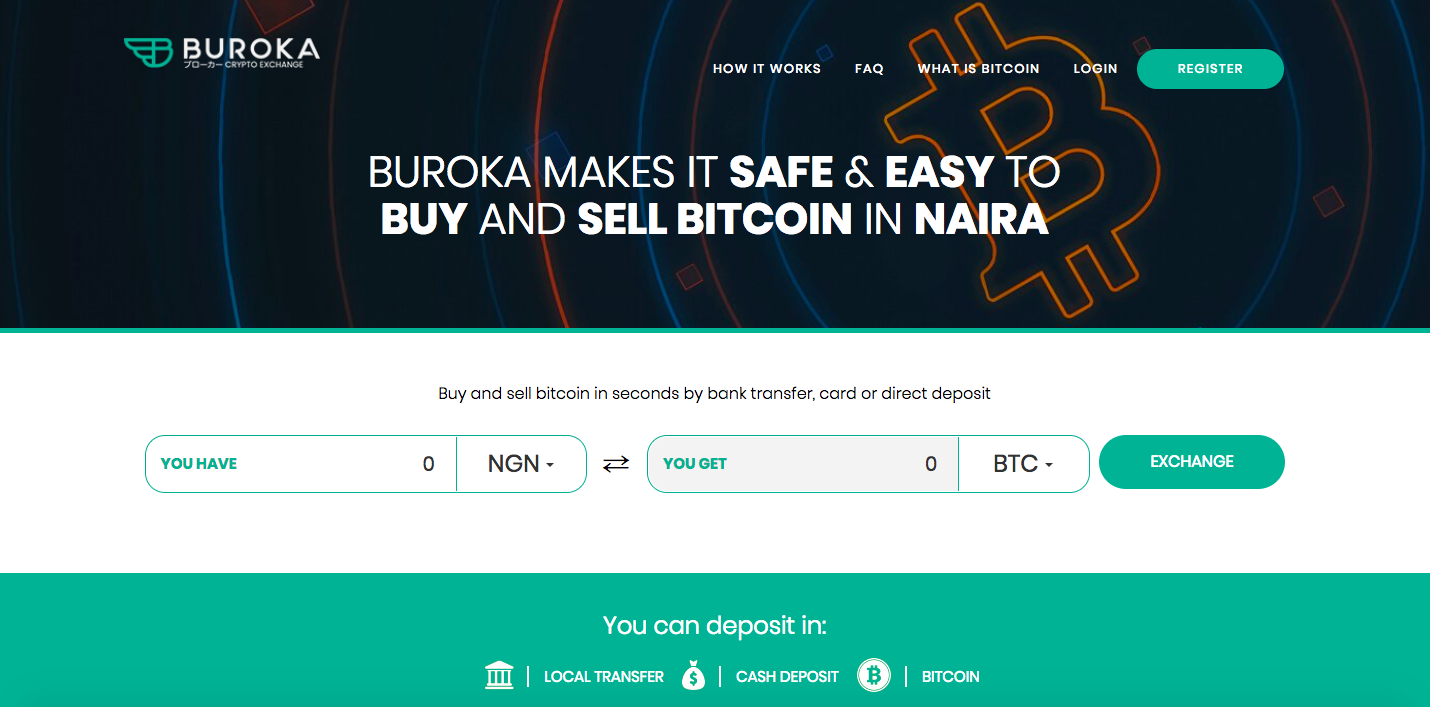 Buroka is a new breed of cryptocurrency exchange for Africa! Currently operating in Nigeria, Buroka was designed to fulfill the needs of modern Africans. Buroka allows customers to buy and sell Bitcoin with Naira via Local Transfers and cash deposits at the bank. In this Buroka review, you will learn more about the exchange and how you can use it to buy bitcoin in Nigeria.
How to Buy Bitcoin on Buroka
Step 1: Account Creation
To create an account, visit Buroka.com and hit the "Register" button. This will lead you to a page where you will be asked to fill in your personal information, including your name, email address, and password. Like any other serious exchange, Boruka will ask you for your ID, Proof of Address, and to take a selfie with your ID to eliminate fraud.
Step 2: Fund Your Account
Funding your account on the platform is straightforward. You can deposit either via bank transfer or at any bank branch. Make sure to use a unique reference code given to you by Buroka deposit system.
Step 3: Buying and Selling BTC
Once your deposit has been credited to your account you can immediately buy your Bitcoin. The buying and selling tab is located on the top right corner of the dashboard. There you can input the amount of bitcoin you want to buy. Once you do that, you then click on the "BUY BTC" button.
Step 4: Storing Your BTC
After buying BTC, Buroka provides users with the option of either storing bitcoin on the platform in a BitGo wallet or any other wallet of their choice.
Currently, Buroka only supports bitcoin (BTC). However, the exchange plans to include other cryptocurrencies going forward.
Security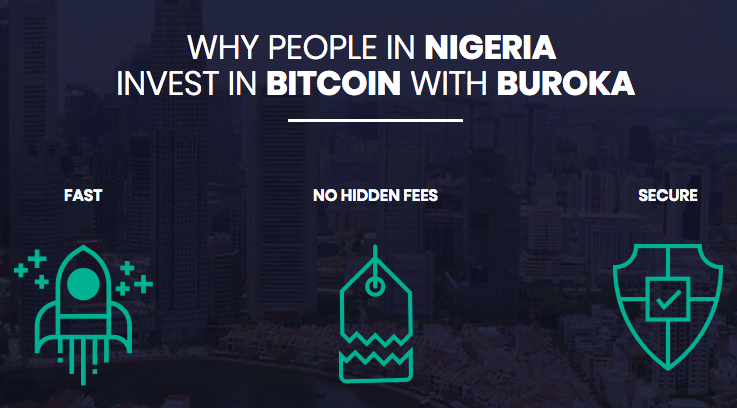 Buroka exchange makes use of Two-Factor Authentication (2FA). 2FA provides an extra layer of protection for users. With the 2FA in place, an extra piece of information is needed before login into the platform or making any withdrawals.
In addition, Buroka's platform is also protected using the latest security technology, including web-socket and API protocols that allow for a fast and secure order processing. Buroka also makes use of a well-updated SSL certificate, which makes it easy to detect a phishing attempt.
To further ensure that clients' funds are secure, Buroka operates segregated accounts. These accounts are held with trusted banks so that clients can enjoy an extra layer of security provided by the banking system.
Conclusion
Buroka is a relatively new Bitcoin exchange with a well-designed, user-friendly interface. The Bitcoin trading platform provides several deposit options, which is attractive for Nigerian Bitcoin traders, as well as competitive market rates for both buyers and sellers.
If you are looking to buy or sell bitcoin in Nigeria, you can give Buroka a try.

Gunbot Review: A Premier Crypto Trading Bot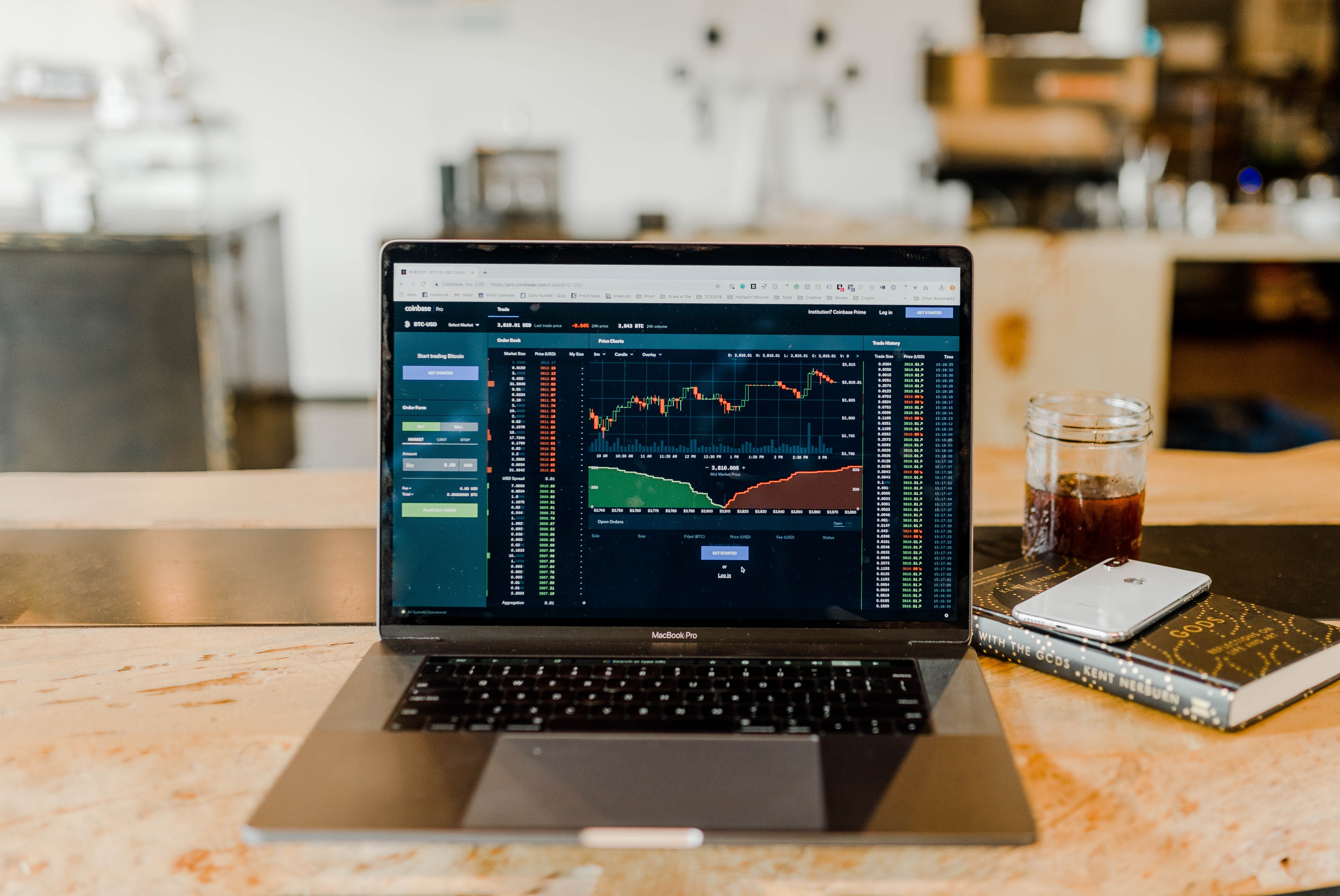 Gunbot is a cryptocurrency trading bot that enables traders to execute trading strategies in a fully-automated fashion. In this Gunbot review, we will explore the features of the popular crypto trading software to help you decide whether this trading bot is right for you. 
What is Gunbot?
Most traders spend countless hours placing manual orders. Conversely, automated bot trading allows you to trade at all times and even make money while you sleep. Gunbot is an application that makes it easier for traders to make automated trades. 
Gunbot is a cryptocurrency trading bot that can trade BTC with any pairs. It uses the highs and lows, to decide whether to sell or buy. The popular trading bot launched in 2016 by creator, Gunther De Niro. 
It currently supports ten of the biggest global cryptocurrency exchanges, including:
Binance

Poloniex

Bittrex

Bitmex

Coinbase Pro

Kraken

Kucoin

Cex.io

Huobi

Bitfinex
The platform supports Windows, macOS, and Linux. In addition, Gunbot has a finite number of licenses that will get exhausted, making the tool unavailable to new investors. The finite number of licenses is to prevent an 'overcrowded market" and maintain a competitive advantage.
How Gunbot Works
Gunbot allows you to add assets for trades through an API key you receive from your exchange of choice. You will then need to configure the bot based on your trading preferences. 
To start trading, you can configure your own trading strategies or choose from existing trading strategies like Step Gain, PingPong, 1000Trades, Supergun, and Bollinger Bands.
After successfully connecting your assets and selecting your trading preferences, the bot runs automatically.
The video above provides a step-by-step guide on how Gunbot works and how you can get started with trading.
Major Features
Gunbot offers precoded strategies for traders. That is to say, the application comes with trading strategies already embedded. This feature is very useful for beginners who are not used to automated trading. It allows them to try out various strategies combined or alone.
What's more, Gunbot offers high customisation options. The platform offers you multiple options for trading, using EMA Love, Trend Watcher, Candlesticks, and more. Furthermore, the app allows you to test and set parameters that give you the freedom to try out different strategies.
Users interested in additional features can also purchase add ons. For instance, the Crypto Slight add on allows you to track your profits while the TradingView add-on aids Gunbot to execute selling and buying alerts from traders from TradingView.
In addition, Gunbot has an easy-to-use and intuitive user interface. The platform makes it easy to track your assets and to control trading preferences. 
Due to the volatile nature of trading, active support for such applications is very necessary. According to the site, Gunbot.shop provides every user with a personalised support assistant. According to the platform's site, Gunbot offers personalized 1 on 1 support, including remote support via Teamviewer.
Gunbot Pricing
Gunbot is a paid application that comes with different packages. The highest-priced package costs 0.125 BTC and the lowest costs 0.02 BTC. 
The Starter package has limitations compared to the standard license. For example, you can use only one trading strategy and the pack does not include the CryptoSight add-on. This package suits absolute beginners who want to try out automated trading. The GunBot Starter package costs 0.02 BTC.
For more experienced traders, Gunbot offers more high-level options. The standard license will allow you to trade on one market only. The pro edition will allow you to trade on three markets while the ultimate version has no limits. These higher-level GunBot licenses will cost you between 0.050 to 0.125 BTC.
Conclusion
Gunbot offers all the bells and whistles that you would expect from a crypto trading bot. It offers an excellent user experience and a suite of tools need to develop and execute automated trading strategies. Whether you are a beginner or an experienced trader, you could use Gunbot to help you execute your trading strategies.
To find out more about Gunbot, click here.

Pesamill Review: Everything You Need to Know About This New Cryptocurrency Exchange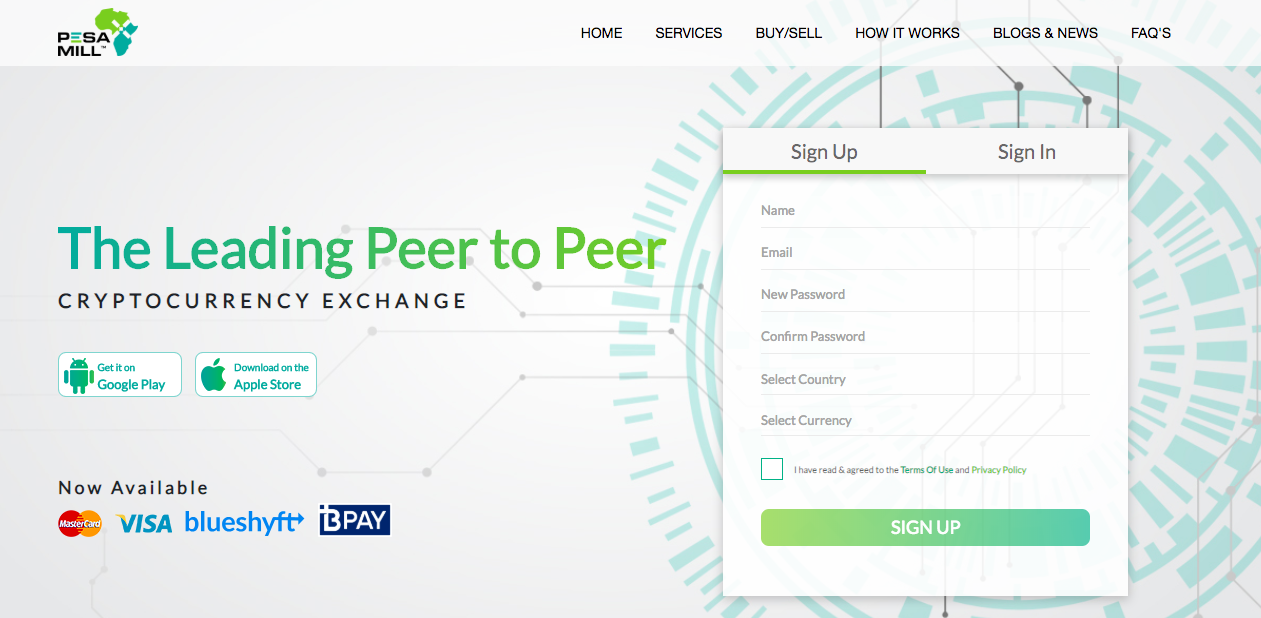 Pesamill is a peer-to-peer cryptocurrency exchange that allows users to buy and sell cryptocurrencies using a variety of payment methods. The platform seeks to offer investors easier access to cryptocurrency exchange services by incorporating a variety of local fiat currency trading options.
In this Pesamill review, we will explore the features that make the exchange unique and how you can go about buying and selling cryptocurrency on this newly-launched digital asset exchange.
Introduction

Pesamill is a Kenya-based digital asset exchange that was launched in 2018 to solve some of the challenges faced by cryptocurrency users when accessing global cryptocurrency exchanges.
To begin with, the exchange has simplified the signing up process and kept KYC (Know-Your-Customer) requirements for users to a minimum. The KYC process is custom built to cater to a variety of users across different markets.
The platform incorporates a number of payment options which include mobile money, Visa, Mastercard, and bank transfers, and has a friendly user interface that is easy to navigate together with a customer care chat functionality to guide users.
How To Trade Bitcoin on Pesamill?
New users have to sign up for an account on the website's landing page. Registration requires you to input your name, email address, password, country of residence and currency of choice. Once you have read and acknowledged the terms of use and privacy policy, you can proceed to sign up. A verification message is then sent to your email.
Once you have verified your email address then you can proceed to the Pesamill dashboard. On the top left corner of the dashboard, there is a tab that offers you the option to switch between different operational layouts. Quick mode offers you a simple layout with the list of cryptocurrencies supported, and their retail prices in USD.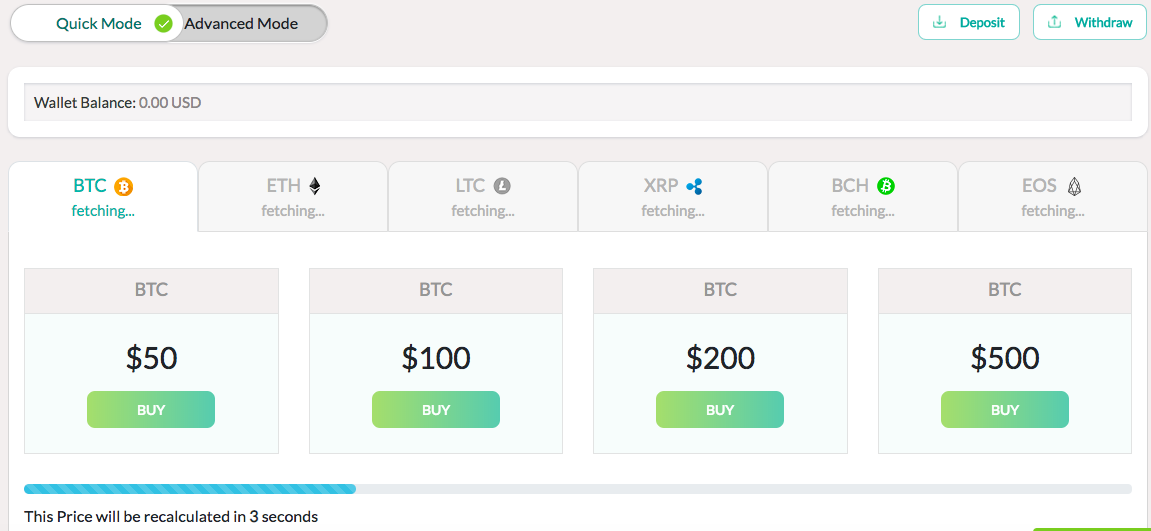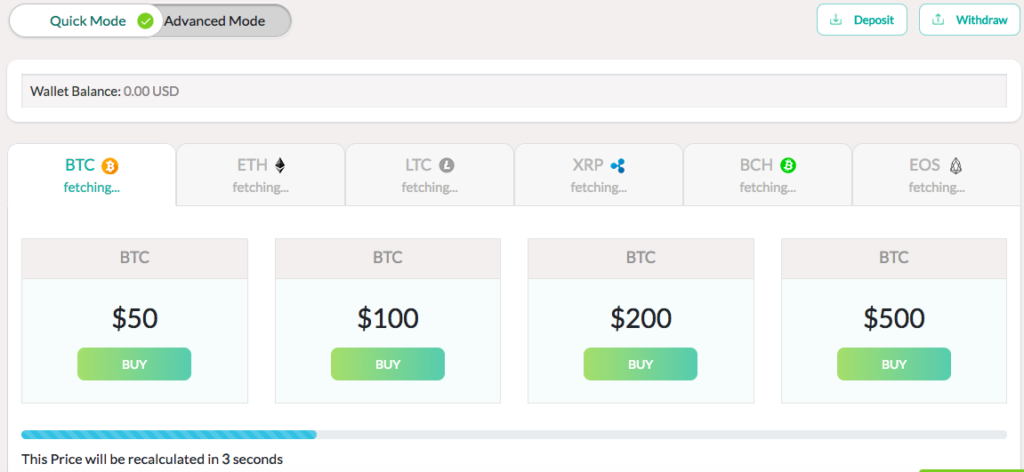 For instance, if you click on the bitcoin column you can choose to buy either $50, $100, $200 and $500 worth of BTC. To buy a different amount you can input the figure directly at the bottom of the page and execute a USD/BTC trade. To keep track of your trade there is a 'my order' tab which shows you the status of your order and account history.
The advanced mode offers you more specialised trading tools whereas quick mode is simpler and user-friendlier but it limits you to buying cryptocurrency only.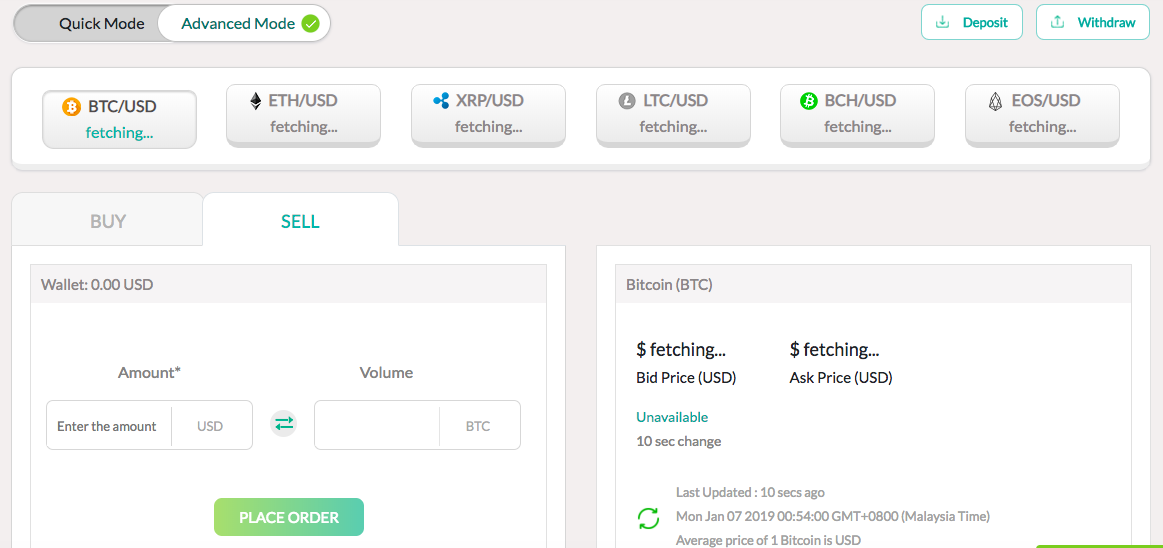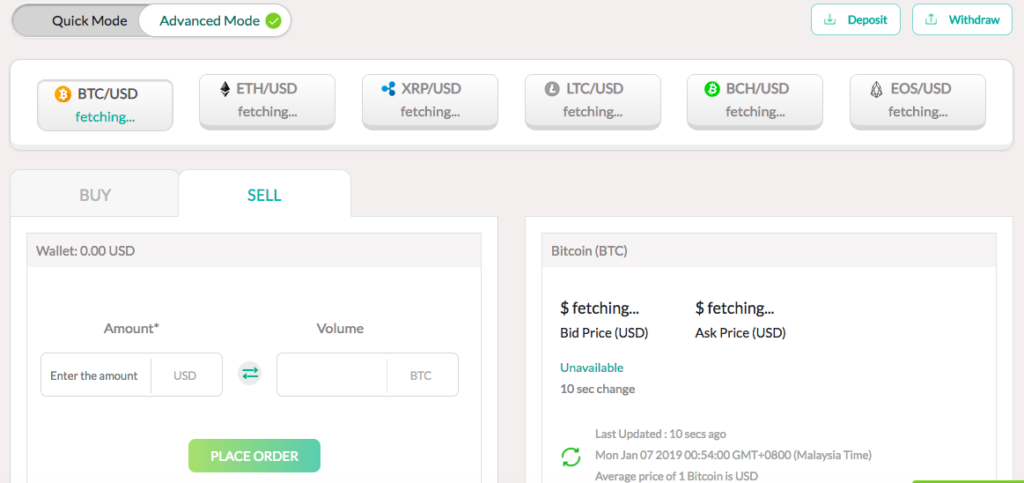 Advanced mode allows you to both buy and sell cryptocurrency. The minimum amount you need to place an order is $15 while the maximum amount you can place an order for is $10,000.99. It is important to note that these limits can sometimes change slightly from one session to another.
In addition, you can track trading patterns on the platform, the volumes of different buy and sell orders, as well as the status of your orders. The advanced mode also incorporates charts to view the price activity of the cryptocurrency you want to trade.
Registration and KYC
Upon signing up to Pesamill and securing your account, the next step is to update your details. This stage is crucial since you can only start trading once the KYC process has been completed. To begin the process you will click on the 'Update Your Details' tab on the top right corner of the dashboard after the 'My Wallet' tab.
The first step in the process requires you to establish your profile. You will need to provide extra details such as your date of birth, address and phone number. A confirmation code will be sent to your phone to verify the number. The next step will need you to upload two important documents namely, your identity card, and passport size photograph. The last option will require you to input your bank details though it is optional.
Once the whole process has been completed the Pesamill team will verify your KYC application and revert to you once the process is successful.
Trading Options, Deposits, and Withdrawals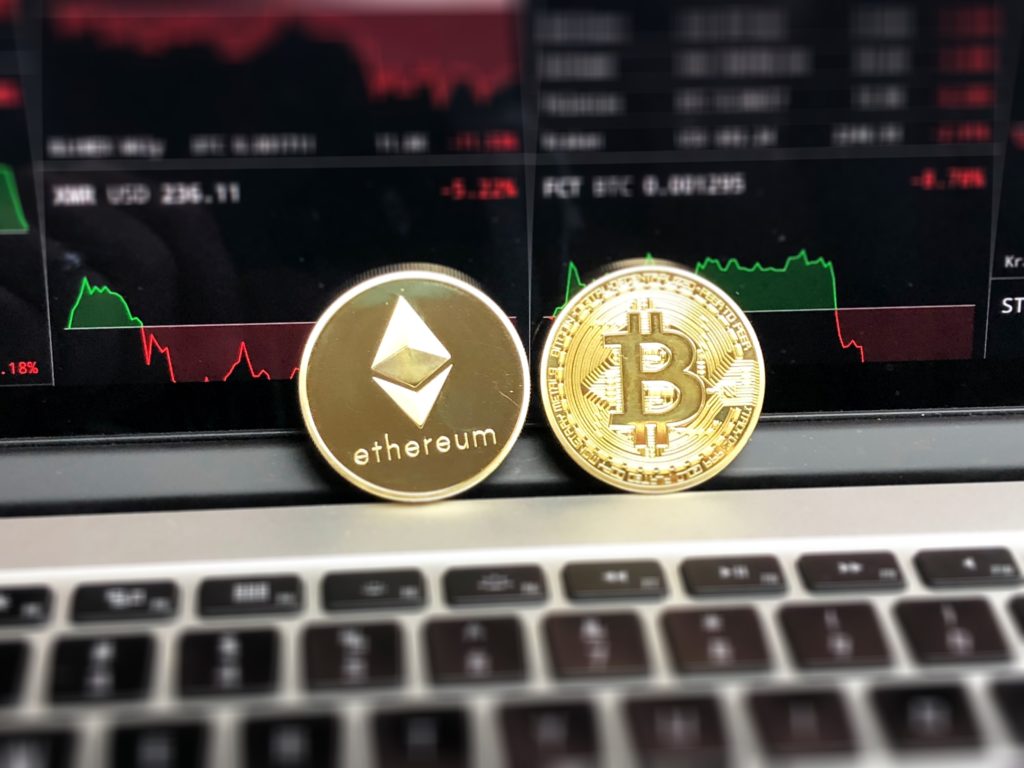 Pesamill enables you to trade in Bitcoin (BTC), Litecoin (LTC), Ether (ETH), Ripple (XRP), Bitcoin Cash (BCH), and EOS (EOS).
Upon creating your account you will receive emails containing your wallet address for each of the listed cryptocurrencies. You can deposit money into your account using the fiat currency option you selected when signing up and it will automatically be converted to USD. The funds deposited should reflect almost immediately into your account.
To withdraw money from your account all you need to do is enter your bank details on your profile, click on the 'Withdraw' tab and input the necessary amount to withdraw. You can only withdraw from your account and not from any of the individual cryptocurrency wallets you possess. Also, cryptocurrency coins cannot be withdrawn directly as fiat currency. Instead, you will need to sell your cryptocurrency to convert it to fiat money. Once the purchaser has sent the money to your account then you can withdraw.
The prices of the listed cryptocurrencies are updated every ten seconds to enable traders to keep track of volatility in the market. If you are looking to transfer digital currency from your online wallet to your personal wallet or to another recipient the process is straightforward.
For example, to send bitcoin you will click on the 'My Wallet' tab on the dashboard. Proceed to the bitcoin wallet tab on the left-hand corner and click on it to view your balance. You will notice the 'Send' and 'Receive' tab at the centre column in the page.
To send BTC, click on the 'Send' tab and input the value and recipient wallet address on the pop-up window. To receive BTC click on the 'Receive' tab and copy the public key on the pop-up window and provide it to the sender. Alternatively, you can scan the QR code and provide the same to the other party.
Fees and Security
Pesamill is yet to release a comprehensive breakdown of their fees though it is stated in the FAQs that use of conventional payment methods when buying cryptocurrency will attract higher charges to mitigate against the risk of transactions being reversed. If you are sending or receiving cryptocurrency then normal network charges will apply and this varies between different coins.
The exchange has strong security protocols in place to safeguard sensitive user information and funds. Information such as personal details, account numbers, routing numbers is stored using bank-level AES-256 encryption. Also, all traffic is transmitted over SSL "(Secure Socket Layer) to prevent third-parties from accessing your connection.
Pesamill also deploys a two-factor authentication system to ensure they are no unauthorised or fraudulent logins. In addition, the exchange has very strict AML (Anti Money Laundering) procedures in place to ensure the platform is not used to launder money, finance illegal activities or support terrorism. They include:
You must undergo the KYC process before being allowed to trade.
You can only withdraw fiat currency to a bank account with the same name as your Pesamill account.
You can only deposit fiat currency from a bank account with the same name as your Pesamill account.
Pesamill will not hesitate to report any illegal activity to the relevant authorities.
Conclusion (UPDATED)
While Pesamill had everything a new bitcoin exchange would need to become a popular platform for digital currency traders, it has been inactive for months.
There is, therefore, no point attempting to access the platform today. Should this change, we will update this review accordingly.