Australian Startup Launches Crowdsale to Revolutionise The Sex Tech Industry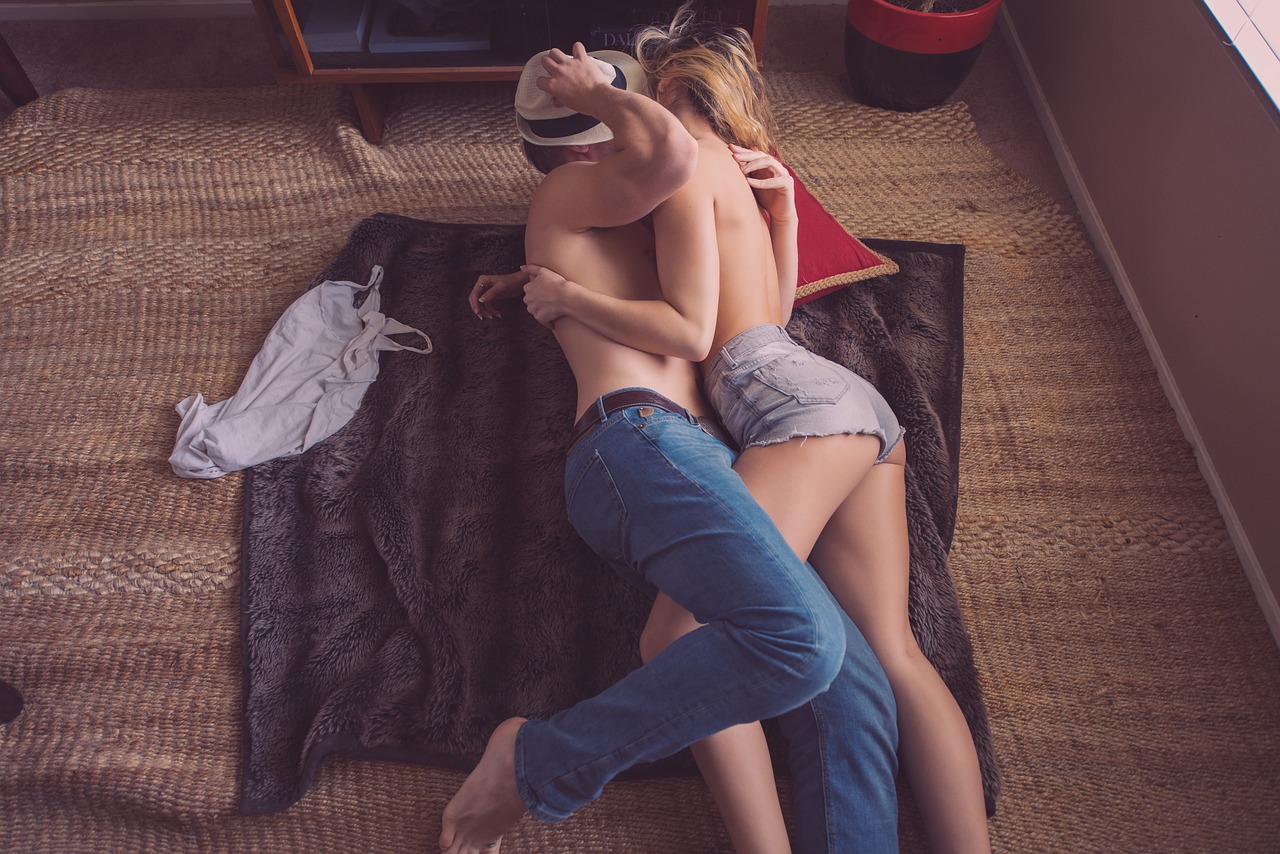 A new crowdsale was launched on June 29, offering token holders the opportunity to buy EXO tokens and to become part of a new sexual revolution. ExoLover is a new blockchain-powered adult entertainment venture aiming to end sexual repression and promote sexual empowerment. Prospective participants in the crowdsale can register now.
ExoLover is aiming to become the world's first sex tech manufacturer to integrate a range of wearable sex toys with a platform built on the blockchain, powered by its own crypto-asset – the EXO token. Having surpassed the soft cap in a few days of launching the pre-initial token generation event, ExoLover Pty Ltd is now ready to hold the main sale to grow the community and potential user base. Inclusivity is at the core of ExoLover's vision and with blockchain and cryptocurrencies set to revolutionise most industries including adult entertainment,  the company is among a handful in this space with such an attractive value proposition.
Along with token ownership, participants in ExoLover's upcoming TGE will stand a chance to be rewarded with bonus tokens from the designated user reward fund. As a fully registered company with patents filed for the development of high-tech sex toys, the company also operates Exo Lovers Club – an exclusive members only adult entertainment club which offers preferential access to project updates including the latest developments about how the manufacturing of the devices is progressing as well as the Exo Lover blockchain platform developments and enhancements. Members of the Exo Lovers Club will have the privilege to access information relating to the general principles of interaction between devices and ExoLover platform. Club members will also be among the first to get the opportunity to potentially become official testers for devices and platform.
The ExoLover platform will be desktop and mobile enabled and will showcase a suite of exciting features, including the ability to remotely engage in sexual experiences which feel like the real thing. Also users of the platform will be able to make instantaneous and low-cost transactions using EXO tokens to access a broad range of exclusive content offered by partner providers and also for making connections with other users of ExoLover devices in order to indulge in fully immersive sexual experiences.
The ExoLover community will enjoy superior blockchain-based security to protect their value and enjoy safe adult entertainment with other users in complete privacy due to the anonymity offered on the platform and which is made possible by blockchain technology. This ability to control personal data is one of the most attractive features of the ExoLover concept. By eliminating data protection or security of transaction vulnerabilities, people will be free to truly engage in fulfilling sexual experiences.
Roadmap for ExoLover Platform and Device Development

By the end of 2018, the ExoLover team are looking to have completed several milestones including finalising the concept of the mobile application and ensuring that development is precise. Their focus will also be on further developing platform functionality and the design of the custom bluetooth controller and other components that will be integral to the successful operation of their different devices such as the ExoWand, ExoThrust, and ExoTouch, just to name a few.
To get involved, simply visit the website and GET EXO TOKENS NOW!
Find out more about the ExoLover project from the links below:
*This is a paid press release. Readers should do their own due diligence before taking any actions related to the promoted company, product or service. BitcoinAfrica.io is not responsible, directly or indirectly, for any loss or damage caused by or in connection with the use of or reliance on any content, product or service mentioned in the press release.*
Black Blockchain Summit 2019 to Gather Global Blockchain Tech Leaders at 2nd Annual DC-Based Conference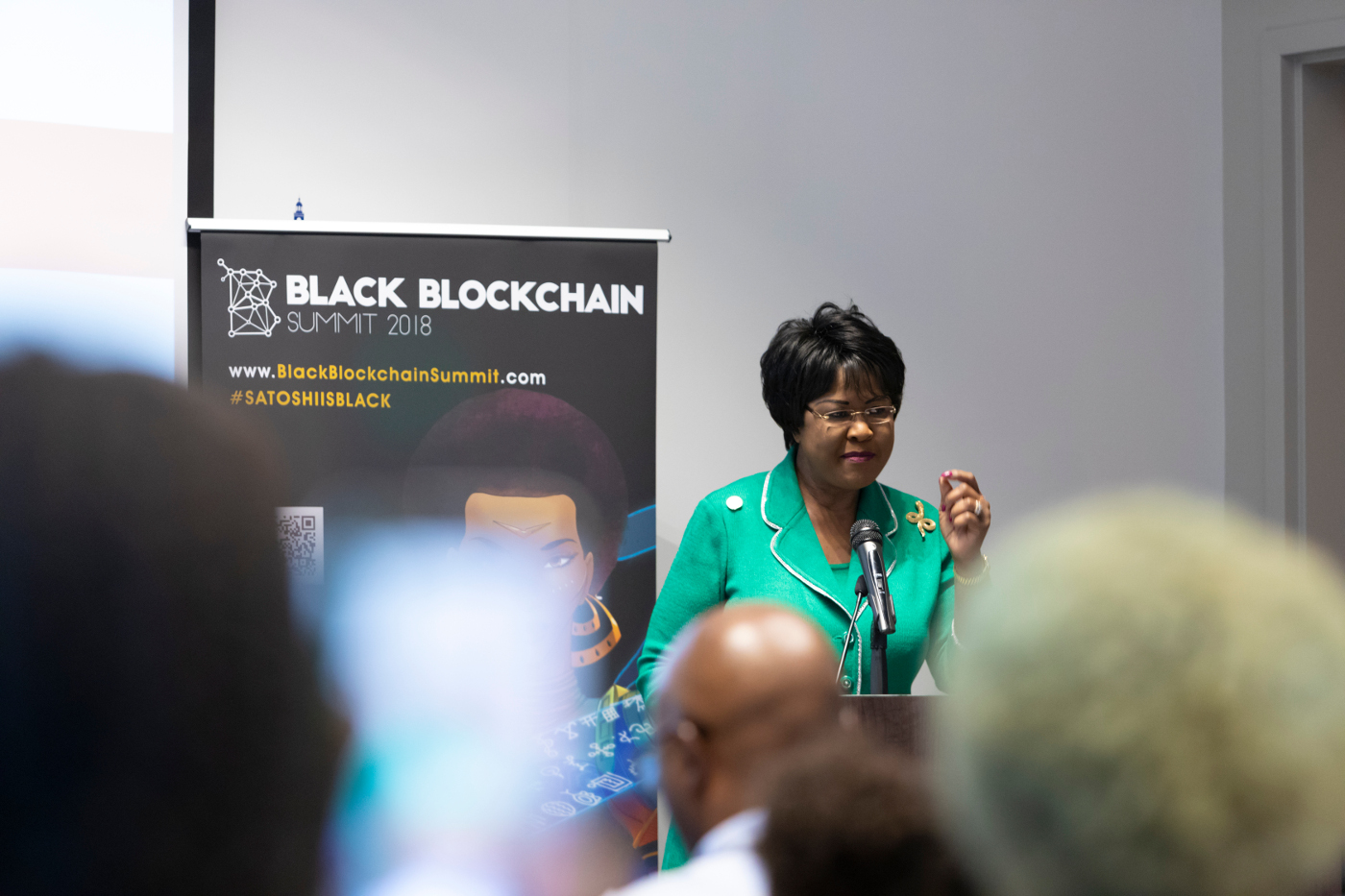 WASHINGTON, DC August 13, 2019, BillMari, the leading pan-African blockchain company, in partnership with BitHub Africa will host its 2nd Annual Black Blockchain Summit (BBS) from September 9th-10th in Washington, D.C. on the historic Howard University campus.
The theme for this year's Summit is "Reparations and Revolutions." The theme marks a crossroads of the global Black community to remediate the past while claiming a stake in a better economic future. Ten years after the release of the Bitcoin White Paper, black cryptocurrency and blockchain innovators are gathering at BBS to examine how blockchain can repair injustices, and revolutionize the globe into a more equitable society.
What is Blockchain?
Blockchain launched with the appearance of Bitcoin as a white paper (technical plan) on October 31, 2008, and later as a working protocol for the transfer of the first cryptocurrency on January 10, 2009. Blockchain is an automated, computer-driven system to transfer value – be that cryptocurrency, votes, ownership deeds, or other valuable data – between peers in a secure and fast manner. Computers in a blockchain can be owned by anyone in the world who downloads and runs the software/protocols for a public blockchain. The fact that all may participate in running blockchain systems reduces corruption and provides new economic opportunities regardless of geography or economic status. Globally, individuals also may construct businesses or business services using these open-source (free-to-use) blockchain protocols.
Why Now?
The objective of the 2019 Black Blockchain Summit is to generate innovative and lasting solutions that disrupt our currently unsustainable position within emergent technologies. We seek to bring lasting prosperity and independence via blockchain solutions as envisioned by freedom fighters and liberators in the "Arusha Declaration."
BBS Co-hosts explain why blockchain technology is important. "We believe that through diligent use of technology and harnessing black cultural competency, problems facing Black societies globally can be mitigated in a timely and effective manner," BillMari Co-Founder and Black Blockchain Summit 2019 Co-Host Sinclair Skinner said.
BitHub Africa Co-Founder and Black Blockchain Summit 2019 Co-Host, John Karanja added, "This year's Summit will inspire participants on how they can leverage Blockchain technology to address historical and current injustices by developing disruptive solutions to challenges faced by the Global Black community."
The 2019 Black Blockchain Summit conference agenda is diverse; the speakers will discuss Blockchain technology solutions in a "baraza" (panel format), an interactive debate format using the Swahili language and debate-style, with topics covering real estate, global investments, cross-border payments, law, and the burgeoning cannabis industry among other topics.
Some of the prominent speakers at the summit are:
H.E. Dr. Arikana Chihombori-Quao – African Union Ambassador, Washington DC
Stacey E. Plaskett – Member of Congress US, House of Representatives
Lindsey Parker – Chief Technology Officer, DC Government
Lamar Wilson – Head of Vision and Decision, Hijro Network
Tone Vays – Content Creator, Derivatives Trader & Consultant
Lyn Ulbricht – CEO, Free Ross Ulbricht
Reggie Middleton – CEO, Veritaseum
Jeff Garzik – Co-Founder, Bloq
Isaiah Jackson – Author, Bitcoin and Black America
This interactive 2-day summit unites tech disruptors and leaders in business, engineering, development, and innovation around the globe to discuss the role of blockchain technology in building economic independence, wealth creation, liberation and the transformation of black communities throughout the diaspora.
For more information and updates about the Black Blockchain Summit 2019 visit www.blackblockchainsummit.com or follow @BlkBlockchainDC on Twitter for live updates. See highlights from the 2018 summit here: https://youtu.be/30B6zEcn3pk 
For media inquiries please email, info@BlackBlockchainSummit.com
Disclaimer: This is a press release. Readers should do their own due diligence before taking any actions related to the company, product or service. BitcoinAfrica.io is not responsible, directly or indirectly, for any loss or damage caused by or in connection with the use of or reliance on any content, product or service mentioned in this press release.
Announcing Abuja Blockchain & Digital Assets Conference 2019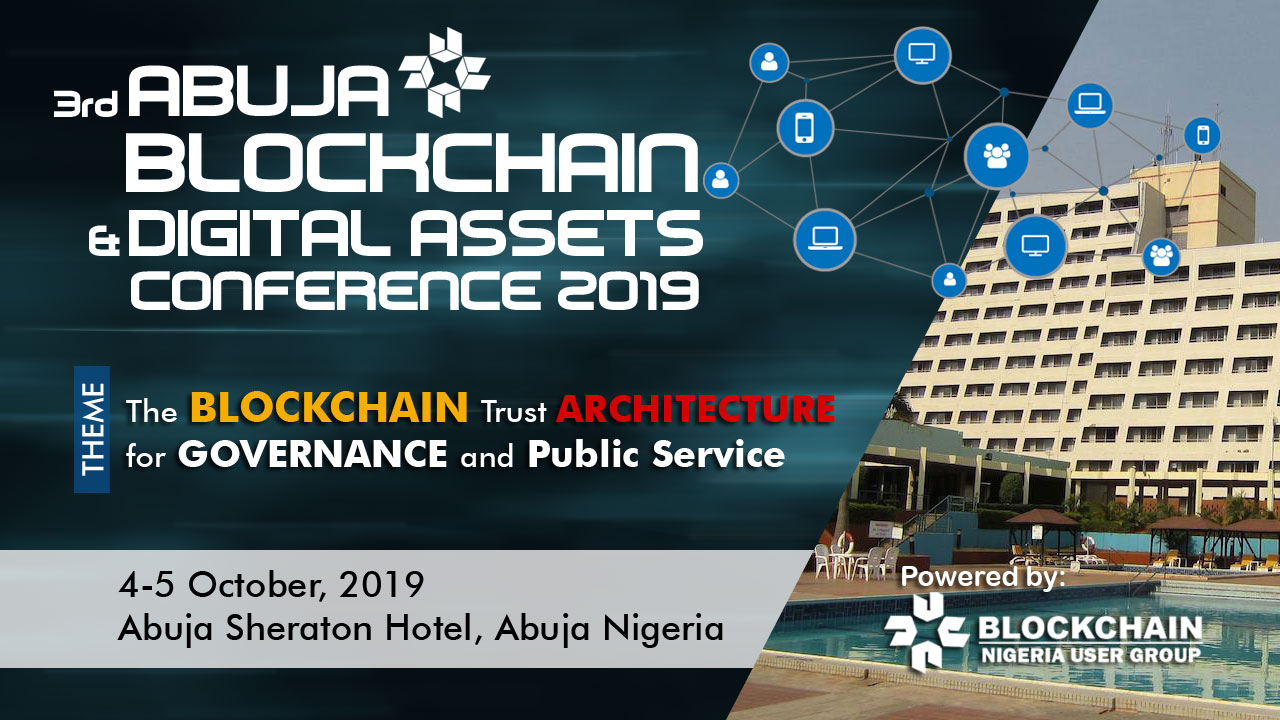 Blockchain-based solutions have the potential to make government operations at different levels more efficient and improve the delivery of public services, while simultaneously increasing trust in the public sector.
For this to happen, education is key — getting the right people at the federal, state and local government levels engaged, excited and educated about the technology. Once the right people understand the promise of blockchain, existing problems that can be better solved through a blockchain-based solution than through the existing technology infrastructure, then we can start retooling government processes.
At the upcoming Abuja Blockchain & Digital Assets Conference 2019, the third edition of these conferences curated by Blockchain Nigeria User Group, a sub-set Organization of Blockchain Technology Users (OBTU), duly registered Incorporated Trust with Nigeria's CAC, is scheduled to hold from 4–5 October 2019, at Abuja Sheraton Hotels, experts, industry stakeholders, thought leaders and the academia will converge to brainstorm on how blockchain and other emerging technologies of the fourth industrial revolution can be leveraged by the Nigeria government and her agencies for improved public service delivery.
Agenda: The Blockchain Trust-Architecture for Governance and Public Service
It will be a two-day event featuring panel discussion segments, project presentations, training, and workshops.
Who is to attend:
Policy Makers, Regulators, Lawyers
CIOs & IT
Crypto-Assets Traders & Managers
Enthusiasts, Developers & Solution architects
Blockchain platform innovators and providers
Civil servants & Government employees thinking about or already experimenting with the technologies
Blockchain Practitioners: Those experimenting who want to connect with other practitioners
Digital Transformers: Those curious about new technology & how to use it to streamline operations
What we shall be talking about:
Governance: how to regulate appropriately without stifling innovation
Blockchain Integration with current activities & operations
Technology Skills needed along with the Talent to support Blockchain projects
Selling the Potential of Blockchain to Senior Management & Non-Techies
True Digital Transformation: using new business philosophies and technologies to enable real innovation
How those currently in the Blockchain Trenches operate along with challenges and insights
Security, Risks and the future possibilities of blockchain technology
Opportunities for Sponsors and Partners
Do you have a Blockchain or 4iR Tech project or products you desire to see spread across Nigeria and Africa, please take this ride. We have a proven track record of curating world-class Blockchain Conferences with International media recognition.
International media organizations such as BBC, CNBC Africa, Channels TV, Cointelegraph, BitcoinAfrica.io, etc., have featured some of our past conferences. If you are planning on expanding your business in Africa, this event offers you an excellent opportunity to meet with decision-makers of various sectors. Network with the local blockchain service providers that have the expertise to help you succeed and gain local insight and offer your solution directly.
Send us a mail for partnerships, speaker or sponsorship opportunities: info@blockchainnigeria.group.
Why Abuja?
Abuja, Nigeria, is the right place for this event because it is the Capital City of Nigeria and Nigeria is the largest market in Africa for emerging technologies of the 4IR. With over 200M population, the highest penetration of mobile phones, Internet connectivity, real-time payment systems, and diverse population workforce, you'll meet the right people at the event and collaboration is the key to winning in today's businesses.
Let's give your project wings. BNUG has over 13,000 event subscribers built over 3 years of active engagements with a community of very vibrant tech enablers, developers, enthusiasts, and investors. Let's take you by the hand and show your project to a waiting audience.
View the pictures and videos from previous conferences.
Date: 4–5 October 2019
Venue: Sheraton Hotels, Abuja Nigeria.
Learn more at http://blockchainnigeria.group
Disclaimer: This is a press release. Readers should do their own due diligence before taking any actions related to the company, product or service. BitcoinAfrica.io is not responsible, directly or indirectly, for any loss or damage caused by or in connection with the use of or reliance on any content, product or service mentioned in this press release.
Big Names Take to the Stage at Crypto Fest 2019 in South Africa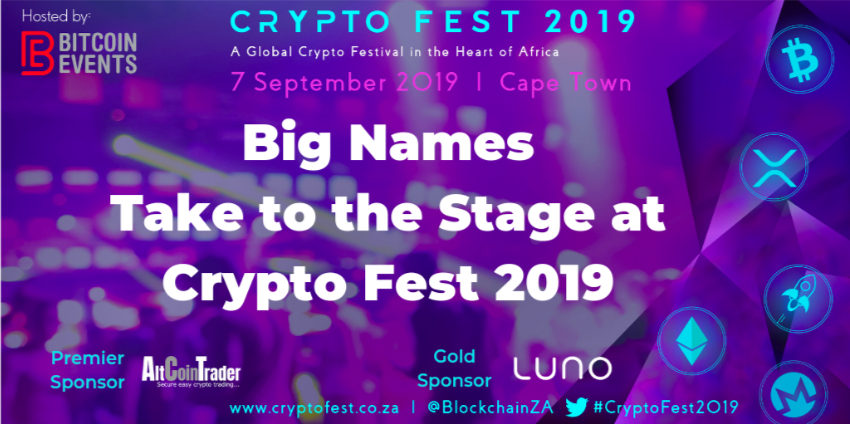 Bitcoin Events is hosting the first-ever Crypto Festival in Cape Town on 7 September 2019 at Shimmy Beach Club, V&A Waterfront. 
This is the first event of its kind in South Africa and with the tremendous interest in cryptocurrencies that exist in South Africa, this event is certainly going to provide several insights into why South Africans are investing in and trading with cryptocurrencies!
According to a global survey by social media management company Hootsuite and global agency Wearesocial, South Africa has been ranked as the top country for ownership of cryptocurrency. The survey found that 10.7 percent of internet users in the country own cryptocurrency. 
Africa is embracing the digital revolution!
Bitcoin is now 10 years old and with it has come a plethora of exciting new ways to transact, invest, trade and conduct business. The Crypto Fest will showcase these exciting innovations with well-known local and international speakers who have created businesses, products, and services using cryptocurrencies. 
One of South Africa's first cryptocurrency exchanges, AltCoinTrader SA is the official Premier Sponsor of the Crypto Fest 2019. AltCoinTrader provides cryptocurrency trading in South Africa since 2015. 
The main vision of the exchange, according to Founder and Senior Partner, Richard de Sousa, is to provide easier accessible cryptocurrencies to communities that struggle with traditional banking systems.
The demand for altcoins in the country is rapidly growing, and often local exchanges with fiat on-ramps are used as a gateway to international exchanges to facilitate top performing cryptocurrency acquisitions. AltCoinTrader has identified a niche space and has listed the top 20 CoinMarketCap coins on its platform to provide traders with easy access to these markets.
Keynote Speaker at Crypto Fest 2019
Founder of AltCoinTrader

Thanks to the invention of Bitcoin by Satoshi Nakamoto, new global financial systems now exist, those of decentralised cryptocurrencies and tech giants' coins such as Facebook's Libra. How will these new financial systems affect how we live and transact, and how will governments control these new systems?

Richard de Sousa, Founder of AltCoinTrader will set the scene in his Keynote address discussing the 'Trends and Overview of the Crypto Landscape'.

AltCoinTrader was developed by Richard in 2014 and as an early adopter of Bitcoin, he wanted to bring cryptocurrency to the local South African community as buying cryptocurrencies from any exchange overseas was difficult and cumbersome.
Put your brand on the throne
We invite you to partner with Bitcoin Events and sponsor this exciting event. Showcase your brand, product, and services to our global audience. The Crypto Fest sponsorship packages provide extensive exposure, leading up to, during, and after the festival. If you would like to receive more information about the sponsorship opportunities, please email us at info@blockchainafrica.co.
What You Can Expect at the Crypto Fest
This one-day event will be moving away from the traditional conference and exhibition model, into a ground-breaking festival of engaging, thought-provoking and quality content on three stages, driving meaningful discussion and debate on how best to accelerate global adoption of cryptocurrencies. Crypto Fest 2019 strives to bring cryptocurrencies to life through immersive activities showcasing examples of real-world application and increased engagement opportunities to make the connections needed to expedite cryptocurrency adoption through controversial crypto debates in the Crypto Battle Arena, live crypto gaming and fun competitions with crypto giveaways. The festival will culminate with a crypto party!
Crypto Battle I: Battle of the Coins

The Bitcoin Civil War between BTC, BCH, and BSV is hotter than ever, with existential stakes for different communities of stakeholders. Many different opinions exist in the crypto community on which bitcoin is the true bitcoin: which is the most efficient payment system, what is the most efficient block size limit and which of these are as per Satoshi Nakamoto's Whitepaper, 'Bitcoin, A Peer-to-Peer Electronic Cash System'. Each participant will make their case for the bitcoin they support after which each will have the opportunity to respond to the other participants. The audience will have the opportunity to pose a question that the moderator will ask via our Twitter event hashtag, #CryptoFest2019. Less fighting and more buidl-ing is the only win-win scenario here. Catch Lorien Gamaroff, Rocelo Lopes and Warren Gray in this crypto battle ring, with James Preston as the mediator.
Crypto Battle II: Crypto Whales vs. the Small Fish
Crypto whales get accused of market manipulation and dirty tactics, and can cause market prices to drop or rise within minutes by dumping a huge amount of coins at once. However, not all crypto whales are sharks. And while that might be true for some whales, it is a broad and unjustified generalization to presume that all of them are solely focused on market manipulation. Price manipulation tactics occur in every market and are illegal in regulated markets which is not the case in the current crypto unregulated market. Join Graeme Tennant at our Whales vs. the Small Fish crypto battle, moderated by Grey Jabesi, which will look at how whales influence the crypto market and what tactics they use to create FOMO in the market.
Crypto Battle III: Libra Coin: What Does it Mean for Crypto?  
It is no more news that Facebook is taking a chunk of its resources and technical know-how to establishing a coin, Libra, offering a "faster, cheaper and more secure" alternative to traditional ways of making payments on the internet, according to reports. Regardless of all the details surrounding the introduction of this ambitious project, one thing is clear: over 2 billion people would have seamless access to Libra. Therefore, regulations, use case, its influence on the crypto market, as well as the financial industry, has come under unprecedented scrutiny.
This battle, moderated by Farzam Ehsani, will consider the various pros and cons of Libra, what it means for the crypto industry, consumers and regulators including the impact on other cryptocurrencies.
We are delighted to welcome our confirmed speakers who are recognised as thought leaders in the cryptocurrency industry! Read more about the speakers here, and view the thought-provoking programme here.
About Bitcoin Events

Since inception, Bitcoin Events have cut through the hype and challenged the critics to educate, upskill and drive long-term thinking on the strategic benefits of cryptocurrencies and blockchain technology for businesses, governments, citizens, and society.
For more information on the Crypto Fest visit our website at www.cryptofest.co.za or email us at info@blockchainafrica.co 
See You at the Crypto Fest 2019 in Cape Town!
Buy your Crypto Fest 2019 Ticket Now

Disclaimer: This is a press release. Readers should do their own due diligence before taking any actions related to the company, product or service. BitcoinAfrica.io is not responsible, directly or indirectly, for any loss or damage caused by or in connection with the use of or reliance on any content, product or service mentioned in this press release.