BanQu Launches Trailblazing Partnership with Anheuser-Busch InBev to Revolutionise Supply Chain Transparency in Zambia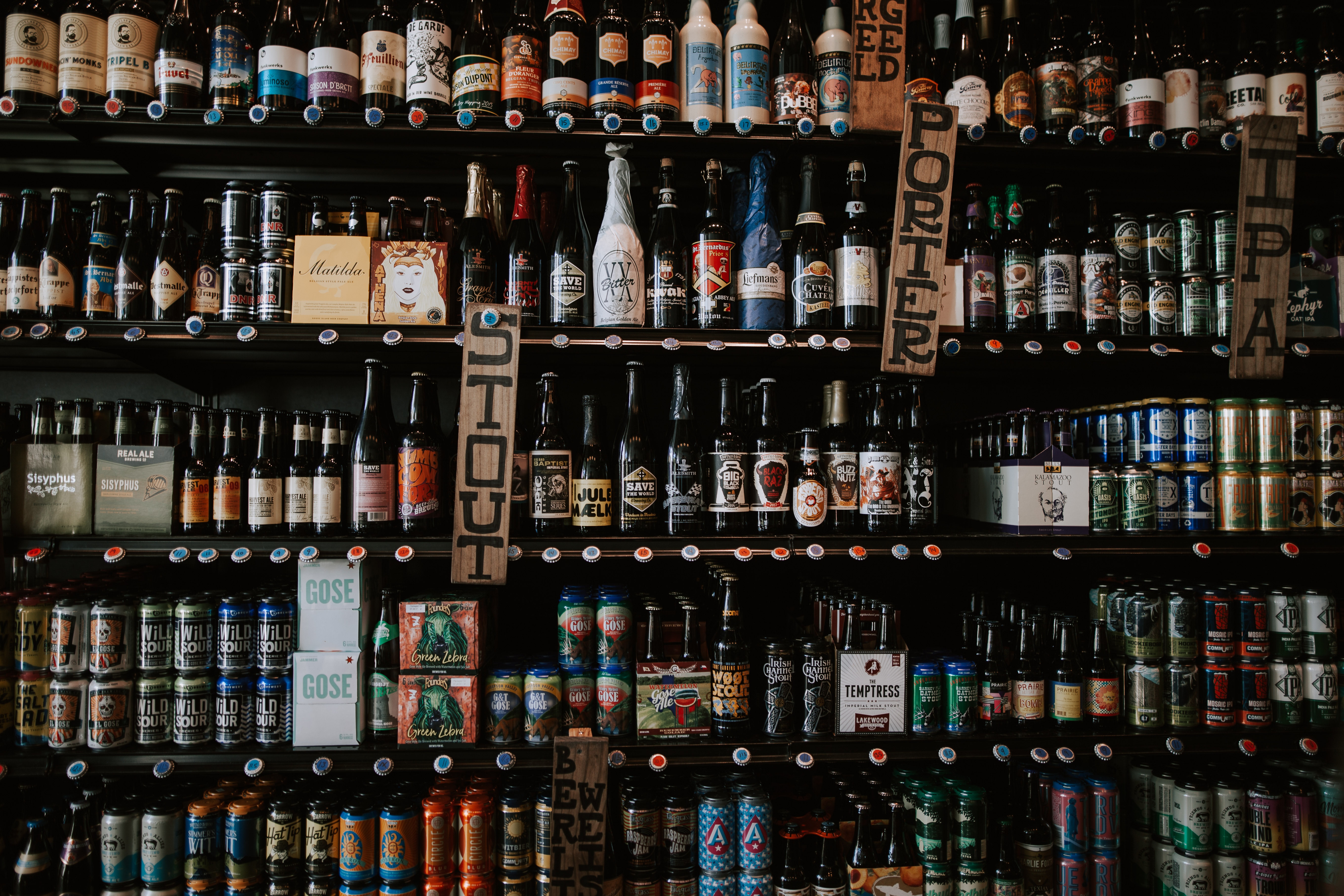 MINNEAPOLIS, Aug. 29, 2018 /PRNewswire/ — BanQu has developed the first-ever, blockchain economic-identity technology solution that enables a secure, immutable platform and creates economic opportunities for small-scale farmers in Africa. Leading brands looking to improve supply chain management, and enhance ROI through asset provenance, have leaped at the company's for-profit/for-purpose blockchain-as-a-service software.
In June 2018, BanQu piloted a new partnership with the world's leading brewer, Anheuser-Busch InBev, working to connect 2,000 Zambian farmers to the mobile platform as they harvest and sell a projected 2,000 tonnes of cassava, producing a high-quality starch used in beer—by the end of Zambia's growing season in August.
According to the World Health Organization about a quarter of all alcoholic beverage consumption globally is unrecorded. With supply chain traceability and transparency, BanQu provides Anheuser-Busch InBev's local business, Zambian Breweries, with the ability to track its product every step of the way through built-in geo-location tags on all transactions along with farmer identity profiles. As products like the cassava crop move from one step to the next in the supply chain, from the farmer at the source to local businesses, aggregated buyers and retailers at the top, BanQu facilitates a record of sale etched on the immutable, decentralized ledger that is the blockchain.
Zambian Breweries Agricultural Manager Chris Nicolle commented: "This is one of the most exciting programs to be involved with.  The scope and empowerment that the platform provides to the Small Holder is exceptional and I look forward to seeing the implementation of the project, from pilot to our full-time buying platform."
The same BanQu technology also creates economic opportunities for the world's poorest, including refugees and the displaced. The platform gives these "unbanked" or "underbanked" people a free, secure, online profile that provides a recognizable economic identity.  In just a number of minutes, unbanked mobile users set up a personal digital identification profile that connects to their banked network, including family, friends, small businesses, and associated NGOs. As they start accumulating transaction histories on the BanQu blockchain, the world's unbanked also develop a traceable, vetted financial and personal history.
"Since 60% of the 2.7 billion unbanked and underbanked people already own mobile phones, these devices make the best platform for these people to connect to the global economy," said BanQu Founder and CEO Ashish Gadnis. "BanQu is enabling the democratization of data, money, and eventually power, while delivering a distinct business advantage to global brands like Anheuser-Busch InBev and their localized company, Zambian Breweries, who believe in an inclusive agricultural model. Our goal is to strengthen this partnership across multiple crops and countries setting up a long-term, sustainable and responsible supply chain that directly benefits the small-scale farmers in the world."
The BanQu Platform core includes features such as a universal design that works on any device—from the oldest to newest cell phones. The platform is 100-percent translatable by supporting any language in the world, and it is fully configurable to global brands, micro, small and medium-sized enterprises (SMEs), government and philanthropic organizations, as well as financial services (KYC/AML). The platform provides 24/7 free access to all consumers for every imaginable use case, from remote purchasing to cash disbursements. Lastly, as the platform is not tied to a cryptocurrency, the speed and security of transactions won't be impacted by the volatility of Bitcoin or any other cryptocurrency.
BanQu was founded in 2016 and has connected over 15,000 last-mile farmers, displaced and refugees to the platform across eight countries. The company aims to help lift 100-million people out of extreme poverty through the use of blockchain technology by the year 2028.
About AB InBev in Zambia
Zambian Breweries Plc is part of Anheuser-Busch InBev (AB InBev), the leading brewer, with more than 500 beer brands and approximately 180,000 employees based in nearly 50 countries worldwide.
Zambian Breweries was established in Zambia in 1968 and its product range has grown to include clear beers such as Mosi Lager, Castle, Carling Black Label and Eagle lager.
SOURCE BanQu, Inc
Related Links
*Readers should do their own due diligence before taking any actions related to the company, product or service. BitcoinAfrica.io is not responsible, directly or indirectly, for any loss or damage caused by or in connection with the use of or reliance on any content, product or service mentioned in this press release.*
BMW and $100,000 Worth Prizes to Grab to Celebrate Listing of FESS on DigiFinex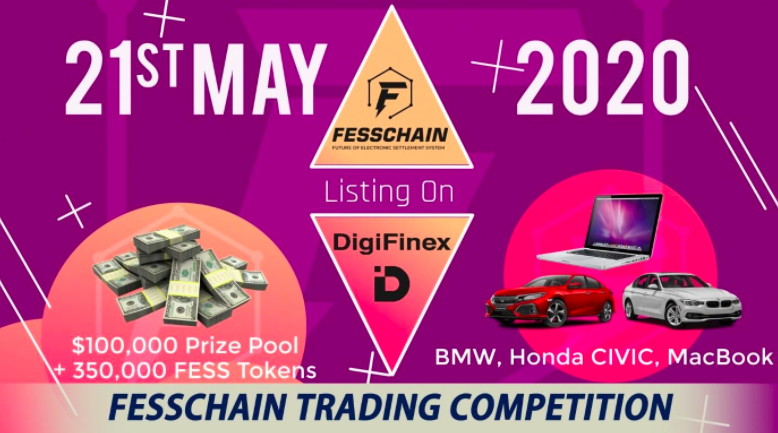 If you are a pro trader then FESS is coming with a Trade competition on 21st May which also marks its first Public listing. FESSChain is so excited to announce the 'Hottest Crypto Trade Fest of the Year 2020' on DigiFinex.
3 Lucky Winners will compete for a prize pool of S100,000 for fess trading contest starting from 21st May 2020. The winners can take home a classy BMW 3 Series Car, Honda Civic, and a 16" MacBook Pro. Additionally, another event starting on DigiFinex from June 2, 2020, has 350,000 tokens to offer via airdrop, trading, and staking activities.
A Grand Prize is always better than a prize and such competitions don't always come. So, it's a golden opportunity for crypto traders across the world.
You must be curious by now what to do in order to get these grand rewards from us! So, you need to be following these steps to be eligible to join the participant pool.
FESSChain IEO on DigiFinex
FESS Initial Exchange Offering (IEO) concluded on DigiFinex exchange on March 1, 2020. The IEO (or super sale) was a smashing success and hit the hard cap of $ 8.76 million in a matter of just 43 seconds. It received an overwhelming response from investors. The IEO didn't only reach the hard cap within a few eye blinks but also got oversubscribed by almost 2x margin.
Prizes
Terms and Conditions:
FESSChain is inviting crypto traders from across the world to participate in FESSChain grand Trading Fest. You need to be following these conditions to join the pool of claimants:
To become eligible for this contest all you need is to trade FESS on DigiFinex in the

FESS/USDT pair

during the contest period.

Users whose

Net purchase is of more than 1 million

will be eligible for this reward.




Here FESS net purchase = Buying volume – Selling volume

The competition will start from May 21, 2020, at 20:00 and will remain live until June 9, 2020 (GMT+8).

Based on participants' trading volume, they will be ranked on DigiFinex and the

three lucky winners will be announced at the end of the competition

.
To Know better about this Contest and Participate kindly Visit: DigiFinex dedicated Section
Now, this listing event calls for Additional rewards of 350,000 FESS tokens. This event will be divided in 2 stages whose details can be found here:
Stage One: Listing Airdrop of FESS
Rank Top 200 in net purchase competition
During the activity, users will be ranked according to
FESS net purchase (net purchase = buying volume-selling volume)
**Consolation prize for net purchase competition
During the activity, users whose net purchase of FESS ≥ 2,000 but who are not in the top 200 will receive 30 FESS tokens, with 15,000 FESS Tokens in total for this reward.
Trade FESS
During the activity, users who trade FESS with transaction volume ≥100 FESS will be rewarded 5 FESS, and a total of 10,000 FESS will be rewarded.
Promote FESS
During the activity, you can follow DigiFinex's official Twitter (t.co/digifinex) or Facebook account (fb.com/digifinex.global) and FESS's official Twitter (t.co/fesschain) and forward any FESS activity posts. Screenshot and register it in the form and you can share 15,000 FESS with other participants.
Stage Two: FESS Q&A Reward
Time: June 2, 2020 10:00 — June 9, 2020 20:00(GMT+8)
1.Airdrop in FESS communities
Gather your friends and join DigiFinex Telegram group during the event period in order to gain exclusive access to the passwords required to unlock the red packets!
2. H5 page for FESS Q&A
Open H5 page for FESS Q&A to answer the questions. Users who correctly answer all questions can share reward of 60,000 FESS.
The Q&A H5 page will be published on June 1, please pay attention to the content of the announcement by DigiFinex.

Happy Trading!!
About FESSChain
FESSChain Is an AI operated and Proof of Proof based blockchain that uses Volume Oriented fragmentation version 1.0 to settle data into the blockchain. It is unique in many terms and one of them is its data processing and storage supported by Neutrino Framework. The framework makes sure that it processes data into the main chain it fragments the data into the smallest units possible in sub-chains. It only saves the relevant data into the main chain thus shrugging off the unnecessary load.
Disclaimer: The Prizes are indicative in price terms and may change depending on the manufacturer and market conditions. In such a case, the prize or the mentioned price (whichever is lower in absolute terms) will be given to the winners.
Disclaimer: This is a paid press release. Readers should do their own due diligence before taking any actions related to any company, product or service mentioned in this article. BitcoinAfrica.io is not responsible, directly or indirectly, for any loss or damage caused by or in connection with the use of or reliance on any content, product or service mentioned in this press release. 
Bitcoin DCA Platform Vimba Hits 10,000 Users Following Expansion into the UK and Europe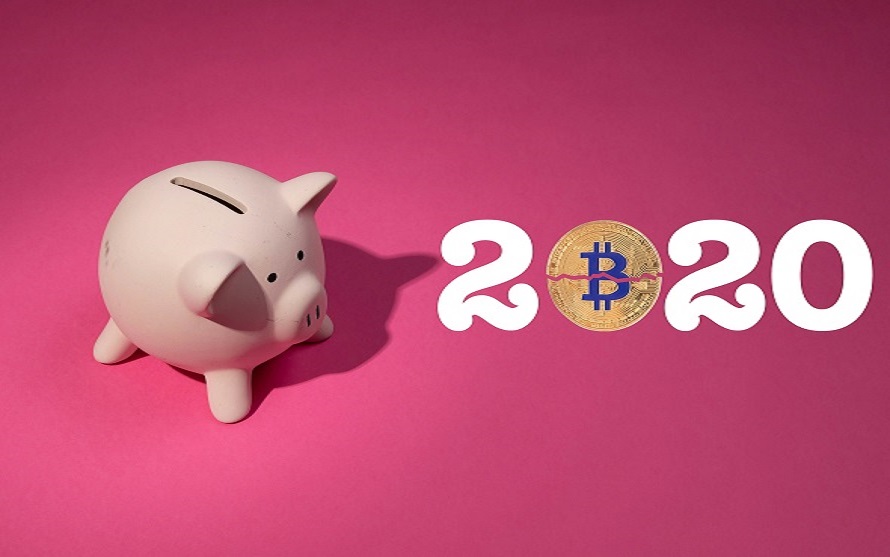 Bristol, United Kingdom, May 20, 2020 — Bitcoin DCA platform Vimba has reached 10,000 customers following the company's expansion into the UK and Europe last year. 3,000 new users joined in 2020 leading up to the Bitcoin halving.
New Zealand-based Vimba was founded in 2014 by early bitcoin adopter, Sam Blackmore, with the mission to bring bitcoin into the hands of as many people as possible. Today, Vimba enables investors in 30 countries to buy, sell, and auto-invest in bitcoin in a simple, hassle-free manner.
Moreover, Vimba is the only bitcoin DCA platform that enables investors to dollar-cost average BTC directly into cold storage, which adds an unprecedented level of security to auto-investors. Alternatively, users can also store their digital currency in the platform's built-in non-custodial crypto wallets, which is the preferred option for most first-time bitcoin investors.
Thanks to its user-friendly service and customer-centric approach, Vimba has been able to turn thousands of New Zealanders into bitcoiners. Now, the company seeks to turn more bitcoin-curious investors into bitcoiners in its new markets.
Founder and CEO Sam Blackmore comments: "We set out to build a platform that enabled Kiwis to save small amounts of bitcoin on a weekly basis. The aim was to give anyone the opportunity to future-proof and diversify their investments by learning about Bitcoin and investing it in a simple and secure way."
"Now, we want to use our six years of experience operating a bitcoin company in New Zealand to continue on our mission to bring bitcoin into the hands of the people by creating new bitcoiners in Europe and the UK. We believe that enabling people to regularly invest in bitcoin in a simple, automated, and hands-off manner with as little as £10 is one of the best ways to spread bitcoin to the masses."
Disclaimer: This is a press release. Readers should do their own due diligence before taking any actions related to any company, product or service mentioned in this article. BitcoinAfrica.io is not responsible, directly or indirectly, for any loss or damage caused by or in connection with the use of or reliance on any content, product or service mentioned in this press release. 
Binance Charity Donates 15,000 Protective Suits to South Africa to Support Fight Against Coronavirus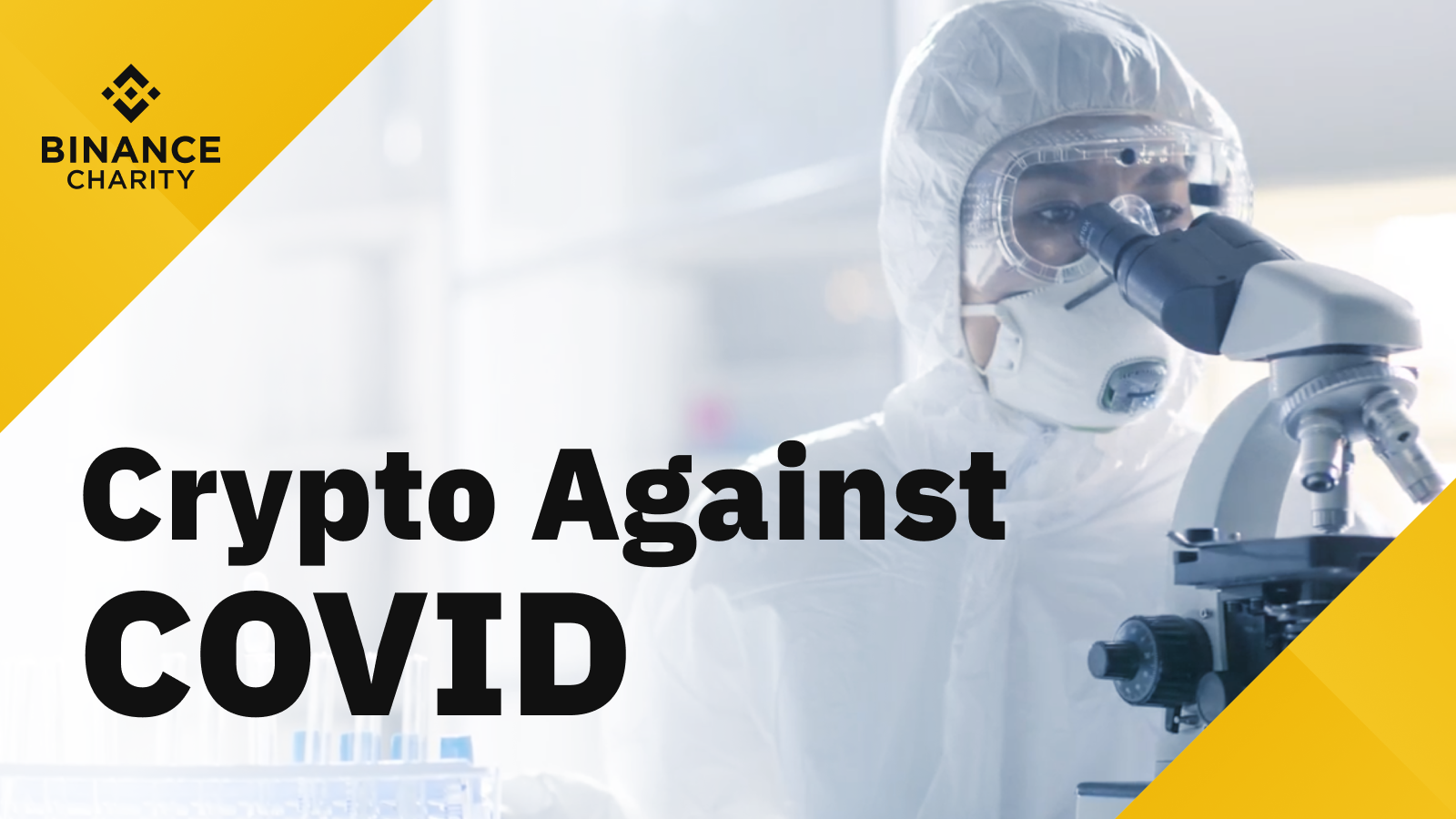 May 13, 2020 —​ ​Binance Charity​ the world's first blockchain-powered donation platform dedicated to advancing transparent philanthropy, has supported South Africa's efforts in tackling the COVID-19 pandemic by donating 15,000 protective suits to hospitals in the country – as part of the organisation's Crypto Against COVID campaign.
Launched on March 24, 2020, Binance Charity's ​Crypto Against COVID​ campaign was created to raise $5 million USD in cryptocurrencies (BNB, BTC, BUSD, and XRP) to be spent primarily on buying medical supplies for affected regions globally. Binance led this effort with an initial donation of $1 million USD, plus an additional donation of $1 million USD through the #CryptoAgainstCOVID social media campaign. In addition, Binance vowed to match $2 million USD of public donations received.
According to the ​WHO,​ as of May 11, 2020, the number of confirmed COVID-19 cases in South Africa has exceeded 10,000 – with 194 deaths. Making the country the most affected on the African continent.
A total of $3.9 million USD has been raised from Binance and public donations, with more than 40 crypto companies joining together to support the campaign. As of May 12, medical supplies have been shipped to various affected countries, including 10,000 protective suits to Turkey, ​400,000 masks to Italy​, and 15,000 suits to South Africa. Binance Charity has also committed to PPE donations to Puerto Rico and the Caribbean​ and launched ​a PPE token​ to support donation efforts for New York.
In addition to the ​15,000 protective suits for South Africa – which will be donated to the Health Department in the Western Cape and other hospitals -​ a further 20,000 masks for South Africa have been ordered for delivery within the next few weeks.
"The most important element of human life is to show compassion and help others as we can, without the limitation or restriction of borders. Blockchain technology enables this in greater capacities than ever before and Binance Charity wishes to bring this to the masses,"​ said Helen Hai, Head of Binance Charity.
This Crypto Against COVID donation to South Africa comes months after Binance Charity announced a $1 million USD commitment​ for charity work and crypto education in the country at the Blockchain Africa Conference in Johannesburg in March 2020 – where Binance, the global blockchain company behind the world's largest cryptocurrency exchange by trading volume and users, announced the launch of a South African (ZAR) fiat-on-ramp with 5 trading pairs: BTC/ZAR, ETH/ZAR, BNB/ZAR, BUSD/ZAR and USDT/ZAR. ​Binance users in South Africa are able to deposit Rands (ZAR) from any South African bank account ​and enjoy features such as savings, spot, margin, lending, futures trading, etc.
On Binance's commitment to South Africa and Binance Charity's donation, Tanya Knowles, SA lead said:​ "Binance's commitment to South Africa extends beyond our role as a cryptocurrency exchange. We are facing a healthcare and economic crisis which our generation has not witnessed before. We hope that this donation supports the many efforts being made in South Africa to fight the virus."
Binance Charity maintains its mandate of 100% transparency. All transactions will be published in full transparency through the blockchain-based donation portal. Any hospital demands or sources of medical supplies and shipping aid willing to help in this cause may reach out to ​bcf@binance.com​.
Join Binance Charity and help the world fight the coronavirus. Even a small donation can save lives. Together, let's help those in need. Click ​here​ to donate.
Disclaimer: This is a paid press release. Readers should do their own due diligence before taking any actions related to any company, product or service mentioned in this article. BitcoinAfrica.io is not responsible, directly or indirectly, for any loss or damage caused by or in connection with the use of or reliance on any content, product or service mentioned in this press release.