BLOCKDeFi Virtual Conference & Exhibition 2020 Is Live on September 12-13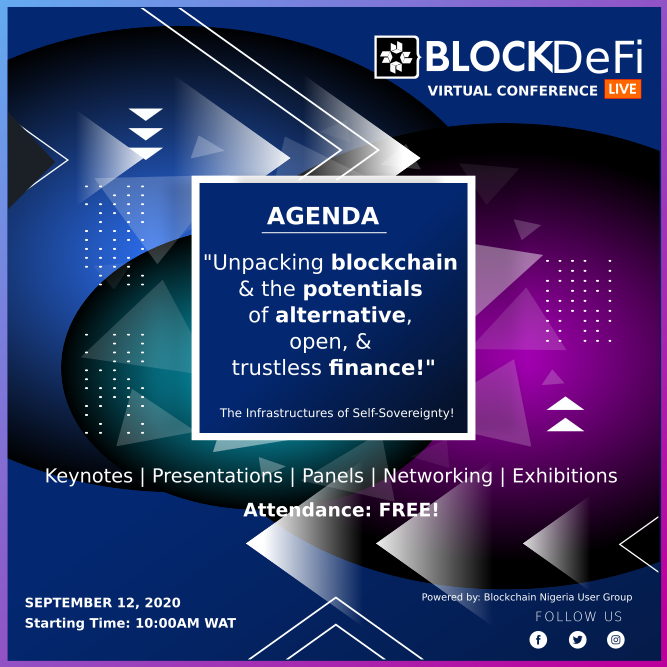 Dr. Obiageli Ezekwesili, Senior Economic Advisor, Africa Economic Development Policy Initiative (AEDPI), is to keynote the upcoming BLOCKDeFi2020 Virtual Blockchain Conference scheduled to hold from the 12–13 September 2020 on the 2D Airmeet platform.
Dr. Ezekwesili was Vice-President of the World Bank's Africa division and is former Nigerian Minister of Education, Minister of Solid Minerals, and a Presidential candidate in Nigeria's last general elections. She has been a strong advocate of due process, transparency, and accountability in governance, of which she sees blockchain technology as a necessary tool for Africa's economic transformation.
Opening time: 10:00 AM WAT

The conference – organised by Blockchain Nigeria User Group – is designed to bring attendees the best industry experts and thought leaders, insightful discussions with unique networking opportunities in a virtual world. Recall that #LagosBlock-DeFi:2020 previously scheduled to hold physically last May was postponed due to COVID-19 restriction guidelines. #BlockDeFi-2020 will now hold as a global technology event on a 2D interactive virtual environment.
The conference agenda is "Unpacking Blockchain and the potentials of alternative, open trustless finance in building the foundations of financial self-sovereignty in Africa!"
Conference tracks will focus on blockchain protocols making significant impacts, layer 2 technologies of Bitcoin — Lightning Network, Ethereum layer 2 scaling solutions, distributed filesystem, and other decentralised web technologies.
"We believe that Africa needs blockchain technology, more that blockchain needs Africa! "-Chimezie Chuta, Founder/ Coordinator Blockchain Nigeria User Group.
Also confirmed are, Elizabeth Stark, CEO and Olaoluwa Osuntokun, CTO both Chief Executives at Lightning Labs, Christian Roesch, Head Africa Operations, at Kinesis Money, Ali Hussein Kassim, Co-Founder & CEO at Kipochi, Nairobi Kenya, Emomotimi Agama, Deputy Director and Head Registration, Exchanges, Market Infrastructures and Innovation Department at SEC Nigeria, Carmelle Cadet, founder & CEO, EMTECH, and several others as speakers and keynotes for the conference.
Paxful.com is the main event Sponsor, with premium support from Binance.com, Tezos Foundation, Kinesis.money, Conflux Network, and FTX.com.
This is the 9th edition of the national blockchain conference series that has been held across Lagos, Abuja, and Port Harcourt since 2017 by Blockchain Nigeria User Group!
It will be a two-day event content-packed event covering; Keynotes, Presentations, Panel discussion segments, Networking, and product Exhibitions.
The conference is free, but registration is required via https://www.airmeet.com/e/9c836320-e93b-11ea-8616-b3016fb86143
Conference Tracks include:
The Good, the Bad, and the Ugly sides of DeFi, Inside the Crypto-Traders Locker-room!, Shielding yourself from CryptoScams and fake DeFi products, The Rise Of CBDCs and its impact on the emerging decentralised future, etc.
Who Should Attend?
Everyone!
The event is expected to connect entrepreneurs, developers, liquidity providers, finance advisors, Bankers, different blockchain node operators, academics, investors, economists, regulators, and others who are looking to learn and network in the blockchain & decentralised finance industry and explore the current opportunities and challenges in the space.
More information about the event and the organisers can be seen on https://blockchainnigeria.group/.
About BNUG

BLOCKCHAIN NIGERIA USER GROUP is a vibrant group of Blockchain and Cryptocurrency developers, enthusiasts, and investors helping to drive adoption and awareness of the Blockchain industry in Nigeria and across Africa. The objective of Blockchain Nigeria User Group (BNUG) is simply to create a pro-innovation environment for the industry, meeting the growing global demand for accessible, transparent, and democratic financial and technical systems. Blockchain Nigeria User Group is a sub-set of Organisation of Blockchain Technology Users (OBTU) a duly incorporated Trust with CAC, and an association upholding Self-Regulatory Organisation (SRO) status for the Blockchain Industry in Nigeria and across Africa.
Join the group on Facebook.
Join the group on Telegram.
Disclaimer: This is a press release. Readers should do their own due diligence before taking any actions related to any company, product, or service mentioned in this article. BitcoinAfrica.io is not responsible, directly or indirectly, for any loss or damage caused by or in connection with the use of or reliance on any content, product, or service mentioned in this press release. 

Amber Group Now Licensed to Operate in Hong Kong With Acquisition of Celera Markets Limited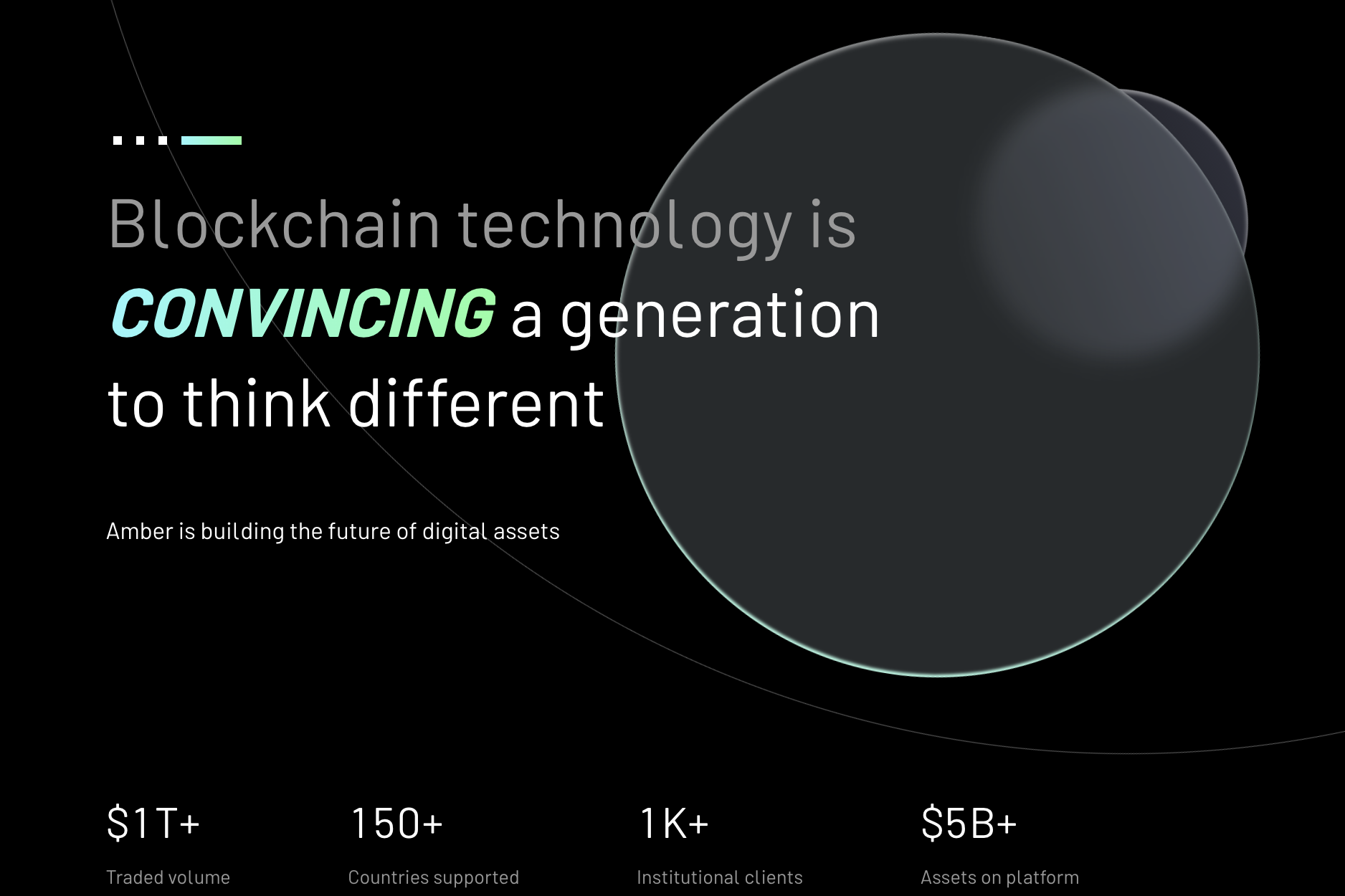 The acquisition enables Amber Group to conduct relevant regulated activities under the auspices of Type 1, 2, 4, 5, and 9 licenses from the Hong Kong Securities and Futures Commission.
SINGAPORE, 14 June 2022 – Amber Group, a leading global digital asset platform, today announced its acquisition of Celera Markets Limited, a fully licensed financial group by the Securities and Futures Commission (SFC) of Hong Kong. The acquisition represents a significant milestone for Amber Group, as it continues to strengthen its product portfolio to bridge the gap between traditional and digital finance globally.
As a licensed corporation under the Hong Kong SFC, Celera Markets is a discretionary asset management firm that engages in traditional securities and derivatives brokerage services, with an emphasis on algorithmic execution spanning global venues and asset management mandates.
The acquisition leverages the synergies between Celera Markets and Amber Group, as the latter sets its sights on broadening its advisory and deals offering for financial instruments while adhering to the regulatory parameters set by the SFC. Through the acquisition, Amber Group has secured five types of SFC licenses – Type 1, 2, 4, 5, and 9 – which allows the company to carry out a broad range of services including advising on and dealing in securities and futures contracts as well as providing asset management services.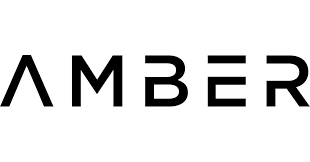 This is a landmark moment for Amber Group amid an increasingly complex regulatory landscape in the finance industry. The acquisition strengthens Amber Group's foothold in Hong Kong, a leading global financial center and one of the world's most active and liquid securities markets, effectively widening the reach of the company's products and services to legacy financial market participants.
"Hong Kong holds tremendous strategic value as a key global finance hub, and we are proud to be integrating the best from traditional and digital finance as we expand our presence in the market. As an asset management player with a decade-long track record, Celera Markets offers valuable market expertise and TradFi experience which is critical to our global mission to facilitate the convergence of TradFi and digital asset finance. This acquisition also marks a significant milestone in Amber Group's commitment to regulatory compliance as we strive to build institutional investors' trust and confidence in crypto assets. As we continue to hold ourselves to the highest compliance standards and win the trust of an SFC-approved institution, we look forward to welcoming a new era of finance in Hong Kong," said Michael Wu, Chief Executive Officer of Amber Group.

Introducing the Next Generation of Trading: EmpireChain Announces Unique New Feature That Makes Profitable Peer-to-Peer Crypto Exchange a Possibility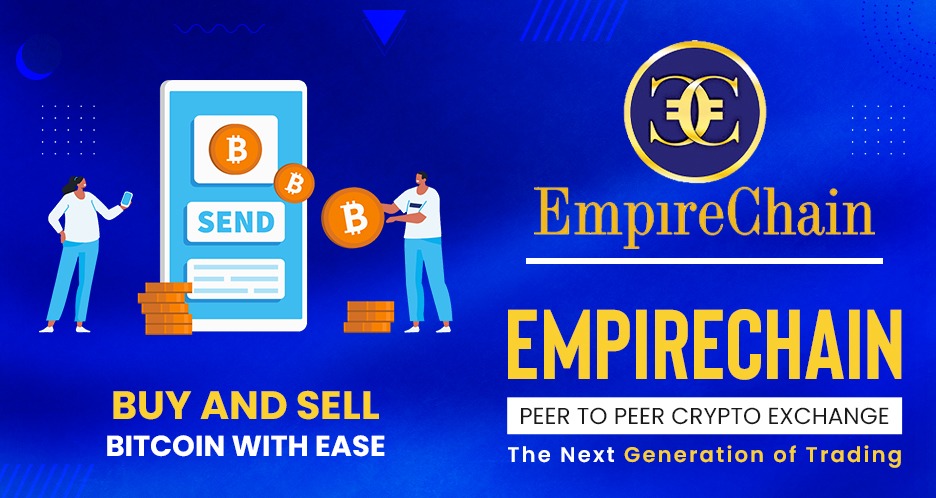 EmpireChain platform is a breakthrough development in the cryptocurrency and blockchain space. The new platform allows users to exchange currency and form a reliable trading community while earning profits by selling cryptocurrency at their own rates.
EmpireChain is now offering people a unique chance to enter the crypto space with confidence and start earning profits with little to no experience. The platform has introduced an innovative peer-to-peer crypto exchange feature that will break many boundaries, and open many doors for people who previously felt like they didn't have enough money to invest in crypto.
In many African countries where people face a lack of online payment sources, EmpireChain will fill a big gap in the market by allowing easy online payment access to all users. By empowering a new generation of traders from all across the world, EmpireChain will diversify the cryptocurrency market with users who bring new dynamics to the table, thus becoming a stepping stone for the evolution of crypto.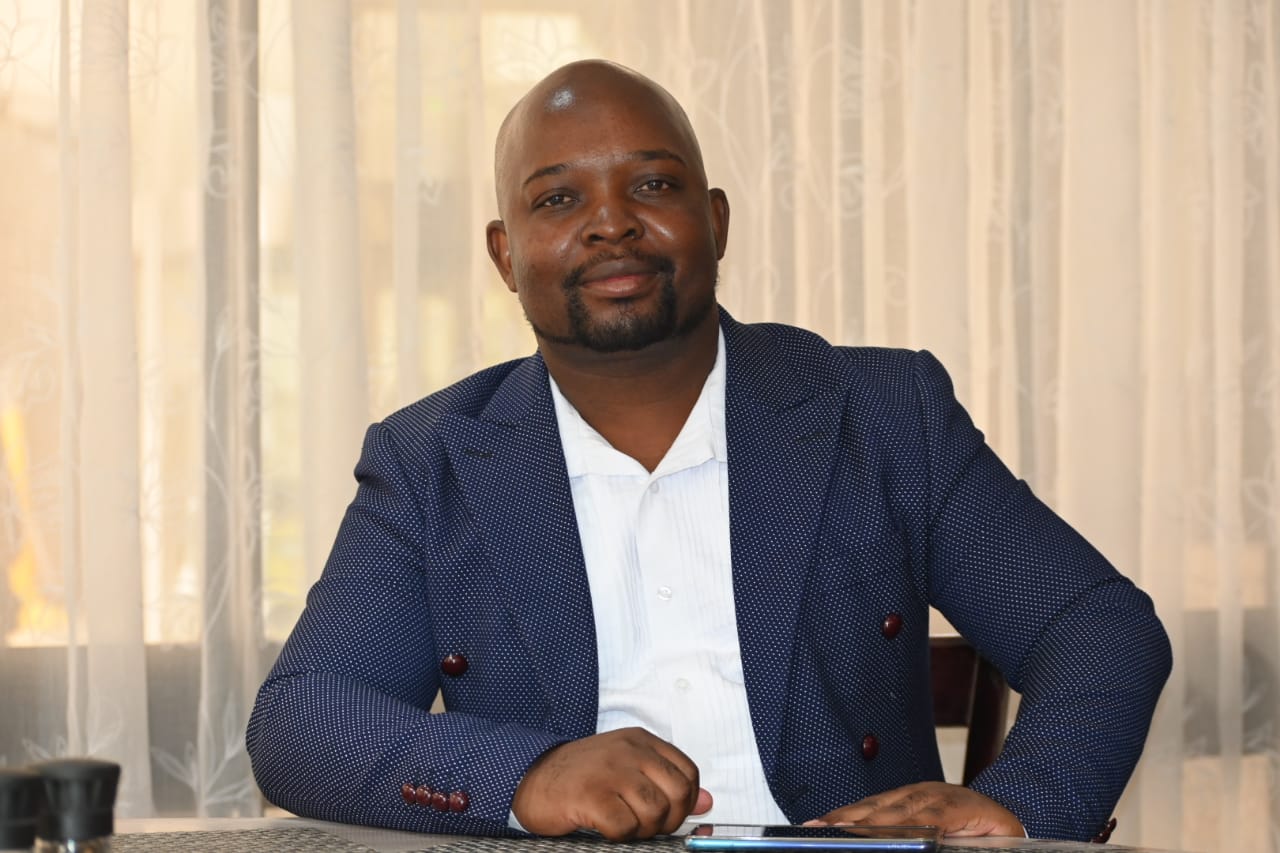 EmpireChain founder Elson Mabhena has been proactively involved in the blockchain and crypto space since 2014.
He is passionate about helping people enter the crypto space and aims to spread his knowledge, skills, and his expertise to a large number of future crypto experts. Over the years, he noticed limitations in the crypto space that stopped some people from investing in cryptocurrency and making a profit. These limitations range from lack of money to be in a geographical location where reliable online payment options are not available, and many more. This gave Mabhena the idea to create a platform that is not only available to users from all across the globe but also allows them to exchange crypto, create a community and forge friendships with crypto enthusiasts.
A spokesperson for EmpireChain made an official statement for the press: "EmpireChain is an easy and innovative solution to the limitations and challenges that come with making a profit from cryptocurrency. For a long time, cryptocurrency has only been available to those who have a large amount of funds to invest, or those who have reliable online payment and crypto platforms available to them. With EmpireChain, a large demographic of people from many parts of the world will finally have access to crypto trading. They will also be able to take advantage of the peer-to-peer exchange feature to easily buy and sell currency."
The spokesperson further explained the peer-to-peer exchange feature "Our peer-to-peer currency exchange feature is a profitable opportunity for traders who want to earn money daily by exchanging crypto or fiat on their own rates. EmpireChain gives users the freedom to use their trading skills to maximize their profits, which means ordinary people with no crypto background can enter the platform. By forming a community with like-minded traders, users can increase their trading knowledge while creating long-term business relationships that will be highly beneficial for them."
With Arbitrage trading and convenient payments in local currencies, EmpireChain is also protected by Escrow to ensure that all users get their payments on time, without any delays or hassle. Furthermore, the company is also offering a unique giveaway for new users.
During its Pre-launch offer, EmpireChain is giving away free Shiba Inu coins to users who register on the company website and verify their details. This gives new users an opportunity to kickstart their crypto journey and start earning profits from the very first day.
Interested people can register now on the official company website at https://empirechain.net.
Twitter: https://twitter.com/EmpireCryptoTv
Instagram: https://www.instagram.com/empire_crypto_tv/
Youtube: https://www.youtube.com/c/EmpireCryptoTv
Disclaimer: This is a press release. Readers should do their own due diligence before taking any actions related to any company, product, or service mentioned in this article. BitcoinAfrica.io is not responsible, directly or indirectly, for any loss or damage caused by or in connection with the use of or reliance on any content, product, or service mentioned in this post. 

Conflux Labs x ChainIDE: Hydra Developer Bootcamp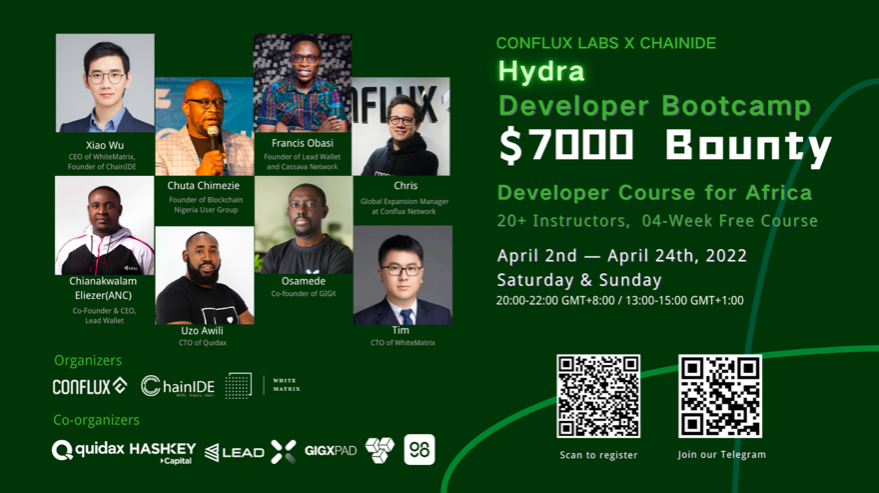 Co-hosted by the Conflux Network and ChainIDE, the Conflux Labs x ChainIDE: Hydra Developer Bootcamp is launching its opening ceremony starts on April 2nd at 1 p.m. UTC+1. In providing cutting-edge knowledge to African developers, the Bootcamp is free to participate with a 7000$+ prize pool to be claimed.
The event is expected to provide African developers with a four-week free course, covering topics from in-depth Africa crypto industry analysis to intensive developer courses for all-level developers. The topics of the courses also cover the most trending fields like Metaverse, Web3.0, and multi-chains, providing both theoretical and practical knowledge to future Web3ers.
Guest speakers of the event include industry pioneers of blockchain technology and the African crypto market, amongst them, will be present the CEO of White Matrix, Global Expansion Manager of Conflux Network, founder of ChainIDE, founder of Lead Wallet, founder of Cassava Network, CTO of Quidax, founder of Blockchain Nigeria User Group, as well as the co-founder of GIGx. More industry pioneers are to be discovered in the short future.
ChainIDE is the world's first cloud-based multi-chain blockchain IDE and has hosted multiple bootcamp events in collaboration with industry leaders including Binance. ChainIDE supports more than 10 well-known blockchain ecosystems including Facebook Diem, AntChain, Ethereum, and Huawei Kunpeng. So far, ChainIDE has helped developers in more than 185 countries, providing over 8.5 million smart contract compilation services and 70 million blockchain middleware traffic.
Conflux is committed to building next-generation blockchain infrastructures, and the Conflux network uses a scalable consensus algorithm based on the tree-graph structure. This solves the problem of wasted computing resources and reduced security caused by forking in highly concurrent networks so that consensus is no longer a bottleneck for blockchain performance. It is worth mentioning that the Conflux network has achieved a high throughput of 3000+ TPS without sacrificing any degree of decentralization, making it an industry pioneer.
Event Registration:
https://docs.google.com/forms/d/e/1FAIpQLScx-OzoePNhf4-w7uo6SAEPT_Ckw9JH7VccyuIq_9askqWF9w/viewform
Latest bootcamp info: