How to Earn Free Dogecoin Online in 2023
Who doesn't love Dogecoin? Elon Musk does. Most of the crypto community does. We do! So why not earn some free Dogecoin (DOGE) to join the fun and the lively meme-powered Dogecoin community? In this guide, you will discover three ways to get your hands on free DOGE.
What is Dogecoin?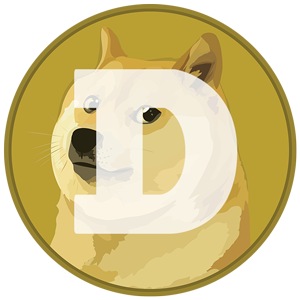 Dogecoin is a decentralised P2P currency that allows users to send money online. The creators of DOGE, Billy Markus and Jackson Palmer, released it in December 2013. The DOGE coin features a dog, Shiba Inu. This is a Japanese breed whose face features in a popular DOGE meme. The meme-influenced cryptocurrency currently has a market capitalisation of $6.5+ billion.
Dogecoin is popularly used for tipping people that create or share amazing content on the internet.
Moreover, the cryptocurrency's protocol is based on scrypt technology. That means that you can mine dogecoin using graphic cards, preferably the AMD brand.
How to Get Free Dogecoin
Dogecoin is available for purchase on various exchanges. However, you can earn free dogecoin online using the following three methods.
Free Dogecoin Faucets
A crypto faucet is a website or app that rewards people for completing tasks with small amounts of crypto. Examples of such tasks are viewing ads, clicking links, completing captcha, watching videos, and taking quizzes.
Participants receive the free crypto in the site's wallet, which they can withdraw once they surpass the minimum limit. It could take a day or more to reach this limit. The goal of faucets is to increase interest in crypto in the hopes that people will be motivated to invest.
To earn free dogecoin via a faucet, you can visit websites like dogefaucet.com. This faucet collects DOGE from contributors then shares small amounts with participants. You do not need to complete any tasks. Here is how you can get started with this faucet:
Visit the website.
Enter your dogecoin wallet address and click "Gimme Dogecoins."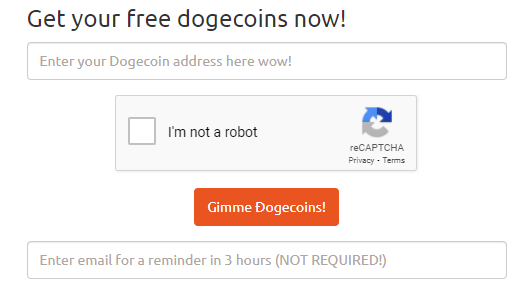 You will receive some dogecoins. However, the website will only transfer it to your wallet once it hits five DOGE. Note that participants can only earn more dogecoins every three hours.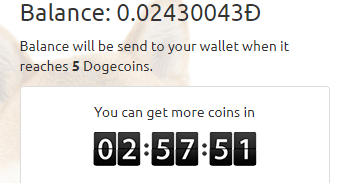 If you want more free dogecoin, you can visit Faucet Crypto and register an account. On this free dogecoin faucet, you can watch advertisements or complete surveys to earn DOGE.
Earn Dogecoin Online Through Tips
You can earn dogecoin online if someone tips you on the Reddit community. To increase your chances of receiving a tip, participate often by sharing useful posts.
Users give dogecoin tips via a tip bot. The instructions for using this bot are available here. Below is how it works:
Post something interesting on the dogecoin Reddit community.
Next, wait to receive a tip. The tipper will comment on your post. The command for tipping is +/u/sodogetip [amount] [currency] verify. For instance, you might receive a tip that looks like this: +/u/sodogetip 50 doge verify.
To withdraw your DOGE, you need to register then verify your email address.
To register, send this pre-filled message to the bot. You will receive a message in your inbox saying that you are registered. Also, you will get a deposit address where you can add DOGE to tip others.
Next, register your email address by sending the bot this private message. Enter your email address in the message field and wait for the confirmation reply.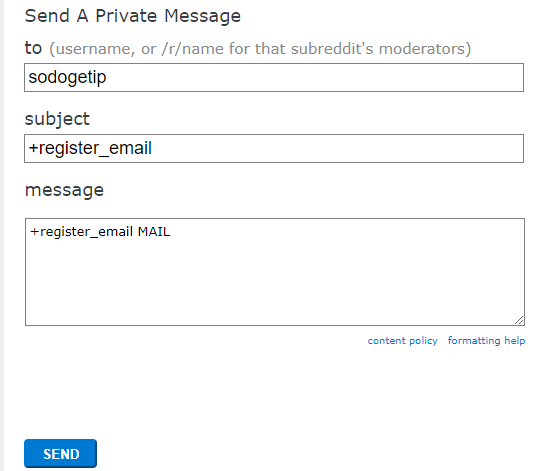 Verify your email address by sending the code to the bot.

Now you can withdraw the DOGE you received as a tip. To withdraw, send another private message to the bot.
In the message field, type +withdraw 30 doge to [wallet address]
The bot needs to approve the withdrawal. Therefore, send the code sent to your email address. The tipped DOGE should hit your wallet in minutes.
Earn Dogecoin Via Giveaways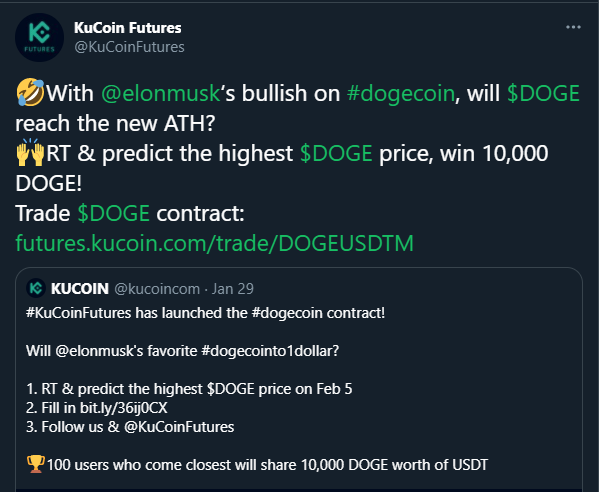 Giveaways are another method to get free dogecoin. You will typically find these crypto giveaways on Twitter. Simply type "dogecoin giveaways" in the Twitter search field to find one that you can participate in. The image on the right is an example of a dogecoin Twitter giveaway.
You will note that these giveaways require participants to undertake several tasks like retweeting and following the issuer. What's more, exchanges might ask you to register accounts on their platforms or download their apps.
Note that issuers of giveaways usually choose winners at random. Therefore, there is no guarantee that you will secure the free dogecoin. Moreover, ensure that a giveaway is legit before participating to avoid wasting your time.
Now that you know how to get free dogecoin, get a DOGE wallet and start earning. While you will only get small amounts of the coin, you will experience how digital assets work.
If you want to take a bet on the price of DOGE, you can learn how to buy Dogecoin in this guide.