The Complete List of Token Airdrop Listings: Best Airdrop Platforms 2018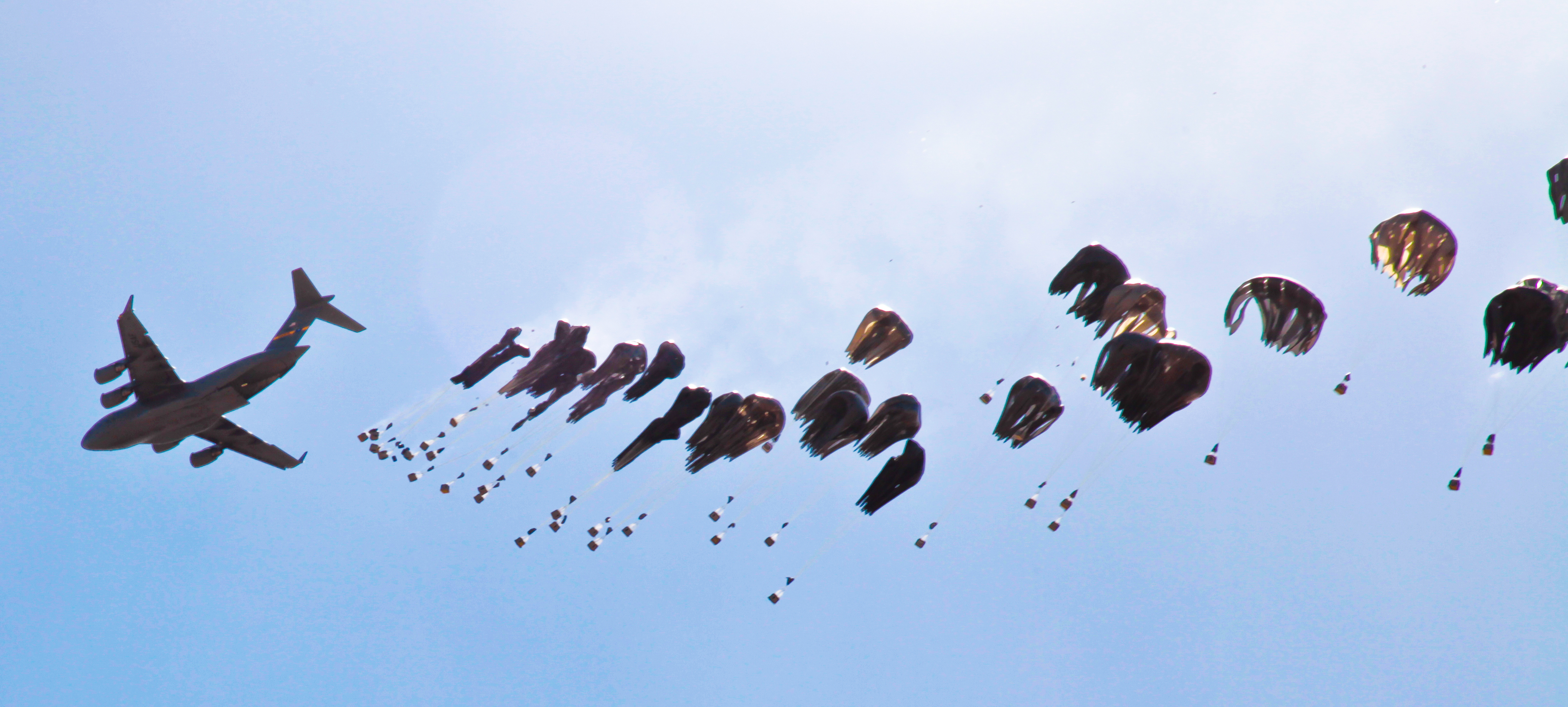 Cryptocurrency airdrops have become a popular method for new blockchain projects to raise awareness for their project and digital token. In this guide, you will find a list of the best airdrop listing platforms so that you can partake in the most lucrative airdrops available in the market.
99airdrops
99airdrops is a platform that offers a list of airdrops including their ratings, start and end dates, and the estimated value of the airdropped tokens in USD.
You can click on an airdrop to view more details such as project description, token type, the number of tokens, total token supply, airdrop rating, and airdrop instructions. You can also view news about the airdrop and get an airdrop widget for your website. To participate, click "Join Airdrop."
Airdrop Addict
Airdrop Addict provides a list of daily airdrops and untrusted airdrops with the latter likely to be scams and the former being trustworthy. The platform provides information such as project description, rating, the platform the token is on, and the time left until the airdrop closes.
Airdrop Addict also provides a history of past airdrops including the number of participants, how many tokens each participant received, and how much the token is worth in USD. To participate, click "Join Airdrop Here."
Airdrop Bob
Airdrop Bob is another platform where you can scout for potential airdrops to participate in. The platform offers details such as airdrops that are active or closed, the difficulty level, the date when the airdrop ends, token type, the value of the token in USD, total token supply, the requirements, and the number of users that can participate in an airdrop. This platform also provides an airdrop calendar showing closing and payout dates.
The airdrops listed on the platform are rated. In order to suggest an airdrop, you need to register with the site. To participate in an airdrop, click "Earn Free Coins Now."
Airdrop Land
Airdrop Land provides a list of active airdrops you can consider participating in. Simply click "Details" to read the project description and the airdrop guide. Click "Join Airdrop" to participate.
Airdrop Notify
Airdrop Notify is another airdrop listing platform. Once you click on an airdrop, you will find details such as the description of the project and the airdrop's duration and requirements. To participate in an airdrop listed on this platform, click "Join Airdrop Now."
Airdrop Scouter
Airdrop Scouter lists featured airdrops ranked as gold, silver, and bronze. Under this list, you will find information such as the number of tokens, the token value in USD, airdrop link, and airdrop requirements.
To learn more about an airdrop, click the "More Info" section and read about the project description, token supply and the instructions on how to participate. Click the airdrop link to participate.
Airdrop Tracker
Airdrop Tracker has a list of airdrops that is updated daily. To begin, click on an airdrop to view the project description, the requirements, and the airdrop links. Click "Airdrop Page" to participate.
Airdropalert.com
Airdropalert.com is an online platform that lists upcoming, past, and active airdrops taking place. Click on any of the listed active or upcoming airdrops to read the instructions needed to receive free digital tokens and to view the airdrop rating. Airdropalert.com offers an option for users who want to receive information about regular and exclusive airdrops to subscribe to their mailing list.
Besides reviewing projects before listing airdrops, the site aims to stay scam-free by offering five dollars worth in ETH to people who alert them to scams listed under active or upcoming airdrops.
Airdroply.com
Airdroply.com lists airdrops including company name, currency, the number of free tokens, the token value in USD, when they were added, when they will end, the difficulty level, and the airdrop link. To get free tokens, click "Join Airdrop."
Airdrops.io
Airdrops.io is a platform that lists airdrops in various categories such as the latest, hottest, and exclusive. In addition, the platform lists airdrops that require you to have Twitter and Telegram accounts and those that require participants to be holders of a certain coin.
The platform describes the airdrop project and the step-to-step guide for participating in each airdrop. The users on airdrops.io can also view the total value of the token, the date when the airdrop begins, the airdrop link, and the platform the project is using such as Ethereum or Stellar. Click "Claim Airdrop" to get started.
Airdrops.live
Airdrops.live lists the latest crypto airdrops including a brief description of the project, the link to the airdrop site, and which airdrops are new or have ended. The platform also offers details on airdrop requirements such as social media accounts.
AirdropsMob
Once you land on the AirdropsMob platform, you will see a list of airdrops including details such as difficulty level, number of days left to closing, the token platform, the rating, and the social media accounts required.
To learn more about an airdrop, click on "View" and you will see a guide to getting free tokens, the value of the token, number of tokens per airdrop, the number of views the airdrop has received, and the maximum number of participants required. To begin, click "Go To Airdrop.' Once you complete the airdrop, you can click "Done" on AirdropsMob.
Airdropter.com
Airdropter.com lists airdrops together with their end dates, requirements, ranking, estimated ranking in USD, the number of views, and the number of tokens.
Click on the airdrop to view the project description and the instructions. Once you have read through this additional information, click "Get Your Free Tokens Now" to participate in the airdrop.
Alertairdrop.com
Alertairdrop.com lists airdrops by date starting with the most recent one. Simply click on "Get Free Token" to participate in an airdrop. Under the featured section, alertairdrop.com lists airdrops from projects with guaranteed high-value cryptocurrencies.
Coinairdrops.com
Coinairdrops.com is another platform for seeking potential airdrops to participate in. Go to an airdrop of your choice to learn about the project, the airdrop tokens, and how to get the free tokens. Once done, click 'claim token.'
CryptoCoinCharts
CryptoCoinCharts features a tabled list of airdrops comprising of a project's description, task list, the blockchain platform the token is on, the date, the airdrop link, and a voting tab. The platform lists both live and past airdrops. Click the airdrop link to receive free tokens.
CryptoCreed.com
CryptoCreed.com lists airdrops into two categories; exclusive and normal airdrops. CryptoCreed also recommends wallets that users can use to receive their free tokens in. To receive free tokens, click on the airdrop of your choice.
The above platforms provide a wide range of airdrops to choose from. To learn how airdrops work, check out our guide on "How to Get Free Digital Tokens from Airdrops".
Bitcoin Loophole – Another Crypto Scam to Avoid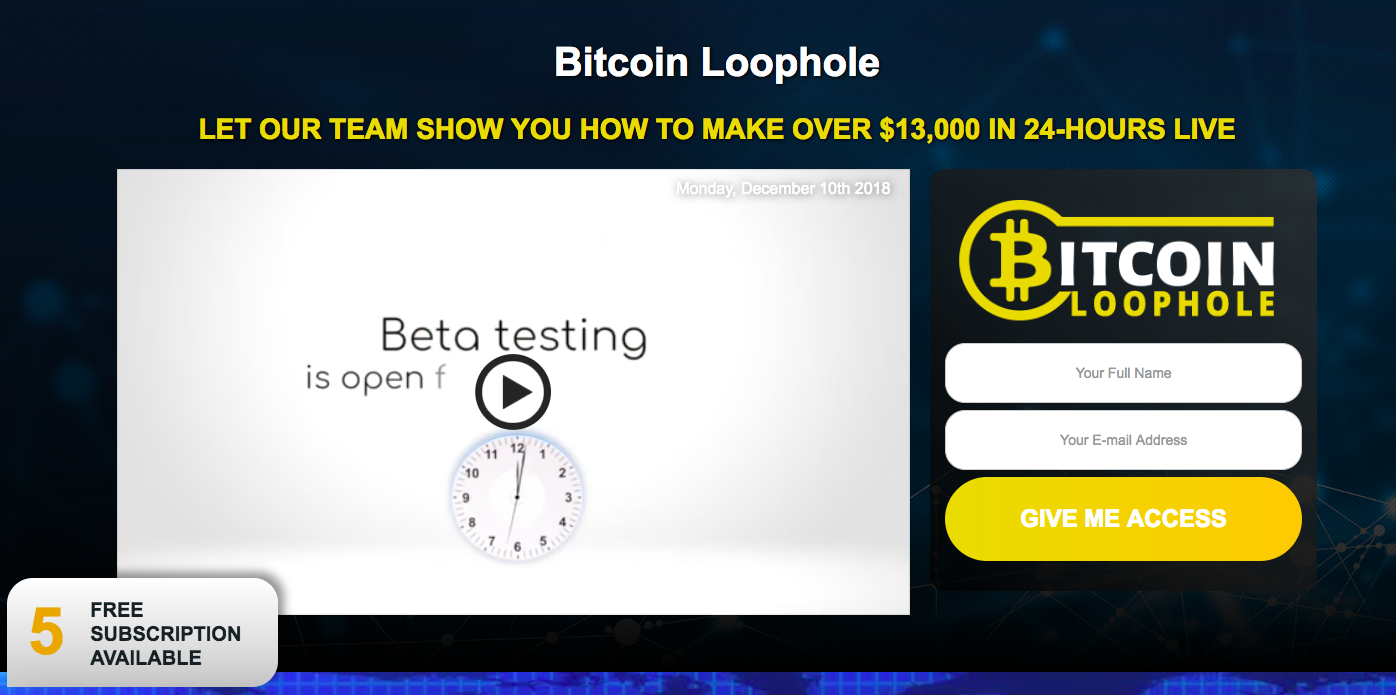 The popularity of digital currencies has led to an explosion of cryptocurrency investment schemes and services. These investment services offer a variety of crypto-related financial products to investors who are looking to generate profits by trading cryptocurrencies. One such online investment vehicle is Bitcoin Loophole.
While Bitcoin Loophole markets itself as a cryptocurrency trading software, it has become apparent that this venture is very likely a scam, preying on unwitting cryptocurrency investors.
How Does Bitcoin Loophole Work?
Bitcoin Loophole claims to be a new cryptocurrency trading software that has been designed by alleged "prominent investor" Steve McKay. According to the company's website (of which there are several), the software operates on a fully automated mode.
The Bitcoin Loophole trading software allegedly works by utilising a "highly efficient programming algorithm" that is based on a so-called 'Flock Principle'. The platform's alleged creator, Steve McKay, apparently found a loophole, which enables him to apply the economic theory to a basic computer code. The platform development team who manage the computer code assert the trading software scans the ongoing market situation and then predicts whether the price of any digital asset, traditional asset or cryptocurrency pair will rise or fall.
Signing up for Bitcoin Loophole is free using the site's log-in form. The next step is opening a "trading account" on the partnering broker service. The site claims to work with legitimate brokers and thus claims that investors funds and information are secure.
To begin trading a user has to fund his account with an initial deposit. The minimum deposit is $250. The deposits can be made through a variety of payment channels including credit cards, wire transfer, and bitcoin (BTC) and its operators claim that funds can be withdrawn any time. The site also claims once users have signed up and made a deposit they are guaranteed to get daily returns.
How is Bitcoin Loophole is a Scam?
The obvious red flag concerning Bitcoin Loophole is the site promises a minimum of $13,000 daily returns. Now, imagine making over $500 an hour without any effort? Sounds goods to be true! Well, that is because it is good to be true.
Going by their guarantee, it would mean that anyone using the service will be a millionaire in a few months. However, when you study the disclaimer on the website you will notice it states that the site does not guarantee any profits. This is a direct contradiction to what is stated on the sales page.
Furthermore, the alleged CEO of Bitcoin Loophole, Steve McKay, does not seem to exist. If you take a closer look at any of his photos on the website you will notice they are stock images and a reverse Google image search proves that. It is, thus, very obvious that the site's operators want to stay anonymous and are using a fake frontman to lure investors into their scheme.
Also, research has failed to confirm the claim that he has been featured on Forbes or Business Insider in the past even though the site makes this claim and the reviews found on the website are all fake.
It is also important to note Bitcoin Loophole is not regulated nor does it have any license for its operations. In fact, the FCA issued a warning against Bitcoin Loophole as it has no authorisation to target investors in the UK.
Unsurprinsgly, there is also no information on how the "trading software" actually works nor is there evidence of any actual trading in the crypto markets by the operation.
Moreover, most of the reviews online praising the trading software are actually fake and cannot be trusted. The reality is Bitcoin Loophole operates like any other Bitcoin MLM scheme and uses referral payments to get its users to attract new users for a commission and there is no evidence that the company actually trades cryptocurrencies on behalf of its "investors."
Red Flags Summarised
No valid information on the company or individuals behind the platform.
The alleged owner Steve McKay does not seem to be a real person.
The Steve McKay online persona has been linked to other alleged bitcoin scams.
Bitcoin Loophole uses fake reviews and gives no insight into ownership structure.
No insight into how the "trading software" is generating its alleged profits.
The platform uses several different websites and its main website is no longer online.
The UK financial regulator has issued a warning against Bitcoin Loophole.
Finally, the platform guarantees a profit, which is arguably the biggest red flags of all!
Stay Away From Bitcoin Loophole
If such an extraordinarily profitable trading software really existed, it would be all over the news and not mentioned on some obscure websites. So, chances are the software is just a trading bot that executes whatever the site administrators have programmed it to perform if they even trade anything at all.
Based on all these factors it is safe to assume that Bitcoin Loophole is a scam. Any online reviews that state otherwise have likely either been paid for or have solely been written to benefit financially from the platform's referral system.
Bitcoin users are always advised to research, consult experts and use some common sense before investing in any investment vehicle in the cryptocurrency space.
5 Ways to Earn Free Bitcoin Cash (BCH)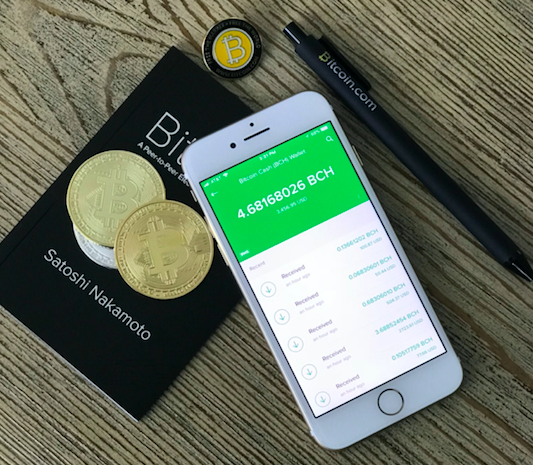 In this beginner's guide, you will discover how you can start earning your first free bitcoin cash if you are interested in learning more about this digital currency, its community and the opportunities it offers.
Bitcoin Cash (BCH) is as a result of a Bitcoin fork that took place on August 1, 2017, after an ongoing debate between different factions of the bitcoin community was unable to help the world's leading digital currency to remain unified. Bitcoin Cash (BCH) was created to address the scalability issues that were being faced by the Bitcoin network by increasing the block size.
Bitcoin Cash Faucet
One way that most cryptocurrencies use to introduce new people to the world of digital currencies is through a faucet. A cryptocurrency faucet pays its users small amounts of digital currency in exchange for watching ads. The platforms earn through ad revenue and give a share of that back to its users.
Bitcoin cash also has its own faucets. One of the most popular and reliable is Moon Cash. You sign up by setting up a CoinPot wallet and then you simply let the site run to accumulate small amounts of BCH. Moon Cash lets you claim the amount that has built up as often as you want.
xHoneyBadger (XHB)
xHoneyBadger is a platform that lets users make money by viewing content. The platform has its own tokens known as honeybadgers (XHB), which are allocated to users each time they view a piece of content on the website. The platform makes money by selling advertisements with each ad sale being converted to bitcoin cash.
Members can then convert their XHB tokens at the end of each month to BCH. In addition, honeybadgers can be used to buy Amazon gift cards from the website.
Yours.org
Yours is a growing get-paid-to-blog platform based on the Bitcoin Cash protocol. Its mission is to enable individuals to make money (in the form of bitcoin cash) by providing high-quality content. More specifically, Yours lets you earn bitcoin cash by "creating good content, finding good content and commenting on good content".
The platform earns bitcoin cash by charging for posted content and charging another five percent off payments that include purchases, comments, and tips on content. You can check out the FAQ section on their platform on how to earn bitcoin cash by either creating content, finding content or commenting on the content.
Sell Products on OpenBazaar
OpenBazaar is a decentralised peer-to-peer marketplace that enables users to create an online shop and sell their products for more than 50+ cryptocurrencies, including bitcoin cash, without the need to involve any middlemen.
On OpenBazaar, there are no platform or listing fees and members do not have to provide their bank details. Additionally, users are able to chat with customers live as well as customise their platform. If you have products to sell and you want to earn bitcoin cash in exchange, OpenBazaar is ideal for that.
Sell Products and Services on /r/BCHBazaar
r/BCHBazaar is a Reddit thread that lets people sell goods and service in bitcoin cash and is a good alternative to OpenBaazar. All one needs to do is use a tag when posting such as "[For sale]", "[Wanted]", "[Auction]" or any preferred tag that is appropriate and clarifies whatever goods or services one is selling. Remember to also to describe the good or service and add the price in the title.
If you are looking to earn bitcoin cash, consider any of the above-mentioned platforms and start earning. While it is unlikely that any of the above platforms will make you a "bitcoin cash millionaire", they provide you with the ability to gain exposure to bitcoin cash.
Top 5 Best Bitcoin Apps That Enable You To Earn Cryptocurrency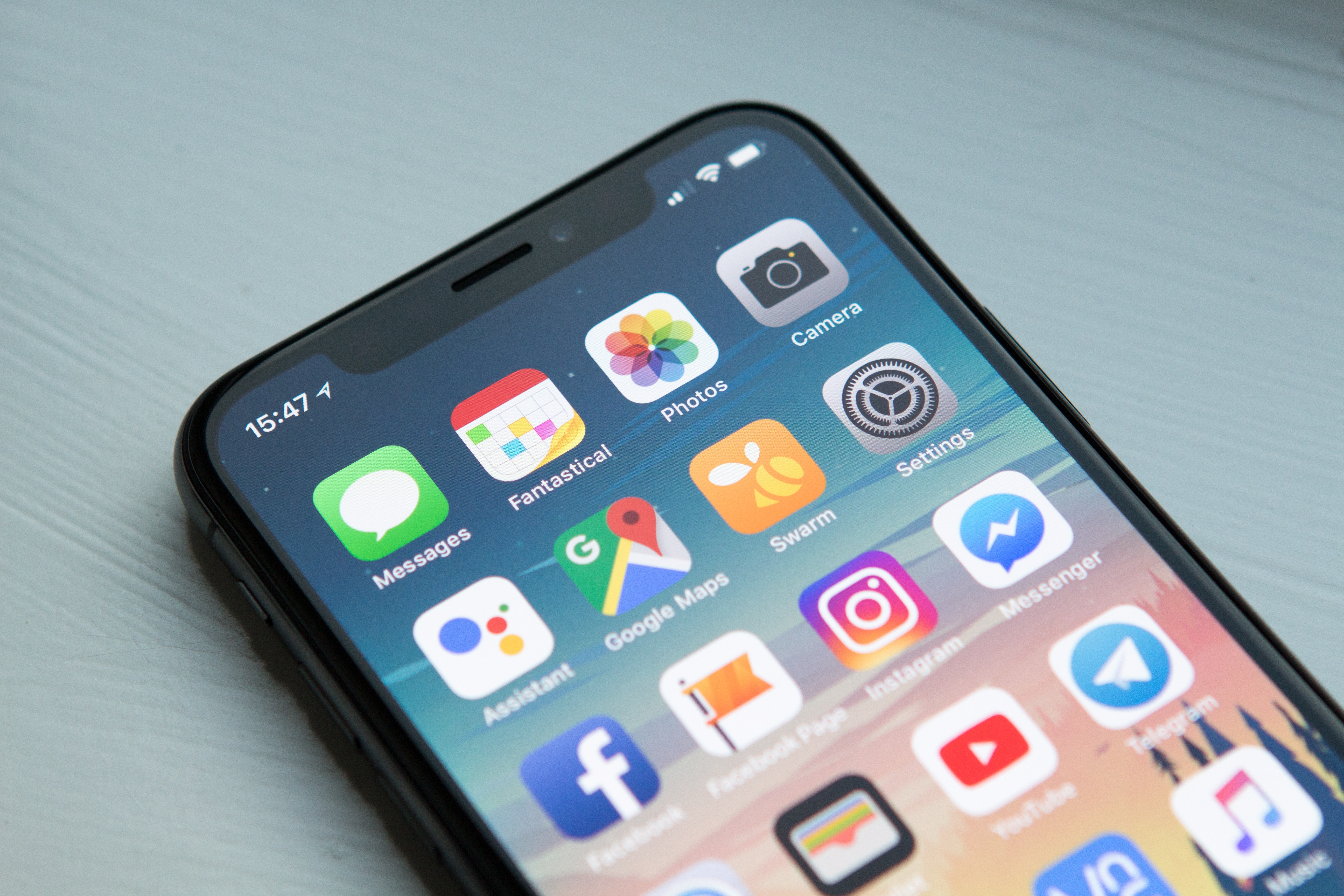 One of the main reason why people are getting into cryptocurrencies is to make money. A great way to earn your first cryptocurrency is through smartphone apps that reward you in bitcoin. In this guide, you will find the top five best bitcoin apps that enable you to earn cryptocurrency.
Earn.com
Earn.com is a bitcoin-based social network that enables users to earn bitcoin by competing tasks and responding to emails. 
On the app, you can earn small amounts of bitcoin by joining lists of people with similar skills. All you need to do is apply to one of the lists and, when accepted, complete list-specific tasks in exchange for small payments in bitcoin.
Moreover, you are able to set your email contact rates, ranging from one to 100 dollars per email. You can even set up an auto-response system with your Gmail, directing emailers to instead send their message via Earn. This way you can prevent your inbox from being filled with spam as senders will need to pay you to be able to email you. This bitcoin app is available on Android and iOS.
Bituro
The Bituro app that lets you earn cryptocurrency by completing small tasks like taking surveys, watching videos and completing offers. You can get paid in both bitcoin (BTC) and ether (ETH) and cash out with as little as one US dollar. 
Signing up is simple – you can do it using Twitter, Facebook or Google – and you get 100 points for signing up. If you have a referral code and use it you gain an extra 50 points when signing up.
The surveys can pay from a couple of hundred points to a few thousand points. (Each point equals a cent). You can also download apps, sign up to various trial accounts and watch videos to earn crypto. The app is available for Android and iOS. 
BitForTip
Bitfortip is a mobile application and online platform that pays you in bitcoin for being helpful. On this app, anyone can ask for anything, and the answer provider gets tipped in bitcoin in exchange for their answer.
For example, if I want to know where to get a golden retriever in Kenya, I could give a bitcoin tip to whoever provides me with an answer. The platform is available in eleven languages, providing a low-entry barrier for many people globally and an easy way to earn your first bitcoin. 
Storm Play
Storm Play also gives out small tasks to complete for you to earn. Once the task is completed to a certain point you are rewarded in bolts. Once you have enough bolts you can trade them for bitcoin, ether or Storm tokens.
There are three ways how you can earn cryptocurrency on Storm Play. The first way is by trying out games or products and the second is by shopping for products and services. Finally, you can earn through performing micro-tasks like QA testing and completing P2P freelancing tasks. The app is currently only available for Android.
Alien Run
Bitcoin Alien is one of the most popular games with the cryptocurrency community as it combines fun gameplay with the ability to earn small amounts of bitcoin for completing levels. You will, however, need to watch a number of ads everytime you do something. 
The gameplay is very basic, you control a character called Daniel D'Alien, and must run as far as possible advancing through levels. Every ten levels, you can claim a bitcoin reward or continue running for a higher amount. There are new missions daily and levels go into hundreds. This bitcoin app is available for both Android and iOS. 
With a little bit of free time and a smartphone, you can install any of the apps mentioned here and start to earn bitcoin with little to no effort. None of these apps will turn you into a bitcoin millionaire but they are a fun and easy way to earn your first cryptocurrency.