The Ocean Launches First Institutional-Grade Decentralised Trading Platform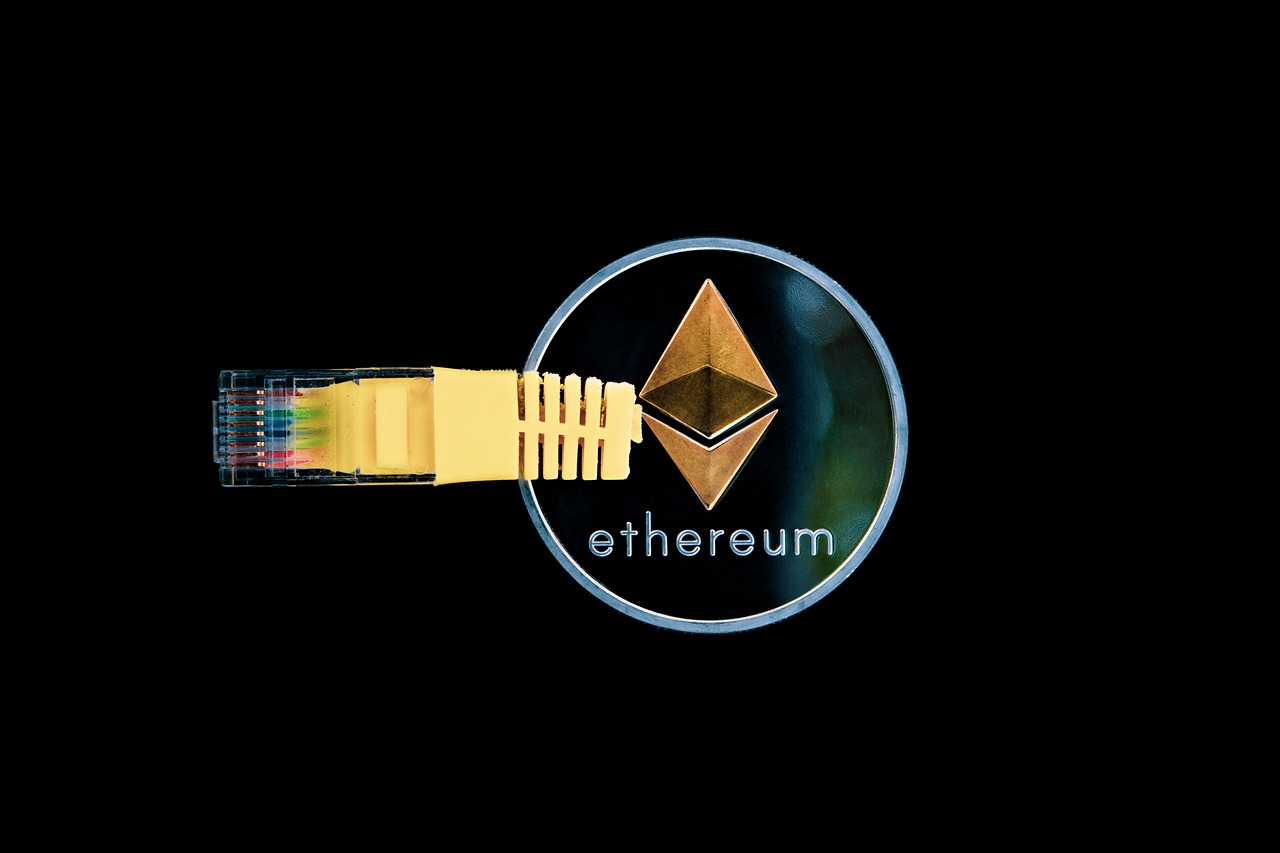 BROOKLYN, N.Y., Aug. 16, 2018 /PRNewswire/ — Today, The Ocean, an institutional-grade decentralised Ethereum and ERC20 token trading platform, opened to the public for live trading. Decentralized exchanges never take custody of traders' assets, unlike centralized cryptocurrency or traditional financial asset exchanges. This means assets can never be frozen or stolen, financial flows do not need to rely on inefficient middlemen, and there is no longer any risk of a Lehman Brothers collapse turning into a financial catastrophe. Bitcoin and blockchain technology promised to achieve this vision, but to date, it remains unrealized. According to The Ocean team, their product makes that brighter financial future a reality, thanks to superior technology, early regulatory adoption, and insight into the minds of both retail and institutional traders.
"The non-custodial exchange concept is a natural extension of cryptocurrency and blockchains, but due to a variety of technological and regulatory challenges, no one has successfully built the right platform – until now," said John Piotrowski, a former Goldman Sachs Vice President who is now co-founder and CEO of The Ocean. "We've taken the approach to build a properly regulated, high performance, institutional grade platform that replicates the centralized trading experience and offers the full suite of services traders of all types expect, but in a no-risk way."
At launch, The Ocean offers:
11 token pairs available for trading
Deep liquidity with several market making partners
Best-in-class low latency execution, as measured by independent third parties
Fiat to crypto conversion with TrueUSD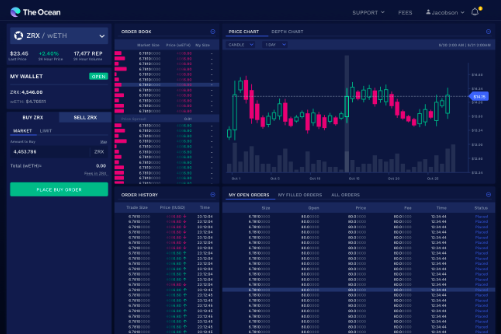 Piotrowski continued, "We think the most successful companies in the cryptocurrency space will be those who build the right bridges to a decentralized financial future, and that eliminate unnecessary cost, time, and risk. We're working actively with regulators, institutions, and the blockchain community to become a regulated financial exchange that lists all types of cryptocurrencies and tokenized financial products. Although this process will take time, we're excited to announce our offerings and partners in the coming weeks and months."
About The Ocean: The Ocean is a decentralised (non-custodial) Ethereum and ERC20 token trading platform. Unlike centralized cryptocurrency, stock, or other asset exchanges, The Ocean never takes possession of anything traded on its platform. Instead, users trade directly with each other, wallet to wallet, and all trades settle directly on the Ethereum blockchain.
*Readers should do their own due diligence before taking any actions related to the promoted company, product or service. BitcoinAfrica.io is not responsible, directly or indirectly, for any loss or damage caused by or in connection with the use of or reliance on any content, product or service mentioned in this press release.*

Get Lucky Tickets for World Cup Bets on 1xBit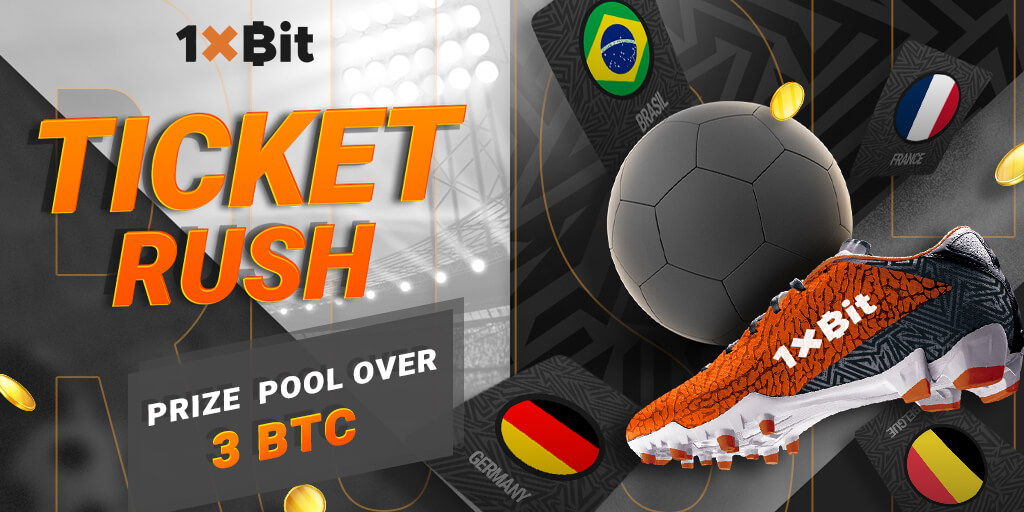 The long-awaited World Cup 2022 is here, bringing many opportunities to win big. Are you excited about seeing your favorite players on the pitch? Then the World Cup is an opportunity not just to do that but also to win big from your passion. 
Participating in 1xBit's Ticket Rush is all you need to have a fun World Cup experience. This tournament offers you the avenue to stay on top of the game, enjoying fascinating matches and securing impressive prizes.

1xBit has created Ticket Rush with numerous fanciful prizes that could change your entire gambling experience. With multiple prize draws designed to select many winners, you have a chance at winning big. The prize pool is 3 BTC, with numerous winners per category. 
To participate in the offer, you must log in or register on 1xBit. Proceed to the offer page, click "Take part," and bet on World Cup 2022!
Participants collect tickets for bets on World Cup 2022 matches. There are three ticket categories:
Individual match tickets – for bets on any World Cup matches

 

Supporter tickets – for bets on the picked 8 countries during the group stage

 

Play-off tickets – for bets on play-off matches

 
For the Individual match tickets prizes, the 1st place winner will emerge with 500 mBTC. The first-place winner in the Supporters' tickets prize draw goes home with 10 mBTC, while the first-place winner in the Play-off tickets prize draw will win 250 mBTC. 
1xBit: Your Best Bet
Ticket Rush is one of the many tournaments designed by 1xBit to help players profit from their passion while enjoying the World Cup. With 1xBit, you can rest assured about sumptuous prizes that make your gambling experience worthwhile.
As the fastest and leading crypto sportsbook, 1xBit is passionate about rewarding players' efforts in an exciting fashion. The platform provides its users with numerous benefits to maximize the crypto gambling space. 
You can make bets on 1xBit using over 40 supported cryptocurrencies. This crypto adoption eliminates the need for fiat currency. It removes the stress of first converting your cryptocurrency to fiat before depositing it in a sportsbook to bet on your favorite games. 
Instead, you can utilize these currencies directly, allowing you to maximize their value without losing any of it to conversion fees. Even more, 1xBit is constantly looking for relevant partnerships and new coins to add. 
You also enjoy instant payouts with zero fees. This allows you to enjoy your winnings without adversely affecting the platform's fee structure. 1xBit also provides educational blogs on crypto gambling to help you get started with the necessary tips to navigate the field. Whether a beginner or a veteran, 1xBit covers all you require.
Additionally, 1xBit offers users a Welcome Bonus of up to 7 BTC following their first 4 deposits – it gives you the required jumpstart to experience the platform and play your favorite games. 
Final Thoughts
All roads lead to Qatar for the 2022 World Cup, and you don't want to miss out on any match. With the Ticket Rush tournament, you can spice up your experience and win crypto!
Disclaimer: This is a press release. Readers should do their own due diligence before taking any actions related to any company, product, or service mentioned in this article. BitcoinAfrica.io is not responsible, directly or indirectly, for any loss or damage caused by or in connection with the use of or reliance on any content, product, or service mentioned in this post. 

Crypto Lists Announce Bitcoin Maximalist as Head of Content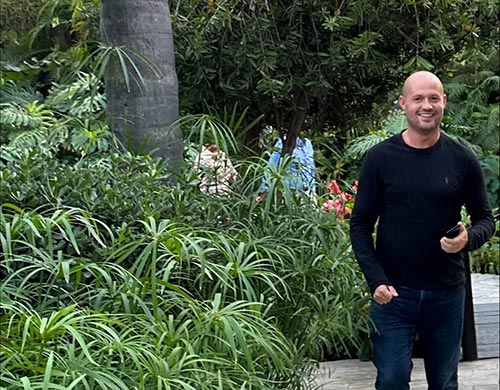 CryptoLists.com is delighted to announce the arrival of the new Head of Content, Tom White.
Tom is now a key member of the speedily growing crypto info site, with ambitions to take the content up a level and define and refine the tone of voice. A keen follower of crypto and Bitcoin, in particular on a personal level, he's well acquainted with blockchain and DeFi technology and has been investing in digital assets for some time.
In other news, Crypto Lists are also pleased to announce an updated mission statement and a new slogan: Crypto Done Smarter. 
As a native English speaker, Tom is well-positioned to take over the tone of voice and editorial oversight of the website, which was founded by two Scandinavians. Alongside this, Tom's main focus will be to ensure that fresh and informative news articles are released even more frequently, and reviews of new coins and brokers are published swiftly.
Tom White – A Bitcoin Maximalist?
While open to the potential of various altcoins, as somewhat of a Bitcoin Maximalist, Tom sees Bitcoin as digital gold of the new economy. A keen chart-watcher, he's excited about the next halving event in 2024 and seeing how high BTC can go during the next bull run. A bull run where he believes incredible new ATHs will be reached. A full review of Bitcoin with breaking news, FAQ, historical background, and the most recent updates can be found at https://www.cryptolists.com/coins/btc/. 
Things Tom will oversee
During his first week at the company, Tom has covered subjects surrounding changes within the traditional banking sector in regard to crypto, as well as a multitude of other topics. Being such a big advocate of Bitcoin and its potentially revolutionary capabilities, a topic he found especially interesting is how to survive on Bitcoin. He recently published a piece about Arnhem, a Dutch town that some call the world's only Bitcoin city. Alongside such specific topics, he will be making sure that the Crypto Lists brand voice is consistent across both the website and all externally facing written comms.  
Upcoming events in Africa
Tom will also write articles and releases about recent and upcoming Bitcoin and crypto events. In the near term, one such event is the Ghana DeFi Summit 2022.
Crypto Lists – Crypto Done Smarter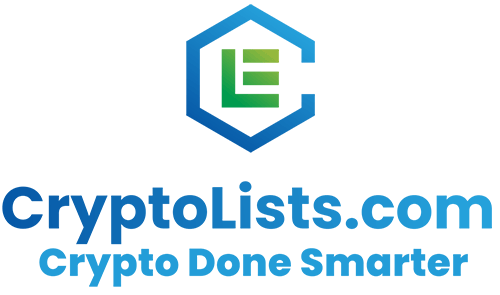 Tom also brought his creative mind to the forefront when brainstorming the new brand mission alongside the wider team. Crypto Lists had been searching for a new slogan, that is both accurate, descriptive, as well as evergreen – taking into consideration the future developments and growth of the company. Along with the senior leadership, a general consensus was reached: Crypto Done Smarter.
Why smarter? Well, Crypto Lists is there to help people make more informed decisions. The entire ecosystem of the site revolves around educating people on the crypto space, and the coins, platforms, brokers, exchanges and at the same time doing reviews of blockchains that compose it. In a nutshell, Crypto Lists is a site where you learn to make smarter decisions in the crypto space.
Disclaimer: This is a press release. Readers should do their own due diligence before taking any actions related to any company, product, or service mentioned in this article. BitcoinAfrica.io is not responsible, directly or indirectly, for any loss or damage caused by or in connection with the use of or reliance on any content, product, or service mentioned in this post. 

Amber Group Now Licensed to Operate in Hong Kong With Acquisition of Celera Markets Limited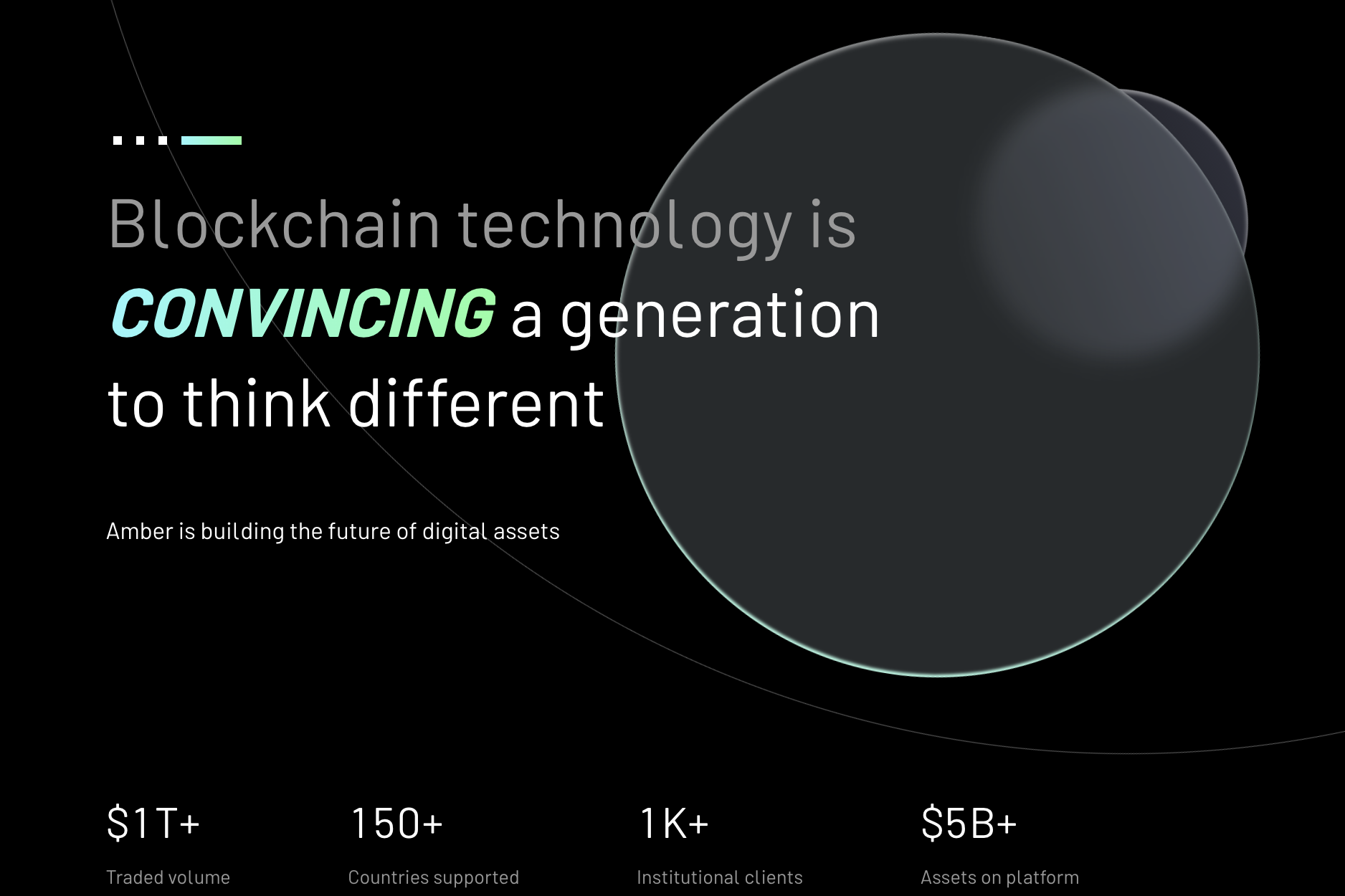 The acquisition enables Amber Group to conduct relevant regulated activities under the auspices of Type 1, 2, 4, 5, and 9 licenses from the Hong Kong Securities and Futures Commission.
SINGAPORE, 14 June 2022 – Amber Group, a leading global digital asset platform, today announced its acquisition of Celera Markets Limited, a fully licensed financial group by the Securities and Futures Commission (SFC) of Hong Kong. The acquisition represents a significant milestone for Amber Group, as it continues to strengthen its product portfolio to bridge the gap between traditional and digital finance globally.
As a licensed corporation under the Hong Kong SFC, Celera Markets is a discretionary asset management firm that engages in traditional securities and derivatives brokerage services, with an emphasis on algorithmic execution spanning global venues and asset management mandates.
The acquisition leverages the synergies between Celera Markets and Amber Group, as the latter sets its sights on broadening its advisory and deals offering for financial instruments while adhering to the regulatory parameters set by the SFC. Through the acquisition, Amber Group has secured five types of SFC licenses – Type 1, 2, 4, 5, and 9 – which allows the company to carry out a broad range of services including advising on and dealing in securities and futures contracts as well as providing asset management services.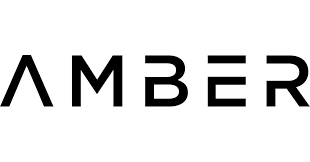 This is a landmark moment for Amber Group amid an increasingly complex regulatory landscape in the finance industry. The acquisition strengthens Amber Group's foothold in Hong Kong, a leading global financial center and one of the world's most active and liquid securities markets, effectively widening the reach of the company's products and services to legacy financial market participants.
"Hong Kong holds tremendous strategic value as a key global finance hub, and we are proud to be integrating the best from traditional and digital finance as we expand our presence in the market. As an asset management player with a decade-long track record, Celera Markets offers valuable market expertise and TradFi experience which is critical to our global mission to facilitate the convergence of TradFi and digital asset finance. This acquisition also marks a significant milestone in Amber Group's commitment to regulatory compliance as we strive to build institutional investors' trust and confidence in crypto assets. As we continue to hold ourselves to the highest compliance standards and win the trust of an SFC-approved institution, we look forward to welcoming a new era of finance in Hong Kong," said Michael Wu, Chief Executive Officer of Amber Group.