McAfee Labs Sees Cryptocurrency Mining Surge Continue in Second Quarter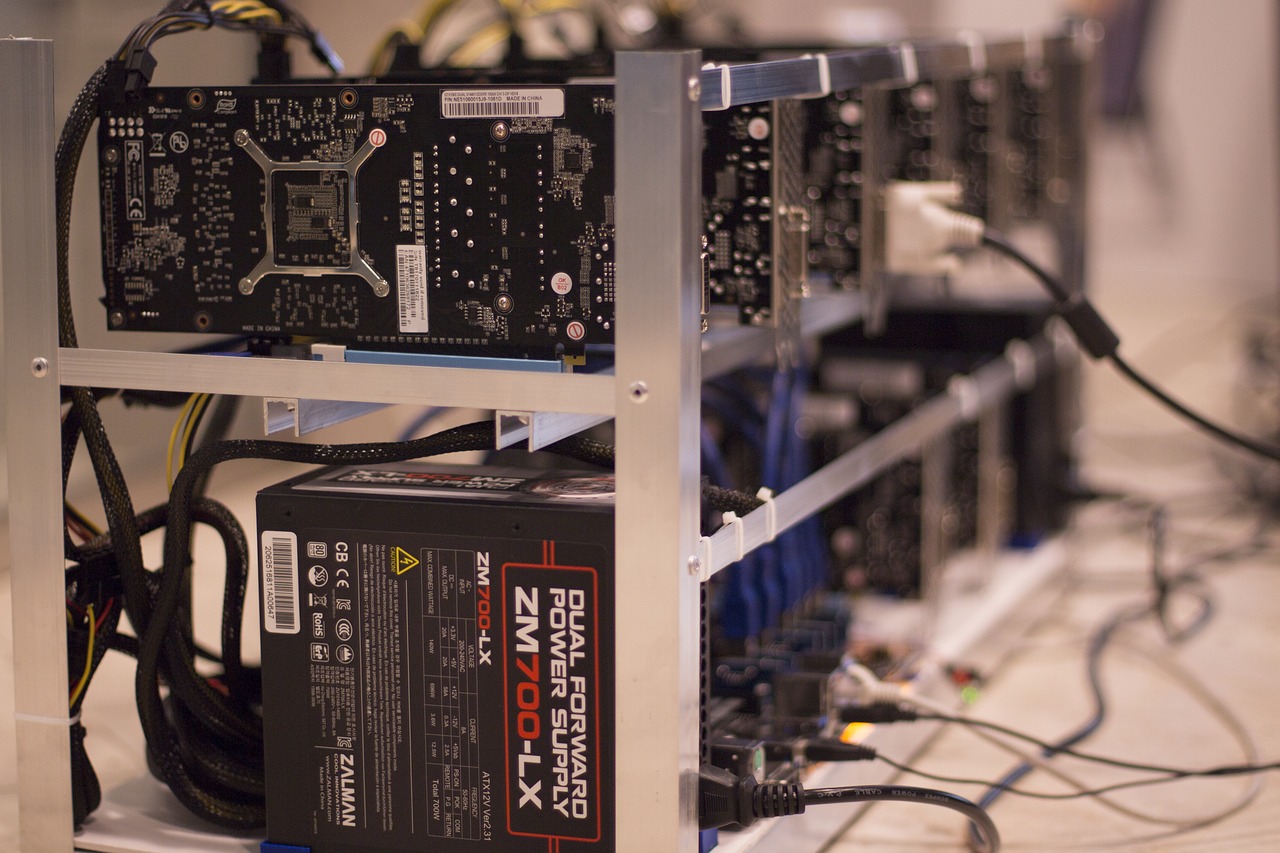 London, United Kingdom, September 25, 2018 – McAfee, the device-to-cloud cybersecurity company, today released its McAfee Labs Threats Report: September 2018, examining the growth and trends of new cyber threats in Q2 2018. In the second quarter, McAfee Labs saw the surge in cryptomining malware growth that began in Q4 2017 continue through the first half of 2018. McAfee also saw the continued adaptation of the type of malware vulnerability exploits used in the WannaCry and NotPetya outbreaks of 2017.
Although less common than ransomware, cryptomining malware has quickly emerged as a factor on the threat landscape. After growing around 400,000 in the fourth quarter of 2017, new cryptomining malware samples grew a stunning 629% to more than 2.9 million samples in Q1 2018. This trend continued in Q2 as total samples grew by 86% with more than 2.5 million new samples. McAfee Labs has even identified what appear to be older malware such as ransomware newly retooled with mining capabilities.
"Cybercrime is a business, and market forces, such as the rise in cryptocurrency values, will continue to shape where adversaries focus their efforts," said Raj Samani, McAfee Fellow, Chief Scientist at McAfee. "Exploiting cryptomining malware is simpler, more straightforward, and less risky than traditional cybercrime activities – causing these schemes to skyrocket in popularity over the last few months. In fact, cryptomining malware has quickly emerged as a major player on the threat landscape.
"Organisations need to remain vigilant to these threats, particularly in today's cloud-first landscape when many companies are seeing a rapid increase in cloud applications and environments to secure. To keep crypto-criminals at bay, businesses must find the right combination of people, process and technology to effectively protect their assets, detect cryptomining threats and, when targeted, rapidly correct systems – across both cloud and on-premises. Removing siloed security teams and making sure that tools and systems can work together is the first step to gaining the upper hand."
In some cases, cryptomining targets specific groups rather than a broad field of potential victims. One cryptomining malware strain has targeted gamers on a Russian forum by posing as a "mod" claiming to enhance popular games. Gamers were tricked into downloading the malicious software, which proceeded to use their computer resources for profit.
While cryptomining malware primarily targets PCs, other devices have become victims. For instance, Android phones in China and Korea have been exploited by the ADB.Miner malware into producing Monero cryptocurrency for its perpetrators.
"A few years ago, we wouldn't think of internet routers, video-recording devices, and other Internet of Things devices as platforms for cryptomining because their CPU speeds were too insufficient to support such productivity," said Christiaan Beek, Lead Scientist and Senior Principal Engineer with McAfee Advanced Threat Research. "Today, the tremendous volume of such devices online and their propensity for weak passwords present a very attractive platform for this activity. If I were a cybercriminal who owns a botnet of 100,000 such IoT devices, it would cost me next to nothing financially to produce enough cryptocurrency to create a new, profitable revenue stream."
Vulnerability Exploit Malware
A year after the outbreaks of the WannaCry and NotPetya attacks, new malware samples specifically designed to exploit software vulnerabilities increased by 151% in Q2. McAfee saw the exploits from these two high-profile threats repurposed within new malware strains, and newly discovered vulnerability exploits similarly adapted to produce entirely new threats.
"WannaCry and NotPetya provided cybercriminals compelling examples of how malware could use vulnerability exploits to gain a foothold on systems and then quickly propagate across networks," Beek continued. "It's still surprising to see numerous vulnerabilities from as far back as 2014 used successfully to spearhead attacks, even when there have been patches available for months and years to deflect exploits. This is a discouraging testament to the fact that users and organisations still must do a better job of patching vulnerabilities when fixes become available."
Windows 10 Cortana Vulnerabilities
McAfee Labs and the Advanced Threat Research team discovered a vulnerability in the Cortana voice assistant in Microsoft Windows 10. The flaw, for which Microsoft released a patch in June, could have allowed attackers to execute code from the locked screen of a fully patched Windows 10 machine (RS3 and RS4 before the June patch). McAfee addressed three vectors of research that have been combined by Microsoft and together represent CVE-2018-8140. McAfee submitted the vulnerability to Microsoft in April as part of McAfee's responsible disclosure policy. (more)
Billing-Fraud Apps on Google Play
The McAfee Mobile Research team found a new billing-fraud campaign of at least 15 apps on Google Play. The new campaign demonstrates that cybercriminals keep finding new ways to steal money from victims using apps on official stores such as Google Play. The actors behind this campaign, the AsiaHitGroup Gang, has been active since at least late 2016 with the distribution of the fake-installer applications Sonvpay.A, which attempted to charge at least 20,000 victims from primarily Thailand and Malaysia for the download of copies of popular applications. One year later, in November 2017, the Sonypay.B campaign was discovered on Google Play. Sonvpay.B used IP address geolocation to confirm the country of the victim and added Russian victims to the billing fraud to increase its potential to steal money from unsuspecting users. (more)
Blockchain Security Threats
McAfee Advanced Threat Research identified top security threats to users and implementers of blockchain technologies. The researchers' analysis found that phishing, malware, and implementation vulnerabilities are the primary attack vectors. (more)
Other Q2 2018 Threat Activity
In Q2 2018, McAfee Labs detected five new threats a second, including new threats showing notable technical developments that improve upon the latest successful technologies and tactics to outmanoeuvre their targets' defences.
Ransomware. The total number of ransomware samples continues to grow, increasing 57% over the past four quarters. Although the appearance of new ransomware families has slowed overall in recent quarters, McAfee also saw established ransomware families spawn new variants. For instance, McAfee saw a dozen new variants of the Scarab ransomware family appear in the Q2 alone. These newcomers account for more than 50% of the total number of known Scarab variants identified since the family's appearance in mid-2017.
Mobile malware. New mobile malware samples increased 27% in Q2; this is the second successive quarter of growth. McAfee customers in South America reported the highest rate of infection, at 14%. Total mobile malware grew 42% in the past four quarters.
JavaScript malware. A 204% increase in new samples suggests that hackers appear to have shifted to a new generation of JavaScript malware. After decreasing significantly over the last three quarters, JavaScript malware accounted for more than 7 million new samples, a record high, and up from around 2 million in Q1.
LNK malware. While PowerShell has been active among fileless malware developers in recent previous quarters, new samples slowed to 15% growth. But new LNK malware continues to grow, as cybercriminals are increasingly using .lnk shortcuts to surreptitiously deliver malicious PowerShell scripts and other malware. Total samples in the category have increased 489% over the past four quarters.
Spam botnets. The Gamut spam botnet outpaced all others in Q2. Most notably, it pushed high volumes of "Canada Revenue Agency" phishing scams. Notable recent campaigns were related to bogus employment offers that are commonly used as a "money mule" recruitment tactic.
For more information on these threat trends and statistics, please visit: McAfee Labs Threats Report: September 2018 (Infographic)
MEETUP: September 21, 2019 OKEX Brings the CryptoTour Africa 2019 to Kenya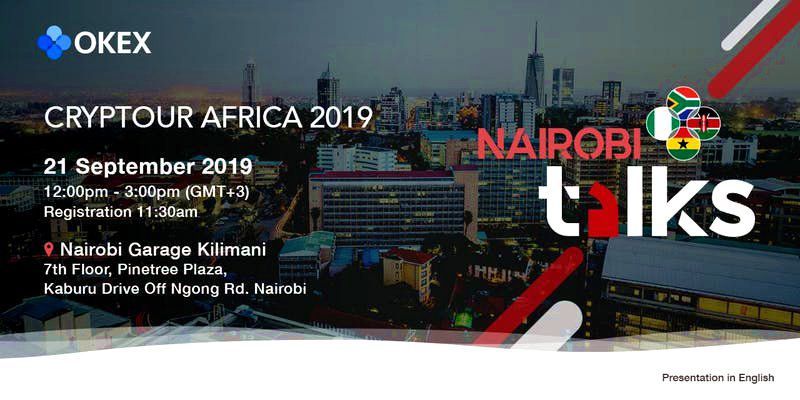 OKEx, the Malta-based mega crypto exchange, will be holding a meetup in Kenya, on September 21, 2019, featuring key speakers in the blockchain and crypto space in Kenya.
OKEx is looking to introduce its mega crypto exchange in the region to enables traders to margin trade for a profit.
The OKEx Cryptotour Africa 2019 will cover four African countries namely:
Ghana
Kenya
Nigeria
South Africa
The upcoming CryptoTour Africa 2019, Nairobi Edition, meetup will feature:
Cryptocurrency Elite Gathering at Crypto Fest 2019 in South Africa

Bitcoin Events is hosting the first-ever Crypto Festival in Cape Town on 7 September 2019 at Shimmy Beach Club, V&A Waterfront. This is the first event of its kind in South Africa and with the tremendous interest in cryptocurrencies that exist in South Africa, this event is certainly going to provide several insights into why South Africans are investing in, and trading with cryptocurrencies!
What You Can Expect at the Crypto Fest
Bitcoin is now 10 years old and with it has come a plethora of exciting new ways to transact, invest, trade and conduct business. The Crypto Fest 2019 strives to bring cryptocurrencies to life through immersive activities showcasing examples of real-world applications and increased engagement opportunities to make the connections needed to expedite cryptocurrency adoption through controversial crypto debates in the Crypto Battle Arena, live crypto gaming and fun competitions with crypto giveaways. The festival will culminate with a crypto party!
On the Crypto Fest Stage
We are delighted to welcome our confirmed speakers who are recognised as thought leaders in the cryptocurrency industry. 
KHAYA MALONEY is a blockchain design solutions architect and strategic fintech business developer in South Africa. He's currently the OKEx Country Manager for South Africa Market where he's in charge of growth development.
MARTIN HARRIS: Trader And Market Analyst At IG
SHANTNU SAXENA, EVP At Huobi MENA. He is considered an innovative and results-driven leader focused on achieving results in highly competitive environments that demand continuous improvement.
MARIUS REITZ, the General Manager for Africa at Luno, a leading global cryptocurrency company with its head office in London. He joined Luno in 2016 and helped the company grow to a diverse team of 300 people across three continents. Marius wholeheartedly shares his company's philosophy of upgrading the world to a better financial system. 
CLAIRE HALL, MC For Women In Crypto Meetup, Sydney. Once coined a 'corporate hippy', Claire Hall is a passionate 'woman in crypto' working at a grassroots level to entice other 'everyday' women into the world of crypto. Claire is a Corporate Learning Consultant for a large financial institution in Australia where she is working to put blockchain on the agenda.
ABRAHAM CAMBRIDGE, founder and CEO of the Sun Exchange, is a serial energy entrepreneur who establishes businesses and projects that use solar energy to effect socio-economic change. In 2014 he launched Sun Exchange, a global solar micro-leasing marketplace that closes the funding gap for commercial- and community-scale solar projects in emerging markets while streaming monetised sunshine all over the world.
Hotly contested debates and discussions will take place in the Crypto Battle Arena:
Crypto Battle I: Battle of the Coins
The Bitcoin Civil War between BTC, BCH, and BSV is hotter than ever, with existential stakes for different communities of stakeholders. Many different opinions exist in the crypto community on which bitcoin is the true bitcoin: which is the most efficient payment system.
Catch Rocelo Lopes, Warren Gray and Lorien Gamaroff, in this crypto battle ring, with James Preston as the moderator.
Crypto Battle II: Bitcoin vs. Gold
Gold has historically played a central role in economies driven by physical exchange and remains a recognised store of value to this day. What are the investment cases for gold vs the investment cases for bitcoin?
Catch Richard de Souza, Graeme Tennant and Piotr Tylczynsk, in this crypto battle ring, with Grey Jabesi as the moderator.
Crypto Battle III: Libra Coin: What Does it Mean for Crypto?
It is no more news that Facebook is taking a chunk of its resources and technical know-how to establishing a coin, Libra, offering a "faster, cheaper and more secure" alternative to traditional ways of making payments on the internet. Is Facebook's entrance into the crypto market the best thing to happen in crypto?
Catch Graeme Tennant, Grey Jabesi, Claire Hall, Marius Reitz, Tshepo Magoma and Prof. Angela Itzikowitz, in this crypto battle ring, with Farzam Ehsani as the moderator.
Read more about our speakers here. The focus of the Crypto Fest is on cryptocurrency investments, trading, and payments. Have a look at the exciting festival programme here.
Sponsors on the Crypto Fest Throne
The Crypto Fest is a global arena for industry leaders to share their breaking news and technologies with a legion of investors, experts, developers, businesses and participants who are using cryptocurrency to redefine the prevailing practice of everyday life.
Premier Sponsors
One of South Africa's first cryptocurrency exchanges, AltCoinTrader SA, providing cryptocurrency trading in South Africa since 2015.
IG is a world-leading online trading provider, giving you access to opportunities across thousands of financial markets through our intuitive platforms and apps. 
Diamond Sponsor
OKEx is a world-leading digital asset exchange, providing advanced financial services to traders globally by using blockchain technology. OKEx provides hundreds of token and futures trading pairs to help traders to optimise their strategy.
Platinum Sponsors
Huobi provides secure and reliable digital asset trading and asset management services to millions of users in over 130 countries around the world.
Stratum is a technology company that develops blockchain solutions focused on digital currencies. Stratum has developed their Stratum Blue token, a digital token that represents a diversified portfolio of cryptocurrencies.
MineBest is a cryptocurrency mining company, who prides itself as a technologically advanced infrastructure company specialising in cryptographic computing activities.
Gold Sponsors
Luno is South Africa's oldest cryptocurrency exchange, with over 2 million customers in 40 countries. Luno makes it safe and easy to buy, store and learn about cryptocurrencies.
YOUNIQX brings products and services for secure digital identity to the spotlight internationally.
Sun Exchange is the world's first buy-to-lease solar cell marketplace. Through Sun Exchange, anyone, anywhere in the world, can own solar energy-producing cells and build wealth by leasing those cells to businesses and organisations in emerging markets.
Blockchain Africa Conference 2020
We are planning our next event! The Blockchain Africa Conference is in its 6th year and we are expecting 600+ attendees for the conference. The general theme is the use and application of emerging financial technologies, i.e.: Blockchain Technology and cryptocurrencies, beyond the Fourth Industrial Revolution, and how these emerging technologies enable and enhance artificial intelligence and machine learning in enterprise development in the efforts and championing toward financial inclusion.
Subscribe to our newsletter to stay informed of our next events and news of the global blockchain and cryptocurrency industry. For more information on this and future events, please email the team at info@blockchainafrica.co. 
About Bitcoin Events

Since inception, Bitcoin Events have cut through the hype and challenged the critics to educate, upskill and drive long-term thinking on the strategic benefits of cryptocurrencies and blockchain technology for businesses, governments, citizens, and society.
For more information on the Crypto Fest visit our website at www.cryptofest.co.za or email us at info@blockchainafrica.co 
See You at the Crypto Fest 2019 in Cape Town!
Disclaimer: This is a press release. Readers should do their own due diligence before taking any actions related to the company, product or service. BitcoinAfrica.io is not responsible, directly or indirectly, for any loss or damage caused by or in connection with the use of or reliance on any content, product or service mentioned in this press release.
Privacy coin, Zcoin ($XZC), now listed on Vinny Lingham-backed Exchange, OVEX, with ZAR pairing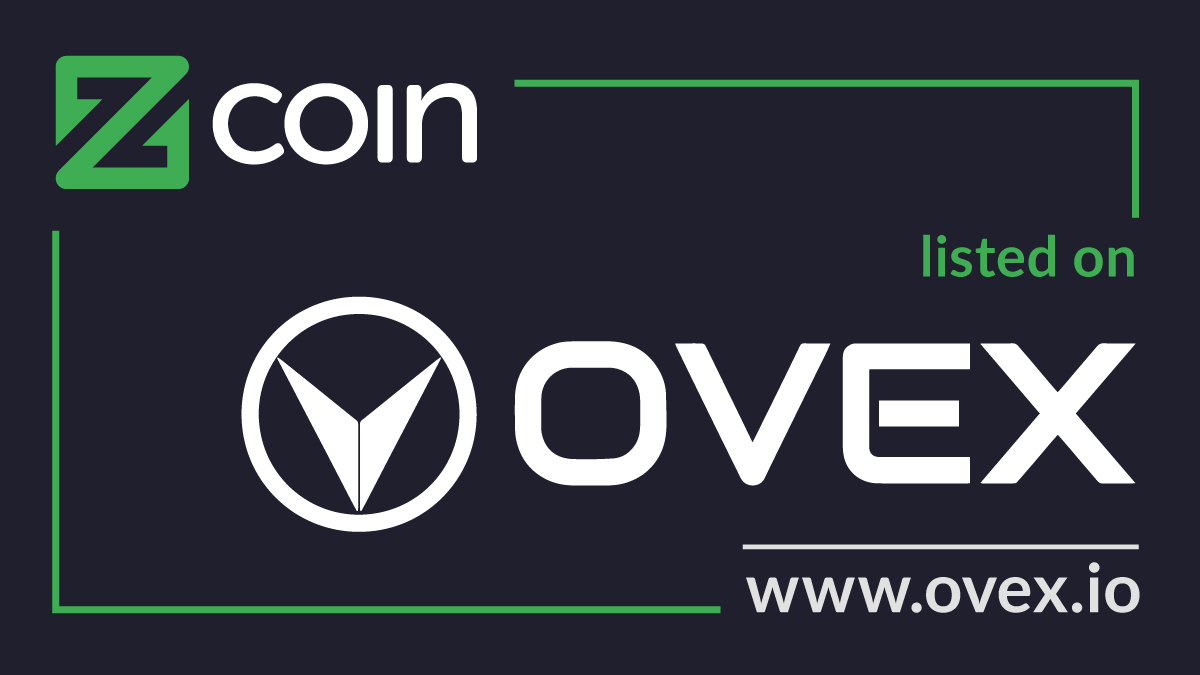 CAPE TOWN, South Africa, Aug. 29, 2019 /PRNewswire/ — Zcoin ($XZC) — an open-source, decentralised privacy cryptocurrency — has now listed on Vinny Lingham-backed cryptocurrency exchange, OVEX, with a South African Rand (ZAR) pairing.
"Zcoin's listing on OVEX will create the opportunity for traders to fill the vacuum in offering privacy with the introduction of $XZC to the South African market especially with the ZAR pairing that opens door to it being readily adopted in the country. This is an exciting development and opportunity to expand in a rapidly developing country where cryptocurrency trading volumes are on the increase," says Poramin Insom, Founder & Core Developer of Zcoin.
OVEX's is the most advanced cryptocurrency exchange in South Africa and offers traders both simple and advanced modes to suit the needs of different traders on a secure and trusted platform.
"We're excited about the potential for growth on this coin, privacy coins are an essential part of the crypto ecosystem and we're very excited to give South Africans access to this opportunity," says Jonathan Ovadia, CEO of OVEX.
As part of the official listing, Zcoin and OVEX will be hosting a community-focused event in Woodstock, Cape Town, to introduce $XZC to users on the platform. Interested attendees can find out more here.
Most recently, Zcoin became the first cryptocurrency to be usable at any of the five million merchants registered via Thailand's nationwide QR code system through the Satang App.
In July 2019 it also rolled out Sigma, the first live zero-knowledge proof (ZKP) protocol to offer strong financial privacy without trusted setup.
Zcoin has been actively working on the Sigma privacy protocol since early 2018 and the mainnet launch of Sigma marks the first in a series of upgrades in Zcoin's privacy protocol.
Sigma's eventual replacement, the highly anticipated Lelantus which has garnered academic interest, is Zcoin's own independent innovation that further improves on Sigma's capabilities by removing the need of fixed denominations and hiding transaction values. Lelantus is currently in development and scheduled to go on testnet in early 2020.
Disclaimer: This is a press release. Readers should do their own due diligence before taking any actions related to the company, product or service. BitcoinAfrica.io is not responsible, directly or indirectly, for any loss or damage caused by or in connection with the use of or reliance on any content, product or service mentioned in this press release.