Coinmine Launches to Make Crypto Easy, Backed by Industry Titans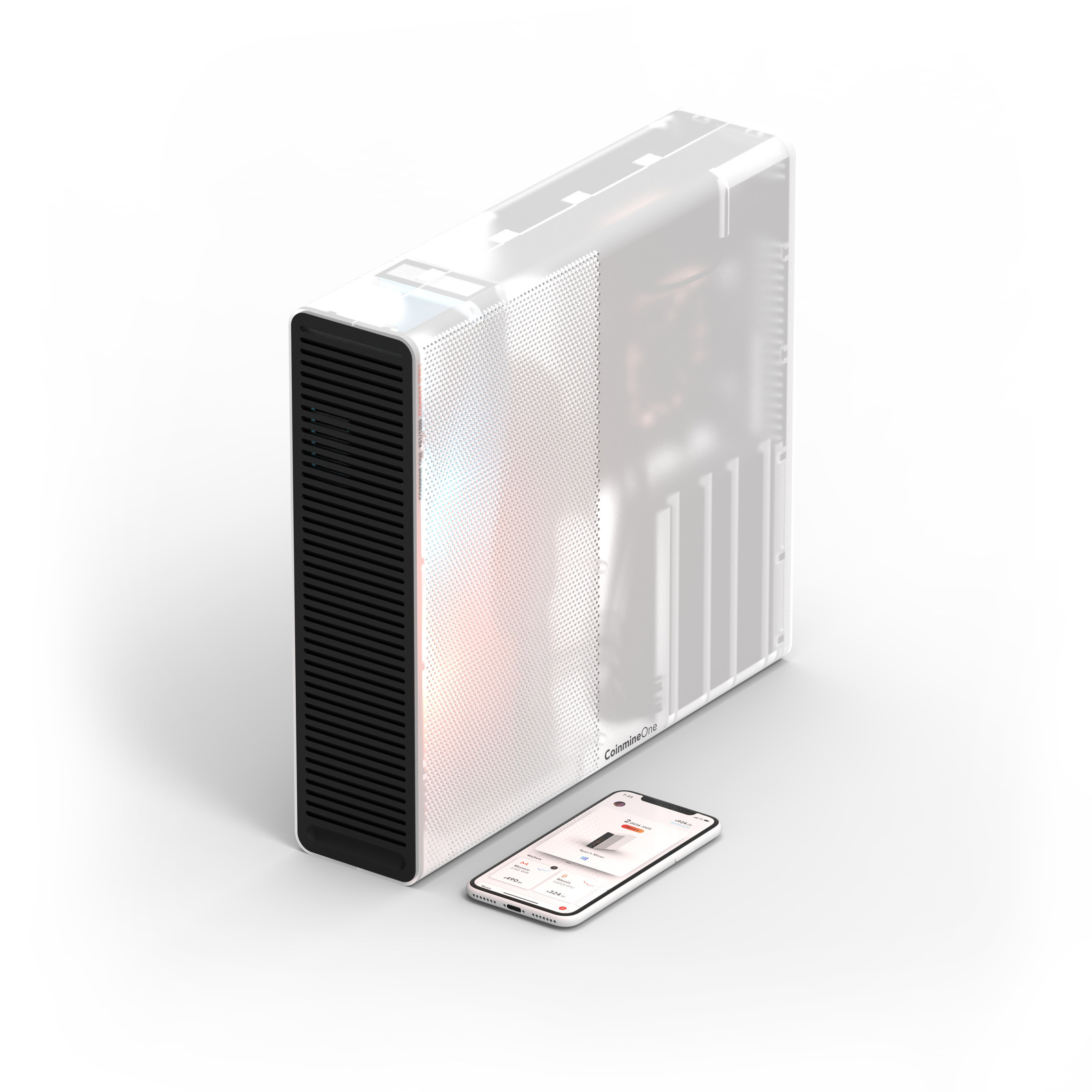 LOS ANGELES, Nov. 14, 2018 /PRNewswire/ — Today, Coinmine launches to simplify and automate the complex process of making and maintaining crypto hardware and wallets. With a sleek crypto device and mobile app, Coinmine makes it easy for anyone to power the crypto revolution and earn cryptocurrency for doing it. The company is backed by Coinbase Ventures, Social Leverage, Wonder VC, Arrington Capital and angel investors including Balaji Srinivasan, Brian Norgard, Anthony Pompliano, Ryan Hoover, Josh Jones, Penelope Linge and Tom McInerney.
"Crypto is not just about buying and selling magical internet coins," says Farb Nivi, co-founder and CEO of Coinmine. "It's about people combining computation to decentralize the world's money and information from the hands of a few and into the hands of the many. We made this easy enough for anyone to do."
Many people want to be a part of the crypto revolution, but crypto hardware, software and wallets are too hard and time-consuming to set up, and more importantly, to update. So most people will miss out on powering new up and coming cryptos like they missed out on powering Bitcoin in the early days.
Coinmine built a device and mobile app so users don't miss out on the next big cryptocurrency. Coinmine replaces the need for several different DIY hardware and wallet solutions with a single plug-in crypto device and mobile app, powered by a proprietary operating system. The simple setup provides a new level of accessibility into an otherwise confusing activity and makes crypto easy for everyone.
"Throughout my entire career, I've worked to make complicated ideas simple, fun and useful," said Brian Norgard. "At Tinder, we removed the pain associated with setting up a dating profile so people could get to the action. When Farb initially came to me with the basis for Coinmine, I knew it was a radically novel solution to a messy problem- it was as they say, a perfect match. The limiting factor to scale in crypto continues to be complexity for the end user. Farb and the entire Coinmine team are one of the first companies attacking this problem head-on through a blend of hardware and software."
Coinmine's debut device, Coinmine One, combines several hardware solutions into one personal device. To get started, users plug in the device, open the app and choose the crypto network they want to power. From there, the Coinmine mobile app controls and keeps track of Coinmine One's activity from anywhere. Users can see how much crypto they have earned, change to another crypto or add additional Coinmine devices to their account from an easy-to-read, centralized dashboard.
Coinmine's operating system, MineOS, makes it possible to run different types of networks on one device, including Ethereum, Ethereum Classic, Monero and Zcash. With automatic updates, MineOS will also give access to new crypto networks like Bitcoin Lightning, Grin, Dfinity and Filecoin. This feature ensures users do not miss out on powering the next important crypto network.
To learn more and to purchase Coinmine One, visit www.coinmine.com.
Disclaimer: Readers should do their own due diligence before taking any actions related to the company, product or service. BitcoinAfrica.io is not responsible, directly or indirectly, for any loss or damage caused by or in connection with the use of or reliance on any content, product or service mentioned in this press release.
BC.GAME Achieves Major Crypto Milestone! Converts License Into NFT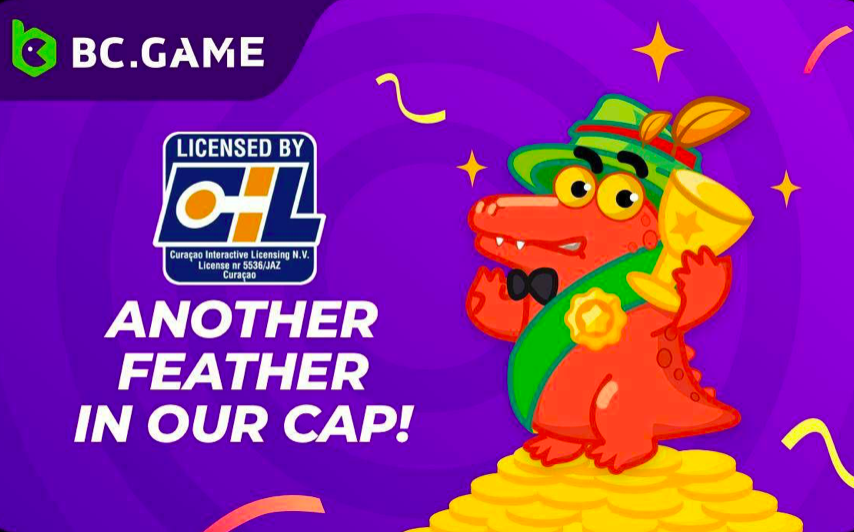 August 28, 2021 – We have fantastic news to share with you today! BC.GAME just added another feather to their cap! BC.GAME is now the proud owner of the much-awaited Curacao License!
Curacao Interactive Licensing N.V.(CIL)  is one of the top four most popular globally acknowledged casino licenses! In addition, Curacao Interactive Licensing N.V.(CIL) is one of the four master operators who received oversight roles from the Curacao government. The other three are E-Gaming (N.V. 1668/JAZ), Antillephone (N.V. 8048/JAZ), and Gaming N.V. (365/JAZ).
Curacao has an excellent reputation for having a trustworthy, responsible, and stringent licensing protocol. Having a Curacao license means adhering to all rules and complying with all applicable regulations!
In easy terms, it means BC.GAME will have a better standing with other companies and partners in the crypto gaming industry! This further strengthens the company's beliefs of providing complete security and an optimal & provably fair gaming experience to their users! 
A Curacao license opens up more significant avenues for a crypto gaming platform! This further makes it possible for BC.GAME to provide their players with better games, bigger rewards, highly recognized providers, easier integration of new currencies, to name a few!
For you, our dear community, it means a better and more trustworthy platform with a great gaming experience and a wide variety of games to choose from!
Obtaining the Curacao License helps BC.GAME attain a recognized standing in the global market and significantly strengthens its position as one of the Best Crypto Casinos! You can find the original company license here.
As the first-ever casino to support Bitcoin Lightning Network; BC.GAME is determined to achieve a globally acclaimed compliance standing! But all in good time as this is just the beginning!
For security, the license was uploaded to the decentralized storage blockchain, the IPFS, and minted into an NFT compliant with the EC-721 standard before being transferred to BC.GAME's ENS bcgame.eth account.
The online gambling platform's decision to secure the CIL sub-license in the IPFS before minting it as an NFT shows the flexibility and possibilities of blockchain, which BC.GAME is amongst the first ones to achieve!
All users, including regulators worldwide, can now view the license, which is an efficiency win, considering how governments have stepped up, shifting their muzzles to crypto entities.
BC.GAME would like to extend their heartfelt gratitude to each of their amazing players who stood by them and pushed them to reach greater heights with each achievement!
The company further mentions, "Thank You for trusting us and providing your unwavering support to BC.GAME! We are because of you! Thank You ! We aim to provide our players with the best crypto casino experience full of huge winnings, fun, and good times! But, as we always say, Don't Trust, Verify It.
Once again, we thank you, dear players, for constantly pushing us to be the Best!"
And to all the new users, they say: "Welcome! Become a part of the most rapidly growing crypto gaming community and have an experience like no other!"
Congratulations to all, and we wish you a super lucky winning time!🍻🍻  Join BC.GAME now!
Disclaimer: This is a press release. Readers should do their own due diligence before taking any actions related to any company, product, or service mentioned in this article. BitcoinAfrica.io is not responsible, directly or indirectly, for any loss or damage caused by or in connection with the use of or reliance on any content, product, or service mentioned in this post. 
Stake Your ETH (8.55% APR) and Reinvest Locked Funds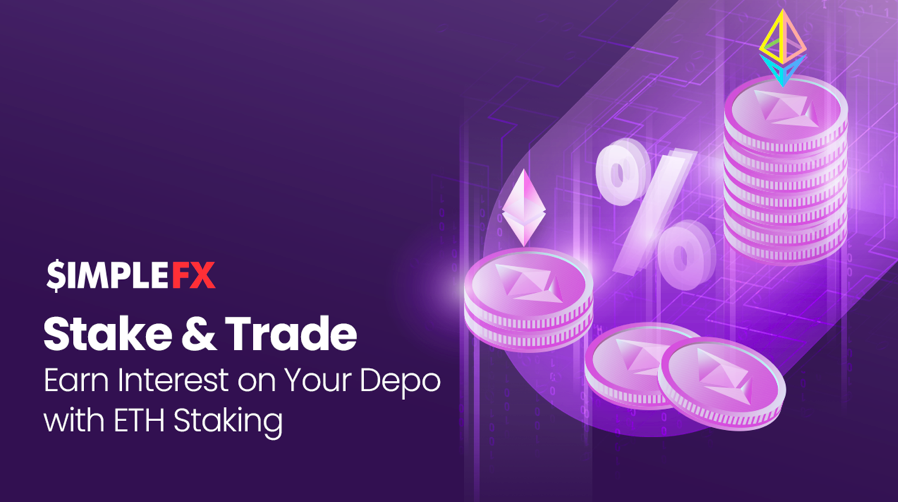 Are you tired of 0% interest on your fiat currency savings? Join the most significant cryptocurrency upgrade and earn up to 8.55% annualized reward rate (APR) for your deposit.
Ethereum 2.0 upgrade is the next big thing in crypto. The second-largest cryptocurrency is migrating from the energy-consuming proof-of-work (PoW) to a much more efficient proof-of-stake (PoS). Under PoS, you lock funds used for validating transactions, and you earn interest rates as a reward.
You can stake your ETH, become a validator, and earn high interest on your deposit. Holding ETH this year might be a good idea, as analysts expect the Ether price to soar in case of a successful upgrade. Staking is becoming more and more popular as validators can earn up to 8.55% APR. No wonder over $13 bln worth of ETH has been staked as ETH 2.0 already.
However, not everyone can run a validator node. You need 32 ETH at minimum (over $88k), deep knowledge of the Ethereum network, and your infrastructure.
It's much easier to join SimpleFX Stake&Trade. It's a unique staking pool service, where you can invest the frozen funds. Stake your ETH today. The earlier you do it, the higher the reward.
Here's what you get with SimpleFX Stake&Trade:
No fees and no minimum deposits

Stable Interest Earnings from your ETH deposit

ETH 2.0 offers a high APR

Profit from the rising Ethereum price

Use the staked funds for trading.
Invest your staked coins. Trade stocks, forex, gold, crypto. Hedge your ETH 2.0 funds with bright leveraged shorts. Staking your Ether, you make a profit while helping the ETH community secure the network and run a historic cryptocurrency upgrade.
200-times cheaper than traditional Ethereum transfers
Tired of paying high fees for your BTC or ETH transfers? We've got you covered! Our engineers have just integrated Binance Smart Chain (BSC) payments for ten new cryptocurrencies.
Open the following accounts and enjoy BSC payments that cost $0.25 per transaction instead of $50 using traditional Ethereum ETC20 tokens:
BTC – Bitcoin
ETH – Ethereum
LINK – Chainlink
LTC – Litecoin
BCH – Bitcoin Cash
ZEC – Zcash
ETC – Ethereum Classic
DAI – Dai
DOT – Polkadot
XRP – Ripple
BAND – Band Protocol
XTZ – Tezos
ONT – Ontology
ADA – Cardano
ATOM – Cosmos
YFII – yearn.finance
EOS – Eos
The transaction cost is very affordable. Here are the SimpleFX payments time and fees estimations for BSC and ETH Networks for May 2021:
| | | |
| --- | --- | --- |
| | BEP-20 | ETC-20 |
| Deposit | free | free |
| USDT Withdrawal | $0.25 | $50 |
| Deposit confirmation time | 1 min | 15 min |
Binance is one of the significant cryptocurrency exchanges, and they are developing their payments ecosystem to help their customers make cheaper and faster transfers.
About SimpleFX
SimpleFX is a renowned trading app that has been in business since 2014. Was one of the first brokers offering cryptocurrency accounts. You can sign up for Bitcoin, Ethereum, Binance Coin accounts with just an email.
The broker's agile team is improving its tools constantly. Recently they have created a native HarmonyOS app for Huawei users.
SimpleFX's purpose is to provide the easiest way to trade globally. SimpleFX is mobile-first, but you can use the same app across all devices. Trade with SimpleFX WebTrader, native iOS, Android, or Huawei app or MetaTrader4.
Their team is always up to date with the newest cryptocurrency trend. They offer the lowest transfer fees available; that's why they have recently introduced Binance Coin, Binance USD, and the fastest and most economical Binance Smart Chain.
If you'd like to trade a stock or any other asset they still don't have in their offer, give them a shout, and chances are they are already working on it; if not, they will include your proposition in the products roadmap.
Wall Street has zero control over them. Sign up with an email address, make a deposit, and cash in profits.
Using just your email address, you can also become a SimpleFX affiliate. You don't need to deposit a single cent to start earning lifetime revenue share (up to 30%) from your referral links.
Sign up to SimpleFX with an email, give it a try, and ride the ever-exciting global financial markets.
Here's why SFX is the best trading app:
no ID verification for cryptocurrency accounts. Sign up with an e-mail

Invest Bitcoin, Ethereum, Tether, Binance Coin, and more (22 cryptocurrency accounts)

No minimum deposits

No fees

Up to 50x leverage on stocks $1,000 depo = $50,000

Up to 500x leverage on Forex $1,000 depo = $50,000

Reputable – over seven years in the market

Global reach – check out for your local currency (over 20 fiat currencies)

Great support English, Spanish, Portuguese and more (probably in your language)

SimpleFX is independent and not controlled by Wall Street

Active development team willing to add new features especially for you

Frequently updated WebTrader (working in every browser), native iOS and Android apps

The most efficient cryptocurrency payments. Binance Smart Chain (BEP-20) fast transfers with super low fees (100 times lower than Ethereum ERC-20)

Stake & Trade – earn 8.55% annual interest on your ETH 2.0 deposit. Trade with your frozen money.
Disclaimer: This is a press release. Readers should do their own due diligence before taking any actions related to any company, product, or service mentioned in this article. BitcoinAfrica.io is not responsible, directly or indirectly, for any loss or damage caused by or in connection with the use of or reliance on any content, product, or service mentioned in this post. 
Millennials Make 25,000% Returns on New Crypto and Gaming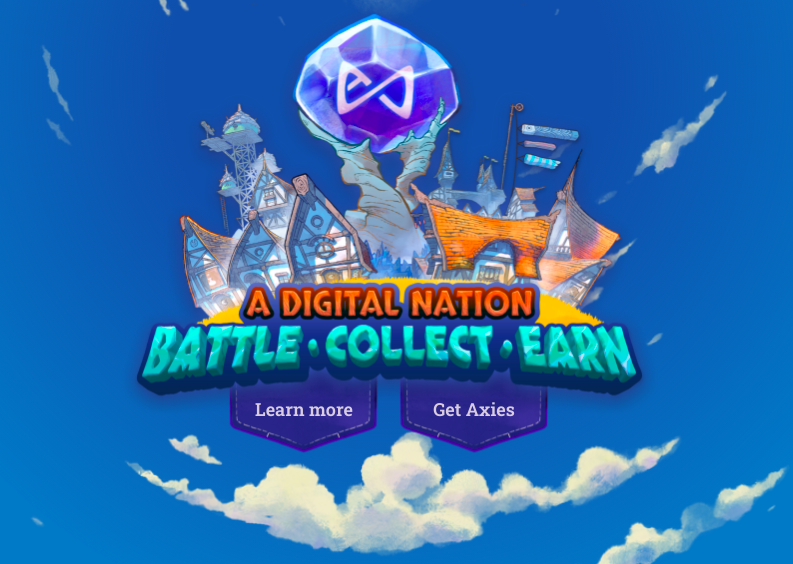 During the pandemic, the blockchain game Axie Infinity attracted a large number of millennials. The firm's token currently boasts a market worth of over $2.5 billion
So far, the gaming token, which was introduced in November 2020, has risen over 25,000 percent, implying that a $1,000 investment would have grown to Rs 2.5 lakh in just 9 months. It is a trend that is widely expected to continue, as more gamers prefer the indoor experience, as you can play online pokies or any other game from wherever you are. Jackpot City Casino, for example, is a leading online brand renowned for its wide array of impressive gaming offerings for people from across the globe.
The cryptocurrency AXS is one among the few exceptions, having weathered the storms of May and climbed to a new all-time high, hovering around $42. After China started a major crackdown on the crypto industry in May, the crypto market saw aggressive selling in the larger and more popular coins.
The ecosystem has half a million daily active consumers, according to Vikram Subburaj, CEO and co-founder of Giotto's Cryptocurrency Exchange, and new customers are coming from developing nations like the Philippines and Indonesia.
"For the gaming group though, AXS represents rather more than only a cryptocurrency, and therefore, it stays worthwhile in that ecosystem. The true problem that AXS will face can be in scaling each day's lively customers to manifold," he mentioned.
Axie, based on the Ethereum community, uses blockchain technology to entice participants. Axie Infinity Shard token (AXS) and the opposite in-game token can be earned in a variety of ways. Its universe may be quite similar to Pokemon, which many millennials can connect to.
Everyone wants to buy Axie to begin the game, and the digital pets in the games may be purchased with this digital currency. The possibility for financial gain is what has made the sport so popular, particularly in developing nations.
Siddharth, WazirX's COO, feels that crypto in the gaming space is one of the most significant markets. He praised cryptocurrency for its contributions in this field.
"Players spend countless cash in shopping for belongings, however are usually not capable of resale or carry that belongings to different video games. Crypto video games are a real worthy addition to video games," he added.
Axis Infinity offers a whitepaper outlining its roadmap and goals. Staking will be introduced soon. This allows token owners to invest their money for a specified length of time and receive interest.
Crypto-related video games, according to experts, will be a big trend in the near future, with players not only exchanging NFTs within the game but also selling them to cult members. Gaming as a career is gaining momentum in the Western world, and children's gaming expenses have increased.
New use cases for blockchain and cryptocurrencies, according to Subburaj of Giottus, will continue to revolutionize the larger world of gaming. He said that AXS had transformed gaming from a money-losing and time-consuming pastime to a money-making venture.
"When a recreation grows larger, gamers are usually not benefited aside from extra gamers to play with," mentioned Menon. "It is superb in this area as the sport community grows and gamers develop with them."
However, not everything is perfect for the Axie Infinity. The highly expensive Ethereum community has significant limits, and it needs reliable technology to help it progress.
Disclaimer: This is a press release. Readers should do their own due diligence before taking any actions related to any company, product, or service mentioned in this article. BitcoinAfrica.io is not responsible, directly or indirectly, for any loss or damage caused by or in connection with the use of or reliance on any content, product, or service mentioned in this post.