Weekly News Roundup: Binance Adds Kenyan Shilling, CryptoLocally Targets African Market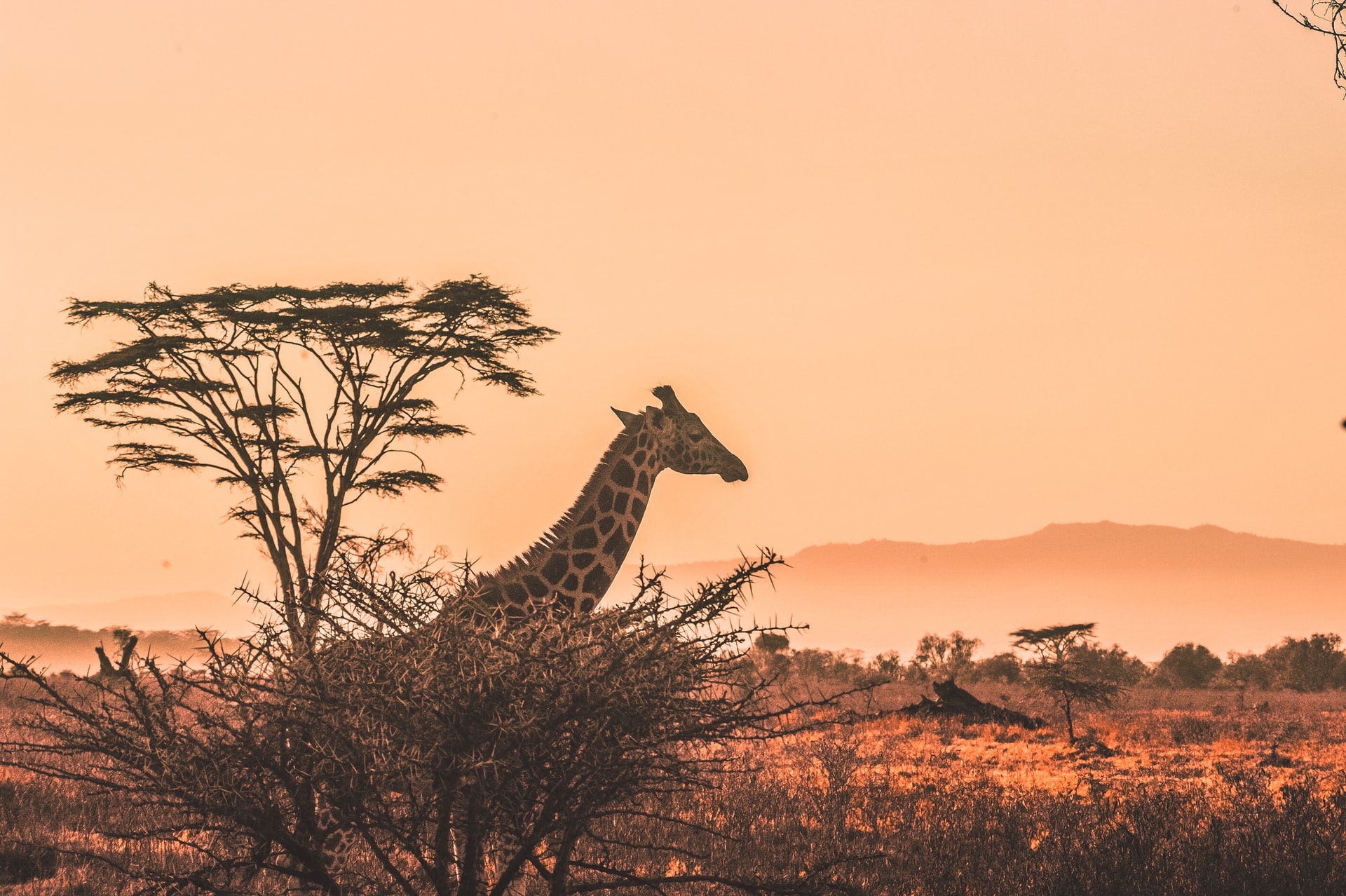 In Bitcoin Africa's Weekly News Roundup, we look at the most prominent blockchain and cryptocurrency stories from Africa this week.
Here are our best picks!
Binance Adds Kenyan Shilling (KES) 

Binance has been opening up its global cryptocurrency exchange to Africa by adding African currencies over the past few months. The exchange entered the African market by building a standalone bitcoin exchange in Uganda, which saw record sign-ups in its first weeks. 
Later, Binance integrated the Nigerian Naira to the main exchange to close 2019. In 2020, Binance has added the South African Rand and now, the Kenyan Shilling.
The Kenyan Shilling (KES) was added to the Binance Buy Crypto portal alongside the national currencies of South Korea, Peru, Kazakhstan, and Colombia. This addition will allow Kenyans to buy Bitcoin (BTC), Ethereum (ETH), Binance Coin (BNB), Ripple (XRP), Binance USD (BUSD) and USD Tether (USDT) directly on Binance.
Finally, Binance has completed adding all African currencies it mentioned after adding the Naira. It will be interesting to see where Binance goes from here.
Kenya continues to attract more cryptocurrency development. Our update from last week also highlights the growth of P2P exchanges in the country.
Cardano Foundation Partners With SANBA In South Africa
Cardano has expressed interest in building the African blockchain space since November last year. The project announced its involvement in the Mauritius regulatory framework as its first step.
In a blog post, Cardano announced a partnership with the South African National Blockchain Alliance (SANBA). 
SANBA is an organisation established to drive blockchain adoption of blockchain in the South African state with a population of 59 million. The South African Government, State Department of Science and Innovation, Council for Scientific and Industrial Research, Office of Digital Advantage directly supports SANBA's operations. 
The partnership will look into ways through which Cardano can be harnessed in South Africa's blockchain infrastructure.
CryptoLocally Targets African Market With New Partnership
CryptoLocally, an altcoin peer-to-peer marketplace, has partnered with Sesacash, a cryptocurrency and Fiat hybrid wallet provider.
The P2P platform supports the direct purchase of EOS, Tether USD (USDT), Telos (TLO), Wax (WAXP), BOScoin (BOS), and EOSDT globally. Sesacash is a wallet that supports the Ghana Cedi, Nigerian Naira, and some cryptocurrencies.
This partnership intends to open up the CryptoLocally platform to African users as a platform for remittance, starting from West Africa.
Alexandre Ricart, Head of Marketing of CryptoLocally, mentioned that cryptocurrency platforms could provide a financial alternative to Africans.
"CryptoLocally allows unbanked users to exchange crypto with cash but also using a digital wallet like Sesacash, giving them access to cryptocurrencies as a financial alternative and securely keep full ownership of their assets," he stated.
In the cryptocurrency markets, much has not moved. Bitcoin has seen a slight 3.33 percent increase in price, while Ethereum (ETH), Tezos (XTZ), and Binance Coin (BNB) all recorded over 8 percent rise in price.

Weekly Roundup: Binance Partners with Cristiano Ronaldo to Launch NFTs & More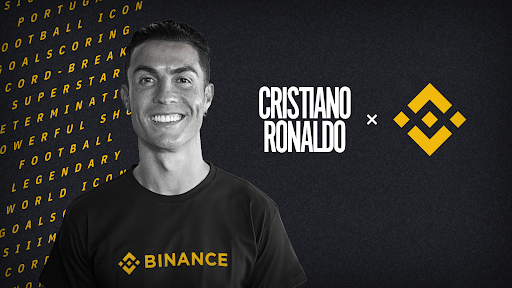 In this week's news roundup, you'll read about Binance's latest partnership with Cristiano Ronaldo to launch exclusive NFTs, a new study by Kucoin revealing that 72% of crypto investors In South Africa rely on social media for crypto-related information, Crypto.com's expansion into South Africa with an exclusive Rand wallet, and more.
Binance Announces Partnership with Cristiano Ronaldo to Launch Exclusive NFTs
Binance has today announced a partnership with Cristiano Ronaldo to launch multiple exclusive non-fungible tokens (NFTs) collections per year.
The partnership will see the leading crypto exchange launch a global campaign that will give Ronaldo's fans an introduction to Web 3 with a captivating entry point into the world of NFTs.
Speaking about the partnership, Ronaldo said, "My relationship with the fans is very important to me, so the idea of bringing unprecedented experiences and access through this NFT platform is something that I wanted to be a part of. I know the fans are going to enjoy the collection as much as I do."
In addition, the two parties will develop a series of collections that will be sold exclusively on the Binance NFT platform. The initial collection will be released later this year.
Study: 72% of South African Crypto Investors Rely on Social Media for Crypto Information
The latest study by global cryptocurrency exchange, Kucoin, has revealed that 72% of South African crypto investors rely on social media as their primary source for crypto-related information.
The report christened 'Into The Cryptoverse', was conducted to determine the cryptocurrency adoption rates and investor behaviour in the Southern African country. 72% of those surveyed rely heavily on social media to get information on crypto which is shared by influencers and other key media personalities to who the average citizens can relate to.
Matlala Caroline Rathabeng, a Twitter Influencer in South Africa, was quoted by Kucoin in the study saying, "Social media is the most powerful channel introducing people to new things and allowing them to build networks. Now, it grows people's hope and trust in crypto."
The study further revealed that 7.6 million South Africans – nearly 22% of the country's population aged between 18 – 60 – either own virtual currencies or have used cryptocurrencies in the last six months.
Crypto.com Launches Rand Wallet As It Expands Into South Africa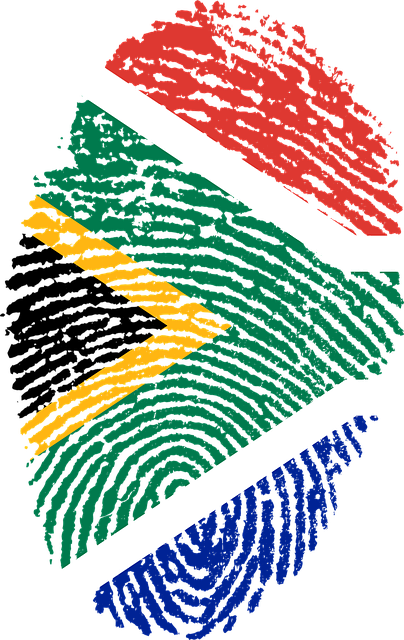 Crypto.com has announced the launch of a Rand wallet as it expands into South Africa. The launch of the Rand wallet will however see the exchange deactivate the non-rand fiat wallets for its customers in South Africa.
In a statement to MyBroadband, Crypto.com said, "We have partnered with a local bank to compliantly offer certain products and services that are in line with local regulations, applicable law, and customer demand."
The exchange shared the news in a notice to its customers in the country saying, "We are pleased to announce that we have made progress in our expansion of services in South Africa. Please be informed that Foris DAX SA (Pty) Ltd will become the contracting entity of the Crypto.com App on 10 July 2022."
Customers will be required to accept the exchange's updated terms and conditions with Foris DAX in order for them to continue utilizing the services. Moreover, Foris DAX will also take over the management of all the accounts of their South African customers.
Engie Energy Access' Crypto-based Crowdfunding Solar DeFi Platform Exceeds Target
Engie Energy Access has announced that it has exceeded its target to crowdfund $100,000 via its Solar decentralized financing (DeFi) platform in a mere seven hours.
The institution is a solar energy access company that provides solar home systems and mini-grids that benefit millions of people in Sub-Saharan Africa. The DeFi crowdfunding platform that was developed in partnership with Energy Web, a Swiss NGO, enables investors to buy Energy Web Tokens (EWTs) in support of off-grid solar deployment, remunerated on a fixed return model with profits up to 10% on their stake.
This revolutionary financing model will enable the subsidiary of Engie to roll out autonomous solar home systems (SHSs) for schools, households, and SME beneficiaries who will acquire high-end solar photovoltaic (PV) equipment on a pay-as-you-go (PAYG) system. The company's initial projects will focus on Zambia and Rwanda which have a rural energy access rate of 11% and 44% respectively, with subsequent expansion expected in other Sub-Saharan nations
To learn more about Bitcoin, download the Bitcoin Beginner's Handbook for free.

Weekly Roundup: Nigerian Stock Exchange Plans to Adopt Blockchain for Settlements by 2023 & More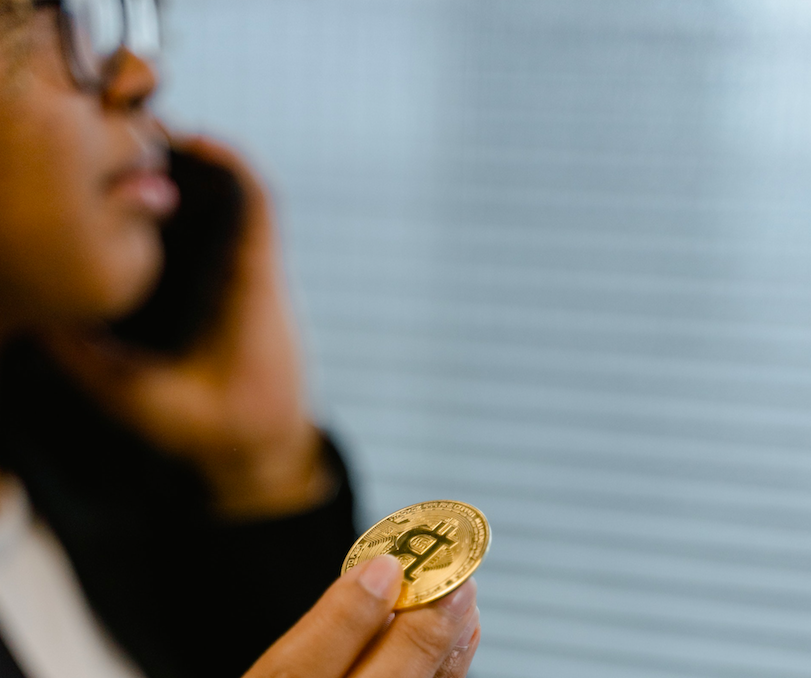 In this week's news roundup, you'll read about Nigerian stock exchange's plans to utilise blockchain technology for settlements, a new forensics lab launching in Kenya to help fast-track crypto-related cybercrimes, and more.
Nigerian Stock Exchange Plans to Adopt Blockchain for Settlements by 2023
Nigerian Exchange Limited, the biggest stock exchange in Nigeria, is planning to roll out a blockchain-enabled trading platform by 2023 that will increase trade by facilitating trade settlements and attracting young crypto-savvy Nigerians to stocks.
The news follows the introduction of regulations by the Nigerian Securities and Exchange Commission to guide trade in digital assets in the country, as well as the growing interest by businesses and policymakers to adopt blockchain across the continent including in Kenya and South Africa. Moreover, the move also follows the firm's first electronic share offering that was issued by MTN Group in the country and ended up being oversubscribed 1.2 times with the majority of the investors being below 40 years.
The company will be partnering with a tech company and is set on receiving approvals from Nigerian watchdogs next year in order to proceed. South Africa, on the other hand, is having ongoing conversations with key players in the fintech industry to incorporate the technology into its financial markets.
P2P Bitcoin Trades Rose to $185 Million on Paxful in Nigeria Despite Crypto Ban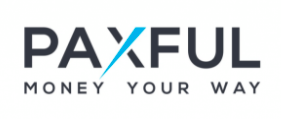 Nigeria traded roughly $185 million worth of Bitcoin on Paxful, a leading peer-to-peer (P2P) crypto platform, in Q1 of 2022 despite the crypto ban imposed on banks by the Nigerian central bank.
According to the P2P crypto exchange, the trade volumes indicate a 5.71% increase in comparison to $175.3 million Bitcoin's that were traded in the same period last year. Furthermore, the daily trades carried out by Nigerians on the platform averaged up to 16,000 in 2021 making the country the leading source of trades on Paxful.
25.87% (roughly $185 million) of the total $715 million BTC trades carried out on the P2P platform in the first quarter of 2022 were made by Nigerians. The increased P2P trades witnessed in the West African nation is despite the government actions banning digital asset trading with financial institutions.
Since the ban was effected, the CBN has so far fined five top Nigerian banks, including Access Bank, Fidelity Bank, and GT Bank a total of $3.4 million as a result of contraventions and infractions of its guidelines.
Kenya Launches New Forensics Lab to Help Investigate Increased Crypto Fraud
The Kenyan National Police Service has launched a Forensics Lab that is expected to help fast-track cyber-crime investigations, including crypto-related crimes, among others.
The East African nation has become a hotspot for cybercrime, especially ones relating to virtual currencies. Just recently, a top newspaper in the country reported a cryptocurrency scam that saw Kenyans lose $8.5 million in a Ponzi scheme known as Bitstream Circle.
The scheme lured investors by saying that they would get mentors who would alert them about the best times to trade as well as earn daily profits from their investment.
Kenyans Lose $8.5 Million to the Bitstream Crypto Ponzi Scheme
Bitstream Circle, the latest cryptocurrency Ponzi scheme that was designed by Kenyan and Chinese fraudsters, has left investors in Kenya counting their losses after the fraudsters made away with $8.5 million.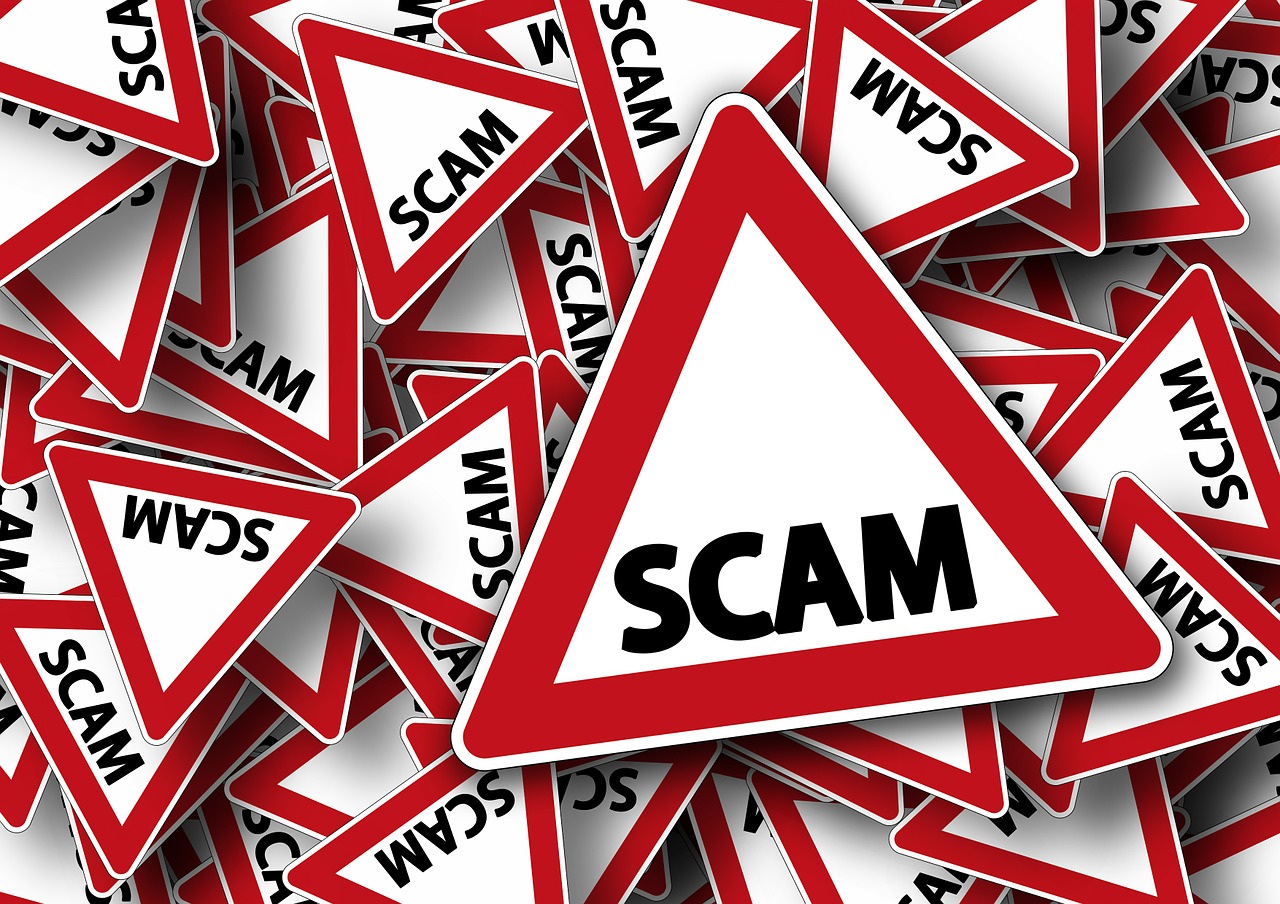 According to Nation.Africa, the company first appeared on the internet on December 7, 2021, promising investors daily profits of between five to 10 percent on the amount invested. It gained over 10,000 followers on its Telegram page which required followers interested in joining the 'Bt Elite Team' to pay a deposit of $20. The firm promised to assign a mentor to each investor who would guide them on how to convert their shillings into crypto coins that they could then trade, earn a profit from, and withdraw.
Everything went well until March 13, 2022, when users started noticing delays when making withdrawals which the company said was due to system upgrades. The upgrade lasted for five hours but on March 14, 2022, where the administrators began posting messages that confirmed the company was a Ponzi scheme.
"You are a bunch of brainless races, see you on our next plan," an administrator of the page posted to the 10,914 investors."Bye, haha. I am living a luxurious life with your dollars. If you have invited friends, wait to be killed by your recommenders. Idiots. There will be a time to meet."
The company has since disappeared from the internet and its Telegram page, mobile application, and website are no longer accessible.
To learn more about Bitcoin, download the Bitcoin Beginner's Handbook for free.

Amber Group's May 2022 News Recap: Here's What's Been Happening!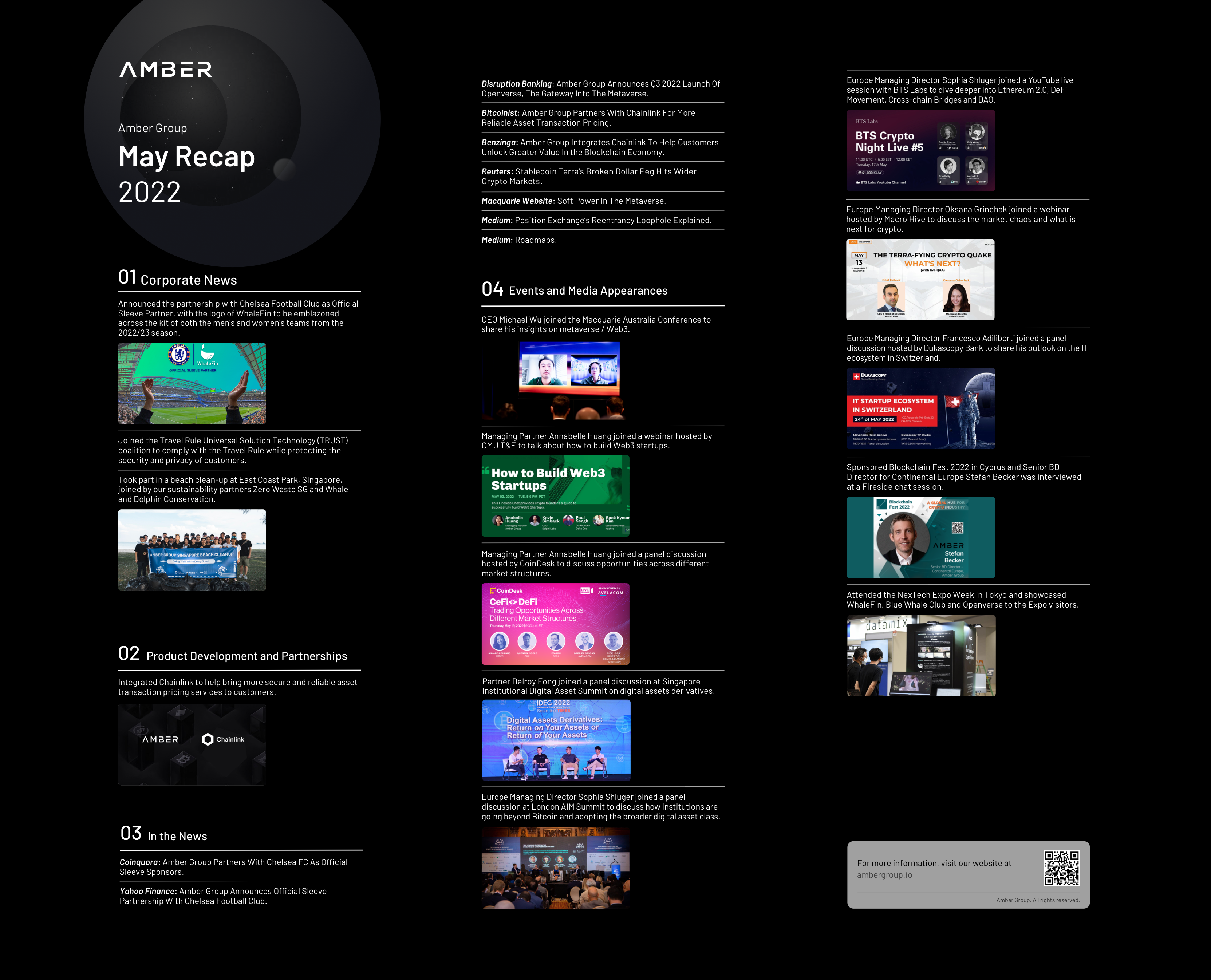 May was another busy month for Amber Group, with the announcement of new partnerships and developments. 
Announced the partnership with Chelsea Football Club as Official Sleeve Partner, with the logo of WhaleFin to be emblazoned across the kit of both the men's and women's teams from the 2022/23 season.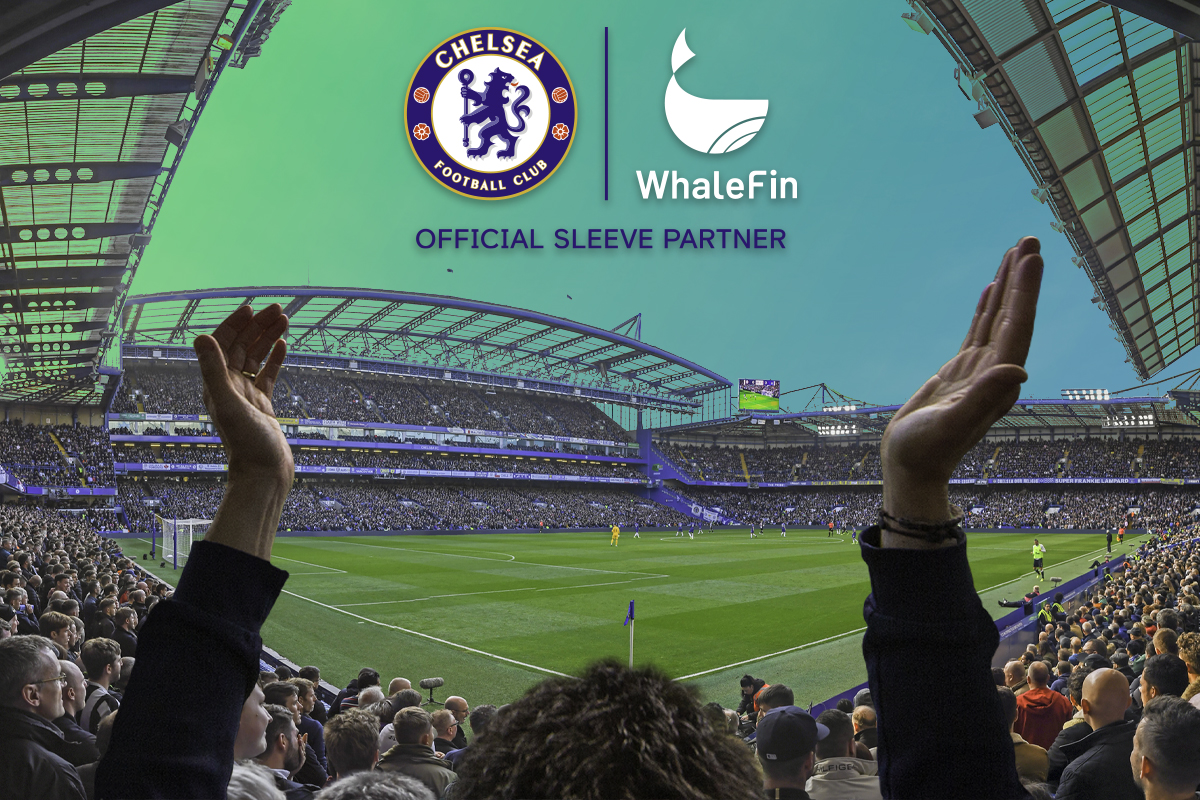 Joined the Travel Rule Universal Solution Technology (TRUST) coalition to comply with the Travel Rule while protecting the security and privacy of customers.
Took part in a beach clean-up at East Coast Park, Singapore, joined by our sustainability partners Zero Waste SG and Whale and Dolphin Conservation.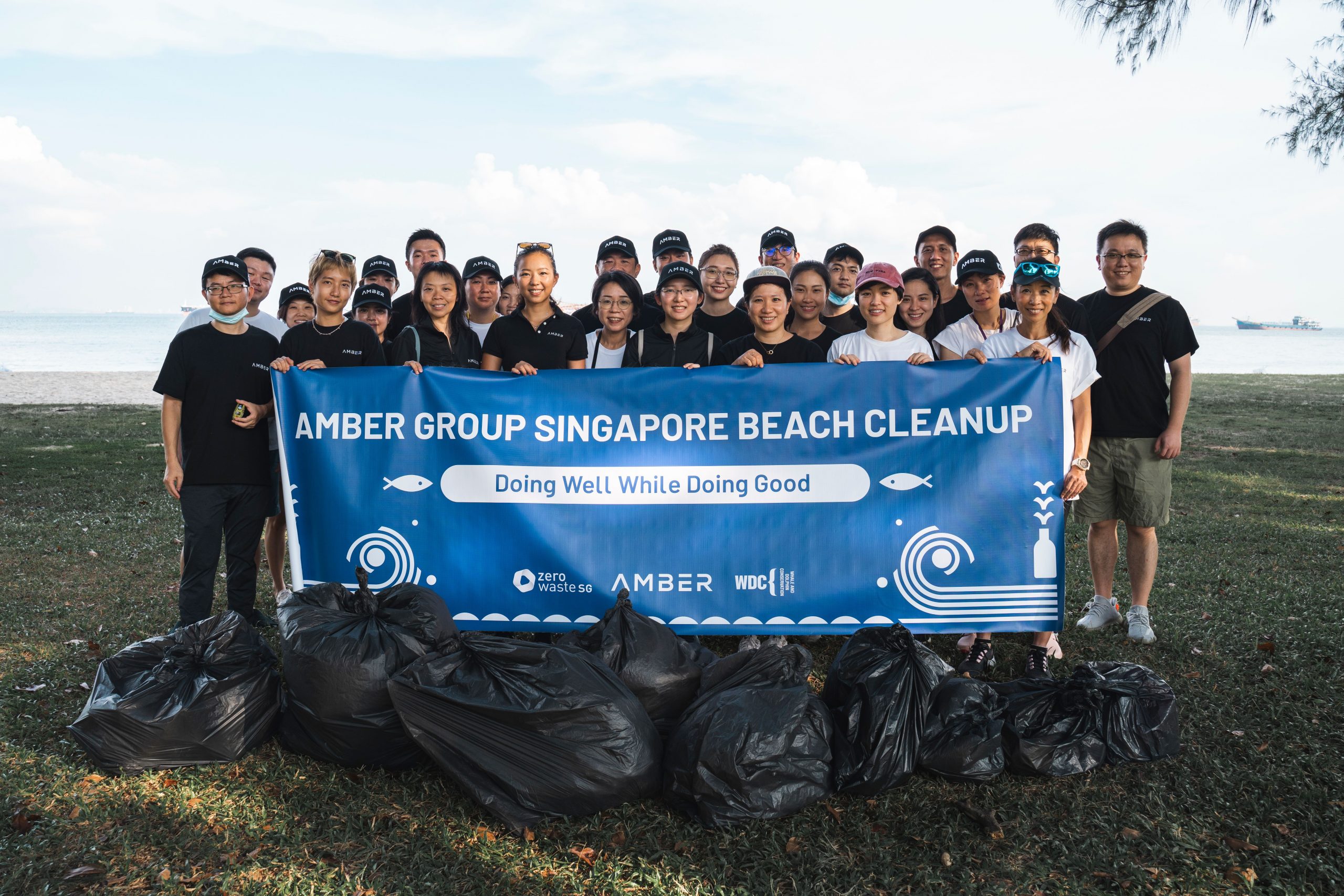 Product Development and Partnerships
Integrated Chainlink to help bring more secure and reliable asset transaction pricing services to customers.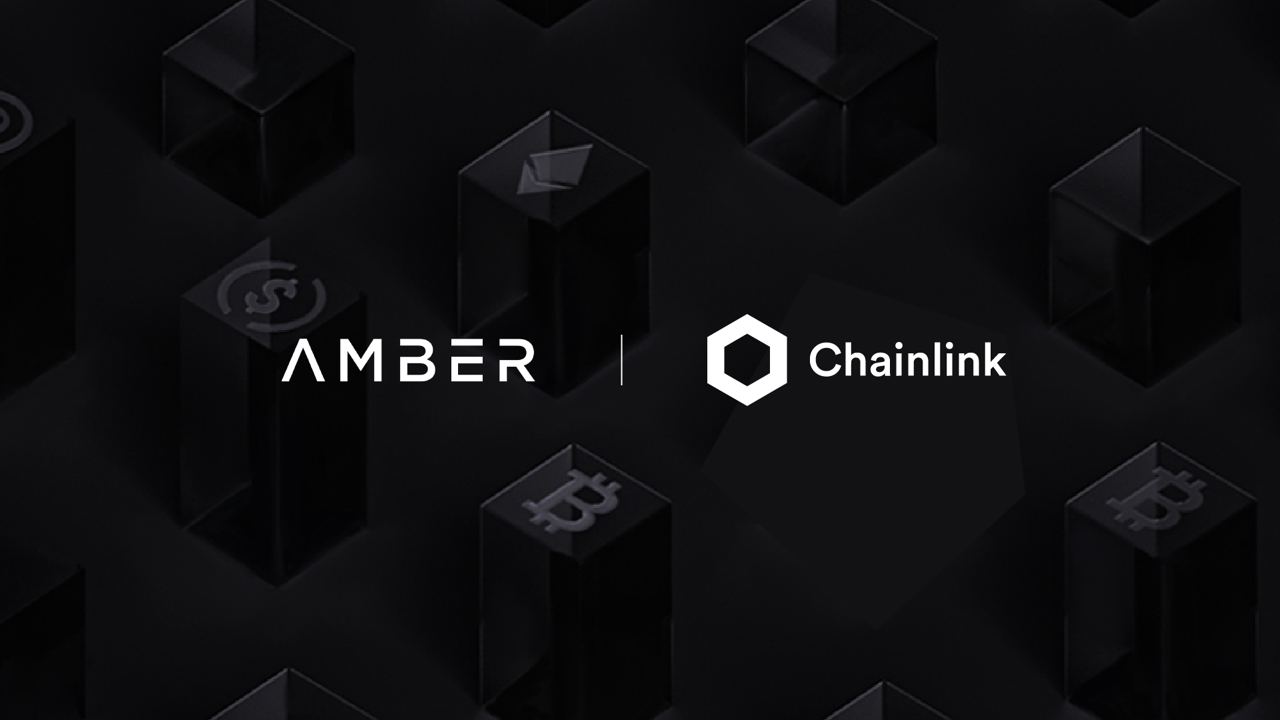 In the News
Coinquora: Amber Group Partners With Chelsea FC As Official Sleeve Sponsors.
Yahoo Finance: Amber Group Announces Official Sleeve Partnership With Chelsea Football Club.
Disruption Banking: Amber Group Announces Q3 2022 Launch Of Openverse, The Gateway Into The Metaverse.
Bitcoinist: Amber Group Partners With Chainlink For More Reliable Asset Transaction Pricing.
Benzinga: Amber Group Integrates Chainlink To Help Customers Unlock Greater Value In the Blockchain Economy. 
Reuters: Stablecoin Terra's Broken Dollar Peg Hits Wider Crypto Markets.
Macquarie Website: Soft Power In The Metaverse. 
Medium: Position Exchange's Reentrancy Loophole Explained.
Medium: Roadmaps.
Events and Media Appearances
CEO Michael Wu joined the Macquarie Australia Conference to share his insights on metaverse / Web3.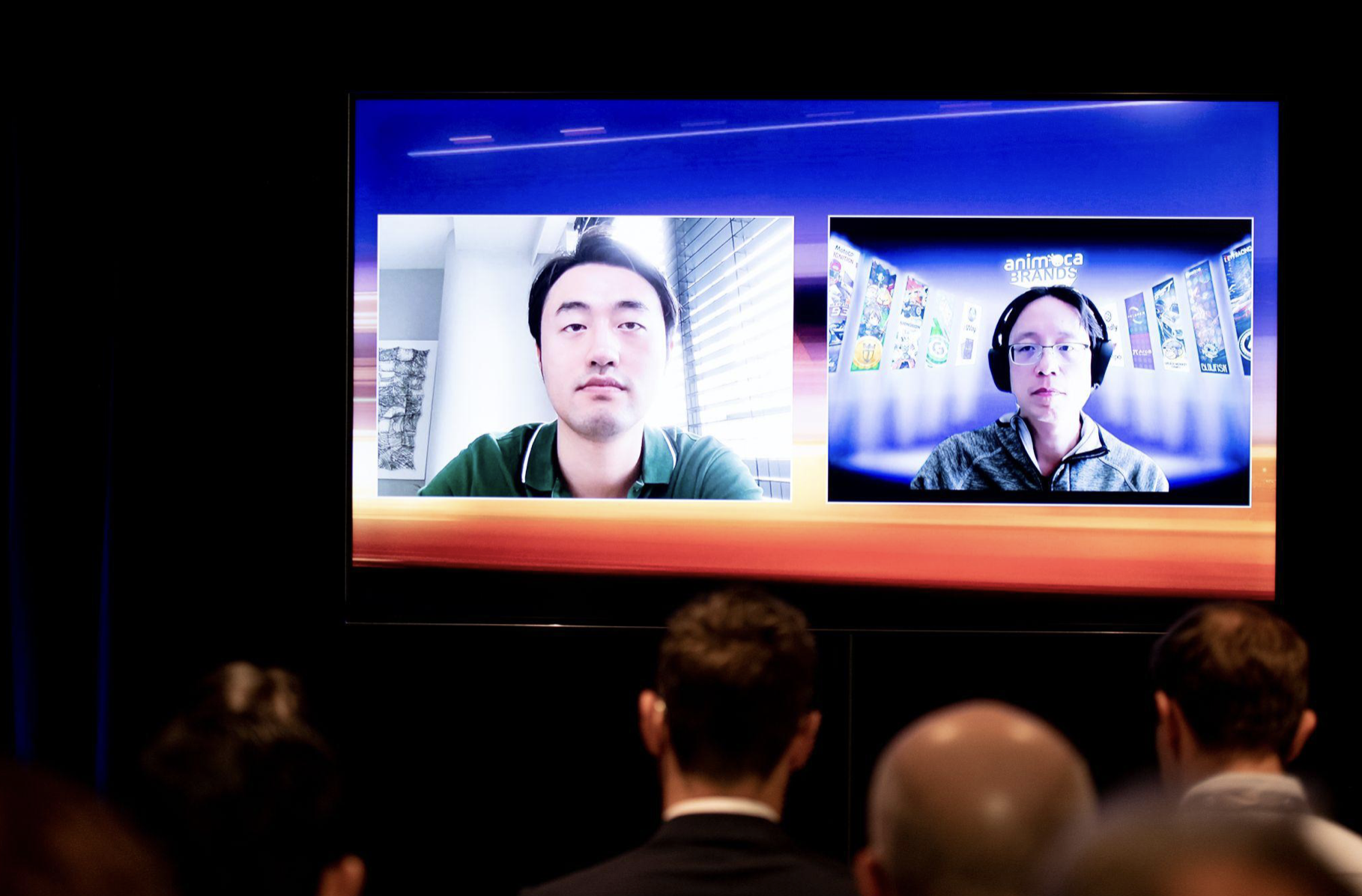 Managing Partner Annabelle Huang joined a webinar hosted by CMU T&E to talk about how to build Web3 startups.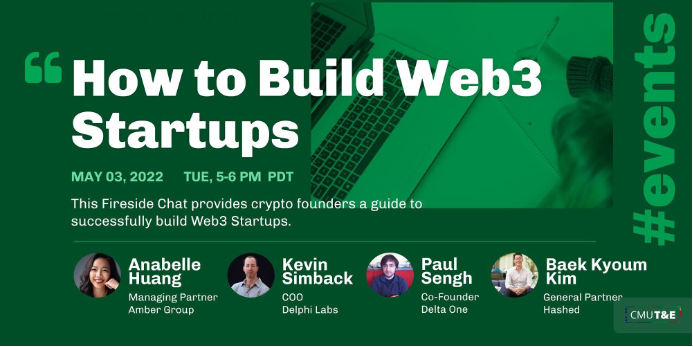 Managing Partner Annabelle Huang joined a panel discussion hosted by CoinDesk to discuss opportunities across different market structures.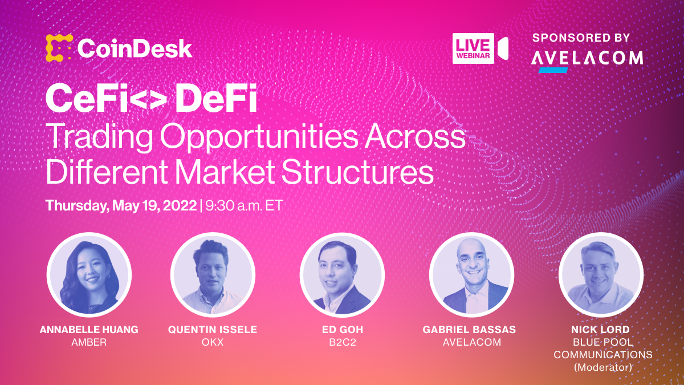 Partner Delroy Fong joined a panel discussion at Singapore Institutional Digital Asset Summit on digital assets derivatives.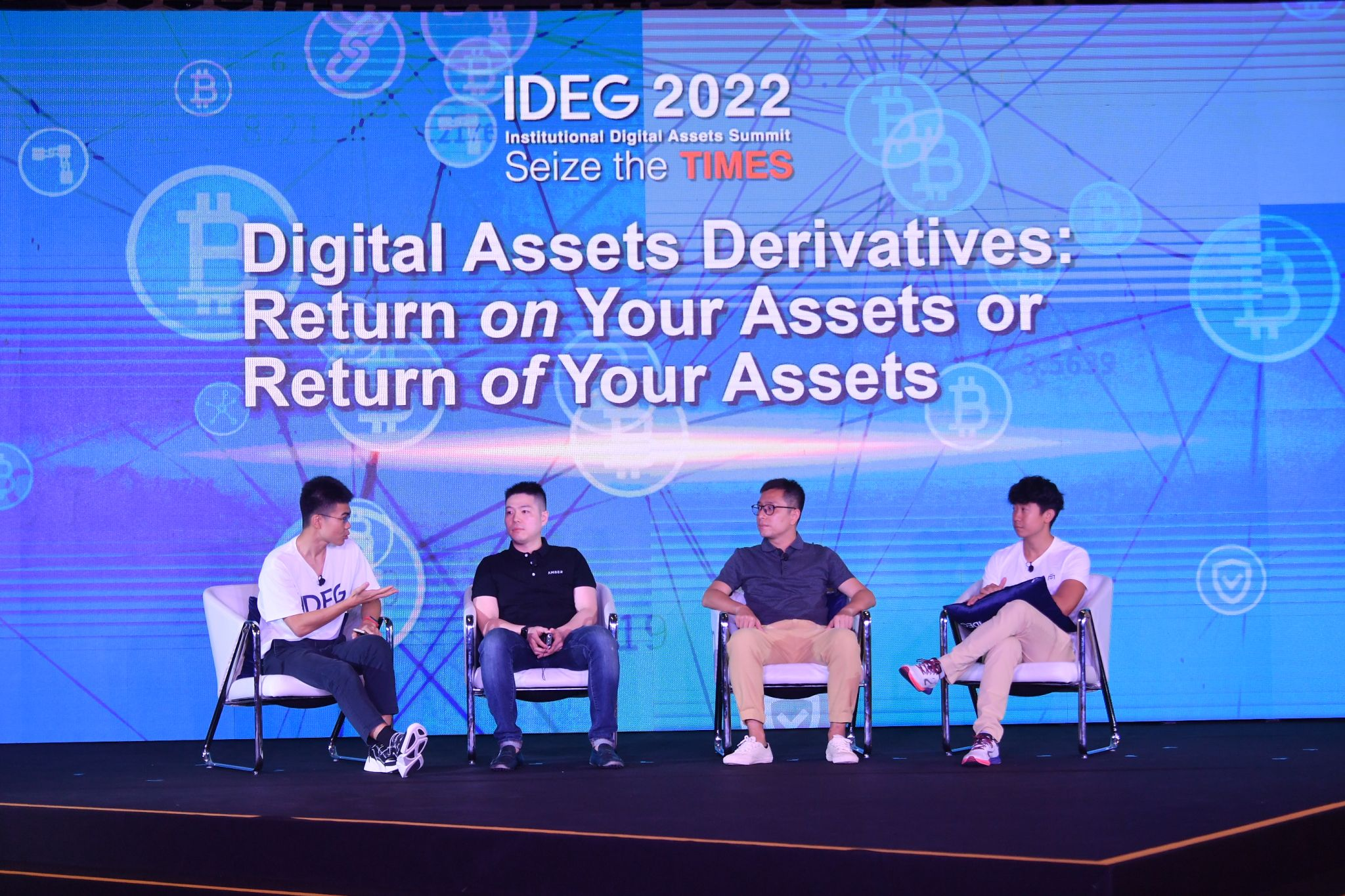 Europe Managing Director Sophia Shluger joined a panel discussion at London AIM Summit to discuss how institutions are going beyond Bitcoin and adopting the broader digital asset class.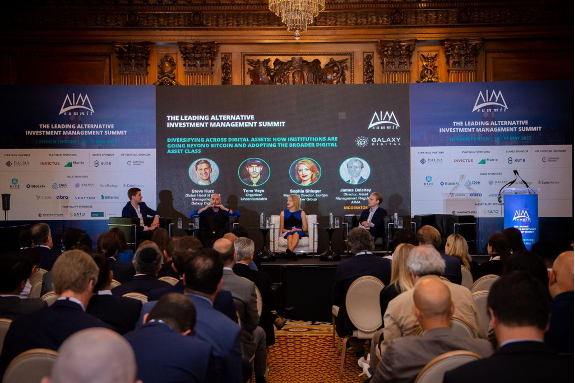 Europe Managing Director Sophia Shluger joined a YouTube live session with BTS Labs to dive deeper into Ethereum 2.0, DeFi Movement, Cross-chain Bridges, and DAO.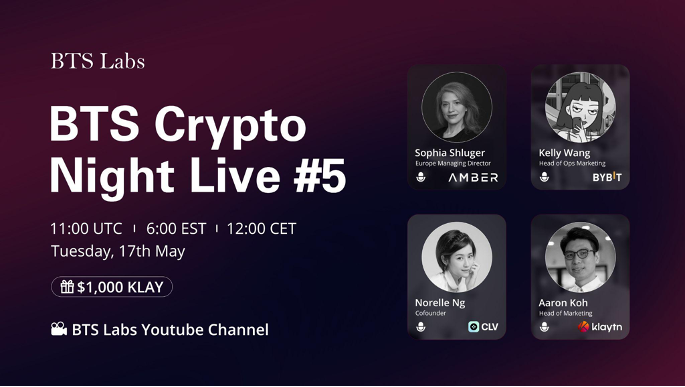 Europe Managing Director Oksana Grinchak joined a webinar hosted by Macro Hive to discuss the market chaos and what is next for crypto.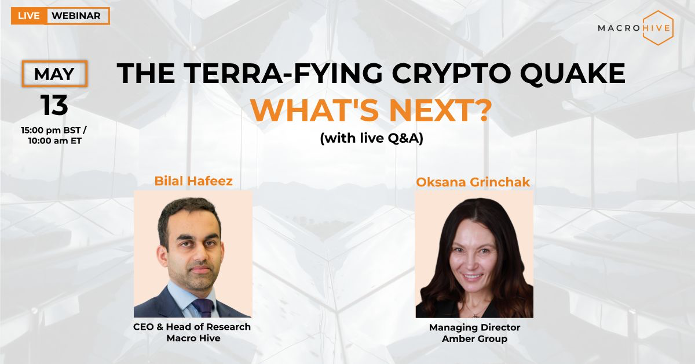 Europe Managing Director Francesco Adiliberti joined a panel discussion hosted by Dukascopy Bank to share his outlook on the IT ecosystem in Switzerland.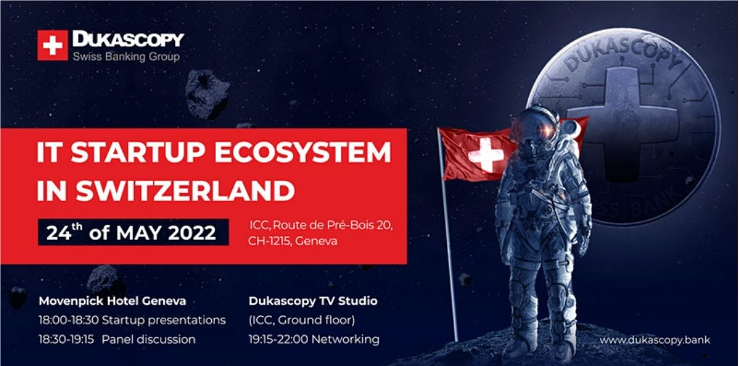 Sponsored Blockchain Fest 2022 in Cyprus and Senior BD Director for Continental Europe Stefan Becker was interviewed at a Fireside chat session.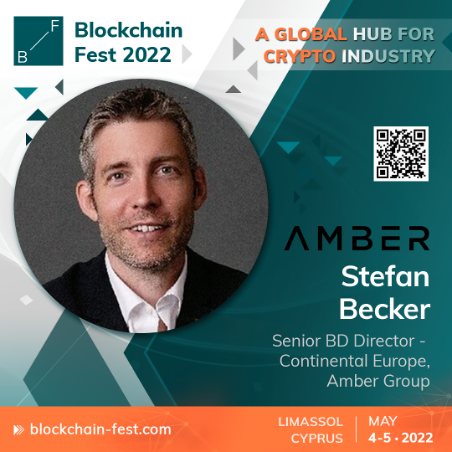 Attended the NexTech Expo Week in Tokyo and showcased WhaleFin, Blue Whale Club, and Openverse to the Expo visitors.