BMW and $100,000 Worth Prizes to Grab to Celebrate Listing of FESS on DigiFinex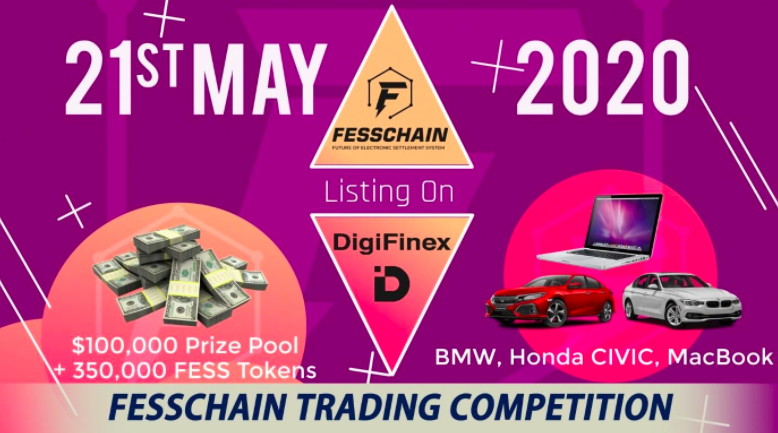 If you are a pro trader then FESS is coming with a Trade competition on 21st May which also marks its first Public listing. FESSChain is so excited to announce the 'Hottest Crypto Trade Fest of the Year 2020' on DigiFinex.
3 Lucky Winners will compete for a prize pool of S100,000 for fess trading contest starting from 21st May 2020. The winners can take home a classy BMW 3 Series Car, Honda Civic, and a 16" MacBook Pro. Additionally, another event starting on DigiFinex from June 2, 2020, has 350,000 tokens to offer via airdrop, trading, and staking activities.
A Grand Prize is always better than a prize and such competitions don't always come. So, it's a golden opportunity for crypto traders across the world.
You must be curious by now what to do in order to get these grand rewards from us! So, you need to be following these steps to be eligible to join the participant pool.
FESSChain IEO on DigiFinex
FESS Initial Exchange Offering (IEO) concluded on DigiFinex exchange on March 1, 2020. The IEO (or super sale) was a smashing success and hit the hard cap of $ 8.76 million in a matter of just 43 seconds. It received an overwhelming response from investors. The IEO didn't only reach the hard cap within a few eye blinks but also got oversubscribed by almost 2x margin.
Prizes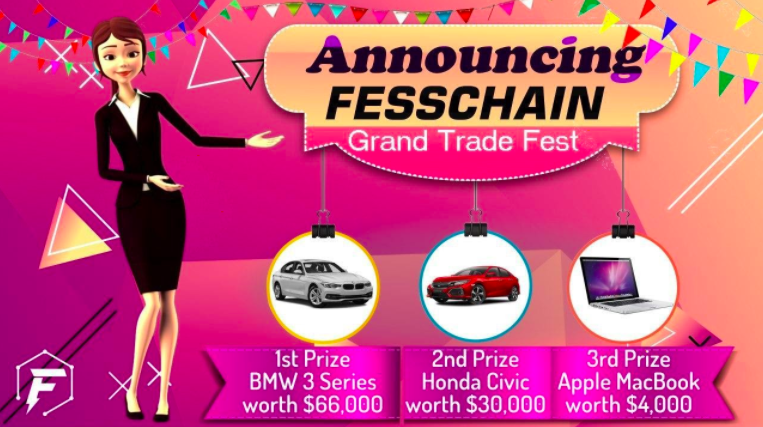 Terms and Conditions:
FESSChain is inviting crypto traders from across the world to participate in FESSChain grand Trading Fest. You need to be following these conditions to join the pool of claimants:
To become eligible for this contest all you need is to trade FESS on DigiFinex in the

FESS/USDT pair

during the contest period.

Users whose

Net purchase is of more than 1 million

will be eligible for this reward.




Here FESS net purchase = Buying volume – Selling volume

The competition will start from May 21, 2020, at 20:00 and will remain live until June 9, 2020 (GMT+8).

Based on participants' trading volume, they will be ranked on DigiFinex and the

three lucky winners will be announced at the end of the competition

.
To Know better about this Contest and Participate kindly Visit: DigiFinex dedicated Section
Now, this listing event calls for Additional rewards of 350,000 FESS tokens. This event will be divided in 2 stages whose details can be found here:
Stage One: Listing Airdrop of FESS
Rank Top 200 in net purchase competition
During the activity, users will be ranked according to
FESS net purchase (net purchase = buying volume-selling volume)

**Consolation prize for net purchase competition
During the activity, users whose net purchase of FESS ≥ 2,000 but who are not in the top 200 will receive 30 FESS tokens, with 15,000 FESS Tokens in total for this reward.
Trade FESS
During the activity, users who trade FESS with transaction volume ≥100 FESS will be rewarded 5 FESS, and a total of 10,000 FESS will be rewarded.
Promote FESS
During the activity, you can follow DigiFinex's official Twitter (t.co/digifinex) or Facebook account (fb.com/digifinex.global) and FESS's official Twitter (t.co/fesschain) and forward any FESS activity posts. Screenshot and register it in the form and you can share 15,000 FESS with other participants.
Stage Two: FESS Q&A Reward
Time: June 2, 2020 10:00 — June 9, 2020 20:00(GMT+8)
1.Airdrop in FESS communities
Gather your friends and join DigiFinex Telegram group during the event period in order to gain exclusive access to the passwords required to unlock the red packets!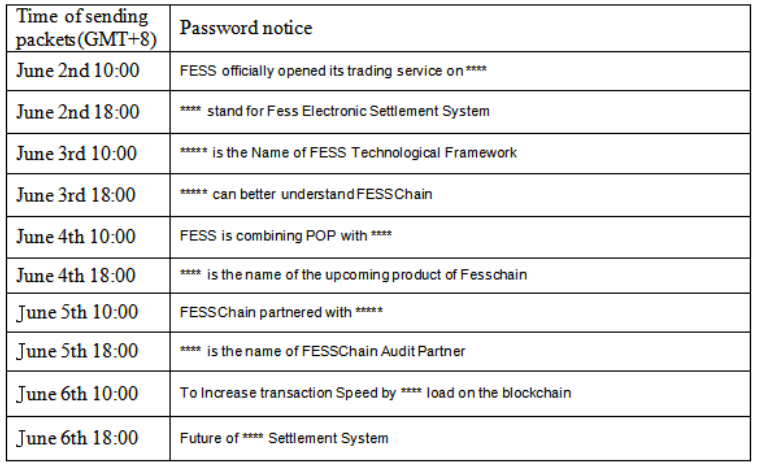 2. H5 page for FESS Q&A
Open H5 page for FESS Q&A to answer the questions. Users who correctly answer all questions can share reward of 60,000 FESS.
The Q&A H5 page will be published on June 1, please pay attention to the content of the announcement by DigiFinex.

Happy Trading!!
About FESSChain
FESSChain Is an AI operated and Proof of Proof based blockchain that uses Volume Oriented fragmentation version 1.0 to settle data into the blockchain. It is unique in many terms and one of them is its data processing and storage supported by Neutrino Framework. The framework makes sure that it processes data into the main chain it fragments the data into the smallest units possible in sub-chains. It only saves the relevant data into the main chain thus shrugging off the unnecessary load.
Disclaimer: The Prizes are indicative in price terms and may change depending on the manufacturer and market conditions. In such a case, the prize or the mentioned price (whichever is lower in absolute terms) will be given to the winners.
Disclaimer: This is a paid press release. Readers should do their own due diligence before taking any actions related to any company, product or service mentioned in this article. BitcoinAfrica.io is not responsible, directly or indirectly, for any loss or damage caused by or in connection with the use of or reliance on any content, product or service mentioned in this press release. 
First-Ever NFT Collection of Cats Launching on Polygon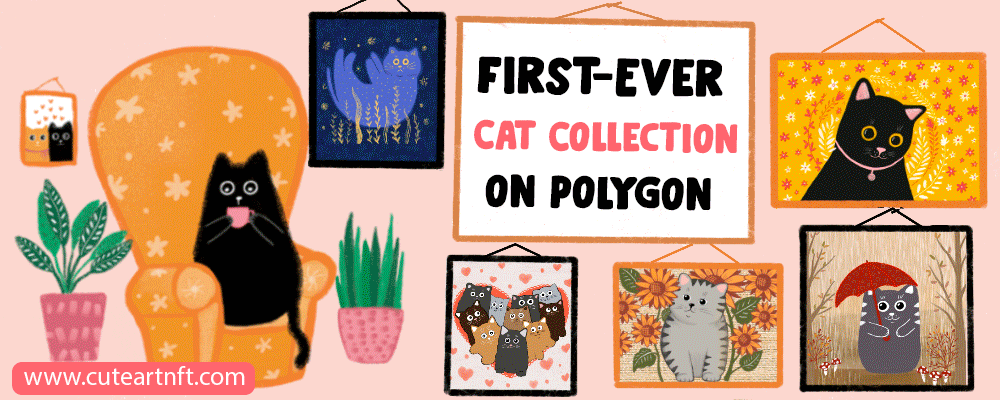 BUCHAREST, October 19, 2021 – Cute NFT Art, a project led by a young entrepreneur and a female artist, today announced the launching of her first NFT collection on Opensea, called "Cute NFT Cats". Cute NFT Cats consists of 100 unique NFTs, which serve as a pacesetter for other artists to emulate. The collection brings top-notch value to the NFT ecosystem and gives early access and community value to NFT holders. Irina has carved a niche for herself in the Non-fungible token (NFT) space. Website for more information about the launch: https://cuteartnft.com/ 
With this launching, Irina has set the pace for other NFT artists to follow and emulate. Her mission is to give back to the society that made her. Each NFT is laden with a wide range of perks and gifts. 
In a post on her Twitter, Irina said:
Why you want to follow me right now?
Be the first to know about my first #nft collection drop!
A thread for #nftcollectors… pic.twitter.com/N5pQdD42S4

— Irina (NFT Cat Artist) (@irina_cuteart) September 6, 2021
"Don't settle for ordinary 10k copycat collections with the same story: just a dozen body parts, and accessories mixed together by freaking Frankenstein designers. You can do better. This is a well-kept secret, but I will reveal it anyways: you are not obliged to ape in a new collection just because all influencers are doing so! 
I know, it's hard to digest, but it's true. Find artists that are choosing the hard way. They will sell unique drawings, paintings, photographers, or videos made with blood, sweat, and tears. Each piece of art is original like no other. I am new to nft culture, but I have a history as an Etsy seller. You can check my previous art, sales and read years of reviews to learn what real people are saying about me and my products."
Memorable Purchase For FIRST 100
The first 100 buyers will enjoy a lot of perks and physical gifts. Irina promises to ship orders with a wide range of customized Merch, including wall canvas, laptop sleeve, notebook, mug, sweatshirt/t-shirt, and in some cases a huge surprise. Buyers will also get one free airdrop. Early buyers are in an advantageous position, as the Ethereum value of the NFT collection will grow exponentially and as Irina plans to collaborate with other artists and industry leaders to deepen the adoption of NFTs. You can join her discord server here: https://discord.gg/Tm29RYkpDX 
Buyers will also enjoy an all-expenses-paid trip for a get-together in Romania. Plus, they will get priority access to future projects of the Cute NFT Art community. What's more? Buyers will get a 50% discount code at the Merch shop when purchasing any cat theme or gifts for their friends or family members. More so, Irina has a 100% money-back guarantee policy, where she buys back her NFTs if you find it difficult to re-sell. 
Furthermore, NFT holders will have access to a 100% NFT-focused community, where they can interact and communicate with like-minded people. NFT holders will also interact with Irina directly on Instagram and Facebook. All the money made during the initial sale will be reinvested back into other young artists' artwork to support illustrators, young painters, and photographers. 
About Irina
Irina is an entrepreneur and pet artist. She draws illustrations of dogs and cats to evoke emotions from her social media followers. For several years, Irina has printed her drawings on canvases and t-shirts and sold them to her followers online. With vast years of experience in online selling, she is now venturing into the NFT space to launch her first NFT collection. 
The NFT collection has no rarity score, all are 100% legendary. There's no artificial intelligence involvement, no copies, just old drawings on her iPad. She plans to launch the collection on October 31st, 2021, at 15.00 UTC. According to Irina, her early discord members will enjoy lots of perks and priority access.
About Cute NFT Cats
Cute NFT Cats is Irina's first-ever NFT collection. The collection consists of 100 unique NFTs. Each NFT is a unique cat that Irina personally drew. The collection would be available on Opensea.io for purchase. Cute NFT Cats collection doesn't have any rarity traits or combine body parts. Irina doesn't use complicated software to create her NFTs. 
The NFTs are minted on Polygon, an Ethereum Layer 2 scaling solution for zero gas fees on transactions. To purchase the NFTs on Opensea, you would need to configure Polygon on Metamask and also link your ETH to Polygon. It's not a complicated process. 
Website: https://cuteartnft.com/ 
Twitter: https://twitter.com/irina_cuteart 
Contact Person: Irina Cuteart
Company Name: Cute NFT Art
Email: cute.pet.art@gmail.com
Source: https://www.cuteartnft.com/post/first-ever-nft-collection-of-cats-launching-on-polygon 
Location: Bucharest, Romania
Discord: https://discord.gg/Tm29RYkpDX
Disclaimer: This is a press release. Readers should do their own due diligence before taking any actions related to any company, product, or service mentioned in this article. BitcoinAfrica.io is not responsible, directly or indirectly, for any loss or damage caused by or in connection with the use of or reliance on any content, product, or service mentioned in this post. 
This Blockchain Startup Wants to Help Users to Accelerate Wealth Creation Using Their Unique Offerings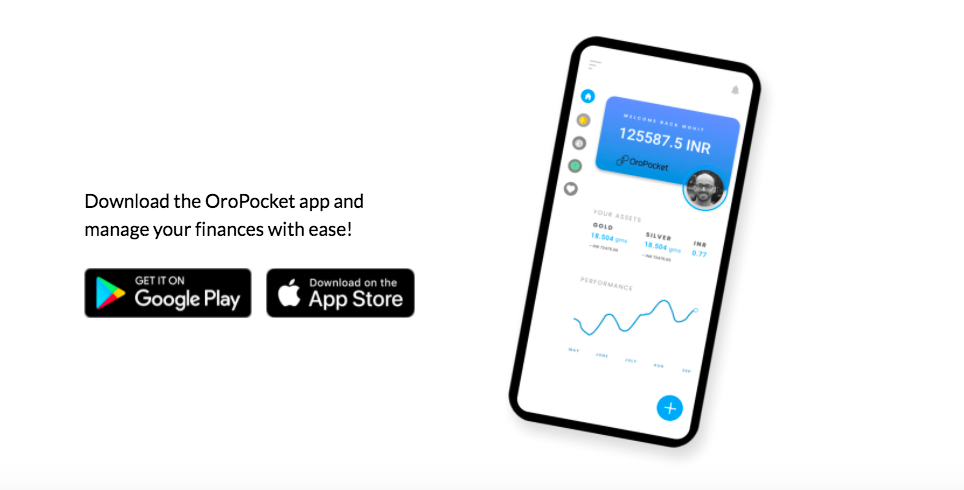 Blockchain Startup OroPocket is working towards enabling users to create wealth by bridging the gap between physical assets and DeFi.
OroPocket's conception goes back to the Reserve Bank of India's prohibition of facilitation of cryptocurrency transactions in Indian banks nearly immediately in 2018. This essentially signaled the beginning of the bearish 'crypto winter,' in which blockchain and crypto companies struggled to go ahead.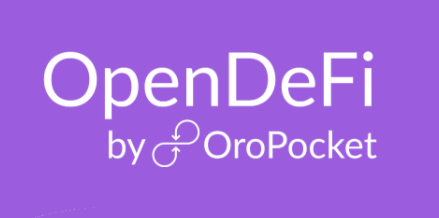 Co-Founded by Tarusha Mittal with Mohit Madan after the realisation to develop financial software that logged transactions on blockchain. This was the impetus behind Delhi-based Oropocket, a company that enables users to diversify their portfolios beyond conventional assets by investing in digital commodities such as digital gold and silver. Furthermore, it offers financial services to users on top of these investments, assisting with the liquidation of the assets.
As the world is starting to open up towards investing in digital assets, OroPocket is working towards meeting the increased demand from users wanting to explore new wealth creation opportunities.
OroPocket is a fast, simple-to-use online platform that enables access to digital assets on the go. Customers may invest in digital gold or silver, where they own the assets but do not have physical possession of them. The 45-person company keeps gold and silver reserves, which are distributed to users when they buy them online. Ethereum, Tezos, and Polygon blockchains all record ownership and future transactions. Users may spend, purchase, or execute UPI transactions that are backed by these assets. As a result, there is a guarantee that digital gold and silver are extremely liquid.
OroPocket received a $2 million investment in early 2021 from AU21 Capital, LD Capital, Rarestone Capital, Morningstar Ventures, NGC Capital, Alphabit, Moonwhale Ventures, Acheron Capital, Zokyo Ventures, and others.
According to Tarusha, they, like other blockchains, record transactions in secure, public ledgers, giving consumers peace of mind regarding the security of their assets. "When these transactions are recorded on blockchain, everyone can see them, resulting in greater transparency and security. With the introduction of Layer 2 scaling solutions like Polygon and Ethereum 2.0, the procedure becomes even easier owing to low gas costs (transaction fees)," she says.
OroPocket promises that its asset-backed banking services on blockchain (which are decentralised) are free of hidden fees and time-consuming procedures associated with conventional banks (which are centralised entities). The company earns money by collecting a 0.25 percent transaction charge on these transactions.
It also earns money from two other products, OpenDefi and UniFarm, which are part of the broader OroPocket family. "OpenDefi is a decentralised finance (DeFi) solution that combines real and synthetic assets (tokenised derivatives). The backend in this case operates on P2P (peer-to-peer) networks. We charge transaction fees to consumers as well as integration fees to developers that build on top of our protocol," Tarusha says.
UniFarm enables users to bet their cryptocurrency holdings and earn up to a 250 percent yearly percentage return (APY). It is a farming approach in which blockchain projects collaborate to form a reward pool. Users may stake any token and get numerous tokens in exchange. Staking crypto is a procedure in which crypto assets are committed to maintain blockchain networks and validate transactions. The company does not charge users in the UniFarm concept, but rather the projects and blockchain networks that are connected.
Recently OroPocket has launched Auto-Invest Plan (AIP) with tokenised gold & silver, where users can start small by investing as little as ₹100 per day and have full access to their money. They can withdraw via UPI anytime, anywhere without incurring any fees. With one tap deposit, users can deposit INR in their wallet using OroPocket's payment gateway. Money will be automatically invested every month (or the set frequency). It is a cakewalk to redeem your assets at maturity, you just have to sell your assets and redeem them from your wallet directly to your bank account at the time of maturity.
​​While there are many alternative DeFi solutions and crypto-backed yield farming protocols available worldwide, OroPocket says that it has no overall rivals with its product line. It is presently working on obtaining an NBFC license in order to offer lending services to customers as it seeks to create a comprehensive financial ecosystem for the crypto and DeFi sector.
OroPocket gold and silver tokens are the latest entry in the asset-backed crypto tokens space. Users can also withdraw their holdings to any ERC20 compatible Ethereum wallet. Since the assets are tokenised, they can be instantly transferred to any user across the globe even if that user is not on OroPocket, or even if that user does not have a bank account. Exchange your existing crypto with $ORO here. 
Disclaimer: This is a press release. Readers should do their own due diligence before taking any actions related to any company, product, or service mentioned in this article. BitcoinAfrica.io is not responsible, directly or indirectly, for any loss or damage caused by or in connection with the use of or reliance on any content, product, or service mentioned in this post. 
South African Users Can Now Mine RENEC Token for Free on Remitano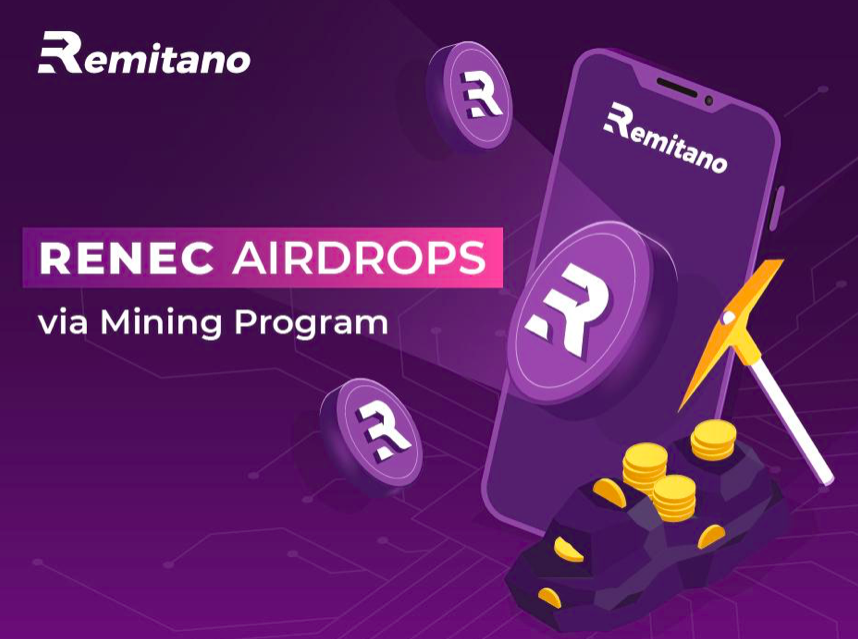 Global peer-to-peer crypto exchange Remitano is currently developing its native token, RENEC, to improve the quality of services delivered to customers, reduce transaction fees and ensure secure and swift transactions. While Remitano Network is still in the development phase, Remitano has provided an amazing opportunity for old and new Remitano users in South Africa to earn FREE RENEC via a mining program.
What is RENEC?
RENEC is an abbreviation of Remitano Network Coin. It is the token of the Remitano network, a blockchain designed to facilitate quick transactions at a reduced fee, a fast decentralized exchange with efficient escrow in place. The launch of the RENEC token was announced on June 30th, 2021.
What makes RENEC different?
Remitano Network is not a single blockchain, rather it is a set of blockchains. The initial network will be a simple value transfer one, similar to Bitcoin, Litecoin but with faster block time and more efficient consensus protocol. At this stage, RENEC will be called Remitano Electronic Cash.
RENEC will also be the base currency for the Token Decentralized Exchange and the decentralized fiat-token escrow that will be built on the Remitano Network. With RENEC, crypto swap and P2P trading fees will become cheaper.
Remitano commits to deliver the first 3 products for the Remitano Network as follows:
1. Low fee decentralized P2P electronic cash with Multisig capability
2. Low fee decentralized tokens exchange
3. Low fee decentralized escrow service
After that, remitano.com will work closely with the community in order to build other blockchain products.
The Remitano Network is designed to be scalable, therefore, new products will be built on it, consequently increasing the value of RENEC.
Check out the Official RENEC whitepaper to learn more about this token.
How to own RENEC?
Because Remitano holds its investors and traders in high esteem while also reducing risk, Remitano will not hold any ICO for RENEC. It is different from other ICO's where investors will have to pay ETH or BTC to secure a specific amount of the coin. Instead, RENEC will be given out freely to both new and old Remitano users in South Africa and other countries through mining.
For now, Remitano only allows mining through the Remitano mobile application. So you need to Install Remitano App and begin mining RENEC at the tap of a button.
4 easy steps to mine RENEC
1. Download the Remitano app on PlayStore and AppStore.
2. Register or log in to the app
3. From the list of menu that is displayed, click on "Mining RENEC". This should take you to the mining page.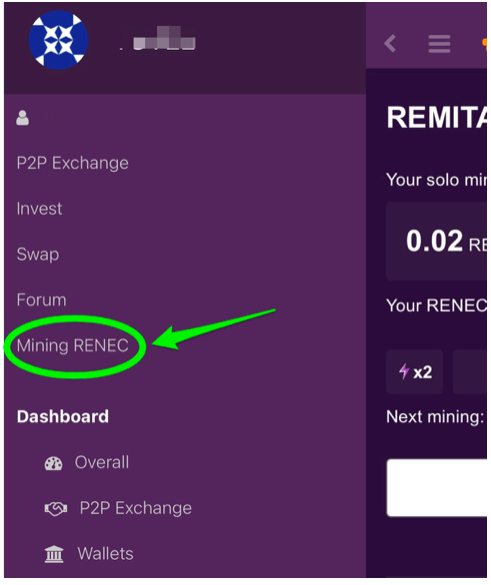 4. Click on the "Mine RENEC" button to start mining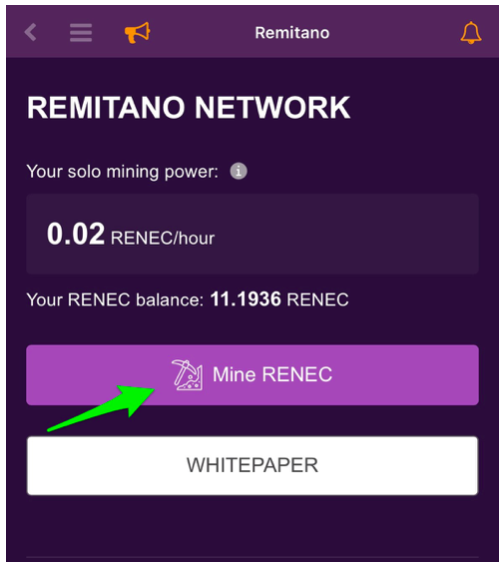 Eventually, it will show the progress of your mining RENEC like this image: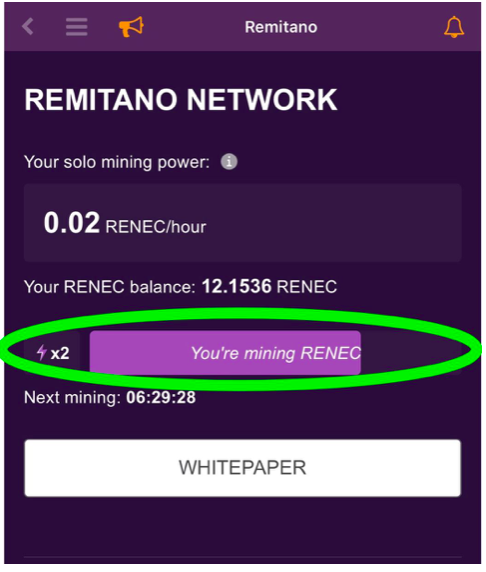 Users must have registered an account with Remitano and verified their phone number to be eligible to mine RENEC. Mining RENEC is not automated so once you already have the app you have to log in to your account every day to mine RENEC.
A user can mine up to 0.02 RENEC per hour depending on the level of verification. Complete up to level 2 of verification to increase your mining power. You can also boost your RENEC rewards through Remitano referral. When your referrals mine successfully, you earn 20% of their mined RENEC.
Check out the definitive guide of the RENEC token.
Remitano will continue to build products on the RENEC network. This will give RENEC a lot of utility and usage. Also, the fact that Remitano is a very popular escrowed P2P cryptocurrency exchange in multiple countries across the world, with time, the value of RENEC is likely to increase which is why you should try and get the token now that it is free.
About Remitano
Remitano is one of the largest peer-to-peer (p2p) cryptocurrency trading platforms in the world, currently serving users in more than 30 countries. The platform provides an escrowed p2p crypto marketplace allowing users to buy bitcoin in South Africa and cryptocurrency easily and safely. Remitano is a market leader in the p2p platform space, featuring an intuitive and user-friendly interface, 24/7 customer support, and boasts some of the lowest fees in the industry.
Got Questions?
Reach out to Remitano via:
E-mail: marketing@remitano.com 
Socials: Facebook, Twitter, Instagram
Disclaimer: This is a press release. Readers should do their own due diligence before taking any actions related to any company, product, or service mentioned in this article. BitcoinAfrica.io is not responsible, directly or indirectly, for any loss or damage caused by or in connection with the use of or reliance on any content, product, or service mentioned in this post.