Bitzlato Announces $1000 Giveaway And a Unique Offer for African Peer-to-Peer Traders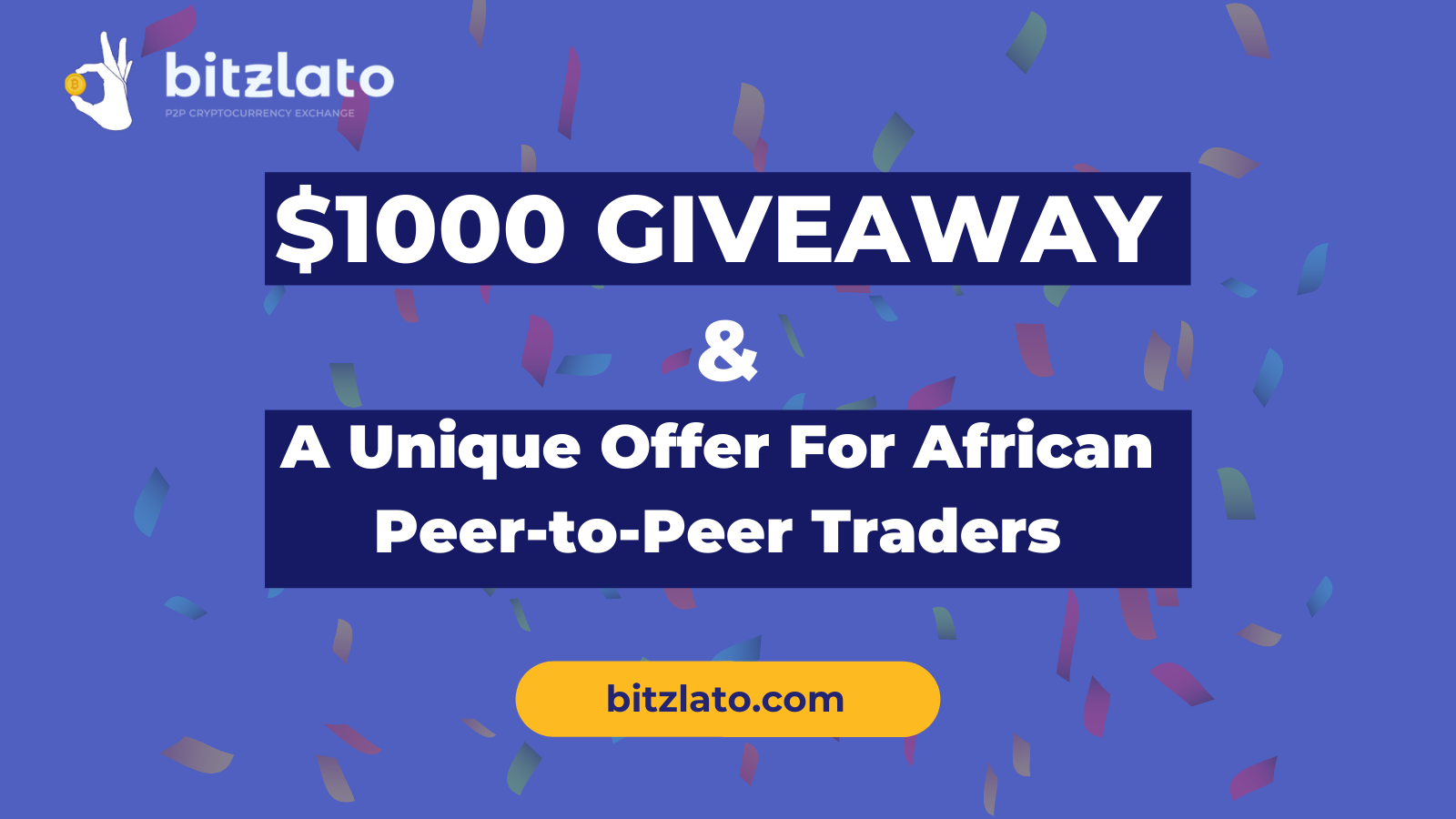 As Bitzlato is looking to expand and extend their P2P services across Africa, they have recently announced the launch of two programmes that will benefit peer-to-peer traders and merchants. Do you have what it takes?

$1000 Giveaway From Bitzlato
The new Bitzlato $1000 Giveaway is here with us, yes you heard that right. 10 African p2p traders will win $100 for participating in the challenge and completing a few steps.

Here is a quick breakdown of what you are up for:
10 Random Winners who complete the steps as stated will win $100 each.

Traders have to make a repost of the challenge, tagging respective #Bitzlato

on

Twitter

,

Facebook,

or

Instagram

for each trade they complete (if you make a post on Twitter you should tag Bitzlato's Twitter account if you do it on Instagram – then tag Bitzlato on Instagram and so on). It is not only about the repost. To support your repost with a trade for any amount. But don't worry, you don't need to make the trade instantly; you need to make them between the 14th of June and the 1st of July 2021. 
If you make 10 reposts – you need to make at least 10 trades during the whole giveaway period. If you make 10 reposts but make only 5 trades, then only 5 of your reposts will qualify. If you make 10 reposts and 15 trades, then 10 of your reposts and trades will qualify.
Traders can do an unlimited amount of reposts but not over 1 per social network (Facebook, Twitter, Instagram) per day (so you can make up to 3 reposts if you have accounts in all these social networks to increase your chances)

Tagging Bitzlato on Facebook, Instagram and Twitter is necessary. 

The more trades and reposts you complete, the higher your chances of winning.

One trader cannot get more than a $100 reward.



On the 1st of July 2021, Bitzlato will randomly select 10 different winners who achieved the highest results.

A Unique Offer For African Peer-to-Peer Traders

Bitzlato is looking for potential p2p traders, individuals, or groups that can list their offers to either buy or sell crypto through local African payment methods and currencies. It is now more clear that Bitzlato is in Africa to stay as it builds and provides better services for peer-to-peer traders in Africa.

Here is a more detailed list of benefits interested peer-to-peer traders are up for:

Zero escrow fee trading: Bitzlato recently announced that it has dropped all escrow fees for African-based countries. Trading without escrow fees means that users can buy, sell and create ad offers on BZ and no trading fee will be charged.
Free withdrawal vouchers: Yes you heard that right, traders will get free withdrawal vouchers. This means that you will withdraw crypto to external addresses for free.
Traders rewards: Every professional active trader with high volumes can receive unique monetary rewards for their achievements.

Other important conditions are:

A trader should have a minimum monthly turnover of $4000. This means that for you to qualify for the special offers and rewards, trade at least $4000 on the platform. 

A trader should open buying or selling offers for African local currencies. Including KES, NGN, and other supported African regions  
Do you have what it takes? Sign up on Bitzlato web or the Telegram bot and put up your offer.

To know more about Bitzlato's unique offer, please contact Juliana, Bitzlato Africa Growth Lead via mail here: juliana.mwangi@bitzlato.com

To learn more about Bitzlato, here is a quick video tutorial. 
Join Bitzlato on Telegram, follow them on Twitter,  Facebook and Instagram to learn more about BZ and get the latest updates.
Disclaimer: This is a sponsored post. Readers should do their own due diligence before taking any actions related to any company, product, or service mentioned in this article. BitcoinAfrica.io is not responsible, directly or indirectly, for any loss or damage caused by or in connection with the use of or reliance on any content, product, or service mentioned in this post. 
5 Reasons to Trade Crypto on PrimeXBT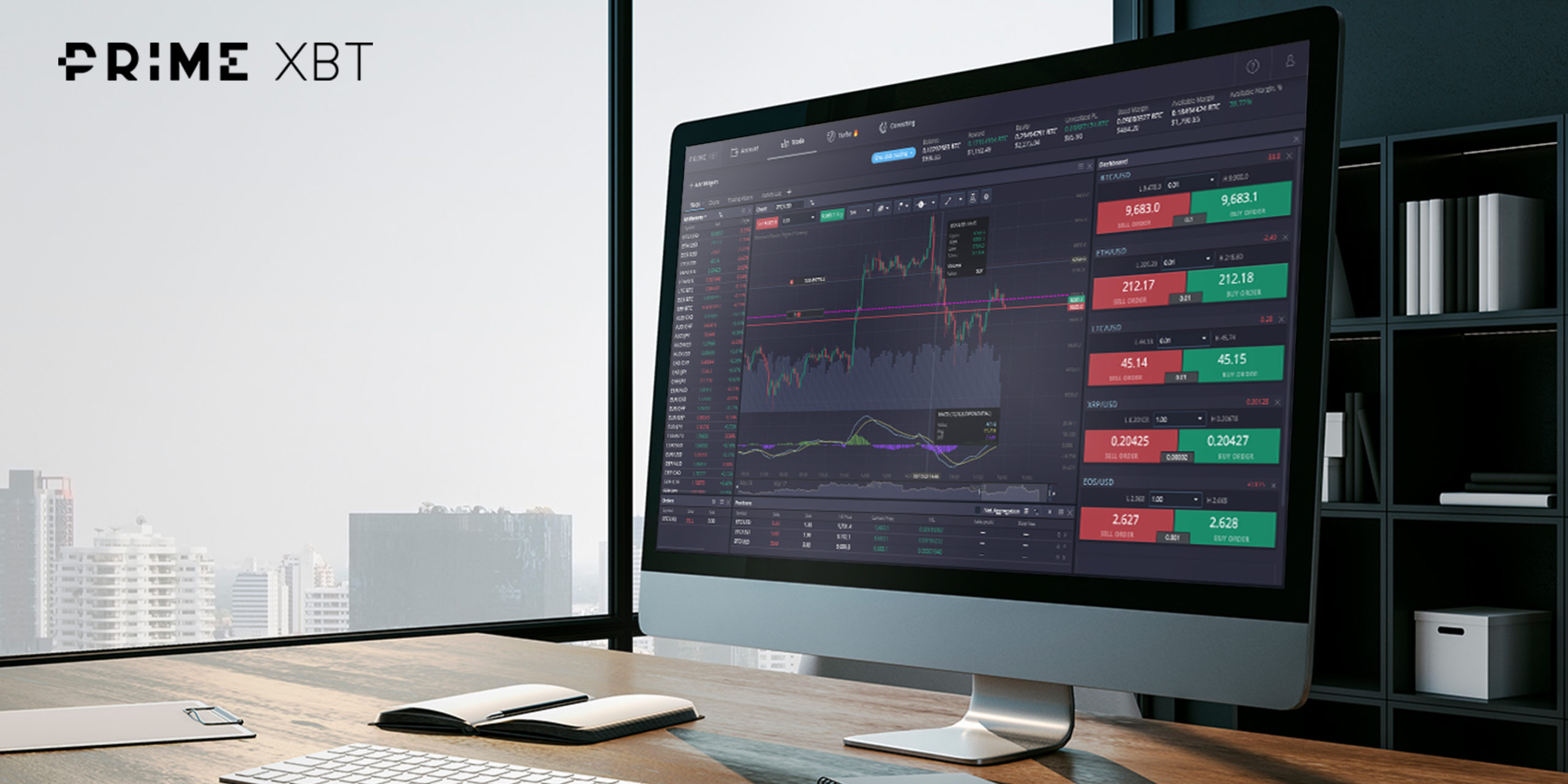 If you are a crypto owner, you know how important it is to choose a high-quality cryptocurrency exchange that offers a wide range of trading options.
In this guide, we take a look at five reasons why you should check out PrimeXBT.
What is PrimeXBT?
PrimeXBT is an all-in-one trading platform that allows users to trade cryptocurrencies such as Bitcoin (BTC), Ethereum (ETH) Ripple (XRP), commodities, foreign currencies, and major stock indices like NASDAQ and S&P 500.
PrimeXBT is different from other trading platforms in that it doesn't operate as a peer-to-peer (P2P) platform. Instead, it operates as a Straight-Through Processing (STP) platform. This means orders are sent to liquidity providers instead of using the market-making algorithm thus offering more liquidity and preventing slippage.
Now that we know what PrimeXBT is, why exactly should you trade on PrimeXBT?
Below, we take a look at five reasons why you should trade your cryptocurrency on the PrimeXBT platform.
1. Easy-to-Use Platform
The PrimeXBT platform is very easy to use. Its design makes it ideal for both beginners and veterans alike.
To start with, the platform doesn't have a wallet that is separate from the main exchange. Instead, it has five different wallets that are linked within the exchange. Each wallet belongs to each specific digital currency. Users can make direct deposits from their personal crypto wallets to their PrimeXBT account or use third-party services like Paxful to purchase cryptocurrencies.
PrimeXBT allows you to easily make deposits and withdrawals, as well as create and track your multi-currency wallets while accessing other important features. Its support team is also available 24l7 and in the event of downtime or outage, PrimeXBT also compensates its users.
2. Copy Trading
Trading can be quite tricky especially for beginners. However, with PrimeXBT's covesting feature, users are able to see and copy how experienced and successful traders are trading on the PrimeXBT website.
The copy trading feature is an exceptional way for those without the trading know-how to make passive trading income. Besides, experienced traders are also able to publicly create their own trading strategies and portfolio for others to heed. It's important to note that to be a covesting leader, the minimum amount of personal funds needed is dependent on the currency.
3. Trade with Leverage
Another exciting reason to trade crypto with PrimeXBT is the ability to trade with leverage with up to 100 times the amount you invest. Leverage trading is also known as margin trading.
On PrimeBXT, users are able to trade using borrowed funds from the platform, thus increasing their market exposure and profit potential. Although leverage trading can be very rewarding, it's also risky and is best left for experienced traders. Trading newbies who want to try margin trading can do so on PrimeXBT's demo platform using fake funds to learn the tricks.
4.
Wide Range of Tradable Assets
Nothing excites crypto traders than having a wide range of tradable assets. PrimeXBT provides users with access to more than 50 assets such as forex, cryptocurrencies such as Bitcoin and Ethereum, commodities such as metals and gas, and stock indices. Users are also able to deposit various cryptocurrencies on the platform such as USDC, USDT, ETH, etc. 
Additionally, the platform has a simple fee structure and offers very low fees compared to other trading platforms.
5. Yield Accounts
PrimeXBT enables users to have yield accounts and yield farm using different digital currencies. With a yield account, users are able to provide liquidity and earn from it while also still allowing for the platform's continuity. With PrimeXBT, users are able to earn up to 10% annual percentage yield (APY) on their crypto.
Furthermore, PrimeXBT's yield accounts make getting started on decentralized finance (DeFi) easy as users don't need any technical knowledge.  
If you are keen on growing your cryptocurrency trading portfolio then PrimeXBT is a must-try trading platform for you. 
Disclaimer: This is a sponsored post written by a third party. Readers should do their own due diligence before taking any actions related to any company, product, or service mentioned in this article. BitcoinAfrica.io is not responsible, directly or indirectly, for any loss or damage caused by or in connection with the use of or reliance on any content, product, or service mentioned in this post. 
Enter the World of Crypto-Based CFD Trading With Fondex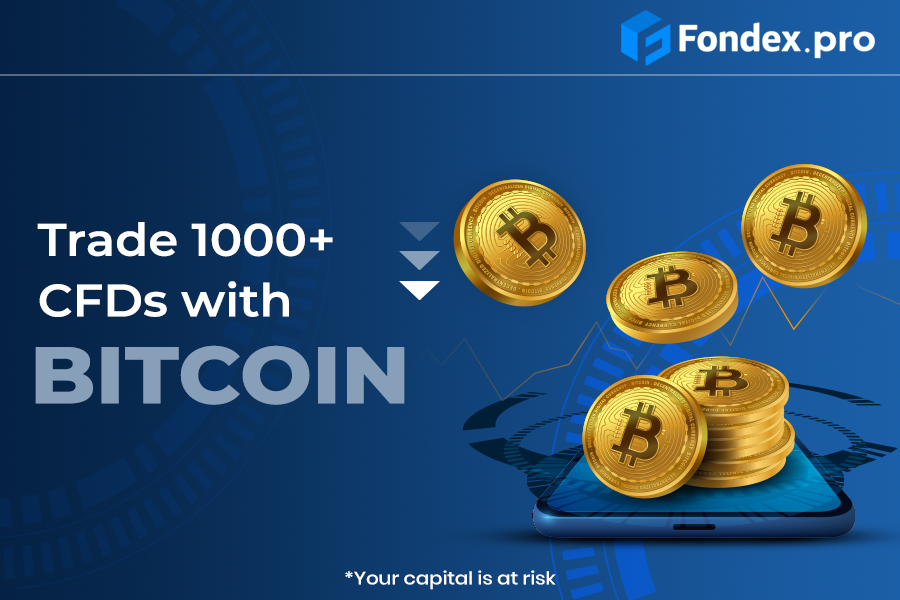 The crypto sector made its way from being an enthusiast-backed way of payment to becoming an industry with $2 trillion in market capitalisation. However, getting on board the crypto bandwagon is still cumbersome, while the volatility can sometimes inflict massive losses to crypto holders.
Fondex.pro is the perfect platform for entering the trading world while getting the most of the marvelous world of the crypto sector and managing a portfolio of assets easily, and securely. You can gain access to over 1000 assets, all in one trading application. The trading platform offers crypto enthusiasts the chance to use their favorite crypto assets, as well as six more asset classes and deposit directly with Fondex, eliminating intermediaries like banks and crypto-to-fiat conversions, which democratises crypto transactions in the CFD world.
Transforming the way investors and traders interact with CFD platforms, however, is no easy task. Fondex.pro's seamless deposit process directly in cryptocurrency eliminates the hassle of converting funds into the account's fiat currency (i.e. EUR, USD, CHF, etc.), boosting convenience and transparency.
By utilising the award-winning cTrader platform, Fondex also expands the possibilities for CFD traders without compromising transparency or feature availability. Fondex strives to provide a fast, future-thinking, modern, technology-oriented and reliable crypto CFD trading brokerage tool, which makes the process of depositing and withdrawing super easy and fast.
By eliminating the processes required by other brokers and the hassles of making bank transfers, Fondex.pro is making onboarding streamlined and requiring only a minute or two to sign up. Furthermore, the company offers a completely free account and free deposits with low spreads and a vast array of trading options.
The introduction of cryptocurrencies into CFD trading is also eliminating waiting times for banks to process the deposit or withdrawal of funds, which also sometimes come with high processing costs, especially for cross-border settlements. In order to streamline the process, users simply have to transfer their funds from their wallets to a special Fondex wallet, which happens almost instantly, and start trading on the platform.
The Fondex.pro CFD Platform In Details
Fondex.pro utilises the award-winning cTrader platform for granting you exposure to over 80 Forex pairs, more than 900 share CFD from top companies, and enter the world of crude oil and natural gas trading. Furthermore, the platform enables you to invest in 15 of the most used indices, as well as invest in precious metals and exchange-traded funds all in one place and with a single crypto wallet.
On the other hand, the key advantages of using Fondex as a go-to platform for investments and portfolio management are the tight spreads and leverage up to 1:500.
Another key element of the Fondex.pro platform is the access it provides to users to over 70 pre-installed analytics tools such as trend indicators, oscillators, lines, shapes, and volatility measures, which help users decide the best possible strategies for their investments. Also, you can create your own custom indicators, or download them from the database.
You can also place orders directly from the 4 chart types, which the Fondex platform has utilised, as well as create templates of your analysis for future use.
Crypto owners can use Fondex as a perfect way to hedge against volatility by placing direct orders on Bitcoin CFDs, for example. Also, the platform allows for an easy, double-click approach for both long or short positions, making it a marvelous tool for taking advantage of the volatile nature of cryptocurrencies.
Leverage is yet another powerful tool for investors, as values reach up to 1:500 for Forex trading. However, opening a leveraged position comes with its risks, despite being able to open a large position with less capital.
For novice investors, Fondex added several useful tools for gaining confidence and momentum – the Copy and Automate functions.
Copy allows you to bring home hundreds of proven, effective investment strategies and use them instantly, or to become a Strategy Provider and share the knowledge with other traders.
Automate is a wonderful tool to eliminate the pressure from making rookie mistakes and benefit from higher speed and accuracy. The cBot functionality can be upgraded with custom indicators, which can aid users in creating their own trading robots.
All trades are processed with zero commission, full transparency, and a robust risk management algorithm.
Opening An Account On Fondex
Opening an account on the Fondex.pro platform takes only a minute or two. You simply have to enter a valid e-mail, choose a password, and provide their mobile phone number for security reasons. The next stage is answering a couple of questions and providing verification documents since the company requires user verification.
Once you are approved, you can set up your BTC trading account with just a few clicks. Simply navigate to the upper right corner of the screen, click on their live account, and select the "Create new Trading Account" option.
A context menu with all supported currencies would be brought up, so you have to select BTC and input the amount in the account you want to deposit.
In order to deposit Bitcoin into the account, you have to navigate to the "Deposit" tab at the left-side menu. Mobile users have a similar way of depositing, with Android users having to navigate to the bottom navigation bar, while iOS users have to tap the main menu and select "Deposit". The next step involves entering the unique BTC deposit address into the user's wallet and completing the transaction. Simple as that!
Disclaimer: This is a sponsored post written by a third party. Readers should do their own due diligence before taking any actions related to any company, product, or service mentioned in this article. BitcoinAfrica.io is not responsible, directly or indirectly, for any loss or damage caused by or in connection with the use of or reliance on any content, product, or service mentioned in this post. 
Bitcoin Wallets: Which is the Best and Most Secure Bitcoin Wallet?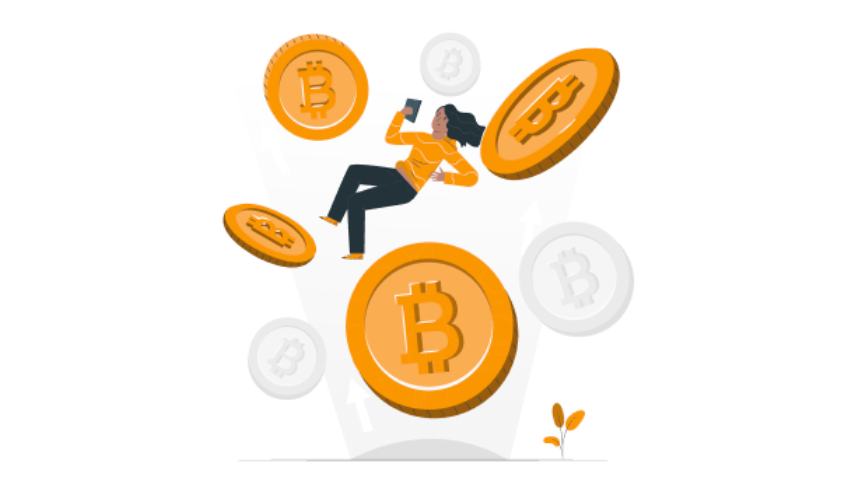 The first and most crucial step towards becoming a crypto trader or investor is owning a wallet. But what is a crypto wallet? In simple terms, your crypto wallet is what gives you access to your crypto coin. Unlike what most people wrongly believe, crypto wallets do not actually store cryptocurrency. Blockchain technology, a global decentralized database, is where cryptocurrencies are confirmed.
Crypto wallets are simply unique addresses that store public or private keys for cryptocurrency transactions. The wallets enable you to execute transactions such as sending or receiving cryptocurrency successfully.
Often, when people want to learn how to trade bitcoin, they do not pay so much attention to their wallet choice. Yet, starting your crypto journey by choosing the best bitcoin wallet is one of the most intelligent investment decisions you'll ever make.
While literally, countless crypto wallets are available today, there's a need for extra care when choosing one. Why? Your choice of crypto wallet will significantly affect the safety and security of your crypto investment. Using the wrong crypto wallet can put your crypto investment at risk and result in a terrible investment experience.
Cryptocurrency wallets are of two forms – hot wallets and cold wallets. Hot wallets allow you to store your bitcoin online and are directly connected to the internet. They are often available in desktop, mobile or web formats and help to facilitate easier transitions. Cold wallets, on the other hand, are somewhat a direct opposite of hot wallets. They are a relatively new technology that aims to improve the security and safety of cryptocurrency. Cold wallets come in small, encrypted portable devices that enable you to carry your cryptocurrencies everywhere you go. They are hardware-based and may cost a few hundred dollars to acquire.
Desktop wallets
These are Hot wallets that operate on your computer system. They store your bitcoin on your computer and help you gain complete control of your bitcoin or cryptocurrency. Thus, you have no "third-party" factor to consider or fear. Third-parties may freeze crypto accounts or even cause users to lose their coins. Desktop wallets steer you clear of these risks. Typical examples are Atomic wallets, Electrum and Exodus.
Mobile wallets
As the name suggests, mobile wallets are wallets that run on your smartphone and thus stay with you at all times. They help you make on-the-go transactions, keeping everything you need to trade in the palm of your hands. They are often available in iOS and Android apps and offer highly convenient crypto payment methods. Typical examples of mobile wallets are ZenGo, BitPay, GreenAddress and Mycelium, and Atomic Wallet.
Web wallets
Web wallets operate in your browser just like a website would operate. They are also referred to as "online bitcoin wallets" and used to be the choice of many investors. However, as cybercrime and crypto frauds gain more attention in the crypto and technology space, web wallets have lost the trust of online or web wallets. They are more susceptible to attack as these web wallets are stored by a third-party website that you do not own or control. And as the famous saying goes, if you don't solely hold the keys to your cryptocurrency, then the coins aren't really yours.
Irrespective of the kind of wallet you use, the first step towards the safety and security of your investment is to keep your passwords safe. Your password gives you full control over your crypto transactions and investment, so letting it slip into the wrong hands can pose serious threats to your coin's safety. However, most digital wallets offer more than just password protection. You could find other security features such as crypto encryption, two-factor authentication and so on. These extra protections will boost the security of your bitcoin but don't replace the need for personal care and the protection of information.
The best and most secure wallet for your bitcoin investment
There are a few factors to consider when choosing the best bitcoin wallet. When these factors are put in check, they can transform your experience as a bitcoin trader. The least you want to do to become a successful trader or investor is to put your investment on the right platform.
1. Ease-of-use
The right bitcoin wallet shouldn't be another set of technical tools that require sophisticated learning to understand or use. This is one key reason why ZenGo is the best bitcoin wallet for any kind of investor or trader. Buying, selling, trading, earning bitcoin interest and even earning free bitcoin has never been more effortless. Imagine the stress of filling pages of forms before gaining access to a crypto wallet, quite unimaginable, isn't it? With ZenGo, it takes less than 19 seconds to own a bitcoin wallet and start trading. Plus, you literally don't need to provide any documents.
2. Versatility
Although bitcoin remains the most popular and frequently traded coin, there are yet other coins that traders can greatly benefit from. You don't want your crypto wallet to restrict or limit your trade opportunities. ZenGo offers over 70 crypto assets, including bitcoin, ethereum, and dogecoin. This is another core reason why it is one of the best. Smart investors take advantage of several crypto coins and know what to look out for before taking that bold step. Thus, with ZenGo, you can increase your portfolio and earning opportunities without having to switch platforms.
3. High security
Passwords, private keys, and seed phrases are great ways to secure your crypto funds. However, they aren't the best. The fear of misplacing passwords accidentally or even landing them in the wrong hands is another thing that haunts crypto enthusiasts. Luckily, ZenGo, arguably the best bitcoin wallet, offers an innovative and effective solution to this. With facial biometrics, you wouldn't have to worry about passwords and private keys anymore. You can now truly have full control over your funds and recover your account easily from any device. ZenGo is more than just secure; it's the most secure.
4. Limitations
Crypto wallets often set minimums and maximums for transactions. This itself has been a huge challenge for high-profile traders and investors. ZenGo understands that there are basically different levels and categories of traders. Thus, it offers its users absolute freedom and control over transactions without extra fees. Users can send or receive any amount of bitcoin or other assets without having to worry about limitations as long as there are enough funds to cover the network fees. And yet, another mind-blowing reason why ZenGo is the best bitcoin wallet for you.
5. Unmatched customer support
If you've ever needed to resolve an urgent wallet-related issue and got disappointed by poor customer support, you probably will understand how much that hurts. In business, nothing beats effective customer support. And since that's exactly what ZenGo stands for, no other wallet beats ZenGo. Unlike some other bitcoin wallets that depend on AI to resolve customer complaints, ZenGo uses real human agents for better understanding. Due to this, users can get a response in less than two minutes and be certain that their complaints are well understood.
But that's not all. ZenGo also allows you to
Choose from the 3 network fees modes (economy, regular, fast). Applicable for BTC, ETH, ERC20.

Cancel or speed up your sent transactions before they are confirmed on the blockchain with 1 tap.

Get $10 cashback in Bitcoin for purchase of $200 by applying the code ZENX0B4G
Obviously, ZenGo remains the best bitcoin wallet for all kinds of traders across the globe.
Disclaimer: This is a sponsored post written by a third party. Readers should do their own due diligence before taking any actions related to any company, product, or service mentioned in this article. BitcoinAfrica.io is not responsible, directly or indirectly, for any loss or damage caused by or in connection with the use of or reliance on any content, product, or service mentioned in this post.