The Sun Exchange Launches SUNEX Token to Fund its Solar Project Insurance Fund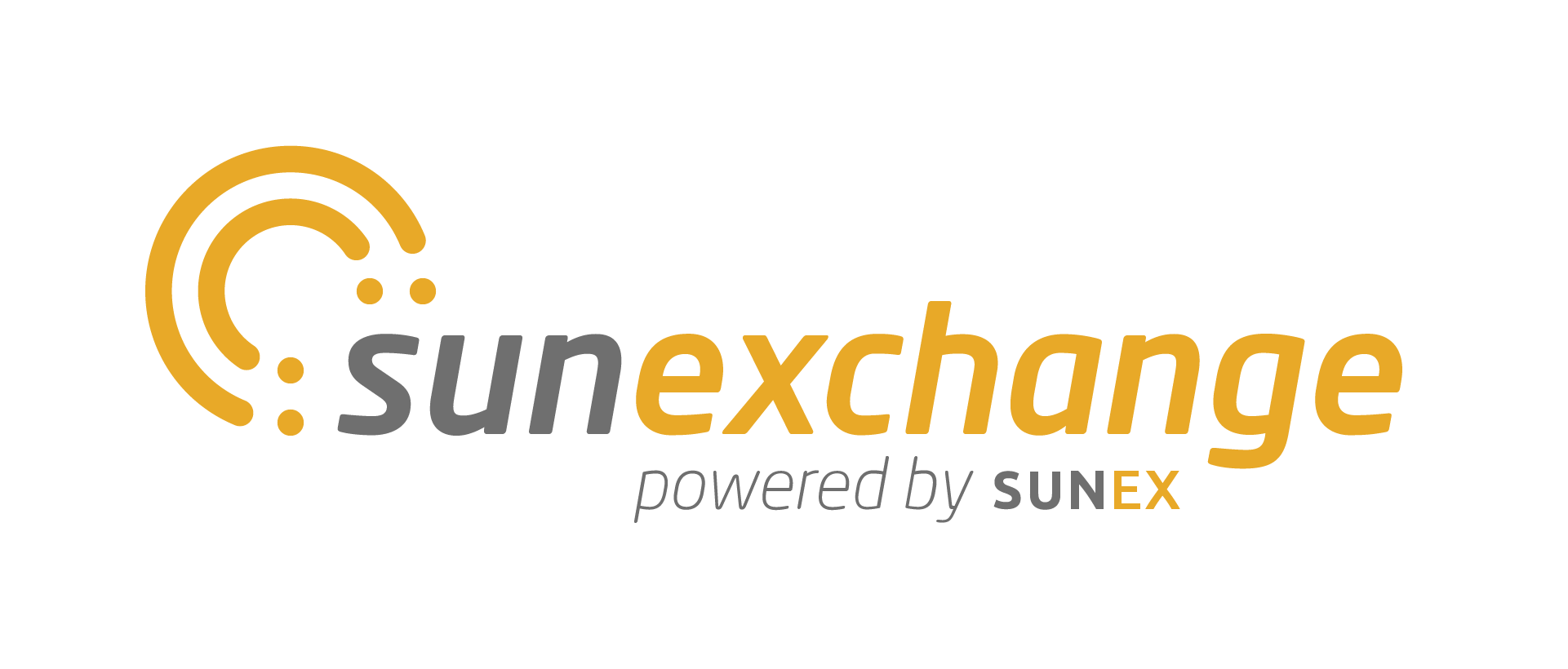 The Sun Exchange, a South Africa-based blockchain startup, has announced the launch of its new SUNEX network token. The SUNEX token will be used to create a solar project insurance fund for emerging markets on The Sun Exchange platform.
The SUNEX network token will be utilised on the new Sun Exchange Solar Project Insurance Fund (SPIF) which has been built to unlock financing and minimise risk for financially underserved solar projects.
The Sun Exchange is a blockchain-based solution that provides members with a unique opportunity to earn income by investing in clean solar energy projects across Africa. Those looking to invest in the solar panels are able to purchase each solar photovoltaic (PV) cell online at $10 and lease them for installation to schools, businesses, hospitals as well as other organisations in Africa and the Middle East.
Individuals who invest in the solar cells are able to earn monthly income from the lease of the solar cells that are either paid in cryptocurrency or fiat currency with the consumers benefitting from access to clean energy that is affordable.
The new SUNEX digital network token and SPIF are the latest additions to the innovation designs that The Sun Exchange is developing to maximise benefits for its stakeholders while eliminating the obstacles hindering the financing of solar energy installations in developing countries.
SUNEX Digital Token Features
As an ERC20 standard token that has been built on the Ethereum blockchain and is designed to make solar asset ownership more affordable and rewarding, the SUNEX token's features include:
Opportunities to receive up to a 20 percent return in tokens by staking SUNEX tokens into the Sun Exchange SPIF
Access to discounts and lease bonuses when using The Sun Exchange
Priority access to new solar projects on the platform
A gamified rewards programme, which guides users towards maximising the diversification and social impact of their solar cell portfolio
One of the main concerns for The Sun Exchange is to provide its members with a secure financial environment. For this reason, all the solar projects they have launched to date have proven reliable due to their rigorous approach to due diligence.
"The new Sun Exchange SPIF creates a new layer of security and reliability as the company grows, stimulating investment in impactful solar projects," stated Larry Temlock, co-founder and CFO in a company press release, and will be "the world's first crowd-sourced default insurance fund for clean energy projects in emerging markets."
The Sun Exchange's SPIF will:
Safeguard The Sun Exchange solar cell owners against costs associated with potential solar project defaults
Unlock the flow of capital into emerging markets Commercial & Industrial (C&I) solar projects, accelerating critical economic and social development
Allow The Sun Exchange members can grow their token holdings by staking SUNEX tokens into the SPIF
Solar Projects Financing a Drive for Economic Development
Speaking on the new SUNEX digital token and SPIF, Abraham Cambridge, founder and CEO of The Sun Exchange said: "Small commercial and industrial solar projects can drive urgent economic development by powering organisations such as hospitals, schools, small and medium businesses in developing regions. However, with aid organisations and NGOs primarily funding residential solar, and large banks and financiers only backing large and utility-scale projects, C&I solar projects fall into a major funding gap. With the new SUNEX network token and SPIF, Sun Exchange is leveraging blockchain and the crypto-economy to further bridge that funding gap and address a very real global challenge with the power to impact the lives of millions."
David Orban, the founder and Managing Partner of Network Society Ventures, and one of the investors in The Sun Exchange's projects said: "We have invested in The Sun Exchange and purchased SUNEX tokens, because we believe in the fundamental value of the business, and in the healthy growth of the network as people all over the world embrace renewable energy. The innovation of coupling blockchain with solar energy decentralizes renewable energy funding and production, democratizing access and setting the stage for the long-term growth of Sun Exchange's activities."
To date, The Sun Exchange has provided financing for four different solar projects across South Africa that are fully operational. These include two wildlife rescue and protection parks, a school and a tire recycling factory. In addition, The Sun Exchange's crowdsale for its fifth project that is meant to provide power for an environmental NGO South South North sold out in a record-breaking two weeks.
"What is fantastic about The Sun Exchange model is that it benefits us as the recipient of power and it benefits the people buying the solar cells and it's also a win for the environment," said the Director of South South North, Carl Wesslink. "Their unprecedented approach to solar financing can achieve installation at scale on a commercially sustainable basis. This is the catalyst required for realising our (distributed) energy revolution."
The SUNEX network token will be available for sale through a public token event from April 22, 2018, at 12:00 PM UCT to both existing Sun Exchange members as well as the general public. The Sun Exchange SPIF will then be created shortly after the token sale comes to an end. Additional information on the new SUNEX token, token sale and SPIF can be found on the SUNEX Network Token Whitepaper.
South African Cryptocurrency Exchange Introduces Tether (USDT) Trading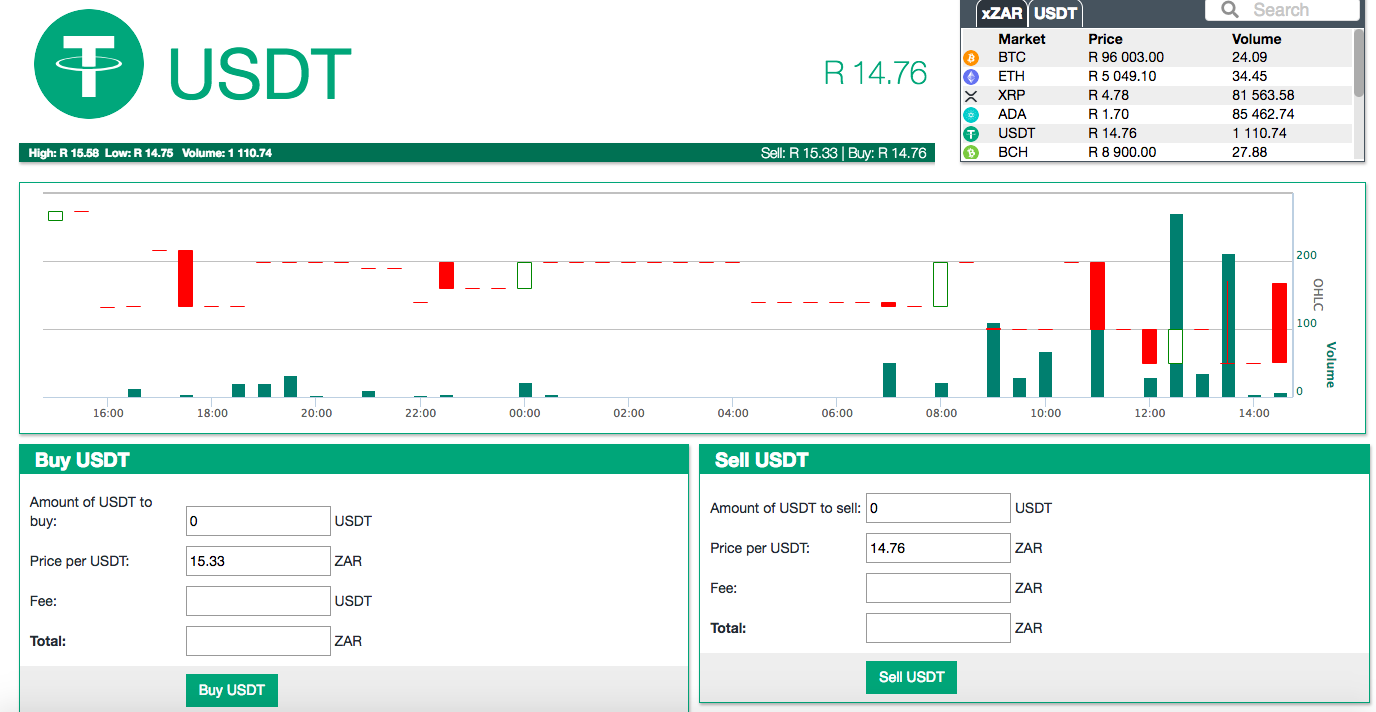 In a move to attract foreign investors and drive down bitcoin's price in South Africa, AltCoinTrader, a Johannesburg-based cryptocurrency exchange has introduced Tether (USDT) trading.
BTC/USDT on AltCoinTrader
AltCoinTrader introduced the trading pair BTC/USDT in July. Tether (USDT) is a cryptographic asset that is backed by US dollars and thus acts as the equivalent of "cash" in the cryptocurrency markets. USDT is a particularly popular asset during a bear market as it can act as a safe having when other cryptocurrencies are losing value. Moreover, USDT allows investors to hold de facto dollars but in digital format, which adds liquidity to the markets.
Richard de Sousa, a partner at AltCoinTrader, said:
"The trading pair is quite important because it allows people to buy bitcoin without using rands."
Due to the dynamics of supply and demand, bitcoin tends to trade at a six to seven percent premium in South Africa. The exchange is expecting the valuation gap to narrow over time by giving opening the market to foreign investors through its USDT introduction.
USDT Trading May Drive Down High BTC Prices in South Africa
South Africa has very tight currency regulations, which make bringing money into the country and, even more so, taking money out of the country very difficult. This is also felt by bitcoin investors who want to purchase bitcoin on South African exchanges.
Thanks to the USDT option, however, non-South African investors can now also take part in BTC trading on South African exchanges, which should lead to a decline of the high premium that South Africans currently pay for buying bitcoin due to the arbitrage opportunities that are now available to international cryptocurrency investors.
AltCoinTrader's De Sousa added that although it would take a while to catch on, investors who will see the arbitrage opportunities and take them could profit. This, in turn, should benefit everyone, including "the man in the street", because the price of bitcoin in South Africa would drop closer to international prices.
EOSToolKit.io – Your Complete EOS Tool Suite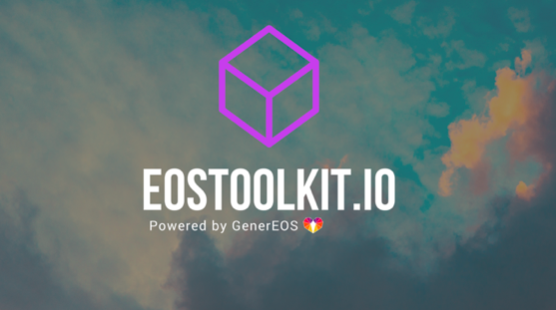 The EOSToolKit is an all-in-one suite that allows the EOS community to gain access to the unique features available on the EOS Blockchain. We have rolled our many great features to the community over the last two months. We have gathered more feedback from the EOS community and added even more features to suit your needs. You Spoke and we listened! 
Now you can also enjoy these new functions on the EOSToolKit with a slick new GUI makeover as well.
Existing Features:
Balance Check
Account Creation
Premium Name Bidding
Name Auction Tracking
Proxy Setup
Staking/Unstaking
RAM Buy/Sell
Permissions Management
Transfer EOS
EOSToolkit.io is a web-based application developed with Scatter signing so you can trust that your private key is kept safe and secure at all times. If you'd prefer to review the code yourself you can find Scatter here and the EOSToolkit here.
New Features:
Airgrabs
Testnet Support
Referendum voting
Voting Portal
Proxy Integration
Account Information Bar
Airgrabs
The Airgrab featured on our EOSToolkit allows users to manually register for airdrops.  This allows dApp developers to save costs associated with RAM by allowing users to use their own RAM to claim airdrops. 
Head over to 

http://eostoolkit.io/

Attach Identity with Scatter (see 

here

 for tutorial)

Enter your creator account name and account name (usually the same) – this can be found in your scatter identity.

Click the Airgrab tab on the left-hand side of the toolkit.

Select the token you would like to Airgrab.

You will need to make sure that you have enough RAM in your account to perform the Arigrab action.

Airgrabbed tokens are not instantaneously received.

 

You will need to wait for the issuer to airdrop the tokens depending on the date they have specified.
Testnet Support
Now that the Testnet is supported on the EOSToolkit you are able to switch networks and test smart contracts before you deploy them on the mainnet. 
Head over to 

http://eostoolkit.io/

Attach Identity with Scatter (see 

here

 for tutorial)

Enter your creator account name and account name (usually the same) – this can be found in your scatter identity.

Select the Scatter dropdown

Select Change Network

Review the networks and endpoints and select the one you want

Approve the new network on Scatter (if you haven't used it before)


If you haven't used this network before, add new identities in Scatter and attach them like you normally do

Confirm you are on the new network


Enjoy using the EOSToolKit with your Testnet account!
Referendum Voting
We have also included in our toolkit an added function to allow users to submit proposals and vote on-chain. This means that community members can submit proposals on the EOS blockchain and conduct votes on them. This is a vital component in bringing referendum voting to the masses and we will continue to build out this portal to make it easier for all users in the ecosystem.
Voting Portal
We are also excited to release our voting portal which will now let you vote for your favourite Block Producers on the EOS Blockchain. Currently, we have arranged them based on their vote percentage. With our Portal, you are able to vote for a total of 30 Block Producers Candidates. We encourage the community to vote for an entire 30 to support their trusted Block Producer candidates. 
Head over to 

http://eostoolkit.io/

Attach Identity with Scatter (see 

here

 for tutorial)

Enter your creator account name and account name (usually the same) – this can be found in your scatter identity.

Be sure that you have EOS staked (You need this to vote)

Select the Vote Producer Tab.

Select your trusted Block Producer Candidates and hit Vote
Proxy Integration
We have added a Proxy Information Table to allow proxies to register their accounts and provide some background information about themselves. You can then select your favourite proxy from the table and assign your vote to them directly from the toolkit.
The Table includes the following details:
Account name

Proxy Name

Proxy Slogan

Proxy Social Media Accounts
Head over to 

http://eostoolkit.io/

Attach Identity with Scatter (see 

here

 for tutorial)

Enter your creator account name and account name (usually the same) – this can be found in your scatter identity.

Click the manage voting tab and select Proxy Information

Carry out research about the proxy by checking their account, social media, and background information

Select the Proxy that you would like to vote on your behalf
For more information on proxy voting check out our article explaining how to become a proxy.
Account Information Bar
We added an account information bar to allow users to quickly access their current account details. This includes a brief summary of their EOS and token balance as well as RAM, CPU, NET, and Refunding. Once connected onto scatter your account details will be auto-populated on the top bar of the EOSToolKit.
More updates coming soon!
We are also working on an Airdrop turnkey table which will allow anyone to send us a token.  This will allow us to immediately list it on our database so that the community get find all the airdrops in once place.
Remember to use these great features you must install Scatter with your desired EOS Account. We hope the EOS community enjoys these tools and allows them to perform actions on the EOS Blockchain much more easily.  We would love to receive feedback on the features within the toolkit or suggestions on the features you would like to see added. We value your feedback and will keep working hard to be the number 1 online EOS Wallet.
This guest post was contributed by Tom Fu, a partner at GenerEOS.
*Readers should do their own due diligence before taking any actions related to the mentioned company, product or service. BitcoinAfrica.io is not responsible, directly or indirectly, for any loss or damage caused by or in connection with the use of or reliance on any content, product or service mentioned in this guest post.*
"Bitcoin Gold Wants to Bring Mining Back to the People as per Satoshi's Original Vision" – An Interview with BTG's Community Manager for Africa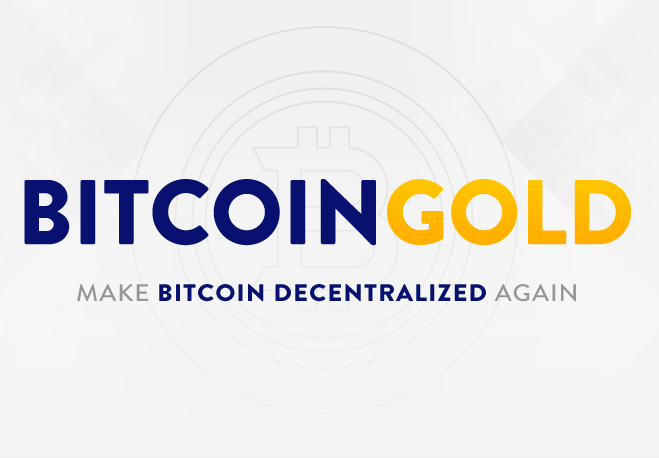 Bitcoin Africa had the pleasure to interview Richard Boappiah Asamoah, Bitcoin Gold's community manager for Africa, via Telegram to find out more about Bitcoin Gold's efforts on the continent.
Bitcoin Gold (BTG) was created in late 2017 as a hard fork of bitcoin (BTC) with the aim to "make bitcoin decentralised again" through the enablement of GPU mining. The digital currency has a market capitalisation of over $400 million and one BTG coin is currently worth around $25.
What is bitcoin gold's plan for Africa?
There are several initiatives underways. One that I can publicly share at this point is e-commerce. BTG has grown fond of the idea of expanding the current state of the African economy through the promotion of digital payments by establishing BTGpay. Basically, payments with bitcoin gold.
We also plan on promoting blockchain-related programs through local partnerships and want to expand our ambassador program. BTG plans to support this by providing sponsored meetups and local development proposals led by various appointed ambassadors across Africa. Hackathons, scholarships for students, developer conferences and other meetup events are on our list for this.
Is the focus of bitcoin gold on creating wealth for its users through GPU mining or does the BTG community aim for its currency to eventually replace bitcoin?
Bitcoin gold is a friendly fork and has no intention of replacing bitcoin but instead aims to develop itself in its own way to bring mining back to the people as per Satoshi's original vision.
How do you tell bitcoin gold's story to the masses who are just now getting accustomed to bitcoin?
We inform people that bitcoin gold is a fork of bitcoin, which means that bitcoin gold's developers took the code base of bitcoin and developed it in more friendly direction by making mining decentralised again.
Why bitcoin gold? Like all other cryptocurrencies, BTG is built on a technology known as the blockchain, which allows transparency for day-day transactions as well as providing us with low fee digital payments and a secure way of paying and getting paid without any geological restriction. Also, bitcoin gold is planning to implement the BTG lighting network, which will tackle issues of blockchain scalability providing millions of transactions within seconds.
What countries in Africa are your efforts primarily focused on?
At the start of the ambassador program, we plan to target crypto hotspots who are well versed in digital payments. This includes the likes of Kenya, Ghana, Nigeria, South Africa, Uganda. Subsequently, we plan on conquering the continent as a whole.
The ambassador program is scheduled to start soon.
How can Africans interested in BTG get involved in the bitcoin gold Africa community?
Africans interested in joining the bitcoin gold community can get involved by linking up with us on Telegram, on Twitter, and in the bitcoin gold forum.