10 Questions You Should Ask Yourself Before Investing in an ICO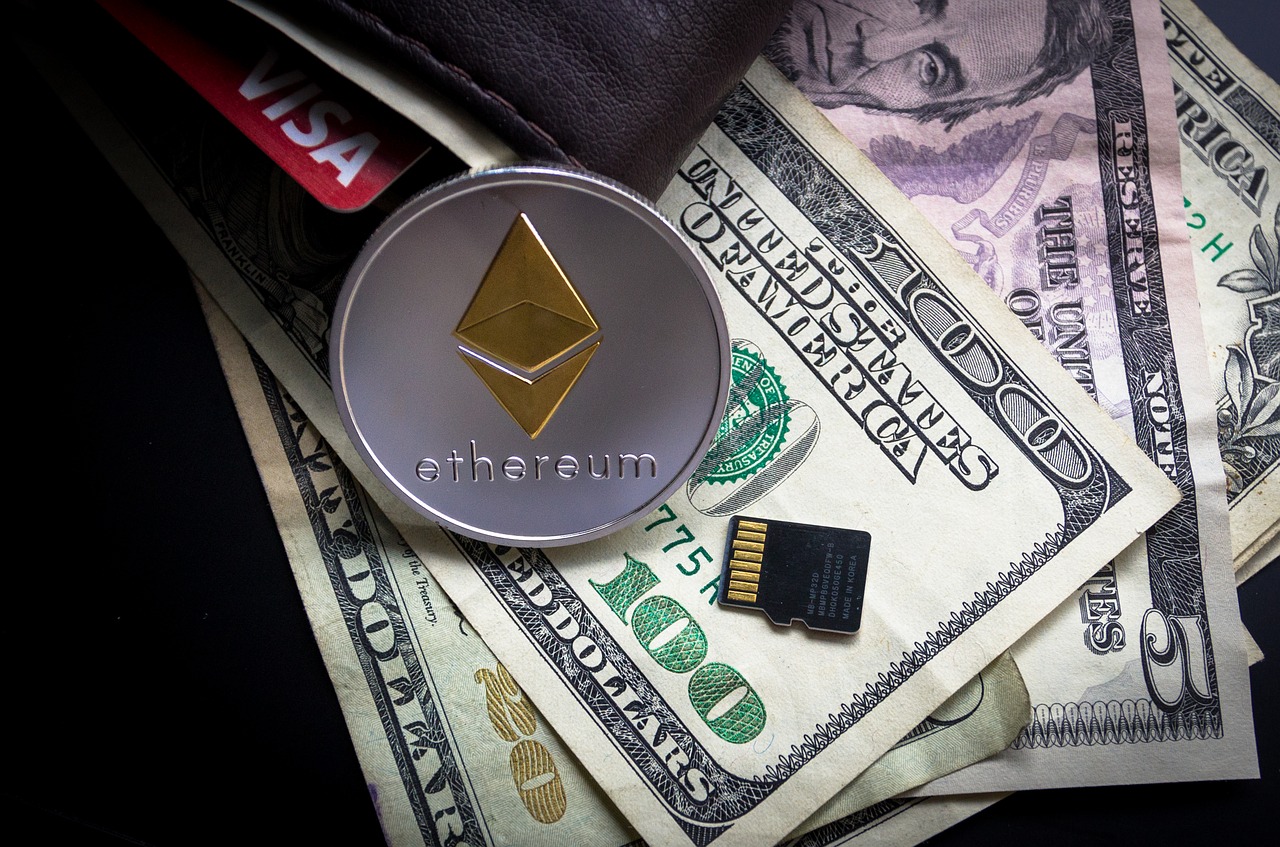 2017 was the year that saw cryptocurrencies hit the mainstream with the price of bitcoin rallying from $1,000 to its all-time high of $20,000 at year-end. But that was not all as initial coin offerings (ICOs) shared in the limelight gaining massive traction and interest from investors and startups across the globe. The 400+ token sales saw ICOs raise more than $6 billion in 2017 alone. While ICOs have presented a great opportunity for startups and other businesses to raise money, it is a high risk – high return venture for investors. Hence, it is important to conduct in-depth research before investing in an ICO.
In this guide, you will find the ten most important questions you should ask yourself before investing in a token sale to ensure you get off to a good start with your investment research.
Is the ICO legitimate?
The ICO market has been plagued with scams since its beginning. It is, therefore, imperative for anyone looking to invest in any ICO project to do their due diligence and verify whether the project is legitimate.
The first step in doing this is to "fraud check" the company doing the token sale. Is there sufficient information about them online? Are there reviews from other people i.e. past or potential investors? If you cannot find any information online about the company behind the token sale, that should be a red flag.
The second step is to look through the directors of the company doing the ICO. Genuine company directors should possess a digital footprint. A LinkedIn profile should not be enough to make you invest. Any entrepreneur – upcoming or successful – must have had people talking about their company and should, therefore, have several references online.
Is the team behind the ICO able to deliver?
Successful companies and products have been built because they had an excellent team. For the team to build and launch a successful blockchain project, it must have had past experience in successfully launching and running similar projects. An experienced team with the right skills and experience are a sign that it may deliver on its mission for the project.
However, if the team behind the token sale has little to no experience with blockchain products, that should be an immediate red flag to any investor as the project may end up becoming a flop. Additionally, it could be an indication that the team is in it to make "quick money" instead of truly wanting to develop a value-adding blockchain-based platform.
Does the project's whitepaper have all the necessary information?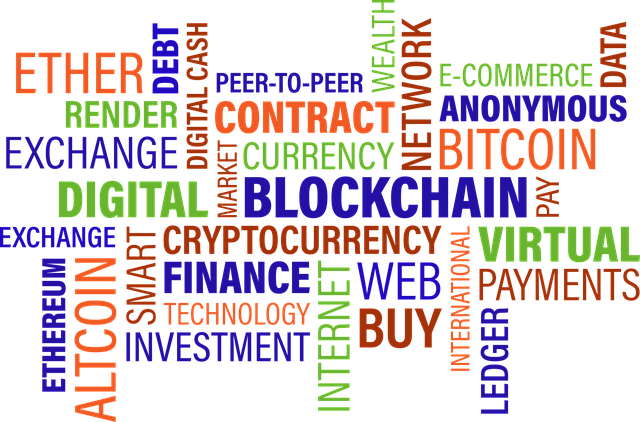 When investing in a business, investors always look at a company's financials first. Since ICOs are usually conducted to raise seed capital, however, that information is not provided as the company has no track record yet. Hence, for ICOs, the focus needs to be on the project's whitepaper. The whitepaper is just as important as the people behind the project.
The whitepaper needs to be clear and explain the vision and technology of the project in a professional and concise manner. It should detail how the team hopes to make the project a success with the crowdsourced funds. Should the project's whitepaper leave out any important information or lack a well-detailed strategy needed to make the project a success, that is a very clear red flag and it will most likely be best to avoid investing in this project.
Is the ICO's product ready or purely an idea?
Do not get me wrong. I am not saying that you should not invest in an ICO that is still an idea that is yet to be designed. However, should you choose to go ahead and invest in a token sale that is still just an idea, there is a high risk that you may lose all your investment as compared to investing in a token sale that has a ready product.
While even with a ready product you may still lose your investment, the risks are lower compared to the former as the project will more than likely have a platform that is ready and operational and just wants to prove the platform's efficiency by adding the digital tokens and blockchain technology.
Is there transparency on what the raised funds will be used for?
This is a very important question any investor should ask themselves before investing in an ICO. The project should have a clear plan on how it intends to use the funds raised during the token sale. This can either be done via the company's website or in their whitepaper. The more specific and detailed the breakdown is, the better.
However, if the company directors are evasive on how the funds will be used, this should be considered a red flag due to lack of transparency exhibited by the company. In addition, if most of the issued tokens will be held by the project's operators, it could be a sign of a potential pump and dump scheme.
Does the final product from the project have a market?
When considering what token sale to invest in, it is crucial to analyse whether there is a market for the project's final product. Lack of a possible market for the solution, technology or product may mean that there will be no demand for the product once it is launching, which would result in a drop in the value of the project's token in the long-run.
Is the code open-source and can it be assessed?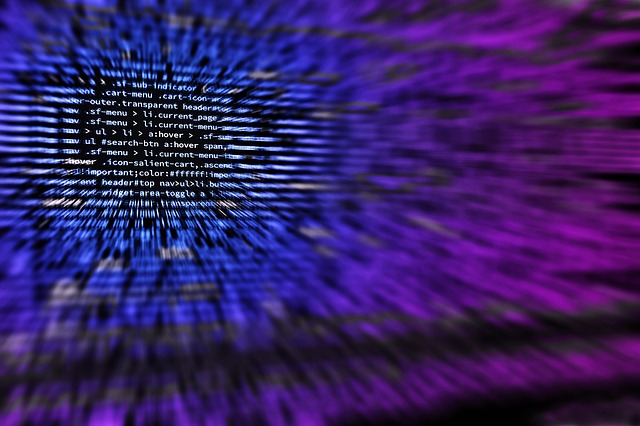 Traditionally, most blockchain projects are known to have open-source code that can be found on GitHub and can thus be audited or assessed by third parties. If the blockchain project you want to invest in has an open-source code that has or can easily be probed by trusted community members, this should be a positive indicator of the project.
Today, however, most blockchain projects that launch ICOs tend to keep their codes private. While this may be valid in some cases as the project may have direct competitors it wants to shield its technology from, being able to audit a project's code adds transparency and trust.
If a project's code is not open-source and there is no evident reason for keeping the code private, may be an indicator to better stay away from the project due to its lack of transparency.
Does the project warrant a blockchain and token?
Another factor that needs to be considered when looking to invest in an ICO is whether the company really needs a blockchain and a native token for its platform, service or product. Because ICOs have a low entry barrier, there are a large number of startups that run ICOs in a bid to get easy funding by claiming they will implement blockchain technology to their new product or to improve an already existing one.
If the project has the potential to run without the need to utilise blockchain technology or a native digital token, it should be a clear sign to stay away from the ICO.
What will be the function of the token?
There are a variety of digital tokens that a company can put up for sale. These include but are not limited to utility tokens, currency tokens, tokenised securities and reward tokens. When looking to buy tokens from an ICO, it is crucial for any investor to understand the role of any token that is issued. If what the company is offering is a tokenised security, will it function as a digital share by the issuing company? On the other hand, if it is a utility token, will investors have access to or specific benefits from the project's platform?
The function or role of the token needs to make sense and should have the ability to drive demand and not just raise funds for the project.
Who are the competitors?
Finally, when considering investing in an ICO, you should also look at the project's competitors. A competitors analysis will show you whether a company is likely to outperform its competition or not. Should a project's competitors be more likely to succeed, then it might be better to invest in their digital tokens instead.
However, if the potential company's blockchain platform is at par with or better than its competitor's, then that is a good sign that its token could perform well in the secondary market.
Remember that investing in digital assets comes with a substantial amount of risk and you should never invest more than you can afford to lose. However, if you are looking to invest in a token sale, you will be well advised to answer the ten above-mentioned questions as part of your overall investment research as they cover all the key aspects of an ICO.

How to Bet with Bitcoin on Football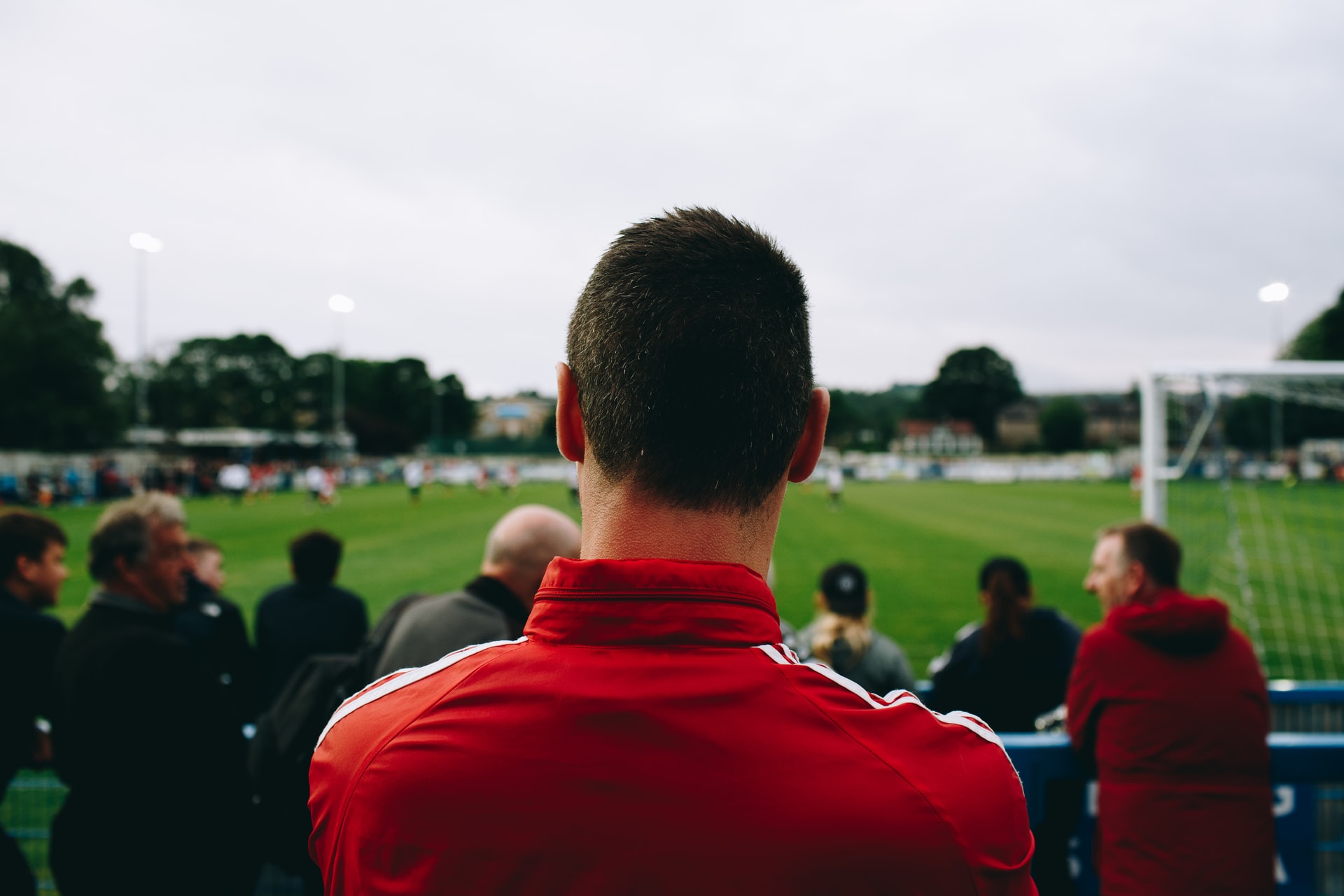 With the new football season having started, it's time to learn how you can bet with bitcoin on your favorite football club. The good news is that many online betting companies now accept bitcoin.
Read on to learn why betting companies love bitcoin and how to bet with BTC on your football team.
Why Betting Companies Support Bitcoin
Since its establishment in 2009, Bitcoin (BTC) has been and continues to be the most popular cryptocurrency, and with good reason. Some of Bitcoin's most impactful features include:
1. Fast and inexpensive
With bitcoin, it takes a few minutes to send and receive any amount of money. And if you are using the Bitcoin Lightning Network to make payments, transaction costs are a few cents.
2. No third-party interference
Because of its decentralized nature, which makes it impossible for anyone (including governments) to control, you can feel safe to make any payments you want (including to online betting platforms). This also comes with the added advantage of not having to disclose your personal information when making a payment.
3. Supports borderless payments
With Bitcoin's decentralized nature comes its borderless characteristics. This makes it possible for anyone in the world to be able to send and receive bitcoin payments wherever they are.
Betting companies were among the first adopters of bitcoin because it enables them to reach a broader audience and provide an innovative digital payment option to bettors. From playing a bitcoin slot to betting on any sport imaginable, bitcoin casinos and online betting companies have truly embraced bitcoin.
The credibility of bitcoin as a financial and payment solution is also being felt in the world of football. For example, in April 2021, Southhampton F.C began paying its players bonuses in bitcoin, opening up a whole world of possibility for other clubs to start doing the same.
How to Bet With Bitcoin on Football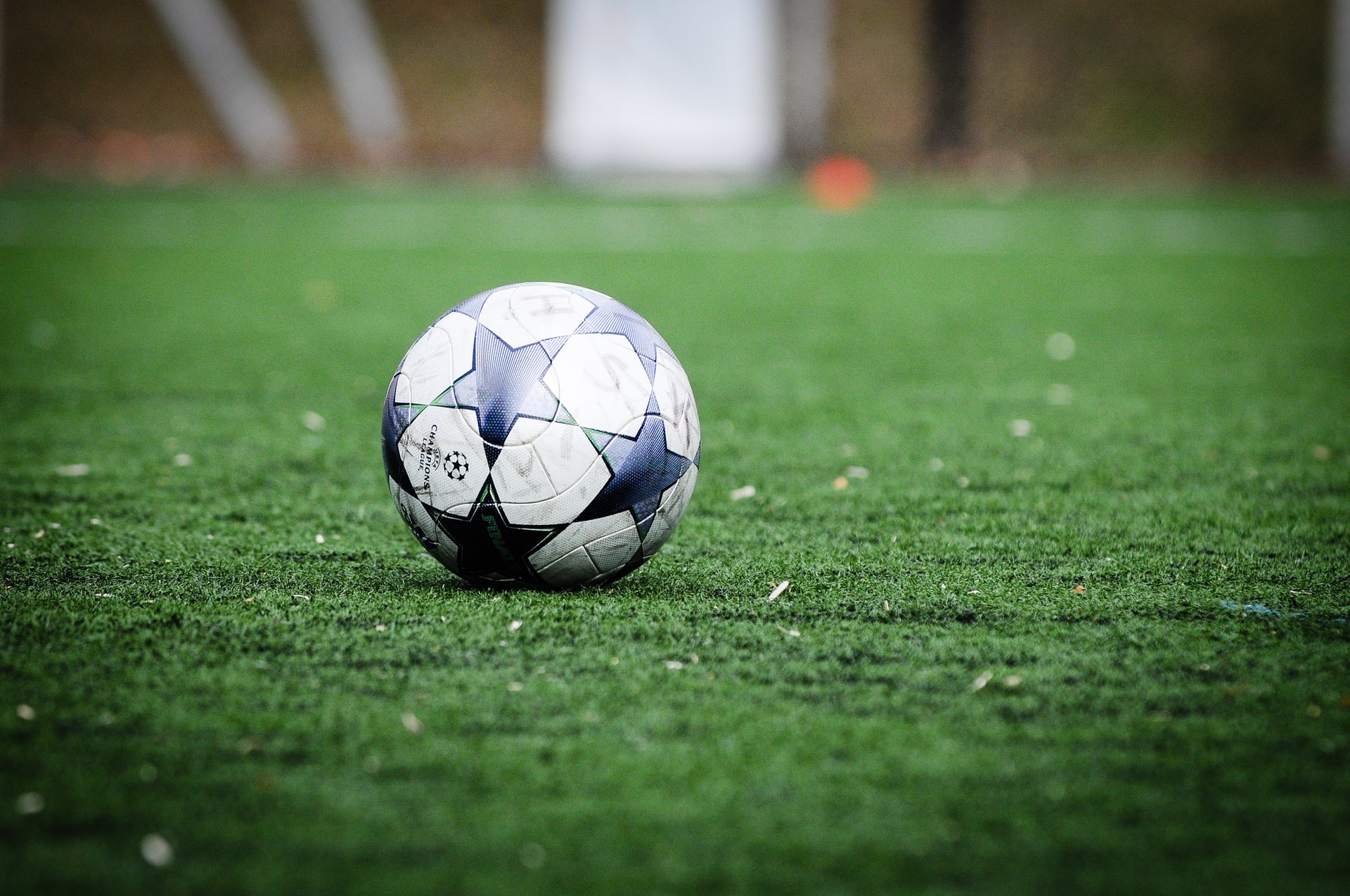 Betting with bitcoin has proved to be an efficient process for bettors, and betting companies who have embraced cryptocurrency as an efficient payment system.
One of the leading sports betting companies that enables you to bet with bitcoin is Sportsbet.io. So let's dive in and show you how you can bet with bitcoin on this popular platform.
Betting with Bitcoin on Sportsbet.io
Sportsbet.io is a user-friendly and highly modern betting platform. It has a functional live betting service and is one of the few betting companies that will allow you to bet in bitcoin through a few easy steps.
Register for Sportsbet.io by clicking on the 'Create an Account' tab on the top right of the homepage.
Access your wallet by logging into Sportsbet.io. On the top right of the page, next to your balance, click your balance or the 'Deposit' button.
Next, you click on 'Use Currency' and on 'Deposit.'
A QR code will appear.
Open your bitcoin wallet, scan the QR code, and choose how much BTC you want to send to your betting account.
You will have to wait for three confirmations on the Bitcoin blockchain for your funds to settle in your SportsBet.io account.
Start betting on your team(s).
Now that we have started you off on your journey, happy betting, and may the odds be ever in your favour!

How to Cash Out Bitcoin to Naira Using Cryptofully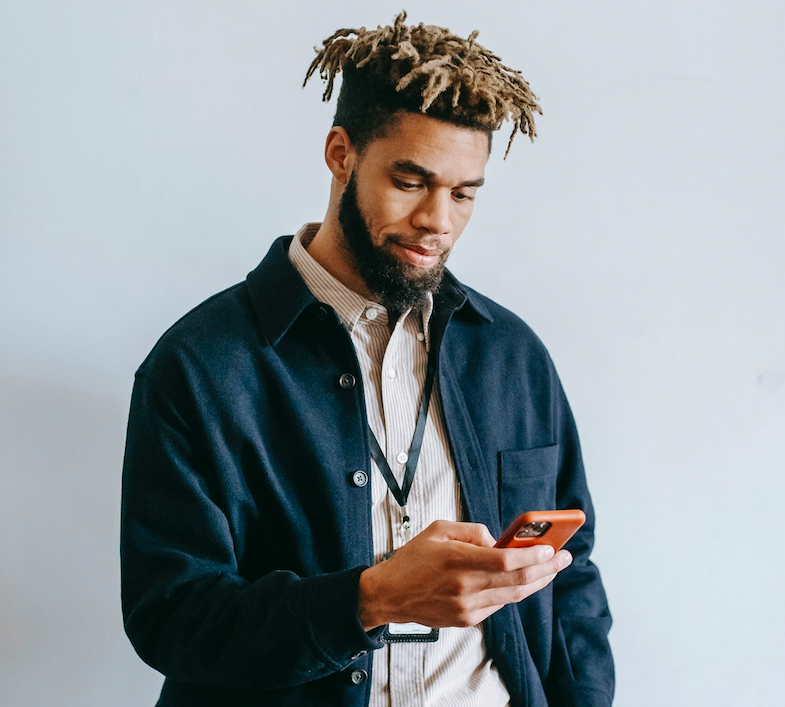 Over the past few months, Nigeria's central bank has made it difficult for traders to cash out bitcoin to naira, restricting crypto companies from having a Nigerian bank account. But there is now a cheap and efficient way to cash out your bitcoin to naira.
In this guide, you will learn how to convert your BTC to NGN and receive the money in your bank account within minutes using Cryptofully.
Getting Started on Cryptofully 
Cryptofully is a peer-to-peer payments app that allows you to easily convert bitcoin to naira and automatically settles into your Naira bank account.
Using Cryptofully, you can cash out your bitcoin from anywhere in the world into any Nigerian bank account. The platform also supports US dollars and payment options, including Visa, Mastercard, Google Pay, and Apple Pay.
Cryptofully leverages a local network of peer-to-peer (P2P) traders, enabling it to convert BTC to NGN within minutes. With this P2P system, you are not looking for a peer to buy your bitcoin. Cryptofully automatically matches your trade to the best peer and makes it seamless for the user.  
All that's needed to cash out bitcoin to naira using Cryptofully is to sign up, complete the KYC, add a bank account and convert your bitcoin to cash.
How to Cash Out Bitcoin to Nigerian Naira
You can cash out your bitcoin to your Nigerian bank account using either the Cryptofully website or mobile app. 
Download the Cryptofully App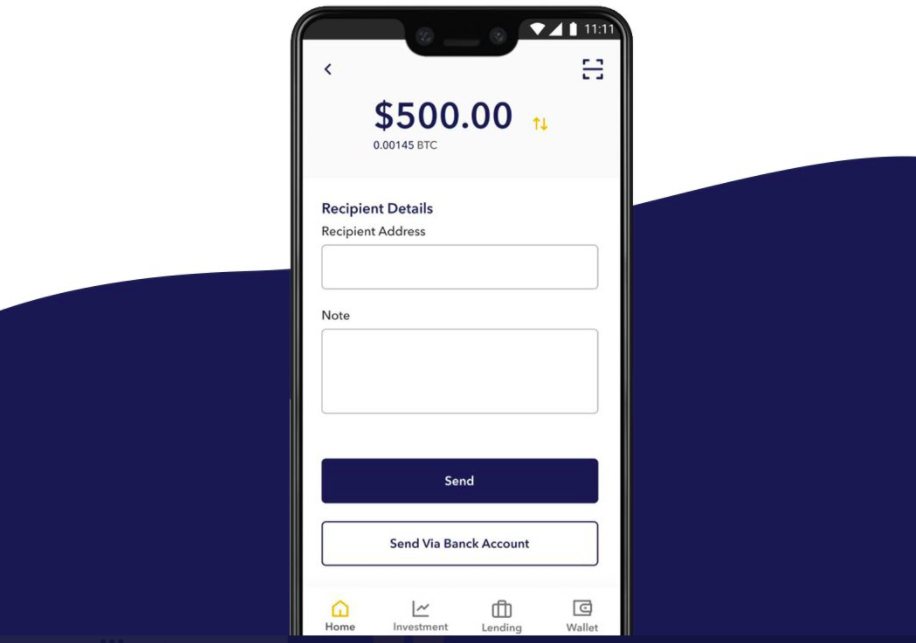 Step 1: Create an account
Open the app and register with your email address and verify the email address.

Start the KYC process. Visit Profile, click to Add bank, and add your BVN. You can also add your bank account in this section.
Step 2: Cash Out Your Bitcoin to Naira
Type in the amount you want to cash out.

Then choose to send via bitcoin.

On the following page, you can add your bank account details in the recipient field.

On the last page, you can see a Bitcoin wallet address. Send your bitcoin to that wallet address and within a few minutes, the equivalent amount in naira will settle in your bank account. 

Cryptofully matches you to a peer instantly who sends the money to your naira bank account.
Visit the Cryptofully Website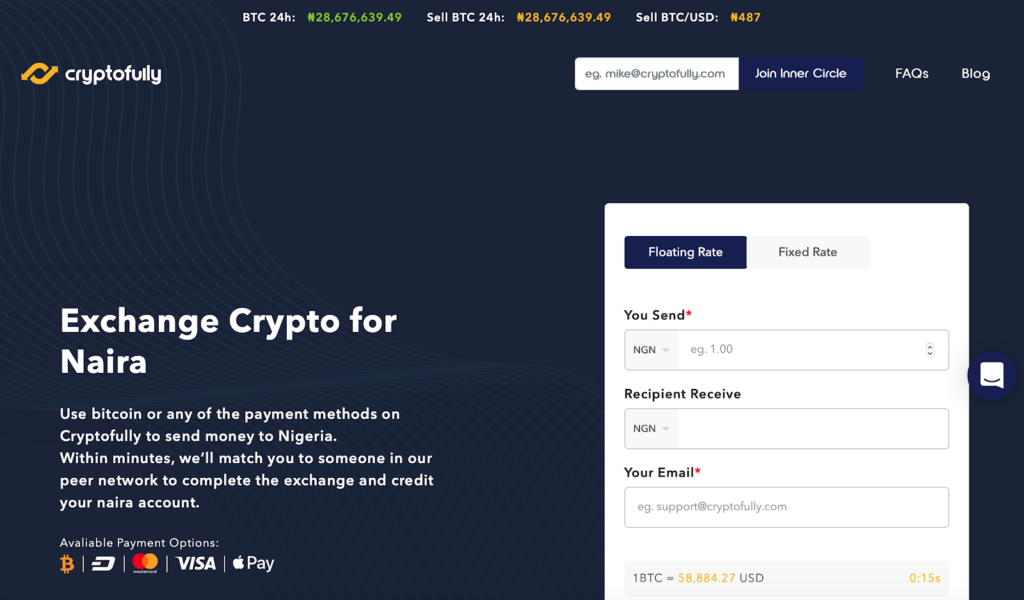 You don't need to sign up or log in with any details on the website to start using it
Go to the Cryptofully website at

www.cryptofully.com.

Specify the amount of bitcoin you want to cash out to naira. You can use either the Floating Rate or Fixed Rate. The Floating Rate means the exchange rate can change based on changes in bitcoin prices, and the Fixed Rate means you can lock in an exchange rate for your transaction.

The naira amount equivalent you will get in your bank account will appear below.

On the following page, you will see a space to fill in the preferred bank account you want to receive your money.




Then, you will be shown a Bitcoin wallet address. 

Copy the wallet address and do a transfer to the address. The Cryptofully system matches you immediately to a peer.

The peer sends the money and the money settles in your naira bank account.
Since the Central Bank of Nigeria enacted draconian measures against crypto companies, preventing them from having banking relationships, the peer-to-peer bitcoin trade has flourished in the West African country.
Peer-to-peer payment apps, like Cryptofully, are enabling Nigerians to continue using bitcoin for remittances, payments, and as an investment.

How to Trade Cryptocurrency on Sikix.io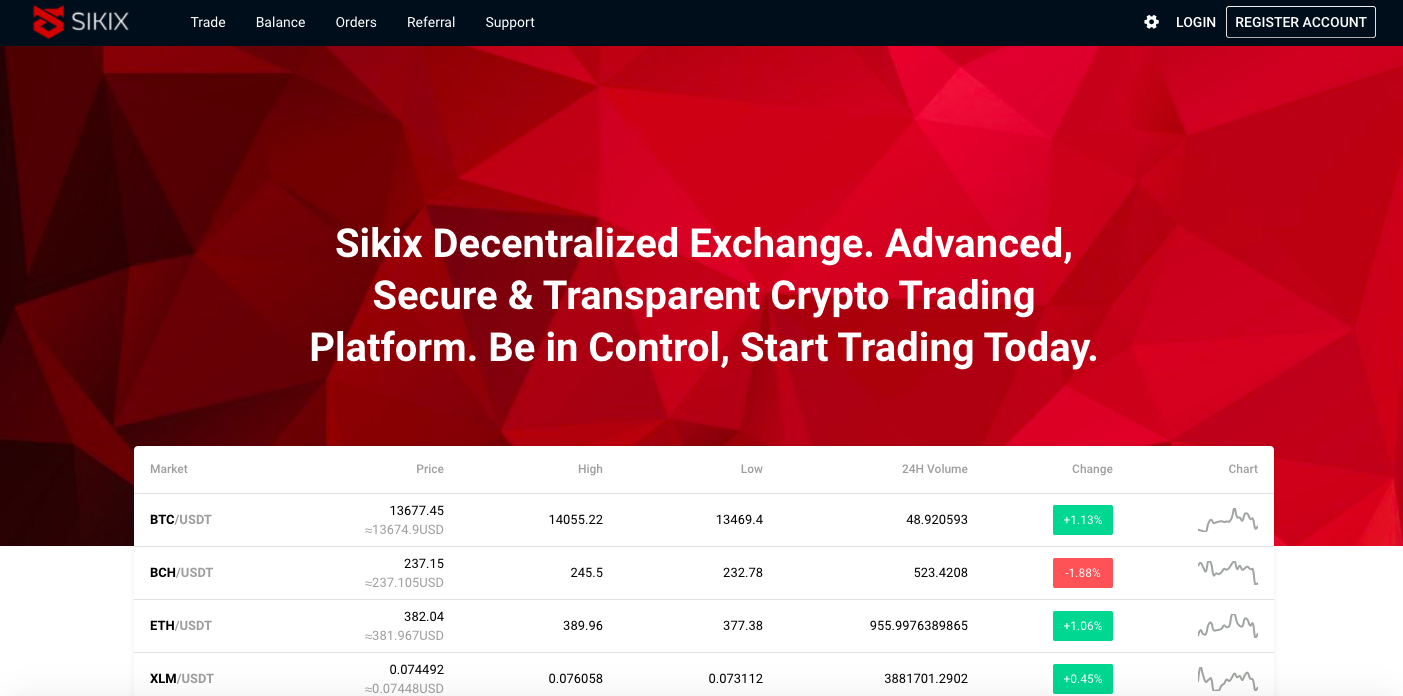 Sikix is a decentralized exchange that allows users to have full control over their funds while trading digital assets. In this guide, you will learn how to trade cryptocurrency on Sikix.
Opening an Account on Sikix
To start trading on Sikix, you have to create an account.
Here are the steps you will take:
Visit the Sikix website
Click "Register Account"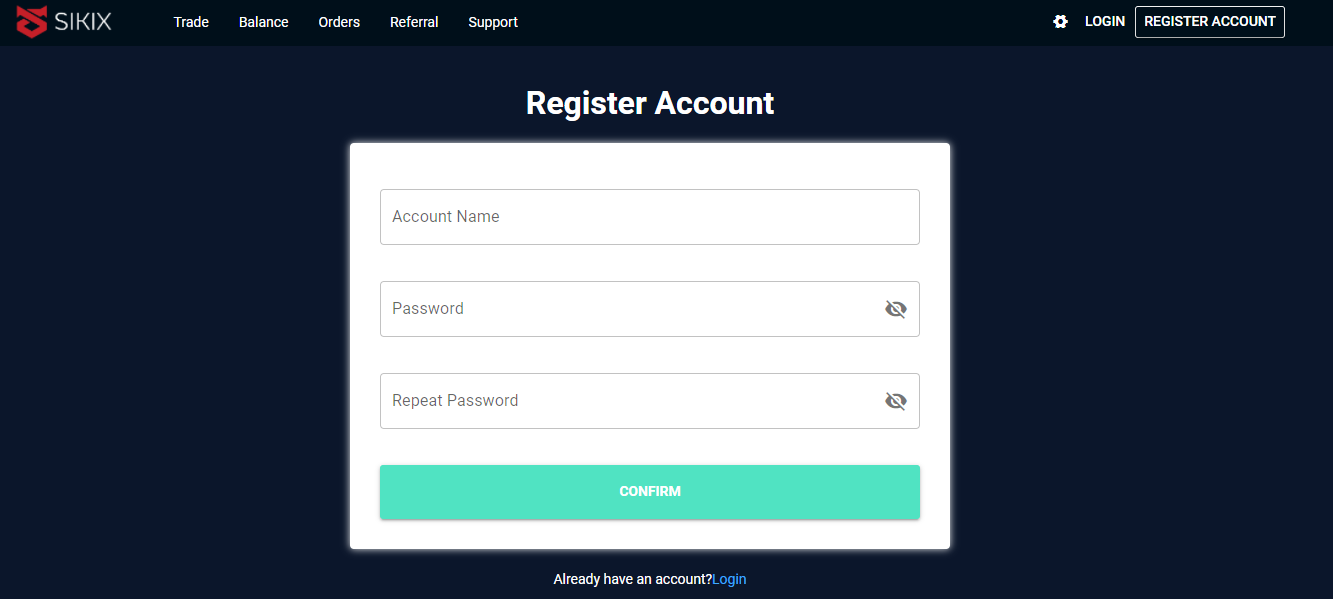 Enter an account name and password
Hit "Confirm"
Save the seed file to your computer and click "I've Backed It Up." You should store your seed phrase safely because the platform cannot restore it for you.
Click the settings icon to verify your email address and phone number

Next, go to "Balance" to deposit crypto or fiat into your account. For instance, if you want to deposit BTC, go to bitcoin on the list, click "Deposit" and copy the address provided. Transfer bitcoin to the address and click "Confirm." Note that the minimum amount of BTC that you can deposit is 0.01.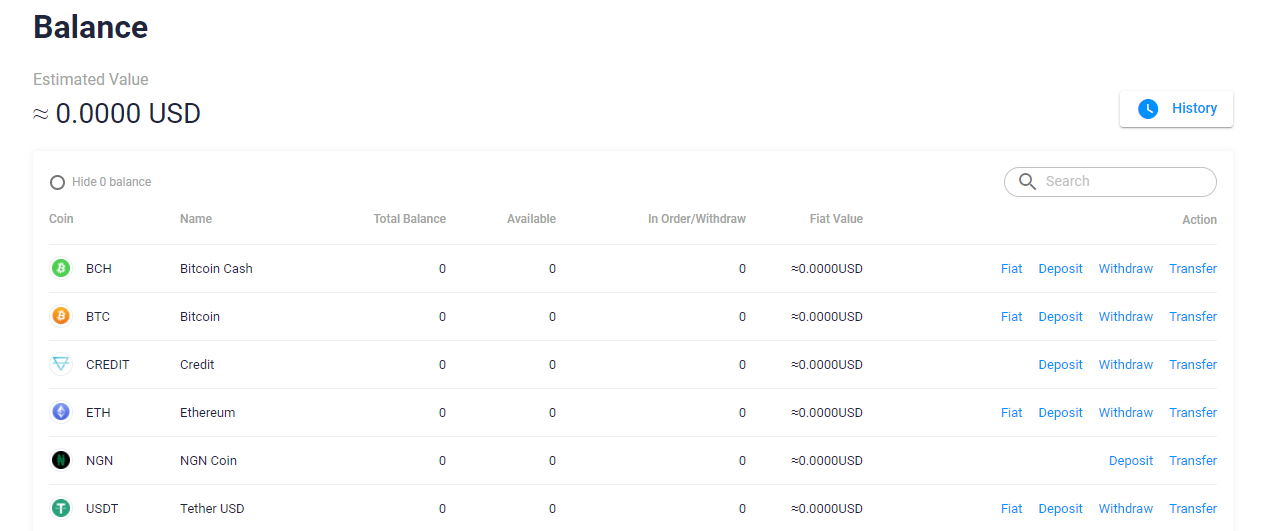 Once the bitcoin hits your account, you should see the total balance and the USD equivalent displayed on the balance page.
On Sikix, the most common base currencies are USDT and the Nigerian naira (NGN). You can deposit both of them before you start trading. But that does not prevent you from depositing any of the other supported cryptocurrencies.
Depositing Local Currency to Your Account
To deposit naira, follow these instructions:
Go to "Balance"
Search for NGN on the list and click "Deposit"
Enter the amount you want to deposit. The platform will display the fees and the amount you will deposit.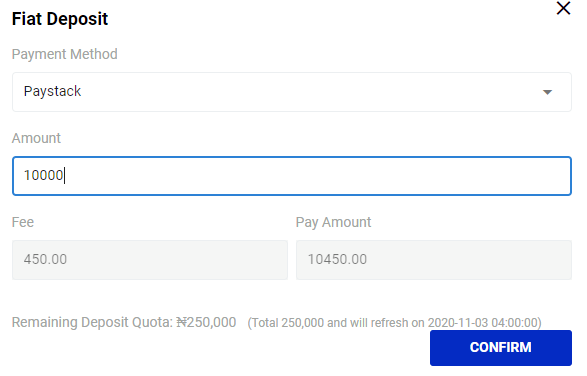 The platform will redirect you to a new page where you will enter your card details. Alternatively, you can use any of the other payment methods listed.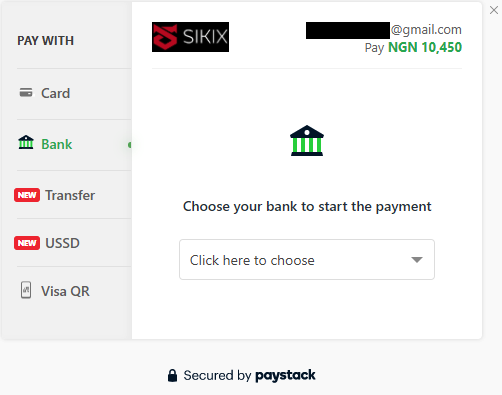 Once the transaction is complete, you should see your newly deposited funds on the balance page.
How to Trade Cryptocurrency on Sikix
Assuming that you deposited USDT in your account, here is how you can trade on Sikix:
Go to "Trade"
On the left-hand side of the screen, select a trading pair from the drop-down menu. For instance, you can choose the ETH/USDT trading pair. That means that you can buy ether with USDT. Note that the graph shows how the price of ETH is changing against USDT. You can view this change over different periods.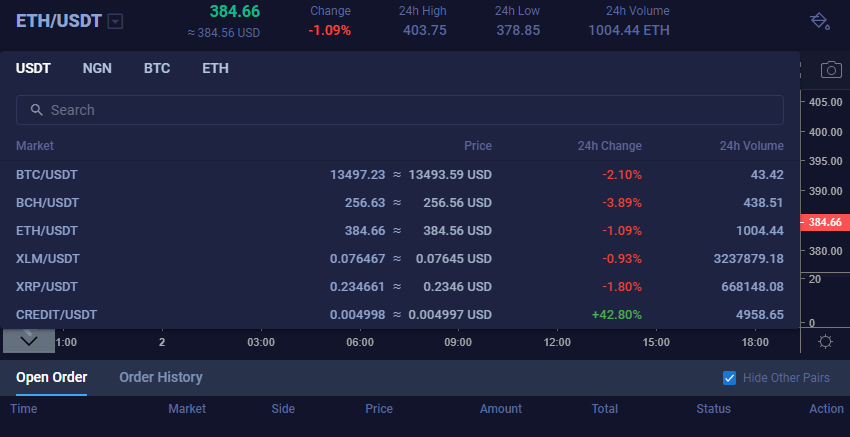 On the right-hand side of the screen, select the green box. This box represents the bidding price, which is the maximum amount that you are willing to pay for ETH. The red box represents the asking price, the minimum price that a seller is willing to accept. You can choose to trade at these levels.

Alternatively, you can make your purchase through a limit or market order. The limit order allows you to buy ETH at a fixed price. Conversely, a market order enables you to buy ETH at the best market price.

Once you have entered the amounts, click "Buy ETH" to open your order. If you placed a market order, your purchase will take place immediately. However, you will have to wait to get a match if you placed a limit order.
When your order goes through, an ETH balance should reflect in your account.
Presently, the exchange supports BTC, USDT, ETH, BCH, XLM, XRP, NGN, and CMT with a plan to add more digital currencies in the future.