Oneiro Launches ndau, the World's First Buoyant Coin Optimized for Long-term Store of Value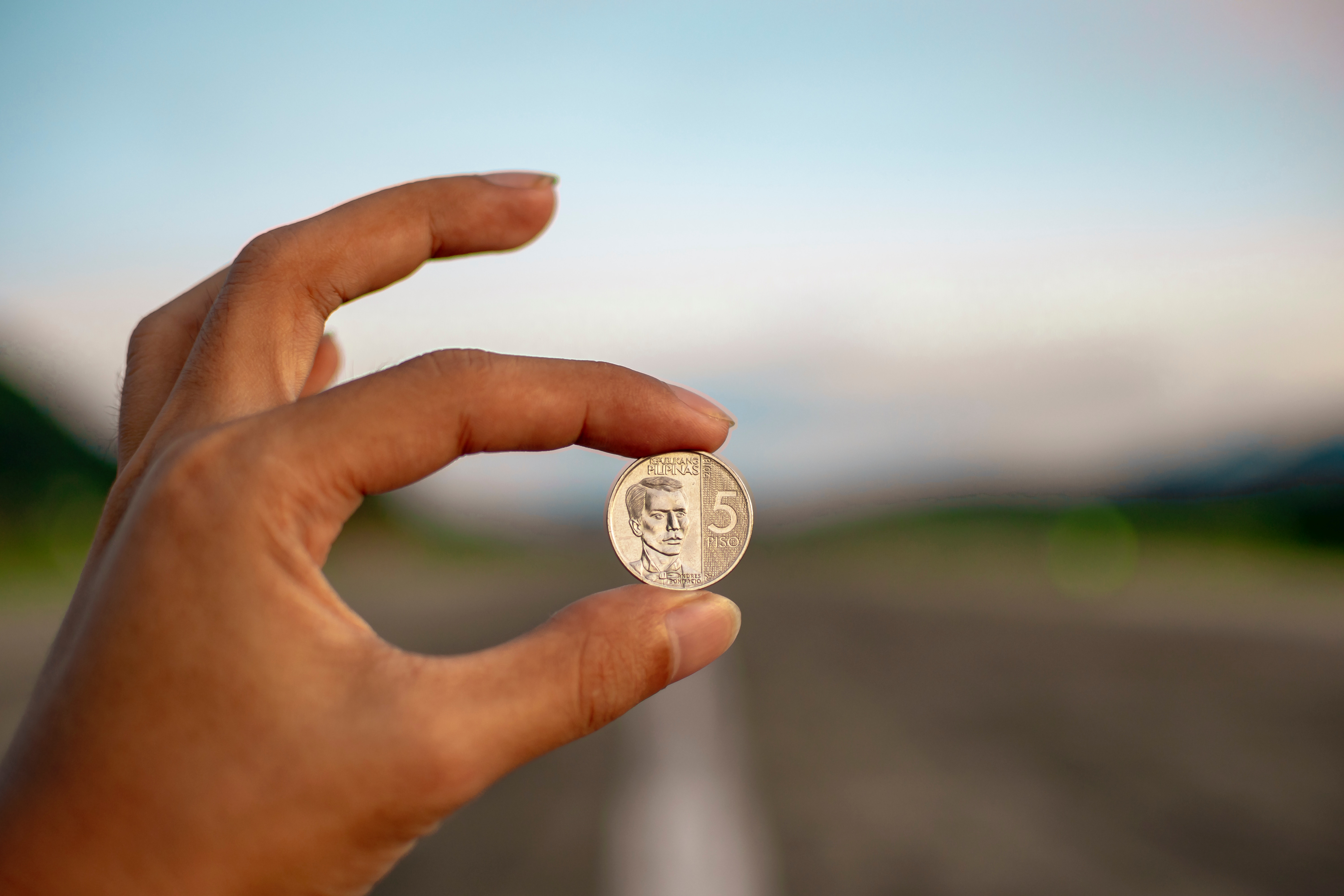 BOSTON, MA — September 13, 2018 — Backed by COSIMO Ventures, Oneiro NA Inc. has announced the launch of ndau, the world's first buoyant digital currency optimized for the long-term store of value. Oneiro completed its equity round from COSIMO Ventures earlier this year and has successfully sold privately nearly $15 million of ndau to date. Unlike stable coins, ndau is not pegged to fiat currencies or commodities. Rather, incentives and economic controls are built into the design of the ndau blockchain in ways that improve on both digital predecessors as well as traditional non-digital currencies. ndau features innovations which seek to provide a combination of digital governance, reduced volatility, value appreciation potential, and long-term dependability not found in existing cryptocurrencies.
Jim Kent, CEO of Oneiro, said: "While other cryptocurrencies have achieved an impressive rate of growth, their volatility has presented a barrier to mainstream adoption, warding off many institutional and retail investors from entering the market. In order to move towards acceptance of a decentralized digital monetary system, we must address the problems of governance, stability, and dependability that limit wider acceptance of cryptocurrencies, especially for a long-term store of value. We are thrilled to have built a truly resilient, global digital currency that will address these issues."
ndau was initially formulated by the ndau Collective, a group of over 20 leading experts from world-class institutions including MIT, Columbia University, Carnegie Mellon, New York University, University of Chicago, and Goldman Sachs and who specialize in disciplines ranging from economics and monetary policy to cryptography and computer science. Typical stable coins are largely pegged to other currencies or commodities and are therefore subject to the influence of institutions that may not prioritize the interests of long-term holders. This leads to inflationary policies that erode value over time. By contrast, ndau, is governed by the Blockchain Policy Council (BPC), a group of digital delegates continuously elected by ndau holders that are held accountable to the interests of the entire ndau ecosystem.
While stable coins have features to push against price drops relative to fiat currencies, they are also limited in their ability to increase in value over time, making them a less optimal choice for long-term value storage compared to traditional assets. The BPC's monetary policy fosters a pro-growth environment for the value of ndau while mitigating its downside volatility.
Ken Lang, a technology pioneer and an early member of the ndau Collective said: "When a group of early bitcoin enthusiasts came together a few years ago to map out the biggest limitations to wide adoption of cryptocurrencies, it was clear that those looking to use crypto for long-term value storage had problems that weren't being addressed. ndau was created as a solution to these problems. The ndau Collective designed an ecosystem of decentralized participants and roles that use built-in incentives, checks, and balances to align interests properly and to protect the interests of all ndau holders fairly.  These participants and roles, such as market makers, delegates, and endowment managers, work together to promote price stability without limiting growth – making it a better fit for long-term value storage."
ndau has economic incentives built into its ecosystem to encourage market interactions between ndau holders that tend to stabilize its price. ndau holders are rewarded based on duration of holding, ensuring that those holding it for its intended purpose are well served. ndau's monetary policy automatically responds to market conditions in real time, releasing new ndau for sale from the endowment only when demand warrants, and according to a public schedule of target prices that rise exponentially over time. Proceeds from ndau sales flow into an endowment of assets, which serves as a source of liquidity to support ndau monetary policy. During market downturns, excess supply of ndau are taken out of circulation through both algorithmic mechanisms and by market makers, who buy back ndau at a dynamic floor price – similar to how central banks conduct open market operations, except more decentralized.
Robert Frasca, Managing Partner at Cosimo Ventures, said: "COSIMO Ventures is a team of highly experienced former entrepreneurs who invest in the tech space, and we currently focus on blockchain projects that have something really unique to offer. We surveyed the landscape of cryptocurrencies, and we invested in Oneiro because the ndau coin is leveraging blockchain technology to create a really groundbreaking buoyant currency. ndau challenges many of the assumptions held by current cryptocurrency thought leaders today, especially in the realms of digital governance and combining value growth with stability."
The buoyant nature of ndau positions it as ideal for individual investors, institutions, and businesses alike looking to diversify into an asset that rewards long-term holding. In addition to ndau's dynamic "guide rails" on price, further economic mechanisms automatically apply in every standard ndau blockchain transaction, providing "buoyant" market forces that dampen downside volatility and instead push upwards. The built-in incentives and economic structure of the ecosystem position ndau to better meet the needs of long-term crypto holders who want their investment to both mitigate volatility and appreciate in value.
For more information on ndau, please visit ndau.io.
*Readers should do their own due diligence before taking any actions related to the company, product or service. BitcoinAfrica.io is not responsible, directly or indirectly, for any loss or damage caused by or in connection with the use of or reliance on any content, product or service mentioned in this press release.*
P2P Trading Platform CryptoLocally Adds Its Own Native Token: GIV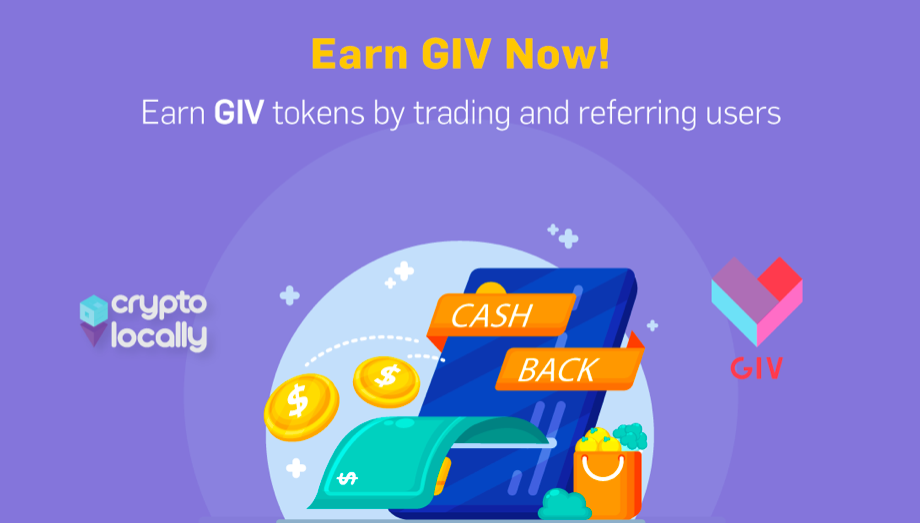 With COVID-19 and people looking for economic opportunities from home, cryptocurrency exchange platforms have been looking for ways to expand. Over the past few weeks, the P2P trading platform CryptoLocally has added numerous tokens, such as USDJ, JUST, USDT-TRC20, and now CryptoLocally's most recent addition is GIV, a token native to CryptoLocally. This new coin will allow users to take advantage of a number of special features that makes GIV stand out from the native coins of other platforms.
What is CryptoLocally?
CryptoLocally is a Peer-to-Peer (P2P) crypto trading platform that supports many next-generation blockchains. Its team is committed to creating the easiest, fastest, and most convenient way of trading cryptocurrencies. They have achieved this by providing a service that allows users to directly interact with one another without third-party interventions and user funds are protected by an escrow until transactions are complete.
What is GIV?
GIV is the token native to CryptoLocally's platform and it can be used to purchase or access a number of special features.  There are various means of obtaining GIV, which range from just signing up to being an active trader on our platform. The more GIV users obtain, the more they will be able to take advantage of the special features that come with owning GIV.
How Can Users Gain GIV?
Immediately after signing up on CryptoLocally, all users will receive 10 GIV. Additionally, new users to the platform will receive a one time "Spin-the-wheel" gift where they can spin a wheel containing various GIV prizes right after signing up. Users can also earn GIV through CryptoLocally's referral program which allows both parties to immediately earn free GIV and on top of that, earn 0.1 GIV for every 10 USD of a completed trade made by the referrals forever. While these methods allow users to easily gain their first tokens, the best way to earn GIV is by being an active trader.
Being active on the platform allows users to comfortably earn GIV based on the trade amount, with a ratio of up to 1 GIV per 10 USD traded! Since GIV is stored directly on CryptoLocally's platform, there is no need to worry about getting an additional wallet. While being an active trader on CryptoLocally is the fastest way to gain GIV, traders can also buy GIV from Binance DEX.
Why Use GIV?
GIV has several benefits that are unique compared to other native tokens. Here are some of the benefits and why you should consider using GIV:

1. Get paid to trade
By trading on CryptoLocally, users will earn GIV based on the trade amount, with a ratio of up to 1 GIV per 10 USD traded. Thus, the more users trade the more GIV they will earn.
2. Refer friends, earn GIV
Earn 10 GIV per referred user that completes a trade and then earn additional GIV based on the trade amount your referrals make!
3. Coupons that facilitate trading
50% off Coupons: For 800 GIV, users can purchase this coupon which will reduce trading fees by 50% for 1 trade.
Boosts: For 600 GIV, users can purchase a "boost" which, when applied to an offer, will place it at the top of the list.
4. Access to the Tier system
Bronze: Just by signing up all users are placed into the Bronze Tier. Being in this tier allows them to earn GIV from signing up, referring friends, and actively trading on the platform. In addition, you can spin a GIV wheel and receive a GIV gift. Additionally, after each completed trade, users will be awarded GIV based on the trade amount, with a ratio of 0.8 GIV per 10 USD traded.
Silver: In order to gain access to the benefits of the Silver Tier, users must maintain a GIV balance of at least 250 thousand GIV. At this level, they will get 25% off on all their trade fees + all of the perks from Bronze tier. Similarly to the bronze tier, you will be awarded GIV based on the trade amount, with a ratio of 0.88 GIV per 10 USD traded.
Gold: This is the highest tier and is attainable by maintaining a GIV balance of at least 1 million.  While this may seem difficult to reach, users in the Gold Tier will get 50% off on all of their trade fees. At the highest tier, you will experience the highest level of GIV rewards, allowing you to earn GIV based on the trade amount, with a ratio of 1 GIV per 10 USD traded.
Disclaimer: This is a paid press release. Readers should do their own due diligence before taking any actions related to any company, product or service mentioned in this article. BitcoinAfrica.io is not responsible, directly or indirectly, for any loss or damage caused by or in connection with the use of or reliance on any content, product or service mentioned in this press release. 
How to Monetize Your Publications on Social Networks Using SaTT Solution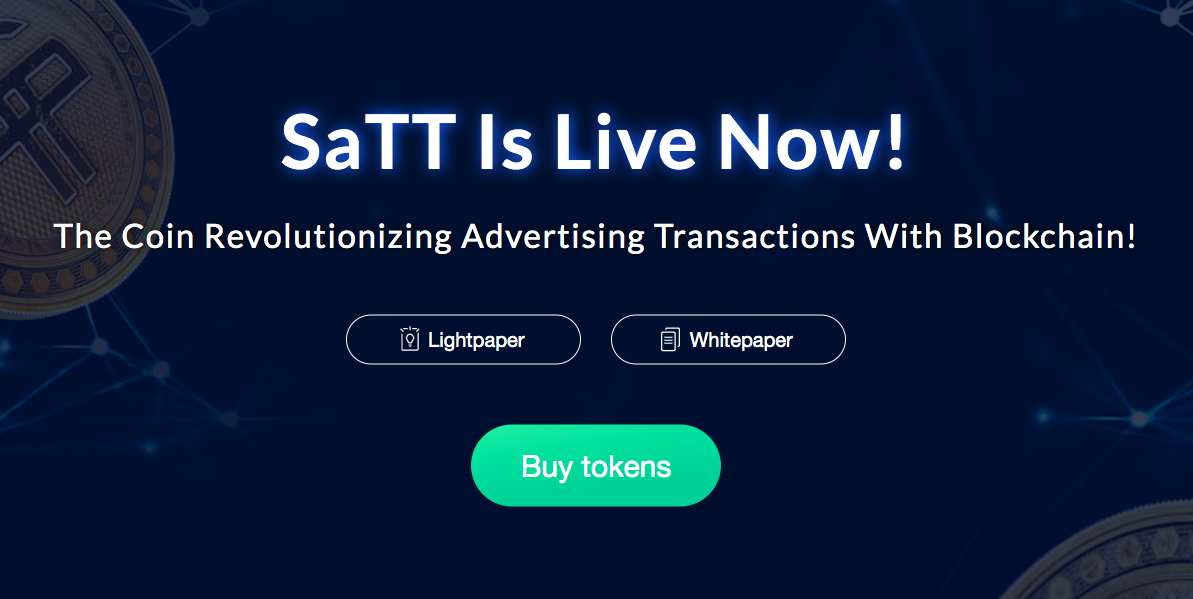 Through advertising, brands can easily reach out to audiences that they wouldn't otherwise meet through organic means.
SaTT is an online advertising platform that upgrades the advertising transaction process through the use of blockchain while removing the high costs associated with launching a campaign, reducing payment delays for publishers that rely on ad revenue, as well as injecting some much-needed transparency into the industry with performance-based payments.
Using SaTT, it is possible for anybody to play the role of an online influencer and be compensated for the posts that they make on social networks, including Twitter, Facebook, Instagram & Youtube. As a project that is founded on the Ethereum blockchain network, all transaction on the platform is fully automated and transparent.
Advertising, as we know it, is a very important aspect for every business as it is a way for them to put themselves out there to the world in order to gain more recognition and eventually, patronisation.
The world of advertising has undergone different changes at different times. In the earlier days, adverting was done through traditional means such as billboards, handbills, and posters. Although these methods of advertising are still in use in today's world, it is however no longer a secret that in this digital world, even advertising is going digital.
The most popular digital means of advertising is currently through social media. Social media platforms such as Facebook, Twitter, Instagram, and Youtube among many others are mostly used for advertising purposes because it is believed that the majority of the world's population spend their time on these social networking platforms.
One way or the other, everyone has placed an advertisement on social media – consciously or unconsciously either by sharing their personal businesses or innocently sharing a post from a business page that they find interesting. The only downside to this, however, is that promoting content on your personal social network page is supposed to earn you some money because a client's recommendation or fan exposure on social network is an invaluable resource for a company and they pay close attention to them.
How Does SaTT work?
Advertisers can list their advertising campaigns on the SaTT platform with the assurance of getting an effective result as the system is implementing an incentive-based approach which incentivises publishers that takes part in this advertising campaign which in return is beneficial to the advertisers as the advertisements will reach the correct audience that will engage with the post through this method.
A Product Already in Use
The platform is already fully functional as there are already listed advertising campaigns in which publishers can take part in and get rewarded in SaTT tokens. Although the platform is up and running with already working products, fundraising is, however, still ongoing for the sales of the SaTT token – the native cryptocurrency token of the platform.
Companies are already using the platform to generate turnover as the performance-based approach taken by the SaTT project has proved to be a very effective method so far. Publishers also have been making money from participating in advertising campaigns that are already listed on the platform.
Skilled and Experienced Team
Recently, the company announced the addition of the famous investor from Asia, Richard Wang, to their team, as an advisor. Richard Wang is a partner with Draper Dragon, a company that is known for investing in early-stage high growth China-centric technology companies and a subsidiary of Draper Venture Network.
With more than two decades of experience in business development, technical marketing, and sales management in high technology coupled with his outstanding background in finance, blockchain, and technological disruption, Richard Wang's strategic presence on the board is expected to accelerate the company's success in the Asian market.
Conclusion
The problem of not being able to monetise publications made on social media is one that has lingered for a very long time. With the SaTT solution, there will no longer be excuses for using social networks but not getting anything out of it as the platform was created with the sole purpose of giving publishers the kind of reward that they truly deserve.
Making use of the blockchain will further help in boosting confidence in publishers knowing that they definitely are going to be paid, given that their submissions have passed all verification processes as the entire system was built on a total automation system.
Disclaimer: This is a paid press release. Readers should do their own due diligence before taking any actions related to any company, product or service mentioned in this article. BitcoinAfrica.io is not responsible, directly or indirectly, for any loss or damage caused by or in connection with the use of or reliance on any content, product or service mentioned in this press release. 
KoinKoin Launches Hybrid Digital Assets Exchange Services in Nigeria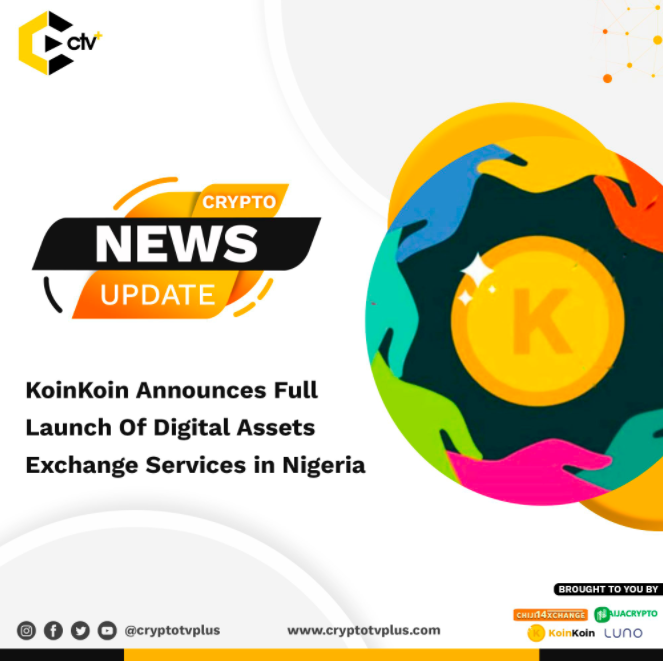 The Nigerian blockchain and cryptocurrency community have been provided with another novel opportunity to derive value from the digital assets market. This opportunity has come in the form of "KoinKoin", a hybrid cryptocurrency exchange.
KoinKoin allows users to participate in both peer to peer cryptocurrency trading services, as well as direct fiat to cryptocurrency exchange.
KoinKoin is headquartered in London, but on Thursday, June 04, 2020, the company announced that it has commenced full operations in Nigeria. This comes after an almost one year long beta testing experience and UAT. According to the announcement, crypto users in Nigeria can now enjoy full functionality on the platform in ways that suit their desires.
"KoinKoin's digital asset exchange services are immediately available and users can readily make deposits and withdrawals with their Naira based credit and debit cards in purchase of BitCoin, Ethereum and LiteCoin.   KoinKoin's digital asset exchange offers peer to peer exchange services as well as a direct fiat to cryptocurrency exchange".
A Decentralised Social Commerce Marketplace
Apart from offering exchange services for cryptocurrency users, KoinKoin has also delivered the first marketplace application underpinned by  Ethereum. This is a Social Commerce platform that is available to users on both Android and iOS. As a wholesaler or retailer, the KoinKoin Social Commerce platform gives you the opportunity to sell your products directly to your personal or social media network. 
Based on the Ethereum network, transactions on the KoinKoin Social Commerce platform are decentralized. It allows users across the various regions of Africa to trade among themselves without the limitations of foreign exchange. At the same time, such transactions help users to protect their privacy and promote the confidentiality of doing business.
Founder and CEO of KoinKoin, Ola Atose expresses his excitement at the launch of this product. He says: "I am truly excited about this launch and I deeply appreciate the KoinKoin team for all their hard work over the past months."  
Atose and team are already looking ahead to delivering digital exchange services across Ghana, South Africa, Kenya, Tanzania and Uganda later on this year.
To learn more about KoinKoin, click here!
Disclaimer: This is a paid press release. Readers should do their own due diligence before taking any actions related to any company, product or service mentioned in this article. BitcoinAfrica.io is not responsible, directly or indirectly, for any loss or damage caused by or in connection with the use of or reliance on any content, product or service mentioned in this press release.