Oneiro Launches ndau, the World's First Buoyant Coin Optimized for Long-term Store of Value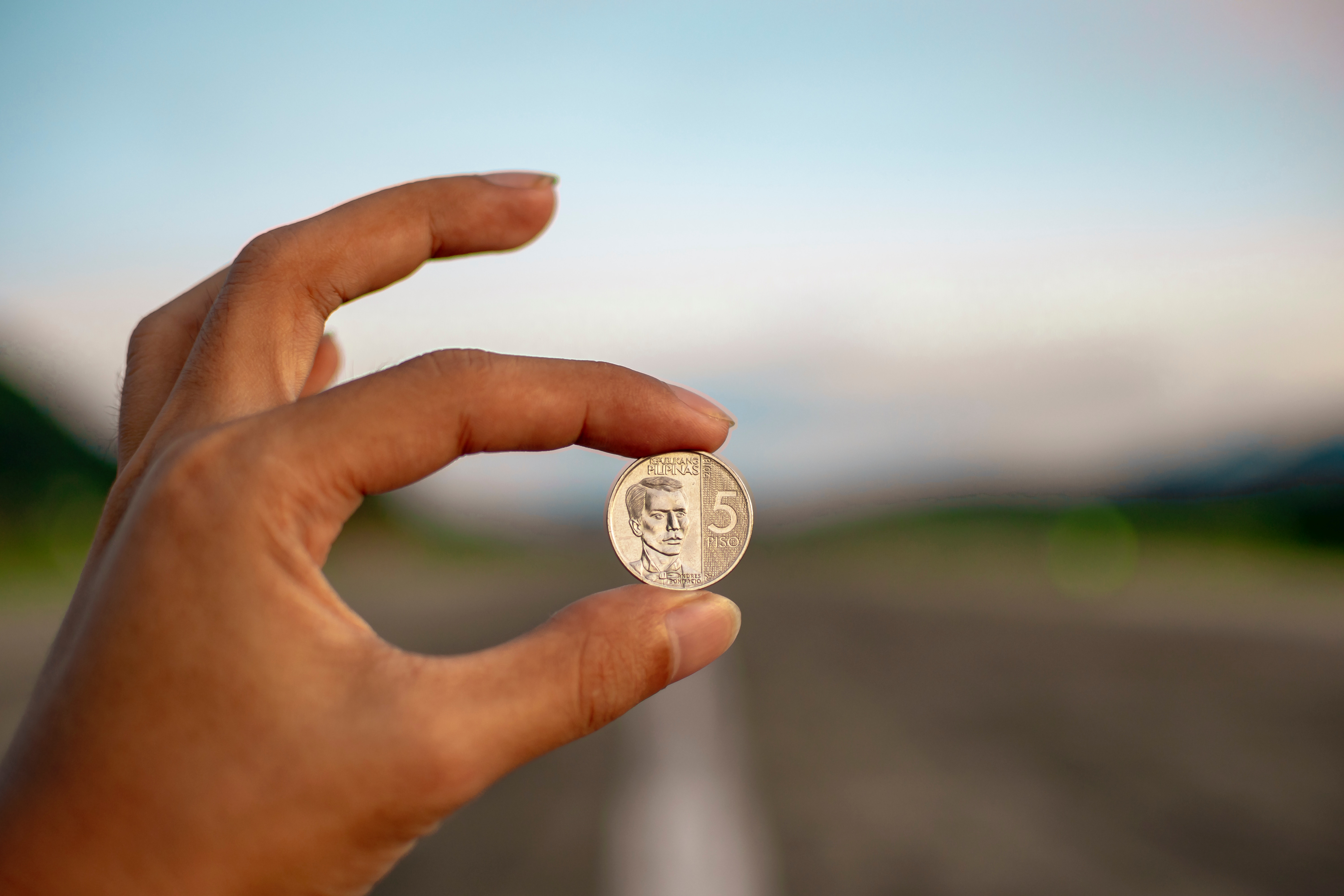 BOSTON, MA — September 13, 2018 — Backed by COSIMO Ventures, Oneiro NA Inc. has announced the launch of ndau, the world's first buoyant digital currency optimized for the long-term store of value. Oneiro completed its equity round from COSIMO Ventures earlier this year and has successfully sold privately nearly $15 million of ndau to date. Unlike stable coins, ndau is not pegged to fiat currencies or commodities. Rather, incentives and economic controls are built into the design of the ndau blockchain in ways that improve on both digital predecessors as well as traditional non-digital currencies. ndau features innovations which seek to provide a combination of digital governance, reduced volatility, value appreciation potential, and long-term dependability not found in existing cryptocurrencies.
Jim Kent, CEO of Oneiro, said: "While other cryptocurrencies have achieved an impressive rate of growth, their volatility has presented a barrier to mainstream adoption, warding off many institutional and retail investors from entering the market. In order to move towards acceptance of a decentralized digital monetary system, we must address the problems of governance, stability, and dependability that limit wider acceptance of cryptocurrencies, especially for a long-term store of value. We are thrilled to have built a truly resilient, global digital currency that will address these issues."
ndau was initially formulated by the ndau Collective, a group of over 20 leading experts from world-class institutions including MIT, Columbia University, Carnegie Mellon, New York University, University of Chicago, and Goldman Sachs and who specialize in disciplines ranging from economics and monetary policy to cryptography and computer science. Typical stable coins are largely pegged to other currencies or commodities and are therefore subject to the influence of institutions that may not prioritize the interests of long-term holders. This leads to inflationary policies that erode value over time. By contrast, ndau, is governed by the Blockchain Policy Council (BPC), a group of digital delegates continuously elected by ndau holders that are held accountable to the interests of the entire ndau ecosystem.
While stable coins have features to push against price drops relative to fiat currencies, they are also limited in their ability to increase in value over time, making them a less optimal choice for long-term value storage compared to traditional assets. The BPC's monetary policy fosters a pro-growth environment for the value of ndau while mitigating its downside volatility.
Ken Lang, a technology pioneer and an early member of the ndau Collective said: "When a group of early bitcoin enthusiasts came together a few years ago to map out the biggest limitations to wide adoption of cryptocurrencies, it was clear that those looking to use crypto for long-term value storage had problems that weren't being addressed. ndau was created as a solution to these problems. The ndau Collective designed an ecosystem of decentralized participants and roles that use built-in incentives, checks, and balances to align interests properly and to protect the interests of all ndau holders fairly.  These participants and roles, such as market makers, delegates, and endowment managers, work together to promote price stability without limiting growth – making it a better fit for long-term value storage."
ndau has economic incentives built into its ecosystem to encourage market interactions between ndau holders that tend to stabilize its price. ndau holders are rewarded based on duration of holding, ensuring that those holding it for its intended purpose are well served. ndau's monetary policy automatically responds to market conditions in real time, releasing new ndau for sale from the endowment only when demand warrants, and according to a public schedule of target prices that rise exponentially over time. Proceeds from ndau sales flow into an endowment of assets, which serves as a source of liquidity to support ndau monetary policy. During market downturns, excess supply of ndau are taken out of circulation through both algorithmic mechanisms and by market makers, who buy back ndau at a dynamic floor price – similar to how central banks conduct open market operations, except more decentralized.
Robert Frasca, Managing Partner at Cosimo Ventures, said: "COSIMO Ventures is a team of highly experienced former entrepreneurs who invest in the tech space, and we currently focus on blockchain projects that have something really unique to offer. We surveyed the landscape of cryptocurrencies, and we invested in Oneiro because the ndau coin is leveraging blockchain technology to create a really groundbreaking buoyant currency. ndau challenges many of the assumptions held by current cryptocurrency thought leaders today, especially in the realms of digital governance and combining value growth with stability."
The buoyant nature of ndau positions it as ideal for individual investors, institutions, and businesses alike looking to diversify into an asset that rewards long-term holding. In addition to ndau's dynamic "guide rails" on price, further economic mechanisms automatically apply in every standard ndau blockchain transaction, providing "buoyant" market forces that dampen downside volatility and instead push upwards. The built-in incentives and economic structure of the ecosystem position ndau to better meet the needs of long-term crypto holders who want their investment to both mitigate volatility and appreciate in value.
For more information on ndau, please visit ndau.io.
*Readers should do their own due diligence before taking any actions related to the company, product or service. BitcoinAfrica.io is not responsible, directly or indirectly, for any loss or damage caused by or in connection with the use of or reliance on any content, product or service mentioned in this press release.*
TokenMarket Opens New Security Token Offering Service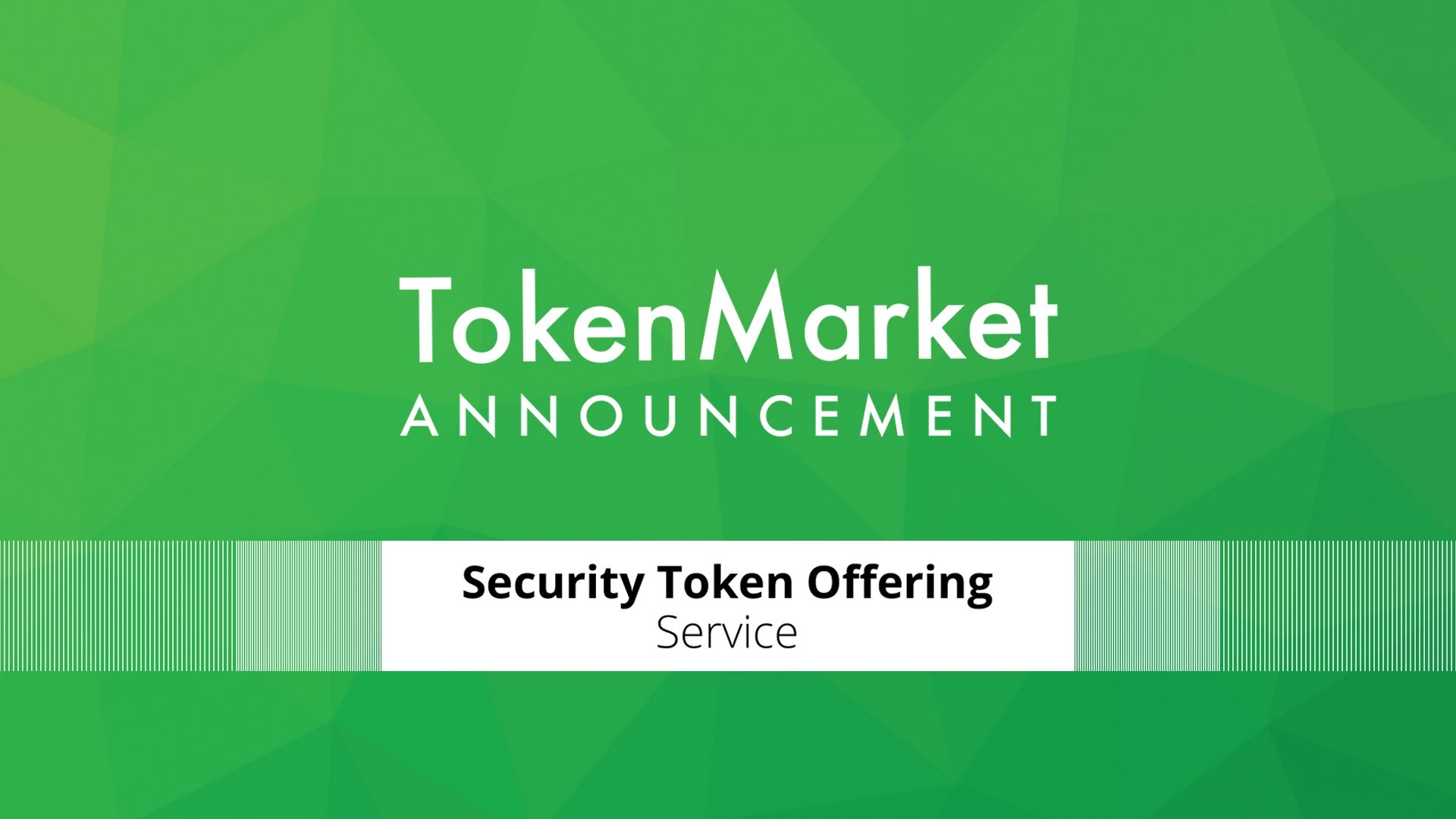 LONDON, Sept. 17, 2018 /PRNewswire/ — TokenMarket, Gibraltar and London based token sale advisory firm, is pleased to announce the launch of its new Security Token Offering (STO) service.
The STO Service will assist issuers and investment banks with all the technical aspects of the token issuance, including in-house developed, world-class security token framework.
As of today, TokenMarket is already building a pipeline of STO issuances.
Tokenisation in this context refers to a method of converting rights to an equity or debt instrument into a token; digital representation that lives on a blockchain. Tokens retain the investor protections of a regulated asset, but still enjoy the benefits of blockchain technology with instant settlements, borderless distribution (in accordance with legal and regulatory requirements) and counterparty risk mitigation.
While the financial regulations are adjusting to blockchain technology, the first investment types are likely to be private placements and crowdfunding of SME growth companies, real estate, and investment funds.
TokenMarket assists issuers with a variety of services including: tokenisation of new and existing assets on the blockchain, programming of associated token rights such as dividend and voting rights into the token smart contract, on-chain governance, as well as more general strategic and technical advisory.
Ransu Salovaara, CEO of TokenMarket, said: "We are excited to start a new chapter by offering solutions and services for asset tokenisation. With over $350 million dollars worth of ICO's under our belt, we know a lot about token offerings from technology to strategy. We are currently in talks with businesses across multiple sectors on how we can best facilitate STO's for startups and growth companies."
"Our token sale smart contracts have been battle tested in dozens of offerings including ones from third party vendors. Likewise, our STO toolchain will be available under the Apache 2 Open Source License. We are excited for what the future of our STO service holds," says Mikko Ohtamaa, CTO of TokenMarket.
TokenMarket's regulatory efforts are moving forward as the company was accepted in the  FCA Regulatory Sandbox in July of this year. In addition, TokenMarket has been given a trial period to test and measure the implementation and the practice of tokenising equity in the UK. TokenMarket has also received "In Principle" Distributed Ledger Technology (DLT)approval from the Gibraltar Financial Services Commission (GFSC).
More information regarding the TokenMarket STO Services offering can be found at https://tokenmarket.net/security-token-offering.
*Readers should do their own due diligence before taking any actions related to the company, product or service. BitcoinAfrica.io is not responsible, directly or indirectly, for any loss or damage caused by or in connection with the use of or reliance on any content, product or service mentioned in this press release.*
SALT Announces Largest Expansion to Date; Now in 80 Percent of the U.S., Totaling 10 International Territories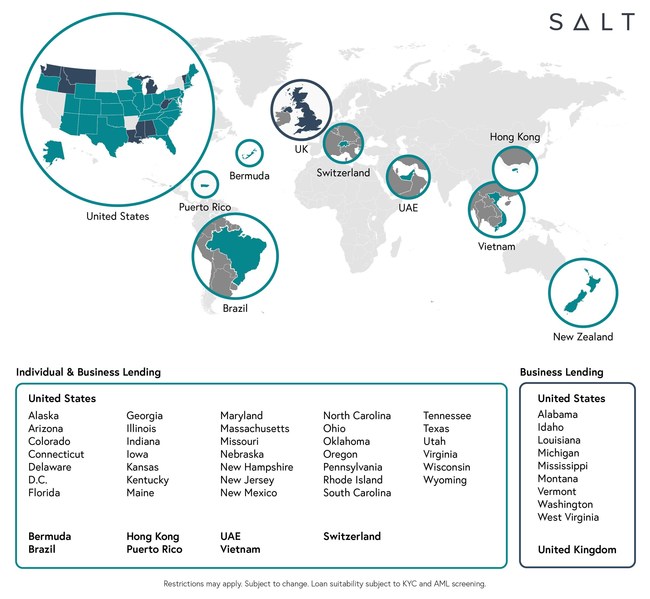 DENVER, Sept. 18, 2018 /PRNewswire/ — SALT, the world's premiere provider of cryptocurrency collateralised Blockchain-Backed Loans™, today announces its most significant expansion to date, opening operations in 15 additional U.S. jurisdictions including New Jersey, Massachusetts, Washington and Texas, as well as an additional 7 territories including Brazil, Hong Kong, Switzerland, Bermuda, Vietnam, Puerto Rico and the United Arab Emirates. This rapid expansion of services comes on the heels of SALT's 20-state expansion in August as the company approaches its goal of being fully operational in all 50 states.
As SALT continues its global expansion, its competitive offerings— including flexible loan terms, no origination fee, no prepayment fee, and no servicing fee or closing costs— enable the company to maintain its position as market leader. "The number of cryptocurrency holders has already increased by more than 70 percent worldwide during the past year, which points to the potential of a dramatic increase in loan demand," said Bill Sinclair, Interim President and CEO of SALT. "Given SALT is also one of the few companies that actually lends in fiat currency, we're in a unique position to democratise loan access by providing a multi-faceted loan service to businesses and consumers across the world."
This expansion and greater flexibility for borrowers supports SALT's mission to not only increase loan access but to also grant its customers maximum utility of their assets. With more than 60 percent of cryptocurrency trading in international currencies, SALT seeks to continue increasing international exposure and providing its services to crypto holders across the globe. "Overall, it's about providing more liquidity to the crypto-market," Sinclair continued. "This is yet another leap forward in allowing both the banked and unbanked to gain access to traditional financial institutions through their blockchain assets."
*Readers should do their own due diligence before taking any actions related to the company, product or service. BitcoinAfrica.io is not responsible, directly or indirectly, for any loss or damage caused by or in connection with the use of or reliance on any content, product or service mentioned in this press release.*
ETHLend Announces Launch of New Parent Company 'Aave'
CHIASSO, Switzerland, Sept. 18, 2018 /PRNewswire/ — Founders behind popular Swiss-based decentralised digital asset-backed lending platform ETHLend, today announced the launch of Aave, a new technology company focused on empowering people through innovation. The name Aave, which comes from the Finnish word for "ghost," was chosen because the brand continues to intrigue users through its evolving and imaginative technology. The technology-based venture intends to fill the gaps left by centralised fintech industry players such as PayPal, Skrill and Coinbase, by introducing new products and services, such as Aave Pocket, Aave Lending (SaaS), Aave Gaming, Aave Custody and Aave Clearing.
The executive roles will remain the same with ETHLend becoming a subsidiary under Aave. Stani Kulechov will stay on as CEO, Jordan Lazaro Gustave as COO, and Nolvia Serrano as CMO. Mika Söyring will join as CFO and Ville Valkonen as CCO. Mika previously served as the CFO of health technology company Revenio Group Corporation (formerly Done Solutions Corporation) and has extensive experience as an entrepreneur and a financial specialist. Ville previously operated a legal consulting firm that focused on start-ups in Finland and also worked for law firms, focusing heavily on SMEs and providing counseling on contract matters.
Stani Kulechov, CEO of Aave, said, "By integrating our innovative technology into the services already offered by traditional institutions, we can transform the way people interact and provide new products and services that will help them seamlessly achieve their goals at a lower cost, ultimately giving them access to new opportunities that have not been possible before."
"Aave is a pioneer in the lending industry. As ETHLend, Aave was the first in the space to provide a solution to those in need of liquidity and unlock what was previously viewed as unassailable funds," said Andrew Karos, CEO and Founder of BlueFire Capital and an Aave customer. "It's very satisfying to watch them evolve. As a U.S.-based market maker, I can confirm that they understand the level of importance in policy, procedure, and safety, and I look ahead with much enthusiasm for the future of our working relationship."
Aave's portfolio of products ranges across several industries, including technology, finance, and games. The company will continue to power its existing products in addition to new ones aimed at Millennials and Generation Z.  Several products under Aave's line include:
Aave Pocket is an ambient account innovation, and one of the first products developed by Aave to serve the gig economy and micropayments industry, removing the need for credit cards and bank-to-bank fees between online merchants/developer entrepreneurs, and their end-user customers. All transactions stay where the user is earning and spending, contained within an application, enabling true peer-to-peer payment, even across international borders.
ETHLend is a decentralised financial marketplace for peer-to-peer digital asset-backed loans operating on the Ethereum blockchain using smart contracts. ETHLend solves the liquidity challenge of being cash-poor, but crypto-asset rich. Borrowers can request secure loans by pledging their cryptocurrency assets as collateral to receive spendable funds. This enables borrowers to retain their exposure on cryptocurrency without the need for selling the assets when the borrower has sudden expenses.
Aave Lending, inspired by ETHLend, is a turnkey solution for the digital asset-backed lending market. Aave Lending solves the issues that follow digital asset storing and digital asset-backed loan management for creditors. As a SaaS (Software-as-a-Service) solution, creditors can easily start a digital asset-backed lending business while Aave takes care of secure collateral storage, notifications and liquidation upon margin calls.
Aave Custody, currently available for use, is designed for institutional or private investors and serves as a custodian for storing digital assets. Aave stores private keys by following the highest and most innovative security standards. Funds can be moved in and out of custody on a daily basis.
Aave Clearing is an over-the-counter (OTC) cryptocurrency clearing service for institutional investors and businesses who need to convert large amounts of cryptocurrency with speed and efficiency. The platform provides users with an easy-to-use interface and an API connection, giving them the ability to generate quote requests for cryptocurrencies as well as exchange their cryptocurrency for traditional currencies.
Aave Gaming is an innovative game studio focused on creating a new gaming experience using Blockchain, Smart Contracts, and mixed reality.
"In the last decade, legacy industries have experienced a major change. Banking is no longer limited to traditional institutions," said Jordan Lazaro Gustave, COO of Aave. "As a team of developers and creative thinkers, Aave is no stranger to these market forces. By integrating emerging technologies we will continue to offer secure and transparent applications, with reduced costs, to instill trust and confidence within our users, while delivering an experience they can enjoy."
*Readers should do their own due diligence before taking any actions related to the company, product or service. BitcoinAfrica.io is not responsible, directly or indirectly, for any loss or damage caused by or in connection with the use of or reliance on any content, product or service mentioned in this press release.*