Femtech in Africa: Meet the Women Who Are Pioneering Blockchain Technology in Africa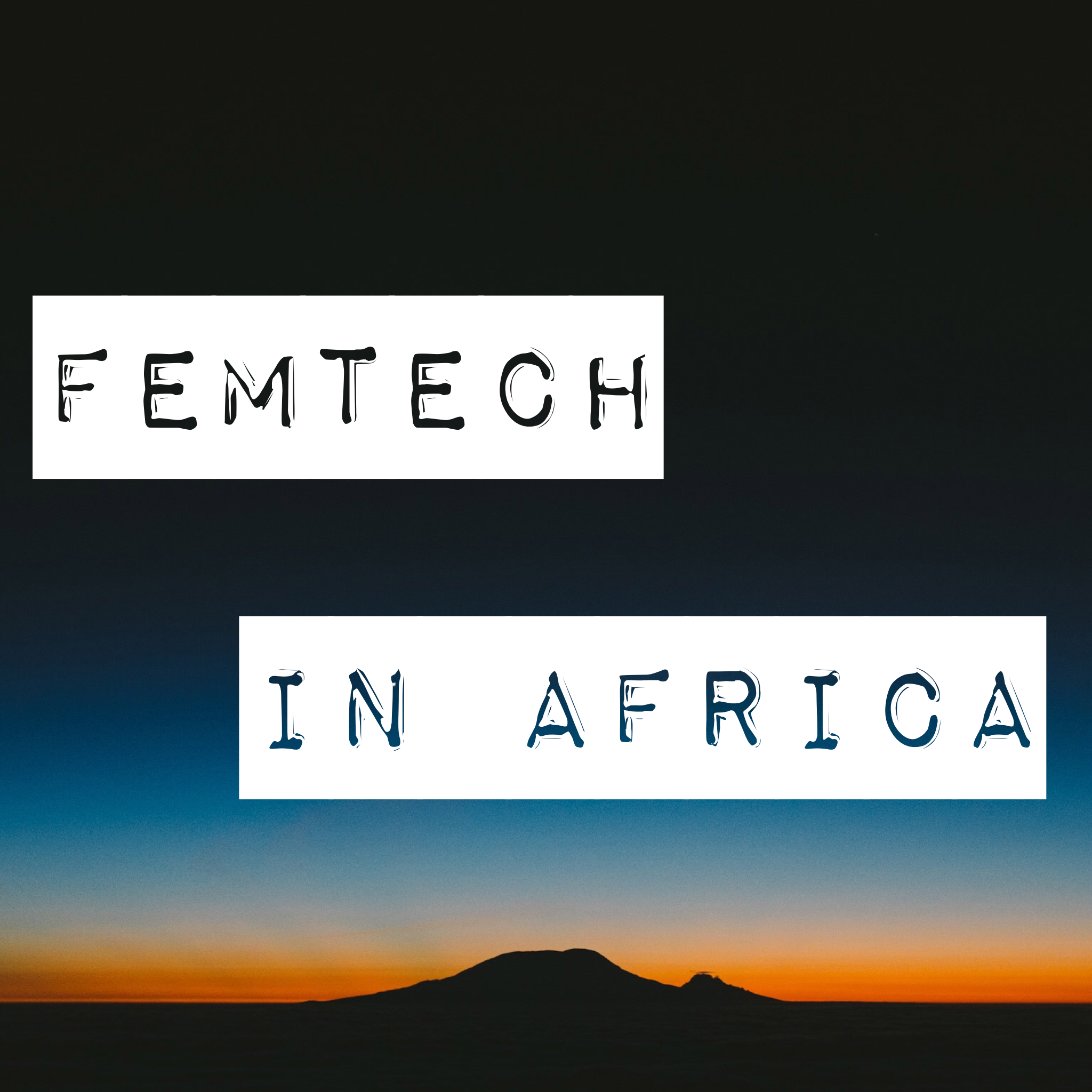 It is an undeniable fact that technological advancements are helping to solve some of the world's most pertinent problems. In Africa, e-learning, remote working, mobile money transfers as well as digital communication are just some of the areas through which technology is exposing people to new opportunities. This is especially true for Africa's youth. 
While technology has become part of our daily lives, the technology space is still very much a man's domain. There is a substantial disparity between the number of men and women working in technology, with the number dropping even further in places of leadership. There have been a number of studies that have revealed that women in tech, especially in positions of power, augur well for both the consumer and the company.
The rise of the FemTech movement is partly in response to this disparity. FemTech refers to women in technology. Additionally, it has connotations of the use of technology as a tool for female empowerment. While female empowerment is important across the globe, it is doubly so in Africa where it has been noted that female empowerment leads to better economic standing for the whole family according to a World Bank study. 
In Africa, there are a number of women making waves within the bitcoin and blockchain space. Whether they are from Africa or their projects have a specific focus on Africa, these are women who are harnessing the power of blockchain technology to spur on positive change on the continent.
Sonya Kuhnel
Sonya Kuhnel launched the Blockchain Academy in 2013 with the intention of educating South Africans about cryptocurrencies, blockchain technology, and their potential use cases.
"I became involved in the bitcoin/blockchain community because I believe that there is a huge amount of social good this technology offers and it could really change the way we transact and do business with each other. I therefore also decided to start Blockchain Academy as very few people really understood these opportunities at that time," Kuhnel told Bitcoin Africa.
More specifically, Kuhnel believes blockchain technology can help fix one of South Africa's most widespread and crippling problems. "In addition, because blockchain technology is so transparent, secure and decentralised, this technology could be used to combat fraud and corruption, which I felt very passionate about in South Africa where corruption is rife in the public and private sector."
The Blockchain Academy holds training sessions for individuals, groups and organisations. Through the classes, participators gain an in-depth understanding of cryptocurrencies and blockchain technology.
While the number of women in technology is slowly growing across the world, Kuhnel is of the opinion that the cryptocurrency space within South Africa is lacking adequate female representation. She urges women to engage in activities that facilitate their interaction with the blockchain technology space.
"Women need to network and attend more social and business functions in order to meet and engage with people in the community. I am really not sure why there are generally so few women in this space but I am seeing this change in countries such as America where you see a lot more women attending conferences and events."
Alakanani Itireleng
Alakanani Itireleng is an entrepreneur who founded the Satoshicentre to provide individuals and companies with access to information on bitcoin, blockchain technology, and the overall cryptocurrency space in Botswana. The Satoshicentre is an organisation that seeks to empower entrepreneurs with knowledge on blockchain technology in an effort to spur innovation.
Itireleng explained how she got involved with the blockchain space: "I learned about bitcoin in the beginning of 2012 when I was looking for ways to make money online to raise funds for my late son Pako. When he passed on I stopped searching or learning on bitcoin until 2013 when I just felt that I really need to study about bitcoin and find ways in which we can use bitcoin to empower people in Botswana. In 2014, I registered Satoshicentre as a blockchain technology hub, where we provide education on bitcoin and the blockchain, and also work on blockchain projects."
The Satoshicentre has conducted a number of successful workshops. While the interest from the local bitcoin community is promising, Itireleng believes that
"African women in tech should endeavor to learn more about blockchain technology for the purposes of innovation as opposed to participating in the myriad of scammy get-rich-quick bitcoin schemes."
"In [Botswana], most women [in the local bitcoin community] are currently more involved in bitcoin get rich schemes or cloud mining activities […] and less in understanding the underlying technology. This is something that needs to change," she told Bitcoin Africa.
Tricia Martinez
Tricia Martinez is the founder of the new blockchain-based financial services platform Wala. It is a platform that seeks to provide financial services to those who are not able to access traditional financial services by leveraging blockchain technology to facilitate access to a number of financial services, all at a substantially lower cost than those witnessed at banks and other formal financial institutions.
Wala has created a crypto-token that is designed to facilitate cheap, fast, and easy microtransactions. In Uganda, as well as throughout the rest of Africa, micro-transactions are common due to low socio-economic status of many citizens. However, the high fees charged by traditional financial institutions automatically exclude many users. While bitcoin was originally designed to facilitate cheap and fast transaction, high fees and network congestion have made this impossible, thus the creation of the Dala token.
Martinez told Bitcoin Africa that she originally founded the company in an attempt to connect low-income Ugandan farmers to financial services.
Martinez believes that for all people, especially women in tech, to effectively function within a certain niche, they must be self-starters and showcase a significant amount of drive. "If there is one thing I have learned about being an entrepreneur, you must be proactive and make sure you are heard – even if that means starting from the bottom. Reach out to blockchain companies and experts to have informational interviews, take people out for a coffee to pick their brain, offer to be an intern and do the hard work," she told Bitcoin Africa.
Moreover, because the blockchain and cryptocurrency space is relatively new, it is possible to participate in the community as long as one possesses an understanding of the technology and stays updated with all relevant happenings. Because of this, she urges women to not shy away from the space as participation is based on knowledge that is easily acquired.
"Remember, blockchain is still in its peak and hype. Everyone wants to get involved one way or another which means there is so much more competition in the space. However, due to blockchain still being in its infancy, a few months of experience in the space goes a long way."
Elizabeth Rossiello
Elizabeth Rossiello is the founder and CEO of BitPesa an FX and payments platform that uses bitcoin to enable fast and cheap cross-border remittances. Founded in 2013 in Nairobi, Kenya, the platform is focused on frontier markets, more specifically the African continent. 
The company has been well received within the cryptocurrency space, receiving over $10 million in funding from investors and recently acquiring European money service platform TransferZero in an effort to grow the company's offerings and expand its reach.
For Rossiello, being a woman in the male-centric technology space has not been without its challenges. 
"I've definitely felt I've had to work four times harder to prove myself than maybe I would have had to have if I weren't female. People always ask me how can I do this when I have young children – and these are questions that men with children don't face. I'm often the only female speaker at a conference!"
In addition to its business acumen, BitPesa is also notable due to the fact that its top three executives are women. This move is designed, in part, to show that women are able to participate just as effectively as men within the job market and more so in the technology space.  
"There's recognition that it's a problem, whether we see the whole system change so that it is easier for females to get funding etc… What I can say though, is that my experience has shaped BitPesa – at one point, our entire executive team was female! We hire a lot of women – In a way, we have become a point of refuge and we receive some of the best CVs in the industry from women who admire the ethos and are eager to join us," Rossiello stated.
Connie Gallippi
Connie Gallippi created the non-profit organisation BitGive, which utilises blockchain technology to make charitable donations traceable in attempt to bring much-needed transparency into the charitable giving sector.  
BitGive has facilitated direct donations to charitable organisations around the world, totaling to over $30,000. Using BitGive's GiveTrack platform, it is possible for donors to track where and when each dollar was spent. This system helps to reduce waste and mismanagement of funds leading to actual changes at the grassroots level.
For a long time, Africa has been the focus for a number of charitable organisations. However, NGOs and other charitable organisation are often regarded as fraudulent and corrupt. Due to mismanagement of funds, the public faith in charitable organisations is low.
While all organisations claim to be honest, it can be difficult to ascertain how donors funds are spent and how, if at all, any progress is made at the ground level. Following an introduction to blockchain technology through Satoshi's white paper, Connie Gallippi decided to utilise the technology to create a foundation that could truly be kept honest and held accountable for donors funds. Gallippi said: "When I learned about bitcoin and blockchain in the early years, I was always fascinated and inspired. In 2013, I dove a little deeper into my understanding. At that point, I recognised the truly revolutionary potential of the technology on a global scale and wanted to leverage it for charity and global philanthropy. Within a few months, BitGive was launched and was the first official bitcoin non-profit."
Gallippi believes the growing number of women in tech in the global market is an indication that women are interested in technology but may be discouraged due to a number of factors such as low media coverage.
"There are actually many women in the community, and it's growing every day. There are hundreds (if not thousands) of women in the industry, many in leadership roles, representing all different areas of expertise, and they are shaping the direction of the space," Gallippi told Bitcoin Africa.
"I would love to see the women in the industry be more visible, with speaking roles, involved in key community decisions and negotiations, covered in the media, and generally recognised a lot more. This is one way to encourage more women to join the community and help them feel welcome; in addition to dispelling a lot of the myths that you have to be any certain type of person or have any certain type of skills to get involved," she added.
If you are a woman considering a career in technology but are somewhat hesitant as this is still a largely male-dominated field, you should take inspiration from these women who are pioneers in the blockchain space in Africa.
Furthermore, the blockchain industry offers a wide range of new innovations, open communities, and jobs opportunities as the blockchain is poised to play an integral role in the future of society. If you are considering a career in technology, you should definitely find out more about cryptocurrency and the blockchain and perhaps find your calling in this new growing technology sector.
Linum Labs Announces Decentralised Healthcare R&D Funding Platform 'Molecule'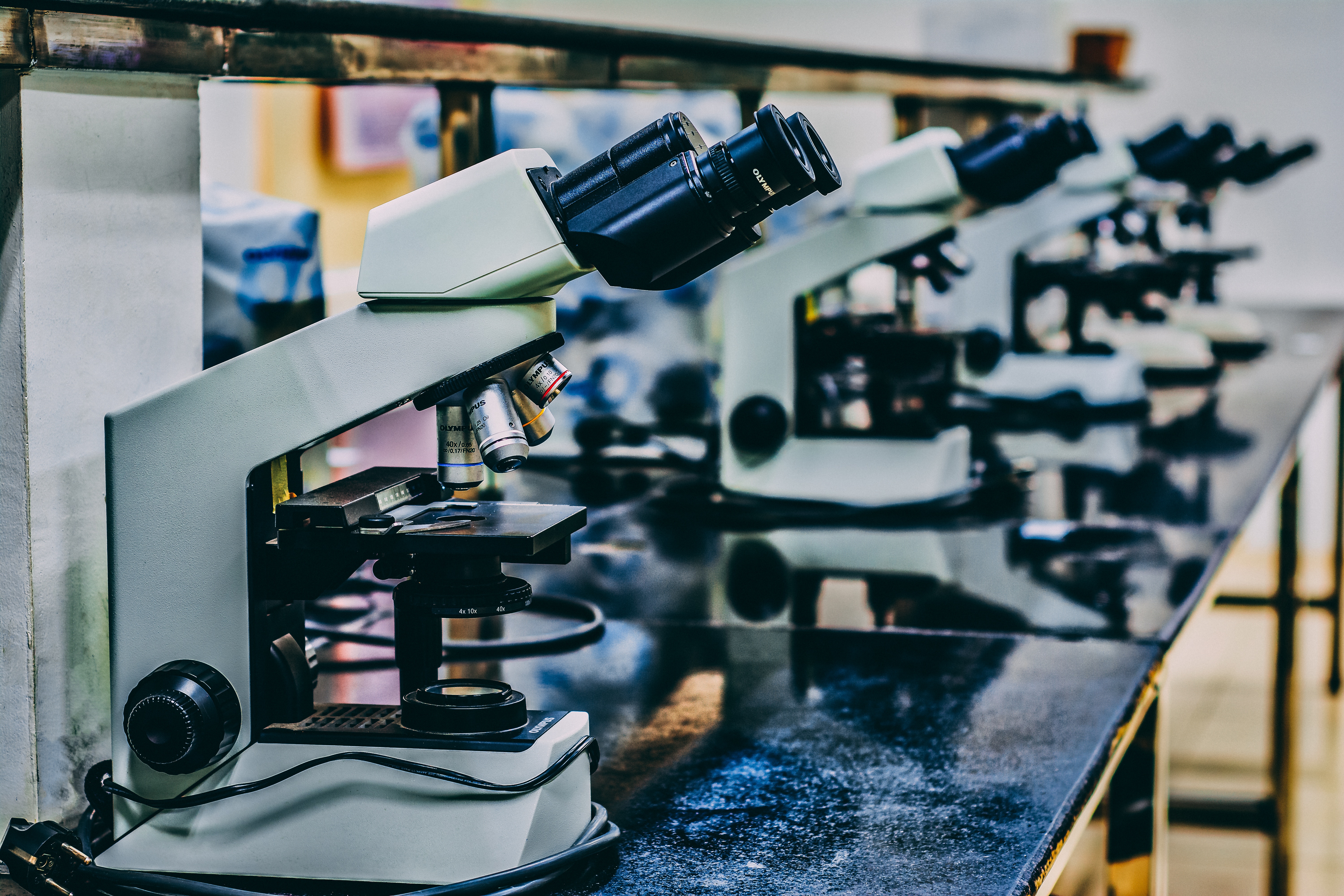 Blockchain development company Linum Labs has announced the launch of a decentralised open-source funding platform to fast-track innovation in pharma called Molecule.
The Molecule Platform
Linum Labs, which deals with blockchain-based solutions in healthcare and identity, has created the Molecule platform in order to bring together industry, patients, and scientists in an open collaborative market where drug development can be advanced.
The open platform allows participants to contribute funds towards drug development, thereby, achieving Lunum Labs' goal of distributing cost and risk.
To achieve this, Linum Labs is leveraging blockchain technology and open science to build a fair and accountable market-based platform for the research and funding of pharmaceutical intellectual property.
The Decentralised Answer to the Pharma Research Monopoly
Molecule aims to solve the problem of the monopolisation of research in the pharmaceutical industry, reduced trust, and the expensive, risky, and slow nature of drug development.
Paul Kohlhaas, CEO of Linum Labs, stated: "The pharmaceutical industry faces an innovation crisis caused by the challenges around drug development and the monopolisation of IP. Bringing a drug to market is a high-cost, high-risk, and slow endeavour, and it is generally large organisations that single-handedly shoulder these burdens, leading to massively inflated prices and a lack of innovation."
Molecule solves these challenges by offering a low-friction crowdsourcing research and funding platform that reduces risk to investors and IP creators in an inclusive environment.
"Molecule enables new economic incentive models for distributed R&D that leverage open science, Web3 and bonding curves to create a fair and accountable market-based platform for the discovery and funding of pharmaceutical IP. The ecosystem aims to align all stakeholders to collaborate in order to move away from environments where only 'blockbuster drugs' get approved for development, and towards a more patient-focused approach," Kohlhaas added.
Development
Linum Labs AG started building Molecule in early 2018 on behalf of Swiss non-profit, the Molecule Foundation.
The next stage of "development will include further iterations of the initial proof-of-concept, leading into a minimum viable product," Linum Labs writes in a statement. This stage will be backed by a financial round that will begin in the second quarter of 2019.
Linum Labs is presently hiring and looking for partners to back the Molecule platform.
Raise Launches Africa's First Security Token Platform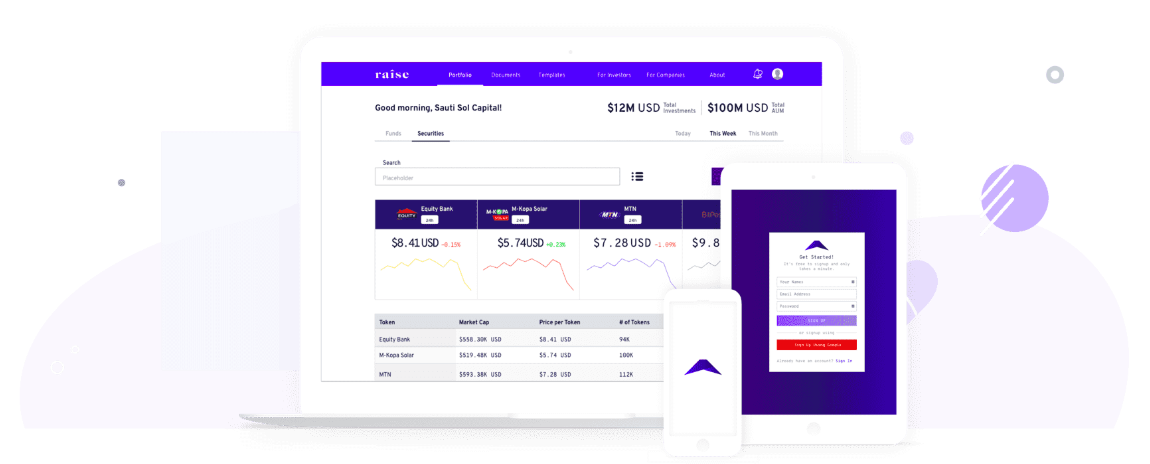 On February 14, 2019, financial technology company Raise announced the launch of the alpha version of its security token platform that is being developed with the aim to tokenise assets in Africa.
The Raise Token Security Platform
The token security platform by Raise is the first security token product to be developed and launched in the African continent.
A security token is a digital representation of a real-world financial asset such as a land title or share certificate that is built with blockchain-based technology. This makes them very secure digital assets that ease fundraising, lower the costs of cross-border transfers and compliance.
According to the company press release, Raise is a software-as-a-service (SaaS) tool built for funds, law firms and companies to securely digitise partnership units, share certificates, and real estate assets. The platform is able to develop customised digital securities that can be programmed with key performance indicators, custom data and limited partnership or shareholder information.
The co-founders of Raise, CEO Marvin H. Coleby and CTO Eugene Mutai, made the announcement at the annual Africa Tech Summit that was held in Kigali, Rwanda.
Growing Potential for Private Markets
Coleby, an entrepreneur and securities lawyer from the Bahamas, emphasised the potential for more accessible and liquid private markets by saying:
"Today, it's difficult to move shares between funds and companies. Navigating regulatory requirements, tracking securities ownership and raising financing can be difficult. We have to check and verify a multitude of complex requirements and documents to move assets that many of us already own. This makes private markets expensive and slow to operate – it can take weeks to transfer shares between consenting parties. As a result, private markets are not nearly as liquid as public markets, immobilizing assets and restricting financial inclusion. Blockchain technologies can encode compliance requirements and ease document processes that make private markets difficult to navigate."
"We're excited to contribute to a global movement to simplify private markets and securities innovation with this new product and look forward to further development updates this year. This is especially true on the African continent, we strongly believe that fluid and efficient capital markets can create enormous wealth for millions of people and transform intra-African trade," he added.
Future Plans
The Raise's platform is mainly targeting the private capital markets sector and is currently working with a list of companies, law firms and private funds to officially launch its platform later in 2019.
So far, Raise has partnered with Africa Legal Network that is an association of 16 corporate law firms to develop a continental regulatory framework for security tokens. The partnership led to the launch of the African Digital Asset Framework, which is an open-source project designed to create standards for blockchain technologies.
HelloGold and Baobab Group Partner to Boost Financial Inclusion in Africa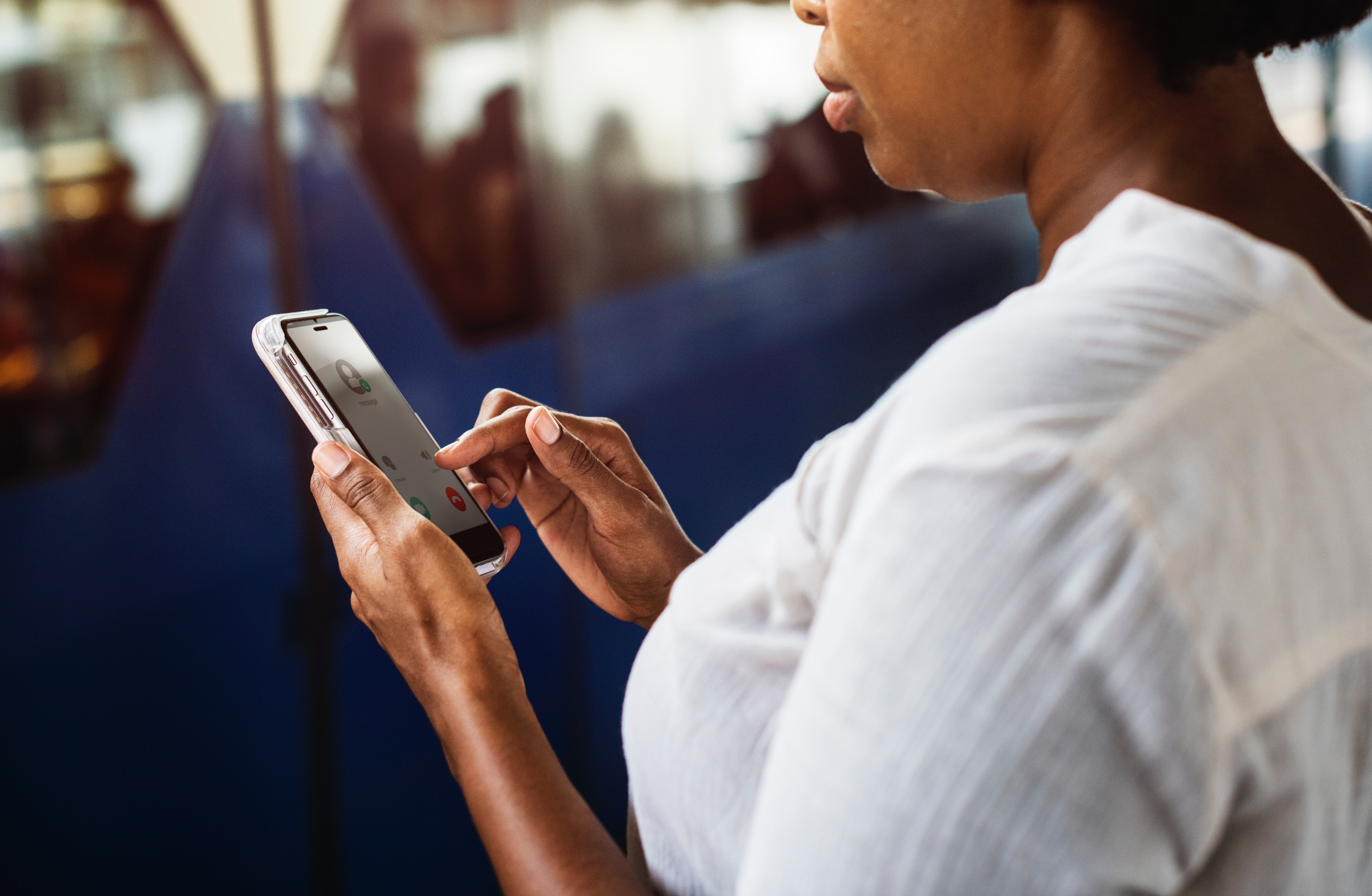 Malaysian fintech savings platform HelloGold has partnered with Baobab Group to boost financial inclusion in Africa. The partnership will help the Asia-based company to enter the African market where it will offer financial products alongside Baobab.
The HelloGold and Baobab Group Partnership
HelloGold will leverage Baobab's infrastructure and experience in offering digital financial services while bringing on board its gold-backed savings and products, according to DigitalNewsAsia. Moreover, the partnership will enable Baobab to scale its financial inclusion services on the continent via an integrated savings platform.
The integrated savings platform will enable users to purchase, invest, and save in gold via a mobile app. The use of the mobile app will make gold an easily accessible and secure savings option for customers.
Baobab currently operates in nine African countries, has 1,140 functional service points across Africa and has distributed over $1.1 billion loans to micro businesses, women, and the youth.
Arnaud Ventura, Baobab's Group chief executive officer and founder, said: "We are pleased to announce this partnership, which will allow our clients to benefit from new digital services. The possibility to easily save and invest in gold is an additional key offered to our clients to unleash their potential. This collaboration with HelloGold will allow us to integrate this savings offer in the nine African countries we are working with."
"Our partnership with Baobab demonstrates HelloGold's capacity to provide financial solutions for our current and prospective partners. While we bring financial products on our technology, we support our partners in the building of their own offerings, providing differentiated value and services on their platforms," HelloGold's CEO Robin Lee commented in a statement.
Baobab enables its customers in Africa and China to manage their finances instantly, safely, and easily with its digital and mobile solutions. HelloGold offers its customers the opportunity to purchase and sell gold via an app. The physical gold is stored in secure and insured vaults in Singapore and it can be used as collateral for loans or as savings.
According to Lee, HelloGold applies blockchain technology in its financial products to make them affordable to customers.
Future Plans
HelloGold plans to establish gold vaults in Dubai and to offer its products in Indonesia and the Middle East this year. The company also recently launched in Thailand.
With mobile-driven financial inclusion in Africa on the rise, the two companies are positioning themselves to tap into the opportunities of the growing digital financial sector on the continent.
According to the World Bank Findex survey, financial inclusion grew from 23 percent in 2011 to 43 percent in 2017 in Sub-Saharan Africa.