Blockchain Innovation Can Empower Vibrant Civil Societies Across Africa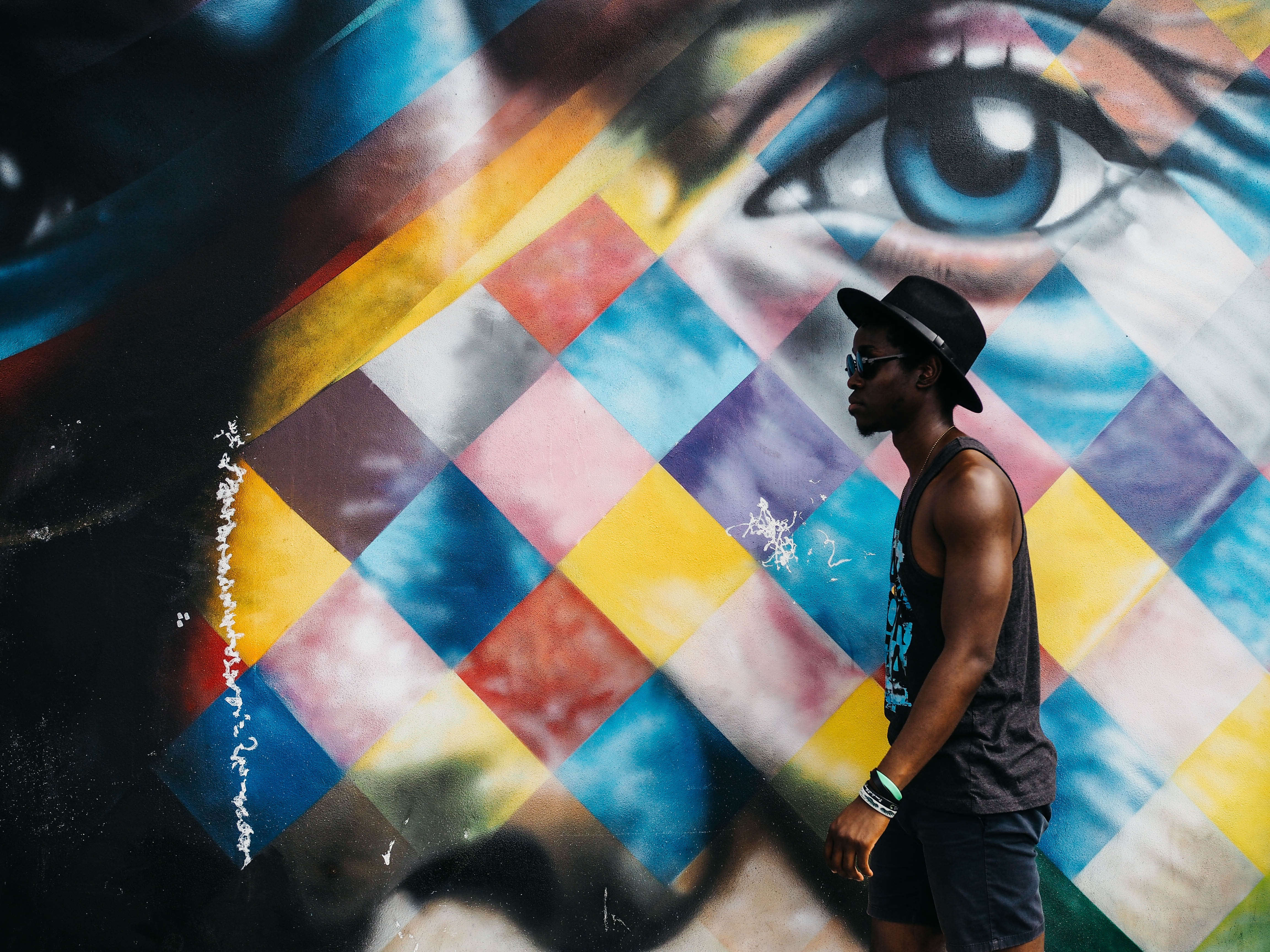 What shines brightest across the continent of Africa remains its human potential. This is far from the broad strokes often articulated in news clips, magazine articles or 280 character sentiments. A population of over a billion across some 54 countries embodies different cultures, ways of life and resiliency to overcome challenges and drive societies forward.
We often look at civil society as a measure of a population's quality of life. Empowering civil society is a key means by which to improve quality of life. From health and architecture to arts and sports, and much more; populations, professional organisations and multiple facets of society collaborate with public and private institutions to push society forward.
Expectedly, bitcoin has taken up most of the space around conversations related to blockchain. Above and beyond bitcoin, however, blockchain technologies can help further elevate civil society, continuing the push for increased quality of life for populations. Through its key characteristics of decentralisation and transparency, amongst a host of others, blockchain technology provides enhanced capacity to deal with systemic societal issues that lead to stagnation, or worse, a degradation of civil society.
At a macro level, more of the continent's population is coming online, increasing by 20 percent every year. Additionally, advances in tech education in various countries on the continent (including PhD programs at Makerere University) are raising the bar. Numerous blockchain conferences, communities and companies have also been established throughout the continent.
However, let me be abundantly clear: blockchain is by no means the elixir, nor is it the magic technology that will solve all of society's woes. Yet, we are in the early days of blockchain innovation across the continent of Africa, with successful use cases replicated daily. These successes are evidence of a shift. This is especially apparent as we look at key institutions of civil society such as education, health, and media, where blockchain technologies can be of great help.
Education
UNESCO is currently leading the world's Education 2030 agenda, which aims to "ensure inclusive and equitable quality education and promote lifelong learning opportunities for all" by 2030. In fact, UNESCO, along with the African Union and the Government of Kenya, met for a Pan Africa High level conference on Education in April to discuss how education initiatives are advancing across the continent. Education ministers from 54 African countries, NGOs, and UN agencies attended.
In the past few years, blockchain has empowered this pivotal aspect of civil society. The technology is being leveraged in numerous aspects of education – from early childhood development right up to the post-secondary level. Not only is blockchain helping to provide more transparent and accountable funding, but it also has the potential to halt academic fraud and better verify student credentials.
Consider what startup Amply is doing. Amply is the first blockchain company to be backed by UNICEF, and is working to change early childhood education in South Africa. The company helps early childhood development institutions record and verify attendance lists. These are then tokenised, enabling the centres to be awarded the correct amount of subsidy money from the South African government.  
The government awards these subsidies to ensure children from underprivileged backgrounds get a quality education. However, the early childhood development centres are often run in an informal way and with paper-based information systems, according to Paul Kohlhaas, who's worked with Amply. This makes it difficult to understand how many students attend the schools, and how exactly to budget for them.
However, Kohlhaas says, Amply was designed to develop decentralised digital registries of students, caregivers, service providers and service centres to improve accountability and effectiveness of the benefit programs – to provide students and centres with the funding they deserve.
In Tunisia, there's also another startup, Devery.io, that's partnered with the Ministry of Education to implement blockchain-based tracking for school meals. This helps to track the quality of the program, designed to provide a fresh meal daily to underprivileged students. Nutrition and education go hand-in-hand, and it goes to show the impact blockchain can have on educational institutions.
Blockchain is being used in higher education, too. Notably, the technology is being leveraged to prevent academic fraud in Kenya. The government of Kenya and IBM teamed up back in 2016 to enable schools to grant academic certificates on the blockchain. Something that, according to a report by the Association of International Educators, is becoming a huge international problem. Now, blockchain technology is helping to create a framework in the region for which academic institutions and employers can have greater confidence in the outcomes of student evaluations and credentials.
Health
Blockchain has the potential to empower civil society across the spectrum in the global health field, helping to fortify global health development through secure ledgers, for example. According to this UN report, healthcare is one of the most corrupt sectors globally.
The following is by no means an exhaustive list, nor a prioritised list. However, it does reflect major gaps that are threatening the health of large swaths of the population across the continent:
Stopping the spread of foodborne diseases
According to WHO, 420,000 die each year as a result of foodborne diseases – with Africa and Southeast Asia hit the hardest. This is caused by chemicals, bacteria, parasites, natural toxins, and so on – or simply, when something's gone terribly wrong in the supply chain.
However, with blockchain technology now being applied to supply chains, it does have the potential to make a big impact. Blockchain ledgers are immutable and transparent, meaning that as soon as a problem in the food chain arises, parties can step in to stop production – and stop the illness from spreading even further.
Take Bext360, for example. The traceability platform is being leveraged on Ugandan coffee farms – so when farmers present their beans for analysis, their identity, payment, and quality is recorded on the ledger. If any foodborne diseases arise, the beans can be traced directly back to their origin.
Access to healthcare
There are 400 million people worldwide who don't have access to essential healthcare – and many of these people live in sub-Saharan Africa. The region has 25 percent of the world's disease burden, but only three percent of doctors live there. However, the introduction of blockchain technology could help close this doctor-patient gap.
Austin-based company BitMED offers a viable solution. Through leveraging blockchain technology and the BXM token, members of the service have the opportunity to video chat with a doctor, talk on forums with an online health community, and engage with personalised content;  it's all in exchange for sharing anonymous health data.
The company treats patients in the U.S. and Africa – and according to an announcement in May, signed up more than 100,000 new members in the Burera and Gasabo districts of Rwanda in just two weeks after launching there.
However, it's not only a lack of doctors that impacts citizens' access to care. A major barrier to accessing health services – especially in rural areas – is the lack of 'identity.' In sub-Saharan Africa, only 44 percent of kids are registered; in Somalia specifically, it's only three percent.
When people haven't been assigned an identity at birth, it makes it difficult for them to receive the government care they need. But now another use-case for blockchain, is assigning babies digital identities at birth. It's something that's already happening in Tanzania – with "blockchain babies". Beyond this highly marketable tagline is a bold execution framework to establish identity and accurately provide sustained aid via a scalable permission ledger. The follow-up impacts of establishing this identity via the blockchain include a data-driven focus on bettering maternal health.
Improving care
In 2013, about one in four health facilities had no access to electricity in eleven sub-Saharan African countries, as well as one-third third of hospitals. According to WHO, this can lead to vaccine spoilage, important medical devices being interrupted, and not being able to communicate – or even see – during emergency procedures.
ImpactPPA, a blockchain platform built to disrupt renewable energy finance, has set out to combat this. This past April, the company partnered with Earth Day Network to install decentralised clean energy systems at 50 facilities by 2020 – including schools and healthcare centers. The first stop is Edna Adan Hospital in Hargeisa, Somaliland – which provides maternity care for women. Here, a wind and solar system will be installed, and the money currently being spent on energy will instead be used for patient care.
Another blockchain-based renewable energy company, KWHCoin, has started work with Nurse In Hand Emergency Response, which provides emergency response services on Kenyan roads. According to a recent press release, KWHCoin will help the organisation to establish "renewable energy resources for medical stations, develop a token model as a reward for renewable energy generation, and develop a structure for installing energy efficient mobile units throughout Kenya's road network".
Media
The implicit nature of blockchain makes the technology a big part of the conversation surrounding accurate information in journalism, securing funding for content, and ownership of digital assets. In today's post-fact society, blockchain technologies can be used as a tool to ensure that the value of facts remains as protected as opinions.
Civil is one example of a growing global movement leveraging blockchain technologies to empower sustainable journalism. At the structural level, innovateAFRICA is funding startups across the continent that meet this issue head-on. Focusing on civic media experimentation and digital news startups, the fund presents an exciting opportunity to attract blockchain-inspired ideas to transform journalism.
The blockchain also plays a role in content creation. Consider ComedyPlay, a Mauritius-based decentralised content platform designed to help content creators, for example. The Ethereum-based platform monetises comedy content with its token Comedycoin. Users can post their content to engage their audiences; access to the content is free. Members can also upvote, and be rewarded with Comedycoin tokens.
South African-based company Custos Media Technology aims to combat online piracy using blockchain. The process involves a Bitcoin reward being embedded into each digital media file sent to a licensed recipient, and a bounty-reward system that utilises a mix of human and machine resources to explore the known Internet and the dark/deep web to report on pirated content.
Sustained Empowerment Moving Forward
As noted, although not the 'one size fits all solution to solve everything', blockchain is imbuing a certain means and technical know-how into civil society in a way that has not existed previously in Africa. Education, health and media are just some of the components being lifted by blockchain technologies to empower civil society as a whole.
Increased Internet connectivity on the continent, amongst other factors, is helping to incite and expand this localised blockchain innovation across various countries in Africa. This has inevitably caught the attention of larger blockchain innovators in the world. We are not only seeing partnerships forming country-to-country to foster blockchain growth, but worldwide engagement on the continent is also becoming visible. Global players are noting the 'perfect storm' brewing with respect to talent, future-forward infrastructure mindsets, and the potential for civil society empowerment. This, in turn, creates stability, underlying various countries across the continent.
For example, Binance, the world's second largest crypto exchange has partnered with Crypto Savannah to integrate blockchain and enhance economic infrastructure for local communities in Uganda. Additionally, at the Transform Africa Summit a few months ago, nChain's CEO told CoinGeek: "What I learned today is that Rwanda has a very young population; most of the population is under 35 and so there's a lot of young, bright minds wanting to do new things, particularly in technology."
Even IBM has developed various partnerships with startups on the continent, such as food logistics startup Twiga in Kenya, where IBM's blockchain technology is being implemented to facilitate micro-lending options. These foreign partnerships, administered correctly, show that the world is paying attention to the continent's blockchain innovation potential.
As blockchain influence on the continent gains capacity due to expanding infrastructure and overall access, the increased quality of life of populations can be the beneficiary. Africa as a whole will shine even brighter as a beacon to the world for vibrant civil societies. Human potential is only the beginning.
This article was contributed by Nabyl Charania, Chairman and Chief Executive Officer of Rokk3r.
Linum Labs Announces Decentralised Healthcare R&D Funding Platform 'Molecule'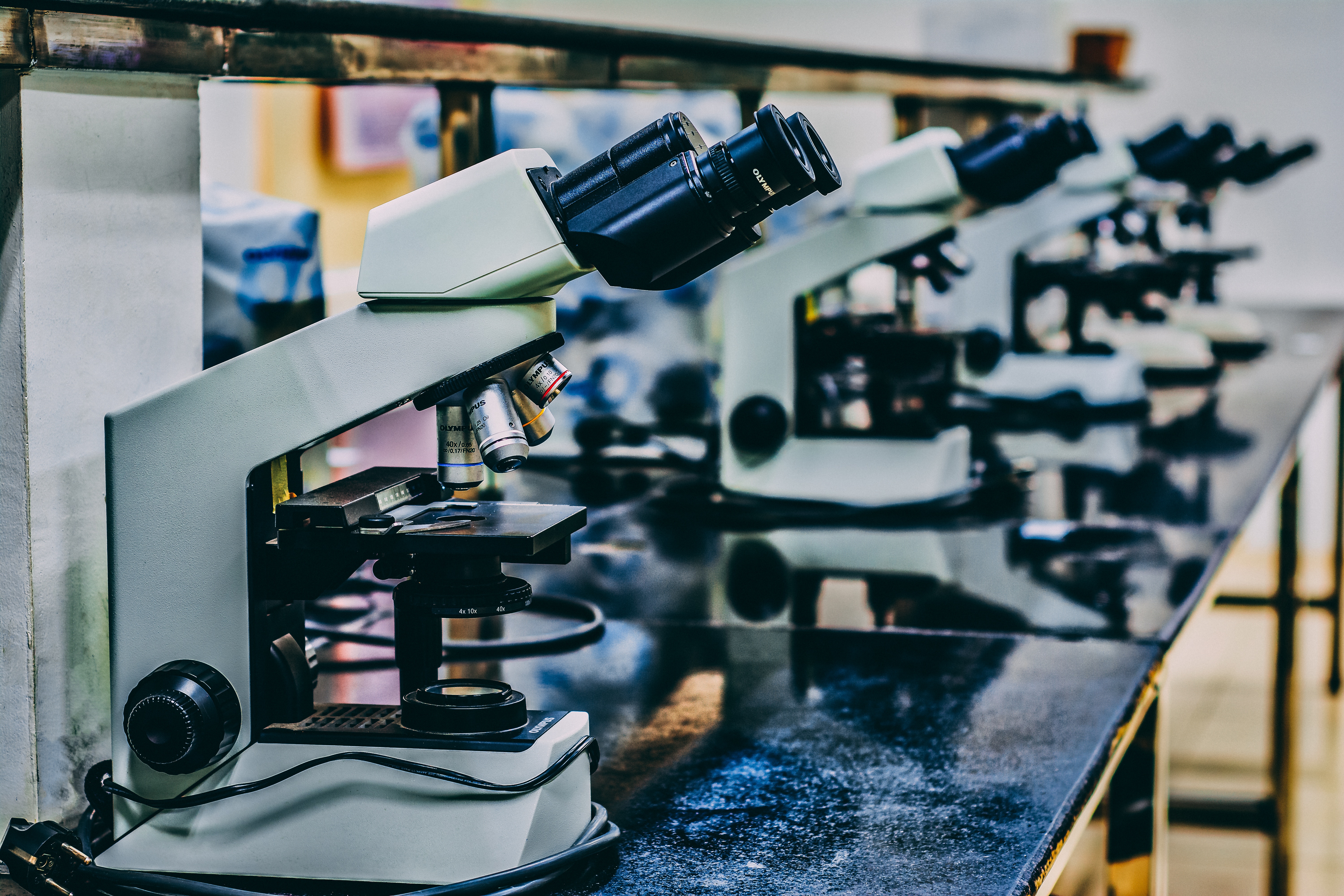 Blockchain development company Linum Labs has announced the launch of a decentralised open-source funding platform to fast-track innovation in pharma called Molecule.
The Molecule Platform
Linum Labs, which deals with blockchain-based solutions in healthcare and identity, has created the Molecule platform in order to bring together industry, patients, and scientists in an open collaborative market where drug development can be advanced.
The open platform allows participants to contribute funds towards drug development, thereby, achieving Lunum Labs' goal of distributing cost and risk.
To achieve this, Linum Labs is leveraging blockchain technology and open science to build a fair and accountable market-based platform for the research and funding of pharmaceutical intellectual property.
The Decentralised Answer to the Pharma Research Monopoly
Molecule aims to solve the problem of the monopolisation of research in the pharmaceutical industry, reduced trust, and the expensive, risky, and slow nature of drug development.
Paul Kohlhaas, CEO of Linum Labs, stated: "The pharmaceutical industry faces an innovation crisis caused by the challenges around drug development and the monopolisation of IP. Bringing a drug to market is a high-cost, high-risk, and slow endeavour, and it is generally large organisations that single-handedly shoulder these burdens, leading to massively inflated prices and a lack of innovation."
Molecule solves these challenges by offering a low-friction crowdsourcing research and funding platform that reduces risk to investors and IP creators in an inclusive environment.
"Molecule enables new economic incentive models for distributed R&D that leverage open science, Web3 and bonding curves to create a fair and accountable market-based platform for the discovery and funding of pharmaceutical IP. The ecosystem aims to align all stakeholders to collaborate in order to move away from environments where only 'blockbuster drugs' get approved for development, and towards a more patient-focused approach," Kohlhaas added.
Development
Linum Labs AG started building Molecule in early 2018 on behalf of Swiss non-profit, the Molecule Foundation.
The next stage of "development will include further iterations of the initial proof-of-concept, leading into a minimum viable product," Linum Labs writes in a statement. This stage will be backed by a financial round that will begin in the second quarter of 2019.
Linum Labs is presently hiring and looking for partners to back the Molecule platform.
Raise Launches Africa's First Security Token Platform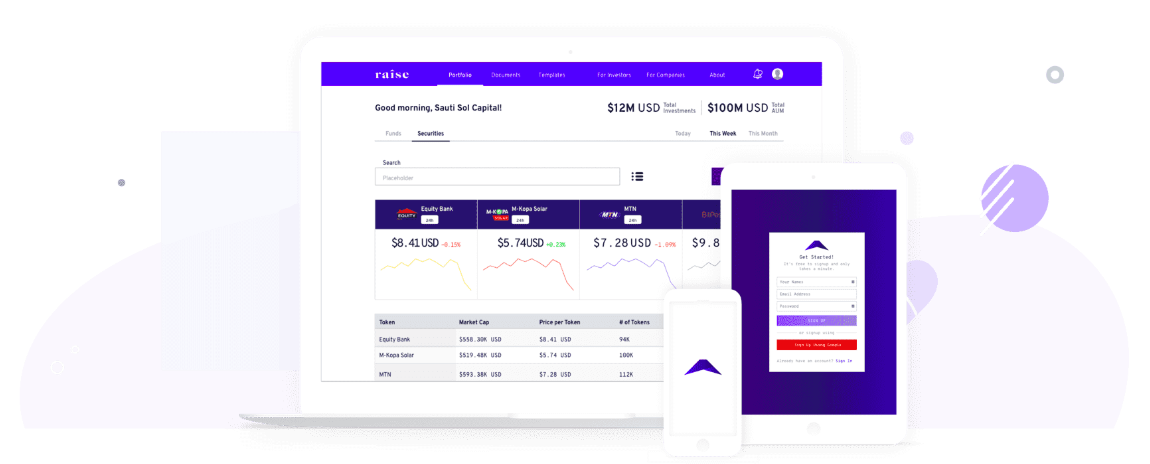 On February 14, 2019, financial technology company Raise announced the launch of the alpha version of its security token platform that is being developed with the aim to tokenise assets in Africa.
The Raise Token Security Platform
The token security platform by Raise is the first security token product to be developed and launched in the African continent.
A security token is a digital representation of a real-world financial asset such as a land title or share certificate that is built with blockchain-based technology. This makes them very secure digital assets that ease fundraising, lower the costs of cross-border transfers and compliance.
According to the company press release, Raise is a software-as-a-service (SaaS) tool built for funds, law firms and companies to securely digitise partnership units, share certificates, and real estate assets. The platform is able to develop customised digital securities that can be programmed with key performance indicators, custom data and limited partnership or shareholder information.
The co-founders of Raise, CEO Marvin H. Coleby and CTO Eugene Mutai, made the announcement at the annual Africa Tech Summit that was held in Kigali, Rwanda.
Growing Potential for Private Markets
Coleby, an entrepreneur and securities lawyer from the Bahamas, emphasised the potential for more accessible and liquid private markets by saying:
"Today, it's difficult to move shares between funds and companies. Navigating regulatory requirements, tracking securities ownership and raising financing can be difficult. We have to check and verify a multitude of complex requirements and documents to move assets that many of us already own. This makes private markets expensive and slow to operate – it can take weeks to transfer shares between consenting parties. As a result, private markets are not nearly as liquid as public markets, immobilizing assets and restricting financial inclusion. Blockchain technologies can encode compliance requirements and ease document processes that make private markets difficult to navigate."
"We're excited to contribute to a global movement to simplify private markets and securities innovation with this new product and look forward to further development updates this year. This is especially true on the African continent, we strongly believe that fluid and efficient capital markets can create enormous wealth for millions of people and transform intra-African trade," he added.
Future Plans
The Raise's platform is mainly targeting the private capital markets sector and is currently working with a list of companies, law firms and private funds to officially launch its platform later in 2019.
So far, Raise has partnered with Africa Legal Network that is an association of 16 corporate law firms to develop a continental regulatory framework for security tokens. The partnership led to the launch of the African Digital Asset Framework, which is an open-source project designed to create standards for blockchain technologies.
HelloGold and Baobab Group Partner to Boost Financial Inclusion in Africa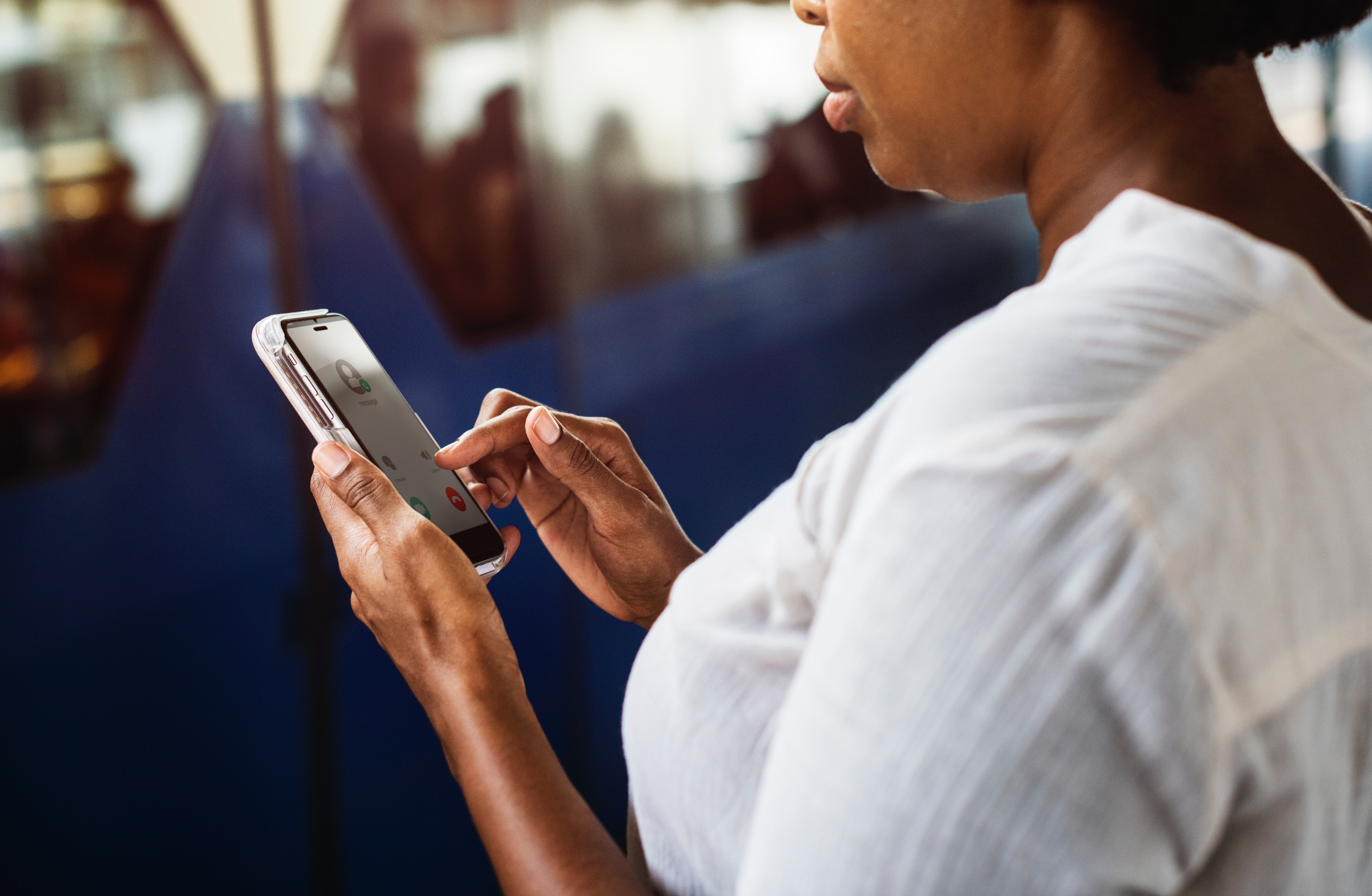 Malaysian fintech savings platform HelloGold has partnered with Baobab Group to boost financial inclusion in Africa. The partnership will help the Asia-based company to enter the African market where it will offer financial products alongside Baobab.
The HelloGold and Baobab Group Partnership
HelloGold will leverage Baobab's infrastructure and experience in offering digital financial services while bringing on board its gold-backed savings and products, according to DigitalNewsAsia. Moreover, the partnership will enable Baobab to scale its financial inclusion services on the continent via an integrated savings platform.
The integrated savings platform will enable users to purchase, invest, and save in gold via a mobile app. The use of the mobile app will make gold an easily accessible and secure savings option for customers.
Baobab currently operates in nine African countries, has 1,140 functional service points across Africa and has distributed over $1.1 billion loans to micro businesses, women, and the youth.
Arnaud Ventura, Baobab's Group chief executive officer and founder, said: "We are pleased to announce this partnership, which will allow our clients to benefit from new digital services. The possibility to easily save and invest in gold is an additional key offered to our clients to unleash their potential. This collaboration with HelloGold will allow us to integrate this savings offer in the nine African countries we are working with."
"Our partnership with Baobab demonstrates HelloGold's capacity to provide financial solutions for our current and prospective partners. While we bring financial products on our technology, we support our partners in the building of their own offerings, providing differentiated value and services on their platforms," HelloGold's CEO Robin Lee commented in a statement.
Baobab enables its customers in Africa and China to manage their finances instantly, safely, and easily with its digital and mobile solutions. HelloGold offers its customers the opportunity to purchase and sell gold via an app. The physical gold is stored in secure and insured vaults in Singapore and it can be used as collateral for loans or as savings.
According to Lee, HelloGold applies blockchain technology in its financial products to make them affordable to customers.
Future Plans
HelloGold plans to establish gold vaults in Dubai and to offer its products in Indonesia and the Middle East this year. The company also recently launched in Thailand.
With mobile-driven financial inclusion in Africa on the rise, the two companies are positioning themselves to tap into the opportunities of the growing digital financial sector on the continent.
According to the World Bank Findex survey, financial inclusion grew from 23 percent in 2011 to 43 percent in 2017 in Sub-Saharan Africa.